Like clothing, we always have preferences with our footwear. And out of various factors, the brand is one of the most relevant. For skateboarders, this focus's not merely because of the name, but more because of the unique features each brand has.
Let's learn about these brands, beginning with the best Adidas skate shoes. Consider the following.
Upper construction – A complete pair of Adidas skateboarding shoes need to be durable, and it starts with their exteriors. Commonly using suede or leather, or both, Adidas ensures the shoes don't wear out quickly. This aspect is most relevant when doing tricks that see the shoe grinding against the grip tape.
Besides that, quality suede from brands like Adidas protects the shoes from water damage. For the record, only a minimal amount of water passes through this material.
Outer sole – If we decide on the most crucial part of a skating shoe, it'll be the outsoles. With or without stepping on the grip tape, this part deals with the most weight, friction, and impact. Hence, we need to secure the best rubber outsole layers to guarantee long-lasting performance.
Quality skating sneakers, like the Adidas Busenitz, use gum or rubber as the primary material for this component. Gum soles provide superior flexibility and grip against the deck, thus allowing the user to control the board more.
Level of comfort – Of course, you don't want to pay for a product that will make you feel pain or suffer from wet feet every time. That means comfort remains a priority no matter the brand you choose.
What's good about Adidas is it features ventilation holes most of the time. It also uses well-padded linings, thus giving the feet a desirable fit.
In the buying guide section, we'll learn more about the things that make Adidas distinct from other brands. For now, let's get into the top picks.
Top 1
Adidas Men's Skate Shoe
– Has a nice fit
– Soft and comfortable
– Cushioned tongue
Top 2
Adidas Daily 3.0 Skate Shoe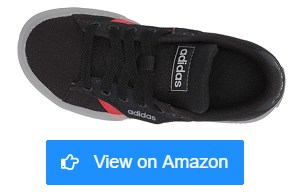 – Retro-styled sneakers
– Easy to clean and maintain
– Canvas upper construction
Top 3
Adidas Men's Low-Top Sneaker
– Fits skaters and non-skaters
– Low-top cut that frees the ankle
– Doesn't cause cuts and blisters
Top 11 Adidas Skate Shoes Reviews
1. Adidas Men's Daily 3.0 Skate Shoe
Canvas does not only go with slip-on sneakers, but also lace-up shoes like the Adidas Men's Daily 3.0 Skate Shoe. These Adidas skateboarding shoes feature a canvas-made upper body, making them light and breathable. What's good about this material is it's washable, so I can keep the shoes clean and looking new.
Even with the shoelaces tied, this sneaker gives me convenience. Coming with cushioned tongue and insides, I need not untie the laces to insert or pull my foot out. The inner layers are soft and comfortable, and they don't seem to bother me, especially when riding the skateboard.
Some may find this shoe plain or bland by its shape. But what's important is that it is snug and ventilated. This benefit is possible because this model uses OrthoLite sock liners. These inserts work by providing the feet a decent stepping platform.
Other riders also claim that this layer helps keep their feet dry, which is another green flag for this part.
As a quality branded pair of skating shoes, this model is a wise buy for me. It's not the most low-cost of my sneakers, but it has this fit and comfort almost every skater loves. And with how well the shoes are performing, I believe they will last long.
However, it took me quite a while to break into these Adidas skateboarding shoes. They were slightly stiff at first, so using them more frequently at the beginning may be necessary.
Pros
Canvas lace-up shoes that are light, breathable, and washable
Cushioned tongue and insides that slide in and out of the shoe easily
Soft and comfortable inside
OrthoLite sock liners for a dry and supportive footbed
Has a nice fit and seems durable
Cons
Takes a while to break in
Overall, I love the comfort these sneakers have. They're worth their price, and their parts are easy to maintain.
2. Adidas Unisex-Child Daily 3.0 Skate Shoe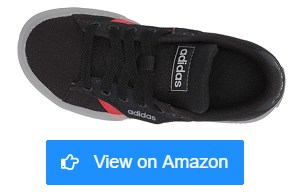 Flaunting a retro-themed, the Adidas Unisex-Child Daily 3.0 Skate Shoe makes skateboarding more fun for young riders. It uses canvas, so the shoes remain breathable and comfortable to some extent. I appreciate Adidas giving kids the help to skate well through models like this.
Many riders agonize over short laces, but not young riders with this pair. These Adidas skateboarding sneakers have sufficiently long shoelaces, which I find beneficial, especially for kids who want plenty of room for adjustments. And with that, they'll have all the chance to tighten or loosen the shoes to their desired fit.
Durability is also what makes these sneakers a staple for kids. Knowing how active they are, their footwear needs to be sturdy, just like this model. It has quality vulcanized outsoles. Plus, paired with the canvas upper, this sneaker will cope with a kid's energy on and off the skateboard.
In terms of maintenance, this skateboarding shoe gives everyone convenience. Since it primarily uses canvas textile, washing dirt off doesn't have to be troublesome. For a skateboarder who doesn't want to wear dirty gear, sneaker builds like these can help solve the issue.
While a kid's feet may not be as big as an adult's, I still advise sizing up before purchasing. Several skateboarders already claim that this model is a bit tight.
Pros
Retro-styled sneakers, ideal for young riders
Canvas upper construction that's comfortable and breathable
Lengthy shoelaces that provide sufficient space for adjustments
Durable sneakers with sturdy vulcanized outsoles and upper
Easy to clean and maintain
Overall, I think this pair is a decent starter. It has the essentials of skateboarding gear, and most of all, the parts are sufficiently sturdy.
3. Adidas Men's Low-Top Sneaker
We all know how low-top shoes, like Adidas Men's Low-Top Sneaker, make the life of a skateboarder more enjoyable. This skate shoe fits the user's foot without covering the ankle, thus allowing better mobility on the skateboard. I believe skateboarders who often do tricks will confirm this design helps them move better.
Additionally, the low-top cut makes these Adidas shoes good for longer activity hours. Even non-skaters prefer this model because it remains comfortable throughout the day. Some of my friends also claim to be using these for more than 12 hours, and yet, they don't feel uncomfortable in them.
I think these sneakers are ideal for people with arch issues. Like I saw from various Reddit reviews, these shoes provide an ergonomic stepping platform. With that, people dealing with sore arches will have decent support through this sneaker. Also, buying expensive insoles may no longer be necessary because of this feature.
Blisters and a few cuts at the back of the heel are typical for people using their shoes for the first time. Luckily, I never had to experience any of these with this model. What's even better is that the low-top design fit me comfortably on my first try.
If there's one thing to criticize about this product, it'll be its suede quality. The suede on these shoes is a bit thin, so I have to be careful with it.
Pros
Low-top cut that frees the ankle for improved mobility
Right shoes for prolonged activity hours
Fits skaters and non-skaters
Has enough arch support for people with issues on their arches
Doesn't cause cuts and blisters even after the first try
Cons
Suede layers are slightly thin
I rarely find shoes that remain comfortable for hours like this model. With that, I think this pair can be a go-to option for many.
4. Adidas Men's Daily 2.0
When people share their skateboarding experience with the Adidas Men's Daily 2.0 Sneaker, it's the outer sole that does most wonders for them. With a rubber-constructed cupsole, this shoe offers superior impact absorption and protection to the foot. Plus, it also supports the rider's heel well.
This pair uses canvas as the primary upper material. But what sets this model apart is a heavyweight denim fabric. This material makes the shoes more durable. And like the outer soles, it's sturdy enough to serve as added protection.
I love this pair of skating sneakers because it's comfortable. It comes with OrthoLite Float insoles, providing the rider with a decent stepping surface. What's great about these footbed inserts is that they are light and soft. I think people with arch issues will find this component helpful.
Aside from being fit for arch problems, this sneaker also suits wide-footed users. At first, I thought they were too narrow. But surprisingly, this is one of the few Adidas models that match broad feet like my friend's. It provides enough room, preventing tight feels on the user's foot.
It's not a performance-related issue, but there were excess glue marks on the edges. And these made the shoe look slightly messy on the side.
Pros
Rubber cupsole for superior impact absorption and heel support
Heavyweight canvas fabric for added durability and protection
OrthoLite Float insoles that are light and comfortable
Insoles are fit for people with arch issues
Perfect for wide-footed riders
Summing up all these features, this Adidas model is one of the most versatile. The shoes work for everyday activities and are supportive from the inside out.
5. Adidas Originals Men's Superstar II Shoe
Coming with a sturdy vulcanized outsole, the Adidas Originals Men's Superstar II Shoe lets me ride my board with precision. This model uses a rubber outsole that provides sufficient grip, keeping me balanced on the board. What's more pleasing is that I get a better board feel with it.
There's also a reinforced toe that carries the shoes' durability at the front. This part also makes the pair thicker, so it can protect my toes against impact from bumping on rigid surfaces too.
Another component that makes these Adidas skateboarding shoes durable is their upper body. Adidas Superstar skate shoes come with a piece of abrasion-resistant fabric, sturdy enough to grind against rough surfaces. Besides that, this material also feels smooth, and I think it's one of the factors that makes the shoes attractive.
It may not look like the bulkiest shoe in the market, but this model comes with sufficient paddings. These padded linings aim to support the ankle, especially in doing tricks. Plus, it makes the rider feel more comfortable. From there, skaters become less vulnerable to ankle injuries and get to enjoy riding more.
On the downside, the color of these Adidas shoes faded a bit too soon. I'm not entirely sure if it's because of sun exposure. Nonetheless, they fit well.
Pros
Vulcanized sole construction for a better grip and board feel
Reinforced toe box for long-lasting durability and toe protection
A smooth and abrasion-resistant upper body that withstands rough surfaces
Light paddings to support the ankle for comfortable rides
With the mentioned features, I think this skating sneaker is good enough, especially for users that need ankle support. I also find it durable, and its parts speak for themselves.
6. Adidas Matchbreak Super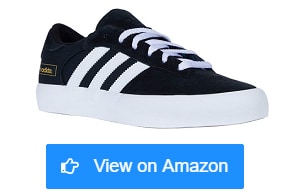 If there's a pair I'd choose for its perfect balance of comfort and ankle mobility, it'll be the Adidas Matchbreak Super.
This Adidas skateboarding shoe features a cushioned low-top design that comes with various benefits. First, it gives the feet a snug feeling with the suede. Second, the low-top cut allows the ankles to move freely.
Another factor that makes these shoes comfortable is Adidas's very own AdiPrene sock liners. These elastic insoles aim to absorb impact and protect the feet against potential injuries. Also, they have this soft feel, which satisfies my need for superior cushioning.
I think these shoes do well in terms of durability, too. Fronting each sneaker is a layer of abrasion-resistant foxing tape, which provides long-lasting durability around the toe box. Besides making these Adidas skateboarding sneakers durable, this part is vital in countering impact approaching my toes.
At the bottom side is another quality component found in the outer soles. The Matchbreak features a vulcanized outsole designed for optimum flexibility. And knowing how vulcanized shoes work, this pair proves how grippy it is and how it helps the user control the board better. Plus, these shoes are the fastest to break in.
While these sneakers fit many skateboarders, not all will love them because the design tends to be slightly narrow in front. Nevertheless, they work for skateboarding appropriately.
Pros
A cushioned body that gives the feet a snug fit
Low-top design that frees the ankles' movements
AdiPrene insoles for injury protection and cushioning on the footbed
Abrasion-resistant foxing layer for durability and impact protection
Quality vulcanized outsoles for better flexibility and board grip
Short break-in period
Cons
Slightly narrow on the toes
I love how durability, comfort, and sharp board movements are possible with the help of these shoes. All parts are of decent quality, and they work as intended.
7. Adidas Men's Bravada Skate Shoe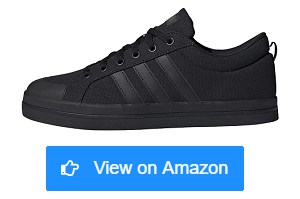 Embodying the DNA of skateboarding footwear, the Adidas Men's Bravada Skate Shoe has several features that elevate it above the competition.
First, these sneakers come with an all-flexible vulcanized outsole that gives the user superior control of the skateboard. It's grippy, and this aspect helps the rider balance better.
Another factor that makes these shoes ideal for the sport is their upper body construction. The sneaker holds up well even during rough rides with the help of solid canvas textile layers. Other skateboarders also affirm that these shoes don't tear up on the toes when doing kickflip, ollies, and other tricks.
While these shoes may not be as bulky as some brands, I am happy about their comfort from the inside. The Bravada comes with Cloudfoam Comfort sock liners, providing the feet with a plush and soft stepping surface. These layers do not only keep the feet comfortable, but I think they also help protect them from impact.
On top of being intended for heavy usage like skateboarding, I am amazed at how little these sneakers cost. They are not my most low-budget pair, but their price range is acceptable. And seeing how well they work, I believe this model is a wise grab.
I wish these shoes came with longer shoelaces. It's not that I am being creative with my knots, but I only feel more secure with long laces.
Pros
A flexible grippy outsole for better control and balance
Durable canvas layers that hold up well
Plushy Cloudfoam sock liners for comfortable rides and added protection
Works as intended and has a reasonable price
Cons
The laces were a bit short
Paying for this pair was worth it. Many users agree about their performance. With their high-quality parts, I believe they'll last long.
8. Adidas Women's Bravada Mid Skate Shoe
Another unique pair on my top picks is the Adidas Women's Bravada Mid Skate Shoe.
Looking at these sneakers, I noticed a mid-cut design. Shoes like this provide support to the ankles, and this aspect keeps the rider more stable on the skateboard. Not only that, but mid-cut sneakers also reduce the risk of injuries to the user.
These Adidas skateboarding shoes might look tall, but they are not bulky. Bravada uses canvas on their upper body, thus making the shoes feel light and breathable. What I like more about this part is its smooth finish. It runs from the toes up to beyond the ankles like a sock. And this, I think, is what makes the user's feet look more sleek from afar.
Apart from the light feel on the canvas upper, these shoes also ensure comfort on the footbed. Inside each shoe is a layer of Cloudfoam comfort sock liner, designed to give the feet a decent stepping platform. In my experience, this insole works by reducing the impact of landing from tricks and stunts.
Essentially, this pair can also be perfect for activities other than skateboarding. Like most women say, this model is their go-to shoes. It works as everyday footwear. And most of all, its regular fit with lace-up closure keeps it snug and secure on the rider's foot all day.
Right now, I don't see anything wrong with this model. It works almost everywhere, and it's a unique style for a brand like Adidas.
Pros
Mid-cut sneakers with ankle support and reduce the risk of injuries
Breathable canvas-made upper, light and sleek
Cloudfoam comfort insoles for quality footbed and impact protection
Works for activities other than skateboarding
Lace-up closure for secure fit
Cons
No downside at the moment
This sneaker is not only ideal for women because of its style. It's its build, comfort, and versatility that makes the pair one of the best Adidas skateboarding shoes for everyday activities.
9. Adidas Performance Men's Samba Classic Shoe
One of the features that made me select the Adidas Performance Men's Samba Classic Shoe was its high-quality outsole. Besides being a decent gum rubber, I find this part unique. The bottom side is far from the usual plainly-patterned soles as it comes with pivot points, allowing the user to maneuver the skateboard better.
If we move higher from the bottom of the outsole, we'll find another quality layer in the midsoles. Adidas Performance uses embossed EVA, which I thought was only for protective skating gear. Surprisingly, this material helps reduce impact from landing, and most important of all, makes the rider feel more comfortable.
For leather shoes, I think this model is staple footwear. This shoe comes with layers of full-grain leather accented by stripes of suede overlays. And while these parts make the shoe look classic, they're not only there for design. Indeed, they add more protection and support to the sneakers from the upper side.
As the ads say, these shoes are true to their size. I believe many users agree that this sneaker indeed arrives at an appropriate size. For someone who buys online, this aspect is most beneficial to me. It eliminates the need to contact the seller for replacement or any other remedy.
Unfortunately, these sneakers are not as breathable as other models. So, I think it would be best to apply foot powder before wearing them to keep our feet dry.
Pros
High-quality pivot-pointed rubber outsole for maneuverability
Impact-resistant EVA midsoles for less landing impact and more comfort
Classic-looking full-grain leather
Features stripes of suede adding overall support
Has accurate sizing for easy selection
Cons
Less breathable than other shoes
Despite the minor drawback, I love these sneakers because they're unique in several aspects. Best of all, they fit users with ease.
10. Adidas Originals Unisex-Adult 3mc Sneaker
One good thing about Adidas skateboarding shoes is almost all of them fit either sex. The Adidas Originals Unisex-Adult 3mc Sneaker is a good example.
It comes with an everyday style designed to keep users feeling comfortable. The shoes don't look extravagant, but that makes them perfect for casual settings.
One part that makes these Adidas shoes good for skateboarding is their upper body material. Using canvas and nylon, this model ensures I get durable footwear that can withstand my skateboarding activities. So, not only do users get classic-looking footwear, but they also get to wear a sturdy pair.
In terms of performance, this model doesn't disappoint. It feels grippy on the skateboard, and this advantage is because of the shoe's rubber sole. This part is far from the flimsy versions of a few brands. And having it beneath the foot gives the user optimum balance and control of the skateboard.
On top of these, several users also agree that this Adidas skateboarding shoe prevents impact from reaching their heel. This sneaker comes with a targeted cushion on the heel to absorb impact at a certain level. This aspect is most relevant to skaters who do more tricks and those with injury-prone feet.
For people with wide feet, I don't think these Adidas shoes will be the best to use. So, before buying, everyone should ensure the width and the length are enough for them.
Pros
A classic everyday style that fits both sexes and casual settings
Comes with sturdy canvas and nylon upper for active skateboarding
A quality rubber sole for better control and balance
Cushioning on the heel to protect against impact
Cons
Not the best pair for wide-footed people
Overall, these are decent sneakers, not the most salient on the list, but good enough for skateboarding.
11. Adidas Women's Broma Skate Shoe
Of course, we can't miss out on listing footwear women will love, such as the Adidas Women's Broma Skate Shoe.
Unlike the usual Adidas models with padded collars and cushions, this pair solely uses a canvas upper. At first, I thought it wasn't a good idea for skating. But after hearing from women, they love this pair because it has a modern style fit for skaters and non-skaters.
What's good about these sneakers is they are not flimsy despite looking less chunky than other products. They are lightweight compared to some models, but they have reasonably substantial outer soles. And with OrthoLite insoles, these shoes provide the arches with superior support. Unsurprisingly, this model lives up to the brand's protection level.
Additionally, no sizing issues arose with this model. Almost all women sharing their experience concluded that this pair is true to its size. As someone who buys online, I find this affirmation relevant, as I didn't need to remember return windows or contact sellers for replacements.
Some might think that sneakers like this model fit less snugly. But what I appreciate about this pair is it comes with a lace-up closure. This feature does not only make the shoe stay on the foot. Beyond that, it also helps users achieve the optimum tightness level.
On the downside, these sneakers are not very breathable. They don't have thick paddings inside, but the absence of ventilation holes makes the feet wet and smelly at times.
Pros
Modern skating sneakers with a pure canvas upper
Fit women, whether they skate or not
Lightweight but not flimsy
Substantial outsoles with OrthoLite inserts for comfort and protection
Arrived true to their size
Lace-up closure that helps attain optimum fit and tightness
Cons
Less breathable without ventilation holes
These Adidas skater shoes are unique because of their structure. Women love them, and they seem to enjoy this pair.
What to Look for When Buying Adidas Skate Shoes
For once, you might have asked, "are Adidas good for skateboarding?". Like Nike or any other brand, Adidas also has the essentials of a skating shoe. But, let's understand how these parts stand compared to other brands.
Vulcanized VS Cupsole
Whether it's vulcanized or cupsole shoes, the sole construction remains an argument for many because these two have their respective pros and drawbacks.
Vulcanized shoes are the more sensitive pairs. They come with flexible rubber sole bodies, helping the rider improve mobility on the skateboard. Not only that, but vulcanized soles are also grippy, and they yield a superior board feel.
On the other hand, cupsoles have the upper hand in overall impact protection. This type of shoe has thicker and less flexible soles. And in terms of heel support, having a pair like these will help you maintain stability better. A classic example of this type is the Adidas Stan Smith skate shoe.
What's good about Adidas is it helps every user select the best pair with an array of models for each of these types. That way, no one ends up choice-less.
Soles
Besides impact protection, we also need to know how to get optimum comfort with the soles. Let's get into each layer.
This part deals with the most friction and other external elements. It has to be durable with the right balance of flexibility.
With that in mind, what we are looking for are gum soles. Gum-soled sneakers are grippy and are the most suited soles for skateboarding. They let the user balance better by firmly holding on to the deck. Plus, they also help the rider move better with their elasticity.
Another factor contributing to riding comfort is the midsoles. While this part commonly hides between other sole layers, we still need to give much attention to it.
Specifically, Adidas uses EVA as one of the primary midsole materials. EVA midsoles distribute your weight over the shoes. Also, they're flexible, light, and are soft enough to give your feet sufficient cushioning. So, they're not only there for added thickness or design, but also work to stabilize you and provide comfort.
Several people can agree that the sneaker's inner soles are indicative of whether they'll stick to the model or not. True enough, insoles vary from one brand to another.
You can use various insole options for Adidas sneakers like the Adidas Tyshawn, and all of them are of high quality. You can choose among OrthoLite, Cloudfoam, or AdiPrene insoles, which offer a decent stepping platform for the rider.
Vents and paddings
If I can add more factors to comfortable rides, it'll be the ventilation holes and paddings. Not all shoes and brands come with ventilation holes adjacent to the arches. These vents will allow air to move in and out, thus preventing sweaty feet in humid conditions.
Additionally, the paddings for Adidas skating sneakers are thicker on the collars. This aspect gives the user a better, snug feel around the ankles. Plus, it may also make wearing and putting shoes off more convenient.
Upper material
A skating sneaker's upper body construction varies in several ways. For skateboarding Adidas shoes, two materials are the most common.
If you want a pair that's light and breathable, canvas shoes might be the perfect pair for you. Sneakers made with this material can absorb moisture. Also, they won't make you feel like lifting your feet is difficult.
On the downside, they're a less durable class of skateboarding sneakers. So, if you look forward to extreme skateboarding, you might as well consider picking a sturdier model.
Having leather skateboarding shoes assures you of optimum wear resistance. Whether for formal setups or recreational outdoor activities, this material lasts and can let you skate all day without wearing it out.
For example, the Adidas Samba Men's shoes use leather as the primary material. Users of this model can attest that these sneakers hold up well and are easy to maintain. Plus, they offer more protection and support on the upper side.
Shoe cut
The reason why we added a pair of mid-cut skating sneakers to the products' list is to let you know that low-tops aren't the only choice for skateboarding. Let's discuss them plus another type.
Most of the time, we prefer low-cut sneakers as a skateboarding necessity. These shoes never get over your ankle, which means you are more mobile. However, low-top sneakers are more ideal for skateboarders who can balance better and are less susceptible to ankle injuries.
These skateboarding shoes wrap your foot from the toes up to inches beyond your ankle. With mid-cut shoes, you get added ankle protection. Moreover, users of this style may feel less shaky on the board. If there's a drawback to this sneaker, it's the lace-up closure. The shoelaces need to be loosened well to slide the foot in and out.
Adidas high top skate shoes are not only for added stability. Several buyers of Adidas skate shoes high top models prefer this style because of improved safety, paddings, and cushioning on the ankles and around them. These are great for cold weather, as they keep the rider's feet warm and secure.
What Adidas Is Good for Skating
Several factors make up a good pair of Adidas skating shoes. Overall, it's best to consider the aspects we discussed.
For my top choice as the top-rated Adidas skating pair, I'll stick with the Matchbreak Super. These sneakers come with AdiPrene insoles and a cushioned body for comfort. They also have added durability, thanks to the foxing tape. Plus, they let my ankles move better with their low-top design.
How Do Adidas Skate Shoes Fit
Most reviews we see about Adidas sneakers reveal how each model is true to its size. And while it's a form of affirmation for some, not everyone knows how a skate shoe, in general, should fit.
Let's start with narrow feet. Riders with this condition are most suited for narrow-cut sneakers with light to moderate cushioning. This aspect will help them have a better board feel without losing control.
For wide-footed skateboarders, it's best to have wide-cut shoes with broad toe caps. These features will free the toes and arches from feeling tight and uncomfortable.
Generally, the skate shoes fit should leave a space equal to your thumb's width. That way, you'll avoid tightness and have room for additional insoles.
How to Clean Adidas Skate Shoes
Once in a while, we need to clean our Adidas skateboarding sneakers. That way, they remain as useful as our skateboards and we get to preserve them. Here's how we'll do it.
Remove dirt on the soles using an old toothbrush.
Grab a cloth soaked in warm water with light cleaning soap and wipe it against the stains.
Rinse the fabric and remove soap and stain residues.
Air-dry the shoes.
Conclusion
Choosing the right skate shoes should not depend on what others say or what the ads tell you. Your preference and overall experience are still two of the most significant factors when picking your footwear.
Now that we've narrowed down the best Adidas skate shoes, it's time you focus more on the tips and details I have shared with you. Make sure you understand each aspect to land on the best pair for yourself.
If you have inquiries, drop them in the comments section.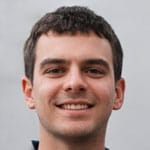 Hi, I am Charles Harris. I opened this site to write as much as I can about my biggest passion – skateboarding!
I started as a clumsy yet passionate rookie 10 years ago to now a still passionate yet much better skateboarder! But I have to tell you, the whole journey has always been fun and rewarding, indeed not without hardship.