All athletes or sports enthusiasts understand the need to record their past performances. That way, they'll see which part in their execution needs improvement. As for skateboarders, besides keeping track of their progress, one more reason they record their rides is to capture scenic views.
If you're one of the skateboarders who feel the need to bring digital lenses on your trips, it's time to get the best camera for skateboarding. Here are the fundamental aspects to consider while shopping.
Structure – Bringing an electronic gadget when riding is like holding a glass in your hand. The only difference is the device has sensitive interiors. With that, try to find a camera with a sturdy build. That way, it'll be able to contain some impact and protect its wires and other components inside.
Another thing you have to ensure with the camera's structure is its water resistance. Most skateboarders will come across light rains when riding, so you might as well secure your camera.
Quality – Your camera should be able to yield decent photos and high-quality videos. You don't want to end up scanning blurred images. So, the first thing you have to check is the device's pixel rating.
For photos, it should be at least 12 megapixels, enough to capture and display sharp images. And for videos, try to look for models with at least 4K video resolutions.
Size – The dimensions of your camera will be crucial once you start riding your skateboard. There are skating video cameras you can attach to any part of your body or helmet, while there are other cameras you can carry with your hand. So, before getting a camera, try to assess which setup fits you best.
These are other things we need to give careful attention to, mainly because we'll be dealing with electronic devices. So, don't miss the buying guide at the end of this article. For now, let's go over the top-rated skateboarding cameras I have tested.
Top 1
AKASO EK7000
– 4K video resolution
– 2.4G remote control
– 2 rechargeable 1050mAh batteries
Top 2
Dragon Action Camera
– Has a waterproof case
– Various camera modes
– Wide angle lens with 170°
Top 3
AKASO Action Camera
– 2″ adjustable screen
– 1080P/60FPS video
– Adjustable angles from 70° to 170°
List of 10 Best Skateboarding Camera Reviews
1. AKASO EK7000 Action Camera
The first thing I love about the AKASO EK7000 Action Camera is its resolution. This skateboard camera features a 4K video resolution with 16MP image quality at a 30FPS rate, enough to take amazing shots and display them sharply. Another thing I like is that its media quality is better than several brands in the market.
The next feature I appreciate about this camera is its instant connectivity. First, I can connect the device with my phone through Wi-Fi using the brand's application.
Alternatively, it has a built-in port for HDMI cable users who don't have the software yet. These two features give me instant access to my skateboarding videos and photos, allowing me to edit or go over all these media.
One more connectivity feature I find advantageous about this camera is its remote operation. It comes with a 2.4G remote control, letting me initiate various camera functions with my palm. From there, I get to capture photos, record skate videos, or control the camera in general. What's good is I get to do all these conveniently.
I think this device also has a noteworthy battery-saving feature. It comes with a pair of 1050mAh batteries, enough to keep me recording for 180 minutes combined. I like these batteries because they are rechargeable. And with that, I think I got to save some money from buying new batteries every time.
However, like some users on Reddit, I think the application doesn't seem to work well on Android devices. Good thing it synced efficiently with an iOS device.
Pros
4K video resolution with 16MP picture quality at 30 frames per second
Synchronizable using a wireless or HDMI connection
Has a 2.4G remote control for more convenient operation
Comes with two rechargeable 1050mAh batteries, enough to cover long rides
Cons
The application has a few bugs on Android devices
Overall, I like how my photos and clips turn out every time I use this skater camera. It's handy, convenient, and I think it's good as a budget camera.
2. Dragon Touch 4K Action Camera
Coming with various camera modes, the Dragon Touch 4K Action Camera ensures I get variety from my ride's clips and photos. This device features different operating setups, like driving mode, loop recording, time-lapse, and more. With these, I can be more creative with my skate videos and photos.
I think this camera's wide angle lens is broader than average. It has a 170° viewing capacity, wide enough to capture almost everything my eyes see. I like this feature because I can appreciate scenic views more and review skating conditions around me. Also, this attribute makes my media look more inclusive.
I don't ride my skateboard frequently in wet seasons, but doing so with this camera is still possible because Dragon Touch provided a waterproof case. This accessory allows me to shoot videos without having to worry about rain. Plus, it can work for diving sessions as deep as 30 meters.
One more aspect I love about this waterproof camera is its ease of installation. It comes with a set of mounting gear, such as a bicycle stand, helmet mount, clips, and more accessories that help transport this camera conveniently. With these, I never have a hard time setting up the device before going on a ride.
It's not much of a disadvantage, but I find this device's switch and shutter sounds slightly disturbing. I didn't have the option to turn these noises off.
Pros
Comes with various camera modes for more creative photo and video shoots
Wide angle lens with 170° viewing capacity for better width on the media
Has a waterproof case for safety against rain and water penetration
Various mounting accessories for easy installation
Cons
Noisy shutter and switch sounds
This Dragon Touch is an ideal action camera for people like me who want quick installations. It works well, and I love playing with the camera's various picture and video modes.
3. AKASO Brave 4 20MP WiFi Action Camera
One of the best things about the AKASO Brave 4 20MP WiFi Action Camera is its HD resolution. This skateboard filming camera features a 1080P/60FPS video quality that makes the clips look flowy and smooth.
Plus, it comes in 20MP, high enough to yield sharp photos. So, not only do I get to record skateboarding rides, but I also get to enjoy watching them.
Another aspect I love about this camera is its electronic image stabilization. This feature works by turning on the anti-shaking and gyroscope modes of the camera. Thanks to it, all frames, whether videos or action photos, will turn out to be sharp and detailed. It's like using a manual camera in sports mode.
As a handy camera, I think AKASO's 2″ screen brings a lot to me. With this feature, I can set up the device well before going for a ride. I get to adjust its angle and place it on my desired mode, all with its compact body. Also, it allows me to preview my photos and videos to see any aspect I can improve with the camera's setup.
I also like the camera angles of this device. I can pan a video as wide as 170° to as narrow as 70°. That means I can set the device's angle based on my preference. Also, I think I can emphasize subjects more using this adjustable angle feature.
However, I had to put tape over the battery door of this camera. It doesn't come with a hinge, which means it's entirely removable and can be lost easily.
Pros
1080P/60FPS video with 20MP photo for quality clips and images
Electronic image stabilization feature for sharp skateboarding shots
Has a 2″ adjustable screen for media previews
Adjustable angles from 70° to 170° for better output
Cons
Battery door may be prone to getting lost
I love the details of my skateboarding videos and images taken by this skateboard camera. They're sharp, and I love how I managed to set up this device the way I wanted it.
4. PROGRACE Kids Camera
Coming with several user-friendly features, the PROGRACE Kids Camera is one of the most suitable skate cameras for young skateboarders.
First, it features seven color modes, 40 photo frames, and face recognition, making picture-taking fun and easy for kids. Second, it only weighs 0.11lbs, which means it's light and doesn't feel like a burden to carry.
The next feature I like about this tiny camera is its battery system. It comes with a 3.7V rechargeable battery, enough to capture videos as long as 1.5 hours. What I love more is this component has an automatic energy-saving mode. This feature shuts down the camera once the device has five minutes of battery life left.
Besides being fit for skateboarders' helmets, this camera also works for diving and biking. These setups are possible because this device comes with all the necessary mounting accessories. With these additions, bringing this camera feels conveniently secure, given that kids move more than adults.
One more feature I love about this camera is its storage capacity. It comes with a memory card slot that can fit storage as high as 32GB, like some smartphones. Not only that, but it also has an 8GB memory card in the package. Therefore, I think I got to save money from buying a storage accessory separately.
On the downside, the USB port got damaged a bit early. Nevertheless, I contacted the seller, and they responded immediately.
Pros
User-friendly features that make the camera ideal for kids
Weighs only 0.11lbs, light enough for small skateboarders
7V battery for 1.5-hour recording with an automatic energy-saving feature
Comes with complete accessories for land and underwater activities
Has a free 8GB memory card and storage capacity up to 32GB
Cons
USB port got damaged too soon
I think this device is an amazing camera for young skateboarders. It's easy to use, has a long battery life, and is the budget camera for me.
5. GoPro HERO 9 Action Camera
Capturing high-quality photos like a professional is possible with the GoPro HERO 9 Action Camera. This device features a 5K full HD video resolution, allowing me to take smooth, flowy videos. What's good about it is I get to zoom into all these media with the device maintaining sharp details.
For the pictures, this action camera is also a good one. It has a 20MP SuperPhoto function, keeping the images crisp. This feature automatically selects the best image processing for me, thus helping me save time editing or picking which among my photos is the best. It's like using big cameras on set.
Another benefit I get from this professional camera is its dual screens. First, at the rear side is a touch display that allows me to zoom into my photos conveniently. Second, it comes with a front display screen, making framing easy for me. This aspect also enables better intuitive camera control.
One more factor that makes taking photos convenient for me is this device's scheduled capture feature. This function takes pictures without needing user intervention. All I have to do is to set my desired capture time, and the device will do the rest. That way, I can focus more on riding while keeping photos of all the spots I visit.
While this camera has spectacular features, I find it pricey compared to some brands. The good thing here is it works as described.
Pros
5K video resolution for sharply detailed videos
20MP SuperPhoto feature that automatically picks the best imaging
Dual screens for better intuitive camera control and easy zooming in
Scheduled capture feature for convenient picture taking
Cons
A bit pricey compared to other skateboarding filming cameras
This camera has way more advanced features than most brands. It yields quality outputs. Most of all, I love the convenience it gives me because of its unique functions.
6. Canon VIXIA HF R800 Skateboarding Camera
Filming my skateboarding peers feels easy because of the Canon VIXIA HF R800 Skateboarding Camera.
This camera may not be as compact as other devices, but what makes it handy is its padded handle strap on the side. This part helps me take firm hold of the camera. Thus, I get to keep it secure no matter my movements on the skateboard.
One aspect I love about this camera is its video stabilization feature. It comes with a SuperRange Optical Image Stabilizer, helping me manage shakes on my clips. This function works by keeping my videos sharp and steady regardless of the amount of movements I make. With that, I get to enjoy clear visuals from my footage.
What makes this model a cut above other skateboarding video cameras is its screen. The Vixia comes with a 3″ capacitive touchscreen, wide enough to check my media better. And since this viewing monitor works through touch, it's convenient and easy to operate.
Another feature that makes me love the output of this camera is its HD CMOS Image Sensor. This component has enough sensitivity, adapting natural light to my photos and videos. With that, this camera's outputs look more lively, and I love looking at their original hues.
On the downside, this option has video recording limits. If I pause between filming sessions, it saves clips at a 4GB maximum size per file only. Good thing I barely record long videos.
Pros
Comes with a padded handle strap for better grip of the camera
SuperRange Optical Image Stabilization to counter shaking on the device
3″ capacitive touchscreen for easy and convenient operation
HD CMOS Image Sensor making photos and videos natural-looking
Cons
Records videos at 4GB maximum size only
I love this HD camera because it's handy despite its size. It also has quality outputs, and I love how it neutralizes shaking on the device.
7. AKASO V50 Elite Action Camera
Skateboard cameras have various ways of being convenient. The AKASO V50 Elite Action Camera, for example, operates through voice control. This feature allows the user to take shots and record videos by giving verbal commands to the device. That way, I can take high-quality photos or clips even if I'm holding the camera away from me.
The next feature I like about this action camera is its distortion calibration function. This aspect helps improve the picture quality by reducing distorts captured by the device. With this feature, my pictures improve from vague to clear ones. Also, I get to see the details of the images better.
I'm more of a skateboarder than a diver. But taking this camera into the water is one more reason I like it. If other cameras can go as deep as 100ft, this brand goes deeper at 131ft. This aspect gives me more confidence riding my skateboard during wet seasons with this camera over my head.
One more feature I love about this camera is its video quality. Like some good cameras for skateboarding, the visual details come out well. But what makes this brand better is its wind noise reduction feature. This aspect shuts out noise caused by the wind, thus making my clips sound clearer.
The only thing I did not like about this camera was its wireless connection to my smartphone. It gets lost easily even if my phone's only two meters away.
Pros
Takes photos and records videos through voice commands
Distortion calibration feature, eliminating distortion to the images
Perfect for diving as deep as 131ft
Wind noise reduction feature for clearer clip audio
Cons
The wireless connection does not work well
Despite that, I am happy about this camera because I can control it through my voice. Also, the videos sound precise enough, and my images come out refined most of the time.
8. ORDRO 4K Camcorder
Like the average battery life of most skate filming cameras, the ORDRO 4K Camcorder also supports a 2-hour video recording until the batteries drain up.
But what I like about this camera is it can record beyond its long battery life. All I have to do is plug it into a power bank, and the recording resumes. So, taking videos of any length doesn't make me feel worried.
Another feature of this skate film camera is its wireless connection. Ordro comes with a Wi-Fi connection feature, allowing me to download all media to my smartphone through an application. What's good about this feature is I can connect both devices even if they're almost 3m apart, better than most brands that lose connections at 2m.
Despite looking old-school compared to some skateboarding camera models, this camera has other features that appeal to me. First, it comes with compact dimensions of 5.04″ x 2.75″ x 2.68″, perfectly fit for my hands. Second, it only weighs 0.89lbs. That means holding it for hours won't feel like a burden on my end.
One more connection feature I find advantageous about this camera is its remote control. Almost all skateboarding cameras require this addition.
Furthermore, this brand allows its remote to connect well to the camera, making the device responsive even from a 16-foot distance. Not only that, but this remote's controls are easy to understand, helping me operate the camera better.
It's not that much of a disadvantage, but I don't think the microphone coming with this camera package is the best fit for professional shots.
Pros
Continuous recording through power bank support
Strong Wi-Fi connection to smartphones as distant as 3m
Compact size and manageable weight fit for long hours of holding
Easy-to-control remote that connects as far as 16ft
Cons
The external microphone does not fit professional shots
Overall, this camera is a reliable one for long, uncut recordings. It has steady connections to the remote and smartphones, and its build looks like a Sony skate camera.
9. Kimire Video Camera
Coming with various user-friendly features, the Kimire Video Camera is one of the most functional cameras for filming skateboarding.
On top of its 1080P video resolution and 24MP photo are a fill light and a 3″ LCD screen, making things convenient for me. These two features are the most significant because I get to set up the device in the best way.
This video camera for skateboarding also does well when I take photos. First, it has an anti-shake function to keep the output steady. The second is the beauty feature that refines the subject's image. And third is the face capture function, which smartly identifies the face of a person. These features add more convenience by yielding quality outputs.
One of the common disadvantages of action cameras is their inability to put gaps at any point without creating new files. The good thing about this camera is that it has such a feature – the pause function. This aspect lets me select which part of my activity I want to record without making a new clip.
Connection-wise, this camera doesn't disappoint me. It doesn't sync through Wi-Fi connections to smartphones, but plugging it into various devices is seamless. It comes with the necessary AV and USB cables for easy file transfer. And what I love more is this setup is compatible with several Windows and Mac operating systems.
However, unlike some of my camcorders, this model does not support external microphones. Nevertheless, it yields quality media.
Pros
Supports 1080P video resolution and 24MP photo
3″ LCD screen and fill light for added setup convenience
Anti-shake, beauty, and face capture functions that yield quality outputs
Pause function for easy skips during video recording
Has all necessary cables to connect to another device
Works with various Windows and Mac operating systems
Cons
Does not support an external microphone
I love how this high-quality camera focuses on my subjects. It makes them look neat and sharp. Also, it's easy to set up and calibrate.
10. Aabeloy Video Camera
The first thing I love about the Aabeloy Video Camcorder is its audio quality. This camera is similar to most camera recorders in the market, but what slightly sets it apart from them is its external microphone. This component makes the audio of my video clips precise and clear.
While most camcorders come with a simple strap on the side, Aabeloy has a different way of holding the camera. This design comes with an adjustable handheld stabilizer. This component is not only a safe way to bring the device but is also a factor for smooth photos and videos. Added with an ergonomic design, it feels comfortable and secure to hold.
The next thing I love about this video camera for skating is its zoom lenses and lens hood. The latter restricts light leaks, thus keeping the natural tone of my photos. What I like about it is it also prevents direct impact. So, not only do my pictures and clips look good, but my camera is safer from the elements as well.
This camcorder for skateboarding isn't only for bright scenes but for dark ones, too. It comes with an infrared night light vision that keeps photos and videos clear where low light conditions exist. This feature is beneficial when riding on a less sunny day or when I get on the skateboard at twilight.
On the downside, it's a bit difficult to control the touchscreen. Nevertheless, the remote control that came with the camera solved the issue.
Pros
Comes with an external microphone for quality audio and zoom lenses
Handheld stabilizer for smooth videos and safe handling
Camera hood to restrict unwanted light leaks and impact
Infrared night vision for clear shots in dark conditions
Cons
Challenge in operating the touchscreen
Using this skateboarding camcorder makes me feel like a professional videographer. It looks like my old VX1000 skateboarding camera, and the audio quality makes this camera a must-have.
What to Look for When Buying Camera for Skateboarding
While cameras in general can be of service for various purposes, getting a camera intended solely for skateboarding entails more benefits. Here are a few things we have to consider when getting this product.
Video
Filming skateboarding requires high video resolutions and quality video recording features. Otherwise, we won't produce the footage we want. Let's take a look at some aspects that determine the clarity of our films.
Most modern brands today come with at least 4,000 horizontal pixels. Other good cameras for filming skating come with 5K resolutions or 5,000 pixels. As a rule, the higher the count of such digital features, the more detailed the outputs become. Nonetheless, having a camera with pixel counts between 4K and 5K will fit skateboarding.
I think a skateboarding camera must be versatile enough with different setups that suit the rider's taste. With that, try to look for models that offer various video recording modes. These include loop recording, time-lapse, driving mode, pause function, and more. Through these attributes, the user can be more creative with the clips.
The most relevant factor in the smoothness of videos is the FPS count of the device. This aspect goes at either 30fps or 60fps, with the latter yielding more flowy clips.
Photo
Besides taking videos of your ride, you'd also want to take random photos of beautiful scenery and other movements when riding. So, here are a few photo features we can get from the top-tier skateboarding cameras.
Camera manufacturers often describe their devices' imaging capacity using megapixels as a unit of measure. The minimum count for this aspect should be around 12MP. That way, subjects and actual photos remain clear even when zooming in.
A camera's photo function also comes with various features to enjoy. Some of these are face recognition, scheduled capture, and more. These functions make the camera more user-friendly and convenient to operate as well.
Build
One of the factors you need to consider when choosing skateboard cameras is how you will carry them. That way, you'll know what camera dimensions fit you. Skateboarding cameras mount on the rider's helmet or chest, while camcorders are handheld, given that they're bigger.
If you are confident in using both types, then the device's size may not matter that much. But if you feel uncomfortable with skateboard camcorder sizes, you have the option to use action cameras. These devices come with 2″ screens on average, which means they're easy and light to install on your helmet.
Accessories
It's not enough that we enjoy the camera's software and functions. We also have to know how to handle it well. And while even cheap cameras for skateboarding come with more than a handful of accessories, it's best to familiarize yourself with each one to identify what you need most.
One of the ways to secure our skateboard cameras is by searching for a camera package with complete mounting tools. Another one is by using waterproof cases for skateboarding cameras. With these, we can be more confident riding with our cameras.
Besides protecting cameras, some accessories also help improve the photo and video quality. An example of this is a handheld stabilizer. This accessory secures the camera on the hand without the rider physically holding it. And what makes it a perfect addition is it improves the quality of media by neutralizing motions on the device.
Connectivity
The skating camera should also be easily accessible. It should connect well with smartphones for control and computer devices for easy file transfer.
With that, try to check for the camera's wireless connection by testing its signals from a distance. Second, check for cables that match most host devices, such as computers and laptops. You may also want to check the camera's compatibility with various operating systems.
How Do You Take Good Pictures for Skateboarding
Taking skateboarding photos is like taking your profile photos. It requires utmost precision and attention. But this time, it's a bit challenging since you will have to do it with a subject in motion. Here's how:
Find a place with good lighting
Search for the best angle
Set the camera's focus on the subject
Adjust the shutter speed to capture movements sharply
Make use of the part of the background that matters only
Find the best timing, capture, and use props if available
How Do You Record Yourself on a Skateboard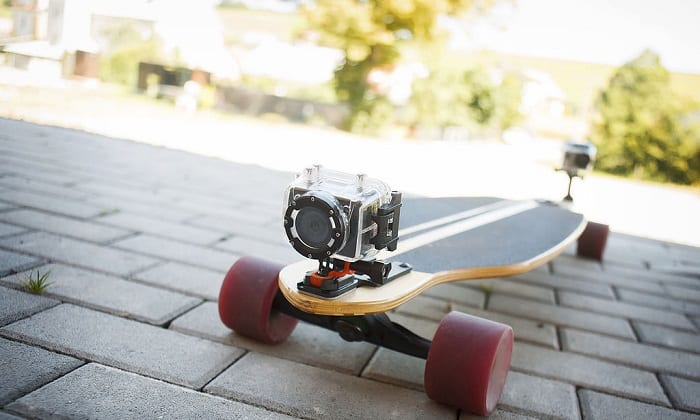 Recording yourself while riding a skateboard entails a challenge. But that doesn't mean it's impossible. Let me teach you how.
Install your camera on a monopod or a handy tripod
Focus the lens on you and mark your positioning
Try recording a short clip without riding the skateboard yet
Once you're ready, press the record button on the device
Ride your skateboard
Follow your initial positioning to keep yourself in frame
How Do You Put a Camera on a Skateboard
Good skate cameras today come with more and improved accessories to give the user options to install them anywhere. Here's how to install one on your skateboard using a clamp.
Install a clamping grip on your action camera.
Fasten the clamp to the deck.
Tighten the accessory using its bolt.
Adjust the camera to your desired focus.
Move the gooseneck to film at the right angle.
What Camera Lens Do Skaters Use
I always prefer a perfect mix of depth and width when recording or capturing skateboard rides. And with that, I use a fisheye lens, like what a Panasonic camera for skateboarding has. This component allows me to focus on the subject well and emphasize its color and sharpness. Also, I get to have a wider angle when shooting videos and taking photos.
Is a GoPro Good for Skating
To me, GoPro is the best video camera for filming skateboarding. It's not a cheap skate camera, but I like it because it does more than merely record videos or take wide-angle photos. GoPro cameras come with advanced features that enhance video and picture quality. Also, its structure and design make it a convenient and effective device to film skateboarding.
Conclusion
Skateboarding can be a memorable journey. To document it, taking photos and videos may be a part of your routine. With that, you get to browse all these media and take a glance at the places you visited and rides you accomplished.
By using the best camera for skateboarding, not only will you get to capture images and record videos, but you also get to ensure their quality. Keep in mind the things I have shared with you to know what suits you best.
Should you have inquiries, drop them in the comments section.
Furthermore, if you are looking for skateboard accessories to support skating, don't forget to explore these articles: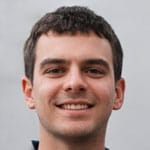 Hi, I am Charles Harris. I opened this site to write as much as I can about my biggest passion – skateboarding!
I started as a clumsy yet passionate rookie 10 years ago to now a still passionate yet much better skateboarder! But I have to tell you, the whole journey has always been fun and rewarding, indeed not without hardship.