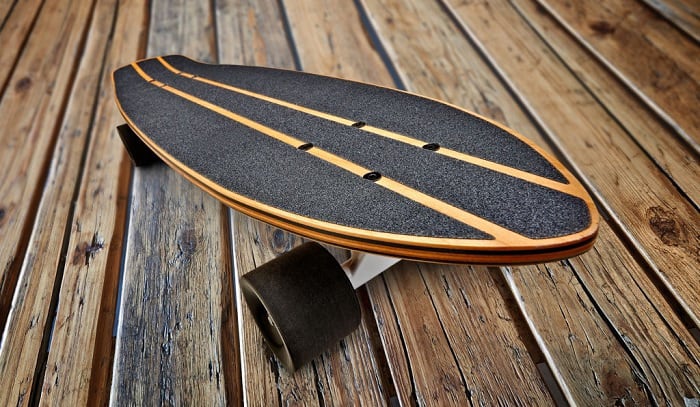 Carving remains to be one of the easiest yet relevant skateboarding skills today. And with a rapidly increasing number of people trying to skateboard, learning this trick becomes more of a necessity. However, we can't always expect to master any skill, no matter how simple, without the right pieces of equipment. And with that, let's start by picking the best carver skateboard. Here are a few things you need to consider.
Wheelbase: The wheelbase refers to the distance between the inner bolts of your skateboard trucks. Often, skateboarders prefer to have shorter wheelbases to turn faster than those with longer wheelbases. On this occasion, you can have a skateboard with a wheelbase ranging from 15″ to 17.75″. These measurements also suggest shorter decks for better maneuverability.
Trucks: You will have to do a lot of pumping on your skateboard when you carve. So, your trucks have to be sturdy enough to withstand weight shifts and continuous movements. To achieve this, look for skateboard trucks made with aluminum alloy. This material is not only durable but is also a perfect choice because of its lifespan.
Deck: The deck size may not matter that much for carver skateboards. But the deck composition will always be relevant as this aspect tackles the durability and stability of your skateboard. The best deck material to pick is maple wood. And if your budget allows, you can have those maple decks mixed with bamboo, fiberglass, or any other durable material.
In this article, I will take you through several choices to give you an idea of what's available. Also, do not miss out on the buying guide for a more detailed explanation of things you need to consider in the selection process.
Top 2
White Wave Skateboard
– Classic and natural look
– Aluminum alloy trucks
– Canadian maple wood and bamboo deck
Top 3
Flow Surf Skates Skateboard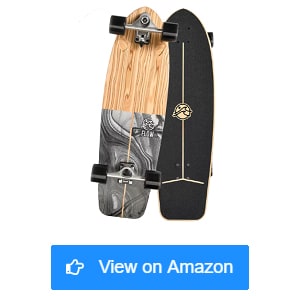 – Perfect for skating and cruising
– 33″ classic cruiser
– Uses Flow technology
Top 10 Carver Skateboard Reviews
1. Magneto Complete Skateboard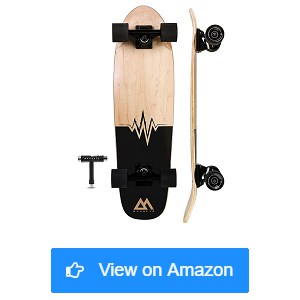 The first thing I love about the Magneto Complete Skateboard is its trucks. This skateboard comes with a pair of gravity-casted aluminum trucks that are durable. I'm not a heavy skateboarder, but this feature helps me well when taking sharp turns and keeping my stability on the board.
This skateboard has got a sturdy deck as well. Magneto features six plies of Canadian maple wood that are not only strong but perfectly stiff as well. Plus, on top of it is an almost transparent layer of sand grit finish for better grip. So, not only do I get a durable deck but a safe one too.
What I do like about this skateboard is its portability. It has a mini-cruiser design intended for on-the-go skating. It's not the shortest skateboard I have, but it feels convenient taking it anywhere with me. That way, I'm having fun exploring and riding different locations using this skateboard.
This option from Magneto comes with a T-tool in its package, which not all brands have. I think it's an advantage because I get to save time, money, and effort from buying a separate repair tool at the shop. With this, I get to make immediate adjustments on the skateboard's trucks, wheels, bearings, and other parts.
However, I find the bearings a bit sluggish. They felt dry, so I had to lubricate them to keep my rides smooth. It's not much of an issue, but I think first-time users should check on this too.
Pros
Durable gravity-casted aluminum trucks for stability
Sturdy 6-ply Canadian maple deck with a sand grit finish for safety
Portable and convenient to ride anywhere
Comes with a T-tool in the package
Cons
Bearings needed lubrication to roll smoothly
This skateboard is one I'll frequently bring because of its design and adaptability to different riding locations. It's easy to control, and the parts are visibly durable.
2. White Wave Bamboo Skateboard Complete
If decks were to be a top consideration, I'd choose the White Wave Bamboo Skateboard Complete. This skateboard features a unique combination of Canadian maple wood and bamboo as its deck materials. This kind of deck has the perfect balance of stiffness and durability. And with these, I get to have smooth and comfortable rides.
I also love how this skateboard looks. It comes with a heat-pressed graphic art at the bottom of the deck, and on top is a clear sprayed grip tape. These two features make the skateboard look classy. Plus, I get to appreciate the deck's natural color because of its transparent grippy layer.
The trucks of this skateboard are light and sturdy at the same time. These skateboard components ensure everything is intact because of their quality aluminum content. Plus, their kingpins and hangers are of Grade 8 metal, which means they are reliable, especially when I go for complicated tricks.
I think the wheels of this skateboard are an advantage, too. White Wave features a set of Hooligan wheels with oversized ribbed cores. This aspect creates a smooth and fast ride for my skateboard. Also, their high-rebound urethane body makes the rollers durable, stable, and lively to ride.
However, I would suggest preparing a new set of bearings for the skateboard. All its parts are good except for these bearings, which didn't work very well after two years of using the board.
Pros
Canadian maple wood and bamboo deck for a balance of stiffness and durability
Heat-pressed graphic and sprayed grip tape for a classic and natural look
Aluminum alloy trucks with Grade 8 metal kingpins and hangers for reliability
High-rebound urethane Hooligan wheels that are smooth and fast to ride
Cons
The bearings don't have the best longevity
This skateboard is easy to learn, especially for beginners. I think it has a perfect speed, and it's stable to ride. Plus, it has a uniquely classic finish, which I love the most.
3. Flow Surf Skates Stub 33″ Surf Skateboard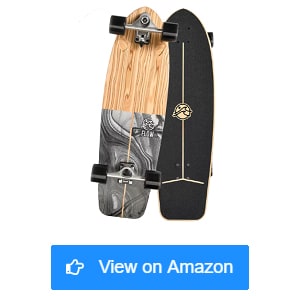 Whether skating through the streets or sidewalks, I always find the Flow Surf Skates Stub 33″ Surf Skateboard reliable. Ideal for city riding, this skateboard feels perfect for urban landscapes and paved waves. With these, I get to enjoy both surfing and skating without hassle.
What makes this skateboard a unique one is its Flow technology. This feature aims to imitate the feeling of riding a surfboard. This design uses an internal spring for fluid and snappy carving and smooth pumping. I find this aspect helpful because it makes the board feel like it's at an optimum level of smoothness, giving me a seamless carving always.
One more comfortable aspect I love about this skateboard is its deck shape. Flow Surf comes with a swell 33″ classic cruiser with a surf-inspired form. This board frame does not only make my skateboard look stylish, but it also gives me enough space to move my feet. That means I always get a comfortable stance on the board.
I think this skateboard is also a versatile one. Its trucks' spring tension is adjustable to suit any rider level, age, size, and preference. All I had to do was tighten or loosen the springs, do a test ride, and see how the skateboard adjusted to my riding style.
On the downside, I'm not that happy about the bearings, which I replaced. Nonetheless, the rest of the parts were good.
Pros
Perfect for skating and cruising in city setups
Uses Flow technology for smooth pumping and fluid carving
33″ classic cruiser with a surf-inspired shape that leaves enough space to move
Has adjustable spring tension on the trucks, making the board a versatile one
Cons
The bearings are not very good
Despite that, I love how this carver skateboard for surfing feels when riding urban streets. The deck and trucks are of good quality, and they're comfortable to ride.
4. Santa Cruz Youth Land Shark Cruzer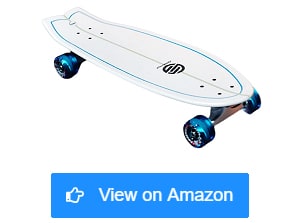 One thing I like about the Santa Cruz Youth Land Shark Cruzer is its deck design. It comes with a concave Cruzer shape that makes it ideal for hills, tricks, and cruising. Also, it has a classic blue finish with shark graphics, making it look fresh and cool. So, not only do I get a flexible skateboard but also a classy one.
This skateboard is not the longest one I have for carving, but it has an 8.8″ deck, wide enough to keep me stable. And I think its sand spray grip on top also adds to this aspect. With these, I get to ride safely and comfortably.
I also love the wheels of this skateboard. These rollers may look big at 65mm, but never did I encounter issues with them. Also, they have the perfect balance of hardness at 78a. They roll smoothly, and making sharp turns does not seem to be an issue at all.
Lastly, I love this skateboard brand because it arrived ready to use. The trucks and wheels were at a perfect tightness, and the deck looked flawless when I pulled it out of the package. I tried it without adjustment, and everything went smoothly.
However, like other carver skateboard reviews, I think the Cruzer's not very fast. If I want to ride at high speeds, I'll use another skateboard.
Pros
Concave Cruzer shape, making the board fit for tricks, cruising, and hills
Nice blue finish with shark graphics
8″ deck with spray grip on top for stability and riding comfort
Quality 65mm 78a durometer wheels that roll smoothly
Arrived assembled and ready to use
Overall, I feel comfortable riding this skateboard. It looks great, and I did not have to adjust anything upon pulling it out of the box.
5. Flybar Skate Cruiser Board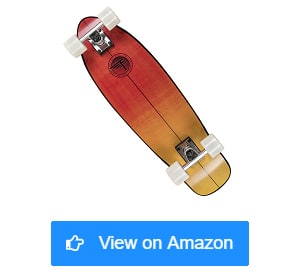 Of my carver skateboards, I think the Flybar Skate Cruiser Board is a unique one because of its deck composition. This skateboard comes with a 7-layer Canadian maple deck that's solid and durable. But the good thing is despite being a sturdy board, Flybar remains light and easy to control.
The next thing I love about this skateboard is its trucks. They're not the usual trucks I have with some of my skateboards because these are powder-coated ones. Trucks of this kind do not only look good but are also corrosion-resistant. Plus, they also come with 6mm riser pads, keeping the rollers away from wheel bite.
On top of its 60mm 78a wheels, I also like this skateboard's chrome bearings. They're not ordinary bearings, but they are of the ABEC 9 class, which are way better than my ABEC 7 bearings. That means they roll fast, smoothly, and I get to control them with ease.
The stepping surface of this skateboard is a good one, too. Unlike some of my skateboards with spray grit layers on top, this brand uses grip tape. This sheet is not the usual grip tape I see because these are 80S tapes. They're not too coarse nor too fine, only enough to hold my feet on the board firmly.
It's not much of a problem, but I had to tighten the trucks before riding. They arrived a bit loose.
Pros
7-ply Canadian maple deck that's easy to control, sturdy, solid, and lightweight
Corrosion-resistant aluminum trucks with 60mm 78a wheels
Riser pads that protect against wheel bite
ABEC 9 bearings helping the board roll fast and smooth
Comes with perfectly coarse 80S grip tapes
Cons
Trucks came slightly loose
Despite that, I am happy about how this skateboard performs. It's got quality components, and it's a fast skateboard for me.
6. Globe Sun City Cruiser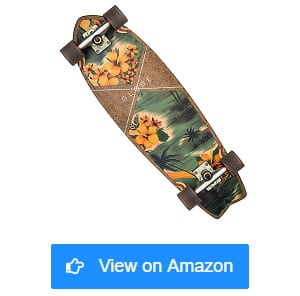 The first thing I noticed about the Globe Sun City Cruiser is its coconut and maple deck composition. Maple is already a quality material, but it became more durable because of its coconut content. With these two, I get a perfect balance of stiffness and durability. Plus, I get to experience stable rides every time.
I think this skateboard is also perfect for big guys. It comes with a 30″ x 9″ deck size that's wide enough to keep me comfortable. What's better about it is that it only weighs 7.5lbs, making it light to bring despite its size. So, not only do I get enough space on the skateboard, but I also get to ride it with convenience.
This skateboard has got perfect wheels as well. They are big and have the right balance of softness. The steering feels flawless, and the rollers glide over cracks and road asphalt with ease. Plus, these wheels feel grippy. With them, I always get smooth rides despite knobby road surfaces.
One more thing I love about the deck of this skateboard is its mellow concave shape with a kicktail. This deck shape does not only help me get smooth rides, but it also helps absorb vibrations, especially from rough roads. I think this aspect also adds to my stability on the board.
However, I think the trucks need some adjustment before riding. They were a bit relaxed when I pulled the board out of the box. Nonetheless, I don't think it's much of a disadvantage.
Pros
Coconut and maple wood deck composition for stiff, durable, and stable rides
Ideal 30″ x 9″ skateboard size for big guys
Lightweight 7.5-pound skateboard, made for convenience
Quality wheels that roll over cracks and are grippy
Mellow concave deck shape with kick tail that helps absorb vibrations
I think most adults will also prefer this skateboard. It's stable, and it has durable components.
7. Roller Derby Slide Surfskate Street Skateboard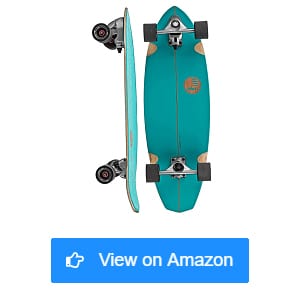 What makes the Slide Surfskate Street Skateboard a cut above other skateboards is its patented spring-loaded trucks. These skateboard components let me pump on the board when carving. That way, I get to maintain momentum without having to push the skateboard too hard.
This skateboard doesn't only have premium-grade trucks but quality bearings as well. It features a set of ABEC 7 high-precision bearings that make my motions sharp. Also, these wheel cores help me ride fast. So, not only do I get precise rides, but faster ones as well.
The Slide Surfskate also has wide wheels of good quality. These rollers are of 65mm diameter and 78a durometer hardness level, perfect for my kind of ride. Also, these wheels are of super high rebound, keeping me steady on bumpy roads.
One more thing I love about this skateboard brand is that it comes with a truck adjustment tool. With trucks being a component that needs most adjustments, I think it's advantageous to have this tool in the package. That way, I don't have to rush to the store if I need to tighten or loosen my trucks.
On the downside, I saw a few bubbles on the board's grip tapes. They are perfectly coarse, but I think the installation of these sheets should improve the next time around.
Pros
Patented spring-loaded trucks for easy pumping while carving
ABEC-7 high-precision bearings for sharp and fast rides
Comes with 65mm 78a super high rebound wheels for stability
Has a truck adjustment tool in the package
Cons
Few bubbles on the grip tapes
I like this skateboard because it's perfect for carving. Its trucks feel exceptional, and I always get precise rides because of its wheels and bearings. I think everything also became convenient because of the truck adjustment tool that came with the board.
8. Boilgon 29-inch Carver Skateboard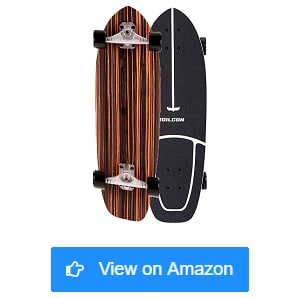 Coming with a carver-style front truck, the Boilgon 29-inch Carver Skateboard is one of the easiest skateboards to control. This truck type is highly responsive and has a big turning radius. These two features help me direct the skateboard to my desired directions with ease and comfort.
Since this board is a Surfskate type, I never had a hard time riding it. All I need to do is to push the board once and twist with my hips to carve while maintaining momentum. I think this aspect is beneficial to young skateboarders trying to master carving.
Another thing I like about this skateboard is the convenience of not having to install anything. This brand comes complete and is ready to use upon unboxing. That means I can save time and effort from performing adjustments with any of the skateboard's parts. What's better is that the board performed well on my first try.
Of my skateboards, I think this brand is one of the most affordable. Some of my skateboards are 2-3 times the price of this brand. So, I think I made the right decision to invest in this skateboard because of its performance and quality components.
I think I saw a couple of wood blemishes and chips on the deck when I received the board. These issues did not affect its performance, but I think it would be better had the deck been flawless.
Pros
Carver-style front truck for easy control of the skateboard
Carver surfskate board that requires little push but maintains momentum
Arrived complete and ready to use
Affordable and quality performing skateboard
Cons
Wood blemishes and chips on the skateboard deck
I think this brand is a perfect carver skateboard for beginner riders. It's maneuverable, and it's not tiring to push every time. Plus, it's not too costly.
9. Kryptonics Super Fat Cruiser Complete Skateboard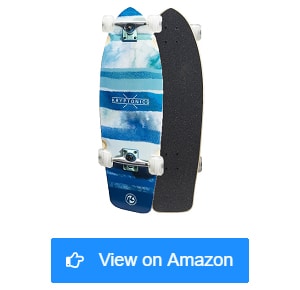 Some say double kicktail boards are the best type of skateboard, but I don't think it's always true, especially with the Kryptonics Super Fat Cruiser Complete Skateboard. This brand features a single kicktail design that gives me easy control of the board. Plus, braking feels convenient with this type of skateboard.
I think this skateboard is a versatile one in terms of the level of users. It works well for teens, adults, and even 8-year old riders. Not only that, this skateboard also comes with a maximum weight capacity of 220lbs, which means it can load heavier riders, too.
The trucks of this skateboard are exceptional. It comes with a wide pair of 6-inch aluminum trucks plus 12mm angled riser pads. These two components are vital in supporting the weight capacity of the board. Also, the riser pads promote better speed and reduce wheel bite tendencies, keeping the board free of marks.
Not only does this board come with quality trucks but a quality deck as well. This Kryptonics comes with an 8-ply laminated wood deck that's not only durable but also wide enough at 9.75″. So, other than the board's sturdiness, I always feel comfortable riding it because I have enough space to move my feet.
I think there's a bit more work to do when setting up this skateboard. It came complete, but I had to remove the trucks to detach the board's plastic cover. Plus, I needed to make some adjustments to the wheels.
Pros
Single kicktail design for easy control and braking
Works with any user level and has a maximum weight capacity of 220lbs
Aluminum trucks and riser pads for weight support, better speed, less wheel bite
An 8-ply durable laminated deck with a 9.75″ width
Cons
Slight adjustments and work required to set up the skateboard
I love this skateboard because it's ideally spacious. It's also easy to control, and never did I have a hard time gaining speed or riding it.
10. SereneLife Complete Standard Skateboard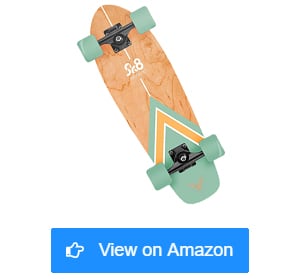 I've always found the SereneLife Complete Standard Skateboard a reliable one. This skateboard features a double-warped design that makes it perfect for almost any type of ride. It works for commuting, riding skateparks, bowls, pools, and ramps. It's not hard to master carving or any skill when using this skateboard.
This skateboard brand has got ideal wheels. There are 60mm x 45mm Polyurethane-cast rollers, and at the core are ABEC 7 bearings. These two make my rides smooth and help me obtain enough momentum when carving.
This SereneLife board does not only come with plain grip tape. It has a non-slip waterproof emery black sand sheet on top that locks my feet well when riding. This tape also makes me feel safe and helps me gain better control of the board.
This skateboard brand is also one of my unique boards in terms of deck composition. Under the quality grip tape is a layer of bamboo deck backed up by five layers of Canadian maple wood. These two components support a heavy-duty performance plus the execution of advanced tricks by pros.
It's not much of an issue, but I felt sad by the logo on the board I received. It's not what I saw in the advertisements because it needed some artistic detailing. The other parts are good.
Pros
Double-warped design, perfect for almost any manner of riding and carving
60mm x 45mm wheels with ABEC 7 bearings for smooth and steady rides
Non-slip waterproof grip tapes for safe and controlled rides
A bamboo and Canadian maple wood deck for heavy-duty performances & tricks
Cons
A slightly poor finish on the logo design
This SereneLife feels like a go-to skateboard for me. It fits my desired rides, and it's safe as well. Also, I never had a hard time learning skills and tricks using this skateboard.
What to Know Before Buying Carver Skateboards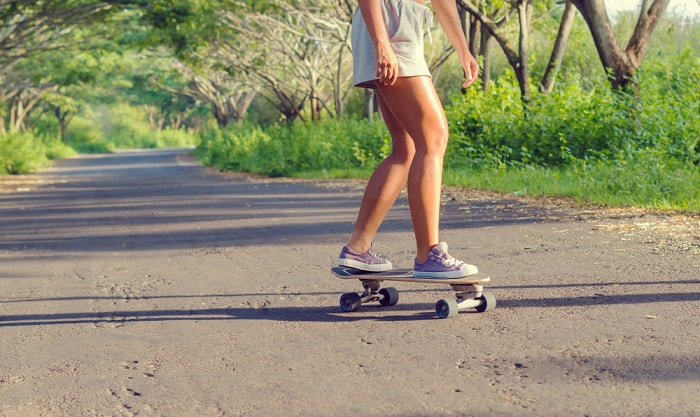 Before getting yourself a carver board, it's best to know its specific details first to achieve the perfect setup for yourself. Consider the following aspects to assess how your carving skate should come out.
There are three classes of skateboard trucks for carving, namely CX.4, C5, and C7. The C5 works best if you're used to street skating and planning to incorporate carving into your board. The carver C7 and CX.4 are ideal for cruising, carving, and making sharp turns inside or out of the skating park.
Another factor you should check is the truck's composition and finish at a few instances. Most skateboard trucks come with aluminum bodies, which are known to be the most durable alloy for skateboarding. Also, if you're particular about the look of your trucks, you can choose among the grainy finish, black spray-paint finish, or plain metal one.
If it's your first time owning a carver skateboard, it may be too early to be particular with its aesthetics. So, we can start with the deck's composition.
Whether you want skateboards for carving or other kinds of rides, the best deck material to use, as a standard, is maple wood. This material has the perfect balance of stiffness and durability. Other brands also add bamboo or any other material to make the deck more durable and stable.
I think one of the most diverse parts among carver boards is the grip tapes. Some skateboards come with almost transparent spray grip layers that preserve the natural color of the deck material. Other brands stick with the classic black grip tapes, with the best class being waterproof.
Remember that these thin layers are not only for the board's design but are vital in maintaining your safety while riding. So, you might as well consider testing the board to know if the sheets are coarse enough to hold you.
Another set of components you need to check before buying a carver skateboard is the wheels. Carving requires gliding on any side. That means your rollers should be able to support your movements.
As for the size, it's best to have large carver wheels with a diameter range of 60mm to 65mm. These rollers can run over road cracks and debris, keeping your rides smooth. They also promote better speed and longer rides.
What's good about carving skateboards is any hardness on a Durometer-A scale can work well for you. Hard wheels roll fast and smoothly. Softer wheels are grippier, making urban riding more enjoyable.
Some users tend to neglect the benefit of having a complete skateboard that's ready to use upon unboxing. The same is true with riders who don't look for the inclusion of T-tools or any repair instrument in the package.
As a skateboarder, it's necessary and beneficial to receive a skateboard that comes with a set of tools for adjustments, whether or not the board is ready to ride. These pieces of equipment are not only accessories, but they are essentials in setting up your board and keeping it in good condition.
The distance between the inner bolts of your trucks is the wheelbase. This part of the skateboard dictates the turning speed when carving. If you want to make faster turns, you can have a skateboard with a wheelbase ranging from 15″ to 17.75″. Skateboards with wider wheelbases might turn slower but are still a choice for other skateboarders who don't like turning too fast.
There are a few more factors you may consider, like your weight, stance, and height. But these are various considerations that may not be as significant as the ones mentioned above. Also, most skateboard brands produce boards that can work for any rider level, build and experience.
Are Carver Boards Good for Beginners
Carving is not a complicated skateboarding skill to do. The truth is, skateboard beginners prefer to start with this trick to commute and prepare for the advanced ones.
In my opinion, carver skateboards are ideal for beginners. Aside from a traditional carver longboard, this type of skateboard is comfortable and has great stability. That way, first-time riders will be able to gauge their movements and master balancing on the board.
Also, you can read more about electric skateboards for beginners or click here to see more of our guide on electric skateboards for commuting.
Can You Cruise on a Surfskate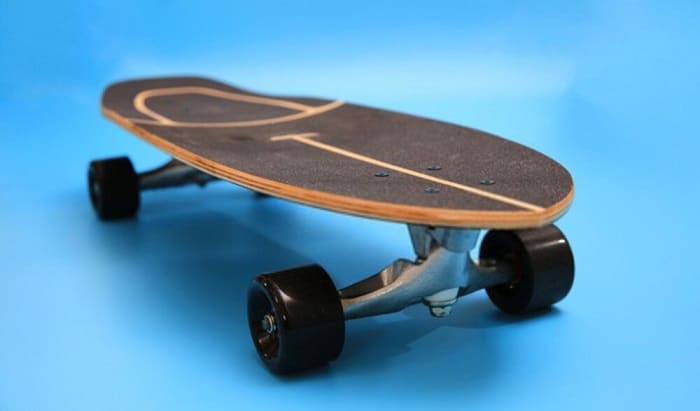 As a skateboarder, you might have tried using your skateboard for something other than its intended purpose. If we were to argue whether surfskates work for cruising, I would not advise doing so.
A surfskate's components are loose and are less stable than cruiser boards. So, these boards may not be the best options you have for cruising, as this kind of ride requires stability and utmost comfort.
What is a Carver Skateboard Used for
Carving on a skateboard is like ocean surfing on land. It feels pleasant, free-flowing, artistic, and a bit technical. This skateboarding skill is not only about curves but also speed.
If you are into downhill rides, then a carver skateboard would be the best one to ride. This skateboard variant helps you control your speed by making turns that can slow you down. Also, carver skateboards help you practice balancing to prepare you for skateparks and more complicated skating areas.
Can You Do Tricks on a Carver Skateboard
Most skateboards today are flexible in terms of users, riding experience, and other aspects. Some skateboards work solely for cruising and carving, while others can perform well with tricks. That said, you can do tricks on a carver skateboard.
But as a rule, you need first to master the basics of carving to build a foundation for performing advanced skateboarding skills.
Conclusion
Skateboarding has so many things in store for you. You don't only master tricks, but also help yourself remain in good shape. There are probably a thousand ideas you'll learn about skateboards, and so it's best to master them with excitement.
When using the best carver skateboard, you're not only riding and gliding, but you also get to improve your skateboarding skills in preparation for more. Thus, keep the things I have shared with you to guide you to the right board for yourself.
If you have inquiries, drop them in the comments, and we'll answer them all.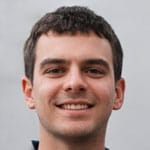 Hi, I am Charles Harris. I opened this site to write as much as I can about my biggest passion – skateboarding!
I started as a clumsy yet passionate rookie 10 years ago to now a still passionate yet much better skateboarder! But I have to tell you, the whole journey has always been fun and rewarding, indeed not without hardship.