One of the best teachers for beginners in any sport is experience. It helps skaters grow to become professionals.
In truth, there are many ways to achieve a decent first-ride experience. It can be through the right amount of practice, learning materials, or using the right pieces of equipment.
And while the first two factors are more attainable than not, we'll focus more on the third aspect, picking the appropriate equipment. So, let's learn about the best complete skateboards and their features.
Skateboard deck – Ask professionals or browse over several skateboards in the market, and you'll see maple wood dominating as the primary skateboard material. It's durable, flexible, and has the right balance of weight.
In terms of size, choosing a broader deck at 8.5″ can be a good starting point for its stability. It works well for parks and transition skating. Buyers may also go as narrow as 8.0″, which is perfect for complete street skateboards.
Skateboard trucks – Skate trucks translate your body movements to skateboard motions. They need to be responsive and precise to ensure quality rides.
These parts may come in aluminum, magnesium, titanium, and steel, with the first being the most popular. Also, they differ in size, but you only have to check the deck's width to know what truck size to pick.
Note that the trucks should only be as wide as the deck. Otherwise, there'll be an imbalance in your setup.
Skateboard wheels – The wheels are vital for their ability to roll. They need to be fit for your setup to help you achieve your desired rides.
For the sizes, we have 48mm to 52mm rollers suited for the streets and 53mm to 56mm for transition skating.
Regarding hardness levels, wheels as soft as 85a are fit for cruising, while 100a rollers are less grippy but perfect for tricks.
More specifications make up a complete skateboard. Be sure to read the buying guide of this article to grasp a clear image of the perfect skateboard setup for you.
For now, let's go through some of the best pre built skateboards today.
Top 1
CCS Complete Skateboard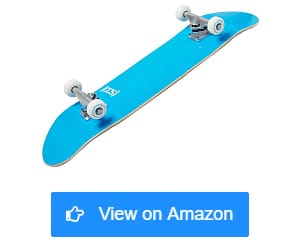 – 7-ply maple deck
– Comes with ABEC 7 bearings
– Inclusion of a T-tool
Top 2
Enjoi Complete Skateboard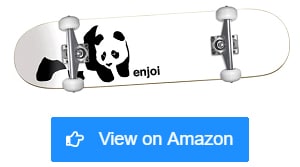 – Perfect for skate parks and streets
– Classic popsicle shape
– Has soft bushings
Top 3
Powell Golden Dragon Skateboard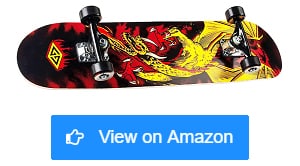 – Lightweight Mini Logo trucks
– High-rebound 54mm 99a wheels
– 625″ deck width, perfect for beginners
Top 7 Complete Skateboard Reviews
1. CCS Complete Skateboard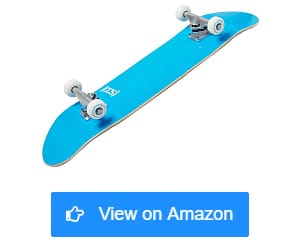 Coming with a quality wooden body, the CCS Complete Skateboard ensures every skater has decent and responsive rides every time.
This skateboard uses 7-ply premium maple wood as its primary deck material, yielding a perfect balance of flexibility and stiffness. And knowing maple, it's a durable timber type, so everyone can be confident using it.
Besides having a solidly-composed deck, this skateboard also has a great shape. It's not a unique deck in form, but its classic board cut offers several benefits.
As expected, this popsicle-shaped board will work for tricks. But what made it better is it works for cruising, too. So, it's not only a well-shaped deck but also a versatile one.
I think this option is more than good enough for a beginner board. On its wheels are ABEC 7 bearings, making the rides faster, smoother, and more precise. These cores also belong to the upper half of the ABEC scale, so it's safe to say this skateboard is of competitive quality.
With my previously-purchased skateboards, I never got a T-tool in the package. The good thing about this brand is it comes with one. That means adjustments, repairs, and parts replacement won't have to be that challenging. Not only that, but this inclusion is also a money-saving move for the item's buyers.
On the downside, I found some air bubbles on the grip tape. I had to press them out of the deck's edge, which took me some time.
Pros
7-ply maple deck with balanced flexibility and stiffness for responsive skating
Popsicle-shaped versatile board suited for cruising and tricks
Comes with ABEC 7 bearings for fast, smooth, and precise rides
Inclusion of a T-tool for added convenience in maintenance and adjustments
Cons
Air bubbles found on the grip tape
Overall, the parts of this versatile skateboard are never disappointing. They belong to a quality class, and it's evident in the skateboard's performance.
2. Enjoi Complete Skateboard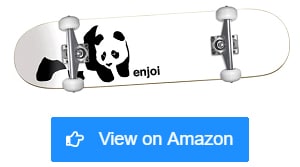 Like the previous product, the Enjoi Complete Skateboard also has a sturdy maple build.
But if one thing makes this brand distinct, it's the deck's assembly process. Enjoi uses an extra stiff glue on each wood ply, making the board last longer. And for a skateboard built like this, it feels sturdier and more stable.
Based on beginners' feedback on this skateboard, this brand is an ideal one for them. It features a classic popsicle shape with a nose and tail designed to provide superior control. With these attributes, this option becomes more maneuverable and user-friendly.
Down below the deck of this skateboard are soft truck bushings. These thick rings ensure that turns and pivots are smooth and easy. Along with the shape of this skateboard, I think they'll be perfect for dodging skateparks and the streets.
This skateboard does not use costly trucks and bearings. But like many buyers, I feel amazed by its performance. It's barely behind top complete skateboard brands for these components. And having them on this skateboard is like getting value for money.
However, it can be challenging for some adult riders to perform tricks using this skateboard. It's only 7.75″, which means the user needs extra caution to balance after landing.
Pros
Maple deck that uses an extra stiff glue for ultimate sturdiness
Classic popsicle shape with nose and tail for optimum control
Has soft bushings that make turning and carving smooth and easy
Perfect skateboard for skate parks and streets
Comes with affordable yet high-performing trucks and bearings
Cons
Can make balancing after landing hard
This skateboard may not be the lowest-priced on my list, but I like how each component works as expected. It's responsive, smooth, and is a beginner-friendly skateboard.
3. Powell Golden Dragon Skateboard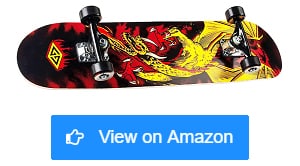 The Powell Golden Dragon Skateboard is one with the best features below the deck.
First, this skateboard uses Mini Logo trucks. These parts come with 94a high-rebound bushings for better control. Also, the hanger and baseplate of each component are lightweight, which means they don't impose too much strain on the rider's foot.
Second, Powell has its own PGD 54mm 99a wheels paired with chromium steel bearings. Like the bushings, these rollers are also high-rebound. And what made the wheel cores better is they come lubricated with Speed Cream. With these parts' quality, no doubt they're a top option for transition skating.
Another unique feature of this brand is its concavity level. This Powell skateboard has a K12 deep concave shape, making the deck stiffer. At first, I thought it was the skateboard's downside, but this aspect eases the skateboard's weight while maintaining responsiveness.
While this skateboard is not the broadest, its 7.625″ width makes it a perfect choice for beginners. Even famous skater Steve Caballero said this brand suited everyone wanting to start the sport.
If there's one thing I did not like about this item, it's its packaging. I received a scratched skateboard. Nonetheless, the mark did not affect my rides.
Pros
Lightweight Mini Logo trucks with 94a bushings for optimum control
Hanger and baseplate don't weigh the rider down
High-rebound 54mm 99a wheels with lubricated bearings for technical skating
K12 deep concave deck shape for reduced weight and improved responsiveness
625″ deck width, perfect for beginners
Despite that, beginners would love to have this Golden Dragon skateboard because of the brand's excellence in constructing its products. It works well, has a decent shape, and is priced reasonably.
4. Skatro 31″ Complete Pro Skateboard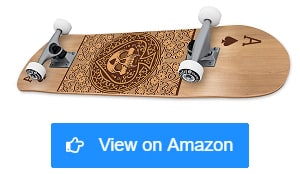 The first aspect I love about the Skatro 31″ Complete Pro Skateboard is its unique construction.
This skateboard has this Skatro Adhesive Technology, an innovation exclusive to the brand. This feature is a solid addition to the 7-ply body of the skateboard. In effect, the skateboard gets an added sturdy layer through it.
I think this skateboard is one of the safest and most stable on the list. Its deck measures 8.0″, wide enough to provide enough stepping surface for the rider. With this figure, any skater can enjoy doing tricks, flips, and ollies.
What's better is it also has a durable grip tape on the top. This layer holds the rider's feet enough to keep him balanced on the board.
Surprisingly, this skateboard has a decent speed, thanks to the wheel cores. Skatro uses ABEC 7 bearings on its wheels, making the skateboard roll fast. Not only that, but the rating of these wheel interiors ensures the skateboard works precisely.
One more thing I love about this skateboard brand is its T-tool addition. This item came with the package for free. So, apart from the skateboard costing reasonably, I feel like I also saved money from buying a repair tool separately.
I wish I got the correct board print on my first order. Good thing the design that arrived was still one of my favorites.
Pros
Unique Skatro Adhesive Technology for added sturdiness
0″ deck size, perfectly wide and stable for tricks
Comes with durable grip tape for riding safety
ABEC 7 bearings for improved speed and precision
Inclusion of a T-tool for free
Cons
Arrived with the wrong board design
I like the size of this skateboard. It's fast, smooth, precise, and safe for almost any ride. Having a quality repair tool for me is a bonus.
5. Santa Cruz Complete Skateboard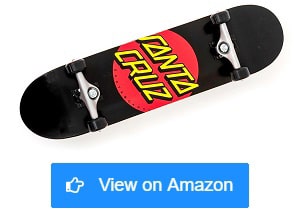 Undoubtedly one of the top choices today, the Santa Cruz Complete Skateboard never fails to amaze young and beginner skaters.
Like the previous product, this skateboard comes with an 8.0″ width. But what I love the most about it is it only weighs 4.15lbs. That means it's light enough to ride. I think this aspect is why many beginners prefer the brand.
Besides the size and weight of this skateboard, another factor that makes it perfect for beginners is its wheels. This Santa Cruz comes with a set of 95a wheels.
And looking at the wheel durometer scale, rollers of this class have the right balance of grip and speed. Whether riding the skate park or streets, these rollers will always perform.
Skateboarding knows no gender. It's good to see Santa Cruz designed its skateboards to be unisex. That way, everyone will feel comfortable using it.
Durability-wise, I think this skateboard also does well. In some Reddit reviews, many customers expressed how the board held up for a long time. And for a user trying to learn basics or tricks, having such a sturdy skateboard will surely help.
It doesn't affect the skateboard's performance, but the grip tape peeled off the side of the deck too soon. Nonetheless, it's a replaceable part and doesn't affect my footing.
Pros
0″ skateboard that only weighs 4.15lbs and is perfect for beginners
Comes with 95a wheels that are fast and grippy
Works well for streets and skate parks
Fits skaters of all genders
Sturdy skateboard that holds up over time
Cons
Grip tape peeled off after a while
Overall, this skateboard has the perfect balance of speed and grip with decent durability. I like how it works for active park and street skating.
6. Stoked Ride Shop Complete Skateboard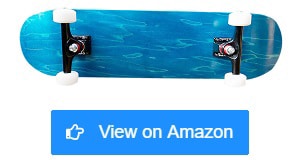 If the previous item is flexible regardless of gender, the Stoked Ride Shop Complete Skateboard works for any rider age.
This skateboard ensures we get a professional feel every ride with its 7-ply American maple wood body. Whether for adults, kids, boys, or girls, this skateboard holds up.
The trucks of this skateboard are not simple pieces of alloy. This Stoked design comes with a pair of Litezpeed 5.25″ trucks with exceptional features.
These components have the right combination of strength, sturdiness, and smooth performance. What's better is they're lightweight, so they don't cause pressure on the rider's legs.
While this skateboard is only 7.75″, slightly shy of the 8.0″ street board, I still love its shape. It has this classic popsicle deck form to make cruising and trick skating a breeze. At first, I wasn't sure where this board would work well. But the confusion disappeared when I tried using it.
The free items coming with this skateboard seem like a gem to me. Included in the package are a skate tool and a bar of Shorty's wax, which I never knew existed on skateboard packs.
Also, the item arrived with stickers to aid the rider's aesthetic side. With these, I have a complete solution for truck adjustments, sticky ledges, and design needs.
I think installing better bearings would improve this skateboard. Not that the pre-installed ones are bad, they still work okay.
Pros
7-ply maple skateboard, suited for riders of any age
Litezpeed trucks that are strong, durable, light, and smooth-performing
Classic popsicle deck shape, perfect for tricks and cruising
Arrived with a free skate tool, Shorty's wax, and stickers
Cons
Doesn't have the best bearings
I feel great about the versatility of this skateboard. It's also a durable setup, and I think it's a universal option no matter the rider's level.
7. Globe G1 Ablaze Complete Skateboard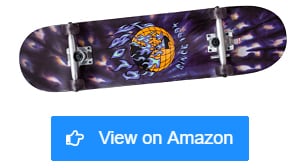 If I were to choose a skateboard as a birthday gift, I'd consider the Globe G1 Ablaze Complete Skateboard.
Coming with an 8.0″ deck size, this skateboard is the perfect size for the streets. Not only that, but it may also be ideal for kids at skate parks because of its sufficiently broad stepping surface.
Besides the size, another vital factor for me is the deck's construction. And like the previous products, this brand also uses quality maple wood. Knowing what this wood type does on skateboards and skate rides, I'm confident it'll last long. Not only that, but this wood also feels flexible.
I also love the wheels of this skateboard. The G1 features a set of 52mm 99a rollers, yielding various performance advantages. First, its size gives me enough speed when I'm in a rush. Second, its hardness level makes the wheels work well for the streets, parks, ramps, and many smooth surfaces.
Despite looking slightly broad, this skateboard remains light. The entire package only weighs 2.31kg, so it shouldn't weigh us down. While this aspect is rarely commendable, I think it plays a significant role in a skater's performance. Also, it helps the user by putting less strain on the legs and feet.
For now, I don't think there's something I wouldn't commend about this skateboard. It works well, and it has quality parts.
Pros
An 8.0″ skate deck, sufficiently broad for kids
Uses maple wood as the primary deck material for added durability and flex
52mm 99a wheels that are fast and work on almost any smooth surface
Lightweight 2.31kg skateboard imposing less strain on the rider's legs
To me, the performance of this skateboard is excellent. All its parts support what it needs to execute, and I like how all these components work cohesively.
What to Look for When Buying Complete Skateboards?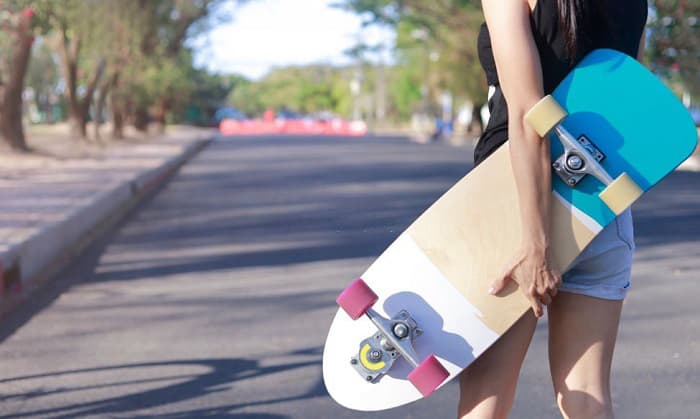 Spending on a skateboard part is risky. How much more with a complete skateboard? Let's make the most of your money by considering these factors.
The deck receives all your movements on the skateboard. Therefore, it should be responsive, durable, and suited to your body and riding style. Take note of the following.
Material – Maple wood is a perfect material for skateboards. Its density makes it nearly resistant to impact. No wonder we see both pros and youngsters using maple more often than other materials. Other than the sturdiness of this wood, its stiffness also makes it the most responsive.
Size – Most complete skateboards like Element Skateboards come at 7.5″ to 8.0″ in size, as seen on some of the listed products. These deck sizes are the most versatile for the streets, parks, and doing tricks.
But in some cases, the size needs to be lower to accommodate smaller beginner skaters. Decks around 7.0″ to 7.4″ fit riders standing at 3'5 to 5'1. Other decks under 7 inches are ideal for children below 3'5.
These parts connect the deck to the wheels. And like the deck, they should also possess the right build. Here's what we should check.
Size – The general rule when picking skate trucks based on size is you should match its width to the deck. So, if you have a 7.75″ to 8.0″ skateboard, you need a truck axle width of 7.75″. If your deck measures 8.0″ to 8.5″, an 8.0″ truck will suffice. Lastly, for 9.0″ to 10.0″ decks, a pair of 9.0″ trucks will fit.
Build – Two parts make up a skate truck: the hanger and baseplate. Most truck hangers and baseplates use aluminum as the primary material. Other components like the axles are good with steel. Some brands also use titanium and magnesium to fortify their trucks.
The wheels dictate how smooth, fast, and grippy your rides are. Let's get into the following aspects.
Hardness – Skate wheels come in durometer A and B scales. But for a clear discussion, we'll talk about the A one.
100a wheels are the best for ramps and verts but are less grippy. If you need some grip for tricks and cruising, 95a to 96a rollers will do. For a perfect balance between cruising and tricks, it's best to use bouncy 90a to 92a wheels.
Size – Like other skateboard parts, your wheels should also be of the perfect size for your desired riding style. 48mm to 52mm wheels are the best options for skating on the streets and parks. On the other hand, 53mm to 56mm rollers work best for transition skating.
Bearings – While speed is not a top priority for complete skateboards for beginners, we still need to give it some importance. In most products we reviewed, ABEC 7 dominates because of its speed and riding smoothness. Bearings on a lower ABEC scale may be of inferior quality and performance.
Not everyone will agree, but having a free item in a skateboard package offers more good than harm. Let's see what the popular freebies are.
Grip tape – Grip tape is a safety measure. It helps lock the feet to some extent and keep the rider balanced on the deck. It's beneficial if you know how to mount grip tape on a deck, but having this layer installed already is a gem for a beginner.
Skate tool – T-tools are necessary for immediate adjustments. Not that screwdrivers and sockets don't work, but why bring them individually during rides? Skate tools make life convenient by having all the equipment you need in a handy T-shaped tool.
Aesthetics – Stickers and printed media do not directly impact your rides. But if you value aesthetics, having these will help you customize your board better.
For now, these are the only things you need to include in your checklist when choosing good quality skateboards. In the long run, you'll discover the more technical aspects of your skating journey.
Are Complete Skateboards Good?
Complete skateboards are good to some extent. As mentioned, we'll only encounter the more technical aspects of skateboarding when we begin to experience the wearing out of skateboard parts first-hand.
Nevertheless, if you are a beginner who doesn't have enough background in skateboard assembly, a complete skateboard will always be a perfect option.
Also, pre-built skateboards don't have their parts worn out simultaneously. So, there's no need to buy a new board immediately should one component wear out.
Do Complete Skateboards Come With Grip Tape?
The good news about complete pro skateboards today is that grip tape is now a standard part. In the context of a complete skateboard definition, such a layer makes the skateboard ready to ride.
Besides making the skateboard a complete package, grip tape is no less than necessary for safety purposes. So, often, we'd see complete skateboards with these gritty layers.
How Much Does a Fully Built Skateboard Cost?
Most items we reviewed are good complete skateboards under $100, like the Santa Cruz. Some cheap complete skateboards come at a much lower price, around $80. Others are more expensive at $120. No doubt, complete skateboards are a more budget-friendly option than a customized one.
That's not to say that customized boards are never an economical choice, but as a beginner, they will be slightly risky, considering new skaters don't know the intricacies of skate parts just yet.
Note that different skateboard parts entail different costs. So, try to take note of these numbers to compare.
Conclusion
Skateboards are for everyone. No matter your gender, age, and preference, you'll always find a way to enjoy the sport. And while there are a few things to consider when buying skateboards, they should not be, in any way, hindering your athletic goals.
If you are a beginner, more often than not, you'd want to check out the best complete skateboards to streamline your shopping.
If you have questions, kindly drop them in the comments section.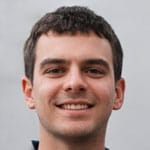 Hi, I am Charles Harris. I opened this site to write as much as I can about my biggest passion – skateboarding!
I started as a clumsy yet passionate rookie 10 years ago to now a still passionate yet much better skateboarder! But I have to tell you, the whole journey has always been fun and rewarding, indeed not without hardship.