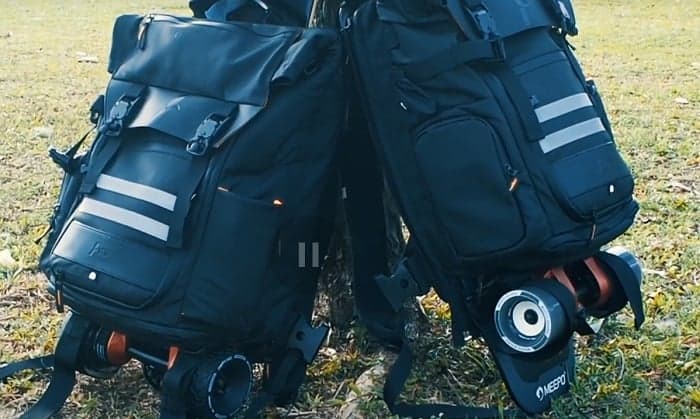 Riding an electric skateboard or e-board is a fun way to commute and get around the city. This type, however, needs extra care and maintenance to keep running smoothly. Having the best electric skateboard backpack is a simple way to protect it against the elements.
Perhaps we need a backpack that doubles as a laptop case or a slim, lightweight carrying bag that's foldable. On the other hand, some of us are better off with a longboard backpack or a model with multiple pockets and compartments to store our valuables.
A simple bag that does not cost us a fortune is likewise an excellent option. Below are in-depth reviews of our top 10 picks and advice to ensure that everyone finds what they need!
Top 1
Simbow Skateboard Rucksack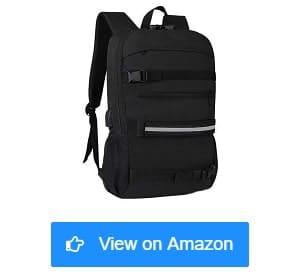 – Has ample compartments
– Built-in USB charging port
– Comfortable to wear
Top 2
Ronyes Skateboard Backpack
– A return policy
– With multiple pockets
– Waterproof polyester material
Top 3
Rollie Skateboard Bag
– Less costly compared
– Padded shoulder straps
– Uses a two-in-one tough design
Best Electric Skateboard Backpack Reviews
1. Simbow Skateboard Laptop Rucksack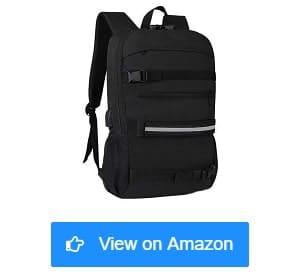 This skateboard slash laptop rucksack is exceptionally designed and well-made. It has all the features I've been looking for and more.
It's aesthetically pleasing yet functional– like style meets function! The bag is ideally suited for my electric skateboard plus all other necessities!
I have scoliosis, so I cannot stand carrying much weight for a long period. The good thing is, this skateboard backpack is built with adjustable and padded shoulder straps. Its ergonomic design makes it comfortable to wear as it evenly distributes the bag's weight.
The bag is easy to lug around even with both a skateboard and a laptop, plus a couple of documents and gadgets.
As someone who's a sucker for gadgets, the built-in USB charging port is a big bonus. It's so convenient to charge my phone, tablet, and even laptop while in transit.
I do not worry much about my personal belongings as this smart bag has an anti-theft feature too. Unfortunately, the code for the anti-theft zipper-lock was not in the pack, so I had to reach out to the manufacturer to figure it out.
I appreciate the compartments, which make my stuff a bit more organized, so I don't have to ransack it when I need to find something.
My laptop sleeve suits my computer well. My water bottle and umbrella fit nicely into the side mesh pockets. I also bring this bag whenever I go hiking and camping. It makes a great travel backpack!
Pros
Exceptional stylish design and build
Comfortable to wear with its ergonomic design
With a built-in USB charging port and anti-theft feature
Has ample compartments to keep things organized
Makes a great travel bag too
Cons
Did not come with the code for the anti-theft zipper lock
This is such a versatile skateboard bag. Anyone who got this will be pleased with its amazing features!
2. Ronyes Skateboard Backpack
Several electric skateboard carriers, such as this 30-liter backpack from Ronyes, let users bring additional goodies.
The quality of this backpack is on par with its costlier counterparts, complete with all the pockets we could ever desire. Plus, it has dedicated skateboard straps and padded sections to keep electronic devices safe.
The first thing that I noticed when I received this backpack was the quality of workmanship. The polyester material is fairly thick, and the stitching is neatly done. The bag is also waterproof. The clip closures in the board straps are magnificent.
I've been using it for quite some time now, and the straps remain firm. The e-board also doesn't move when I am walking from one location to another.
To boot, the interior pockets are made for easy organization. My 15-inch notebook fits the laptop sleeve without a problem. Furthermore, I appreciate its dedicated pockets for storing small things such as cellphones, wallets, and pens.
There is also a hidden mesh pocket to stash my rubber shoes. The waist strap is another feature that I love, as it gives extra stability when walking.
There is nothing too disappointing about this backpack, but the outer appearance of the bag looks dated. This is like the typical backpacks used by kids for their school work. But for buyers who don't care about the aesthetics, this is still a solid bag.
Notably, the company has a return policy, so we can send the backpack back if we are not happy with this variety.
Pros
Priced reasonably but has premium quality
With multiple pockets and storage compartments for easy organization
Made of thick, waterproof polyester material with padding
Fitted with a waist belt for extra stability
Firm skateboard straps and clip closures
A return policy
Cons
The traditional design may not please stylish users
Sometimes going old-school is still an awesome option. This commuting backpack variety may not win style points, but this one pulls out all the critical stops: quality, storage capacity, and value for money.
3. Rollie Pack Slim Skateboard Bag
Some electric skateboard brands cost quite a lot more money than others. Thus, they can shield against the rain, dirt, and accidental dings when not in use.
The good thing is that there are backpacks such as this slim bag from Rollie Pack that offers plenty of protection. Also, this backpack offers a custom fit for certain electric skateboard brands such as Boosted and Evolve.
I wanted to bring my Mini S during my last business trip, so I got this modern-looking backpack. I like its size: the proportions are perfect.
It does not look bulky when I carry my board on my back, even when I put my remote control and charger in the front pocket. No doubt, this has become my official Boosted board bag.
Unlike similar models from other brands, this one is reasonably priced. For its extra features, such as the cushioned straps for the shoulders, this is a steal. I do not need to spend money on another bag to stash my wallet and hotel key when going sightseeing.
This is also advertised as a longboard backpack, although I have some reservations. When I tried putting my longboard in, the top part of the deck stuck out a little.
Besides, I felt the weight of my 17-pound longboard. But overall, this is a very functional product. In addition, the transition between its two-in-one modes gives me a lot of flexibility.
Pros
A custom-fit Boosted board backpack that works for other brands
Less costly compared with other skateboard bags
Features padded shoulder straps and a front pocket
Uses a two-in-one tough design to suit user's requirements
Simple but sports a modern aesthetic that's not bulky
Cons
The weight of the board is noticeable
Not ideal for longer longboards
Multifunctional and slim, this backpack offers impressive storage for electric skateboards to get users from one place to another in style.
4. Inktells Electric Skateboard Bag
Inktells, a brand made by skateboarders for skateboarders, deserves a round of applause for coming up with a simple backpack that makes moving around with an e skateboard a lot easier.
It is sleek but functional, with a side compartment and a small pocket that offer additional storage for our miscellaneous items for a satisfying user experience.
I bought this bag for my son, who is training regularly in the skate park outside our village. He loved that he could stash his stuff, including his cap and shoes, in the bag conveniently.
Remarkably, his electric skateboard fits the bag perfectly. And, the thick oxford fabric offers a lot of protection, unlike his old skateboard backpacks.
This bag features a two-in-one design. It can be used as a regular backpack or a one-shoulder bag just by detaching the strap. This is very comfortable to use.
Due to its wide straps, the weight of the skateboard is evenly distributed. Thus, there is no discomfort in the back or shoulders even when used for a longer time. Also, the leather bottom absorbs the impact on the hips.
The backpack is only available in black, a bummer because this is such a hit for younger skateboarders. I would love to buy this for my niece, but she likes one in orange or red.
I hope the brand finds a way to release a similar variety in striking colors. Other than this, the rest of the bag's features ticked all the right boxes.
Pros
Makes carrying electric skateboards easy
Boasts multiple pockets for extra storage
Constructed from durable oxford fabric
Can be used as a backpack or a one-shoulder bag
Wide straps for even weight distribution
With leather bottom for added protection
Cons
Black color might not suit the preference of some users
This backpack is ideal for skateboarders who are always on the go. This can be used as a commuting backpack using one or both of its straps, making it among the most sought-after skateboard bags today.
5. Simbow Laptop Skateboard Backpack
Stylish and practical. These are the two words that best describe this skateboard backpack from Simbow.
Featuring interior dividers to hold a laptop and other essentials, this versatile bag is not only suited for hardcore skateboarders but also for students and office workers. With its easy-to-adjust straps, mobility becomes smooth and stress-free.
My daughter asked for a new backpack that she could use both for school and skateboard training. When she finally received this backpack, she was so happy. Her electric skateboard does not move around, even when she starts running with her friends.
In this bag, the shoulder straps are customizable to fit almost any skateboard size. The buckles are sturdy and keep her gear tightly secured.
She always brings her camera wherever she goes. And the password lock is perfect for keeping it safe. Setting the password is also a breeze: customers can change it just by dialing the digits.
I recommend this to skateboarders who are on their feet a lot. The bag also doubles as a skateboard camera bag or a laptop bag.
This skateboard backpack only has a carrying capacity of 30 liters, so it might be too small for some users. A bigger bag may be better when attending business trips or traveling long distances.
Otherwise, this backpack does an impressive job of protecting users' electronic skateboard, as well as their laptop.
Pros
Doubles as an office and school bag
Features easy-to-adjust straps for comfortable mobility and a stylish design
Fits almost any skateboard size
Sturdy buckles keep skateboard in place
With roomy interior for laptop, camera and other devices
Equipped with a password lock for added security
Cons
Might be too small for long trips
Whether we hit the streets or go to work, we will never go out of style with this skateboard backpack. It has a classic black design that makes it perfect for skateboarders, students, and professionals.
6. GoRide Electric Skateboard Backpack
An electric skateboard bag must hold our gear securely when we are on foot. With its two adjustable front board straps, this GoRide backpack fits the bill.
The laptop compartment and deep side pockets enable me to carry my essential work items without any issues. In addition, the two color options—black and red— complement any outfit, which is perfect for the fashion-conscious.
Practicality and functionality are my top considerations when it comes to buying any bag. So when I needed a new backpack for my e board, I went for this one.
Its universal design holds not only my electric skateboard but also my 40-inch freeride skateboard longboard. I no longer need to carry the board with my hand when I ride the subway or am in a restaurant. This backpack is very convenient to use.
I used to bring a separate laptop bag when I rode my board to work, but not anymore. My 15-inch laptop fits in the bag nicely, with enough padding for extra protection.
Unlike some backpacks whose outside pockets are just for aesthetics, the exterior compartments of this commuting backpack are highly functional. For example, my water bottle and folding umbrella fit in there perfectly.
Overall, this backpack is well-constructed. But if I have to change one thing, it should be the zippers. Mine tended to come undone if I put in too much stuff. Also, some buyers might find the price of this backpack a bit pricey.
Pros
Roomy interior for laptop and other essentials
Comes in two colors: black and red
Fits most e board and longboards
With adjustable straps to hold the skateboard safely
Exterior pockets is usable as water bottle holders or storage for other items
Cons
Zippers come undone if users have a lot of stuff
A bit pricey
Featuring dedicated skateboard straps and generous storage space, this model makes a strong case as one of the top carry-all backpacks we can find.
7. GoRide Elite Commuter Backpack
GoRide is taking the backpack scene by storm, thanks to its latest releases of top-quality and super functional models.
This skateboard travel bag is one of the brand's premium offerings, boasting an impressive design that ensures more mobility and comfort. Besides, it is adjustable and roomy enough to haul electric skateboards and most skateboards during travel without a hitch.
My wife takes a lot of flights due to her work, so I searched for the best electric skateboard backpack. I gifted her with this backpack so she could bring her skateboard and ride it on her downtime. Her 42-inch size board fits without any problem.
In truth, the large-capacity interior compartment can accommodate her other stuff, including her helmet, repair tools, gloves, and elbow pads. This is the perfect companion to her travel bag.
It has been almost a year since I purchased this online, and it is still holding up well. The thick material offers decent protection for her gear, ensuring my wife's peace of mind when she checks this bag during her flights.
Furthermore, the laptop compartment and the two front pockets are thoughtful touches for easy organization, with the latter storing my wife's tripod nicely.
Although it's hard to go wrong with black, it would have been more awesome if the brand offered other color options. My wife would have loved to own a skateboard backpack that matches her aqua blue suitcase. Apart from this, there is no other drawback we can think of.
Pros
Adjustable size to fit user preference
Fits most skateboards and longboard
With a specific laptop slot, accessory compartment
Sports two front pockets for storing smaller items
Perfect for checked-in luggage
Rugged construction with thick materials
Cons
A lack of other attractive color variety
With its excellent construction and spacious interior, this commuter bag will make our air travel more convenient.
8. Iwonder Electric Skateboard Backpack
Anyone who thinks that a regular skateboard carrying backpack feels bulky and goes unfilled most of the time should try this slim and foldable carrying bag from Iwonder instead.
At under 2 pounds, this backpack is sleek enough but possesses all the essential features that every skateboarder needs: curved shoulder straps for greater comfort and a small pocket for packing the valuables.
I got this backpack for my son, who is turning a new page in his life. He regularly hits the skate park near our village. His e board stays in place even when he's running, thanks to the super sticky Velcro fasteners used. The mini zipped compartment is perfect for stashing my son's small items such as his keys, power bank, and repair tools.
His older sister sometimes borrows it from him, and her longboard also fits without any issues. It has been a couple of months, but the bag is holding up well. The polyester fabric is surprisingly durable.
Initially, I doubted that it could hold a heavier load, but its claim to handle up to 15 pounds seems true.
I understand that the minimalist feature of this backpack is its main selling point, but a little padding would not hurt. Carrying an e skateboard for long hours, especially during commutes, can cause back pain, so even thin padding would be nice.
Nonetheless, my son loves this backpack. If it goes on sale, I will buy another one for my daughter to have her own.
Pros
Boasts a clean minimalist design that's slim and foldable
Features curved shoulder strap support for comfort
With a mini pocket to hold small essentials
Sticky Velcro fasteners
Made of sturdy polyester material
Can carry skateboards up to 15 pounds
Cons
Lack of back padding may cause body soreness
True to its minimalist nature, this backpack is smaller than most skateboard backpacks, but it does not sacrifice functionality. For someone who travels lightly, this is a stellar option.
9. YS Sport Portable Longboard Bag
I need something basic yet reliable for my longboard, and this one fits the bill. It has the necessary features that I was looking for to protect my board during trips to the skatepark or even in long hauls.
Furthermore, the bag is lightweight enough, which is great, as it doesn't add a burden to my already-heavy board.
The size is ideal for my 46-inch longboard. It has extra space for my pads and other stuff– great at keeping me hands-free. In addition, I don't need to carry another bag for my board's accessories. This bag is simple but serves its purpose!
Given its reasonable price, I was not expecting anything spectacular, but I can say that this got decent quality. The nylon fabric material is thick, and the straps are sewn well.
I have been using it regularly, and it seems to be holding up pretty well– no rips or tears so far. It may not be as durable as the more expensive ones, but I will not complain given its price.
This is undeniably one of the most fantastic skateboard travel bags, especially for anyone who looks for a no-frills one for occasional travels. The straps are pretty thin, though, which could hurt our shoulders if carried for long periods.
Pros
Lightweight, which is great for travels
Materials and construction are of decent quality
Comes with an ideal size for my 46-inch longboard, my pads and other stuff
At an affordable price
Cons
Straps are quite thin, which could hurt shoulders with extended use
With its functionality, this is one of the best backpacks that hold skateboards. It is a practical accessory for our precious board, so we no longer need to search for any other.
10. Inktells Skateboard Backpack
This is generally one of the nicest skateboard backpacks with a well-thought-out design that's well put together.
The bag is versatile and suitable to be carried by anyone for business, school, or travel. Its cool graffiti design makes it both functional and stylish. It fits my style well!
I like how the manufacturer put careful thought into comfort in creating this electric skateboard bag. Electric skateboards are usually a bit heavier than standard skateboards and longboards.
However, the adjustable shoulder belts distribute the weight of the bag reasonably. The protective base of the skateboard bag comfortably supports the back and hips, as well as the board.
The materials used are remarkable, too, especially the fabric made of "encrypted 1000D Oxford fabric." Thus, it is tough and lightweight, a big plus for someone who doesn't like an additional burden.
Besides, the bag is waterproof for me to be assured that my board is protected in any weather condition. It is also safe from accidental spills and splashes.
I bring all my must-haves wherever I go, so this skateboard bag is perfect for me as it has ample space and compartments. It even has pockets for hats or helmets, shoes, and other small accessories.
My stuff is neatly organized. I cannot think of anything to not like about this bag, except for its inability to fit boards longer than 32 inches.
Pros
Versatile, functional, and stylish
Has comfortable shoulder straps and base support
High-quality and lightweight 1000D Oxford fabric
The waterproof fabric protects skateboards from weather and spills
Ample space and compartments
Cons
Not for boards over 32 inches in length
Without a doubt, this is an excellent bag for skateboarding enthusiasts who love to bring their board wherever they go.
What to Look for When Buying Electric Skateboard Backpacks
Protection and functionality are the top factors to consider when purchasing backpacks. More than making you look good, a specific e-board bag serves as a dependable partner in safeguarding your gear and carrying your things to and from one point to another. Knowing a perfect size will also help. You should be okay using a 30- to 60-liter model.
The type of material used is also an important determinant. Nylon and polyester materials are considered industry standards because of their durability and flexibility. Since electric skateboards have sensitive components, it is imperative to choose a water-resistant model. You don't want to be caught in a rainstorm without extra protection.
Ventilation is another backpack feature that you should consider. Skateboarders who easily get sweaty are advised to buy a bag that has a mesh back panel, which ensures better airflow to keep them dry and fresh during the commute.
In addition, some backpacks have a back panel that extends all the way to the hip, dissipating hot air from the two sides of the body.
Other Important Factors to Consider
Also worth pondering is the overall weight of the backpack. More often than not, a heavier backpack, which is made of tougher fabric and has a beefy frame, is engineered to carry a heavier load.
That said, there are lightweight skateboard backpacks that are capable of hauling a lot of stuff. Most board backpack brands have a reference guide that provides load ratings.
Electronic skateboards are typically heavier compared to traditional types. As such, a backpack that holds these skateboards should have padded shoulder straps.
Cushioning reduces the pressure on your shoulder, which goes a long way if you are frequently commuting. Models with a padded back are likewise advisable, especially when you carry your laptop and other devices with you.
To ensure a satisfying user experience, most backpack brands have a friendly return policy, especially if you encounter product quality problems.
If you are not happy with the bag, you can simply return or exchange it 30 days after the purchase date. Some have a longer return policy of up to 90 days, so always check it before buying, especially when ordering online.
What is an electric skateboard backpack? How does it work?
An electric skateboard backpack looks like a regular backpack that holds a skateboard but with added features and some modifications. In general, electric skateboard bags have two dedicated skateboard straps that hold the gear together. A pair of buckles ensure that the skateboard stays in place even when the user is walking or running.
What are the different types of electric skateboard backpacks?
Commuting backpacks or travel bags are the most common types of electric skateboard backpacks. The former is for daily short travels, including going to skate parks, offices, or schools. It is usually slim and lightly padded to bring the weight down, allowing you to move back and forth from one place to another.
Electric skateboard travel bags are designed to handle the demands of long-distance travel. They have multiple compartments meant to store extra stuff such as a laptop, extra clothes, and small belongings, including keys, remote controls, and chargers.
Also, a travel backpack has side pockets for holding water bottles to save you time when you need to rehydrate during travel.
Why do you need an electric skateboard backpack?
The weight of an electric skateboard sometimes makes it difficult to ride it to commute. Moreover, carrying it while inside a train or a bus or when dining at a restaurant is uncomfortable at times. As such, an electric skateboard backpack is necessary to unburden you from these hassles. Besides, a backpack allows you to carry your board and other items more comfortably.
Frequently Asked Questions
What are the most trusted electric skateboard backpack brands?
With many offerings flooding the market, choosing the best brand of electric skateboard backpacks sometimes gets confusing. But some brands are a cut above the rest. Evolve is one of the most prominent companies that produce top-quality backpacks. Evolve backpack is known for superb comfort and unmatched functionality.
Alterbags is another go-to brand in the skateboard backpack scene. The Alterbags native backpack is notable for incorporating durable materials such as ballistic nylon and canvas. Not to be outdone is the Obed backpack, which is custom-fit for boosted boards. The Burton day hiker pro is also an excellent choice, and I'd recommend the Hubro backpack with an electric skateboard carry panel.
Movpak, a forward-looking brand, made headlines when introducing the first-ever e-board that doubles as a full-size backpack. This variety has plenty of advanced features such as a Bluetooth connection, a microphone, and volume and headlight controls. The Movpak electric backpack skateboard, however, is on the expensive side.
Electric skateboard backpacks from Monark Supply and Slick Revolution are also worth checking out. Giant brands such as Nike, Adidas, and Vans also have commuting backpacks for electric skateboards and longboards. The Volcom unisex substrate backpack should also be in the conversation of the best electric skateboard backpacks.
Dakine, a company founded in Hawaii, is another mainstay in the backpack scene. One of its best-sellers, the Dakine Mission backpack, is perfect for all types of skateboards and snowboards. Another in-demand product release is the Dakine Cyclone II, which features an integrated board carry system.
There are less prominent brands that are steadily gaining a lot of following because of their excellent mix of affordability and functionality. These include some Amazon best-selling brands such as YoyoStore, Simlug, Tomall, Cooplay, and Pasamer. Other honorable mentions include Inktells, Dreamfire, YS Sport, and Dibiao.
All the more expensive backpacks better?
Bags from the above-mentioned brands are costlier compared to the ones released by lesser-known brands. The extra dollars are worth it, so allow some flexibility in your budget. Skateboarders generally turn to backpacks from top brands because they meet quality, functionality, durability, and design standards.
One caveat, though, you do not need to overspend to enjoy the benefits of the more expensive releases. More companies are now producing high-quality backpacks that can compete with the giant brands in terms of material, quality and practicality.
Before buying, always consider your budget. It is better to be mindful of your financial situation to avoid making costly mistakes.
Best way to carry an electric skateboard?
Riding an electric skateboard is fun and always full of adventure. But sometimes, the weight of the e-board takes its toll on the body.
In some cases, you are left with no other choice but to carry all 30 pounds of it, which is inconvenient if you need to dine in a restaurant or enter a mall. The answer? Use a specific electric skateboard backpack.
How do you attach a skateboard to a backpack?
Attaching your electric skateboard to a backpack is easy. First, adjust the straps and loops at the front of the bag to keep your board securely placed.
The bottom of the deck should be against your back so that the wheels will not accidentally hit your hips or hands while walking or running. Always make sure that the buckles or Velcro fasteners are fully clipped together.
How to clean and care for an electric skateboard backpack?
Washing your electric skateboard backpack not only makes it look clean and brand new but also prolongs its life span. The best way to clean your backpack is to wash it by hand.
After removing everything from your bag, please place it in a bowl and soak it in soapy water. After a few minutes, gently remove the stain using a brush.
Read the care label inside the bag for detailed cleaning instructions. Make sure to thoroughly clean the backpack to remove all the dirt and sweat residue caused by daily use.
After rinsing with water, let it dry in a well-ventilated area or hang it inside out so it can dry evenly. Make sure that the backpack is completely dry or risk the chance of mold growing on it.
Never put your backpack bag carrier in a washing machine as doing so will damage the coating in the material and other components such as the closures and fasteners.
If you need to use a washing machine, make sure to place the bag inside a laundry sack or a pillowcase to protect the zippers and the straps. Ironing the backpack is also not necessary.
Where can I buy?
Backpacks for electronic skateboards are generally available on major online shopping sites such as Amazon. There are also specialty stores that offer custom-fit bags for certain boards like the Evolve skateboard backpack and Boosted board travel bag.
In addition, top brands, including Alterbags, Obed, and Movpak have websites and dedicated sections for their backpack offerings.
Other online sites such as Skate Warehouse, SkateDeluxe, CCS, and Tactics have a wide selection of bags and other accessories. You can also check out the products at Skatestore, SoCal Skateshop, and Black Sheep Skate Shop. These sites occasionally slash their prices so you can buy your next new electric skateboard carrier at a discount.
You can also find hidden gems on eBay or Craigslist. Going to Reddit for recommendations will also be helpful to meet your needs. There are subreddits or specific online communities dedicated to a specific topic, such as electric skateboards and backpacks.
How to carry an electric skateboard on a backpack?
An electric skateboard backpack generally has two external straps. To wear an e-board on a bag, you should unbuckle the straps first before placing the skateboard in the middle. It is essential to pull the straps so that they hold the skateboard snugly.
This is particularly important during long travel, as constant movement might cause the straps to move around slightly.
What is the difference between the shoulder and sternum strap?
The shoulder straps are the two straps that go around your shoulder and keep the bag in place when moving. They can be thickly cushioned or thinly padded, depending on the design of the backpack.
Also called a chest strap, the sternum strap disperses weight evenly and adds stability to the backpack. It also lessens the stress on the shoulder, neck, and back.
Most large-capacity backpacks feature sternum straps, which generally provide additional support for users. They help in weight distribution, reducing pressure on the shoulder when carrying a full backpack or walking long distances. The straps are typically made of solid fabrics such as nylon.
What is the best size for an electric skateboard backpack?
Slim, e-board specific backpacks are perfect for short commutes or visits to skate parks. Most skateboard daypack sizes, however, are between 25 and 33 liters.
These types work well when you need to carry other items such as laptops, cameras, books, or extra clothes. Thirty-liter backpacks are ideal for a short weekend getaway, provided that you are a light packer.
A 40-liter backpack is big enough for an extended weekend trip. Backpacks with a carrying capacity of 50 to 65 liters are for those who need much gear and clothing. But remember, no one bag size is better than another. The rule of thumb is that your backpack should be proportional to your body.
Most backpack brands have a guide on which size is best suited for your height. Some have a more detailed guide, including size suggestions based on your waist and torso. Skateboarders with a torso length between 16 and 17 inches should go for a small size backpack. Those with a torso length of 18 to 20 can opt for medium-size or large backpacks, depending on the brand.
What items should I put in an electric skateboard backpack?
If you own a big electric skateboard backpack, you can stash a lot of other stuff in it. Most backpacks have specific compartments for electric devices such as laptops, cameras, smartphones, and tablets.
Students can use a board backpack to bring everything they need in terms of school items, including books, notebooks, pencils, pens, highlighters, and erasers.
Some backpacks, especially those with large-volume capacities, have dedicated pockets for small items such as keys, wallets, remote control, and chargers. If used as a travel bag, an electric skateboard backpack can hold clothes, rubber shoes, and skateboard accessories such as multi-function tools, elbow and knee pads, and gloves.
Can you bring an electric skateboard on a plane?
Yes, you can bring your electric skateboard with you on your flight. E-boards with a battery capacity of less than 160 watt-hours are allowed, but make sure to check with your airline first.
Models with a battery size of 100 to 160 watt-hours are permitted as carry-on baggage. Boards with bigger batteries are prohibited because they can explode if damaged, heated, or short-circuited.
Some of the e-boards with approved battery size and can be brought during a flight include Boosted Mini S, Hoyt St EL1, and Evolve GTR. The Meepo Mini, Meepo V3, OneWheel Pint, and Unlimited X Loaded Kits are also well within the limit.
Some websites have an expansive list of electric skateboard models that you can take inside an airplane.
Although the airline industry generally adopts the International Air Transport Association guidelines, each airline imposes its own rules on e-boards. Therefore, it is highly recommended that you first contact your airline before the trip to avoid any inconvenience, especially if you fly trans-continental.
Southwest Airlines has no specific rules on electric skateboards, but a regular board should fit under the seat in front of you, or you can have it checked. United Airlines has strict rules on electronic or battery-operated items, banning e-bikes and hoverboards in their planes. Likewise, E-boards powered by lithium-ion batteries are prohibited by American Airlines.
What is the price of a good electric skateboard backpack?
Sometimes the final decision in selecting the right electric skateboard backpacks is the pricing. It is common thinking that bags boasting amazing features cost a lot.
However, there are backpacks in the market that do the job without breaking the bank. An affordable skateboard backpack does not necessarily mean that it is made of cheap material or lacks functionality.
The price generally depends on the quality and brand. For starters, you can take general home releases for as low as $20. These often come in basic designs and have one large compartment. Midrange and high-end backpacks constructed from durable fabrics and feature multiple pockets are typically sold for $80 to $200.
Conclusion
All of the listed backpacks are highly recommended. The final choice depends on each buyer's preference and needs. Before deciding on which variety to buy, consider the size and volume capacity of the backpack. If budgets permit, opt for the high-quality release from top brands for guaranteed protection, performance, and longevity.
Inexpensive options are also practical, especially with money hard to come by. But be more wary and careful, as these tend to deteriorate quickly, costing more dollars in the long run.
I hope the little nuggets of information from this article about the best electric skateboard backpack are helpful.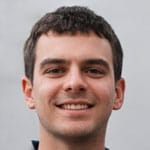 Hi, I am Charles Harris. I opened this site to write as much as I can about my biggest passion – skateboarding!
I started as a clumsy yet passionate rookie 10 years ago to now a still passionate yet much better skateboarder! But I have to tell you, the whole journey has always been fun and rewarding, indeed not without hardship.