Perhaps, one of the most challenging parts of riding an e-skateboard is dealing with its weight. The heft is because of the batteries, motors, and other mechanical parts. But we can't take away the benefits it gives us, like fast skating and better control.
And with many skateboarders having the same complaints, skate companies resorted to creating smaller versions of electric skateboards. Do you want to try these mini versions? Let's get to know the best mini electric skateboard through the following factors.
As cited, weight is an added challenge for the e-board user. Not to mention that it can cause the electric motor to work more and drain the battery faster. So, you should pick a model that's not heavy.
If we check a few models like the Boosted Mini S and X, they only weigh 6.8kg and 7.6kg, respectively. Some boards like Riptide are lighter at only 5.8kg.
Of course, dealing with the mini electric skateboard category doesn't mean we'll also have to reduce performance expectations. We know how vital motors are in the overall function of the skateboard, and the decision we'll make will run between belt and hub motors.
The hub version works well under substantial weights. They are silently-operating skate engines and conducive to a smoother ride. Hub motors also work best for hill-climbing, imposing a dominating acceleration capacity.
On the other hand, belt motors let you use full-urethane wheels. That way, you can ride the skateboard longer before replacing the rollers.
Unknown to many skaters, battery options with capacities exceeding 160Wh cannot travel with you on a plane. While this situation looks more like a constraint on the rider's end, you can still achieve quality rides by balancing the battery capacity with all other factors.
More discussions await you in the buying guide section of this article. In that part, we'll learn more about mini e-skates and how to get the best one. At this point, let's acquaint ourselves with these tiny skateboards.
Top 1
WOOKRAYS Electric Skateboard
– IP54 rating
– Remote with LED displays battery level
– Durable & flexible maple deck
Top 2
Meepo Mini 2 Electric Skateboard
– Has eight layers of maple wood
– Two powerful 540W dual hub motors
– A 30-inch deck for easy transport
Top 3
BASE CAMP Electric Skateboard
– 5kg lightweight skateboard
– 8 layers of durable maple wood
– Has an abrasive layer of grip tape
Top 6 Mini Electric Skateboard Reviews
1. WOOKRAYS Electric Skateboard
The WOOKRAYS Electric Skateboard is a classic example of a small yet powerful e-skateboard.
It comes with a 350W hub motor that can make the skateboard run as fast as 20km per hour. What's better is it allows for three levels of speed, suiting advanced and beginner skateboarders. With these features, users can enjoy smooth to challenging rides and reach far distances.
This small electric skateboard resembles a regular board with its deck build. Besides using maple wood as the primary material, it has this concave shape that improves the rider's control. This aspect is most helpful for beginners trying to calibrate a mini electric skateboard. And since it's a maple design, it's also durable and flexible.
Damp weather is a challenge to an electric skateboard, as moisture can affect electric components. And to address this issue, Wookrays ensured this skateboard is IP54 water-resistant. This standard ensures the skateboard's safety against water sprays from any direction and dust contamination.
This model may not have the best remote control, but I like this device because it's responsive. The 2.4Ghz remote of this mini electric skateboard sends control signals even if the two are 14m apart. It also displays relevant LED signs like my battery level. With this information, I know when to go home before my motor stops working.
Some skaters experienced issues with the batteries not charging to full. But I did not encounter such a problem on my end.
Pros
350W hub motor with a maximum speed of 20km per hour
Three speeds, suited for skaters of different experience levels
Durable & flexible maple deck with concave shape for optimum control
IP54 rating for protection against water sprays and dust
Has a 2.4Ghz responsive remote control working even 14m away
Remote with LED displays battery level
Cons
Some users can't charge batteries to full
Overall, I love the maneuverability of this skateboard. From its deck shape down to the remote control, it's never a challenge driving it.
2. Meepo Mini 2 Electric Skateboard
Meepo's Mini 2 Electric Skateboard makes a skater's cruising better with a well-shaped deck.
The Meepo Mini features a kicktail that allows for better turns on the road. With sufficient width and front-end protection, skaters attain improved balance and added comfort. Also, its 30-inch length fits right for carrying. So, it's a manageable board whether in use or not.
Besides having a perfectly-molded deck, this skateboard also embodies quality construction. On this electric penny board are eight layers of solid maple acting as the muscle and ligament of the skateboard. These wood pieces ensure the collective sturdiness of the mini electric skateboard and its longevity over time.
Because it's a mini skateboard, I did not expect much from this model's operational distance. But its performance proved me wrong. The Meepo mini comes with a battery pack that helps the skateboard reach 11 miles.
What's better is it's a fast-charging power source that only needs two hours to recharge. With these attributes, I get to skate more often.
The next feature I like about this small board is its speed. The 540W dual motors yield a maximum speed of 28mph, high enough for a mini e-skate. And like the battery, I feel amazed by the dual hub motors' performance. This skateboard might be small in size, but it's still as strong as big e-skates.
On the downside, the wheels seemed too soft. After a couple of rides, they started to wear out. Nonetheless, these are replaceable parts.
Pros
A 30-inch deck for easy transport
A kick tail, sufficient width, and front-end protection for improved control
Has eight layers of maple wood for optimum durability
A strong and fast-charging battery pack that works up to 11 miles away
Two powerful 540W dual hub motors that yield a maximum speed of 28mph
This Meepo e-skateboard is only small in size. The way it works is like mid-range e-boards. It has quality parts, and the dual motor-battery tandem doesn't disappoint.
3. BASE CAMP Electric Skateboard
If there's another model that balances item weight and load capacity, it's the BASE CAMP Electric Skateboard.
Motorized skateboards are generally dense because of their electronic parts. But I commend this brand for creating a mini electric skateboard weighing 5.5kg only. Not only that, but it can also load a rider as heavy as 220lbs. So, it's lightweight but also heavy-duty.
This skateboard's 8-layered maple body is an absolute plus for me. These pieces make the design durable, flexible, and responsive when riding.
Topped with an abrasive piece of grip tape, the deck holds the skater's feet firmly. So, this e-board becomes safer to ride.
Not only does this little skateboard impose safety for the rider but on itself too. Base Camp has this unique bash guard attached to the skateboard's end. This strap ensures that the kick tail is free from scratches and protects the deck from damage.
To have a lightweight board is already a benefit for many. But to own one with a bag in the package is rare. This skateboard comes with a carrying backpack, making mobility not an issue for its users.
On this bag is a small pocket, dual shoulder straps, and strap locks. To me, it's not a simple skateboard carrier but a convenient one.
For now, I don't think this skateboard has a drawback. It works as expected, and that's what matters to me the most.
Pros
5kg lightweight skateboard that loads a maximum of 220lbs
Comes with eight layers of durable and flexible maple wood
Has an abrasive layer of grip tape for added rider safety
Bash guards that protect the skateboard's tail
Comes with a convenient carrying backpack for added mobility
This skateboard is excellent in many ways. It's mobile on and off the ground, plus its safety features make users more confident while riding.
4. Windseeker Electric Skateboard
If we talk about innovation, the Windseeker Electric Skateboard also has its unique share of it.
This skateboard uses the latest auto-boot feature that frees the rider from leaning down to move the wheels. Just glide on the board until it begins to work. Clearly, this feature saves effort and makes things more convenient for the user.
I rarely commend such a feature, but I love the aesthetics of this e-skateboard. The model has this metallic finish at the bottom of the deck, and making it look more realistic is the Carbon Fiber Water Transfer process.
This design does not only cover the deck's underside but also reaches its edges. What's good here is the printed pattern mixes well with the grip tape. So, it's a quality, modern-looking skateboard overall.
It may be less noticeable, but this skateboard's deck has a unique form near the tail. The Windseeker features a single-warped backend that allows users to move better.
Some riders even affirm that this e-skate still feels like a regular skateboard with how it responds to weight shifts. It's widely controllable.
I think this model is the widest on our list. It has a 9-inch width, broader than some regular skateboards. While it may be short in length, it remains spacious, considering its width. In effect, skaters get enough stepping surface to balance and feel more comfortable.
I did not have negative experiences with this skateboard, but one Reddit review revealed that the charger stopped working. Everything on my model works well.
Pros
An auto-boot feature that reduces the need to bend and start the skateboard
Has a Carbon Fiber Water Transfer process and a metallic design with grip tape
A single-warped tail that makes the skateboard more controllable
A 9-inch deck providing sufficient stepping surface for the rider
Cons
Some users' chargers stopped working
I like the overall look and shape of this short electric skateboard. It works as expected, and its auto-boot feature adds convenience.
5. Teamgee H20 Mini Electric Skateboard
Power is what the Teamgee H20 Mini Electric Skateboard stands for.
Versus the previous item, this dual hub motor skateboard only has a maximum speed of 24mph. But what makes it advantageous is its weight and hill-climbing capacity. The H20 loads riders as heavy as 286lbs and can still take on 25% inclined trails. Now, imagine how much strength this skateboard has.
This e-skateboard comes with an ergonomically designed remote. Besides being handy, this remote has an LCD screen that displays several relevant data. This information includes the speed, riding modes, the skateboard's battery level, and the remote's remaining battery.
And while I rarely operate the skateboard from afar, doing so will still be effective even if the skateboard and remote are 20 meters apart.
I think any buyer will feel confident buying this skateboard upon knowing it passed UL certification standards. This aspect may not have a direct effect on the skateboard's performance. But to see an e-skate awarded with such a standard adds reliability to the item. So, not only is this skateboard strong but safe as well.
If there's one thing making this model economical, it's the presence of skate tools in the package. As expected, this Teamgee e-skateboard has charging wires and other necessary accessories.
Plus, not all brands come with repair tools, which is the reason I admire this brand more. It not only gives users cost-saving benefits but also convenience in immediate adjustments.
However, the brakes are stronger than users would expect. Skaters should be careful while using them to avoid mishaps.
Pros
Powerful skateboard with 286lbs weight and 25% incline climbing capacities
Ergonomic remote control with LCD that gives real-time data about the ride
Remote controller that operates even 20 meters away
UL-certified skateboard for added safety and reliability
Skate tools included in the package
Cons
Brakes are stronger than expected
Despite that, I think this mini electric longboard is a strong one in performance. Its load capacity makes it an ideal board for large adults. Plus, the added tools made things more convenient.
6. Electron Board Mini Electric Skateboard
One of the shortest yet complete e-boards on our list is the Electron Board Mini Electric Skateboard.
This model may be the smallest electric skateboard on the list at 26″, but it still looks wide enough because of its 8.7″ width. It's even broader than some regular boards. I think this width provides the rider with a sufficient stepping surface to ensure balance.
Complementing this skateboard's size is its weight. This Electron penny board only weighs 8lbs. But the good thing is it's not flimsy. It has seven layers of maple wood, keeping the entire structure sturdy. It's compact and durable, and it's easy to bring anywhere.
Essentially, this skateboard has some smart features. There's no need to manually turn it on. All we need to do is to ride it, and it starts automatically. What's better here is the board turns off after 5 minutes without work. So, it helps conserve battery charge as well.
Electric shortboards are famous for their speed. But only a few models exhibit riding smoothness like this skateboard. Such a benefit is possible because it has highly elastic PU wheels. These rollers can dodge small bumps on the road, thus reducing vibrations and giving a stable ride.
It's not an absolute disadvantage, but I think this skateboard's battery charge only suits short distances. As long as all parts are in good condition, the skateboard works as expected.
Pros
A 26″ short e-board with an 8.7″ width for a better stepping surface
Lightweight, compact, and portable electric skateboard, only weighing 8lbs
Seven maple layers for durability
Automatically turns on upon riding; turns off after 5 minutes with no operation
Highly elastic PU wheels that absorb shocks and neutralize small bumps
Cons
Not the best battery life for long rides
This skateboard embodies the ideal definition of a mini electric board. It's light, durable, and has the right amount of innovation.
What to Look for When Buying Mini Electric Skateboard
Buying a regular skateboard can be seamless, especially if you already have sufficient knowledge of the product. Selecting mini e-skateboards, however, is different from buying standard decks and wheels. Here are the factors to check out.
What makes up a mini electric skateboard
You may not do tricks with e-skates, but their parts should always be at an optimum level. Let's dig into each one.
The mini electric skateboards have spacious stepping surfaces. The truth is some e-boards are superior to several regular boards in the market in width.
E-skate sizes are more varied than some skateboard types. Some e-board widths can go as narrow as 8.7″ in one of the products to as broad as 10″.
So, what makes an e-skateboard "mini"? It's the length. I've seen several e-skates online and in physical stores, and they mostly look short. On average, I'd say the upper measurement goes somewhere around 30″. But most mini electric skateboards are 26″ only.
Without much argument, maple is a staple material for skateboard decks. And that does not only apply to regular skateboards.
If there are deviations between skateboards in material composition, they'll be the thickness. Some skateboard brands produce mini electric boards with seven layers of maple wood. Other brands have eight, and a few electric boards may use nine.
Maple wood has the perfect balance of stiffness, durability, and flexibility. Some skateboards use synthetic materials, but I think maple has the best pop among them all.
That said, if you like to try another type, a carbon fiber deck is a good option. This type comes in models that are lightweight and waterproof, two features many skaters want.
We still perform a few basics when riding on an e-skate. They include leaning, gliding, and turning. And vital to these movements is the deck shape.
The deck's concavity varies, depending on your purpose and preferred riding style. And since there are plenty of designs, we'll focus more on the best electric skateboard choices: radial and W-shaped.
Radial-concave decks feature the famous U-shape many skaters love. This style gives the feet an ergonomic stepping surface and a more secure feel on the board. And with these, the user obtains better control and balance of the skateboard.
You may have also heard of another concave type called progressive. It's similar to the radial type; the only difference is the latter has a flatter area in the middle.
W-shaped e-skateboards are unique because of the ridge in the middle of the deck. This groove at the center leaves a spot for the feet to push harder. Skaters who slide often prefer this concave style because it yields optimum, if not the best, control they could have.
The motors indicate the performance level of your e-skateboard. Choosing a pair of inferior quality could bring you more harm than good.
So, when picking e-skate motors, we must first know the difference between a belt and a hub motor. Belt motors are a perfect choice if you plan to use full-urethane wheels in electric skateboarding.
A more popular type is the hub motor. Performance-wise, hub motors are easy to push and quiet during rides. They are also less vulnerable to dirt buildup and water penetration.
In terms of motor power, we measure e-skate motors in wattage. And as a general rule in electronics, the higher the wattage, the stronger the device becomes.
E-skateboard motors have varied wattages. As seen on the products we reviewed, some brands come up with two 350W motors, while other mini electric skateboards have a 540W in-wheel motor on each side.
Besides the skateboard's primary parts, we can also add the following items that may be present in e-skate packages.
For many reasons, we need to adjust the tightness of some skateboard parts. Doing this ensures the board works to the optimum level and stays in good shape.
And to augment the routine and non-routine adjustments we perform, skate brands send their buyers a T-tool. This piece of equipment comes with socket wrenches, an Allen wrench, and a Phillips head screwdriver that deals with the different hardware of an e-skate.
Looking at a Meepo electric skateboard, for example, we see a piece of strap-like object wrapping its edges. That's what a bash guard is. Its only role is to protect the skateboard's seams from damages resulting from bumps and impact.
Mini-electric skateboards, like a Boosted board, are light. However, they are not that small. So, some skateboards come with backpacks in their packages.
These bags differ in style and material composition, but that won't matter much. What's necessary is that the backpack, or carrying bag, does its primary task of holding the skateboard.
Non-physical factors
There are also aspects we can't assess or imagine immediately upon looking at an e-skateboard. Let's explore each of them.
Perhaps, using a carrying bag already sufficed your mobility needs, but only in a general sense. At some point, you may need to travel on a plane or vehicle that limits electronic devices.
As inconvenient as it may sound, air travel puts a slight restriction on e-skateboards, more specifically on their batteries. If you once traveled with an electric board on a plane, port security might have asked about your battery size.
And from there, you knew you couldn't travel with a battery rated beyond 160Wh. But the good news is, you can now find small electric skateboards with batteries made in consideration of this restriction. Many of them are in the market, so you might as well check this aspect.
Mini e-skates are lighter than regular-sized electric longboards, and that's no argument. However, not all of these mini skateboards weigh the same or are within a low-mass range.
For example, the Electron board we reviewed only weighs 8lbs. On the other hand, the Base Camp is at 12lbs. And if we venture into brands like Boosted Mini S or X boards, they go around 15lbs to 16.8lbs.
It may not be a significant aspect of the skateboard, but consider if it carries a sufficient load. Doing so will help adult skaters gauge if the skateboard has the strength to move its users. On average, mini e-boards on our reviews load at least 220lbs.
These are the most vital aspects to check when picking mini e-skates. But you may also consider checking their prices, brand reputation, and customer support.
Are Mini Electric Skateboards Worth Buying
Yes. Here are a few reasons a mini board can be on your bucket list.
Portability – Mini skateboards fit your arms better than regular-sized skateboards. If we are to argue on the ground that all boards come with bags, mini e-skates still win because they are essentially lightweight.
Urban commuting – Unless you're taking on rough terrains, mini e-skateboards are your perfect buddies when commuting to the cities or around the campus.
Less costly – While mediocre e-skateboards and their mini counterparts may have a high price range, the mini versions are the more affordable electric skateboard options.
Are Mini Electric Skateboards Suitable for Adults
Perhaps, the name "mini" confuses many prospective buyers of mini e-skates. And if you're one of them, don't feel misled.
Mini e-skateboards differ much from regular e-skateboards, but that does not affect whether they work on adults or not. So, mini e-skates are suitable for adult skaters, as long as one picks the right weight capacity and deck size.
Are Mini Boards Cheaper Than Regular Electric Skateboards
Yes. If our goal is to land on a budget electric skateboard, then we can try mini skateboards rather than regular e-skates. That said, some models will equal or surpass regular e-skate prices.
Conclusion
Skateboards serve us no less than good things. Whether for recreation, sports, or short commutes, we'll always find ways to enjoy cruising or performing tricks with our decks and feet.
If you plan to use a motor to reach top speed, never forget about the best mini electric skateboard. You might as well take note of the tips I have shared to guide you in your selection process.
It's time to glide on the city roads with your new e-skate! If you have questions, kindly leave them in the comments.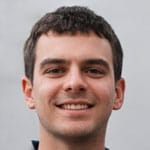 Hi, I am Charles Harris. I opened this site to write as much as I can about my biggest passion – skateboarding!
I started as a clumsy yet passionate rookie 10 years ago to now a still passionate yet much better skateboarder! But I have to tell you, the whole journey has always been fun and rewarding, indeed not without hardship.