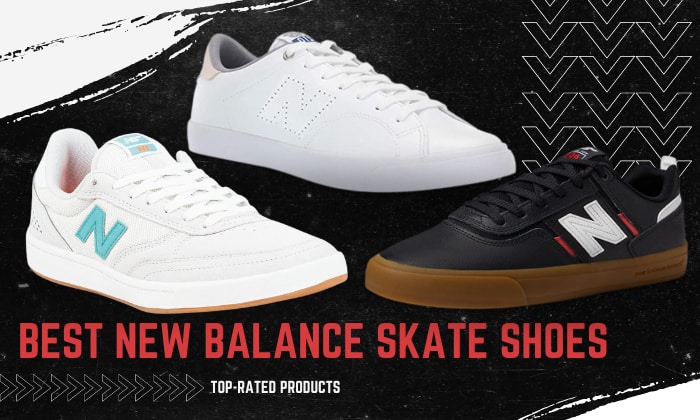 Whether for sports, fashion, or other purposes, we always have, at least, this shoe brand we adore for valid reasons. However, settling with the brand as a sole consideration alone may not deliver quality results, especially if we have more specific purposes for a skate shoe.
Let's take skating as the activity and New Balance as the brand, for example. Will any model of this brand fit such an activity? No. Instead, we need the best New Balance skate shoes to ride better and more efficiently. Here are a few buying considerations.
Material – Checking the materials helps skaters know about the shoes' durability and longevity. In the brand's history, it has produced skating shoes made with suede, canvas, and leather.
Suede possesses the ideal flexibility for agile activities like skating. Canvas is light and often the coolest because of its breathability. Ultimately, leather is denser and not too often present in skating rinks.
Insole type – Type of insole for skateboard shoes is rather important. And for this aspect, thebrand has vulcanized and cupsoles. Cupsoles are stiffer, allowing more padding provisions on the shoes. Meanwhile, vulcanized soles are softer, thus, yielding an excellent board feel for any skater.
Shoe cut – The shoe cut often refers to the footwear's height. And whether for skating or not, there are three classes of it; low, mid, and high tops.
High top skate shoes are the best ankle supports. Mid-cut sneakers stand shorter but provide better breathability. Lastly, low-top shoes are light and often the most padded style.
Choosing a new skate shoe is always an exciting but pivotal move for skateboarding. Hence, let's learn more about these pertinent considerations in this article's buying guide. But for now, let's see some of the top New Balance shoes for skating today.
Top 1
Men's All Coasts 210 V1 Sneaker
– Style – Flat-sole
– Weight – 2.1lbs
– Insole type – Vulcanized
Top 2
Numeric 306 Jamie Foy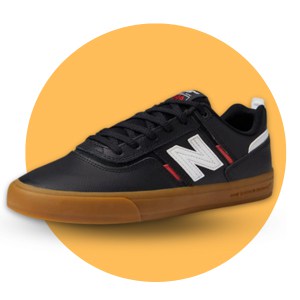 – Color – Black & gum
– Cut – Low-top
– Insole type – Vulcanized
Top 3
New Balance 440
– Materials – Perforated leather,…
– Origin – USA
– Colors – Grey/Teal
6 Top-Rated New Balance Skate Shoes
1. New Balance Men's All Coasts 210 V1 Sneaker
Short specifications
Style – Flat-sole
Package weight – 2.1lbs
Insole type – Vulcanized
Recommended users – Men
From the looks of it, anyone can tell that the New Balance Men's All Coasts 210 V1 Sneaker is a comfortable skate shoe. And it's evident in several features.
First, these low-top shoes keep their simple profile that suits almost any style with a neat yet appealing canvas upper. And given the textile used on these sneakers, skaters can guarantee they keep their feet cool.
Second, All Coasts 210 has a Fresh Foam insert. Despite being a flat-sole shoe, these inserts designed by the brand's experts make it snug and comfortable inside. Not only that, but these cushioned layers also add to that lightweight feeling in the feet of any skater.
Vulcanized is one of the commonly used skate shoes today, and this skate shoe came out in such a style. Therefore, skaters obtain a better feel of the board or their skating spot.
Besides that, vulcanized soles are also durable. So, these shoes might not wear out instantly.
If there's one feature making these sneakers perfectly fit for skateboarding, it's their herringbone tread. These patterns on the shoes' vulcanized soles give them excellent grip and traction. Subsequently, skaters can ride more firmly and with stability.
However, it takes a bit more effort to keep the shoelaces tied. There are times they get untied too quickly. So, I'd have to get down and fasten them again.
Simple low-top canvas shoes that are comfortable and breathable
Fresh Foam insert for added comfort and lightweight feeling
Vulcanized sole for a great board feel and improved durability
Herringbone treads for more grip, traction, and stability
The laces untie a bit too quickly
---
2. New Balance Numeric 306 Jamie Foy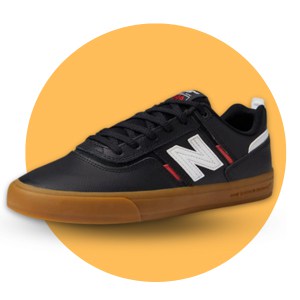 Short specifications
Color – Black & gum
Cut – Low-top
Insole type – Vulcanized
Suited genders- Men's and women's
The New Balance Numeric 306 Jamie Foy is one of the few pairs that feel sturdy as it looks.
These skate shoes feature a nice durable upper made from suede. While this material weighs more than canvas, it adds to the shoe's life with its improved wear tolerance. Additionally, 306 also has rubber underlays. And that makes these shoes more long-lasting.
Like the previous product, these sneakers are also comfortable. But such an aspect manifests in other components. The linings and tongues of these skating shoes come from mesh panels. That means air passes a bit more freely, leaving the feet relaxed and possibly dry all the time.
Save comfort and durability. The Numeric 306 also excels on the protective side. It comes with cushioned insoles that absorb impact, especially from jumps. Hence, skaters experience lesser force and become more distant from injuries.
Overall, given their competitive technical features, I love how this durable skate shoe looks. It's straightforward, has no fancy details, and has this classic New Balance low-profile silhouette. I think this feature makes these sneakers less complicated to use.
Almost every skate shoe buyer expects his pair to come well-packed in a box. But it's not the case with these sneakers, as they only arrived in a bag. Good thing there were no issues on their receipt.
Rubber underlays and suede upper for exceptional durability
Mesh panels and tongue for a more comfortable feeling
Protective sneakers with a cushioned insole that absorbs impact
Simple low-profile New Balance classic silhouette look
The shoes arrived without a box but a bag only
---
3. New Balance 440
Short specifications
Materials – Perforated leather, suede, synthetic upper textile, rubber sole
Origin – USA
Colors available – Grey/Teal, Navy/White, Tan/Black, White/Royal, Grey/Black, White/Navy, Black/Gum
Inarguably, the New Balance 440 is among the few skateboarding shoes that are stylish and athletic.
This model might look monochromatic in color, but the variation in upper materials makes it fashionable. New Balance 440 has a leather class, suede, and other sturdy synthetic uppers. These parts make these shoes ideal for skateboarding or casual streetwear.
Durability is also evident in these skating shoes, and two areas prove it. First, these sneakers have an N-durance rubber foxing tape that protects the footwear from abrasion. And second, the 440 also comes with a reinforced toe. Its function is to give the toe-side of the shoe better wear and tear resistance.
If other New Balance sneakers contain unique insoles, these sneakers use a foam wedge if we look inside. These added layers provide cushion to the feet when skating. So, skaters still get that balance of comfort and possible impact protection during rides.
The good things about these skating sneakers aren't on the uppers only. On the bottom side of this pair is a gum rubber outsole that provides sufficient grip. Knowing this material, it's also a catalyst for stability and preventing slips and falls from activities like skating.
On the downside, a few buyers find these shoes' toe boxes narrow, saying they could be uncomfortable when worn longer. Nevertheless, it could still depend on the foot's shape.
Stylish shoes from leather, suede, and synthetic upper for skating or day wear
N-durance rubber foxing tape and reinforced toe caps for abrasion resistance
Foam wedge insole for more cushioning and comfort inside
Gum rubber sole that adds sufficient grip and stability
Narrow fit on the toe box
---
4. New Balance 272
Short specifications
Primary materials – Suede, canvas
Sole type – Vulcanized
Suited genders – Unisex
Of all New Balance models, the New Balance 272 manifests comfort in almost every corner of it.
The shoe's upper side is a combination of canvas and suede upper. It's good that these materials complement a balance of durability and comfort. Not only that, but their varied textures make them look more aesthetic.
Another feature that gives skaters a solace feeling is the stepping surface inside these shoes. 272 uses an OrthoLite footbed that yields superior comfort, whether idle or on an agile skating routine. Having this feature makes wearing these shoes relaxing even for long hours.
Indeed, board feel is a significant factor in every quality skate ride. And yes, this New Balance model incorporated such with comfort. The first proof is its thin insoles, such a layer connects the skater's feet better to the board. Add that these sneakers are the vulcanized type, which means they give the best skate shoe feel.
If some skaters complain about their laces getting untied too quickly, such isn't a problem with this Numeric 272. These sneakers come with a traditional lace-up design that secures them on the feet. So, regardless of skating or casually strolling, they remain firm.
The only issue I have seen from this model is they're slightly narrow, especially for skaters with wider feet. I don't think everyone experienced the same.
Suede and canvas upper for a perfect balance of durability and comfort
Long-lasting comfortable experience in OrthoLite footbed
Vulcanized shoes with thin insoles for added comfort and a great board feel
Secure, snug fit using a traditional tie-up closure
Slightly narrow for wide-footed skaters
---
5. New Balance 440 High
Short specifications
Primary materials – Suede, canvas, perforated leather
Cut – High-top
Available colors – White/Yellow, Brown/Cream, Black/ White, White/White
High-top sneakers like the New Balance 440 High never go out of style, whether for skating or as lifestyle shoes.
We have discussed what this shoe type brings to the skater and the ride overall. And indeed, high-top skate shoes, despite limiting ankle movements, support and make skaters more stable in the same areas.
If not for skateboarding, these shoes still suit anyone's daily go-to footwear.
Like some of the items we checked, this pair also comes with a combination of perforated leather, suede, and synthetic fabric as the upper body. Besides their longevity and comfort, this compound of shoe materials makes this skating pair look more stylish.
More about their durability. These popular New Balance shoes also have an N-durance rubber foxing tape and a reinforced toe. And like the other shoes, these components protect the sneakers from abrasion and wear, especially on the high wear areas like the toe sides.
Besides the stability of the high-top profile of these sneakers, the same benefit is also evident in their outsoles. 440 uses rubber which has sufficient grip and traction. And with these, skaters can stand firmer and avoid slipping off their boards.
For comfort purposes, this pair also comes with a foam wedge inside. These inserts give the skater's heels added soft cushioning. Therefore, such a part of the feet gets more protection when doing technical skating skills.
I think some users had a misconception that these shoes were too narrow. But actually, they only take a bit more time to break in. That's why they could be tight at the first few uses.
High-top cut shoes for more support to the ankles
Classy and stylish shoes with suede, leather, and synthetic combinations
N-durance foxing tape and reinforced toe for optimum sturdiness
Sufficient traction from rubber toe
Foam wedge that adds more comfort and cushioning
More breaking in time could be necessary
---
6. New Balance Men's All Coasts 425 V1 Sneaker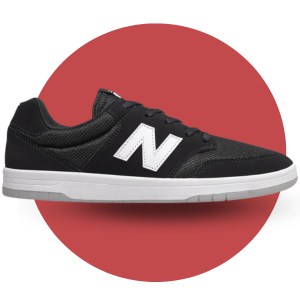 Short specifications
Primary materials – Suede, canvas, rubber
Cut – Low-top
Available colors – Black, Black/Grey, Burgundy/White, Black/Gum, and Charcoal
Suited genders – Men
For this new generation of skaters, the New Balance Men's All Coasts 425 V1 Sneaker has all the modernity, style, and versatility.
These freshest sneakers feature 100% synthetic materials crafted with modern construction and a stylish, classic design. Such a build makes this a comfortable shoe, appealing for everyday use and skateboarding.
Perhaps, these shoes might not look as revamped as other pairs. But 425 still exhibits remarkable durability. How? It has quality suede and canvas, offering sturdiness with the right balance of flex. And having tackled canvas, we know such a fabric is more breathable. That means users will often find it comfortable.
Another area that contributes to these shoes' overall durability is their outsoles. But besides the added sturdiness of this part, rubber also makes these sneakers squeaky and grippy. Hence, like most New Balance rubber sneakers, skaters become less prone to slipping off.
As a skater who is particular about details, even if they don't relate to performance, I think this pair has equally bold yet straightforward detailing and branding. This 425 took inspiration from its 520 and 620 siblings, giving it a unique, eye-catching silhouette. So, on top of its performance, this pair could be the perfect everyday footwear.
I wish the tongue had slightly more cushioning. It's not as padded as the other pairs. Nevertheless, I still love the overall fit of these sneakers.
100% synthetic and modern comfortable shoes perfect for everyday footwear
Sturdy and flexible shoes with canvas and suede combination
More breathable because of the canvas
Added durability and more grip from rubber outsoles
Excellent branding and eye-catching detailing
The tongues need more cushion
---
What to Look for When Buying New Balance Skate Shoes
Perhaps, as a brand fan, almost any New Balance shoe is enticing. But priorities will influence our choice more likely. Here are the factors we should consider when buying NB skate shoes.
Materials
Next to the name printed on the shoe, we'd often check what materials and fabric choices make it. Note that in this aspect, we are talking more about the upper part of the footwear. Let's look at the commonly used raw materials for skate sneakers.
1. Canvas
Canvas is known for its inherent breathability. It makes the shoe light, and the skaters feel less sweaty. Additionally, it costs cheaper than all other decent shoe materials.
However, a significant drawback of this material rests in its durability. If against a skateboard grip tape, for example, canvas wears out faster than other shoe uppers. Nonetheless, it still works for simpler skating like cruising or gliding on mini ramps and verts.
2. Suede
For agile sports like skating, premium suede is almost always a skater's personal preference. This material possesses the wear-and-tear tolerance a skater needs to perform ollies and flip tricks.
Unlike canvas, suede can still have a second life after holes because it's reparable. While it could cost more than the previous type, it lasts longer. The only disadvantage of these shoes is they're more susceptible to dirt.
3. Leather
Indeed, leather makes the best shoes for durability reasons. But for skating? It's not the best because of its added weight and decreased board feel.
People who use leather shoes are often on the casual and fashion-driven side. But like other materials, it also has a downside on scuffing when used for skating.
Vulcanized or cupsole
Choosing between Vulcanized and cupsole shoes means prioritizing durability over board feel or vice versa. Let's get into each of them.
1. Vulcanized shoes
These shoes offer the best board feel. Vulcanized shoes have thin soles infused with optimum flexibility that works best for professional skateboarders doing technical tricks. A common characteristic of Vulcanized shoes is their thin foxing tape near the edge.
However, this shoe type is often less durable because of the lack of thickness on the stepping side. Not only that, but it also offers lesser impact protection.
2. Cupsole shoes
Cupsole skating shoes exhibit exceptional durability. These sneakers come with a rubber cup stuffed with a solid layer and EVA or TPR cushion. Besides durability, this type offers great support and protection to the skater.
But contrarily, these sneakers have a lesser board feel and flexibility. Plus, they are often the most expensive shoe type.
Shoe cut
How tall the shoe stands also tells us something. Here are various shoe cuts that work for skating.
1. Low-top
Low-top skating sneakers are inferior in height and weight but offer the best mobility on the ankles. These are the most common choices for skating.
However, low-top shoes make the ankles lose support. Plus, they become susceptible to cruising against objects.
2. High-top
High-top shoes are almost the exact opposite of the low-top. These sneakers are best for ankle protection. But they are not ideal for ankle mobility.
This type of skating shoe often has extra paddings and cushioning. And with ankle protection mentioned as the good side, there is another downside to it when skaters begin to sweat out of the limited breathability of the shoes.
3. Mid-top
This shoe type has a balance of ankle protection and mobility. However, while it keeps the ankles equally exposed and restricted, a mid-top shoe doesn't top either category in support and freedom of movement.
Shoe soles
These parts are the catalyst to the comfiest shoes. Let's divide them.
1. Cushioning
The cushioning is the part some brands specialize in to keep skaters and buyers from bruises on the heel area and foot-related mishaps. Not that insoles don't work. But for some reason, the cushioning can be a catalyst for the most comfortable shoes.
2. Midsoles and outsoles
The midsoles and outsoles are often the shoe's foundation outside. These come in durable and lightweight foams compressed to provide quality support to the skater.
3. Insole
Not all insoles work to produce significant change. Some are only there without benefiting the skater in comfort and other aspects.
Hence, we must look for shoe insoles made from air pockets, foam, or gel. This way, we get better support and added comfort when skating.
Other Important Factors to Consider
Often neglected, here are more aspects to check when choosing New Balance skating shoes.
Outsole tread – The best tread patterns for skating are herringbone and waffle. These styles yield the best board grip and keep skaters less vulnerable to injuries.
Toe caps – Toe caps protect the shoes from wear on the nose. These features are perfect for skaters who often do kickflips and transition skating.
Stitching – How the stitches go is a durability factor. The best skate shoes must have double or triple stitches. And these should be in areas often engaged in tricks like the nose.
What Are New Balance Skate Shoes? How Does It Work?
New Balance is a famous brand producing some of the most popular footwear today. Its line of skating shoes makes it a sought-after gear for skate sports. New Balance skating shoes are often the best in comfort and unique functional designs.
As mentioned, New Balance is one of the brands specializing in skating sneakers. From the products we reviewed, some of their notable features are their suede and canvas uppers and rubber soles. These components make the shoes durable and grippy when skating.
What Are the Different Types of New Balance Skate Shoes?
The digits printed on a New Balance 574 and other styles might look like casual shoe codes, but New Balance identifies its models through numbers. Let's take a look at some skating sneakers from the New Balance archive.
22
212
213
228
255
272
288
306
425
440
508
808
1010
Why Do You Need New Balance Skate Shoes?
Wearing skating shoes at a skate park or skating rink gives some confidence. But wearing the ones in your favorite trending brand adds more thrill and excitement.
With New Balance showing a line of skating shoes, buyers can guarantee quality parts, durability, and overall performance. Not only that, but NB skating sneakers are also stylish, which makes wearing them more classy.
Frequently Asked Questions
How can I protect my skate shoe's stitching?
One of the areas that often breaks down first is the stitching. But how soon depends on the degree of usage and remedies applied to slow down deterioration.
Based on experience and as many guides say, applying adhesives like superglue on the shoes' stitches is the key. This way, these shoe parts are less likely to unravel and last longer.
How do you test your New Balance sneakers?
It's pretty easy to speculate whether the New Balance 550 you buy is original or not. Hence, we check the exterior physical details to be more certain about it. Here's a short checklist.
Box logos, spelling, and alignment
Barcode VS tongue details
New Balance logo on the insole
NB logo on the heel
Are New Balance shoes high quality?
Absolutely! And the quality is not only evident in the shoes' physical features but in their performance, too.
One proof is the comfort given by the paddings, insoles, and rubber outsoles. Another is the shoes' durability, courtesy of their durable upper construction.
Are New Balance skate shoes true to size?
With many skaters complaining about their shoes being off-size, New Balance remains true to what writes on its sizing labels. Additionally, these sneakers need no break-in period before using on long skate rides.
How to keep your New Balance skate shoes in good condition?
Cleaning, searching for possible wear, and not using them in inappropriate locations are only a few ways to keep our shoes in good condition. But let's see how to take care of New Balance sneakers through the following tips.
Use a light bristle brush and non-dye detergent for cleaning.
Allow the shoes to dry for 24 hours to ensure all the moisture is out.
Apply shoe deodorizer to counter shoe odor.
Conclusion
It's always a good idea to follow a specific skate shoe brand. This way, we learn more about sneakers and compare them against other footwear. It gets better if we classify these cool shoes based on where we can use them.
As a skater and fan of the brand, knowing about the best New Balance skate shoes is already a feat. Not only does it provide options, but it also lets us understand the more technical areas of skate shoes.
Remember what the brand gives best, comfort and durability. Plus, never miss the maintenance tips to help keep your skating sneakers in optimum condition.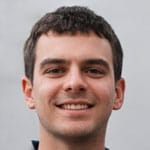 Hi, I am Charles Harris. I opened this site to write as much as I can about my biggest passion – skateboarding!
I started as a clumsy yet passionate rookie 10 years ago to now a still passionate yet much better skateboarder! But I have to tell you, the whole journey has always been fun and rewarding, indeed not without hardship.