Skateboards come in various designs to suit different riding styles. Some work well for cruising. Some work for tricks, and others are more on the versatile side.
But if we dig deeper into a skateboard's components, we'll see that it's not just the rollers that make it suited for the occasions we mentioned. It can also be the deck, the grip tape, trucks, or the bearings.
So, if you plan to customize your skateboard by improving its rolling smoothness and speed, maybe you should find the best skateboard bearings. Take note of the following.
ABEC Rating – The best way to measure a bearing's precision is through the ABEC scale. This unit of measure comes in a gauge of 1-9, with the highest being the best option.
Specifically, ABEC 9 bearings work best for downhill and speed skating. ABEC 7 works slightly behind them in speed but is smooth enough to yield quality rides. Lastly, ABEC 5 wheel cores are suitable skateboard bearings for cruising and are more reasonable in price.
Bearing material – We only have two options: steel and ceramic. Steel is a famous material for this skateboard part. But if we compare one steel bearing with another, we'll find the brand and price being prominent factors. If you spend on more expensive steel bearings, expect them to perform better.
On the other hand, ceramic bearings offer remarkable smoothness. However, they cost significantly higher than high-quality metal wheel cores.
Accessories – Skateboard bearings also come with optional components: washers or speed rings and spacers. Spacers help balance the weight on your skateboard. They allow for quality turns and better stability while prolonging the life of the bearings.
Meanwhile, speed washers are thin rings that enhance the skateboard's speed. They sit against each bearing, aiming to reduce friction when riding.
Learn more about these aspects of skateboard bearings in the buying guide section of this article. That way, you'll get a better basis for your selection process.
But for now, let's first get into the top-rated bearings for skateboards.
Top 1
Bones Reds Bearings
– Non-contact shield
– High-speed nylon ball retainers
– Comes at a reasonable price
Top 2
Yellow Jacket Skateboard Bearings
– High-speed racing lube
– Protective shields that come in seven colors
– A top-grade chrome steel structure
Top 3
Heady Shake Skateboard Bearings
– Titanium bearings
– Allows for easy installation
– Smoother and faster rides
11 Best Bearing for Skateboard Reviews
1. Bones Reds Bearings
Ask about famous brands and best-selling bearings for speed, and skaters won't miss a set of Bones Reds Bearings.
Coming with a removable rubber shield, Bones Reds ensure we get an easy time cleaning them. And since it's a non-contact shield, the bearing experiences less friction and yields smoother rides more often.
These bearings also help improve our skateboard's speed and power. Inside each wheel core is a high-speed nylon ball housing or retainer, keeping it in good shape and enhancing the speed of the skateboard overall. So, besides smooth rides, Bones bearings also make rides fast.
Another feature that makes these wheel cores famous is their inclusion of washers and bearing spacers. While using them is optional, having them will yield no less than quality and more precise skateboard rides.
On top of these, I think this box of bearings is worth its price. Several buyers affirmed this because of the quality of the bearings' performance, their smoothness, and the speed they bring. These may not be the lowest-priced, but they work as expected.
On the downside, they're not the quietest bearings I've had. Some buyers can ignore this, but those with sensitive hearing might as well consider this factor.
Pros
Removable shields that make cleaning easy and convenient
Non-contact shield that reduces friction for smoother rides
High-speed nylon ball retainers that improve the skateboard's overall speed
Ball bearing spacers and washers included for a more versatile setup
Comes at a reasonable price
Cons
Bearings are a bit noisy when in use
I think this set of bearings is a go-to option for many. All eight bearings perform well, arrive complete, and many claim they are suited for young riders. These are quality skateboard bearings for their price.
2. Yellow Jacket Premium Skateboard Bearings
Made to match the quality of leading bearing brands, the Yellow Jacket Premium Skateboard Bearings came with a high-caliber structure.
It features premium chrome steel designed to make the bearing roll smoothly and precisely. What's better here is this bearing uses top-grade steel, ensuring its overall reliability.
Like many bearing models, this item also comes with seals or shields. These layers protect the bearings from dirt and dust penetration and keep oil inside.
But if there's something unique about these components, it's their 7-color shield options. Through these, customizing skateboards with bearings is no less than effortless.
These premium bearings, too, have sufficient lubrication. First, each one comes pre-lubricated with ultra-fast lube as an initial application. Second, on its roller cage is an injected high-speed race lubricant. And with these, we can expect the wheels to roll smoothly and speedily.
On top of these features, I didn't expect the entire set to cost that low. It's almost a fraction of top-leading skateboard bearings brands, which is advantageous for users with tight budgets. So, these bearings do not only perform well, but they also offer great value.
However, like some of the products I reviewed, some bearings were also loud when operating. I'm not sure about others' cases, but I still admire these wheel cores' rigid build.
Pros
A top-grade chrome steel structure that ensures smooth and precise rides
Protective shields that come in seven colors for better skateboard customization
High-speed racing lube that makes the wheels roll fast and smoothly
Reasonable price without compromise on the quality
Cons
Bearings are loud when working
There are several unique aspects to these high-speed bearings, and I like all of them. They offer quality rides; they make skateboards more customizable, and I think they are the best budget skateboard bearings.
3. Heady Shake Pro Skateboard Bearings
With a uniquely dense body, Heady Shake Pro Skateboard Bearings give us a more durable take on skate bearings.
These skateboard wheel bearings come in three materials: chrome steel, nylon, and titanium. The first two components might be usual, but the titanium sets these bearings apart from other brands. This material is more damage-resistant, which means I can rely on it during heavy skating.
I think these bearings also do well in speed. Each piece comes pre-lubricated, freeing me from buying or applying this substance manually. And what makes these bearings superior is the brand's use of special lubricants. So, the wheels get to roll fast and as smoothly as possible.
The next aspect I like about these wheel cores is their versatility. They don't only work for skateboards and longboards, but their performance also extends to roller skates, scooters, and inline skates. These applications only prove how high-quality bearings these are.
Design-wise, I can see how the brand made this model sleek. Installing these bearings on a skateboard was seamless. Plus, with their non-contact shields, cleaning becomes more convenient. So, they're not only good skateboard bearings in terms of performance but of maintenance as well.
It's not much of a disadvantage because several brands do it. But I would be more confident if the brand designed these bearings with two shields.
Pros
Titanium bearings that promote durability and damage resistance
Arrived pre-lubricated with special lubricants for smoother and faster rides
Versatile wheel cores that work for activities besides skateboarding
A sleek design that allows for easy installation and maintenance
Cons
Does not come with a bearing shield on one side
Collectively, these features make these bearings precise. I can feel how the wheels roll quietly, even at high speeds. Not only that, but the materials it has raises its overall durability.
4. BRONSON Speed G3 Skateboard Bearings
Like other skateboard parts, the BRONSON Speed G3 Skateboard Bearings also emphasize precision on small details. Each bearing comes with a non-distort max impact design, enabling various benefits for the wheel cores.
First, through deep groove raceways, the balls roll deep and carry axial loads well. This aspect helps prevent damages and breakage on the side caused by impact.
Another raceway attribute I like about these is their microgrooves. These linear patterns enhance lubrication distribution among the balls. In effect, the bearings roll faster and spin better.
In addition to the inner and outer races, inside these bearings are custom cages that house the balls. This aspect keeps the sphere interiors well-spaced. What's better about these components is they're as durable as other parts. So, there's not much to worry about the bearing bending too soon.
Essentially, these bearings also come with dirt control features. Each has a pair of straight-edged, frictionless shields that keep moisture and debris away. These thin layers also prevent oil from spilling out, thus retaining the lubrication inside the bearings.
Many skateboarders also find these wheel cores easy to maintain because of the shields' design.
If there's one thing I didn't like in my experience with these bearings, it's when they arrived with bad lubricant. Fortunately, I only had to add my own emollient to make them good skate bearings.
Pros
Non-distort max impact design preventing breaks and damage
A deep groove race allowing the balls to roll well and carry axial loads
Micro groove raceway surfaces improving lube distribution and bearing speed
Durable custom cages that keep the balls well-spaced
Straight-edged frictionless bearing shields keeping oil in and dirt out
Easy to maintain
Bronson doesn't disappoint when it comes to being particular with details. All its features help the skateboard perform well. Plus, I think it's an easy-to-clean set of bearings.
5. Bones Super Reds Skateboard Bearings
Unlike their Reds version, Bones Super Reds Skateboard Bearings are noticeably quieter.
Skateboard rides are ideal when our components make minimal noise only. And with these bearings, we get an almost noiseless ride every time. They came built with quality rotating and rolling balls, top-grade raceways, and a decent surface finish, which are vital in making the bearings work quietly.
Ideally, skate bearings come lubricated, like this set. But what sets this brand apart is Bones uses an exclusive lubricant. Each wheel core has sufficient Bones Speed Cream racing lubricant inside, making the wheels roll fast and smooth. I think this lubing addition adds a different level of reliability to the bearings.
If there's something similar between this model and the other Bones bearings we reviewed, it'll be their single non-contact shield. It's much easier to remove than my old shields, so getting dirt out of the bearing is not a problem. I appreciate this attribute a lot, as I live in a sandy area.
As most skateboarders say, these bearings are durable. They will last for years, as long as we give them sufficient maintenance. If one skates every day, it's recommended to clean these every week.
At first, I felt worried about the box arriving damaged. Good thing the bearings were intact and working well. But I would have loved these more if they came in a clean, sealed package.
Pros
Quiet rides from quality balls, raceways, and surface finish
Pre-lubricated bearings with the brand's Bones Speed Cream racing lubricant
Single, removable shield that make cleaning more convenient
Will last for years with proper maintenance
Cons
Arrived with a damaged box
Bones is an established brand for its quality and performance. With its Speed Cream lube, these bearings roll fast and smooth. Plus, it's a preferred reliable bearings brand for many skateboarders.
6. Spitfire Cheapshots Bearings
If there's a perfect choice for beginner bearings, it'll be the Spitfire Cheapshots Bearings.
For many skateboarders, these ball bearings suit skating newbies because of their ABEC 3 rating. These are not the fastest skateboard bearings in the world, but they allow beginner skateboarders to perform tricks at manageable speeds. That way, skate accidents become less likely for starters.
Besides rolling at a slow speed, I think another factor that makes these bearings suited for beginners is their weight. They are 100 grams, light enough for almost any user to ride.
Bearings make noise depending on several factors. But unlike the previous item, these bearings remain quiet. I found out from a user that these wheel cores barely made any sounds, whether skating in dry or wet locations. What's better is that they retain their speeds no matter the location.
I barely look at the aesthetic sides of skateboard parts, but this product is an exemption. Each bearing comes in a black finish from the body to the shields. I like it because it helps keep the rollers looking neat. Plus, I think rusting would be less visible versus bare-metal wheel cores.
Unfortunately, users will have to soak these bearings in acetone first before using. Otherwise, they won't spin as well.
Pros
ABEC 3 beginner skateboard bearings that are ideally slow and safe
Lightweight skateboard bearings that only weigh 100 grams
Quiet wheel cores that make minimal noise regardless of the skating location
Retains speed whether on dry or wet ground
Neat-looking black body and shield finish
Cons
Needs soaking before usage
Despite that, I love how these wheel cores suit young and beginner skateboarders. They're light, reasonably slow, and look classic.
7. Fireball Dragon Skateboard Bearings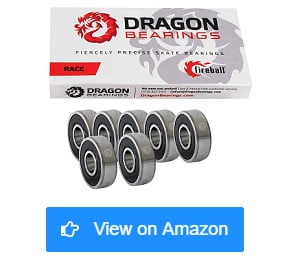 I rarely find skateboard bearings that perfectly restraint dirt while retaining lubrication inside, like the Fireball Dragon Skateboard Bearings.
One of the most salient features of these wheel cores is their Labyrinth seals. Most skateboard bearings have rubber covers, but the shields of this brand are significantly better. They improve the wheels' performance by 50%, which any user will enjoy.
Additionally, these shields also increase the bearings' life. I know one skateboarder who tried riding the skateboard with these bearings on wet pavements. Although he expected the wheel cores to end up damaged, neither moisture nor dirt got inside them. Most notable of all, these wheel interiors remained rust-free.
I think another aspect vital to the performance of these bearings is their interiors. Inside each Fireball is a set of high-quality steel balls, adding durability to the wheel cores. And paired with a premium lubricant, these components make the bearing roll better and smoother. With these, I can see long-lasting quality operation from the bearings.
The next thing I like about this product is each Fireball bearing has a 608 size, making it a perfect choice for many things besides skateboards. They work for penny boards, spinners, longboards, roller skates, and scooters. It's very convenient to have one set of bearings for numerous uses.
On the downside, these are not the quietest longboard bearings I reviewed. Several skateboarders also claim to have their wheels rolling with noise while these wheel cores are on.
Pros
Labyrinth shields that retain oil and let the wheels roll 50% better
Decent seals that help keep the bearings rust-free and contaminant-free
High-quality steel balls for improved durability and smoother rolls
608 size that makes them suit other physical activities besides skateboarding
Cons
The bearings roll with some noise
These wheel cores have the perfect balance of sturdiness, quality performance, and protection against the elements. They work as expected and would be better with less noise.
8. Zealous Bearings for Skateboards and Longboards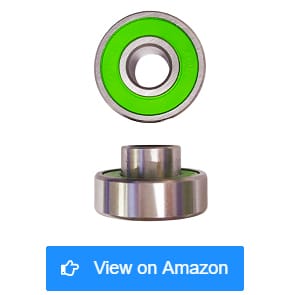 Of course, we can't miss out on an option like the Zealous Bearings for Skateboards and Longboards that spin smoothly and without noise.
One of the Reddit reviews I read about these bearings mentioned how wheels with these interiors work decently. The user took them on a long cruise to break them in, and the best thing is they remained steady. Not only that, but they barely made noise throughout.
Besides being steady bearings, I think these are also a safe choice. They may not be the fastest wheel cores on the list, but their speed makes them suited for young or beginner skateboarders.
I never knew lubricants would be a competitive factor until I tried these longboard bearings. Zealous uses a unique nano-ceramic lube that does wonders inside the wheel cores. For any deformation, the grease fills in on them. So, our bearing interiors get some restoration whenever necessary.
Additionally, this grease inside the bearings also serves a more vital role in preserving them. After eliminating asperities, this nano-ceramic lube helps resist corrosion through its low water washout feature. That way, water is less likely to deteriorate these components.
On the other hand, some users don't like having the spacers stuck on the body of the bearings. They make the wheel cores a bit challenging to clean.
Pros
Decent bearings that work steadily and noise-free
Safe, slow-speed wheel cores that suit young skaters or beginners
Nano-ceramic grease that fills in any deformation
Quality grease that prevents water from damaging the bearings
Cons
Built-in spacers may not be the best idea for all
To me, it's the lubrication of these bearings that got me. Besides being unique, I love this component because it helps preserve the life of the wheel core more.
9. Bones Super Swiss 6 Skateboard Bearings
Perhaps, not everyone knows that bearings have a varied number of balls inside. Looking at Bones Super Swiss 6 Skateboard Bearings, buyers will only see six of them instead of the regular seven.
The brand's belief is putting only six enlarged balls inside increases the bearing's speed and acceleration. Besides that, this unique feature also strengthens the wheel core overall.
If there's one more component that complements the speed and strength of these Bones Swiss skateboard bearings, it's their retainers. These come with a high-speed nylon material, improving the quality of the bearings' performance. What's great about nylon retainers is that they're light and cost-efficient.
I think it's the brand's trademark to use single shields in most of its bearing packages, and this model is no exception. It has a single removable rubber shield that makes cleaning and maintenance seamless. Not only that, but this layer is also non-contact, which means the bearing gets less friction.
I read feedback from a buyer who claimed these Swiss bearings are suited for heavy people. Essentially, because of the strength and durability of these wheel cores, they're perfect for riders who weigh around 270lbs like that user. One doesn't have to be thin to use this product!
This is not an absolute drawback, but I find these bearings slightly expensive. But as they say, we get what we pay for, especially for this set of Bones.
Pros
Only six enlarged balls for improved speed and overall strength
Cost-efficient light nylon ball retainers that add durability and quality
Single, non-contact, removable shields that reduce friction and ease cleaning
Perfect for heavy riders
Cons
Slightly expensive bearings
Not everyone will mind spending more on quality bearings like these. Bones Swiss bearings have the perfect balance of strength, speed, and smoothness. Their weight capacity is a definite bonus for many.
10. BRONSON Speed G2 Skateboard Bearings
Another classic example of a terrific set of wheel cores is the BRONSON Speed G2 Skateboard Bearings.
Each bearing works without creating rough moments on the skateboard. And that's because of the ceramic oil lubrication on each of them. What's better is these parts work quietly. So, riding with this bearings configuration won't only feel seamless but calming too.
I like these bearings because they come as straight-edged double-shielded bodies that prohibit dirt penetration from both sides. These shield layers are also frictionless, which means they won't hamper the work inside the wheel cores. I think these factors make riding these bearings possible on rough terrains.
Coming with a deep groove race, Bronson manages heavy loads better than some brands with shallow grooves. Plus, this bearing configuration also reduces vibrations, and that's the most prominent aspect to help stabilize skateboarders.
If I were to name my favorite thing about these bearings, it's the value. Other manufacturers are likely to miss adding spacers, but not Bronson. As a result, there's no need to spend more time searching for them.
Not only that, but this combination of bearing plus spacer even costs less than some products with only wheel cores.
However, I don't think these are the fastest bearings on the list. Some skateboarders claim other brands spin with better speed. Nonetheless, I love the smoothness of these wheel interiors.
Pros
Smooth and quiet bearings lubricated with ceramic oil
Straight-edged shields that keep dirt out
Friction-less design that contributes to the riding smoothness
Deep groove raceways for better weight management and stability
Good bearings for skateboards with high value (spacers included)
Cons
Not the speediest skateboard bearings
I got the right balance of dirt protection and riding smoothness from these bearings. While they may not be the fastest, I think they'd still suit beginners and young skaters well.
11. KVENI Ceramic Skateboard Bearings
Skateboarding entails jumps and agile movements, the reason why KVENI Ceramic Skateboard Bearings will be one of my top choices.
These bearings have a rigid structure, enabling them to counter high-impact movements. Inside each one is a set of ceramic balls, having sufficient resistance against deformation. Plus, housing the balls from the side is a carbon steel raceway that counters potential damage efficiently.
I don't frequently hear about waterproof bearings, and this set is one of the few. This Kveni model comes with unique colored seals protecting the insides against gunk and other tiny contaminants. Not only that, but since these parts are waterproof, I think they will last longer than some brands.
Besides being durable and safe against outer elements, these bearings are versatile. They do not only work for skateboards, but they also fit longboards, trikes, scooters, fidget spinners, and more. With this variety of applications, these bearings will always have their place in my home.
Some brands do not indicate ABEC rating on their bearings, and that's another thing that sets these wheel cores apart from the competition. These KVENI parts have an ABEC 9 rating, making them reasonably fast and precise. And for a skateboarder that's more into technical or fast-paced rides, these will be sufficient.
It's important to note that this option needs a break-in period, so users should have some patience.
Pros
Durable bearings with carbon steel raceway and ceramic balls
Waterproof bearings with colored seals for added dirt and gunk protection
Versatile wheel cores that work for scooters, trikes, etc. besides skateboarding
ABEC 9-rated wheel interiors that work fast and precisely for technical rides
I love the high-quality steel races and other unique things in these bearings. They work as expected, and their structure lives up to any pro skater's standard.
What to Look for When Buying Skateboard Bearings?
Now that we have a background about the usual skateboard bearings features, it's time to understand these factors more. Understand the following before getting new bearings.
The anatomy of a skateboard bearing
Many skate bearing parts are small, but that doesn't make them any lesser. Take note of the following.
Shields – These are some of the first parts you see looking at the bearings. Some brands have them on both sides, some only on one side, and other bearings have none.
These layers work primarily against dirt and other elements penetrating the bearing's interiors. For skateboard bearing shields, it's best to have them non-contact. That way, you can ensure less friction levels or none at all.
Raceways – Part of the inner and outer ring, raceways make up the bearings' frame. Raceways come in various designs, but deep grooves remain a common attribute for skateboarding.
This component aims to stabilize riders by letting the balls roll deep and fit against the axles. It also reduces vibrations on the skateboard, which makes rides smoother.
Balls – Balls are another integral part of a skate bearing. Essentially, these small spheres are the reason bearings work. They come in two popular structures: steel and ceramic. Ceramic balls are on the waterproof side, while steel rollers add durability and riding smoothness.
And though it's still debatable which among these works better, choosing either of them for your spare bearings will yield decent results.
Retainers – Retainers hold the balls securely during operation. And while we can't tell if these parts are the main drivers of a bearing, they have to remain as smooth as other parts.
In terms of material composition, nylon ball retainers are the best choice. Many users agree that this type lets the wheels roll efficiently.
ABEC Rating
This is one of the few figures we need to check when picking skateboard bearings. ABEC ratings determine the level of the bearing's precision, efficiency, speed, and other qualitative aspects.
The rule is simple: the higher the number, the better the quality. So, if you get an ABEC 1 set of wheel cores, you're more likely to experience less accuracy. The same goes for ABEC 3 bearings. These are cheap skateboard bearings, and we shouldn't expect quality rides from them.
ABEC 5-rated wheel cores are mid-range and good enough for simple cruising. ABEC 7 and ABEC 9 bearings cost more but are the best bearings ever for their speed and suitability for downhill skating.
Material composition
We have mentioned several parts that make up a skateboard bearing. Just as important as them is the material of the bearing itself.
Steel – Steel is a famous material for skateboard bearings. This is commonly present in raceways, spacers, washers, and balls. It offers superior durability and reduced friction. However, some steel-made wheel cores are more susceptible to rusting. So, consider spending on high-quality steel to match your needs.
Ceramic – Ceramic bearings can be the most expensive skateboard bearings today, but they embody many benefits. Like steel, ceramic-made wheel cores yield smooth rides.
But if there's a difference between the two, it's that ceramic doesn't expand in the heat. Plus, it is also famous for being waterproof.
Washers and spacers
Spacers keep the gap between bearings accurate. On top of that, they help skateboarders stabilize, whether during turns or simple cruises. These accessories on your wheel cores also manage weight on the wheels and extend their lives.
On the other hand, washers work to reduce friction and add speed to your rides.
Note that these may not be a part of the bearing package you buy. Some brands sell them separately or only have the speed washers or spacers included. The bottom line is that you might as well consider if you need these before buying brand new bearings.
What Are the Most Trusted Skateboard Bearing Brands?
Bronson Speed Co and Bones make the most trusted skateboard bearings if we balance the price point and performance quality.
Bronson is famous for its deep-groove raceways that stabilize skateboarders well. More often, they also come double-shielded or even shieldless without making you worry about dirt and gunk penetration.
On the other hand, each Bones bearing comes with nylon ball retainers that add durability and improve the skateboard's speed. And when paired with the brand's Speed Cream, Bones wheel cores are more likely to satisfy your speed expectations.
What's ABEC Rating? Does It Matter?
It's common for skateboard experts to call bearings skate-rated or ABEC-rated. Since figures make skateboarding concepts more understandable, we can consider ABEC ratings relevant.
ABEC ratings signify the quality of the bearings in precision and accuracy from lower to higher (1 to 9). And as skateboarders who are watchful of our performance, we can't neglect these numbers as they suggest the bearings' grade.
While some brands do not indicate these aspects on their ads and packages, it's still best to understand how these numbers work and their differences.
What Bearings Do Pro Skaters Use?
Skateboarders, even of the same pro-level, can still have varied preferences. But based on reviews and feedback from many of them, I see the Bronson G2 as the top skateboard bearings for pros.
These ball bearings come with unique ceramic oil lubrication with double shields to keep the dirt out. Making them suited for pro skaters is their suitability for street skating and transition skateboarding.
They are also a durable set of bearings. And what made them in demand on the market is their price.
Will Skateboard Bearings Fit All Wheels?
Most skateboard bearings come in the 608 designation, which means they belong to the 600 series with 8mm inner diameters. So, almost all wheel cores are likely to fit inline skates and make up the standard skateboard wheels and bearings configuration.
If there are differences among them, it'll be more in the build and performance aspects.
Are Skateboard Bearings Waterproof?
When a skateboard gets wet, the bearings become part of the casualty. When this happens, the wheel cores dry out of lubrication and become more susceptible to rusting.
The good news is that manufacturers are now more competitive in designing their bearings. Wheel cores today come with shields and seals that prevent water penetration inside.
And while some models may be shield-less or have one less shield, brands tend to bank on ceramic. This material has sufficient resistance against water.
Conclusion
Skateboard parts work cohesively. Performance and quality do not solely rely on one component alone. So, we need to balance several aspects to achieve the perfect skateboard setup.
And now that we know about the best skateboard bearings, we're a step closer to managing our speed, precision, and riding smoothness. Remember the things I have shared during the selection process.
Skate faster, smoother, and better. If you have questions, kindly leave them in the comments section.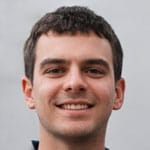 Hi, I am Charles Harris. I opened this site to write as much as I can about my biggest passion – skateboarding!
I started as a clumsy yet passionate rookie 10 years ago to now a still passionate yet much better skateboarder! But I have to tell you, the whole journey has always been fun and rewarding, indeed not without hardship.