It's never a good idea to underestimate the importance of safety gear. Whether you're a newbie or pro, it is equally valuable in extreme sports or hobbies like skateboarding, skiing, and biking.
While skateboarding primarily requires you to be on your feet, wearing a pair of protective skate gloves provides cushioning and impact resistance should you fall or skid. Picking up your skateboard, touching the ground when attempting to slow down, and exposure to extreme weather conditions warrant reliable gloves.
Find a pair that offers a mix between comfort and durability and you're good to go.
The best skateboard gloves are now within reach because of advancements in ergonomics, functionality, performance, and flexibility! Dig into these 12 high-performing skateboard gloves that are worth the hype and investment.
Top 1
Triple Eight Skateboarding Wrist Guard Gloves
– Comes in 4 sizes
– Offer both protection and support
– Premium quality leather and EVA foam
Top 2
NAME
– Optimal finger mobility
– Camouflage design
– Can be used for different activities
Top 3
Hillbilly Half Finger Wrist Guard Gloves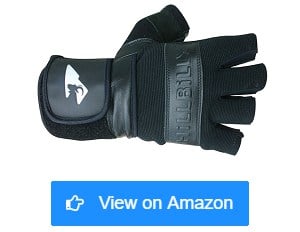 – Fits comfortably and snugly
– Made of high-quality goatskin
– Allows multitasking and mobility
Best Skateboard Gloves Reviews
1. Triple Eight Skateboarding Wrist Guard Gloves
Triple Eight offers an array of top-quality protective gear, and one of them is these inline skate gloves. These are made of premium quality leather, offering full protection and support with its integrated wrist guards. Crafted with EVA foam layers, this item provides no less than great shock absorption.
The thick neoprene straps on these gloves wrap around my wrist comfortably yet securely. What's more, the EZ pull-on loops integrated with these gloves are fully adjustable for a custom fit. Simply slide your hand in and tug at them!
What I love about these gloves is that I don't have to buy a new pair of wrist protection gloves as the impact-resistant ABS splints at the top and bottom are replaceable in case of damage or wear and tear. It's also worth mentioning the double stitching for added durability gives me great value for my money.
It comes in four sizes: small, medium, large and extra-large, so buyers are bound to find a size that fits them to a T. Make sure to measure the circumference of your palm and check out their sizing guide. It's as if I had these tailor-crafted to fit my hands!
It seems tedious to take these leather gloves off sometimes as I have to do it finger by finger and inch by inch. Also, the velcro enclosures on my gloves are gradually losing their grip earlier than I expected them to. But overall, I wouldn't hesitate to bag these skateboard gloves again.
Pros
Constructed with premium quality leather and EVA foam
Neoprene straps and EZ pull-on loops for a secure and comfortable fit
Integrated wrist guards offer both protection and support
Replaceable impact-resistant ABS splints at the top and bottom
Double-stitched for added durability and value for money
Comes in 4 sizes to help everyone find the perfect fit
Cons
Tends to be difficult to remove
Faulty velcro enclosures
Securing our hands and wrists has never been easier, thanks to this well-constructed pair.
2. Lagarto Half Finger Gloves
These gloves in a camouflage-inspired design will encourage little ones to hop on their bikes and skateboards and scour the neighborhood like military operatives. They are highly versatile and can be used when biking, skateboarding, and even as rollerblade gloves. Made with premium polyester, nylon, and lycra, this pair takes comfort and breathability to the next level.
It was last Halloween when I bought a pair for my 6-year old son, and he was so excited to play dress-up during trick or treat — he loved the tactical camouflage design! He also enjoyed having easy access to the candies and snacks he got since he did not have to take his gloves off to rip his treats open. These gloves are specially designed for optimal finger mobility, and my son couldn't be more satisfied.
After a whole afternoon of riding his skateboard, stopping and knocking at every house in the village, he was so amazed that his hands stayed dry and comfortable the whole time. These gloves also gave him the support he needed when he accidentally fell and landed on his wrist. The anti-skid design that these gloves come with also made it easy for him to pick his board up and grip it with ease.
The stitching on these skateboard gloves gradually came loose over the next few months, but this did not affect their functionality in any way. Considering this pair's affordable price and how much my son loves the design, I'm more than happy to repurchase it for him. Keeping a pair handy and making sure he wears it before heading out gives me peace of mind.
Pros
Camouflage design with an affordable price
Can be used for different activities
Made with polyester, lycra and nylon for breathability and comfort
Optimal finger mobility
Better grip and traction with its anti-skid design
Offers protection and support for the hands and wrists against impact
Cons
The stitching came loose over months of use
This pair makes a great gift and will surely motivate little ones to head out and stay active.
3. Hillbilly Half Finger Wrist Guard Gloves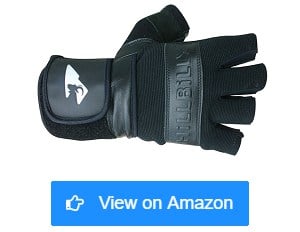 These Hillbilly Half Finger Wrist Gloves made it to the top of my list for a good reason. This pair of skating gloves is heavy-duty yet not too constricting and allows us to perform our usual tasks without taking the gloves off. They are made of high-quality goatskin and double stitched with nylon for added durability.
These gloves fit my fingers snugly for warmth during winter but is breathable enough to keep my hands comfortable throughout summer. The snug fit, plastic guard and wrist wrap are ergonomically combined to give optimum support and protection for my wrist.
That is one less thing to worry about for skateboarding enthusiasts like me who love to play hard!
After doing a dead stop while going uphill, I had a bad wipeout. Luckily, I had these skateboard gloves on, and they gave my wrists and hands the protection I needed at that moment. These skate gloves with wrist support did exactly what they are designed to do.
Even though these gloves allow me to multitask, I had a hard time holding my phone when my friend called because the material's super thick. Also, these wrist guard gloves need added reinforcement on the knuckle area as abrasions and scrapes are common minor injuries sustained in skateboarding. Nonetheless, these minor infractions do not affect the functionality and overall performance of these gloves.
Pros
Made of high-quality goatskin and double stitched for durability
Equipped with a plastic guard and wrist wrap for optimum support
Heavy-duty yet not too constricting
Allows multitasking and mobility
Fits comfortably and snugly
Cons
The thick material gets in the way of phone use
Inadequate knuckle protection
The optimum support and comfort these skateboarding gloves provide make them a top contender among the myriad of brands available out there.
4. Nature Ann Unisex Children Multifunction Gloves
Sporting these multifunction gloves, kids will surely be excited to explore the neighborhood on their bikes, skates, and rollerblades. These gloves are made with spandex and microfiber for maximum comfort, breathability, and flexibility. The adjustable wrist straps also provide a secure and comfortable fit.
The thickened palm pads on these gloves are designed to resist impact, absorb shock, and provide optimal protection against numbness. These versatile gloves are also ergonomically crafted to conform to the hand's shape for added flexibility. I'm not surprised that many parents swear by this brand.
Choosing the one my son would like best was a tough decision to make, having five great designs and colors to choose from. I ended up buying two pairs, one for now and the other as a spare. The gloves got my son excited and were such a good fit — as if they were custom-made for him!
He did notice that the stitching started to unravel and the velcro enclosure started losing its grip after a couple of months. But considering how heavily he relies on these gloves when he rides his skateboard or bike, I did expect some wear and tear over time. Overall, given how reasonably priced these gloves are, I still see myself repurchasing them over the months to come.
Pros
Made with materials that promote breathability, flexibility, and comfort
Thicker palm pads for shock absorption and numbness protection
Ergonomically crafted to conform to the hand's shape
Adjustable wrist straps for better wrist protection
Comes in 5 different colors and designs
Priced reasonably and made to suit many purposes
Cons
The stitching and the velcro enclosure could be more durable.
Featuring the right mix of features and aesthetics, this pair of gloves will no doubt satisfy kids everywhere!
5. Losenka Skateboard Gloves With Sliders
These skateboarding sliding gloves can boost our confidence while riding. These are specifically designed to assist users in braking, drifting, and balancing as they barrel downhill. Crafted with Polyoxymethylene, these sliders are hard-wearing and engineered to take a beating.
It's cool to see the sparks these gloves give off while braking downhill! These skateboard gloves are made of microfiber leather and silicone that ensure protection against wear and tear — this means more hours of enjoyment and prolonged use. The mesh holes incorporated in the design also allow proper ventilation to keep our hands dry even in humid conditions.
I love how these skateboard sliding gloves keep my palms safe and protected. What's even better are the soft foam pads that provide shock absorption and impact resistance. These gloves also feel great on my hands because of their secure fit, all thanks to the fully adjustable straps.
The only downside I see is that this item lacks color and design options as it only comes in black. I would have gotten myself extra pairs to match my clothes if there were more choices available. Otherwise, these gloves make riding my skateboard an entertaining and exciting experience every single time!
Pros
Equipped with sliders that assist in braking, drifting, and balancing
Hard-wearing sliders made of Polyoxymethylene
Made of microfiber leather and silicone that protect against wear and tear
Mesh holes allow proper ventilation
Soft foam pads for shock absorption and impact resistance
Fully adjustable straps ensure a secure fit
Cons
Lacks color and design options
I can ride the night and burn the road like an action movie hero with these skateboard sliding gloves. Bombing downhill would be twice as fun with their features!
6. Bingggooo Half Finger Gloves for Children
The tactical military design on these gloves will surely look cool on any little army operative. Designed with both comfort and durability considered, these gloves are perfect for outdoor activities. Made of polyester and nylon, these mittens are surely comfortable to wear as they are breathable and sweat-absorbent.
My son enjoyed his afternoon ride gripping on the handles of his bike due to the finger mobility brought about by the half-finger design. I also felt relieved to see the leather plates that protect the knuckles from abrasions and impact. While bruises and scrapes are inevitable, having these gloves on offers a layer of protection.
He finds it easy to adjust the gloves according to how tight or loose he wants them to be because of the pull ring adjuster. Upon adjustment, the gloves fit securely around the knuckles, making it easier for my son to attain maximum grip. Purposely designed with kids in mind, this feature gives my son the confidence to pursue his passion.
Regrettably, after a few rides, the stitching started to give off. But given the price tag of this item, I don't consider this a deal-breaker. This product is still a great choice for kids' cruising and cycling needs with its safety features and capabilities.
Pros
Cool tactical military design with attractive price
Designed with both comfort and durability considered
Made of polyester and nylon for breathability and sweat-absorbency
Half-finger design promotes mobility
Leather plates protect knuckles from abrasions and impact
Pull-ring adjuster for the best fit and maximum grip
Those looking for practically-priced gloves for their little army fan should look no further. Outfitted with quality materials that promote safety, these gloves can help parents rest easy, knowing their kid is well-protected.
7. Flauto Skateboard Wrist Protective Gear
Customers will be stoked to know that they don't have to compromise mobility on their fingers while sporting these gloves. These are also comfortable, breathable and a breeze to wear. Furthermore, these gloves come with adjustable nylon straps for the perfect fit.
I am into skateboarding, skiing, rollerblading, and other contact sports, and I found these versatile gloves reliable when it comes to resisting impact and protecting my wrists.
Thanks to the high-density, impact-resistant ABS plastic, untoward incidents such as falls don't have to result in bruising, fractures, and scrapes. Furthermore, the EVA soft foam pads integrated into these gloves for cushioning aid in shock absorption. I also like how much range of motion I retain while wearing these!
It's also great that my smartwatch can easily fit on my wrist while having these skate gloves with wrist support on. Because of this, I can conveniently track my fitness progress and other activities on the go. Now I don't even have to worry about taking my gloves off when adjusting the settings since my fingers are free to do so.
At the expense of mobility, these gloves don't offer protection for the fingers and knuckles. Take extra precautions and use these gloves in conjunction with other safety equipment to prevent injuries. However, I can still attest to the impact protection they give my wrist and palm after I accidentally fell on a pavement.
Pros
Maintains mobility of fingers, comfortable, breathable, and easy to wear
Adjustable nylon straps for the perfect fit
Versatile, can be used for skateboarding, skiing, and other contact sports
Constructed with high-density, impact-resistant ABS plastic
EVA foam cushioning for shock absorption
Smartwatches can fit easily on the wrist while the gloves are on
Cons
Lacks knuckle and finger protection
There is always a trade-off between protection and mobility, so for people who are after comfort and flexibility, these gloves will cater to such requirements. After all, our palms and wrists are still secure and protected.
8. Imporx Longboard Sliding Gloves
Right off the bat, these gloves offer a superb amount of protection for both the front and back of the hand as these have armors integrated on the knuckles. What's more, the joints of the fingers are lined with high-quality leather for added durability. While they offer full protection, these gloves are also equipped with four holes for ventilation and breathable fabric for unmatched comfort and airflow.
I love how the velcro with metal buckles ensures the perfect fit for my hands and provides wrist support. The adjustable straps that come with these gloves also allow me to loosen or tighten the wrist guards easily according to how loose or snug I need them to be. This allows room for movement and flexibility.
These gloves also offer great value for money as they come with a detachable slider puck set. Unlike other skateboard sliding gloves, this gives me the option to replace the slider puck set only. The sliders are expected to wear off after some time since they're primarily used for braking and maintaining balance at fast speeds.
Regrettably, the velcro attachments on my gloves eventually lost their grip, but I'm glad the metal buckles are still there to help secure them. To keep the velcro enclosures sticky, ensure the surface is free from debris and take extra care when pulling them apart. Overall, this does not directly affect the performance of these gloves.
Pros
Integrated armor offers a superb amount of protection
High-quality leather lining for added durability
Ventilation holes and breathable fabric for comfort and airflow
Velcro with metal buckles and adjustable straps for the perfect fit
Detachable and replaceable slider puck set offers great value for money
Cons
Velcro loses grip over time
I'm glad I stumbled upon these protective gloves. With their awesome grip and supportive armor and cushions, no one can go wrong with this model!
9. Bikingmoreok Skateboard and Bicycle Gloves
Learning how to bike or skate involves hours of practice, going off-balance, and freak accidents here and there. Kids can stay safe and secure with these multipurpose gloves designed especially with their protection and needs in mind.
Made with lycra spandex, these gloves can keep our little ones' hands comfortable and dry, especially during hot summer days. The suede lining on the palms enhances their grip so they can hang on to handlebars securely. The terry cloth aligned with the thumb also works as a sweat-absorber for added comfort.
Thanks to their easy two-finger take-off tabs, my daughter can put these gloves on and take them off independently. She loves how they fit her hands and wrists securely because of the velcro and elastic fabric patches that can be adjusted to the tightness that she prefers. These gloves also retain mobility, allowing her to tie her laces or fix her backpack.
She never has to worry when using these gloves along with other protective gear since these are designed with metal studs that protect the palms from abrasions and scrapes. I think this is a great feature! These gloves are designed to help beginners overcome the first stage of skateboarding and gain confidence while they're at it.
The sizes do run small, so it would be best to go one size up. I recommend measuring your little one's palm width and referring to the sizing guide to get the best fit. Other than this, these gloves do exactly what they're made for.
Pros
Made of lycra spandex for comfort, breathability, and dryness
Suede lining on palms enhances grip
Terry cloth on the thumbs absorbs sweat for added comfort
Easy, two-finger take-off tabs and adjustable velcro and elastic patches
Metal studs protect the palms from abrasions and scrapes
Retains mobility of fingers
Overall, this product is an all-around winner and one of the best gloves for junior boarders.
10. Gtopart Skateboard Gloves for Kids
These multipurpose gloves designed especially for our little adventure seeker make a great companion for skateboarding, biking, rollerblading, and other outdoor activities.
They are made of heavy-duty neoprene and microfiber that are breathable and comfortable during hot summer days and can also keep children's hands warm throughout winter. With a variety of sizes and colors to choose from, parents are bound to find a pair their kid will love!
Getting these gloves is an awesome deal. With three silicone-tipped middle fingers for added traction and grip, plus adjustable velcro straps for a better fit, I can say this product's a steal. I can rest easy knowing my son is protected from blisters, scrapes, and scratches. This is a great addition to the safety gear I require him to wear before heading out to the skate park or playground.
I do feel uneasy about the velcro attachments because they wore off and lost their grip after a couple of uses; I was expecting them to last way longer. As a result, I had to remove the old velcro attachments and sew some new aftermarket ones in to make them fit securely. However, this does not affect the functionality and protection these gloves offer.
Pros
Multifunctional, can be used for skating, biking, and rollerblading
Made of neoprene and microfiber for breathability and comfort
Comes in a variety of colors and sizes
Three silicone-tipped middle fingers and adjustable velcro straps
Protects hands from blisters, scrapes, and scratches
Cons
Velcro tends to lose grip over time
Sports and outdoor activities will surely be more fun, safe, and enjoyable for our kids with these gloves in tow. Parents shouldn't think twice about snagging a pair or two!
11. Firelion Breathable Gloves
Going downhill on a rough road is sure to be one tough, bumpy ride. Safeguarding our hands and wrists from impact in case of a fall or when we need to slow down is imperative. To overcome this hurdle, Firelion came up with maximum comfort, multipurpose gloves that provide full-on shock absorption through the soft gel pads around the palm.
Made with mesh, spandex, lycra, and terry cloth, these skater gloves are so light and comfortably breathable all while providing a secure fit. I also don't have to worry about slippery hands when it's humid due to their excellent sweat absorbency. The gel padding integrated across the palm pressure zones of these gloves are also efficient in preventing hand fatigue.
I used to struggle with checking my smartphone or tablet while on the go, but not anymore. These gloves boast a touch recognition feature that allows me to tinker with my screen without taking them off. This is one striking quality that made these boarding gloves stand out for me.
The sizes do run small so it can be a hit or miss. The mesh and outer fabric will overstretch and rip if your hands are too big or wide. Going up one or two sizes is advisable so users can position these gloves on the heels of their hands and at the base of their fingers to ensure optimum protection and the best fit.
Pros
Designed for maximum comfort and versatility
Breathable, lightweight, and provides a secure fit
Excellent shock absorption with soft gel pads
Mobile screen friendly with touch recognition feature
Integrated palm pressure zones prevent hand fatigue
Absorbs sweat well
Cons
These gloves run small so consider going up one to two sizes
Given these skateboarding gloves' quality and innovative features, getting an extra pair or two is a must for me.
12. Cadial Skateboard and Longboard Gloves
These skateboard gloves made of heavy-duty microfiber leather are perfect for my ride, given their supreme durability. This pair provides superior braking assistance while supporting the palms in balancing the body. The adjustable straps ensure a firm and secure fit while sliding and braking.
I love how I was able to tackle sliding with the integrated slider pucks without a hitch! Cruising downhill and avoiding banks poses a big challenge, so I'm glad I had these gloves on to assist me in braking. The slider pucks are wear-resistant and provide great traction when sliding.
The armor at the back of the hands and fingers elevated the design and offered optimal protection plus unmatched shock absorption. Thanks to the breathable fabric and air vents, my hands stayed dry and comfortable throughout my ride. Offering a satisfying level of comfort and safety, these skateboarding gloves strike the right balance.
On the downside, this item is only available in one size, which is slightly limiting. It's also important to note that the dimensions of the product may be off by one to two centimeters. Nonetheless, these gloves make a dependable option in terms of safety, protection, and enjoyment.
Pros
Made of heavy-duty microfiber leather for durability
Provides superior braking assistance and palm support for balance
Adjustable straps ensure a secure and firm fit
Slider pucks are wear-resistant and provide great traction when sliding
Armor elevates the design, offers optimal protection and shock absorption
Breathable fabric and air vents keep hands dry and comfortable
Cons
Only has one size
Inaccuracy regarding the dimensions
Featuring a protective and straightforward design, these gloves make a great addition to my safety gear. They're a solid choice for daredevils and newbies alike who require no less than optimum protection.
What to Look for When Buying Skateboard Gloves
When buying the best skateboard gloves, look for a pair that offers full protection for your fingers and knuckles. The material should be thick enough to withstand impact while keeping your hands comfortable. The integrated cushioning or foam pads should just be as reliable in absorbing shock and vibrations.
Breathable fabric, air vents, and other features that promote ventilation are equally important in ensuring comfort, hygiene, and dryness. Look for a pair that can adapt to all weather conditions to get good value from your hard-earned money. The material should also be flexible enough to maintain a full range of motion.
Reliable and wear-resistant velcro attachments and straps are non-negotiable features that allow you to adjust how the gloves fit according to your preference and comfort. A perfect fit boosts your confidence alongside offering full protection for your hands and wrists.
Gloves with more advanced features such as ABS plastic armory or silicone tips are also recommended for optimal shock and impact absorption plus added protection from abrasions and serious injuries.
Skateboard gloves come in a wide variety of materials, price points, and features, so making a well-informed decision still depends on your preference, budget, and safety requirement.
What are Skateboard Gloves Made of
Skateboard gloves are typically made of leather, goatskin, polyester, nylon, and special materials like neoprene and EVA foam. These materials are often combined to create a pair that offers optimal protection, comfort, breathability, and durability.
Gloves constructed with premium leather are expensive but easily compensate for this drawback with their superior quality. Synthetic gloves are generally less expensive but still make a good alternative. Make it a habit to check for damage, signs of malfunction, and other flaws that will deter you from getting optimal protection and comfort.
Should I Wear Gloves When Skateboarding
Yes! Although underestimating the importance of wearing gloves while skateboarding is not uncommon, misguided judgment can lead to serious injuries such as fractures and severe abrasions. Bear in mind that gloves are a basic safety requirement for skateboarding and offer a significant amount of protection.
flatland3d gloves and inline skating gloves are two of the best brands available out there that offer professionally engineered gloves with innovative features to help keep your hands safe and protected from the inevitable perils of this sport.
Do Skateboarders Wear Gloves
Yes, because it's easy to injure the hands while skateboarding, and wearing gloves can prevent scratches and reduce impacts during falls.
Where Can I Buy It
Skateboard gloves can be purchased from Amazon, eBay, and specialty shops that offer skateboard gear and riding equipment. It's also worth checking out websites of the brands that carry gloves. Make sure you are purchasing from a reliable source to ensure your safety and an awesome riding experience.
It is best to consider carefully before buying. Here we have researched and recommended other accessories including their pros and cons for you to choose from. These can be mentioned as skateboard travel bags, skateboard socks, or electric skateboard backpacks.
Conclusion
High-quality skateboard gloves generally last longer and perform better, so although it might be appealing to choose less expensive options, it's worth spending a little more. Before buying skateboard gloves, checking out reviews online, specifically on reddit, and information provided by brands alongside their products is highly advisable.
Any skater should know that wearing skateboard gloves is not optional and plays a vital role in keeping your hands and wrists safe and well-protected. If you are bent on getting the best skateboard gloves available out there, I hope reading these reviews helps you make that well-informed decision.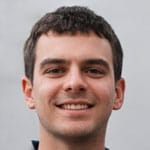 Hi, I am Charles Harris. I opened this site to write as much as I can about my biggest passion – skateboarding!
I started as a clumsy yet passionate rookie 10 years ago to now a still passionate yet much better skateboarder! But I have to tell you, the whole journey has always been fun and rewarding, indeed not without hardship.