Got to love living life with a hint of adrenaline rush in your veins and a little adventure around the corner. A leisure activity which is not that dangerous but can give you somebody aches. Whether you are the type of person that just got into skating or a pro who wanted to add more rails in your obstacles for practice, having the best skateboard grind rails & boxes is necessary.
Here are some of the best grind rails for skateboards that are up for grabs in the market for your selection and maybe you can choose one or more depending on your liking.
Top 1
Ten-Eighty Skatepark Ramps & Grind Rail Set
– Versatile design
– Has a slip-resistant finish
– Child and beginner-friendly
Top 2
X-Factor Skatepark Grind Rail
– Easy to assemble and store
– Child friendly (ages 10 and up)
– Adjustable
Top 3
Element Flat Bar
– Easy to use for starters
– The coating is not slippery
– Stay in one place with a stronghold
Best Skateboard Grind Rail & Box Reviews
1. Ten-Eighty Skatepark Ramps and Grind Rail Set
Thinking of pumping up your sport style, these skateboarding flat bars are more than just a fashion. The ramp and rail offer a polished black design that shows a dynamic and classic visual suitable in your backyard based skatepark.
What I like the most is the ramp can be used without attaching to the grind rail and will not alter its structure. Even if the rail is broken, we can still use the ramp to its full function without any hindrance.
Built for performance and durability with slip-resistant finish, I can guarantee that it can provide great security without killing off the fun and adventure. It can hold heavier weight and surely last for a long time even with repeated heavy use.
This set is also child friendly. The ramp and rail are not that high, so not dangerous for children who are still trying to learn. Some bumps are unavoidable in this kind of sport, but severe accidents are unlikely to happen due to its structure.
This is perfect for those who wanted to learn and step up their a-game in the long run. It offers wider variations of obstacles and invents more tricks than a single rail.
The thing that I do not like about this product is that the instructions manual is confusing. Since the pieces are shipped apart, they need to be assembled and require some tools to work on.
Unfortunately, this specific ramp and rail set cannot attach any additional rails or ramp to the main body. So, if one of the parts is destroyed, players cannot just attach any other ramp and rail to it.
Pros
Has a slip-resistant finish that provides security
Versatile design
Can be used even without attaching the grind rail
Child and beginner-friendly
Cons
The instructions manual is confusing
Cannot add other rails or ramp to the main body
I highly recommend this grind rail with a ramp, as the design is versatile and can be used differently depending on how you want to use it. Definitely worth every penny.
2. X-Factor Driveway Skatepark Grind Rail
An all in one product, the X Factor Driveway Skatepark Grind Rail is at the top of our list. This is likely the best skateboard grind rails in the market. I prefer this because it is strong enough to take on hardcore tricks not just from skateboarders but also from scooter users and snowboarders. Made specifically from high quality materials, built for its durability.
I like that it is adjustable that I can make obstacles to my liking. It is easy to carry and store. It can fit in the car and bring it to the park to enjoy it with others. Furthermore, it's easy to assemble even without the help of tools or any complicated manual, which is a hassle most of the time.
It is also worth mentioning that the product is known for its durability. Sturdy enough that it can handle repeated use and bearing more weight. It can last through years of heavy usage, and it would not get rust even when left outside, getting exposed to heat, rain and snow.
The grind rail is safe even for kids as young as 10 years old starting to learn how to skate. After years of practice, they will be one of the best skateboard grinders. As a parent, it lessens the worry of your child getting hurt, plus you can even share it with the other kids in your neighborhood.
This specific grind rail is best suitable for beginners. Though professional skateboarders can use this, they might find it too easy to consider as an obstacle for the highest peak of the grind rail is still low for them.
It is important to note that be aware of children below 3 years old, there are parts that may be hazardous for them.
Pros
Easy to assemble and store
Light enough to be carried around
Sturdy and can handle repeated use
Child friendly (ages 10 and up)
Adjustable
Cons
Professional skateboarders might find this too easy
I highly recommend this grind rail for it is easy to use, no need for tools to assemble and for its compact characteristics. It's like taking the skatepark in your own backyard.
3. Element ACGTAFLB Flat Bar
These skate flat bars are great to start up with as they have a wide flat rail structure and different height settings from low to medium. Perfect for little kids and starters to go through before going up to higher modifications.
I like that it is well made and has a strong hold that would not lift on either end when players start grinding and jumping on it. For its build, it can take users with a heavier body built and sudden movements without causing the rail to move around all the time.
Even though this element grind rail is purposely built to stay in one place without putting nails on both ends, the grind rail itself is light enough to move from one location to another. It also has a compact characteristic that players can easily pick up and play with it on an actual skatepark.
It has a fine finish, making it much safer to play with and avoid unnecessary accidents. The coating is rough enough that players other than skateboarders can use it without purposely slipping and sliding.
The rubber footing makes the rail stable and helps to keep it on the ground and not move around so much. Sadly, it comes off over time. So, users need to be careful and keep it in place and check it on every use.
Also, the pins' size for adjusting the grind rail height does not match the holes, making the grind rail slightly wobble and causing noises that are concerning for some users.
Pros
Easy to use for starters
Stay in one place with a stronghold
Has a compact characteristic to carry around
The coating is not slippery
Cons
The rubber footing comes off overtime
It slightly wobbles due to the size of the pins
Having a stronghold that keeps it firmly placed on the ground is a must in every grind rail, and this flat bar makes it happen with ease. I highly praised its stability, non-slippery, and safe to use.
4. Madd Gear MGP/207-134 Grind Rail
This grind rail lives up to its name, it is a mad gear. Made from strong heavy-duty materials that can withstand repeated heavy use from beginners to professionals, which guarantees wide and stable support strong enough to handle big and complicated tricks.
What I like about this round skateboard rails is that the height is adjustable depending on the user's preference. If you are a beginner, you can just put it to the lowest setting and if you are a pro, you can adjust it to the maximum height of the grind rail.
Noting that this grind rail is not just for skateboarders, scooters and snowboarders alike. Even bikers can use this and enhance their biking skills and invent some wonderful tricks. This is the best skateboard rail for athletes alike. It is worth spending on something that can be used in different ways and can retain the original purpose.
Madd Gear Grind Rail uses interlocking tubing with a center lock pin to secure the tubes together. This mechanism helps adjust the rail and ensure that it would not fall off and stay standing when in use. For heavy users, security and sturdiness is a must.
One thing is that this product needs some tools to work on and put together. Not that it is a bad thing, but for some, they might find it too much of a hassle. Some people just want to play on the grind rails straight away without having to work and sweat.
A brand that stands through time and is known for its outdoor products and durability. This grind rail is recommendable for every user at every age.
Pros
Adjustable height depending on the preference
Made from trusted materials by a trusted brand
Safe to use for kids
Can be used with different terrain
Secured by interlocking tubing with a center lock pin
Cons
Needed tools to be assembled
The biggest catch of this grind rail is that it is adjustable. Even so, it is still secured and safe to play on with.
5. FreshPark FP-308 Professional Skateboarding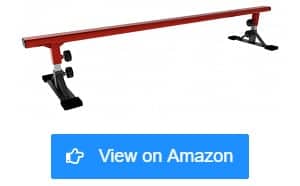 Going professional? I think this FreshPark Professional BMX and Skateboarding Grind Rail is the suitable skateboard grind rail for you. Higher settings are available but still sturdy and secure, safe enough to use for more complicated tricks that professionals invent and do from time to time. Note that players other than skateboarders can use this.
I like that it is a flat rail. I think it is safer to use when it comes to balancing issues compared to grind rails that are rounded. When skating to round rails, it is more prone to slipping. Hence, it may cause accidents more than the usual that beginners experience. These skateboard flat bars are preferable in the market.
This Freshpark grind rail is adjustable much like the others but higher, so it is more suitable for professional skateboarders who prefer a higher setting when they are practicing. This rail also allows lower settings to learn tricks and set it to higher for polishing the moves. Thanks to the rubber on its feet, the grind rail will stand and would not slide.
The screws on this rail are well thought and won't unscrew when the rail is in use, so it is safe. By this mechanism, it is much better and easier to manipulate the height that the player may want to practice on.
The only thing concerning for me is that this Freshpark rail does not have any printed instructions or manual. Basically, people have to think themselves to figure out how to assemble the grind rail, which is a nuisance in a sense. And I cannot put it to the lowest height setting for the screws that are too large and get in the way of others.
Pros
Can withstand even left outside the house
Can adjust to a much higher setting
Feet are secured with rubbers
Can handle more weight
Suitable for professionals
Cons
Does not have any instructions manual
Cannot screw to the lowest hole
Professionals, watch out for this grind rail. This is much recommended for you.
6. Powell-Peralta Rib Bones Skateboard Rails
This product is more than just adding aesthetics to your skateboard since it also improves the ease of use of your board. It makes it much easier to grind and slide on rails, whether round or flat bar type of grind rails.
Skateboarders might find it bothersome that their skateboard tears over time. This skateboarding flat rail can help lessen the wear and tear of the skateboard, knowing that it is used heavily. It keeps the players safe by protecting the board itself.
For skateboard collectors, these rib bones rails add 80s vibes that are refreshing to see in this age. Vintage boards are rare to find and often cost a lot. So, if you want to relive the good old days, adding this to your board is a good catch.
It is also worth noting that the rails are light and do not add hefty weight to the board when attached. As a result, it would not hinder the players when they use them together. The weight of the skateboard is a huge factor that needs to be considered when buying. If you wish to attach rails to its bottom part its weight should not be a distraction.
These rails will be needing tools like an electric screwdriver or drill if you want to mount them on your board. This is not that much of a big deal since it helps in using actual grinding. And you need to be extra careful on drilling them because if not handled right and drilled too much, the board might break.
Pros
Adds aesthetic and good old 80s vibes
Lessens the wear and tear of the board
Easier to grind and slide on rails
Lightweight and does not hinder its use
Cons
Board might break if drilled on too much
Adding aesthetics to your skateboard is an individual decision. With a lot of benefits, these rib bones rails make grinding the skateboard in the rails with ease and security. So if you want to add beauty and at the same time protect your board, this is a wise buy.
7. Mojo Rails 2011 Square Grind Rail
Made from heavy steel and welded for convenient use, this flat bar skate rail is no joke. It is fairly stable and for its fairly wide flat bar, it can certainly hold players who have a bigger and heavier body type. It also does not elevate either end when in use, mostly the worry of bigger people.
Even though these Mojo rails are welded steel, they are still light enough to be carried around and are transportable. It is ideal for skateboarders, bikers and snowboarders that want to play in different areas and terrains. Its compact characteristic is one of the most sought-after features in the market nowadays.
I like that it has a powder coat finish making it ideal for grinding. Players will surely enjoy using it and would not worry about unneeded slipping and sliding. Also, it has a 2-inch square tubing that makes it easier and enjoyable to use.
This flat-bar is also adjustable to 3 height settings from low to medium, namely 4-inch, 8-inch and 12-inch. This is preferable for people who want to give their young children something to play that will surely last for a long time.
This grind rail needed to be screwed every time the height needed to be adjusted. And screws are known for loosening overtime. This might become a worry as time goes by. Also, screws are prone to be misplaced, and sometimes it does not fit the hole. It needs to be screwed tightly to ensure that it is stable enough to use but not too much or if the nut where the screw goes in might break.
Pros
Welded steel and is stable
Light enough to be carried around
Has a powder coat finish to prevent unnecessary slipping and sliding.
It does not elevate either end
Cons
The screws might loosen up over time
If you want a fine finish rail made from steel, this grind rail is the one for you. The powder coating smoothens the surface of the rail and the grinding and sliding on it.
8. Madd Gear MGP/207-135 Grind Rail
This rail is another variation of the familiar grind rails from Madd Gear. Known for making strong and heavy-duty rails that will last for almost a lifetime, this 99-inch grind rail is what to buy for. It would not compromise the safety and security because of its wide stable supports.
I like the fact that aside from the height, you can adjust the length as well. You can just take a part of the rail if you want it to be shorter or put together to grind on a longer rail. This is much more fun because it gives you a lot of options regarding your rail.
It is also easy to assemble and can be done by one person. It has a portable characteristic. Even though it is fairly long, it can still be advisable to pick it up and drag it anywhere you want. Knowing that it is made from metal, it is still light enough to be carried around.
Its interlocking tubing system with center lock pin helps secure this long grind rail, ensuring that the rail would not just come off easily. Since it is long, the worry would be that if you jump off and grind on end, the other side might lift, but it won't. The rail is stable so that it will stay in one place while playing on it.
This grind rail for skateboards is suitable on a flat surface since it cannot be nailed down on the ground. Though it is sturdy and stable, putting it on an uneven terrain would make it unsteady and harder to play and grind.
Pros
Made from strong and heavy-duty materials
Aside from height, the length can also be adjusted
Easy to assemble and portable
Stable and secured
Cons
Not suitable on an uneven terrain
If you're eyeing a grind rail that is known for its durability, then any rails from Madd Gear is the one. This is a longer variation of the first Madd Gear rail mentioned and is also stable and secured.
9. Nitro Circus Grind Rail
These multi-purpose cheap grind rails are designed to be used by diverse players aside from skateboarders. But do not be fooled by its affordable price; just because its value is lesser than others doesn't mean the quality is poor. Made from alloy steel that is able to last long. And we all love affordable belongings that have quality.
It also has an adjustable height from low to medium, and the maximum height is up to 12 inches. Its 71.5 inches length is long enough to comfortably grind and slide on in a stable flat surface like the road or garage.
This skateboard rail for sale is also easy and quick to set up and assemble. No complicated instructions and no tools are required in making it work.
A characteristic that players usually consider when choosing the right grind rail is transferable. I agree that being able to carry it around with ease is a huge plus. Knowing that it is made from alloy, it is fairly light to move from one place to another.
Alloy is hard, tough, and corrosion-resistant. Hence,you can be sure of its quality and durability, ability to last for a long time, and can handle heavy players and long hours or use.
Most grind rails are beginner-friendly because of their height, which is usually low to medium. This grind rails' highest setting is as tall as a regular ruler, probably still low for a professional skateboarder and other users.
Pros
Cheap and affordable
Made from steel and will last long
Easy to set up
Transferable
Cons
Low height for professionals
Buying cheap grind rails doesn't mean that the quality is compromised. This just means that you can find an equal quality rail to play at a lesser price. Want to play but you're on a budget? Then this grind rail is for you.
10. EMA Ramps Flat Rail
Want some action and thrill but do not want to risk getting hurt while practicing? Probably some finger skateboarding. Now, this little sport has been around for a while. This is a good boost of little adrenaline and competitive spirit.
This miniature grind rail has pre-installed non-slip foam pads that keep the rail from moving its place while playing. Its feet are wide enough to support the whole rail and prevent it from falling over.
You can store it easily because of its size. Put it in the drawer, in the bag, or just on your desk for display. You can bring it to play at your workplace during break times to release some stress.
Though little in size, we might think the rail may break easily, but the quality is pretty much the opposite. It is made from pure steel, making sure that it does not bend and crack easily. Furthermore, the rail has a high grade powder coat to provide better durability and coverage under frequent use.
The size of this cheap skateboarding rail is just suitable for starters and advanced finger skateboarders alike. It is adequate to jump on and just almost a ruler sized length that is enough to slide through.
And because this is a small grind rail and is for finger skateboarding, there is a high probability of it being misplaced. It can also be harder to find once out of sight and end up buying another one.
Pros
Has a pre-installed non-slip foam pad
Made from pure steel and does not bend or crack easily
Suitable for starters and advanced finger skateboarders
Durable and stable
Cons
High probability of being misplaced
Want to try a skateboard but afraid to stumble and hurt yourself? Then you can start with fingerboard rails. These are convenient and much easier to control than an actual. You can play with it anytime and anywhere without blocking an actual road or raking a large space in your backyard.
11. Ramptech Mini Box
A grind box that is stable, very durable and secured to use, especially when settled on asphalt or any other flat surface. I think grind boxes are much safer to play with rather than round or flat bar grind rails because of their leveled and wide body that holds perfectly on the ground.
It is lightweight since it is made from plywood. This means that even though it is a box, it can be moved and laid in other places. One person can effortlessly carry it to nearby areas. Call for help or put it in a car if you want to move it to farther places.
An additional wax can be put on the skateboard deck rails for smoother grinds and slides, making it easier to play with. It is also versatile and works in combination with other box components making an entire new structure. Also, if the top surface is worn out, the other side can be used as a new finish look.
This grind box needs to be assembled like the others. It has just a few parts so assembling it would not be a problem with the step by step instructions For long-time users of grind boxes, this will be a piece of cake.
I'm not too fond of putting something inside like sandbags or any other heavy materials to make it heavier and more stable, so it would not lift. Basically, the inside is hollow and not safe to use unless we insert something weighty.
Also, since this box is a compilation of plywood drilled together, the height is final already and cannot be adjusted. This might become a downer for professional skateboarders and other players who want to play with adjustable frames for different play levels.
Pros
Easy to assemble
Very durable and safe to play with
Can combine with other box components
Lightweight and possible to move to another place
Cons
Needed to put something inside to make sure that it does not move
Cannot adjust the height
If you're afraid to use a grind rail, then you might want to opt for a grind box. This grind box can be moved from one place to another if you want to take it with your friends. If you want a stable and firm box but light enough to carry it, then this is the one you are looking for.
11. OC Ramps 4ft Grind Box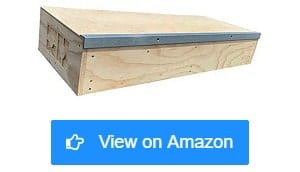 Solid construction that best fits on asphalt. A heavy box that is manufactured to stay in one place and sits perfectly on the ground. Exceptionally heavy-duty for any skater and preferred by professionals. These skateboard grind boxes might be the ones you are looking for.
Fabricated from high grade lumber and plywood, this grind box does not play around when it comes to the durability scene. I think that in skateboard play, grind boxes are much safer and secure compared to grind rails. And I like that this grind box is made to be strong.
Professionals will definitely like this grind box. A fixed height setting that will make them get used to doing stunts in a higher position structure and polish their jump. Also, having tricks that are sometimes too intricate needs a much stable structure.
This will need some tools like drills to put it together. Your inner engineer will definitely enjoy building this. It can also be an instrument for some family bonding, as you can ask for their help in putting it together. You get fun with it plus earn some quality time for your family.
The only thing that I do not like in OC Ramps grind boxes is that it cannot be adjusted to different height settings. Players might find it not versatile and for starters, this might be too high for them. Not appropriate for someone who is learning from scratch.
It is also too heavy to be lifted and carried around. Since it does not have any compact characteristics, users might find it hassle to bring it to another location. Either they will reassemble it or carry such heavy things which is not ideal.
Pros
Solid and durable
Made for professionals
Made from quality woods
Can be an instrument for some family bonding
Secured and much safe to play with
Cons
Too heavy to be lifted and carry around
Cannot adjust the height
If you ask me, I highly recommend a grind box because it is a safer structure to play your skateboard on compared to a grind rail. It is much stable as it perfectly fits on flat ground and surely not lifted on either end as the weight distribution is equal.
What to Look for When Buying a Skateboard Grind Rails & Boxes
The stability and security of the structure is the foremost factor to look for. Making sure that it would not wobble when in use. Next is durability. Since you are investing in it, make sure that the one you are eyeing is strong enough to handle big tricks and weather if you leave it outside your house.
And then, a portable characteristic. This is handy in all situations. If it is portable, easy to assemble and store, you can even carry it and bring it to another location if you want to play in another environment. These are the major factors you need to consider in choosing the perfect grind rails and boxes to buy.
Other Important Factors to Consider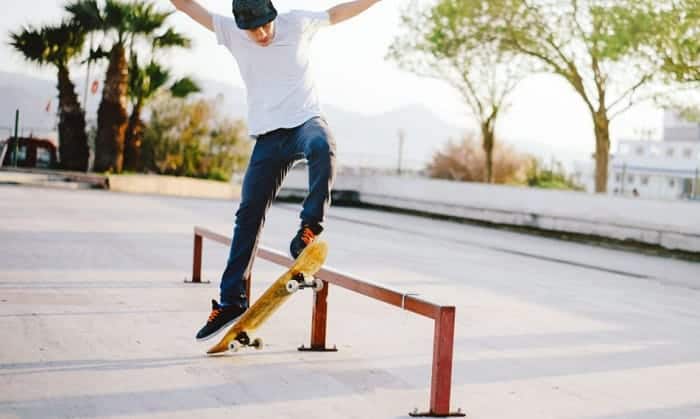 What is skateboard grind rail?
A skateboard grind rail is a structure that skateboarders use when practicing or displaying their tricks in a competition. It is where players grind and slide through. Its shape is usually round or square and is placed on a surface, preferably on asphalt.
How does it work?
Remember when you were a child and you slide on the rails of your stairs? The skateboard grind rails work on the same viewpoint. Basically, you grind and slide your skateboard on it and work your way from start to finish. Grind rails are made to stand firmly on the ground while in use.
What are the different types of skateboard grind rails?
Skaters can grind on any surface that they can stand and balance on. The ease of grinding and sliding has something to do with the type of grind rail a skater uses. A round rail resembles just exactly like a handrail of stairs. It usually has low to medium height, something that a starter will be comfortable to use.
There is also a flat bar type of grind rail. Skaters might find this easier to use due to its structure. It looks like a normal rail but with a flat and wider top that makes it easier to stand on.
There are variations of these grind rails that can adjust their height depending on the liking of the user. Usually, there are 3 settings to choose from if you want to upgrade the level of difficulty of every trick you know.
Why do you need skateboard grind rails and boxes?
Having one of your own is not mandatory because there are available skateparks. Still, skateparks are often crowded, making it harder for you to practice.
If you buy one or more on your own, you have all the time in the world to use and practice with it. You are also the lone user and no one can bother while you're staying focused. If you are really determined to learn and master your skateboarding skills, then owning one is a good plan. You can even keep all the tricks you master and surprise everyone if you join a competition.
Frequently Asked Questions
What are the most trusted skateboard grind rail brands?
Known to be one of the toughest brands for skateboard grind rails due to its solid materials and design. Grind rail from X-Factor is always at the top of our list, so you can count on it.
A brand that makes rails with some unique features like the interlocking waterproof design guarantees to last for a long time even when left outside.
Making sure that the user won't unnecessarily slip and slide, this brand made sure to build their rails with powder coating and foam pads for more secured and safe playing.
How to set up and use?
More advanced grind rails have the instructions manual that comes with them when you buy grind rails or boxes. It is usually not hard to follow, and sometimes we will need electronic tools like drills to secure the screws. Getting parent's assistance is a must if you are a child.
Should I put rails on my skateboard?
The answer would mostly depend on the user. I think that putting rails on your skateboard will help prevent easily breaking and would increase the lifespan of the board. This doesn't add much weight to your board as well.
How to make a skateboard rail?
If you have a spare pipe available, then that will do. Make sure that the feet and legs of the rail are equally cut to stand stably. You may weld it or use screws to attach the pieces.
Where can I buy?
Grind rails and boxes are available on the brands' official website. You can order them on Amazon or any similar platform, whichever is more convenient for you and in your region.
Conclusion
Hopefully, the explanation and reviews of grind rails variation will help you choose the best skateboard grind rails & boxes suitable for your preference. It pays reading up regarding what you are eyeing. Considerations such as the design, versatility, durability, compactness, safety and price are all listed. A perfect gift for children and teenagers. Having a skatepark in your own backyard seems nice and fun so just go and grab yours.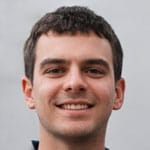 Hi, I am Charles Harris. I opened this site to write as much as I can about my biggest passion – skateboarding!
I started as a clumsy yet passionate rookie 10 years ago to now a still passionate yet much better skateboarder! But I have to tell you, the whole journey has always been fun and rewarding, indeed not without hardship.