Have you been an avid skateboarder but want to take your equipment game to the next level? Then, the best skateboard grip tape to put on your skateboard is a good way to start.
The grip tape industry has come a long way since the 1970s. A lot of new technologies have been developed like bubble-less application and silicon carbide grit that can be confusing for people just getting into the scene.
Here's our list of the best grip tapes you can buy right now! You will see choices ranging from the old-timers, trusted ones, and unique ones from this list. After reading this article you will surely be decided on what skate grip tape you'd want to buy.
Top 2
Jessup Skateboard Griptape
– Variety of sizes
– The grip is just right
– Easy on the shoes
Top 3
ZUEXT Skateboard Grip Tape
– Cheap
– Pro-grade grip tape
– Carefully packaged by hand
Best Skateboard Grip Tape Reviews
1. Mr. Pen Grip Tape
When you purchase a sheet of Mr. Pen Grip Tape it can cover almost any sized deck because of its size of 10×36 inches. Even if this product is one of the cheapest on this list, the quality of this tape is comparable to the priciest grip tapes here.
Sticking the tape to your board is a breeze as the bubble-free application is very helpful. It also sticks well in heat or cold, so skate all you want in any season! After sticking, trimming the excess tape feels just like you're cutting through paper. It's smooth and hassle-free to put on.
I have purchased this not for a board, but to put on some grip for my electric scooter. It sticks nicely and is very easy to cut. When I tried it for a ride, it was like riding in a Harley Davidson on route 66. I even tried riding it with no hands to see how strong the grip on my shoes was!
This product is also packaged with a foam roller that you can use when sticking the tape to uneven surfaces of your deck. Lay the tape down, roll the roller with pressure above, and watch it work its wonders!
I'd say this tape is on the grippier side of the spectrum. It doesn't wreck your shoes as much as the grippiest ones, but you still feel a lot of traction. Also, it's a recommended grip tape for skateboards.
The only problem I have with this tape is that the adhesive wears off quite fast with excessive use. A few months in, I saw a small tear and the tape was slipping off the deck slightly. I recommend using more adhesive when applying to your deck
Pros
Bubble free application
Cheap
Comes with a foam roller for the uneven parts of your board
Grippy
Cons
Adhesive wears off faster than other tapes
With that said, I would highly recommend this skateboard grip tape not only for skateboards but also for other things like handguns, car padding, bicycle handles, etc.
2. Jessup Skateboard Griptape
Jessup grip tape is one of the originals, being in the industry since 1975 it has provided one of the grippiest grip tapes in the market. It provides a solid attachment to the surfaces. It's comfortable, easy to trim, and possess superior durability for professional use.
You can choose from a wide variety of sizes ranging from 8-12 inches, a 33-inch sheet, or a 60-foot roll.
What I like about this tape is that its grip is just right, not too slippery to lose control, and not too grippy that it's restricting. It's also durable, even if it's not as grippy as most skateboard grip tapes, it's the most consistent in the long run. I feel like the grip is not losing its friction as quickly as other tapes.
This grip tape for shoes has another benefit, it's light on the shoes. Expect your shoes to last longer if you have this tape on your deck since the friction won't wear out your soles as much.
The look on this is very sleek. The grains on the sheet look fine and fashionable, complementing your board without compromising the functionality.
The only thing I dislike about this is the tendency of bubbles. You have to apply the tape very carefully to avoid these, I recommend asking your local skate shop to do this. I also recommend buying this in-store since delivery may make the tape crease. If you insist on delivery, buy it in bulk to reduce the chances of it folding.
Pros
The grip is just right
A sleek look on the board
Variety of sizes
Easy on the shoes
Cons
There is a tendency to bubble on application
May crease or fold on delivery
Pricey
All in all, I love this tape. The variety gives you and the sweet spot of a grip it has makes it among the best ones out there. It's easy on the shoes and comfortable to ride. Though it is a bit on the pricey side, it is worth it.
3. ZUEXT Skateboard Grip Tape
Zuext is one of the leading grip tape companies in the market because it's rolled one-by-one by hand to prevent it from creasing, and that it's individually packaged. Most tapes are packed by machine to flatten the package which is wrapped in cheap plastic to prevent the product from creasing when being shipped.
This company is also awarded for having a "pro-grade grip tape" because it's perfect for scooters, skateboards, longboards, or any level of riders. Improves grip so you can perform your tricks better. It's also very sticky and won't peel under harsh conditions such as extreme heat and cold weather. The material is made with Silicon-Carbide, one of the strongest materials out there to prevent the grip from wearing out.
It's also bubble-free when putting it on because of the hundred perforations that let air escape. Very easy to trim to fit on all surfaces and waterproof. Plus it's transparent for riders who want clean designs.
After using a lot of grip tape products, I have come across Zuext clear grip tape. I fell in love with it instantly! I have even replaced the tapes that were on the motorcycle because of its effectiveness. This product is by far the most effective and cheapest one on the list.
Some other products when shipped were not taken care of which resulted in them creasing. When this happens, you're not able to use it on your board. Your courier should be reliable and great with customer care, to keep it pristine.
Pros
Carefully packaged by hand
Pro-grade grip tape
Won't peel under harsh conditions
Cheap
Cons
Some products creases when shipped
This skateboard grip tape looks and feels good, however, it has said that the product it's clear which did not come out as expected. Other than the aesthetic of this product, it's pretty solid and functional when used.
4. Mob Skateboard Grip Tape
This list wouldn't be complete without this most popular skateboard grip tape. It comes in a 9×33 inches size and what's even better is that you get 2 sheets every purchase. Perfect grip tape for longboards! Or if you just want to store it for when the other wears off.
Sticking this to your deck will be easy since the product is perforated, meaning that there are barely any visible holes across the sheet, therefore, preventing bubbles from forming when applying it. When applying, I noticed that the grit was falling off which has made me a bit uneasy about my purchase, yet my friends who have also got this same tape didn't experience this problem so I guess I was just unlucky.
Even if some of the grit fell off, I was still able to feel the friction on the board. It's amazing how secure I felt and the control I have gained from the grippiness of this product when I ride and practice my kickflips. A strong grip, however, requires durable shoes. Using this with my cheap shoes wasn't fun at all, the scratches and holes were a nightmare. However, after I bought better quality shoes, my experience was a whole lot better.
If you plan on buying this, buy it in-store. The packaging on delivery sometimes has an issue of creases and folds, making application somewhat more difficult.
Pros
Grippy, perfect for security and control
Big, applicable on most decks
2 sheets give per purchase
Product is perforated
Cons
Grit sometimes fall off
Packaging when delivery sometimes gives creases
I recommend this tape for the serious skateboarders out there. While grip strength is all about preference, this tape made me feel secure. It lasts long, and I've grown comfortable with it with my training.
5. Black Diamond Grip Tape
Black Diamond Grip Tape comes in a very generous size of 10×48 inches, fitting all kinds of decks from penny boards to longboards. The grit is made from industry standard silicon carbide, which is very durable.
The level of customization you have with this brand is also amazing. From solid colors namely green, gray, teal, yellow, black, and blue, to full prints like camo, caution, and clear. They even offer a glow-in-the dark variant which is a rare option in longboard grip tapes. The only thing I dislike is how you have to buy multiple sheets of different colors and cut them accordingly to get the design you want.
Application is easy. Just peel and stick it to your deck! Cutting the excess was also very satisfying as it feels just like paper.
I'd say this black diamond grip tape is very grippy. Practicing my trick felt effortless but I noticed my shoes scraping off a bit faster than usual. I recommend that you have quality skating shoes if you want to try this tape out for tricking on the park. Though, if what you want is just a secure grip for longboarding downhill, this tape is for you.
What I like about this tape is how cheap it is. For the quality you're getting, it's a steal deal and that you won't even notice the difference from the top brands.
Buy this in your local skate shop and getting it delivered will increase the chances of creases and folds, wasting your hard-earned money. While at your skate shop, ask them to help you stick it too!
Pros
A lot of colors to choose from
Big sheet, perfect for commonly sized decks
Easy application
Grippy
Cheap
Cons
Might wreck your shoes
You have to buy multiple sheets for customization
All things said, this skateboard grip tape is probably one of the best. The quality you get compared to its price is just unbelievable, it can even compete with the most popular brands.
6. SUABO Skull Grip Tape
This tape can be deceiving from the wrong spelling of "puttern" but it's one of the best grip tapes in the market. The material is made of a dark granular mineral called emery. It's also waterproof and wear-resistant.
The surface of the adhesive sandpaper is durable and doesn't easily fall off, and it's a no rip grip tape. It's a very unique style and the graphic makes a perfect gift for holidays like Christmas, Birthdays, and other occasions.
At first, you may be hesitant to purchase this product because of the unpredictable quality of its grip when purchasing online. However, from my experience when I put this on my nephew's scooter, it has made his ride safe. Very easy to cut as like a traditional grip tape. Slightly coarse than any grip tape here on this list but so far it has been a great purchase.
Plus, It's skateboarding grip tape designs are very unique and easy to apply on any surfaces from a longboard, skateboard, scooters, etc. The colors are lively and very relaxing to look at.
There are few downsides to this skateboard grip tape. For example, sometimes the adhesive of this product can be weak which requires you to glue it down over time.
Pros
Waterproof
Wear-resistant
No rip grip tape
Unique style and graphic
Cons
The adhesive is not strong enough
Sometime you might need glue to stick it
If you're not satisfied with it, you are protected with its 100% refund as long as you contact them within 24 hours. Due to this, I highly recommend this skateboard grip tape.
7. Senya Galaxy Grip Tape
Senya's grip tape is one of a kind with a size of 33.1-inch x 9.1-inch-perfect for scooters and skateboards. It's made with a strong material (Silicon Carbide) that makes the grip like a baby monkey clinging for life while its mother sings from tree to tree. Super sticky adhesive perfect for harsh conditions like extreme heat and cold.
It's so easy to trim with just the use of scissors. Other grip tapes require a strong cutting tool so you don't have to worry about that as well. However, not with the Senya grip tape. Its adhesion and grip design is recognized as a pro-grade grip making it very durable. Tony Hawk, Chris Cole, Paul Rodriguez, etc are pro riders who have used this amazing product.
Look at that design! It's very futuristic and perfect for riders who want to stand out.
When I purchased this skateboard grip tape I was hesitant at first, because the review said it's overrated. But, I wanted to find out if that was true, so I bought some for my 6 years old's scooter, and it's actually really good!
The Silicon Carbide material is pretty grippy because my son loves to do tricks with his scooter. It's so grippy that I might even need to buy a new pair of shoes for him! Although this could be an issue in the long run, if you're looking for a skateboard grip tape that's a dark horse candidate then I suggest Senya's.
Pros
Made with strong Silicon Carbide material
Super sticky adhesive
Perfect under harsh conditions
Easy to trim
Cons
May wear out shoes overtime
When I put this on my longboard I was surprised by how strong the adhesion was. I have also put it out in the sun for a couple of hours which there was no harmful effect on the product and that it only became shinier. The image on the ad is very clear and exactly what you paid for.
8. Black Widow Grip Tape
Black Widow Grip Tape boasts the classic rubber skateboard grip tape, the black and white checkers, design. Black widow has been selling since the 1970s and is standing proud till today is proof for their evolving quality of their products, fit for generations then and generations to come.
It only comes in 9×33 inches, however, there are a variety of colorways to choose from available aside from checkered. These include blue, neon green, purple, red, pink, black, and clear.
I bought the clear one because I wanted to see the finish on my deck. Unfortunately, it is not transparent and looks a bit hazy but I've grown to like the hazy, frosted look of it. The other colors seem too aggressive for my taste other than the checkered colorway. The black and white checkers is a classic aesthetic though it is kind of a niche design nowadays.
I only have a few problems with this tape. As I find the adhesive quite lacking, I have used more spray-on the adhesive. The grip also felt like it wasn't lasting after excessive use.
I recommend this tape to anyone who wants to spice up their deck and make it look unique. If you use your board excessively and train very often, this tape might not be for you.
Pros
A lot of colors to choose from
Has a clear variant
Perfect for spicing up decks
Not too grippy, Easy on shoes
Cons
The adhesive is not too sticky
Grip not lasting long
The grip on this tape is comparable to the Jessup. If you find your current grip tape a bit too rough, I would recommend this skateboard grip tape. Not too rough that it's restrictive, and not too smooth that your shoes will slip. It is also really easy on the shoes.
9. Rayauto Outdoor Griptape
Being one of the priciest grip tapes on the list, Rayauto is one of the best in the market. Material is made with a high-density diamond. Hence, durability and strength are guaranteed. Super sticky making your tricks on a board safe and clean, like spiderman crawling on walls.
Comes in unique designs so that you can customize your board to your liking. I especially love the waves design because I've been traveling to Japan and I have seen a lot of designs just like this. Nonetheless, unlike the design, it's water-resistant and waterproof.
I have been using a 38×9 longboard for a couple of months now due to the reason that my friends have given me an old one that I just restored. While I was cleaning it, I realized it had previous tapes attached, however, was fading off already. I asked people what skateboard grip tape would be best for my longboard, which resulted in them recommending Rayauto.
When it came, it was nicely packaged with the grip tapes placed neat and clean. I had to thank my courier of course because he has been delivering packages for years now. Anyway, after restoring the board I immediately put on the skateboard grip tape and tried it for a ride.
It's like I was gliding in thin air! I never worried about the fact it was an old board because the grip was fantastic!
I was hesitant at first to purchase this because some reviews would say it came crumpled and had a lot of wrinkles on it.
Pros
Material is made with high-density diamond
Super Sticky
Waterproof & water-resistant
You can pick from a variety of designs and styles
Cons
Quality can be compromised from delivery
I forgot to mention, that when you purchase this it comes with one skateboard grip tape with the same design as well. For me, that's perfect because my first love was skating before I was introduced to longboarding.
10. ZUEXT Skateboard Grip Tape
It's no secret that Zuext has been mentioned twice now in this list. They produce a quality grip tape.
This skateboard grip tape is made with the finest silicon carbide with a pugnacious adhesive so it sticks to any board. Skateboard, longboard, scooter, surfboard, etc. The amazing black skateboard grip tape design (9×33) can fit vehicles like RC buggy and great for pistols as well.
Like other skateboard grip tapes, it's water-resistant and tears resistant with the feel of Boracay sand. If you haven't been to Boracay, the sand there is porous and fine; almost like powder!
While I was doing a few tricks with my board I noticed a huge difference between when I put the Zuext grip tape on and when I didn't have it. My tricks and ride were so smooth and efficient and that have also helped me win a local skating competition so I highly recommend this skateboard grip tape.
My mom also uses this to trim the toenails of our dog! Yes, I was surprised as well. Because of the very coarse grit, it was not hurting her and when I would call her for trimming she would gladly come to me and raise her paw. It's so cute when she does that!
Nevertheless, when you take a look closer at the skateboard grip tape, it is not black but instead a camouflage style. In addition, the color tends to fade when using the board too much.
Pros
Finest silicon carbide
Great for any boards and surfaces
Water-resistant and tear-resistant
Coarse Grit
Cons
Color on the internet isn't what was advertised
Color Fades overtime
The package when you purchase comes with two sheets of skateboard grip tape. Just a few tips when purchasing this: If you need different dimensions just input in amazon "Zuext" and that it will show a tone of different products. If you're having doubts about purchasing online don't be! The company has a guaranteed 2-year free replacement!
11. YYZZH American Grip Tape
Being one of the most unique designs on this list, the YYZZH has been in the skateboard grip tape game for quite a while now. Its size of 33-inch x 9 inches is suitable for any board rider.
It's made of special high-density sandpaper to make it strong and not easy to fall off. Waterproof, water-resistant, plus easiness to trim off when putting on your board. Solvent adhesive material sticks to any board. Therefore, you can customize to your liking while the traction gives you optimal control when you're doing your tricks and ride.
When I bought an electric scooter the teller recommended I purchase a skateboard grip tape. I asked her, "what's the best one?" She said to try out YYZZH, "the design may not fit with your liking but the function of the tape is second to none." When I ordered it, the package was packaged nicely and didn't crimple nor had any wrinkles. Props to my courier!
Put it on my electric scooter for no more than a minute, then gave it a spin. Man! I'm telling you it was a game-changer. It was like I was floating on the road!
Some comments I have with the product is that online reviews have stated that the delivery took time due to the lack of products or mis-location. Other than that, I highly highly recommend this!
Pros
Special high-density sandpaper
Waterproof & water-resistant
Made with solvent adhesive material
Easy to trim off
Cons
Products may take time to deliver
As reviewed, this skateboard grip tape has been one of the most famous ones on the list. You can never go wrong when purchasing this.
12. Gonex Skateboard Grip Tape
Gonex has a reputation for packaging their products neatly and the use of a strong box to keep it from creasing and deforming during transport.
I love the black and gray colorway, however, it does come with multiple colors and styles which you can customize your board to your liking. This skateboard grip tape can be used on a lot of different surfaces: can be used in handguns, pistols, bike pedals, stairs to prevent slipping.
Adhesion and grip are top-notch for bikers, skateboarders, or any level of riders. Doing that only-180 is like cutting to butter. Smooth and easy.
A grip tape may require glue so that it won't bubble when put on. The Gonex has its own built-in resin glue on the back with microscopic perforations that allow air to escape. Therefore, you won't have to worry about any bubbles when applying the skateboard grip tape on the surface.
This skateboard grip tape is made with selected carborundum, one of the thickest and most durable elements that are used for grip strength that is waterproof, water-resilient, and has a large friction force so any type of shoe will give you a firm grip on the board.
The only comment I have with Gonex is that it is designed mostly for kids. Other than that this skateboard grip tape is perfect for your boards.
Pros
Packaged neatly and efficiently preventing creasing and deforming
Comes in multiple styles and colorways
Can be used in other items besides boards
Built-in resin glue
Cons
Design and styles are mostly for children
If you're an expert or novice skateboarder the Gonex is a perfect option when choosing a skateboard grip tape for your board. You can put it on the top of painted boards to give it that customized and sleek look.
What to Look for When Buying Skateboard Grip Tape
The parts of a skateboard are wheels, bearings, and the deck but the most important is looking for a skateboard grip tape. Without it, you can't really do 180 ollie – kickflip 360 or any tricks. There are cheaper ones that are good, yet, you may want to weigh your options when choosing a skateboard grip tape.
Grip Strength
One factor to consider when purchasing a skateboard grip tape is the grip strength. Without it, it's hard to keep your feet on the board. Most professional skateboarders choose a grip tape from Mob grip or a Grizzly griptape.
If you're a person who just uses it for transportation and recreational riding, Jessup products are the best choice. It's cheaper and that the traction is just right so it doesn't damage your shoes.
Application
Some boards when you purchase them, there is already a built-in skateboard grip tape. However, you're most likely to purchase one just in case. Mob's uses tiny air holes and perforation making it easy to put on your board without it bubbling.
Design
If you're the type who wants colorful and unique designs then Mob's is the best choice for you. Grizzly griptape is like that as well but the difference comes with an awesome bear cutout, where you can change it to any style that you want. If you like the simple and sleek design, Jessup is the best choice for you.
Other Important Factors to Consider
What is a skateboard grip tape? And how does it work?
Skateboard grip tape has been used ever since the popularity of skating. It's used to provide grip or traction when riding your board. Most of the materials are made out of sandpaper-like paper with an extremely sticky underside that you can place on the surface of your skateboard.
Purchasing a skateboard grip tape is pretty easy but one of the most important steps in getting your board ready for a ride. It has no measure of quality though unlike the board and wheels, professionals only buy it from famous brands.
How is it made?
Almost all skateboard grip tapes that you see are made with Silicon-Carbide. This material is similar to sandpaper, where the only difference is the grit level. Cheaper grit tapes are made with Aluminum oxide.
In the factories, a heat lamp dries the sandpaper-like surface. A machine then applies an adhesive to the bottom part of the polyester film. This acts as glue on the upper side of the sheet. In order for unwanted materials to not stick an adhesive paper when applied. The last machine then cuts the grit tape into the standard size of 33 inches x 9 inches.
Aluminum oxide is cheaper than Silicon-carbide but the grit strength fades fast. Whether you choose any of the two, it acts as a coating to your board.
What are the different types of grip tapes?
Yup, you read that right. Not all skateboard grip tapes are made equal and are similar. There are different types of grip tapes and what kinds to use.
These kinds of skateboard grip tapes are relatively new to the market and have taken the skating world by storm. It's the same with standard grip tapes but it won't damage your shoe!
Standard grip tapes are made with a coarse texture, non-abrasive grip tapes are made from the same material used in the surfaces of ping-pong paddles. So when you ride your board, it's rubber touching rubber. Thus, it does not harm your shoe.
In addition, it's material is made with molecular adhesion better than silicone-carbide or aluminum oxide. This material will not only save your shoes but your wallet as well!
There's a reason why they call it "specialized" grip tapes. Companies who make this kind of skateboard grip tape know that they prefer it on a higher grit-level than most.
It does provide grip strength, however, damages your shoe over time. There's a company called Mob Grip that created a product that has the same grip strength features but made with a lower grit-level.
Most products like the black diamond grip tape and the grizzly blank grip tape used by a lot of skateboarders.
The grit level of these varies from product to product, with some may have a higher grit-level compared to others which will give you more traction for your ride but will damage your shoes over time.
Why do you need grip tape for skateboarding?
If you're a novice or professional skateboarder, putting on a skateboard grip tape is the most important step before doing any riding. As mentioned above, it provides traction to keep your feet on the board especially when doing tricks. Additionally, it keeps your board in tip-top shape and away from any harsh conditions like snow and extreme heat.
Who doesn't use a skateboard grip tape nowadays? It adds style and functionality to your board.
You can also take a look out review on top rated skateboard bushings and also for lubricant for skateboard bearings. Don't forget to read our review for skateboard bearings for cruising and share the post.
Frequently Asked Questions
What are the most trusted grip tape brands?
The most trusted brands on the market are Black Diamond, Jessup, Mob, and Grizzly. Yet, most riders prefer Grizzly griptape because the grizzly grip tape review on Reddit is the most read and commented thread.
What grip tape do professional skaters use?
Most professional skaters use the standard grip tape and are mostly manufactured by the brands mentioned above so it's popularity in the skating community is no question.
Is clear grip tape any good?
Clear skateboard grip tape is in fact really good because it's super grippy. Furthermore, its design is sleek and simple. Many professional skaters opt for clear skateboard grip tape.
Can grip tape be too grippy?
They say that too much of something is bad for you. However, in this case, grip tapes that are extremely grippy are good for you because overtime grip strength will wear out.
Can you put Griptape over old grip tape?
The answer to that is NO! The rough surface of the old tape won't allow the new one to stick causing both to peel off.
How can I make my grip tape less grippy?
This is not advised to do but if you want to make it less grippy, you can put the old skateboard grip tapes on top of the new one.
How to clean and take care of my grip tape?
Here are my three steps:
Fill a cup with water halfway and put window cleaner or water and scrub it gently
Using a microfiber cloth, make sure to dry the surface and the skateboard grip tape thoroughly
Clean it using a "Grip Gum" (Can be bought in most skates shops)
Where can I buy it?
The best places to look for grip tapes are at your local skate shop but if you don't want to go out then you can always purchase online on Amazon, eBay, skate warehouse, and other sporting goods websites.
Can I customize designer logos on the grip tape?
No! Definitely do not customize designer logos on your skateboard grip tape. Copyright laws prohibit this, as for any brand as well.
How to apply your grip tape:
Find a comfortable place to sit on when applying your skateboard grip tape. You don't want to be stressed out when doing this
First thing you're going to do is to remove hardware and trucks. Then, using a hairdryer remove the old skateboard grip tape and clean the board with a microfiber cloth
Time to carefully remove the plastic of the skateboard grip tape that you're going to apply. Make sure you are careful because you don't want to waste money
Remove the sticker from the skateboard grip tape
Now, that you have removed the sticker, decide where you're going to place it. Remember, almost all skateboards' noses are broader and bigger than the tail
Hold the skateboard grip tape straight and carefully lower it towards the location of the board you're going to put it. The goal here is to have the parts covered. One tip for beginners out there: measure the sides first before you peel it off so that you have an idea where to put it
Once you applied the sticky part of the skateboard grip tape to the board, carefully drop your palm and press the sheet firmly
Once the center of the skateboard grip tape has been glued, it's time to use both of your hands to gently apply the edges, nose, and tail of the board. This step is important because it removes the air bubbles
Cut the excess skateboard grip tape
Using a heavy object or adjustable wrench – scrape the sides of the board covered with excess skateboard grip tape. I scrape off until I see the sticky part while the sandy parts fade. This way, it will be easier to cut off the excess grip tape with a razor or sharp knife
Hold the board with one hand and slowly cut the excess tape around the deck. Make little cuts on the sides to help remove the excess skateboard grip tape
Finally! The skateboard grip tape has been applied to your board, you can now mount back the wheels and hardware
Pro tip: Using the excess grip tape that you cut off you can carefully scrub it on the applied skateboard grip tape on the board to get a smooth feel. It avoids it from peeling as well.
Time to ride and show off your tricks!
Conclusion
Buying the right and best skateboard grip tape is very important because it ensures your ride to be efficient, fun, and safe. It doesn't matter if you're a novice skateboarder who's starting to learn new tricks or just use it for transport, purchasing a skateboard grip tape is as important as choosing your board.
If you're having problems with the grip level, the safest bet is 40-50. Not too grippy and not too smooth that it releases right away.
Did you find this article useful? Don't forget to share this article on your social media profiles. If you have any questions, just leave a comment below and we'll respond right away.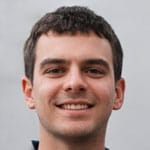 Hi, I am Charles Harris. I opened this site to write as much as I can about my biggest passion – skateboarding!
I started as a clumsy yet passionate rookie 10 years ago to now a still passionate yet much better skateboarder! But I have to tell you, the whole journey has always been fun and rewarding, indeed not without hardship.