To learn tricks is a goal for many skaters. But to ride safely is more of a practice than a milestone. And like any sport, skateboarding should be safe, regardless of age, skill level, or terrain.
With the head being one of the most vulnerable body parts, we should protect it using the appropriate gear. So, let's learn about the best skateboard helmet through the following features.
Lining – Our last line of defense against impact is the helmet's linings. Such layers primarily absorb external forces hitting the helmet. Linings could be a single piece or a combination of several layers designed to provide optimum protection.
The best linings for skate helmets are those made with soft EPS foam. This material is durable, lightweight, and breathable.
Ventilation – Unlike driving, we often don't have a roof and an AC over our head while skating. We deal with the sun and heat during summer. But that's how outdoor sport works.
Don't worry. Cool skateboard helmets come with ventilation holes. These are air passages from the helmet's shell up to the innermost lining.
The number of these holes depends on the brand. Some have seven holes, but these spaces can be as many as 12.
Certification – In skateboarding, we usually see certifications with e-boards. But certificates are also prominent with skating helmets.
These certifications signify the product's compliance with safety requirements. Such features increase our confidence in the products as visual assessment may not be enough to convince us.
Look for recognition from CPSC, ASTM, and CE EN. These organizations come from various countries with a good reputation in testing products.
We don't ride on helmets, but we skate with them. These are essential gear for the sport. So, check out the buying guide below for more tips. For now, I will share with you our top skateboard helmet picks.
Top 1
JBM Skateboard Helmet
– Adjustable straps
– 9 vent holes and aerodynamic cut
– 3 easy-to-clean removable linings
Top 2
OutdoorMaster Skateboard Helmet
– 12 vent holes
– An adjustable dial
– Durable ABS shell and EPS foam
Top 3
Triple Eight Sweatsaver Helmet
– Comes in four sizes
– Additional thicker Sweatsave linings
– An impact-absorbing EPS layer
Top 10 Skateboard Helmet Reviews
1. JBM Skateboard Helmet
Featuring a classic shape, JBM Skateboard Helmet may not seem that special, but it's more flexible than expected.
This product makes sure it works for sports other than skateboarding. It suits inline skating, cycling, roller skating, and even scooters. For people engaged in various outdoor activities, this product would benefit them well.
Not only is this helmet versatile in usage, but users too. Such an aspect is possible because of the adjustable strap.
All the skater has to do is adjust the band around the face and below the chin. Doing so will help the helmet fit different head sizes, whether kids, men, or women.
The next feature I like about this low profile skate helmet is its ventilation. On the topmost surface of the shell are seven vent holes paired with two more at the back. And like Bell skateboard helmets, it has an aerodynamic cut near the ear, adding more air passage for the skater. With these features, skating feels less sweaty for the head.
I think linings are another factor that keeps the user comfortable. JBM has three pieces of removable lining, and by detaching them, the wearer can clean, dry, and put the linings back in place once they're new and fresh.
On the downside, some users experienced the plastic piece connecting the adjustment component to the helmet snapping slightly early.
Pros
A classic helmet that works in various outdoor sports besides skateboarding
Adjustable straps that make the helmet fit kids, men's, and women's head sizes
Comes with nine vent holes and aerodynamic cut for optimum ventilation
Three easy-to-clean removable linings for comfortable rides
Cons
The plastic piece of the adjustment snapped too soon
Overall, it's this helmet's flexibility that any user will love. It has a neat and simple look. And it's comfortable to use.
2. OutdoorMaster Skateboard Helmet
Skateboard trucks are adjustable, and so are some helmets, like this one by OutdoorMaster.
This product comes with two adjustment features: the dial and the straps. Per several users, the dial works as expected while being durable. At the same time, the straps secure the fit around the face below the chin.
These helmet straps do not only give the user a snug fit. They also don't irritate the skin. So, while the headgear fits firmly, it doesn't bother us with discomfort.
I think this is the coolest helmet with the most number of vent holes (12). Some ventilation holes are on top; others are in front, and the rest are at the back.
These vent holes will help circulate air from various directions to the rider's head. Subsequently, the skater feels less sweaty, especially when practicing in humid conditions.
Essentially, this helmet is also protective. It has a reinforced ABS shell and thickened EPS core to provide optimum protection.
In detail, the outer shell prevents potential injury from impact during falls or collisions. Additionally, the EPS layer inside neutralizes shocks from head hits. These components feel and look sturdy, so I find them reliable.
It's not a usage issue, but there was missing padding from the package I received. I knew I was supposed to receive extra pieces of these parts, but I got an incomplete set.
Pros
An adjustable dial that's durable and works as expected
Adjustment straps that fit well and are not harsh on the skin
12 vent holes to keep the rider's head dry when skating
Durable ABS shell and EPS foam for optimum safety and protection
Cons
Arrived with missing padding
Despite that, the helmet stays dry because of its vent holes. Skaters feel comfortable while remaining safe because of the helmet's overall build.
3. Triple Eight Sweatsaver Helmet
One may think the Triple Eight Sweatsaver Helmet is all about looks due to its glossy design, but appearance is not the only positive about this model.
It comes with an impact-absorbing EPS lining inside, certified by reputable organizations like CPSC and ASTM for peace of mind. Moreover, the helmet not only fits skating but other sports like cycling too.
Besides the EPS foam, this option also has Sweatsaver linings for added comfort and a snugger fit. The first thin layer sits on the shell's interiors, keeping moisture off the rider's head. Plus, two thicker Sweatsaver pads help users achieve the best fit.
If I am to share someone's experience with this helmet, it'll be the famous Tony Hawk's. He mentioned how this pro skateboard helmet edges out other brands in safety and comfort. True enough, Triple Eight does not compromise on either aspect.
At the same time, adjustment straps help with sizing issues, but these may not be necessary, considering the product comes in four sizes already. The manufacturer also has a fitting guide to give buyers a reliable reference.
It's not the most expensive helmet, but I think this model is slightly pricey. Nonetheless, its performance does not disappoint.
Pros
An impact-absorbing EPS layer certified by CPSC and ASTM
For skating and cycling
Thin Sweatsaver lining installed to minimize moisture
Additional thicker Sweatsave linings to achieve a snugger fit
Approved by the famous Tony Hawk
Comes in four sizes, with adjustable straps and size guide
Cons
Slightly pricey compared to other helmets
Using a helmet like this brand gives riders a secure feeling. It has approval from known regulatory bodies, making it reliable and undeniably safe. Also, its plush linings keep my head comfortable.
4. Pro-Tec Classic Certified Skate Helmet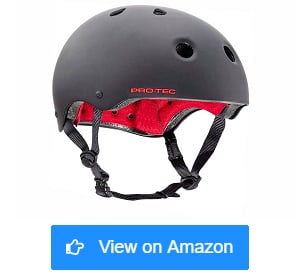 The first aspect I love about the Pro-Tec Classic Certified Skate Helmet is its light feel.
Only weighing less than a kilogram, this headgear doesn't strain the user's neck. What's better is it still has standard materials like EPS and ABS, ensuring its overall sturdiness. So, it's light to use but sufficiently protective at the same time.
Another feature that makes this helmet reliable is its list of certifications. It has citations from CPSC, ASTM, and CE, all the bodies we mentioned in the short guide. Having these certifications on a helmet would offer tremendous assurance. The product may cost slightly higher than uncertified brands, but it's worth the spend.
Aesthetically, I think this brand also does well. Pro-Tec created an array of designs in different colors such as blue, green, and olive. It's not as fancy as skateboards, but it's somewhat customizable.
I came across several reviews of this helmet. Not only do adults love it, but also teens. They enjoy wearing the headgear due to its lightness and comfort.
And since this stylish skateboard helmet fits so many age groups, I think it's safe to say it's flexible enough to suit pretty much any skater.
Some users found the straps challenging to adjust. But I'm not sure if that happens to all since my straps tighten firmly.
Pros
Lightweight skateboard helmet made with EPS and ABS for optimum protection
Comes with certifications from CPSC, ASTM, and CE for overall reliability
Worths its price
Has a wide array of colors
Suits teens and adults well
Cons
Some users found the straps hard to adjust
I rarely find durable gear that's light like this helmet. Its certifications prove it's reliable. So, it's a helmet model to check out.
5. Triple Eight Gotham Skateboarding Helmet
Of course, we can never miss out on another quality option in the Triple Eight Gotham Helmet.
Coming with two certifications — ASTM F-1492 and CPSC, this helmet is safe for both children and adults. What's better is these certifications make the headgear suit not only skateboards but also bikes.
Like most skateboarding helmets, this model also has EPS foam. But what sets this layer apart from other brands is its conehead technology.
This cone-like feature distributes external impact coming against the helmet. In effect, the headgear neutralizes and absorbs strong forces, minimizing the risk of injuries to skaters.
Comfort-wise, this Triple Eight never disappoints its users. It comes with a pair of removable Sweatsaver fit pads that offers several benefits.
First, these paddings cushion the head and wick away sweat. Second, since these plush layers are removable, I can detach and clean them easily. That way, I ensure they're fresh and ready for another ride.
This skateboard helmet has sufficient adjustment room. It has a conventional chin strap locked by a buckle on the side for convenience.
Also, users can select from three different sizes that cover head circumferences from 18.9 to 24 inches. With these features, skaters can enjoy rides without the headgear falling off.
Some buyers wish the vent holes were broader. Small ventilation holes would be challenging for those riding in places with a hot climate.
Pros
CPSC and ASTM-certified helmet for skateboarding and biking
Conehead technology on the EPS layer for superior impact absorption
Has a pair of Sweatsaver fit pads that cushion and wick sweat on the head
Sweatsaver paddings are removable for easy cleaning
Comes with side-buckle straps and three sizes for the ideal fit
Cons
Ventilation holes are slightly small
Like a Wirecutter skateboard helmet pick, the Gotham is a high-quality model that stands up to the challenge of protecting skaters.
6. 80Six Dual Certified Kids' Helmet
If I am to name one headgear perfectly suited for youth, it's the 80Six Dual Certified Kids' Helmet.
One of the things making this model an ideal choice for young riders is its level of safety in three various layers: the shell, EPS layer, and shock pads.
The shell is durable ABS material, offering superior impact protection when skating or doing other outdoor sports. What's better is this exterior layer also has vent holes, keeping the head less heated.
The other layers are the EPS and foam pads inside the helmet. The EPS layer absorbs impact penetrating through the outer shell. Meanwhile, the pads give the user a snug fit of the helmet. That way, the headgear won't feel like shaking or falling off during tricks.
For parents with young children, this option is worth considering, considering it has certifications from CPSC and ASTM.
The latter certification, in particular, proves the helmet has undergone testing for cylindrical hazards, strength retention, and suitability for roller skating. And with CPSC being a standard for bike gear, I think it's enough to say this helmet also suits cycling.
For convenience and ease of use, this skate helmet has a side-release buckle, adjustable straps, and an overall package weight of 0.59kg only.
With the straps and buckle, users can quickly remove or fasten the gear on the head. Plus, since the design is lightweight, the skater won't feel too much strain on the neck when wearing it.
While the comfort fit pads work well, I wish this helmet also came with extra pieces of such parts. 80six is one of the few brands not sending additional paddings.
Pros
Has well-ventilated ABS shell exterior to protect against impact
EPS layer for shock absorption
Foam pads for added comfort and better fit
CPSC and ASTM certifications for safety and versatility
Comes with straps for adjustments and buckles for convenience
Only weighs 0.59kg
Cons
Does not come with additional paddings
7. Retrospec Skateboard Helmet
Of course, we can't miss out on skateboard helmets for adults like the Retrospec Skateboard Helmet.
With premium protection features like the ABS and EPS materials, this skating helmet ensures sufficient defense against impact. I actually fell several times while wearing this model, but my head did not suffer any injury.
And to ensure that these components have a gallant stand against accidents, this skateboard helmet has CPSC and EN certifications. In practice, this means the product can withstand a velocity of 20 feet/second and eight pounds of impact from above.
The next feature I like about this headgear is its adjustability. Like most of the helmets on our list, this model also has straps. Plus, Retrospec gave users a set of interchangeable pads that are removable and insertable at will, further enhancing the customization of the product.
This adult skateboard helmet may not have the most vent holes, but I think it has enough. There are ten ventilation holes in various locations: six on top and two at the front and back.
Users won't have to worry about ruining their hairstyle while wearing this headgear. Heat will come out of the vents without causing discomfort to skaters, so no more frustration about ugly helmet hair.
The only thing I do not like about this helmet is its paint finish. It wears off quickly after a finger scratch.
Pros
ABS shell with EPS foam interior for superior impact protection
Certified by CPSC and EN
Straps with interchangeable inner paddings for a better fit
Ten vent holes to keep the head dry and cool
Won't ruin hairstyles
Cons
Exterior paint wears off quickly
While its surface is prone to scratches, I'm happy about this helmet's overall protection. It has a great fit and is very comfortable.
8. OUWOR Skateboard Helmet
Be it shocks or sweat, the OUWOR Skateboard Helmet can absorb them all.
Like the previous product, this one comes with two paddings sized at 5mm and 8mm. These plush layers serve as the user's last line of defense against falls or impact.
Not only that, these pads also absorb sweat, especially for hot weather conditions. With such a feature, skaters who live somewhere like Florida will enjoy wearing this headgear.
I love the straps of this skate helmet. As many buyers affirm, these pieces of bands are comfortable. They are soft and are not irritating, even to a child's skin. Pair these straps with the adjustable dial, and we'll have a snug-fit head protector.
This skating equipment is flexible in several ways. First, it suits many outdoor activities besides skateboarding. It works for inline skating, scooters, longboarding, rollerblading, and hoverboards.
Additionally, it also doesn't choose its user. I have given this item to multiple family members, including my brother and niece. I think no one struggles to break this helmet in because of its versatility.
If there's one unique aspect about this helmet brand, it's its carrying bag. I rarely find longboard helmets with carrying sacks in the package. And having such an accessory has many benefits.
First, the skater gets to secure the helmet when it's not in use. Second, such an item can be a protective measure against dirt build-up when the headgear's stored at home.
I read some Reddit reviews complaining about the absence of instructions in the package. I think a manual would be helpful for beginners.
Pros
Two 5mm and 8mm paddings with sufficient shock and sweat absorption
Soft straps, comfortable for a child's skin
Adjustment dial for a better fit
Works for all ages and several outdoor sports
Has a carrying bag for convenient storage and safekeeping
Cons
Does not come with instructions
The fit and comfort of this helmet are top-tier. I love how it keeps the head dry, and its carrying bag adds convenience.
9. JeeFree Skateboard Helmet
If complete skateboards have protective counterparts, the JeeFree Skateboard Helmet would be among them.
Compared to the previous products, this one has more than headgear. Included in its package are other protective equipment like wrist guards, elbow support, and knee protectors.
All these pieces, including the helmet, are of ABS material. So, they're durable and reliable for skate rides.
I think this helmet is customizable in different ways, technically and aesthetically.
On the technical aspect, it has two adjustment methods in the dial and straps. The rotating dial lets the user tighten the headgear around the head. Additionally, the straps better fit the helmet around the face and below the chin. What I love about these parts is they're comfortable to wear, as many buyers affirmed.
The second custom feature of this brand is its array of color choices. This JeeFree comes with 12 colors, freeing the skaters to select what suits them best. And with these options, I believe skaters of any gender and age can land on one they like.
One more aspect that makes this helmet comfortable is its ventilation system. It comes with several vent holes on the top and at the front of the helmet, allowing air to move in and out. Also, there is a breathable foam layer inside, keeping sweat off the skater's head.
On the downside, my nephew found the elbow and knee pad straps slightly itchy.
Pros
Comes in a complete durable set with wrist, elbow, and knee protectors
Has adjustment dial and comfortable straps for a better helmet fit
12 color options for more customizability
Well-ventilated with several vent holes and breathable sweat-absorbing foam
Cons
Elbow and knee pad straps were itchy
I rarely find a skating helmet in a complete protective gear set. This choice not only secures the head against impact. It also saves skaters from buying other body protectors separately.
10. Thousand Skateboard Helmet
If there's one unique aspect I love about the Thousand Skateboard Helmet, it's its classic style.
Such a feature may be negligible for someone not particular about skating fashion. But to me, this classic heritage minimalist shell shape suits my taste best. It's neat and was a favorite of skaters in the 50s.
While many buyers love this helmet for its classic style, it stays versatile in other ways. First, it suits any gender, male, female, and even young skaters.
Second, it works well for other activities besides skateboarding. It's fit for cycling, bike commuting, and e-scooters.
One more feature that sets this helmet apart from other brands is its straps. If other headgear have the conventional nylon bands with plastic latches, this helmet uses leather on the straps with magnetic buckles.
This leather strap feels nice on the skin, and the buckles make fastening and detaching the helmet convenient.
There's also an adjustment dial, but what makes the model unique is its pop-lock feature.
This part allows us to open a hole at the back of the helmet, where we can slide a U-lock and fasten the item to a secure location. This feature helps keep the headgear safe even without the owner around.
Some users affirmed that this helmet is slightly more expensive than most helmets. Nonetheless, it works and protects users as expected.
Pros
Classic heritage look, loved by many skaters in the 50s
Suitable for any gender and age, plus scooters and bicycles
Comfortable leather straps
Magnetic buckles and adjustment dial for added convenience
A pop-lock feature that allows the skater to secure the helmet in one location
Cons
Slightly pricey compared to other skate helmet brands
If only everyone had enough budget, I would recommend having this stylish yet protective skating helmet. It's visually pleasing and has other unique features that benefit many users.
What to Look for When Buying a Skateboard Helmet?
Let's set aside style and aesthetics as safe skating is our priority. Here's how to achieve it with skateboard helmets.
The exterior shell is our first line of defense during accidents with skateboards. And like a skateboard's graphics, the skin of this helmet's part wears out when it scratches the ground.
It's great if only the helmet's paint wears out. What's more crucial in such circumstances is that the shell doesn't break. Otherwise, the risks of head injuries increase.
So, when choosing skateboard helmets, pick one made with ABS plastic. Such a material has superior tensile strength, impact resistance, and anti-chemical corrosion properties. And when we skate under changing weather, ABS can withstand the elements.
The interior parts are vital in ensuring the comfort of helmets. Take note of the following while shopping for your headgear.
EPS is a staple for helmets. It's the first layer of protection after the ABS shell. Like most helmets on our list, EPS works are the primary shock absorber.
It doesn't eliminate the force, but it helps reduce impact significantly. In effect, the head suffers from or feels less strain during falls.
Besides EPS, famous brands like Triple Eight have sweat-wicking paddings inside the helmet. These are soft layers designed to keep the skater's head dry and comfortable, especially in humid weather conditions.
When choosing these accessories, try to look for removable ones. That way, you can change their positions to suit your head better. Plus, you also get to clean them when they become dirty or smelly.
Let's face it. Not all helmets fit all head shapes and sizes. But don't worry, the best helmets adjust to your head through the following features.
The rotating knob at the back of the helmet lets you tighten or loosen the headgear's fit inside. It usually comes in plastic, but be careful not to pick a flimsy brace.
The adjustable straps let you fit your helmet vertically. Often, these bands are made of nylon, which is soft and light. Additionally, part of these straps have chin paddings to eliminate pressure on the skin.
Besides tightness and optimum fit, many brands produce padded chin straps for added comfort. Whatever straps you choose, ensure that they don't irritate your skin.
You will also notice some solid plastic pieces attached to the straps. These consist of side-release and adjustment buckles. We also need to ensure they're durable. Otherwise, we'll have trouble adjusting the helmet.
Next to safety is comfort, which is not impossible in skateboarding helmets. The reason why there are holes in the helmet is for ventilation. These spaces sit in various locations to optimize airflow.
These holes vary in number, depending on the brand. Some only have seven, while others have ten to 12. No matter how many holes the helmet has, they all work to make your rides dry and comfortable.
Perhaps, the helmet's certification is an intangible yet significant aspect we can never count out. Certified skateboard helmets edge out many brands in reliability after tests in protection, safety, durability, and other relevant factors.
The nations implementing these regulations are the U.S., Europe, and Australia. The United States issues CPSC and ASTM certifications, Europe has CE EN, and Australia has AS/NZS.
Note that these certifications do not only apply to skateboard helmets. Since most of the helmets we reviewed are versatile, that goes to say these certifications are also relevant to other outdoor sports like biking and scooters.
How Long Are Skateboard Helmets Good for?
Good skateboard helmets last for around 3-5 years, which is quite long. However, it becomes a different story if the user suffers a major mishap on the skateboard and the head gets the most impact. In such a case, the helmet may no longer be in its solid state.
How Do You Measure Your Head for a Helmet?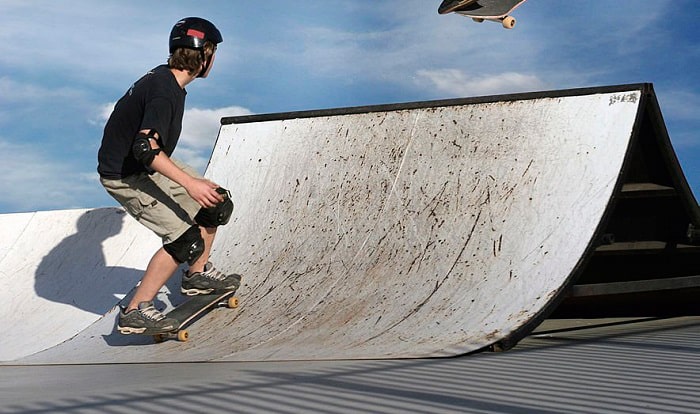 Many skateboard packages sold online provide a fitting guide for a skate helmet. But let's bring those instructions here.
Secure a measuring tape.
Plot one end of the measuring tape on your forehead, one inch above your eyebrows.
Route the tape around your head, keeping a horizontal alignment.
Mark the part of the measuring tape that meets its other end.
Can a Bicycle Helmet Be Used for Skateboarding?
Not all bicycle helmets work for skateboarding. In structure, biking helmets provide less protection than skating headgear.
But one way to ensure that a bike helmet suits skateboarding is by checking its certifications. If the helmet meets ASTM F1492 and CPSC 1203 standards, you can use it for skateboarding.
Another way to see if the headgear suits biking and skateboarding is by checking if the helmet has protection for the back of the head, which not all biking helmets have.
Skateboard Helmets Vs Bike Helmets: What's the Difference?
The common ground skateboard and bike helmets share is their purpose, which is to protect the user's head. Let's distinguish these headgear.
Bike helmets may come with visor but often don't protect the back of the head.
Skating headgear has a sturdier exterior shell than the thin shells of bike helmets.
Foams of skate helmets can endure more impact than single-impact biking headgears.
Bike helmets are more breathable than skate helmets.
When Should I Replace My Skateboard Helmet?
While wearing headgear like helmets can secure our heads from potential casualties, it may not stand firm against significant mishaps on the skateboard.
So, as soon as the helmet suffers a heavy collision, consider changing it. It may not show any damage, but we will never know what defects it has inside unless we check it.
Conclusion
Any physical activity we do should be safe, whether it takes place indoors or outdoors. Skating may not require entire-body movements, but a slight mishap can lead to lasting injuries.
For example, a minor slip on the ground can cause us to fall on hard or sharp objects. The situation worsens if our head suffers the most impact. So, having the best skateboard helmet is the only way to protect us from head injuries.
Be mindful of the things I shared, and begin to skate safer than ever.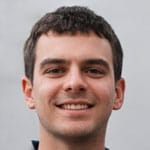 Hi, I am Charles Harris. I opened this site to write as much as I can about my biggest passion – skateboarding!
I started as a clumsy yet passionate rookie 10 years ago to now a still passionate yet much better skateboarder! But I have to tell you, the whole journey has always been fun and rewarding, indeed not without hardship.