What makes skateboarding a unique sport compared to other established physical games is that it does not have rules. You have no opponent, and the competition is all about style and execution. That said, you are more prone to injuries, whether you're a beginner or a professional skateboarder.
With that, let's start securing your rides by using the best skateboard knee pads. This skateboard protective gear set will help you counter the impact of hard falls from the board. Below are the things we need to consider when buying knee pads.
One unique aspect about skateboarding knee pads is the circumferences above and below the knees. Often, the size around the knee caps and behind them doesn't matter much.
Sizes of knee guards range from 18cm to 44m above the knee and 14cm to 41cm below, but you may find brands with a wider or smaller range. These size ranges have age and rider level group classifications to help you narrow your choices down.
Our priority in selecting skate knee pads is protecting your patellas and thin ligaments inside. With that, EVA foam knee pads are a perfect choice to most skateboarders because of their comfort. Also, this cushion is less bulky, making it light to wear. Other than EVA pads, memory foam is also an ideal option for skating knee pads.
Skateboard knee pads come with designs based on your desired fit. Most knee pads have webbed elastic straps to wrap the top and bottom of your knees. They have hoops and loops to secure the grip on your knees. Also, at the end of these bands are velcro tapes that lock the straps and keep them from sliding down.
Another pad type is a full-sleeve that feels like a pair of socks worn without any fastening.
And to ensure you're not missing anything, don't forget to read the buying guide for a detailed discussion of other aspects. Meanwhile, I will show you the best knee guard choices.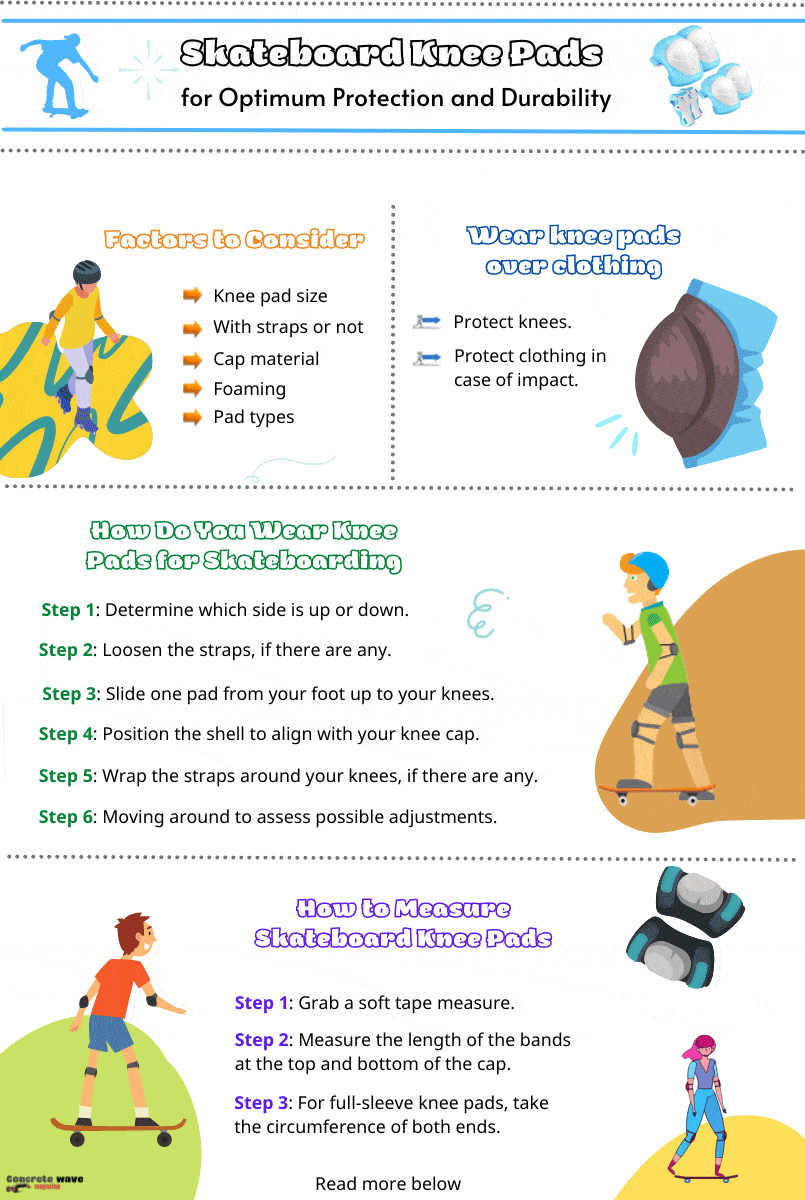 Top 1
Bodyprox Knee Pads
– Effective impact resistance
– Comfortable, no adjustment necessary
– Non-slip and lightweight
Top 2
JBM Protective Gear
– Comfortable and secure pads
– EVA padding and plastic exterior
– Comes with elbow pads and wrist guards
Top 3
CRZKO Knee Pads
– Light and comfortable to wear
– Breathable mesh surface
– Affordable
Top 11 Skateboard Knee Pads Reviews
1. Bodyprox Protective Knee Pads
Finding a pair of comfortable knee caps got me the Bodyprox Protective Knee Pads. Unlike some of my knee guards, these do not come with thin straps or velcros. All each pad has is a sleeve with a protective cap. It's ergonomic, and it doesn't take many minutes to put on.
One more thing I love about the design of these longboard knee pads is that it helps prevent injuries. Bodyprox's form increases blood circulation, reduces stiff joints and muscles, and keeps my knees warm for smooth movements. I am happy that on top of these features, the pads' impact resistance remains effective.
Compared to some bulky knee pads, this brand is as light as it looks. Using this makes me feel like I just added a thin layer of cloth on my knees. And what's even better about it is its non-slip feature that makes me forget I have the pads on my knees. It's comfortable, and it does not even require adjustments.
Doing outdoor activities with some pain in my knees became possible with this knee pad, too. It has this compression feature that hugs my knee evenly, reducing the discomfort from aches. This feature can also help those who had a recent knee injury surgery to recover faster.
The only issue with these pads was the reinforced foam flattening too soon, especially when one tends to kneel for hours. Nonetheless, skateboarding does not always call to the rider to kneel. So, it's not much of a problem for me.
Pros
Comes with an ergonomic design one can slip on, no straps or velcro
Injury-prevention features with effective impact resistance
Non-slip and lightweight knee pads
Comfortable, no adjustment necessary
Helps compress knee pains and hasten surgery recovery
Cons
Foam padding flattening fast
Flexibility is at its best with these knee pads. They're easy to wear, and they are as effective as other brands as well. I'd love to have another pair for my other outdoor activities.
2. JBM Adult/Child 3 in 1 Protective Gear Set
The first thing I love about the JBM Adult/Child 3 in 1 Protective Gear Set is its design. This skateboard gear features several straps that make it adjustable to any girth. Also, these straps come with velcro locks, making the entire pad not only comfortable but secure as well.
This knee pad for skating has a perfect padding composition and external finish. It comes with soft EVA material that doesn't feel itchy. Plus, outside of it is a durable plastic plate that retains its shape even after some impact. With these, I feel more confident and protected when falling off my skateboard.
Another aspect I like about these skate knee pads is their flexibility with other extreme sports. This JBM model works not only for skateboarding but also with cycling, roller skating, BMX, and a few more outdoor activities. So, if I plan to go for other sports, I'd be able to use these protective pads.
Not only does JBM provide ample protection for my knees but elbows and hands as well. Aside from the knee pads, this protective gear set comes with a pair of elbow pads and wrist guards. With these, I don't only get a complete protection set, but I also get to save money when buying these knee pad inclusions.
However, some customers have mentioned needing to size up when buying this option. It's something to keep in mind before purchase.
Pros
Comfortable and secure pads with adjustable velcro straps
EVA padding and plastic exterior for comfortable and durable protection
Fits extreme sports other than skateboarding
Comes with elbow pads and wrist guards for total protection
Cons
Buyers may need to size up
Overall, I feel secure with these skating knee pads. I get to ride without worrying about sliding off the skateboard. Plus, I love how they fit after using them.
3. CRZKO Knee Pads
If there is a perfect protective skate pads set for kids, the CRZKO Knee Pads will be my ideal pick because of their simple design that won't make kids feel uncomfortable. This CRZKO model has two adjustable straps. Plus, it's light to wear for kids and young teens.
On top of being a kid-level knee pad, CRZKO is a good brand in terms of durability. It comes with a PVC shell cap that can protect kids against hard falls. Plus, it has an EVA padding inside that reduces the impact from the ground. With these, we can be sure the kids can enjoy skateboarding even more.
What makes this knee pad even lighter to wear is its outer padding finish. It comes with a breathable mesh surface and fabric liner that wrap the padding without trapping heat inside. That way, kids won't have to feel irritated by sweating knees.
One more thing about this brand is that it comes with a complete set of protective skating gear. Other than a pair of knee pads, it has wrist guards and elbow pads. I think children won't have trouble getting comfortable with them because they have identical textures. Also, I'd say it's an affordable and time-saving option for almost everyone.
Kids' skins are sensitive, which is why I had to make some adjustments with the straps. Initially, they tend to scratch the rider's skin, but not until I added a cloth protector on them.
Pros
Simple design that makes it light and comfortable to wear; with adjustable straps
PVC cap outside and EVA padding inside for superior impact protection
Breathable mesh surface and fabric liner that keep the pad and knees cool
Affordable, comes in a complete set with elbow protection and wrist pads
The guards for different body parts have similar textures
Cons
Straps rubbing the rider's skin
I think these are my best low profile knee pads for skating. The kids love them, and I can see they're secure and more confident riding.
4. Gonex Skateboard Knee Pads
There are protective gears that only use high-quality materials. One of them is the Gonex Skateboard Knee Pads. This brand features a PP shell outside that offers superior protection against ground impact. Plus, even when sliding, this plastic material retains its durability.
As someone who doesn't like his knee pads heating up, I find this brand beneficial for this issue. Gonex features a breathable cloth that keeps my knees and the back of my legs dry and clean from sweat. And even after skating for hours, I am happy the pads never feel itchy compared to other brands.
Not only does this pad's material keep my knees fresh, but it also offers high durability. With a 600D high-density oxford cloth composition, these knee pads have high resistance to wearing and are flexible. As a result, I feel rest assured my knee guards are going to last longer.
One more thing I love about these knee pads is that they come with a storage bag. This accessory helps me organize the elbow pads and wrist guards that come with the package. That way, I can find these items from a single location without having to waste time.
On the downside, the pads don't seem to fit big users very well. A friend of mine thought they were too tight.
Pros
PP plastic for optimum protection and durability
Breathable cloth materials that keep the knees dry and clean
Doesn't feel itchy
600D high-density oxford cloth that's flexible and wear-resistant
Has a bag to keep the packaged content intact
With guards for elbows and wrists
These skateboarding pads are not only of good quality but are also easy to wear. I love their protective exterior layer, and I think it'll take very long until I'd have to replace these again.
5. Triple Eight Pad Set
Coming with quality durable materials, the Triple Eight Pad Set ensures I get to ride my skateboard with utmost ease. These skateboard knee pads for adults feature an EVA foam padding and premium-grade fabric that make me feel comfortable, no matter my kind of ride. Also, the padding does not feel bulky, so it does not bother me at all.
The next thing I love about these knee guards is their exterior finish. Triple Eight uses Polycarbonate, which I commonly see as a flexible roofing material. Plus, its shape offers total coverage of my knee cap, making it not only durable but also one of the most suitable knee pads I have.
I think these knee and elbow pads for adults are some of the most secure pads I have. There are wide elastic straps to keep the pads mounted to my knees and elbows. Plus, these straps have adjustable wrap hook and loop closures to keep them from loosening or pulling off.
On top of these features, I also love the design of these skateboarding pads. It has a perfect combination of safety and style. And most of all, it lets me move freely. That way, I can ride my board without having to look down my legs to adjust to my pads.
Unfortunately, buyers with thick thighs might find these Triple pads a bit small. Such users will probably need other extra large knee pads for skating.
Pros
Premium fabric & EVA foam padding that are comfortable and not bulky
Durable Polycarbonate cap that offers full knee coverage
Secure knee pads with wide straps and loop closures
Has a perfect balance of safety and style
Freedom of movement
Cons
Not made for thick thighs
I'm glad the pads fit me while providing solid protection. Overall, I am confident using them, and they're of quality materials, so this set's a good grab for me.
6. Gonex Kids Skateboard Knee Pads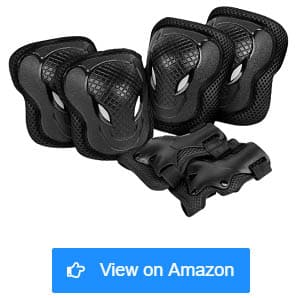 Another quality brand I have for the kids is the Gonex Kids Skateboard Knee Pads. This brand knows how active children are, which is why they added a pair of elbow support and wrist guard in their package. Not only that, but these items are also ideal for sports other than skateboarding, like cycling, rollerblading, scootering, and many more.
Among many knee pad brands, I think this is one of the top-rated knee pads in terms of measurement precision. Its size chart is accurate, and it delivers the item based on the actual size ordered. Also, I felt confident buying this brand because of its elastic straps that I can adjust when needed.
I think these knee pads have a perfect balance of weight and protection. They come with a soft velvet fabric and breathable sandwich mesh for a lighter feel. Plus, outside is a thickened and curved PE shell designed for superior impact protection. With these, I believe kids can enjoy safe and easy rides.
What makes this brand ideal for children is that it comes with an organizer. Gonex has a mesh storage bag in its package intended to keep all three pairs of protective equipment inside. That way, kids will learn to organize their things, and it won't take much time searching for them when needed.
On the downside, I think the velcros are a bit itchy. They tend to leave some scratch marks on the skin. Nonetheless, cloth patches solved the issue.
Pros
Complete set of protective equipment for the kids' knees, elbows, and wrists
Ideal for skateboarding and other outdoor sports
Precisely measured and has adjustable elastic straps
Delivers the exact size ordered
Light velvet & mesh with durable PE shell outside for superior impact protection
Mesh storage bag for easy organizing
Overall, Gonex is a good brand for me. It protects the kids well, and I can see this option's comfortable, like my skateboard knee pads 187 killer pads.
7. PHZ Knee Pads
One of the things I love about the PHZ Knee Pads is their comfortable and durable padding. These knee guards come with soft EVA material to cover my knee caps and reduce the impact from falling. I think these pads are also durable in that they never showed signs of flattening after months of using them.
The next skate pads aspect I like about this brand is its outer shell. Like its padding, outside this knee pad is a sturdy plastic plate that offers superior protection. I also love the shape of the caps because they fit my knees snugly. With these, I get to land safely and comfortably when I fall on the skateboard.
These pads wrap my knees and the portions above and below them well. PHZ has this stretchable fabric that doesn't squeeze my legs but instead gives me a comfortable feel. Also, it has ideal elasticity and is of high-quality material. Hence, I think these longboarding knee pads can adjust well to any knee shape.
Not only is this brand perfect for skateboarding but for other sports as well. I can use it with inline skating, cycling, riding an electric skateboard, and other extreme sports. Plus, this brand comes in a 3-in-1 package with skateboard knee pads and elbow pads, and a pair of wrist protectors.
I am not sure about the sizing of this brand, but skateboard knee pads reviews of some adult users on Reddit found it a bit small. Nonetheless, these pads fit me well, though I think it's best to size up when ordering these.
Pros
Comfortable and durable EVA foam padding for impact reduction
Sturdy plastic caps outside that offer superior protection
High-quality stretchable fabric that wraps the knees snugly
Perfect for extreme sports other than skateboarding
Comes in a 3-in-1 package with wrist guards and elbow pads
Cons
Ordering may require an additional size allowance
I am happy about this product working well, whether for skateboarding or not. These are heavy-duty knee pads, and I get the protection I need when falling off my skateboard.
8. Pro-Tec Street Knee Pads
On top of having a full sleeve finish behind the padding, the Pro-Tec Street Knee Pads ensure their stability on my knees with their dual straps. These straps have wrap hook fasteners that serve as a lock to prevent them from loosening. So, with these, I'm confident about keeping the pads on my knees and adjusting them anytime I want.
I find the full wrap behind the padding of these knee pads unique. It has a neoprene construction that's known for flexibility and adaptability to a wide temperature range. With that, I'm sure this portion of the knee pads will last longer.
One more unique aspect about these slim knee pads is their stretch lycra interior. This material is known for its exceptional elasticity. Also, most athletes of different sporting events use this material for their apparel because of its durability. Clearly, these knee pads are sturdy from the inside out.
The Pro-Tec street knee caps can be a cost-saving option since the package does not come with elbow and wrist supports. I find this aspect an advantage because I bought this option without having to pay for other items. Also, I don't need as many wrist guards as knee pads because they're less prone to wear.
The only issue I have seen with these pads is that they make me feel hot. That's why I tend to wear them in the winter and not the summer.
Pros
Full sleeves and dual straps for a firm hold on the knees
Neoprene backing behind the pads for flexibility and adaptability to temperature
Lycra-made interior for superior elasticity and overall durability
Affordable and does not require spending on other protective gear
These pads could be a starter pair or a replacement for old knee guards because of their quality. They wrap my knees comfortably, and I think they're not too costly.
9. Skatewiz Skateboard Knee Pads
One of the features I love about the Skatewiz Skateboard Knee Pads is their full-coverage cap design. Unlike other brands, the shell of these pads runs from one side of my knee to the other, So, it's like I got the entirety of my knees covered and protected. Also, the shape of the cap fits comfortably on my knees.
Other than the shell being wide enough, these knee pads have perfect durability as well. This Skatewiz comes with three layers of engineered protection in one ABS plastic cover and two soft foams. These components help absorb impact well and without causing easy damage to the pads. As a result, I get to experience long-lasting protection from accidents.
In terms of completeness, this brand is also at the top of my list. Not only does it have durable components, but it's also a complete package for me. It has elbow supports and wrist guard along with a mesh bag that keeps all these components intact. Also, the skateboard knee and elbow pads feel like they have the same level of protection.
What made me confident about buying this brand is that it comes with certifications from CPSC, CE, and CP65. All these standard bodies honor products that passed a test on durability and impact. With these, I found that the materials used for this choice are almost as strong as concrete.
On the downside, some customers thought the velcro was too short. It would be nice if Skatewiz extended it.
Pros
Full-coverage cap design that protects the entire knees
Long-lasting knee pads with ABS and soft foams that absorb impact well
Has complete gear with elbow pads and wrist guards
A mesh bag for storage
CPSC, CE, and CP65 certified for durability assurance
Cons
The velcro might be too short
Overall, these are some of the most secure pads I have. They are made with sturdy materials and work at an optimum level.
10. TXJ Knee Pads
Coming with a heavy-duty EVA foam and curved PP shell, the TXJ Knee Pads are some of the top-tier skateboard pads I trust because of their capacity to buffer impact from a skateboard fall. These materials impose superior cushioning and shock absorption, thus effectively reducing possible damages to the rider.
These knee pads for adults have got perfect straps, I'd say. These straps are not just long and wide but are also soft and do not harm my skin. And most of all, they have upgraded velcro tapes that are long enough to secure the straps from loosening. It's like these velcros can cover the entire back of my knees.
I also find these knee pads light, not because they're small but because they're breathable. Each gear comes with a 600D Oxford fabric and sandwich sponge pad that keeps airflow steady towards and outside my knees. With these, I don't have to worry about sweating or feeling heavy wet pads on my knees.
Thanks to the overall design of these knee pads, I am able to move freely. The knee padding never restricts my motions, and it doesn't give me a hard time performing some tricks. And most of all, the design's easy to put on. So, I think these are some of the most convenient pads I have.
However, I received a pair different from the size I ordered. Nevertheless, the pads only had a slight difference, and the adjustable straps solved the issue.
Pros
Heavy-duty EVA foam and curved PP shell for superior impact protection
Soft adjustable straps with long upgraded velcro tapes
600D Oxford fabric and sponge pad that make the pads light and breathable
Convenient design that lets the rider move freely
With these, I think TXJ has a perfect balance of comfort and protection. This model's easy to put on, and falling off my skateboard with these pads feels smooth.
11. Dark Lightning Knee Pads
Featuring a full-sleeve design, the Dark Lightning Knee Pads are some of my most affordable skateboard pads because of their convenience. Their design comes with a soft, breathable fabric that stretches well. And unlike other brands, these slip up to my knees smoothly. They don't feel itchy, and they wrap around my knees snugly.
What makes these pads feel secure is that they come with elastic cuffs. The cuffs keep them in place whether I'm jumping, bending, or doing any movement on the skateboard. I also love the velcro tapes because they look wide. With these features, the pads remain at their original position from the start to the end of my rides.
These knee pads also have quality exterior caps. Each gear has a thick and wide PVE shell that offers superior resistance to impact. I also like its simple design that looks like an extension of my knees. Most of all, the tough plastic plates make Dark Lightning a go-to brand not only for skating but other extreme sports as well.
Other than a quality exterior body, these pads also have perfect components inside. They come with 10mm high-density foam that does not only feel thick but is also strong enough to absorb the impact I get from falling. Paired with the PVE shell, I think these two are a perfect combination for protection.
On the other hand, these knee pads are not as light as other brands I own. Nonetheless, I don't think it's much of a disadvantage as long as they protect me well.
Pros
Breathable and stretchable fabric that slides on and fits snugly
Does not irritate skin
Firm elastic cuffs with wide velcro tapes for a secure hold on the knees
Quality PVE caps for impact resistance to handle any extreme sport
10mm high-density foam for superior impact absorption
Cons
Does not feel as light as other pads
This Dark Lightning model feels like must-have knee pads for skating. It has durable layers of protection, and the design fits my knees with comfort and style.
What to Know Before Buying Skateboard Knee Pads
You might have asked yourself, at least once, whether you need a pair of knee pads for longboarding or not. For safety's sake, here are the things you have to consider when buying this protective skateboard gear.
Knee pad size
The most common aspect of worn skateboard accessories is their size, whether they're for your knees, elbows, or hands. Many users encounter issues with the pad sizes they get for two probable reasons: picking the inaccurate measurements, or receiving the wrong pair.
So, after deciding on the qualitative aspects of a knee pad, always seek its size chart. From there, you should start by measuring the size of the top and bottom portions of your knees. Next is to match the measurements you got to a specific range in the knee pad size chart.
With straps or not
There are knee pads that rely on elastic straps for securing their appropriate position. You don't want to use a pair of knee pads that fall down your shin seconds before you get on your skateboard. Therefore, you need to ensure that your pads' straps are long, wide, durable, and have locks. That way, you can be confident that the thick cap on your knees will protect your joints.
Another type of pad is the strapless one. This style looks like a pair of socks, but with open ends on both sides. It's the most convenient and quickest type of pad to use because it does not require latching the straps or mounting any velcro tape.
Cap material
There are different cap compositions for knee pads. They could be pure plastic, hybrid rubber, or a combination of both. PVC, PE, PP, and PVE are only a few quality materials used for knee pad caps. These materials offer enough resistance to impact and can reduce shocks from the ground.
Take note that the caps outside your knee pads are the first line of defense you have against injuries. As a result, you need to ensure that these components are thick and durable with a sufficient level of comfort.
Foaming
Wearing knee gear without something to buffer the impact from the cap to your knee's skin is like wearing nothing at all. That means cushioning on your knee pads is a vital factor. This aspect refers to the light layer of protection that gives your knees a plush feeling when you fall on your skateboard.
The best material for this will be EVA cup foam. This flexible foam is as soft as most premium foams around. But what makes it a perfect material for skateboarding pads is that it does not wear quickly. It's also resilient, and it has enough capacity to withstand compression.
Pad types
There are three different knee pad classifications available to each level of a skateboarder. For kids, there are toy pads that are not as durable as skate pads for adults. These options still have the standard cap and cushion, but they're not very good at protecting riders.
Another one is the vert pads. If there is knee gear designed for most skateboarders, it'll be vert pads. These skateboard pads for adults have thick foam and hard plastic outside. These components are visibly more durable than toy pads.
The last type is the street pads. These pads are for styling purposes and have a low level of protection. They do not have any plastic component in front but are better than riding with bare knees.
Are Knee Pads Good for Skating
If professional skateboarders still wear pads after mastering a thousand skills. These products are for your protection and safety. Moreover, there are already various manufacturers that make gear intended for extreme sports alone.
Generally, wearing knee pads when skating or doing any extreme sport has no downside. Not only will you get protection, but you also get to ride with confidence.
Do You Wear Knee Pads Over or Under Clothing
To wear pants or shorts when skateboarding is not much of an issue. But if we decide where to put on knee pads, it's always best to put them over our clothing. These things are our primary defense not only against impact but rough road surfaces as well. You are not to protect knee pads from scratches but to protect your clothes and knees.
How Do You Wear Knee Pads for Skateboarding
Here are a few steps to wear pads for skating.
Determine which side is up or down
Loosen the straps, if there are any
Slide one pad from your foot up to your knees
Position the shell to align with your knee cap
Wrap the straps around your knees, if there are any
Try moving around to assess possible adjustments
How to Measure Skateboard Knee Pads
Unlike shoes where you need to run a measuring tape across the body, skateboard knee pads have two vital measurement areas. Here are the steps.
Grab a soft tape measure
Measure the length of the bands at the top and bottom of the cap.
For full-sleeve knee pads, take the circumference of both ends.
Conclusion
The essence of being a skateboarder does not end in mastering all the skills and tricks that come with it. Furthermore, a skateboarder is not always in a safe position, given that different factors can affect his ride.
With that, it's a must to find the best skateboard knee pads for your safety. It does not make you less of a skilled skateboarder but more of a professional one. Keep the things I have shared with you to guide you to the right pair of knee pads.
Don't forget to leave your inquiries and start a conversation in the comments section.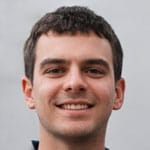 Hi, I am Charles Harris. I opened this site to write as much as I can about my biggest passion – skateboarding!
I started as a clumsy yet passionate rookie 10 years ago to now a still passionate yet much better skateboarder! But I have to tell you, the whole journey has always been fun and rewarding, indeed not without hardship.