Skateboarding requires specific pieces of equipment, training, and even appropriate clothing. And while various riders do not give much attention to their attire when skateboarding, only a few can claim how comfortable clothing makes their ride easier.
Do you also want to experience how your apparel will make things comfortable for you? Let's start by choosing the best skateboard pants. Below is a list of the salient factors we need to consider.
Cloth Material: Like your safety equipment, pants for skaters also come with various materials suitable for you. Here are a few of them.
Polyester – this cloth is durable, lightweight, and dries quickly, making it perfect outdoors.
Cotton – this material is one of the most comfortable clothing components and is a low-maintenance one.
Fit: Your pants have to be as flexible for your legs to move freely while doing tricks. In that case, skateboard pants come in three famous fits: the slim, relaxed, and classic fit.
Slim-fit pants are the tightest among the three. It makes the user feel long and lean. Relaxed pants, on the other hand, are a bit cooler. They also provide more space between the thighs and the cloth. Another type of skateboarding pants is the classic fit. This one has a fit somewhere in between the slim and relaxed fits.
Weight: The pants' material composition does not necessarily indicate its weight. And not everyone wants some baggy skater jeans. So, when choosing skate pants, consider fitting them and moving your legs. That way, you'll be able to gauge whether they're light or not.
There are more factors we need to consider when choosing the right pants for skateboarding. So, don't forget to check the buying guide for a thorough explanation of these. But before we get into them, here are the top brands for this skateboard clothing.
Top 1
Dickies Men's Pants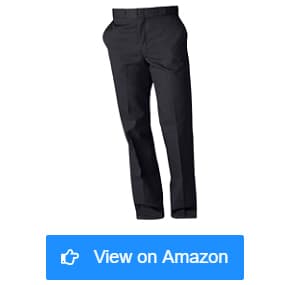 – Durable and wear-resistant
– Wrinkle-resistant feature
– Built-in stain release feature
Top 2
Volcom Men's Pants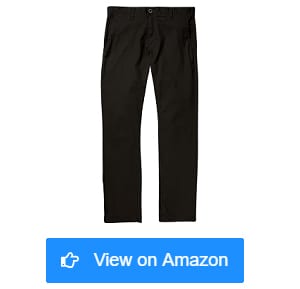 – Comfort and durability
– Wearing and taking off easy
– Ready to use and pre-laundered
Top 3
Southpole Men's Pants
– 6 colors available
– Uses 98% cotton
– Has a reasonable price
10 Best Pants for Skateboarding Reviews
1. Dickies Men's Original 874 Work Pants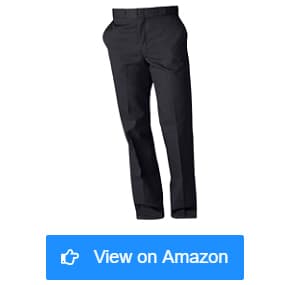 Known for its unique functionality, the Dickies Men's Original 874 Work Pants make our lives easier. These pants come with a hook-and-eye waist closure, distinctive belt loops, and a heavy-duty ratcheting brass zipper that locks firmly on the user's waist. With these, I feel confident about moving on my board.
Furthermore, this pant design offers a perfect balance of durability and easy care. Dickies for skating comes with a cotton and polyester combination, making it comfortable and wear-resistant. Plus, the cloth does not feel stiff, making it easy to wash.
I think another factor that makes the maintenance of these special pants seamless is its built-in stain release feature. That means it does not attract dirt as much as other fabrics do. So, it won't require extensive cleaning, which might only damage the pant's cloth.
One more benefit I got from Dickies 874 skate pants is their resistance to wrinkles. These pants are less likely to maintain crumpled areas. And for someone who loves to wear pants without fold marks, I enjoy using them. So, not only are these pants comfortable to use, but they're also pleasant-looking.
I love putting my hands or a few things inside my pockets, but not that much with these pants. They were a bit smaller than expected. Nevertheless, the rest of its parts are comfortable.
Pros
Convenient pant with brass zipper, belt loops, and hook-and-eye waist closure
Durable and wear-resistant cotton and polyester
Soft and easy-to-clean pant
Built-in stain release feature that keeps the cloth clean
Wrinkle-resistant feature making the pants look neat
Cons
The pockets were a bit small
I'm happy to wear these skateboard pants, as it features a perfect combination of class, comfort, and style. Plus, its unique maintenance features set it apart from other skate pants brands.
2. Volcom Men's Modern-Fit Stretch Chino Pants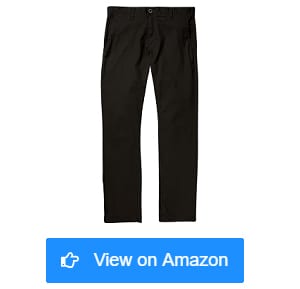 The first thing I love about the Volcom Men's Modern-Fit Stretch Chino Pants is its form. It comes with a modern fit design that tapers along my legs.
These pants are not the skinny type, but they make my thighs look slim. And for an average-sized guy like me, I think these pants make me look lean overall.
I also like these pants for skating's opening. Volcom pants have 16-inch hole cuts below that provide enough space for my feet to pass through. With these, wearing the pants does not seem too hard or hassle. Plus, it does not look too wide or disturbing to the shape of the pants.
Notably, this pair comes with a combination of cotton and polyester, making it comfortable. Not only that, but Volcom also has 2% Elastane twill that adds durability to it. All these three components make these pants stretchy, allowing me to move to a maximum.
I appreciate that Volcom sends their items pre-laundered. So, I got to use it immediately after receiving it. And with that, I am glad I didn't have to wash them or deal with some dirt from manufacturing.
It's not much of a disadvantage, but I would have loved to see the brand's logo somewhere else besides above the knee. I think a fabric marker can help solve this issue.
Pros
Modern-fit pants that make the wearer look lean
16-inch leg opening that makes wearing and taking off easy
Cotton, polyester, and elastane twill for comfort and durability
The pants feature enough stretch for skateboarding activities
Arrived ready to use and pre-laundered
Cons
Awkward brand logo placement
Of all the pants I have, this is one of the top brands. I get to wear it comfortably, and it does not counter my movements on the skateboard.
3. Southpole Men's Flex Stretch Basic Long Chino Pants
Searching for cool pants got me the Southpole Men's Flex Stretch Basic Long Chino Pants. These pants come with 98% cotton, which does not trap much heat versus other materials. The pair also has the right balance of softness and weight, making it comfortable for everyday use.
These pants are also stretchy, thus ideal for skateboarding activities. They come with 2% spandex, providing the right amount of stretch to them. That means Southpole is not only a light pant, but it's also a stretchable one. And with that, I get to move without being restricted by my pants.
I love the fit of these cotton pants as well. It comes with a straight cut, which I like because it slightly tapers above my knees. This feature also gives my thighs a snug fit but not a tight one.
One more aspect I like about this brand is it features various colors. It comes in black, olive, dark slate, new navy, caramel, and deep khaki skate pants. To me, all these colors are easy to pair. And I think I'd want to complete all these colors.
I think these pants are also affordable. They're not too pricey, nor are they cheap given their quality. I believe I paid enough for such comfortable and good skate pants.
On the downside, there were loose threads tossed out coming from the factory. Nonetheless, they were discarded ones and are not part of the pants' stitching. I only had to spend a few times cleaning them.
Pros
Uses 98% cotton that's light, cool, and comfortable
Contains 2% spandex that makes the pants stretchy for skateboarding
Has a straight cut that provides an ideal fit and taper
6 colors available: black, olive, dark slate, new navy, caramel & deep khaki
Has a reasonable price
Cons
Discarded threads needing cleaning after receiving
All in all, these are good skating pants for everyday wear, given their price, elasticity, and comfort.
4. Ruiatoo Men's Fashion Skateboard Pants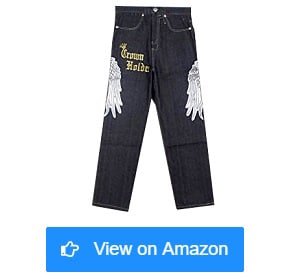 Coming with a looser fit, the Ruiatoo Men's Fashion Skateboard Pants are designed for almost any street activity.
Besides being skateboard pants, it also works for hip hop, sports, and even casual or daily wear. For someone who loves to engage outdoors, I find these jeans ideal.
With a 100% cotton body, not only does it feel light, but it also provides a comfortable flex. Plus, I also find this material durable. These features, combined, give the pants the right balance of comfort and sturdiness, especially for outdoor activities.
These pants are flexible in terms of usage and structure. Besides the soft and comfortable cotton material, its shape also makes it relaxing to wear. And with that, I don't feel bothered by my pants when riding my skateboard.
This brand has aesthetics as well. Apart from its denim finish, Ruiatoo also comes with embroidered designs. These designs come in snake embroidery, wing, skull, abstract, and a few more patterns. With these, I got plenty of options to check which one fits me best.
I wish the button was as durable as the cloth of these pants. It broke after a few uses. I replaced it with a new one to keep the pants functional.
Pros
Has a looser fit that works well with skateboarding and various activities
Made with 100% cotton that feels light, comfortable, and durable
Comes with a relaxing style that keeps the rider comfortable
Has different embroidered designs to enjoy
Overall, these denim pants keep a perfect balance of comfort and style. These are the skate pants men's wardrobes have in common. They look great, and they work as intended.
5. Dickies Men's Skinny Straight-Fit Work Pant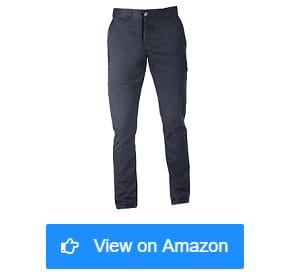 The first feature I like about the Dickies Men's Skinny Straight-Fit Work Pant is its resistance to wrinkling. It comes with a fusion of cotton and polyester that keeps the pants in good form. Not only that, but these components also make the pants feel fresh and light.
Besides their cotton and polyester fusion, Dickies skate pants come with one percent spandex. It's not a huge percentage, but it spells the difference. This material adds enough durability to the pants for almost any activity. So, with this component, I get to move well without damaging the pants.
Furthermore, these pants resist stains, thus ideal for playing sports. It does not trap much dirt, no matter how dusty or crowded my skating area is. Besides, it has a wrinkle resistance feature, so cleaning and maintaining its good look are a breeze.
I think this pair of pants also brings me convenience with a pocket on the leg. And for someone who brings anything to skateboarding, I find this feature beneficial. It lets me take any accessory or gadget with the confidence of securing them inside my pockets.
The only issue I found with these pants is they shrink when placed in a dryer. From there, I started to sun-dry these pants after washing them.
Pros
Comes in cotton and polyester fusion that makes the pants wrinkle-resistant
Has a one percent spandex component, making it more durable
Keeps a clean, stain-resistant look
Comes with an extra pocket on the side of the leg
Cons
Shrinks when placed in a dryer
Besides that, I am happy about having these pants. Like me, many skaters wear dickies because they're a snug fit, perfectly stretchy, and durable. And most of all, they're easy to maintain.
6. Match Men's Athletic-Fit Cargo Pants
If there's a good pair of pants I'd select for its sporty finish, it'll be the Match Men's Athletic-Fit Cargo Pants.
These cargo pants for skateboarding feature a straight leg cut, leaving enough space between the thighs and the pants' body. I like the pair because it does not feel like baggy skate jeans, nor does it look heavy.
The pockets of these military cargo pants are also an advantage to me. Besides having an ideal size, these pockets come with hardwearing, stitched seams. With these, I get to bring along keys and stuff and feel confident they won't wear down too quickly.
Aside from having durable pockets, these cargo skate pants also come with two more that sit at the outer side of each thigh. So, it could be an additional provision for a T-tool or any essential equipment I'll need when riding.
I love these pants because they're ideal for various activities and sports, including skateboarding. They also work well as casual attires, recreation and work pants, and for other activities. And with that, I think this brand is ideal for everyday use.
I also adore these pants' belt loops. The match comes with broad belt provisions, which hold the belt firmly. Also, these loops have durable stitchings, making them less prone to quick wearing.
However, we might have to replace the zippers after a while, as they get loose sooner than expected.
Pros
Sporty, straight-leg cut finish that doesn't feel baggy or heavy
Perfectly-sized pockets with hardwearing stitching
Comes with two more pockets at each side for tool provisions
Works as casual, recreation, sports, and outdoor pants
Wide belt loops with durable stitching
Cons
Requires zipper replacement after a short while
Overall, these are the most suitbale cargo pants for skating for me. The reinforced stitches make me feel more confident about the pants' durability.
7. Volcom Men's Frickin Modern Fit Stretch Chino Pant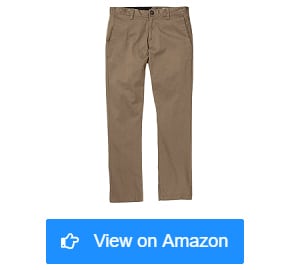 Featuring a 3-component body, the Volcom Men's Frickin Modern Fit Stretch Chino Pant ensures a perfect balance of coolness and stretchability. It comes with 59% cotton and 39% polyester that makes it feel comfortable. Plus, its 2% elastane gives the pants enough stretch and durability as well.
The next feature I love about Volcom is its modern fit. Its body tapers along my legs, giving them snug but not a tight fit. Also, it makes me look a bit lean. What's better is I still get to maximize my movements since its elastane component supports the pants' shape well.
I think the length of these pants is also standard. I bought a 32″ one of this brand, slightly worried about its range. But when I tried it, I was happy it reached just right before my ankles. Plus, it fits my waist without buckling or sticking out. So, it's a good distinctive fit for me overall.
Coming into the small details, I'm glad to see Volcom pays attention to them. It comes with a woven label at the right back pocket. Plus, the buttons on top of the zipper and left back pocket come with imprinted brand logos. With these, the pants look a bit more classy and stylish.
On the downside, I had a sizing issue with the three items ordered. Of the three colors I bought, only one of them arrived at the size I specified. A few users on Reddit also claimed the issue.
Pros
Comes with cotton and polyester for comfort
2% elastane stretchability, durability, and movement support
A modern fit that gives a full range of motion
Has a standard length and fits the waist without buckling out
Woven logo and printed buttons for a more classy finish
Cons
There might be a shipping issue: wrong sizes delivery
These pants fit me well, given I chose the right size for me. It has quality materials, and I'm happy it supports my movements well.
8. Carhartt Men's Washed Twill Dungaree Pant
With the Carhartt Men's Washed Twill Dungaree Pant, I can remain sitting for hours. This pair of pants features a relaxed fit on my thighs and butt, delivering good comfort for any activities.
These pants feature several versatile pockets where I can put some tools or personal things. Plus, on the side of the left leg is a hammer loop. I think these features do not only make up ideal skater pants but serviceable work pants as well.
These pants are lighter than they look. Made with 9.25 ounces of 100% cotton, I never knew the pair was that light, not until I tried it. Not only that, since the brand uses solely cotton, the temperature inside the pants doesn't get hot, adding more comfort to my end.
These Carhartt pants come with wide leg openings at the bottom, enough to give me an easy time wearing and taking them off. Plus, these openings are wide enough to fit over my boots. Most of all, these features do not make the pants look oversized despite the size of the holes.
I found one issue regarding the black variant's color. After a few wash cycles, its black finish started to fade, so we recommend hand-washing this specific item.
Pros
Relaxed fit on the thighs and butt for more comfort
Comes with versatile pockets for tools and a hammer loop
Lightweight and cool pants made with 9.25 ounces of 100% cotton
Wide leg openings that make wearing and taking off easy
Leg opening can fit over boots
Cons
Requires hand-wash the black pants as the color might fade
I like using Carhartt because it's light, like my Corduroy skate pants. Besides being comfortable, I am happy about bringing almost anything when going skateboarding.
9. Match Men's Athletic Fit Straight Leg Casual Pants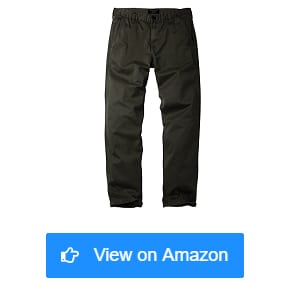 One of the things I love about the Match Men's Athletic Fit Straight Leg Casual Pants is its elastic waist sits just right below mine. This type of pants is nice to wear without tucking my shirt. The waist size is also perfect for me.
The next feature I like about this brand is its straight fit. It's not loose-fit pants, but it provides enough space between my legs and its cloth. It gives some room for my thighs and butt, providing me comfortable sitting. Plus, its straight opening makes wearing and taking off convenient.
These mens skate pants also have quality pockets. At the front are two slanted pockets. And from the back are another two double welt pockets. What I love about these pockets is they're deep enough. And through these pockets, I get to place anything I want inside with the confidence of not losing them.
I think these pants are affordable options as well. They're not the cheapest ones I have. But given their features, I am glad about spending enough on them. Also, they're imported, which, I think, is another factor that makes the brand reliable and of good quality.
However, the cloth of these pants attracts cat and dog fur faster than some of my pants. So, I needed to look for a lint remover every time I played with pets.
Pros
Sits just below the waist and holds on to it perfectly
Comes with a straight fit for comfortable sitting and wearing
Four deep, good quality pockets that secure things well
Imported affordable pants
Cons
The cloth attracts cat and dog hair more
I am happy about paying for these quality pants. They're comfortable, and I get to move well on my skateboard. Plus, the pockets serve me ample convenience every time.
10. Brixton Reserve Chino Pant
Designed with a classic straight fit, the Brixton Reserve Chino Pants give every skateboarder utmost comfort.
These pants fit firmly all over my thighs while giving my legs enough space. I love using them because they're light, and I can pair them with a casual shirt.
Brixton also comes with an ideal combination of style and simplicity. The brand uses a tonal stitching method that keeps sewn parts at a solid color. I think this feature is one of the factors that makes these pants more classic and pleasant to the eyes.
Many wearers love these pants' back welt pockets. For someone who brings many things everywhere, I find this part beneficial. On top of that, I like its welted design that keeps the pants simple and casual.
Another pocket-related feature I love about this brand is its interior phone space, where I can also put other handy, valuable items besides my smartphone.
One more aspect I love about this brand is it allows machine washing for maintenance. This feature gives me the convenience and time efficiency of not washing the pants with my bare hands.
However, I find the button a bit wide. Sometimes, it takes me a while to fasten it and otherwise. I'm also conscious about widening the hole for it.
Pros
Classic straight cut that gives a light and firm fit
Uses tonal stitching that keeps the pants' solid color
Back welt pockets retaining the pants' simple design
Comes with an interior pocket for smartphones and other valuable items
Allows machine washing for easy maintenance
Overall, this is one of my favorite pants for its simplicity. Not only do they keep me relaxed and comfortable, but I also love how they make my life a bit more convenient.
What to Look for When Buying Skateboard Pants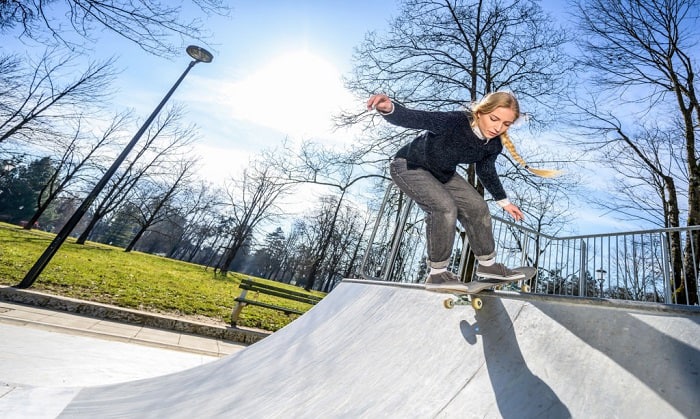 Like choosing your outfit for your friend's party, riding a skateboard also needs appropriate clothing. Here are a few things we need to consider when selecting good pants for skating.
Fit
The first thing people will look for from a good pair of pants is their fit. Given that skateboarders come in various body types, there's no way a single shape will suit everyone. Common to all skateboarders are the relaxed fit, slim or skinny, and the classic fit. All these three have different levels of tightness and shape. Consider wearing them to see what looks best for you.
Material
Cotton is a famous material among pants, in general. For skateboarding, pants come in 100% cotton saturation or somewhere around 59%. This material helps maintain the temperature inside the pants, giving the user added comfort.
Another pants material you can look for is polyester. This material is vital in increasing the pants' durability. It's also lightweight and ideal for outdoor activities.
And while some riders also look for stretchable pants, you may also consider checking those made with elastane. This material holds tension on the pants' threads during the rider's extension of legs or other movements.
Weight
If you want smooth-sailing skateboard rides, you might as well consider using lightweight pants as heavier pants may limit your movement. Most light but quality pants weigh around 9 ounces, never too much for any skateboarder. Also, try not to choose baggy skate pants as loose cloth can only add weight to you and become a challenge for your balance.
Durability
Stitching is a vital aspect of a pants' life. It helps hold the parts of the pants after repeated stretches on the fabric. Some pants come in triple stitches, while others only apply double stitching.
Another feature affiliated with the pants' durability is its set of metal rivets. These pieces of alloy also help in making pants durable by holding the parts firmly.
Zippers also come in heavy-duty versions. Zippers in this class can withstand everyday use, dirt, and grime.
Maintenance
Like your skateboard, your skating apparel also needs cleaning. With that, check from the pants' wash tags the cleaning guide left by the manufacturer. Some pants fit in the washing machine and dryer, while others require hand washing and sun-drying. So, be sure to consider this aspect if you don't want to damage your pants too quickly.
If you need convenience, different brands manufacture stain-resistant pants. Having these means saving yourself time and effort removing hard-to-clean dirt. So, you might as well check on this.
There are a few more little aspects you need to check with good pants for skateboarding. These include pockets, buttons, belt loops, drawstring ankle ties, and other functionality features.
What Pants Should I Wear When Skateboarding
There is no distinct type of pants standardized for all skateboarders. Like the pants' fit, the kind of pants to skate in should depend on your body type and preference.
The most comfortable and one of the most common types among skateboarders is work pants. This type commonly has a straight cut, giving the rider a relaxed and full spectrum of movements.
How Do You Cuff Pants Like a Pro Skater
Not all skaters wear baggy pants at the bottom. Let me teach you how to cuff your baggy skater pants.
Grab the side seam from the leg opening
Fold it to the back at a width enough to make your pants taper your legs.
Roll the bottom seams upward at around an inch
Fold it again upwards and flatten each fold to make them look neat
Keep folding up until you achieve your desired length
If you bought lengthy but already tapered pants, there's no need to do the first two steps.
Conclusion
There are plenty of ways to make you look and feel great when skateboarding. Owning a quality skateboard is one, and wearing the appropriate clothing for the sport is another. It makes you comfortable, secure, and free to move.
In addition, the great experience of skateboarding is that you are always safe with good protective gear. Don't miss our favorite items through articles such as the trusted skateboard gloves and the top-rated skateboard knee pads.
Now that you know the best skateboard pants, you're a step closer to achieving the skateboarder look you've always wanted. Remember the tips I have shared with you, and you'll land on the best one for you.
If you have questions, don't forget to leave them in the comments section.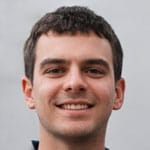 Hi, I am Charles Harris. I opened this site to write as much as I can about my biggest passion – skateboarding!
I started as a clumsy yet passionate rookie 10 years ago to now a still passionate yet much better skateboarder! But I have to tell you, the whole journey has always been fun and rewarding, indeed not without hardship.