Losing your momentum with the dreaded wheel bite—that sudden stop that can cause an awful wipeout for you and unnecessary damage to your precious skateboard? The good news is, wheel bites can be avoided with the use of skateboard riser pads.
Skateboard riser pads, or risers, are small inserts made from hard plastic or rubber that fit between the skateboard trucks and skateboard deck. They give you an extra clearance between the wheels and the deck to help prevent wheel bites when leaning into turns or pivoting with loose trucks. Skateboarding risers also function as skateboard shock pads as they help absorb the impact of landing tricks. They give your tricks a greater pop!
So, whether you're a newbie or a pro with lots of tricks under your belt, best skateboard risers are an absolute must-have! Check out my skateboard risers pros and cons reviews and level up your ride with the skateboard riser pads.
Top 1
Bones Skateboard Riser Pads
– Dampen road noise
– Prevent wheels from biting
– Durable hardware
Top 2
VJ Skateboard Riser Pads
– Easy installation
– High-quality rubber
– Precision-cut riser pads
Top 3
vanpro Skateboard Risers
– Prevents wheel bites
– Top grade skateboard riser
– Easy to insert and set up
Best Skateboard Riser Reviews
1. Bones Skateboard Riser Pads
I found it pretty hard to navigate through my skateboard especially that wheel bites are so troublesome until I learned that I needed some help from skateboard risers. I instantly felt the difference upon trying Bones and it did the trick—this skateboard riser pad has totally prevented the wheels from biting.
I had tested it out even with sharp turns and it pretty much appears to be seamless. It dampens a great amount of vibration and also serves as a great shock absorber. Size specification is also ideal for just a little boost. I'm happy about the product, although there might be a little discrepancy with the details shown in the description and the photo displayed, based on my experience.
It can be a little confusing but it did not cause much harm. It was easily resolved with their responsive customer support, but I hope they would fix it because it is not cool when the product described is not shown to be true when the actual product is received.
Good thing is that their customer support is easy to talk to, so just be aware of details as such when you shop.
Pros
Guaranteed to prevent wheels from biting
Tried and tested to dampen road noise
Durable hardware; strong and sturdy and does not loosen
Risers could be stacked depending on the user's desired set-up
Cons
Size specification is ideal for just a little boost
Inconsistency of product details shown; it did not match the actual product
I find lesser damage on my board as it has provided more room for my wheels to stop hitting the deck, especially on hard turns. It has a nice absorption to it and it made my ride feel less bumpy as well. I'm pretty satisfied with my purchase and I would get another one as needed.
2. VJ Skateboard Riser Pads
Do you know how much a wheel bite can disrupt your momentum? Ugh, I do! Losing balance and falling off, plus the damage to the wheels are just annoying. That's why this top rated skateboard hardware is a must-have. Unlike my last set of skateboard risers which were unsatisfactory as I still felt rattled with bad bumps, the VJ Longboard Skateboard Riser Pads have helped me prevent wheel bites and made my ride smoother.
Precision is remarkable—nice fit and form. They've pretty much served their function. The extra clearance provides more leverage on the trucks. The steering is more responsive. I can make hard turns without wheel bites. I can feel fewer vibrations and shock on the deck. These risers give my tricks a nicer pop!
I like the fact that the quality of the rubber as the shock absorption is quite good. They also hold the screws firmly to the trucks, which made installation easy too. So far, I haven't adjusted any screws yet–something helpful for someone who's always on a roll.
They come in sets of two. There are different sizes available, and a choice between standard shock pads and angle wedge riser pads, so you conveniently pick which one suits your board. I've tried the thickest size (14mm), which adds a lot of load to the board so if you'll get this, make sure to break it in until you're fully adjusted to the weight. They come in black, which is practically a universal color.
Pros
Precision-cut riser pads; nice fit and form
Made of high-quality rubber for that good shock absorption
Easy installation; hold the screw very firmly
Multiple sizes to choose from
Great buy given the quality and price
Cons
The thickest size (14mm) adds a lot of load to your board
Overall, considering the quality and price, this set is a great deal. I love how my rides are a lot smoother now!
3. vanpro Skateboard Risers
I struggled a great deal with wheel bites. Throughout the years of skateboarding, I've experimented with quite a few skateboarding risers, until my homies recommended the vanpro Rubber Skateboard Risers. I immediately felt the difference in riding with it.
My ride almost felt effortless. Its promise of preventing wheel bite and absorbing impact shock proves to be true. It has provided enough drop-through risers, and reduced road noise and vibrations. Compared to the other risers I've tried in the past, I've noticed that these shock pads skateboards contributed greatly to smoothing out the ride because of their rubber material. It has noticeably provided me more steering stability on my board and has allowed for good handling even on worn-out roads with lots of cracks and bumps.
Switching to these pads has been one of my amazing experiences. I no longer worry about wheel bites. It has allowed me to be bolder in doing skateboard tricks and I honestly feel more safe cruising on my board and exploring different tricks. There's the usual extra weight but eventually gets manageable.
I've had these skateboard risers for a few years now, still in great condition and it did truly extend the hardware life of my board. I have proven its durability with my board, so the product is worth it and has great value for money. Just make sure to check the product description before purchasing as it was a bit unclear; I almost picked the wrong size.
Pros
Top grade skateboard riser
Natural rubber dampens down road noise and vibrations
Easy to insert and set up between your skateboard trucks
Prevents wheel bites, stress cracks, and damages to your board
Gives the right space and height between the deck and wheels
Cons
Extra weight is noticeable but manageable
Product description initially lacked details
You can try any skateboard riser out in the market as I did, but the quality of these skateboard risers is significantly felt in how it has smoothened out my ride and resolved wheel bites.
4. Independent Genuine Parts Risers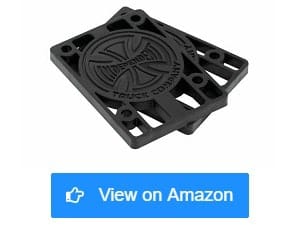 I never thought risers would significantly improve my rides. It was my skater friend who introduced it to me. He explained what a riser does and how it creates the right space between my skateboard deck and wheels. He let me try his first, with this brand of risers. It was pretty amazing that every time I maneuvered my skateboard or popped in the air and landed on the ground, my wheels wouldn't hit the board. It kept my momentum going that time!
Indy's quite a popular brand and you definitely won't go wrong with it. This Independent Genuine Parts Risers Set is made from hard plastic pads that can be inserted between the skateboard trucks and skateboard deck. I find the plastic really hard and of good quality; although some say that rubbers are better than plastic as the latter could become brittle over time (I have not tried rubbers though). Anyway, the extra height it provides adequately raises the skateboard.
I find that this size, ⅛ risers, perfectly fits with 1 ¼ inch of hardware on any truck. I'll also try ½ risers for my other ride. Installation was a breeze so as soon as I installed them, I excitedly hit the road and boy did it change the game! No more wheel bites, finally. These risers absorb the shock pretty well too and I can feel how much my rides have become smoother.
I ordered on a business day and I got it quickly. The order was correct and the packaging came neatly. I definitely recommend this brand. I wish it's something I discovered early on.
Pros
Trusted brand
Made of good quality hard plastic
Easy installation, the ⅛ risers fits with 1 ¼ inches hardware on any trucks
Provides adequate clearance between deck and wheels
Delivery was quick and packaging was neat
Cons
Plastic could become brittle over time
If you're looking for a trusted brand with reliable products, go for Indy. This set did not disappoint.
5. VJ Longboard Riser Pads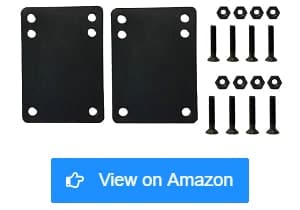 My wheels used to be too big and my board did not have wheel well cutouts. Not to mention I also ran loose trucks. As such, my skateboard wheels kept rubbing against my skateboard deck which then resulted in abrupt and unwanted stops whenever I turned especially during intense rides.
Wheel bites are nasty. I thought they are part of the game which I just had to deal with but thankfully, someone at the local park who seemed to be a pro at skateboarding then recommended that I install risers. I did my research right then and there on the best skateboard riser pads and found this set which came in handy as it already included hardware.
The VJ Longboard Riser Pads made my ride smoother even on bumpy roads. They did the job of preventing wheel bites and provided overall cushioning with its soft, nice rubber. Carving is now a taboo. Clearance is sufficient. They fit my setup well. I just hope they come up with a variety of colors to give my skateboard a touch of style.
I like that they come in a set, with the necessary hardware so I did not have to find and purchase them separately. The price is decent too considering that it already came as a set. Shipped very fast as well, with no issues.
Pros
Prevents wheel bites and provides overall cushioning
Clearance is adequate
Comes in a bundle, with necessary hardware
Fast shipping
Cons
Not too shabby as they just come in one color
If you want to prevent the dreaded wheel bites, risers are definitely a must-have. These also reduced stress cracking and increased the life of my skateboard. This bundle is a good choice as it comes with both riser pads and hardware.
6. Sector 9 Regular Risers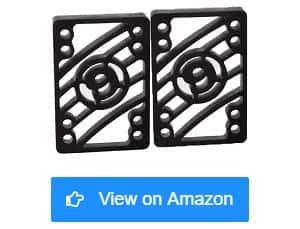 I am very happy I found these. They are very reliable riser pads skateboards that come in half-inch sizes that fit perfectly; each box including a set of two risers. I trust the Sector 9 Regular Risers because it has withstood high impact forces of skateboarding landings and has totally kept me from the wheel bites.
I love that it is made out of recycled plastic and how it is produced to be very durable for such high-intensity bustles on my skateboard. It provides the perfect size, giving proper clearance in the drop through the riser. It is definitely worth the buy. However, I found it has limited availability that makes it quite hard to find.
I found no trouble installing these 1/2 riser pads. It works precisely as advertised, and includes a variety of different types of trucks. These riser pads seemingly gave my skateboard a swag upgrade and super fancy kick. Functions perfectly and has a neat design to add to it. It keeps the board off of the harsh asphalt and maneuvers almost flawlessly over cracks.
It fits standard and old school truck mounts, so you can certainly give this a try. It is a great product that made for a smoother ride for me—it distinctly dampened the vibration. I highly recommend this.
Pros
Highly durable hard plastic material made for high-impact rides
Provides proper clearance; recommended ½ riser pads
Includes a single set of (2) risers in the box
Extinguished wheel bites entirely
Smooth ride, damped vibrations
Getting your hands on these babies will solve your skateboarding troubles. It will give your skateboard trucks the lift it needs. Just make sure to get your orders in before stocks run out.
7. Independent Skateboard Risers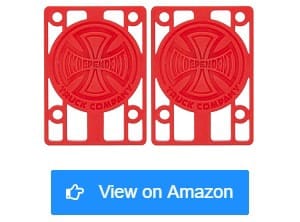 For a time, I started to get really bothered by the terror of experiencing wheel bites. My wheels just couldn't stop hitting my deck. It was a pain in the neck and it has already caused me numerous incidents in riding my skateboard. Installing these Independent Trucks made all the difference. I'm glad I purchased this product!
It is easy to install their skateboard risers between my trucks and deck. I found it to be just the right lift between my wheels and deck and I have entirely waved goodbye to wheel bites! This could easily be the best skateboard hardware for me.
Though the 1/8" size may seem to make little to no difference at first, the results are actually tremendous. So, if you are doubting to get these risers (like I did) because of the size, I can guarantee you through my own experience that it makes for an excellent drop through the riser. Apparently, a little boost goes a long way. Skateboards with bigger wheels might need to make some more adjustments due to these risers minimal size; ½ risers seem more suitable for bigger wheels.
It resulted in smoother and safer rides, with fewer bumps and vibrations. It's like that great feeling of driving a new car! It got rid of the wheel bites and the hardware does not loosen no matter the force and impact of my skateboard tricks. It is proven to be nice and sturdy. It is a terrific product and I highly recommend this hardware to all skateboarders out there.
Pros
High-quality riser pads with reliable sizing to increase space
Easy insert installation
Reliable hardware; nice, sturdy, and does not loosen
Excellent drop through riser with only 1/8" clearance
Great design and function; attractive and serves its purpose
Cons
Skateboards with bigger wheels might need to make some more adjustments due to these risers minimal size
If you're looking into getting the right lift with the help of skateboard risers, these ones are dependable and standard, so it will surely get the job done for you.
8. BESIY Skateboard Riser Pads
When I was a newbie, I fell off numerous times because of wheel bites. The harder the tricks I tried, the harder the fall was. It was disheartening.
I was desperate so I searched for a fix and tried the BESIY Skateboard Riser Pads. I have heard about it and some of my friends have already been using it, so I decided that it was about time to buy one and install it on my skateboard and hope that it would fix the problem, especially with wheel bites. I immediately felt the difference! All the tricks I had been practicing then seemed so doable.
It seems that its soft rubber construction absorbs the shock and impact and all the harsh abrasions the skateboard goes through in a ride. All in all, it is reliable and durable: It keeps the hardware tight and sturdy–avoiding them from awkwardly vibrating loose.
I don't struggle anymore with wheel bites. The drop-through riser makes a good clearance between my deck, trucks, and wheels, so the wheels don't scratch the board anymore on hard turns and impactful landings. It gives the option of a 3mm (for a slight rise) or 6mm (for a higher rise), ideal for professional skateboarders' personal preference. Its top-grade quality shock absorption makes for top quality high performance as well. I am happy with it.
When buying, just make sure to double-check what is included in your purchase as it can be a little confusing. I encountered a slight problem because it was different from the photo shown on the page, but the team was quick to respond and the issue was easily resolved.
Pros
Soft, abrasion-proof rubber construction absorbs shock and impact well
Provides cushioned ride for optimum performance
Different size options; easy and quick installation
Cons
There was a little confusion on the number of risers included
Regardless, the product is satisfactory. It is easy to install and you can instantly enjoy riding with ease. I can now do sharp turns without getting wheel bites whatsoever. If you are looking for the best skateboard riser pads, I highly recommend this. They promise a 100% satisfaction guarantee (or your money back).
9. Cal 7 Skateboard Riser Pads
Skateboarding ain't no fun without tricks. The adrenaline I get whenever I learn different exhibitions and finally perfect them is just beyond limits. One thing that pisses me off though is wheel bites. This dreaded bite happens every time my wheel comes into contact with the deck during a maneuver, which of course stops my forward movement. And yes, I lost count on how many times I lost balance and fell off my board.
The good thing is, wheel bites can actually be avoided. Adding skateboard riser pads has become a tremendous solution to wheel bites. They're like heaven-sent to skateboarders like me who love to do tricks. The added space between the skateboard wheels and skateboard deck has significantly reduced the chance of contact between the two. I also made sure to tighten the kingpin nut so that the amount of movement of the trucks will be restricted.
I like adding personality to my skateboard, something to match mine. I picked Cal 7 Skateboard Risers because its hardware comes in a variety of colors. Most of the riser pads and hardware out in the market are just in black which I find blah so when I saw this set, I immediately copped it. This bundle includes two risers, screws, and companion nuts. Pretty convenient as I did not have to purchase a set of hardware separately; however, the hardware was missed in the first delivery but they were able to send it asap.
Pros
Gave the extra clearance needed for smoother rides and tricks
Solid steel hardware provides reliability and pop of style
Durable materials
Comes with hardware already
Cons
Hardware was not included in the first delivery
Overall, I am happy with this bundle. They served their purpose well of preventing wheel bites and adding a pop of style to my skateboard.
10. YS Sport Skateboard Riser Pads
I was greatly challenged by the disruptive effects of wheel bites in my skateboard rides. It has affected my performance negatively and I was very upset by it. Installing skateboard riser pads finally turned my situation around and immediately helped with the wheel bites.
I'm very happy with YS Sport—it brought huge improvements to my ride. It fits my deck and trucks perfectly and gave me excellent results. Their riser pads are sturdy and reliable, it stays intact even after a long ride. I highly recommend these skateboarding risers, they have the best skateboard hardware and have brought a terrific impact on my performance with fewer road vibrations and great shock absorbers.
The dual bolt holes gave me the liberty of different sizing options that I need for my skateboard trucks. Its durable soft rubber feature is abrasion-proof and has provided enough protection to my deck from any further damages caused by the harsh impacts especially when I perform tricks.
It has great shock pads with its soft construction which has significantly contributed to absorbing impacts from my drops and tricks on stairs and rails. This is a perfect option when you perform a lot of tricks!
It's a good fit for my board; snug, tight, and does not loosen. A great choice if you're looking for the best drop through the riser. Already comes in four (4) pieces so you have another pair to spare.
Unfortunately, I'm not too fond of the fact that the item is currently unavailable and there is no guarantee about its availability. It's difficult for me to search for another one if I want to give it to someone.
Pros
Designed with dual bolt holes for different sizing options
Great shock pads for absorbing impact from high-intensity drops
Prevents wheel bites and gives fewer road vibrations
Abrasion-proof soft rubber for added durability
It already comes in 4 pieces for an extra pair to spare
Cons
Item is currently unavailable
This riser pad is perfect for skateboards and longboards alike and can accommodate old school and new school with its great dual-bolt feature. Great buy, I'm a satisfied customer.
11. MCB Shock Pad Risers
I have a bad knee and these shock pad risers helped a lot by reducing a great amount of impact during my rides, even without adding any other hardware but these. It has made me ride my skateboard a lot better and I am just really happy, considering that I had almost entirely given up riding.
These are great shock pads. They certainly absorb high impact tricks straight down the pavement and asphalt which can be really harsh on the board and its hardware. I can say that MCB shock pads are way stronger than the other brands I have used.
It also gives the right drop through riser between my skateboard trucks and deck; enough lift to keep me away from the wheel bites. It has greatly contributed to an even cruising where I now enjoy a soft and smooth ride where I can just chill out.
Durable hardware and great material used—its soft construction absorbs the impact which gave me a safer riding experience, while on the other hand, the shock pad was very easy to put in with its dual bolt holes.
It's the best hardware for my skateboard, although I have noticed that it tends to become a little greasy here and there which eventually causes my bolts to unfasten bit by bit.
Just one drawback is that once the hardware started having this greasiness to it, there was a bit of a hassle.
Pros
Safer riding experience; soft construction are excellent shock absorbers
Keeps the wheel bites away; provides enough gap between the trucks and deck
Dual bolt holes make it easy to attach to any skateboard trucks
Smoother and softer ride
Cons
A bit of a hassle with the greasiness
Overall, I'm very satisfied with it. I just make a little effort addressing the greasy situation using cleaners with solvent or degreasers. It still serves its purpose and proves to be very durable. I'll buy more of them.
12. Lucky Graphic Riser Pads
I purchased the clear one for my board from its variety of colors. It fits my skateboard trucks well and functions great. These are some fancy skateboard riser pads with great design to match my skateboard.
It was quite easy for me to install because it had these unique elongated mounting slots, different from other riser pads I know. You just have to adjust accordingly until they are aligned with your trucks—to be secured in place with your bolts. It provides so much flexibility and versatility for other truck designs, be it old school or new school; it is a great and well-thought-of product. Kudos to everyone behind Lucky.
I experience no more wheel bites with this one. Its 1/8" drop through riser gives the perfect lift for me, and the rubber material absorbs much of the impact. I now enjoy smoother rides as it has radically minimized vibrations. No loose hardware as well; has proven durability that will last me long. I trust Lucky Graphic with my skateboarding needs, plus its dope design is a win for me.
It may seem like it does not fit perfectly at first, but it just needs to be adjusted accordingly until it fits perfectly in place.
Pros
Innovative mounting slots by Lucky to accommodate new school or old school trucks
Guarantees to help prevent wheel bites and pressure cracks
Durable hardware material made out of rubber
Absorbs impact and minimizes vibrations
Multiple colors to choose from
Cons
Needs to be adjusted to fit accordingly
It's always great to see improvements and innovations, and I'm happy that Lucky always proves to take it a notch higher; an ever-reliable brand for the best skateboard hardware out there.
What to Look for When Buying Skateboard Risers
As a rule of thumb, if you've got a larger diameter or softer durometer, or if you ride looser trucks, getting skateboard riser pads is a good idea to prevent wheel bites. It's a must-have actually.
Skateboard risers come in different sizes, the most common are ⅛", ¼" and ½" risers. Needless to say, the bigger the riser is, the larger the distance between the wheel and the deck is. Thus, it is important to choose the most suitable size for your board. Don't forget to get the appropriate size of the mounting bolts for your riser too.
Some risers have slots so that it can move back and forth under the truck base plate when installing. The purpose of this is to allow buffers in hole positions between different brands of trucks. Some risers have fixed four or six hold patterns, which are generally suitable for most popular brands.
In general, when choosing the right skateboard riser for your board, you should consider how you set it up and how you ride.
We also have a list of the skateboard stickers for your reference. Furthermore, take a look at our top rated skateboard ramps if you like.
Other Important Factors to Consider
As with anything, it is smart to consider the material used as well. Some riser pads are made of hard plastic, which some say become quite brittle over time; while others are made of rubber, which seem to be more durable.
While it isn't too visible anyway, it's quite cool to choose a pattern or color that you like. Pick something that suits you and your skateboard's personality. Most come in black, which is a universal color but some brands offer a variety of colors and designs.
What is a skateboard riser? How does it work?
Whether you are a newbie or a pro at skateboarding, skateboard riser pads can help improve your ride as they help avoid wheel bites, which happen when the wheel rubs the deck during a sharp maneuver and when doing exhibitions. Wheel bite causes sudden stops to the wheel. This abrupt stop can cause an awful fall for you and unwanted damage to your skateboard. The good thing is, the dreaded wheel bites can be avoided with the use of skateboard risers.
Skateboard risers provide an additional height when mounted between the skateboard trucks and skateboard deck. They essentially offer taller trucks. They can also provide cushioning and absorb shock, which leads to smoother rides. They can even lengthen the life of your well-loved skateboard by lowering the risk for stress cracks where the deck and the trucks connect.
A riser is flat and is commonly made of hard plastic or rubber that is installed between the skateboard truck and the skateboard deck. It comes in a variety of colors (black being the most common), designs, and thickness levels.
Why do you need skateboard riser pads? How do you know if you absolutely need a riser pad?
While a riser pad is deemed a must-have for many skateboarders if your skateboard deck has wheels smaller than 55mm, then you may opt not to have one; but a ⅛ riser pad can help improve your ride and keep the hardware from vibrating loose.
If you've got larger wheels that are more prone to wheel bites, then you need additional clearance so a riser pad is necessary.
What are the different types of skateboard risers?
Skateboard risers come in rectangular and angled/wedged.
Rectangular riser pads are the most basic and common shape for skateboard riser pads. This particular shape increases the level of the deck and decreases the shock. You must note though that the additional height could also limit your maneuvers. This shape is suitable for both skateboarders and longboarders but if you have larger longboard wheels, a thicker riser pad is more appropriate.
Wedge/Angled riser pads look like a door stopper. This type does not only raise your trucks but also mounts them at an angle from your deck. You can fix them in such a way that they are angled away from or towards the center. They change the turning characteristics of a truck, based on which direction they are installed.
Both shapes are available in drop-thru style. As many skateboarders like to add a pop of style to their boards, manufacturers have become more creative over the years by also offering interesting design cutouts on their riser pads, which also decreases the overall weight of the skateboard. Talk about functionality and style!
What size of hardware do you need for your riser pads?
Most skateboard riser pads come in sets of two, and some are already bundled with appropriate hardware. If your set does not come with hardware, here's a guide on choosing the suitable skateboard hardware size:
No riser – 7/8″ to 1″ hardware
⅛" riser – 1″ to 1 1/8″ hardware
¼" riser – 1 1/4″ hardware
½" riser – 1 1/2″ hardware
Frequently Asked Questions
What are the most trusted skateboard riser brands?
Among the most trusted and highly recommended skateboard riser brands are:
Independent
VJ
BESIY
Vanpro
Cal 7
Lucky
YS Sport
MCB
Bones Wheels
Can you stack skateboard risers?
Yes, but you will need longer bolts if you want to stack up risers for extra big diameter wheels.
Do riser pads make a difference?
Yes. Skateboard riser pads are highly recommended in preventing wheel bites. They are more intended for larger wheels (55mm up) as these are more prone to wheel bites. If you do have smaller wheels though, they are not as necessary but the ⅛" shock pads can definitely help lessen vibration and stress cracks to your board.
Risers give extra clearance between the skateboard trucks and skateboard deck. They can also provide cushioning and absorb shock for smoother rides. They can even prolong the life of your precious skateboard by reducing stress cracks.
Do pro skateboarders use riser pads?
Both newbies and pro skateboarders benefit from using riser pads, especially if wheel bite is a particular concern. The main consideration of whether or not to use riser pads is actually the size of the wheels. As a basic rule, risers are necessary for larger wheels (55mm up) as these are more prone to wheel bites.
Do risers help you ollie higher?
Not really. Risers are specifically intended to help prevent wheel bites and absorb the impact of landing tricks. They do not provide significant help in making your ollies higher.
Where can I buy them?
There are quite many reputable skateboard shops that sell risers, among which are:
Warehouse Skateboards
Skate Warehouse
Tactics
SoCal
Amazon
Conclusion
Installing best skateboard risers can make a huge difference in skateboarding by significantly reducing, if not eliminating, wheel bites. They give a perfect offset between the deck and the ground as the truck is raised higher off the deck. Tricks can become more doable as the wheels do not hit the board with sharp turns and maneuvers. They also provide good shock absorption especially in landing tricks and bumpy roads.
Risers are undoubtedly game changers – you just need to pick the one which best suits your board and your skateboarding style.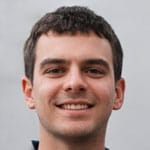 Hi, I am Charles Harris. I opened this site to write as much as I can about my biggest passion – skateboarding!
I started as a clumsy yet passionate rookie 10 years ago to now a still passionate yet much better skateboarder! But I have to tell you, the whole journey has always been fun and rewarding, indeed not without hardship.