Whether you're a newbie or a certified skateboarding aficionado, slapping on skateboard stickers is a sure-fire way to customize your board and show off your style. For enthusiasts who love living on the edge and making a statement, skateboarding decals are absolute must-haves!
If you're eagerly looking to transform your ride, see how you can turn it into your very own mobile canvas with the best skateboard stickers in my unadulterated review. I must warn you though, these are guaranteed to leave you wanting more!
Top 1
CHNLML Skateboard Stickers
– Sun-proof and fade-resistant
– Bigger sizes for wider coverage
– The waterproof coating on these stickers
Top 2
Nertpow Cool Brand Skateboard Stickers
– 100 stickers with no repeats
– Stays put when applied
– Each sticker is thick and sturdy
Top 3
OtRainbow Skateboard Stickers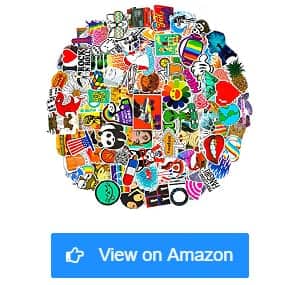 – Superb color and printing quality
– Extremely waterproof & sunproof
– Made of PVC Vinyl for durability
Best Skateboard Sticker Reviews
1. CHNLML Random Skateboard Stickers
I just discovered one of the best random skateboard sticker packs out there and I'm stoked!
Suppose you're a big fan of mystery boxes and surprises. In that case, you can expect to receive an assortment of 105 skateboard decals randomly chosen for you in a variety of styles and logos without duplicates. Best of all, there are over 1,500 cool skateboard sticker designs available, so every order varies.
The stickers are made of high-quality PVC and are especially ideal for skateboards since they are both sun and waterproof. This means you can take your board out for a spin without worrying about the risk of damaging the decals you applied.
The sticker sizes are anywhere within 6-10cm, which means better coverage for bigger and wider deck spaces you want to customize. I am amazed at how I was able to design my ride effortlessly at a fraction of the usual costs involved.
Applying these skateboard stickers is a great alternative to painting, it's amazing that they're fade-resistant too! I found it easy to attach and reattach these stickers, so I was able to complete my project in no time. The adhesion of these stickers are on point, thus lasting well even when subjected to harsh weather conditions.
If you have a specific theme in mind for personalizing your skateboard, you might have to give this sticker pack a pass because it does come with a broad assortment of brand logos and designs you may not find useful. Otherwise, you do get great value for your money given its stellar quality, sizing, and durability.
Pros
Each sticker is made of high-quality PVC
The waterproof coating on these stickers make them ideal for outdoor use
The stickers are sun-proof and fade-resistant for added protection and longevity
Comes in bigger sizes for wider coverage
This pack is cost-efficient given the number of stickers you will get
Cons
The stickers are randomly selected so there's no option to choose what you like
Dressing up your glide and making it uniquely yours has never been easier with the stickers from this pack. Get one or more, grab your board, and make it stand out in a snap!
2. Nertpow Cool Brand Skateboard Stickers
Staying stoked on all things skate? Make sure to get your hands on the awesome skateboard stickers from this pack. Expect a colorful selection of 100 stickers with unrepeated messages and images. The only limit to what you can do with the stickers from this collection is your imagination!
The size range is fair enough at 3 to 4 inches per sticker, making it possible for you to arrange and layer to your liking. The usual skateboard brand labels such as Santa Cruz and Vans are there but this pack comes with an equally good mix of other unexpected logos and designs. If you're a fan of streetwear brands, this is an awesome option.
For this price, you can't go wrong – considering how thick and sturdy these skateboard decals are. Anywhere they fit, they stick! They're also waterproof and fade-resistant to withstand the test of time and maintain their vibrant appearance.
Users appreciate how smoothly they go on and how these skateboard stickers can be reattached without leaving a sticky mess. The white outline that runs around the edges of these skateboard decals may not be appealing to some though, you do have the option to cut them for a seamless-looking layout.
Because I expose my board to harsh elements and tricks when I ride, I appreciate how these stickers stay on without budging, I'm making no second guesses and repurchasing!
Pros
A colorful collection of 100 stickers with no repeats
Includes popular skateboard brand labels
Each sticker is thick and sturdy
The stickers are made of a waterproof and fade-resistant material
They go on smoothly for ease of reapplication
Stays put when applied
Cons
The edges are outlined in white, cut them if you want a seamless look
Reinventing your ride has never been this exhilarating! Innovate and inspire with the huge selection of popular skateboard brand labels from this sticker pack.
3. OtRainbow Random Skateboard Stickers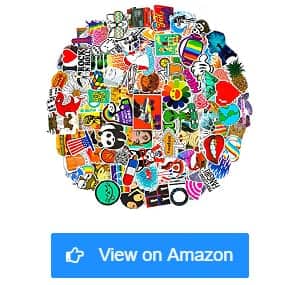 If the stickers on your skateboard deck aren't impressive enough, check out the huge assortment of 200 pieces from this OtRainbow Random Vinyl Skateboard sticker pack!
Measuring 2.5-3.5 inches each, these skateboard stickers are 35% bigger than ordinary ones, this means better coverage with fewer stickers needed. Duplicates put me off, so I'm glad this sticker pack comes with a unique assortment.
Skateboard enthusiasts need decals that are tough enough to withstand the elements, and these PVC vinyl stickers are expected to outperform. Each piece is tested for extreme water resistance, so feel free to wade with confidence! Plus points for them being sunproof too.
I can say that these skateboard stickers are pretty rad for the price. The selection of decals from this pack is varied and suitable for all ages. You don't even have to pull any of the stickers out due to inappropriate content before giving them to kids.
Users highly recommend this random skateboard sticker pack for its superb color and printing quality, durability, and the variety of themes included. Pop culture icons, popular brand logos, video game references, and emojis are just some of the stickers you may snag from this pack.
Apart from some of the stickers not adhering well to rigid and uneven surfaces, you definitely won't regret grabbing a pack!
Pros
Wide assortment of 200 stickers with no duplicates
Measures 2.5-3.5 inches each, 35% bigger than ordinary stickers
Made of PVC Vinyl for durability
Extremely waterproof and sunproof
Comes with no inappropriate content, suitable for all ages
Superb color and printing quality
Features pop culture icons, brand logos, video game references, and more
Cons
Some stickers don't adhere to rigid or uneven surfaces
Whether you're a passionate skateboarder or just looking to express your creativity, you will surely find stickers that would match your vibe from this awesome pack. Dig in and DIY!
4. ANERZA Aesthetic Skateboard Stickers
Match your style to a T with the aesthetic skateboard stickers from this ANERZA Aesthetic Vinyl Skateboard Sticker Pack.
Get ready to swoon over these delightfully fun stickers that will surely leave you wanting more. Each pack contains 100 stickers in a wide assortment of designs that both kids and kids at heart will love!
Each sticker is made of high-quality vinyl and printed distinctly. They're waterproof and sunproof, so you don't have to worry about slapping these stickers on your deck, water bottle, or any other item you may have to wash or expose to the sun. These stickers resist fading, so you can expect them to stay crisp and clear throughout.
In the package, 80 pieces are measuring 2.5×3 inches, and 20 pieces measuring 1.2 inches. With precise cutting, they are in perfect shape and size, making laying them out easy. I love how you can conveniently attach and reattach them without leaving a trace.
The skateboard stickers from this pack are diverse and multi-faceted enough to suit every perceivable mood and attitude. What stood out for me was how impressive and detailed the designs are. Such adorable and vibrant stickers are the best for teenage girls.
Hence, you can always purchase this pack for your daughters to decorate not only their skateboards but also their bikes, notebooks, bed rooms, phone cases and so on. Such a versatile collection!
However, some of these stickers are not as durable as the rest so they might peel off sooner than expected.
Pros
An assortment of 100 unique stickers for all ages
Made of high-quality vinyl, fade-resistant
Great printing quality, each piece is printed distinctly
Offers 100% water and sun protection
These decals can be attached and reattached without leaving a trace
Each piece is meticulously shaped and cut to perfection
Vibrant and adorable stickers for teenage girls
Cons
Some stickers are a bit more flimsy than expected
This whimsical assortment of girl skateboard stickers is exactly what you need to give that dull-looking space a quick fix. Level up your sticker stash with the fun and quirky designs from this collection!
5. MAXSNOW Girl Skateboard Stickers
Giving your skateboard a girly spin is made easy with these cool skateboard stickers. The sizes range from 1.5 to 3.5 inches so you can conveniently customize and DIY your deck. You may layer and layout these stickers limitless to get as much coverage as you please.
You will receive 60 unique stickers with every pack. Each sticker is made of high-quality vinyl and can be used to doll-up your everyday must-haves! Give your phone, laptop, mug any other item you can think of an instant revamp with the awesome decals from this pack.
These vinyl skateboard stickers feature a combination of 90's-inspired designs and on-trend emojis, logos, and other fun prints for all ages. I like how the wide assortment of designs included in this skateboard decal pack makes it the perfect gift for family and friends.
Because the stickers are made of vinyl, they're highly durable but can still be peeled off and repositioned as needed. This makes personalizing your board fun and easy! It is a great choice for anyone looking for stickers, but are incredibly excellent for anyone needing to lend their skateboard a sweet yet funky finish.
Users in general enjoy the designs and the quality of this skateboard sticker collection. Although I noticed that some pieces don't stay on too long, this can be easily remedied by wiping the surface first for improved adhesion. When sprucing up wider spaces, I would recommend getting at least 2 packs for added coverage.
Pros
90's-inspired designs & on-trend emojis, logos, fun prints for all ages
Comes in 2 sizes for easy customization
Made of high-quality vinyl for excellent durability
Easy to peel off and reposition
Comes with great pricing
Cons
You may need to purchase more pieces to cover bigger surfaces
Some sticker pieces don't hold up well, wipe the surface first to help them adhere
If you are looking for an assortment of skateboard stickers that won't break the bank, this pack is definitely for you. It is exactly what you need to sass up your boring board with a dose of flair and personality instantly!
6. Wow Stickers Skateboard Brand Stickers
This skateboard sticker pack caught my attention straight away because of its versatility and how vivid the colors are. Expect to receive an assortment of 100 stickers featuring popular skateboard brands. Having no duplicates is certainly a plus!
It's great to know that these cool skateboard stickers adhere well on most surfaces but are easy to remove without leaving a sticky residue. You can use these stickers on just about anything you can think of. Spend hours of pure fun decorating your laptop, phone, luggage, and other surfaces that could use a touch personalization.
I love how you can get an awesome selection of designs at an affordable price, no wonder, this skateboarding sticker pack is highly rated! These skateboard deck stickers also come in various sizes for multiple applications and purposes. Feel free to layer and personalize your ride to your liking.
If you're into sticker bombing and vintage skateboarding decals, this pack is exactly what you need in your collection. I know for sure I would repurchase it to customize other decks. After all, skateboarding stickers will never go out of style.
Most users attest that these stickers are durable enough to withstand heat and humidity. Some messages and logos printed on these stickers may be inappropriate for children so parents or guardians should sort through them first. Overall, considering the price and quantity of stickers you will get, this skateboard sticker pack is a great buy!
Pros
Comes in a variety of skateboard brand name designs with no duplicates
Can be used on a wide selection of items aside from skateboards
Vivid and bright colors, good printing quality
Adheres well on most surfaces
Easy to remove without leaving a sticky residue
Great value for money
Cons
Some of these skateboard brand stickers are not suitable for all ages
Whether you want to stick them or collect them, one thing's for sure, you will surely love these best skate stickers! You would want to give your ride a quick pick-me-up with the awesome selection of stickers from this pack.
7. Stickers Cool Skateboard Fashion Sticker
Skateboarding legends and newbies alike will surely flip over this curated collection of Vinyl skateboard stickers!
Cult and iconic boarding brands such as Santa Cruz, Independent, and Thrasher dominate this 100-piece pack. Each sticker is made of high-quality PVC Vinyl for longevity and endurance.
I am amazed at how these stickers appear vibrant and clear as the marketed pictures. Furthermore, I love how these stickers hold up even when wet, and how the colors stay vivid after long periods of sun exposure.
After opening the pack, you can peel its backing off quickly and start decorating right away without trimming. Each piece is precisely cut; thus, you can hardly find a defective decal that must be tossed out.
Ultimately, this pack includes logos of companies that built the landscape of skateboarding from the ground up! It's basically what every skateboarding enthusiast needs whether as a starter sticker pack or to reinforce existing deck layouts. Sticker bombing your skate gear or just about anything else has never been this sweet!
A couple of them have started peeling off from the edges, so it's important to secure each corner when applying these stickers. Otherwise, I'm satisfied with this purchase! Plus, if you have any problem with the product, remember that the brand offers a 60-day money-back policy for buyers.
Pros
A curated collection of 100 stickers
Includes stickers featuring popular skateboarding brands
Made of high-quality PVC Vinyl for longevity and endurance
Extremely waterproof and sunproof
Precisely cut for quick and easy decoration
Colors come vibrant and stay vivid through time
Cons
The edges tend to peel off if the stickers are not applied securely
If you've been searching for a sticker pack that exclusively contains skateboard brands, look no further. This collection has got you covered with a wide array of the most popular logos and designs the boarding scene has ever known!
8. BATTER Among Us Skateboard Stickers
>
I still can't get over finding this skateboard sticker pack featuring characters from my favorite online multiplayer game, Among Us. If you're just as smitten by this game that took the world by storm, then this sticker series is a must-have! 100 unique skate stickers await you in every pack.
You can decorate anything perceivable with still plenty of custom skateboard stickers left to spare. The sizes of these stickers range from 2-4.5 inches, just what you need to customize your deck with ease.
Considering the price, the great selection of characters included, and the quality of each sticker piece, you can't go wrong with this deal! As expected, their durability comes second to none, even after prolonged exposure to changing weather. That is why you can confidently use them on skateboards. They can last even if you often skateboard under light rain and glaring sunshine.
Many people worry about aesthetic skateboard stickers losing their beautiful colors through time. Luckily, that is not the case of this assortment. As they are durable and made of quality Vinyl, you can rest assured that its original colors will stay for long.
The only disadvantage I see with some pieces is that they don't adhere well to porous surfaces that aren't smooth and flat. Other than that, you can expose them to wet or humid environments without the risk of damage since the stickers are highly water-resistant.
Pros
Each pack contains 100 stickers featuring characters from Among Us
Can be used to decorate or personalize any item
The sizes of the stickers range from 2-4.5 inches
Withstands changing weather such as light rain and glaring sunshine
Highly water-resistant for use in humid conditions
Long-lasting aesthetic colors due to durable vinyl material
Cons
Some stickers don't adhere well to porous surfaces
Whether it's purely for fun or if you're all about aesthetics, the gamer in you will surely enjoy these skateboard stickers. Take your addiction to Among Us to extreme heights by customizing everything you own with the decals from this pack!
9. YONGAI Vinyl Skateboard Stickers
Trust me when I say you express yourself freely with the broad assortment of brand name logos from this skateboard sticker pack!
I was surprised to find such a good mix of skateboard brands, vintage logos, emojis, and even designer brand logos from this collection. If you have no particular theme in mind for your DIY project, this skateboarding sticker pack is perfect for you.
Aside from being waterproof and UV-resistant, these stickers come with a protective film to reinforce their water repellency and resist fading. You can expect each piece to remain vibrant and colorful even when subjected to extreme conditions.
Due to such durability, they are ideal for decorating your vehicles, be it motorcycles, bikes, cars or snowboards. Besides, they can offer an exotic trademark for your laptops, phones and luggage. Slap them on any clean surface and let your imagination do the work!
Plus points for the glossy finish on these decals that give my deck an illusion of dimension! These stickers generally hold up very well but could be stickier. All in all, each sticker brings color and life to an otherwise dull surface.
Pros
A broad assortment of brand name logos
Good mix of skateboard brands, vintage logos, emojis, and designer brands
The stickers are waterproof and UV-resistant
Comes with a protective layer to enhance water repellency
Each sticker is fade resistant and remains vibrant and colorful
The finish is glossy and gives an illusion of dimension
Cons
The adhesion of the stickers from the pack should be improved
The collages you create with stickers are unique to you and create diversity in design. You will surely find decals that will accurately capture your personality from these vintage skateboard stickers!
10. Sweetures Logo Brands Skateboard Stickers
Hit the half-pipe with these on-trend logo featuring, fishing, thinking and even anime skateboard stickers that will leave you stoked!
This pack comes with an assortment of decals that are specifically collated for customizing decks. I restored my old scratched up skateboard with these stickers, and the result was impressive!
The non-marking adhesive used to make these stickers will allow you to peel them off and reattach without a hitch. It is such a relief to know there is no ugly residue left on the decorated surfaces. Each decal is printed on high-quality vinyl to ensure excellent performances.
What's more, the skateboard stickers from this pack come in an assortment of sizes from 2.5 to 3 inches, considerably larger compared to ordinary ones available. Hence, you can personalize many large areas such as your bedroom walls, not just snowboards and skateboards. In fact, there is no limit to where you can make good use of these well-made stickers.
Although I think the adhesive used on these decals is just moderately sticky and the actual material is quite thin, this pack is still worth repurchasing.
There are no rules on sticker placement, so feel free to layer these stickers as you please. You'll find this specific skateboard sticker pack hard to resist!
Pros
Comes with various styles, featuring brand logos, fishing, thinking pieces, etc
The adhesive used is non-marking
Can be peeled without leaving a trace
Each sticker is printed on high-quality vinyl
The stickers come in a variety of sizes from 2.5 to 3 inches
Comparably larger than ordinary stickers
Cons
Some sticker pieces are just moderately sticky
The material used on these stickers is quite thin
If you enjoy skateboarding, are a skateboarding fanatic, or a professional, you know your deck deserves nothing less than the best skateboard stickers. Whether you're into classic or trendy skate brands, you'll surely find something rad in this pack.
11. XYLL Logo Skateboard Stickers
If you're after an excellent variety of the coolest skateboard sticker brands, you've met your match!
My deck has always been bare and dull until I discovered the difference a pack of skateboard stickers can make. You can count on XYLL Logo Skateboard Sticker Pack printed on PVC to last and endure the harshest outdoor conditions.
These skateboard stickers effectively repel water, thanks to the protective layer they added to ensure this. Thus, skating in humid and wet conditions with your beautifully decorated skateboard is pure fun now.
Stickers that fade over time can be a pain, so I appreciate how the designs stay vibrant and intact even after prolonged exposure to the sun and everyday use. A good bang for my buck!
What's great about these stickers is how scratch-resistant they are. I've subjected them to numerous tests while taking my ride out for a spin and they look as good as the day I got them!
On the other hand, while users find that there is something for everyone in this sticker collection, some pieces are not appropriate for kids, so it's important to leave the bad ones out before handing the pack to them.
Pros
Includes an excellent variety of the coolest skateboard sticker brands
Each sticker is printed on PVC
Durable and made to endure harsh conditions
Additional protective layer for repelling water
The stickers resist fading even after prolonged exposure to the sun
The stickers are scratch-resistant
Cons
Some stickers are inappropriate for kids
Represent the brands you love by adorning your deck with the skateboard stickers from this pack. This collection brings together a cool assortment of decals that are all of top-notch quality without the hefty price tag.
12. Roberly Skateboard Stickers
Anyone who is into skate sticker art will surely enjoy the medley of skateboard stickers from this Roberly Skateboard Sticker Pack.
You can expect to get a random selection of stickers featuring skateboard brands, streetwear labels, brand logos, emojis, popular cartoon characters, and many others. Featuring different styles, this pack is a trendy piece that appeals to teenagers who love personalizing their stuff.
Each piece is printed on high-quality PVC and can be used freely to adorn anything you own. Because I specifically use stickers to personalize my deck and helmet, I need them to be as durable, waterproof, and UV-resistant as they possibly can, the stickers from this pack did those and more for me!
They withstand abrasions very well and are fairly easy to attach and reposition as needed. Also, the sizes of these skateboard stickers are standard and each piece is shaped precisely.
The random skateboard stickers from this collection made my longboard interestingly cool. There were no duplicates but there's a chance won't receive some of the designs shown in the photo.
Overall, in terms of graphics, durability, and value for money, I would recommend ordering these skateboard deck stickers.
Pros
A random selection of stickers featuring various designs
Each sticker is printed on high-quality PVC
Each piece is both water and UV resistant
The stickers withstand abrasions very well
The stickers from this pack are standard-sized and shaped precisely
No duplicate stickers in this pack
Cons
Some of the designs shown in the photo are not included in the pack
Skateboard stickers are beneficial for riders who can't commit to costly painting and foil wrap overhauls. Step up your game and transform your ride in no time with the assortment of skateboard deck stickers from this pack.
What to Look for When Buying Skateboard Stickers
When buying skateboard stickers, there are several factors to consider. The first one being, if the designs included in the pack will match your preference and the theme you are conceptualizing for your deck. The material the sticker is printed on, as well as adhesion, is also crucial as it should be strong enough to endure your kickflips and tricks!
When you're out and about on your board, strident weather and elemental conditions are also in play. Ensure your skateboard decals are waterproof and UV-resistant for prolonged use. Print quality, sizing, and pricing should also be taken into consideration before purchasing.
The right set of skateboard stickers will resist tearing, scratching, or fading and will hold up well for as long as you need them to. Check out verified reviews, blogs, and videos that can help you determine what to buy. Most skateboard sticker brands also vouch for their quality by offering satisfaction and money-back guarantees.
Other Important Factors to Consider
What is a Skateboard Sticker?
A skateboard sticker is a kind of label that can be utilized for either functional or decorative purposes. They come in a plethora of shapes, textures, and sizes and vastly vary in terms of design, execution, and color. These stickers are typically waterproof and UV-resistant and are made to withstand extreme conditions.
Skateboard stickers played a crucial role in advertising in the late '80s and early '90s when brands started using them as a visually appealing and inexpensive medium to promote their skateboarding gear. Since their inception and to this very day, designs and logos may have evolved, but skateboard stickers remain to be in demand. Customizing skateboard decks with stickers is still a popular outlet for creative expression.
How does it work?
Skateboard stickers are printed on paper, vinyl, polyester, or any other suitable material. Pressure-sensitive adhesive is applied on one side so it may adhere to surfaces. While the design is of utmost importance, so is its shape and ability to stick. Peel off the protective layer that covers the back of the sticker, clean the surface, let it dry, and start the application process.
Skateboarding fanatics use stickers to personalize their decks. They are usually applied to the underside for customization purposes. Skateboarding sticker packs are randomly laid out and layered to the users liking from the nose of the board to the tail. They can also be applied on skateboarding protective gear such as helmets and can be cut and adjusted as needed.
What are the different types of skateboard stickers?
Vinyl Sticker- This is a highly durable and weather-resistant material that is widely used for printing skateboard stickers. These are suitable for outdoor use and resist fading. Skateboard stickers printed on vinyl do not tear easily and are strong enough for long term use.
Polyester Sticker- This skateboard sticker material is a synthetic film that is resilient to all harsh environmental and abrasive conditions. These stickers are primarily designed for outdoor use and perform very well. Decals printed on polyester are also resistant to most oils and solvents.
Paper Sticker- This type of sticker is made of thin, low profile materials and can either be glossy or matte. Skateboard stickers printed on paper don't require lamination, making them a more cost-efficient alternative. The major concern about paper stickers is their vulnerability to elements, with no laminate to protect the surface, they are not waterproof, fades over time, and are not scratch-resistant.
Why do you need skateboard stickers?
Skateboarding is no longer just a recreational activity; it has evolved into an art form where stickers take the spotlight! Skateboard stickers are deeply ingrained in the history and culture of riding and are symbols of artistic and stylistic expression.
Sprucing up your deck with skateboard stickers paves the way for you to exhibit your personality, preferences, and character. They are also as effective in conveying your support for brands and causes you advocate. If your board is bare and you're on a budget, applying skateboard stickers is a surefire way to make it stand out from the rest!
If you need more information about skateboard parts, we have a list of the most favorite skateboard risers for your reference.
Frequently Asked Questions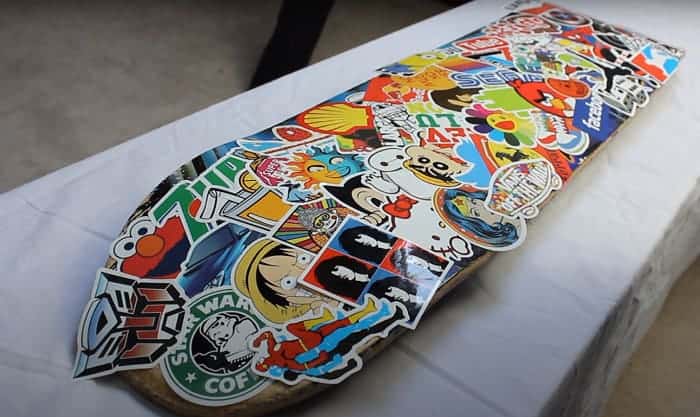 What are the most trusted skateboarding sticker brands?
Some of the most trusted skateboard sticker brands are Santa Cruz, Spitfire, Supreme, Powell Peralta, Vans, Independent, Polar, Antihero, Real, Volcom, and Thrasher. They are the most iconic and highly-coveted sticker brands that continue to dominate the skate scene.
How do you use skateboard stickers?
Skateboard stickers are pretty straightforward and easy to use. First, envision the layout you want to achieve by putting the stickers where you want them to be, you may cut and resize them as needed. Clean and dry the surface you will adhere the stickers to then peel off the protective backing, carefully position each sticker, and stick it directly onto the area by applying a little pressure and smoothing it out as you go along.
Where do you put stickers on a skateboard?
Skateboard stickers are applied on the deck; this is the flat board that you stand on when skateboarding. They are usually installed on the underside but customizing the top is also possible. The stickers can be positioned anywhere across the board, spanning from the nose down to the tail.
Where can I buy skateboard stickers?
Skateboard stickers can be purchased on Amazon, eBay, and other websites that customize and offer stickers from various brands. Stores that carry skateboard gear and equipment have them too. If you're lucky enough, some skateboard brands give them out for free!
Conclusion
Skateboard decks can be considered freedom walls for the self-expression of skateboarding newbies and professionals alike. It's incredible how something as basic as a sticker can shape and influence culture and enable people to convey their personalities, interests, and advocacies.
If you haven't already, start building your skateboard sticker collection today by choosing among the best skateboard stickers available, it's never too late. Thanks for reading!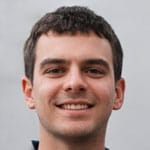 Hi, I am Charles Harris. I opened this site to write as much as I can about my biggest passion – skateboarding!
I started as a clumsy yet passionate rookie 10 years ago to now a still passionate yet much better skateboarder! But I have to tell you, the whole journey has always been fun and rewarding, indeed not without hardship.