Wandering around is no longer new for most people. Traveling is an essential part of the day. However, some people find it impossible to roam around with nothing but a skateboard. The truth is, skateboards are fantastic companions in this case.
Don't worry if you find your board too old and sluggish. Let's give it an upgrade with the best skateboard wheels for cruising. Here are a few things you need to know before replacing your board's wheels.
Hardness ー the best wheels you can use for cruising are those with around 78a-87a softness. This type of wheel has enough grip to roll over cracks and bumps on the road. That way, you can ensure a smooth and stable ride even on hills and rough surfaces.
Wheel shape ー the shape of wheels for cruising has different grip levels. If you want wheels that allow more grip, pick the sharp-lip shape. This kind of wheel has sharp edges on the side, making it ideal when making hard turns. A round-lip roller is perfect for roads that require powerslides and carving. Its round side profile is anticipative of slides from the start to the end of your ride.
Diameter ー a rule of thumb when selecting wheel diameter: the size should be directly proportionate to the size of the skateboard deck. A 40″ deck requires roller diameters ranging from 70mm-75mm. Sizes 68mm-72mm are ideal for Medium Decks at around 34″-42″. If you have a small 34″ deck, you can pick wheels with 60mm-67mm diameter.
Choosing wheels for cruising without enough reference might cause you to spend on nothing good. Hence, let me show you my ideal wheel options as you pick the one fit for your skateboard. Plus, be sure to get to the buying guide to complete your knowledge of these skateboard components.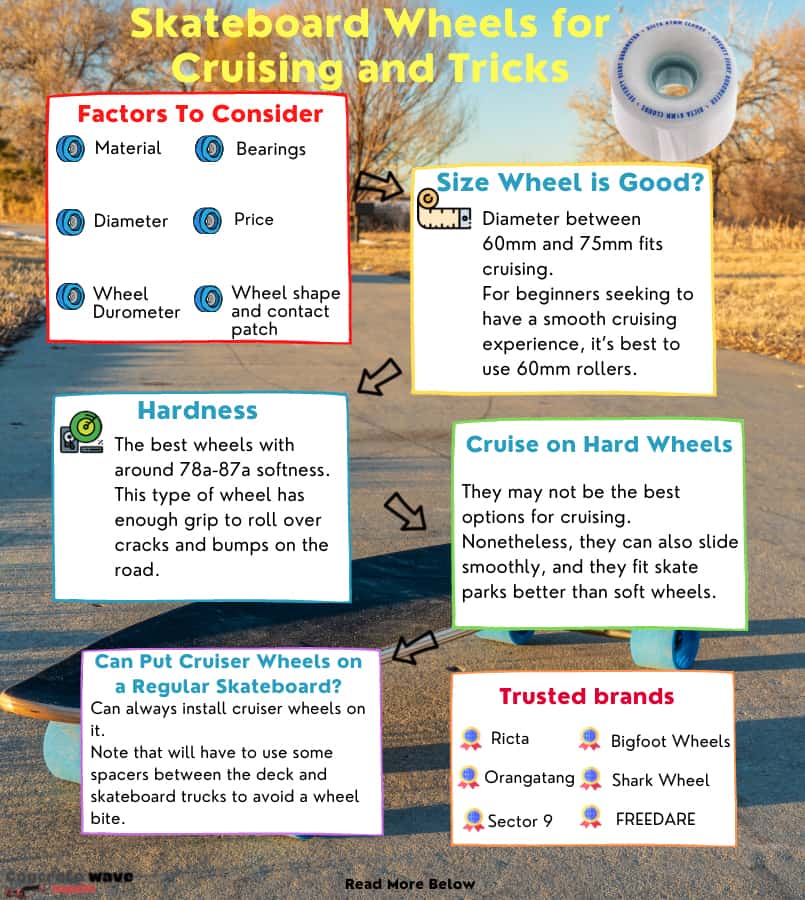 Top 1
FREEDARE Skateboard Wheels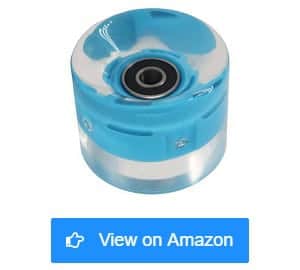 – 60mm skateboard wheels
– Has three LED lights on each wheel
– Hard 83a Polyurethane wheels
Top 2
Ricta Clouds Skateboard Wheel
– Silently-operating rollers
– 78a soft wheels that neutralize road bumps
– 54mm skateboard cruising wheels
Top 3
Orangatang Cruising Wheels
– Rolls over road cracks and small objects smoothly
– Maximum traction and smooth sliding
– Comes with 46mm fully exposed cores
Best Skateboard Wheel for Cruising Reviews
1. FREEDARE Skateboard Wheels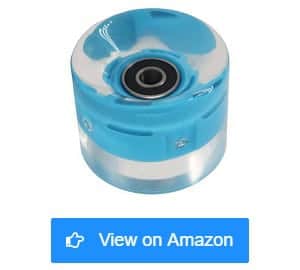 The FREEDARE Skateboard Wheels are some of the wheels I trust the most because of their array of benefits. I find these rollers perfect for penny boards because of their 60mm diameter. These are also ideal for beginners as they are versatile in many applications such as ramps, concrete, and asphalt.
These wheels are perfect for downhill trails as well. Each roller features a grippy edge, making it sharp and safe to ride downhill. Plus, these roller edges assist the skateboard whenever I make turns and hard carves.
Another thing I like about these wheels is their durability. These 83a rollers have the hardness of a quality Polyurethane material. They work silently, slide smoothly, and they help me attain enough speed.
One of my problems riding a skateboard at night is when I pass through dark streets. But with this wheelset, I no longer have to deal with dark roads because these rollers come with three LED lights. Not only are these cruiser wheels smooth, but they are also vibrant-looking.
However, the advertisement claimed these wheels are also fit for longboards. But when I tried this set on my longboard, they were too small that even removing the spacers could not make up for the diameter disadvantage of the wheels. Nonetheless, they're perfect for my penny board.
Pros
60mm skateboard wheels fit for penny boards
Versatile rollers that work on concrete roads, asphalt, and skating ramps
Grippy edge on the rollers making them perfect for downhill rides and hard carves
Hard 83a Polyurethane wheels that work silently, smoothly, and fast
Has three LED lights on each wheel for smooth riding at night
Cons
Not perfect for cruiser longboards
These wheels have the right combination of toughness and speed. I love riding them at any time of the day, especially when I go on downhill trails. I am also happy about their durability.
2. Ricta Clouds 78a Skateboard Wheel
Coming with a 54mm wheel diameter, the Ricta Clouds 78a Skateboard Wheel fits best with my small cruiser skateboard. It features a modern shape that's not bulky and is not heavy to ride. I feel light when cruising around the town and filming using this brand.
I wasn't confident about taking my skateboard on a rough surface, not until I had no choice but to hit a bumpy road. And I'm glad this skateboard wheel worked with enough bounce and speed to get through rough roads without hassle.
I always have comfortable rides whenever I use this brand. It features a 78a wheel softness that helps reduce the impact of bumpy roads and objects that make contact with the wheels. Also, these wheels make me feel like I'm riding a plane pavement.
Not only are these wheels smooth enough to ride, but they also operate silently. Unlike my old 95a wheels, this brand makes little to no noise at all. Plus, they get through road cracks without me even noticing.
On the downside, I find this set of wheels sticky. They're bouncy and fast, but when I do some landing through sliding, that's where they get stuck. Nevertheless, I am not into pipes, vert, and other tricks. So, these will not be much of a problem for me.
Pros
54mm skateboard cruising wheels having a modern shape that's light and not bulky
Has enough bounce and speed to get through rough roads softly
78a soft wheels that neutralize road bumps and small objects
Silently-operating rollers go over road cracks unnoticed
Cons
Wheels feel sticky at times
Overall, I love the clean white look of these wheels. They give me the speed I want and also actively reduce the impact of uneven riding surfaces. Plus, this wheel set gives me a virtual feeling of riding the clouds, as the brand says.
3. Orangatang Kegel Longboard Cruising Wheels
The Orangatang Kegel 80mm Downhill Longboard Cruising Wheels is one of the few smooth-finish brands I love because of their speed. Other than its speed, this cruiser wheel also has enough grip fit for downhill rides, hard carves, and even long-distance pushing. Thus, it's not only a standard downhill wheel, but it's also a versatile one.
Each roller's center is a 46mm fully exposed core that supports the wheel's motions. This component aims to lower the stress on the rollers. It works by reducing weight on the bushings and providing sharp slides and quick accelerations as well.
I am happy about sliding with these cruising wheels for skateboard. They have square lips that provide maximum traction. That means the chances of being thrown off the board are relatively low, and that sliding remains smooth every time.
These rollers are perfect for longboards because of their 80mm wheel size. They roll smoothly over anything on the road at high speed. Also, road cracks, sticks, rocks, and rough roads don't matter that much because of these wheels.
I am a bit concerned about the air pockets present on some of the wheels. They don't affect the wheels' performance, but I think it would be better if they didn't exist.
Pros
Smooth wheels with enough grit and are fit for hills, pushing, and carving
Comes with 46mm fully exposed cores that support the wheels' acceleration
Maximum traction and smooth sliding, courtesy of square wheel lips
80mm wheel size perfect for longboards
Rolls over road cracks and small objects smoothly
Cons
Has air pockets on the wheels
These wheels for cruising are perfect for sliding, carving, and high-speed downhill riding. I love them because they are versatile and are wide enough to go over uneven surfaces.
4. Bigfoot Soft Cruiser Filmer Wheels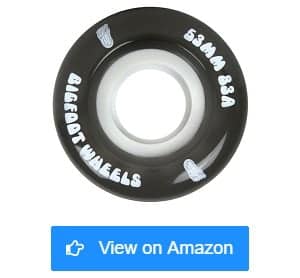 The high-rebound formula is what makes the Bigfoot Soft Cruiser Filmer Wheels one of my choices. These 55mm rollers feature an 83a wheel durometer that has enough balance of speed and smoothness. That way, I get to feel road bumps and uneven surfaces less.
Another factor that makes these cruising skateboard wheels roll faster is their cores. Made with hard plastic, each center helps in aligning the wheels' bearings. That means no unwanted pressure is placed on the wheels, giving the skateboard a solid momentum in one direction.
Like most users on Reddit, I also find the thin groove design on these wheels beneficial. These lines help reduce friction and allow me to slide better. Plus, these grooves improve my speed when riding.
What I like more about this soft wheel is its pool of color choices. I'm not an aesthetic person, but I always prefer a color that matches my deck. So, with five color options available for this cruiser brand, I'll always have a set for my different cruiser skateboards.
However, these wheels do not come with bearings. As a result, users will have to buy additional equipment when choosing this option. I'm not too bothered by this, though, given how well Bigfoot wheels perform on rough pavement.
Pros
High-rebound capacity to reduce rough roads' impact
55mm 83a rollers that have enough speed and smoothness
Precise bearing alignment through hard plastic cores
Comes with thin groove designs for lesser friction and more speed
Has five color options
I can feel the stability and smoothness these skateboard wheels for cruising offer. The wheel cores look sturdy and hold the rollers well. I think this brand is also a perfect option for people who are particular with roller designs.
5. Sector 9 Butterball 70mm Cruiser Wheels
With a specialized unique slide formula, the Sector 9 Butterball 70mm Cruiser Wheels ensure that I get sharp and controlled slides every time. This brand also comes with an even mold release feature that grips the ground.
These wheels have a center-set core responsible for weight distribution across each wheel. Plus, each core provides enough grip and stability for the skateboard. Thus, whether sliding or mere cruising with my board, I always feel confident and not shaky at all.
I think these wheels for cruising have enough bounce on them. They're not too hard or too soft to stick to the ground. Also, this balance of hardness on the rollers makes them perfect for skateboarding beginners.
Another feature I love about this skateboard wheel is its 38mm contact patch. This part improves the controllability of the board and provides better traction on it. And even transitioning from one motion to another feels smoother because of this wheel's feature.
Pros
Comes with a specialized unique slide formula for quality slides
Has a mold release feature that keeps the rollers on the ground
Features a center-set core for better grip and stability on the board
Perfect skate cruiser wheels for beginners with the right balance of hardness
Comes with 38mm contact patch for superior maneuverability and traction
Cons
Does not work best with asphalt roads
Overall, I find these rollers ideal for cruising the town or the village. They're not too soft, and I think they're just enough for my 40″ longboard.
6. FREEDARE 60mm 83a Skateboard Wheels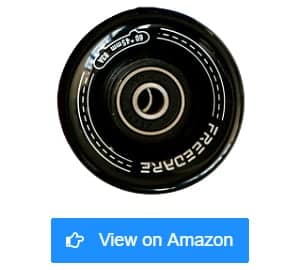 The FREEDARE 60mm 83a Skateboard Wheels is one of my wheelsets that does not mold much to the ground. The 83a durometer count on these indicates they're hard enough, perfect for skateparks, and can contain pressure on them when riding. Also, I can move with more speed because of these wheels' hardness.
Another factor that contributes to the speed of these wheels is their ABEC-7 bearings. This bearing type lasts longer in high-speed conditions. That means you can rely on these, especially when going downhill at high momentum.
I find these wheels versatile in terms of adaptability to the riding environment. They work on either asphalt or concrete roads. Plus, they don't make annoying noises and are smooth at all times.
I also love the appearance of this wheelset, from its packaging down to the wheels themselves. The items arrived with neat packaging, and the rollers give a classic look on my skateboard. Also, I think these rollers are enough for their price.
However, I found an issue with the wheels' durability. They work as intended, and I'm happy about it. But one day, one of the wheels chipped, and it seemed too soon compared to my other wheels. Nevertheless, they handle cracks and bumps with ease.
Pros
Hard 83a skateboard wheels that contain enough pressure and provide more speed
Comes with ABEC-7 bearings that sustain high-speed riding
Ideal and noise-free on concrete and asphalt roads
Perfect packaging and classic finish on the wheels
Has a reasonable price
Cons
One of the wheels easily chipped
I love this skateboard wheel because it's not too costly. I can take these wheels on urban terrains, no matter the road type. And I think these rollers can contain high speed as well.
7. Orangatang 4 President Cruising Longboard Wheels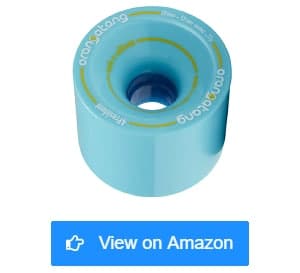 The first thing I love about the Orangatang 4 President 70mm Cruising Longboard Wheels is their high traction. These rollers are not only perfect for cruising and commuting, but they also work well for carving, pumping, and downhills. In all these tricks, never have I experienced being unstable.
I like this brand because it's light to bring. With a 70mm wheel diameter, they may not be my tiniest wheels for cruising, but I feel like I'm riding something smaller. They are also easy to control and can accelerate quickly between carves and turns.
These wheels have the appropriate combination of grip, speed, plush, and smoothness. Orangatang's urethane formula ensures buttery-smooth slides without me falling out of balance on my skateboard. Also, the wheel's square lips provide maximum grip when sliding.
Come with these wheels are strong cores that support their square lips. These encapsulated cores maintain a smooth ride and improve traction and sliding with the skateboard. Each center also allows for equal weight distribution, giving me smooth rides.
The only downside I had for this brand is a missing shield in one of the bearings. I contacted the supplier as soon as I found the issue, and I'm glad they responded by sending a new bearing. Other details about these wheels are ideal given my weight.
Pros
High traction wheels for stability when carving, sliding, downhill riding, and more
Light to control and quick to accelerate
Features a urethane formula that produces smooth slides and high grip
Has square lips
Strong encapsulated cores that support weight distribution
Cons
Missing shield in one of the bearings
Overall, the performance of this brand is steady. I feel like I'm skating mid-air because these rollers have a light weight. These are the best skateboard wheels for cruising and tricks.
8. Cloud Ride 69mm Cruiser Wheels
Featuring a high-rebound urethane structure, the Cloud Ride 69mm Cruiser Wheels suit my personal preference. These wheels come with a tough body that does not wear out quickly. They're durable, and most of all, they fit all my riding modes.
I like these wheels because they are perfectly soft. These 78a rollers have enough plush to carve smoothly. They also roll over road cracks and rough surfaces with ease. And unlike other cruiser wheel brands, these are resilient even after leaving thick thane lines.
One of the factors that add to the controllability of these wheels is their square-lipped design. This layout helps me slow down quickly and do simple flip tricks. Also, they only weigh 1.45lbs each, so they do not feel heavy at all.
These wheels work well with old skateboard parts. I bought these wheels for an old skateboard at home and used the same set of bearings I had as an experiment. And to my surprise, these rollers made my entire old skateboard even better.
At first, I was concerned that the softness of these wheels would not be fit for obtaining speed. However, they worked with enough momentum, and they're even better than some of my harder wheels.
On the downside, I received one with a cut on the contact patch. I'm worried it might widen up, especially since I'm frequently riding rough roads with small rocks.
Pros
High-rebound urethane skateboard rollers that are durable and fit for any riding mode
Soft wheels that carve and roll over rough surfaces smoothly
Resilient after leaving thane lines
Square lip design that makes the rollers more controllable
Lightweight rollers that only weigh 1.45lbs
Fast wheels for speedy rides
Cons
Arrived with a cut on the contact patch of one wheel
Other than the mentioned issue, I think these are the softest wheels I have. My board feels great to ride, and I love riding them for their weight.
9. Everland 65x51mm Skateboard Wheels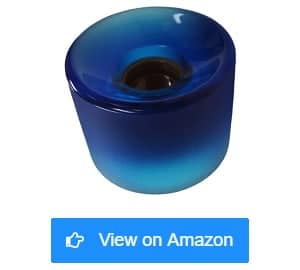 The Everland 65mmx51mm Skateboard Wheels might be small, but these rollers are fantastic for longboards. These wheels only have a 65mm diameter, but they work like a wider wheelset. Also, I love the minimalist finish on these wheels. They're not too fancy, but they are effective.
Unlike other skateboard rollers with narrower contact patches, these wheels have wider ones with 51mm. And in my experience of having cruiser wheels of varying contact patches, the wider ones last longer against wearing because there are enough weight pressure points on the wheel.
I felt hesitant buying these wheels at first because I did not want to compromise by buying cheaper wheels. But when I tried them, I was glad I spent on good cruiser wheels. They're not expensive, but they work great.
I think these rollers are also versatile in terms of functions. I use them for smooth riding surfaces, and I also use them for rugged terrain rides. I am impressed these wheels work as intended in either setup.
I wish this wheelset came with bearings. Most cruiser skateboard wheels I bought had bearings installed. It was added work on my end, but the cores I used worked perfectly on these rollers anyway.
Pros
Small wheels that are perfect for longboards
Has a minimalist design but is effective
Comes with a 51mm wide contact patch that lasts long against wearing
Affordable skate roller with a quality performance
Fits different riding setups like smooth and rugged terrain
Cons
The wheels do not come with bearings
Overall, I believe I made the correct decision to spend on these wheels. They may not have arrived with bearings, but their price doesn't sacrifice quality, and I am happy about how they work.
10. Ricta Clouds 92a Skateboard Wheels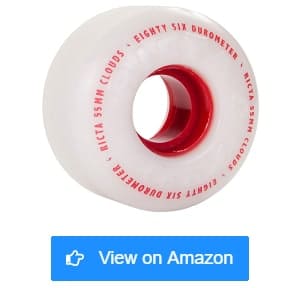 The Ricta Clouds 92a Skateboard Wheels are the most solid ones I've ever had. These wheels have a hardness of 92a durometer, which comes with more speed, especially on smooth surfaces. Plus, these rollers feel more durable than some of my high durometer wheels for cruising.
These rollers display superior grip all the time. Whether for street skating or metal skateboard ramps, I can always feel the rollers holding well. Also, even on dusty surfaces, these rollers exhibit quality grips.
Another performance feature I love about Ricta's cloud wheels is when I use them for power sliding. With these rollers, it's like sliding on your skateboard with the right balance of slickness and stability. They even get through cracks and metal plates without hassle. This brand is one of my most steady wheelsets.
I think one significant factor that adds to the stability of these skateboard components is their center-set cores. These components do not only contribute speed to our rides but also distribute weight evenly on the skateboard, keeping us safe and grounded all the time.
I only had one issue with the wheels' quality. On my first purchase, I received one wheel with an air bubble near the contact patch. I'm glad the supplier responded to this problem immediately.
Pros
Solid, fast, and durable 92a skateboard cruiser wheels
Superior grip on the streets, metal ramps, and dusty surfaces
Perfect steady wheels for power sliding
Gets through cracks and metal plates smoothly
Center-set cores for even weight distribution and additional speed
Despite that, I believe these are the best skateboard wheels for street cruising. They're not only sturdy, but they're also versatile enough for mini-ramp skateboarding.
11. Fireball Tinder 81a Skateboard & Longboard Wheels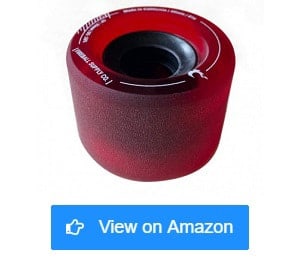 My small longboard found its perfect partner in the Fireball Tinder 60mm 81a Skateboard & Longboard Wheels. I think these wheels can be a versatile option as they also work well with mini-cruisers and double-kick skateboards.
With these wheels, sliding is not only smooth but is also consistent. Featuring a Fireball SlidePrepped formula, these wheels leave thick thane lines as marks of flawless sliding. The rounded lips of this wheelset also add to this consistency aspect by breaking in the wheels progressively.
One component I find unique about these wheels is their fiberglass core. These parts may look fragile, but they're allowing for predictable slides and maximum strength in the wheel's lifespan. These cores also create even wear patterns to retain balance no matter the length of your usage.
Other than their unique core, I love these rollers because they get through almost anything. They can run through cracks, road bumps, rocks, and other road debris quickly and smoothly. All these obstacles are no challenge to these wheels, whether I'm freeriding or cruising down.
This wheelset would be a perfect package had it arrived with bearings. I think I'd be more confident with these rollers if they had their custom bearings. Nonetheless, the parts I bought worked well with them.
Pros
Versatile wheels that work well with longboards, mini-cruisers, and double-kick boards
Fireball SlidePrepped formula and rounded lips for smooth and consistent sliding
Fiberglass cores for balance and maximum strength
Runs smoothly over cracks, bumps, and other road obstacles
Cons
Does not come with wheel bearings
Overall, I find this product a unique one. These are great quality wheels, and I think they'll last longer than other brands.
12. Shark Wheel 60mm 78a Skateboard Wheels
The Shark Wheel 60mm 78a Skateboard Wheels is one of the best wheels I use whenever I go for rugged terrain rides and uneven surfaces. These wheels for cruising feature scientifically proven advantages like less friction and a long lifespan. And I think these make this cruiser brand reliable at all times.
One unique aspect these wheels have is their wavy design. This 3-lip design is not only for aesthetics but is for better lateral grip as well. These waves also promote control when making turns on downhill roads. That way, sliding feels smoother, and I get to recover quickly.
The alternating grooves on these rollers also lessen rolling resistance when riding through sand, water, and dirt. Plus, the thinner contact patches on each wheel's lips improve riding speed compared to other wheels without a way to channel dirt and liquid.
I once brought my penny board on a gravel road with these wheels. At first, I thought I would dive off the board upon reaching a wide road crack, but these wheels ran smoothly.
It's worth noting that some customers received the wrong color. That said, this is not a huge problem for me, as the product still does what it's meant to do.
Pros
Rugged terrain wheels for cruising with less friction and a long lifespan
3-lip wavy design for better grip and sliding control
Comes with alternating grooves that channel out dirt, water, and sand
Thin contact patches for high speed
Smooth ride even on cracked roads
Cons
Wrong color being delivered
Overall, I think these rollers will be a mainstay when I go for rough roads. They feel stable and are easy to control. Plus, the design of this brand looks futuristic and is less of a hassle to use.
What to Look for When Buying Skateboard Wheels for Cruising
Don't confuse yourself trying to find a couple of good sets of wheels. Make a checklist of the following factors to be sure you're buying the best wheelset.
Material ー Your skateboard wheels may not have to deal with as much impact as power skateboards do, but they should be long-lasting and durable enough to withstand continuous motion and some slides.
Most skateboard users prefer Polyurethane material over many choices because of its efficiency and stability over time. It's also inexpensive to manufacture, which means it's not too costly as soon as it reaches the market.
Diameter ー Choosing the size of your skateboard wheels should be based on the size of your skateboard deck. If you have a 40″ longboard, your wheels for cruising should be around 70mm-75mm. Trying a diameter outside a board's range may work for you but may not yield the best performance.
Wheel Durometer ー Both soft and hard wheels have their advantages. Thus, be sure to identify the kind of ride and environment where you plan to skate.
Softer wheels with a 78a durometer offer a slower ride but are superior in terms of gripping ability. These rollers are perfect for street skating as well. If you want more speed, you can opt for hard wheels with around 87a to 90a durometer. This type of wheel is also best for smooth surfaces.
Wheel shape and contact patch ー The mold and weight distribution of your wheels affect the overall performance of your skateboard.
Most cruiser wheels come in either round or square shapes. Rounder wheels have a smaller contact patch found in the middle of the rollers. For riders who weigh above or around the allowed weight capacity of the skateboard, it's best to use square wheels. Square wheels provide lighter rides because they have wider weight pressure points.
Bearings ー Some cruiser wheels do not come with bearings. This issue means you will have to make a careful selection of what fits your rollers best. Most skateboards perform well with ABEC 7 and ABEC 9 bearings. These cores play a significant role in terms of precision, speed, and wheel efficiency.
Price ー A skateboard is not only a mode of recreation but also equipment of convenience as well. When buying skateboard wheels, always consider the price and the variables that affect them. That way, you will distinguish one from the other and create worth for your money.
What Size Wheel is Good for Cruising
Generally, any diameter between 60mm and 75mm fits cruising. The small ones are ideal for small skateboards, as the larger wheels work best with longboards. But for beginners seeking to have a smooth cruising experience, it's best to use 60mm rollers.
Can You Cruise on Hard Wheels
While cruiser wheels can go as hard as a 90a durometer, they may not be the best options for cruising. This type of wheel works better if you are into speedy rides. Nonetheless, they can also slide smoothly, and they fit skate parks better than soft wheels.
Can I Put Cruiser Wheels on a Regular Skateboard
Cruising is one of the simplest and most common types of riding for a skateboard. This skateboarding mode does not require specific and too technical tricks and components to let you ride smoothly.
Thus, even if you only have a regular skateboard at home, you can always install cruiser wheels on it. These wheels are also perfect for penny boards for their size. Note that you will have to use some spacers between the deck and skateboard trucks to avoid a wheel bite.
Can You Ollie with Cruising Wheels
Cruiser wheels also have physical properties that make them fit for some basic tricks, like an ollie. You can always do an ollie with cruiser wheels. However, you will have to adjust some of your movements and timing as these rollers are heavier and stick more. That means your board may slowly react when you pop on it.
Conclusion
Riding a skateboard is not only about performing tricks or getting into a race. Skateboarding is also a form of leisure and a mode of relaxation for many people.
Find the best skateboard wheels for cruising and make chill rides your new addiction. Always remember the tips I have shared with you to land what's fit for you.
Keep enjoying windy trails. Leave your inquiries in the comments section, and we'll be glad to respond to them.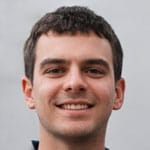 Hi, I am Charles Harris. I opened this site to write as much as I can about my biggest passion – skateboarding!
I started as a clumsy yet passionate rookie 10 years ago to now a still passionate yet much better skateboarder! But I have to tell you, the whole journey has always been fun and rewarding, indeed not without hardship.