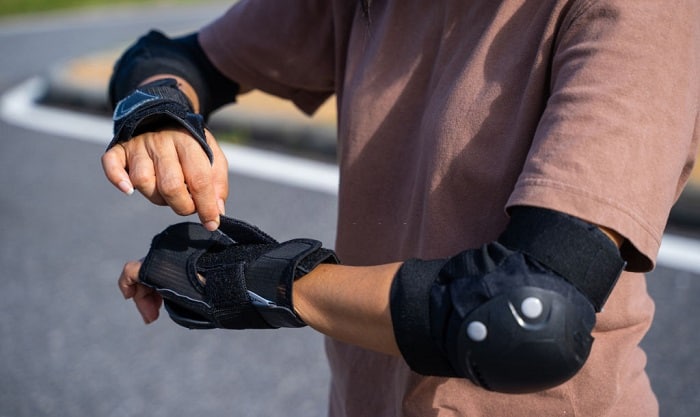 One of the best things about skateboarding is that you don't stop with mastering all the tricks. Your journey as a skateboarder goes beyond execution since this sport also entails knowing how to maintain your board, selecting the best parts for it, and practicing safety all the time.
With these, let's learn how to protect your hands by using the best skateboard wrist guards. These pieces of safety equipment will be vital in your defensive stance in case of accidents with your skateboard. Here are a few things we need to remember.
Suitability: The tightness of your wrist pads can cause discomfort on a portion of your arms, making it hard for you to move. All we are after in this equipment is comfort. So, to find the perfect pair for yourself, consider wearing a few pairs of your choice. From there, you can decide which among them is most comfortable.
If you can't find the perfect fit, pick the closest ones with adjustable straps to make them suit you better.
Design: Like the previous aspect, the styles of your skateboarding wrist guards suggest different levels of comfort. Also, they will depend on the tricks you perform. If you want to keep your fingers free and feeling light, you can use a pair of fingerless or half-finger wrist guards.
On the other hand, a full-finger skateboard wrist support looks like gloves for skateboarding. These pads are perfect if you frequently slide with your hand on the ground.
Composition: In this aspect, we'll deal more with the durability of your skateboarding wrist guards. If you want a pair with an exceptional lifespan, pick the ones made with leather, nylon, or neoprene. These materials are of a sporting grade, enough to keep your hands free from cuts.
There are more considerations you need to take note of from the buying guide. Be sure to check it out at the latter part of the article, so you don't miss anything. But for now, I'll take you to the top-rated wrist guards for skateboarding.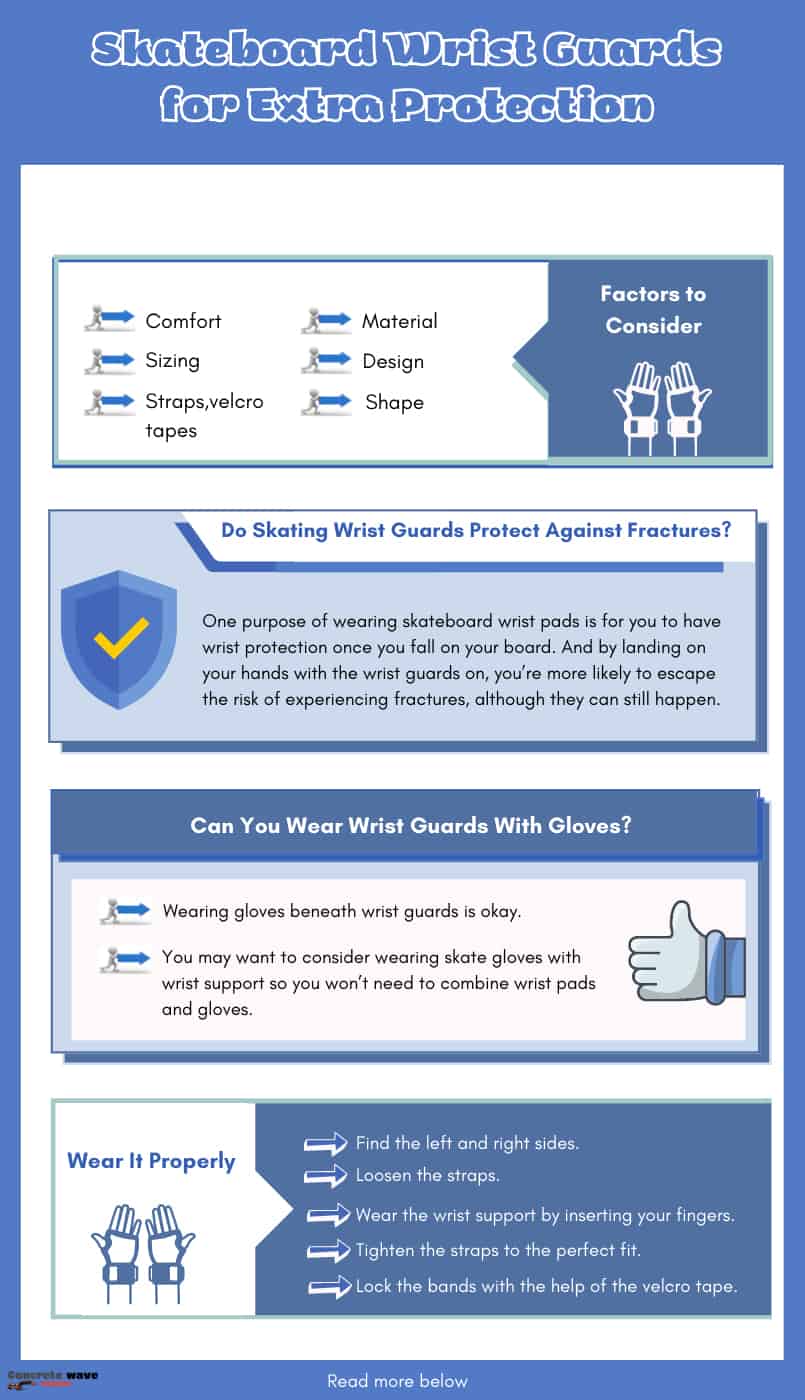 Top 1
Triple Eight Wrist Guards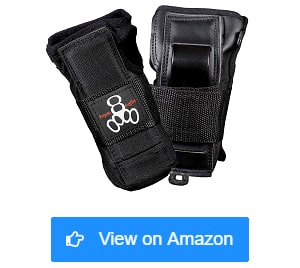 – Slip-on design
– Comfortable EVA foam cushion
– Impact-resistant ABS splint
Top 2
187 Killer Pads Wrist Guard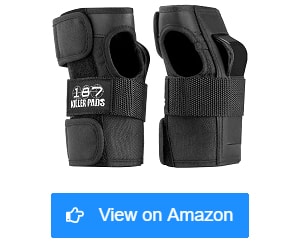 – Quality extra-thick splints
– Adjustable 3-strap wrist guards
– Angled shape for better comfort
Top 3
Hillbilly Wrist Guard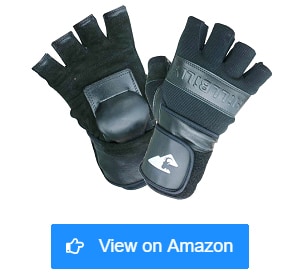 – Durable wrist pad with leather
– Comes at a reasonable price
– Has a snug fit on wrists
Most Trusted Skateboard Wrist Guards Reviews
1. Triple Eight Wristsaver Wrist Guards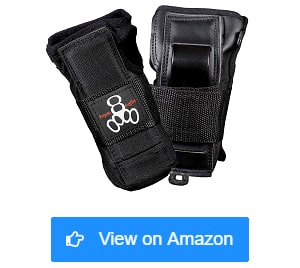 The first thing I love about the Triple Eight Wristsaver Wrist Guards is their slip-on design. This wrist guard pair does not require detachment or assembly of any of its parts. All I have to do is slide my hands in enough to get my fingers through the holes. The straps will then help me adjust the level of tightness.
I like these hand guards for skating because they are firm. Each pad has an impact-resistant ABS splint at the front and back for durability. Not only that, these forms of plastic also help retain the shape of the wrist guard. With these, my hands got significant protection.
Another aspect I love about these skate wrist guards is their cushioning. Each piece comes with a shock absorbing EVA foam beneath the front and back splints. This foam gives my wrists a snug feel, and it helps absorb shocks every time I fall on my skateboard. So, this wrist pad is not only firm but is also comfortable.
I think one more factor that adds to the fit of these wrist guards is the 4-way nylon. These protective guards come with a sturdy and stretchable nylon mesh strap that helps keep the splints and the entire band in place. It's easy to adjust, and it wraps both the front and back of my wrists firmly.
On the downside, I am one of several users who had issues with the sizing of this brand. My first pair of these was a bit tight. So, I suggest buying two sizes higher.
Pros
Slip-on design that makes the guards easy to wear
Impact-resistant ABS splint for durability and protection
Comfortable EVA foam cushion that helps improve shock absorption
4-way stretchable mesh nylon that helps adjust the tightness level
Cons
Buyers may need to size up
Overall, I love the design and build of these wrist guards. They have quality components, and they fit me smoothly.
2. 187 Killer Pads Wrist Guard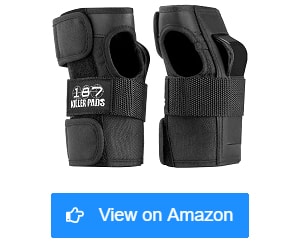 Almost any pro skater can agree that the 187 Killer Pads Wrist Guard is always a top pick when it comes to safety skateboarding equipment. These wrist supports come with extra thick splints that protect the base of my hands by keeping the impact low on my end. I like these components because they're not only protective but of good quality as well.
This pair of wrist bands feature three adjustable straps that secure them on the rider's hands. These straps come with industrial-grade fabric that keeps them durable. Also, I think this brand's 3-strap design evenly distributes the tightness from my wrist to my fingers, making this item fit better.
One more thing I like about this wrist protector for skateboarding is its slightly angled shape. It does not force my hands to go straight and keeps them in a comfortable form. With that, I feel less strain on my wrists and hands, and I can even move better on my skateboard.
Another aspect of these roller derby wrist guards that make them comfortable to wear is their unique hole cuts. Unlike other brands that allow for five finger holes, this one only has a lone hole for the thumb and another for the rest of my fingers. With these, my hands move easily, and my palms sweat less frequently than with my other wrist pads.
The only issue I had with this brand was with the velcro tapes. The unused parts of the velcro straps tend to catch my clothes, which is inconvenient. I had to use tape to keep them away from my clothes.
Pros
Quality extra-thick splints that reduce impact from falling
Adjustable 3-strap wrist guards that use industrial-grade fabric for durability
Even tightness distribution from the three straps
Angled shape for better comfort and less hand strain
Unique hole cuts for lighter movements and less sweat
Cons
Velcro straps scratching over clothes
These wrist guards are unique in many aspects. They effectively keep me safe from skateboard falls, and they feel comfortable.
3. Hillbilly Wrist Guard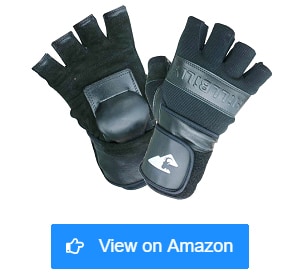 Coming with a sturdy design, the Hillbilly Wrist Guard is one of the top-tier skateboarding wrist guards to use for mountainboarding and skateboarding. This option features a solid build with several portions made with leather. And with leather being a durable material, I'm confident about taking these guards with me no matter my trail.
These wrist pads are also a snug fit for me. They come with soft cushioning inside, enough to absorb impact from skateboarding. Also, what I like about the foam inside is that it reaches the finger holes. With that, my hands always feel comfortable in the wrist guards.
I think the fingerless design of these wrist guards is an advantage as well. Unlike closed skateboard wrist guard gloves that feel a bit warm, this pad's style makes it breathable. Plus, half-finger gloves enable the rider to be slightly free to do other movements on the board.
Another aspect I love about this brand is its price. It's not the lowest-priced brand I saw from the market, but a pair like this should last more than a year, which is beneficial. It even lasted longer than some of my newly-bought wrist guards. So, I think I spent enough to protect my wrists using these pads.
It's not much of a disadvantage, but the plastic support on these hand pads for skating make it difficult to hold the remote of an electric skateboard.
Pros
Durable wrist pad with leather, fit for mountainboarding & skateboarding
Has a snug fit on wrists
Soft impact-absorbing cushion for a comfortable fit
Fingerless design for a breathable feel and more dexterity
Comes at a reasonable price
Cons
Plastic support makes remote handling difficult
Despite that, I am happy about the wrist protection Hillbilly wrist guard gloves give me. The insides are comfortable, and my hands feel cool because of the pads' design.
4. Triple Eight Skateboarding Wrist Guard
One of the factors that make Triple Eight's Skateboarding Wrist Guard durable is its stitching. These guards come with a double-stitched finish on all their seams to keep their entire build solid. And with that, I'm confident the cloth, cushion, and all parts of the pads will last long.
Another notable feature of these wrist supports is their impact-proof and removable ABS plastic splints. I love the convenience of removing and putting back these pieces anytime I want. Plus, that also means I get to replace them when they break or wear down.
One more component that makes these wrist guards counter shocks is their EVA cushioning. These pieces of foam cover ample space over my wrist and palms. Also, this cushioning gives my hands a hugging sensation, making me feel more comfortable.
Compared to some wrist pad brands, this Triple Eight model only has one strap. But this strap is wide and strong enough to hold the pads steadily. Made with thick neoprene and adjustable hook and loop strap, these wrist guards remain in place no matter how frequently I move.
On the downside, one of the pads I received had some damage, which I think was a factory defect. Nevertheless, my replacement pair was in good condition.
Pros
Double stitching that keeps the parts safe from wearing
Impact-proof replaceable ABS splints
Soft EVA foam for superior shock absorption
Comfortable cushioning that covers the hands and wrists comfortably
Strong and wide neoprene strap that locks the wrist support in place
Cons
One wrist pad arrived with damage
Even considering the damage when I received them, Triple 8 wrist guards are some of the most durable pairs I have. These appear to be long-term equipment for me.
5. Hillbilly Full Finger Wrist Guard
For a pair of wrist guards that are akin to heavy-duty skateboard gloves, I'll always have the Hillbilly Full Finger Wrist Guard as one of my choices. Hillbilly wrist guard gloves come with leather in different areas: the finger joints, palms, in between the fingers, and around the wrists. These components make this wrist protective gear less prone to wear.
Another feature I like about these wrist guards is their design. There are only a few full-finger wrist pads on the market, and having this brand feels more like luck on my end. This pair works best when I do tricks that require holding the board in the air or swiping the ground. And with that, I'm safe from cuts and scratches when doing tricks.
I think these wrist protection gloves are also some of the most secure ones I have. These Hillbilly wrist guard gloves do not only have one but three wide straps, and all of them have good quality velcro tape. So, they do not only look sturdy but steady on my hands as well.
Other than the leather portions of these wrist guards, I also like the fabric on the entire glove. It's of premium quality and does not wear quickly. Also, added with the pads' cushion, these two components make me feel comfortable using them.
On the downside, I would not advise using these pads if you anticipate getting your hands wet. I once got into some rain with these, and all I had after taking them off were black-dyed hands.
Pros
Quality wrist guards with leather for better wear resistance
Has a full-finger design, fit for several tricks
Three wide straps with quality velcro tape for a secure fit
Comfortable and durable fabric body
Cons
Dyes wet hands black after using
Performance-wise, I love using these wrist pads skating anywhere or when doing tricks. Also, I feel confident leaning on my hand because this wrist pad covers every corner of it.
6. CTHOPER Impact Wrist Guard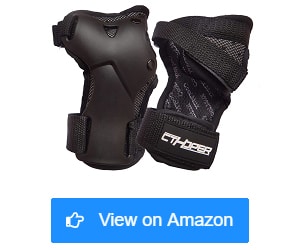 The CTHOPER Impact Wrist Guard is one of the options with a perfect balance of breathability and wrist protection. These skateboard wrist guards feature an open back that allows enough air to pass through. Plus, at the front is an ABS plastic shell that runs from my wrist to my palm. With these, my hands do not feel heavy and are protected as well.
Another aspect I love about the design of these wrist guards is their shape. Unlike other brands that go against the form of my palm, this one is a snug fit. It also covers ample space over my palm and wrists. I feel like I bought a customized pair with this brand.
One more factor that adds to the great protection and comfort of these wrist guards is their cushioning. CTHOPER features a soft EVA foam that handles enough impact and pressure, especially when falling on my skateboard. What's even better is that there are also foams behind the straps. That means I'm free of discomfort from these bands.
These wrist pads are also convenient. Not only are they easy and light to wear, but they are also easy to carry. Each pair of these wrist guards come with a separate mesh bag in the package. That way, I get to bring them with ease. Plus, I can separate them from some of my skateboarding equipment.
However, I think the straps were a bit short. I would be more confident seeing an inch of the strap overlapping the opposing velcro tapes. Nonetheless, I still get to lock them on my hands easily.
Pros
Open back design for breathability
ABS plastic shell for quality protection
A comfortable shape that's a snug fit
Lightweight, comes with an EVA foam cushion for superior impact absorption
Has a mesh bag for better storage
This pair is not a full sleeve nor a closed-finger wrist pad, but it protects me well. I love using these guards because they feel light and fit me comfortably.
7. Pro-Tec Street Wrist Guards
Perfect for various outdoor activities, the Pro-Tec Street Wrist Guards feature a competition-level build most professional skateboarders love. These wrist guards come with a quality structure, making them fit for biking, inline skating, and a few more extreme sports.
These wrist pads also have ideal components. Pro-Tec has this combination of durable fabric and ballistic nylon that provide ample protection. I love these materials because they have the perfect balance of durability and safety. And most of all, I find these components soft enough to make my movements seamless.
The next best thing about these wrist guards is their design. They happened to be quality full-sleeve wrist guards when I wore them. They wrap my hands and wrist well, and the straps are wide enough to lock them.
The adjustable velcro straps are also an advantage for me. These adhesives are almost as long as the wrist pads. They run from the back of my palm down to my wrist joint. With these, the wrist guards feel more secure, and I don't need to deal with loops to lock the straps.
I think the plastic splints are not as broad as with my other wrist guards. It's the same issue I read from a user on Reddit. Nevertheless, the rest of its parts allow for extra protection.
Pros
Competition-level wrist guard gloves skateboard users love
Suits many sports
Comes with durable fabric and ballistic nylon for more protection
Does not restrict movements
Full-sleeve wrist guards with wide straps that wrap the wrists well
Long velcro tape that mounts the straps
Cons
Plastic splints are not as wide as other brands
Overall, these wrist guards are one of the most secure pairs for me. And with the velcro tape, the straps never seem to slip off.
8. BOSONER Wrist Guards
Many users are struggling with the sizing of their skateboarding accessories, which is why I think the BOSONER Wrist Guards can be an ideal solution. This brand comes with an accurate sizing guide and sizes available to riders of all ages. And with that, I never had a hard time searching for the best fit for me.
The design of this wrist support is one of the coolest. Other than a nude back layout, the cushions of these pads come with a mesh cover. This feature allows air to pass through while keeping wrist protection at an optimum level. Through this, my hands tend to sweat less than usual, and the guards don't feel heavy because of moisture.
Aside from being flexible to different levels of users, these wrist guards are adjustable. From the straps to the velcro tape, I can secure the best fit for my hands. The straps are also durable, so there's no need to worry about them wearing out too soon.
On top of these features is the optimum level of protection this wrist pad has. It comes with a wide plastic splint, shaped to conform with my palm. These ABS splints are also extra-thick and durable enough to counter impact and protect my hands. Wearing wrist guards like these is like putting on a hand extension that's thick and hard.
One customer reported receiving this pair with scuff marks. It's not a huge problem, in my opinion, as this is a rare incident, and buyers can always return the faulty product.
Pros
Accurate sizing with sizes that fit all user ages
A nude back with mesh cover on the cushion that allows air to pass through
Durable and adjustable straps with velcro tape
Extra-thick ABS plastic splints that fit the hands' shape for optimum protection
Cons
May arrive with scuff marks
I love the robust look these wrist pads have. They work well, and I'm happy about keeping my hands almost dry during my rides.
9. Bodyprox Wrist Guards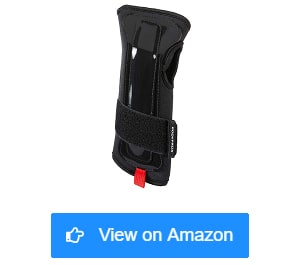 Coming with a slim design, the Bodyprox Wrist Guards is one of the choices offering a perfect balance of durability and weight. These wrist pads come with a neoprene cuff that's lightweight and robust at the same time. They do not feel flimsy, and they protect my hands well from falling.
These wrist guards' slim and soft design also brings me convenience. Other than the smooth fabric, the pair also has this easy slip-on feature. This aspect allows wearing wrist guards and taking them off without exerting too much effort. Also, this design helps my fingers and thumb move unrestricted.
On top of the quality design of this wrist pad is a protective splint. This component runs from the base of the hand up to the palm and effectively guards them against possible injuries when falling. Through it, I'm confident I get complete protection when skateboarding.
Not only is this safety gear ideal for skateboarding, with its heavy-duty fit and cushioning, it can also work for other outdoor activities. It's perfect for extreme sports like snowboarding, skiing, motocross, roller skating, and more.
It's not a disadvantage on the physical aspect of the wrist guards, but I would be happier to have received a correct pair. The seller initially sent me two right wrist guards.
Pros
Neoprene material that makes the pads lightweight and durable
An easy slip-on feature that allows for seamless wearing and taking off
Unrestricted thumbs and fingers
Protective splints that cover the hand's base and palm
Heavy-duty fit and cushioning ideal for other extreme sports
Cons
Wrong pair sent by the seller
Having these low-profile wrist guards for roller skating feels like a luxury for me. They're easy to put on, and they have as much protection as other top brands.
10. 2PM TOOLS Wrist Guards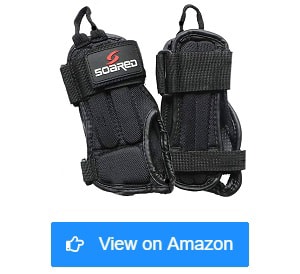 One of the things I love about 2PM TOOLS' Wrist Guards is that they have leather fabric on all their edges. This leather runs along the seams of the finger holes and all sides of the wrist guard. With these, I'm sure the stitches and the pads will not rip quickly.
What's unique about this wrist pad is its cushioning. It has a shock-absorbing EVA foam, but it does not run over the wrist guard's body. It has a perfect position on the palm, where most impacts occur. I find this design clever because it does not make the wrist pads and my hands look bulky.
Another unique feature of this skateboard wrist guard is its two strips of protective splints. These components are on both sides of the gear. With these two strips, I get great protection from impact. Also, the mesh fabric allows more air to circulate on the wrist pads.
To me, the ropes on these wrist guards are an advantage. These pieces of fabric are present somewhere near the bottom edge of the wrist pad. Not all brands have this component, but these ropes help me wear the wrist supports and take them off conveniently.
I'm not sure if this issue confused other users, but the left and right markings on these wrist pads were misplaced. So, I think it would be better to try wearing these pads on both hands first, especially for new users.
Pros
Leather edges for more durability
Perfectly-positioned EVA foam that counters impact
Two protective splint strips for better safety
Clever and cool design that does not make the pads bulky
Mesh design for air circulation
Friendly rope on the wrist side for easy wearing and taking off
Cons
Misplaced left and right markings
I think 2PM has the most minimalist design of all my wrist guards. But I am happy it still offers quality wrist protection like other high-caliber wrist guards.
11. Flauto Wrist Guard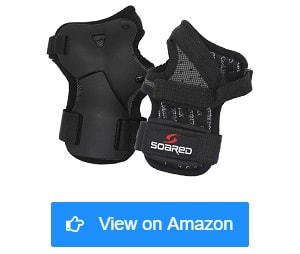 Searching for breathable wrist guards got me into the Flauto Wrist Guard. These wrist supports feature a nude back design that keeps the opposing side of my palm dry and cool. Also, it has inner cushions that do not only protect my hands but also absorb sweat. And with that, my palms always feel comfortable and well protected.
The second aspect I love about this skateboard wrist guard is its ABS plastic shell. This piece of quality plastic runs from my wrist and covers my palm, where most impacts occur. It's durable, and it conforms well to the shape of my hands. Plus, it does not feel hard, nor does it cause strains on my wrist.
These wrist guards are lightweight and look minimalist. In fact, with their design, I can still put on a fitness wristwatch. Unlike other brands that look and feel heavy to wear, this pair of wrist guards can offer the best protection without making me lift some weight.
These pieces of equipment do not only work for skateboarding. This Flauto pair also works for inline skating, skiing, snowboarding, motocross, roller skating, and a few more outdoor sports. They're like my Ennui wrist guards that are protective and versatile as well.
I think the stitching could be better. That said, it still worked well enough to keep the guards intact and protect my hands.
Pros
Nude back design that keeps the back of the palms cool
Inside cushion that absorbs sweat and protects comfortably
Durable ABS plastic shell that's impact-resistant and strain-free
Lightweight skateboard wrist guard that conforms to the hands' shape
Users can wear these with a watch
Works with extreme outdoor sports other than skateboarding
Cons
Stitching could be better
Flexibility with the design and kind of sport is at its best with these wrist guards. They're a good fit for my hands, and I always feel protected when I wear them.
What to Know Before Buying Skateboard Wrist Guards
Protecting yourself against a wrist injury is not as easy as picking whatever you see from the store and putting it on. Here's a detailed explanation of the things we need to consider as we choose wrist guards for skateboarding.
This aspect, next to safety, is the most significant factor we need to check when talking about wrist guards. Seeing a good brand or finish does not guarantee comfort, especially when you have sensitive hands. So, when choosing skate wrist guards, it is necessary to fit each pair and assess it well. From there, you'll have an easy time deciding which one suits you best.
Like your knee pads, one good way to identify the perfect wrist guard size for you is by knowing the brand you want. You may not notice size scale differences among most wrist guards from different manufacturers, and these can only confuse you.
Plus, you would not want to receive wrist guards for kids because you checked the wrong size guide.
So, try to seek a size chart from the brands you want. Next, get the wrist guard designs you prefer. Lastly, grab a soft tape measure and measure your hands and wrists based on the option you picked.
Different materials make up a good pair of wrist guards for skating. With the appropriate combination of these materials, you're more likely to have quality and safe rides. An ideal wrist protector skateboard users prefer comes with ballistic nylon, neoprene fabric, EVA cushioning, leather patches and seams, and ABS plastic splints.
These parts are vital in your guards' durability and impact resistance. Also, you may want to check the width of the pads' straps and the length of the velcro tapes to secure them.
Various design choices suit different types and levels of skateboarding. The first classification is the fingerless skateboard wrist guards. Standard wrist guards come with fabric that reaches an inch over your knuckles. Some designs have another inch of finger separators while others don't and only have a thumb hole.
The second style is the full-finger wrist support that resembles a pair of skateboard gloves with wrist guards. However, these pads are more durable in terms of their materials. Most skateboarders who use these perform tricks that require frequent hand-sliding on the ground or any surface.
Another design aspect we need to check is the build of your wrist pads. Some look like plain sleeves with a hole provision for the thumb and the rest of your four fingers. Others come with a plastic splint on the palm and an open back.
Of course, you do not want a hard object going against your palms, which is why you need a pair that's of the same shape as your hands.
Whether you use long or short wrist pad straps, it's your call. The same is true when checking on the pads' velcro tapes. But in practice, it's always a sign of confidence to have at least two adjustable nylon straps and wide velcro tapes to ensure that the wrist pads do not fall easily.
You will have to consider these factors almost simultaneously. So, to avoid feeling overwhelmed, it's best to write these things down to keep yourself guided throughout.
Should I Wear Wrist Guards When Skateboarding
Safety is an absolute requirement for quality skateboarding. Whether you fall on your skateboard or not, nothing beats prevention. With that in mind, you need to keep your wrist guards on when riding your skateboard. That way, you will have the confidence to attempt tricks or even fall on your board.
Do Skating Wrist Guards Protect Against Fractures
Wrist fractures are something you would never want to happen to you. They may not affect your foot movements, but may bar you from doing other things that require your hands' intervention.
One purpose of wearing skateboard wrist pads is for you to have wrist protection once you fall on your board. And by landing on your hands with the wrist guards on, you're more likely to escape the risk of experiencing fractures, although they can still happen.
Can You Wear Wrist Guards With Gloves
Wearing gloves beneath wrist guards is okay. You may put on a pair of protective gloves for extra protection. But if it makes you feel uncomfortable or makes your hands look bulky and heavy, then you may want to consider wearing skate gloves with wrist support, so you won't need to combine wrist pads and gloves.
How Do You Wear Skateboard Wrist Guards Properly
One of the reasons why some wrist guards wear out too quickly is users putting them on the wrong way. Here are a few steps to wearing guards appropriately.
Find the left and right sides.
Loosen the straps.
Wear the wrist support by inserting your fingers.
Tighten the straps to the perfect fit.
Lock the bands with the help of the velcro tapes.
Conclusion
Knowing the best safety practices is one of the most vital stages of skateboarding. You do not only obtain pieces of equipment, but you also get to protect your body parts from any form of injury. As an effect, you'll be able to do other things with efficiency.
So now, with the best skateboard wrist guards, you can be more confident riding your board.
Ride safely, and if you have any questions, the comments section is open for your inquiries.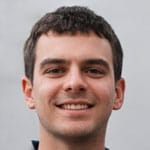 Hi, I am Charles Harris. I opened this site to write as much as I can about my biggest passion – skateboarding!
I started as a clumsy yet passionate rookie 10 years ago to now a still passionate yet much better skateboarder! But I have to tell you, the whole journey has always been fun and rewarding, indeed not without hardship.