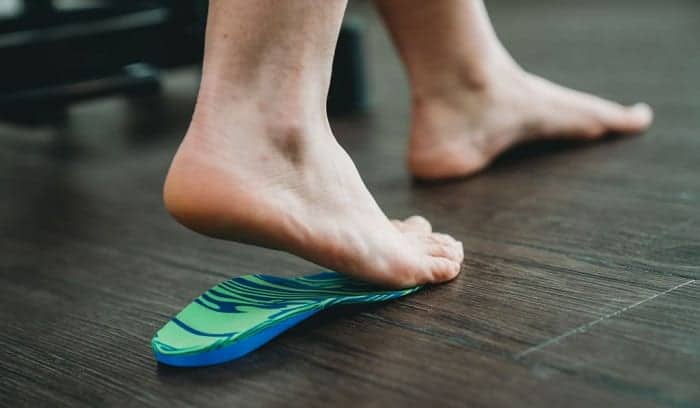 Before hitting the half-pipe or the skate park, every skateboarder needs a reliable pair of skate shoes with matching skateboarding shoe insoles that provide ample protection from impact and maximum shock absorption.
While most skate shoe brands speak highly of the insoles that come with their shoes, they often fall short of expectations. Aftermarket insoles offer skateboarding junkies game-changing features that they will immensely benefit from.
This article rounded out the best skateboarding insoles engineered to take a beating to offer riders unabated protection and a comfortable riding experience.
When buying skateboarding shoe insoles, here are some features worth considering:
Skateboard shoe insoles should offer increased impact support and cushioning to prevent injuries associated with landing from heights and bailing out tricks. The right insoles also can adapt to any foot shape for optimal comfort and support.
Insoles that provide heel and arch support afford users corrective and protective benefits that regular insoles or inserts don't possess. This feature also increases stability and reduces the risk of blistering and developing hot spots.
Odor protection and moisture-wicking materials work hand in hand to keep the feet comfortably cool and dry. Materials that aid in breathability also resist excessive perspiration, bacteria and prevent unwanted odors.
Although often overlooked, using the right pair of skateboarding insoles protects your feet and heels from the risk of chronic pain and sustaining severe injuries. Make every ride a comfortable and protective experience with the 10 skate shoe insoles featured in this buying guide: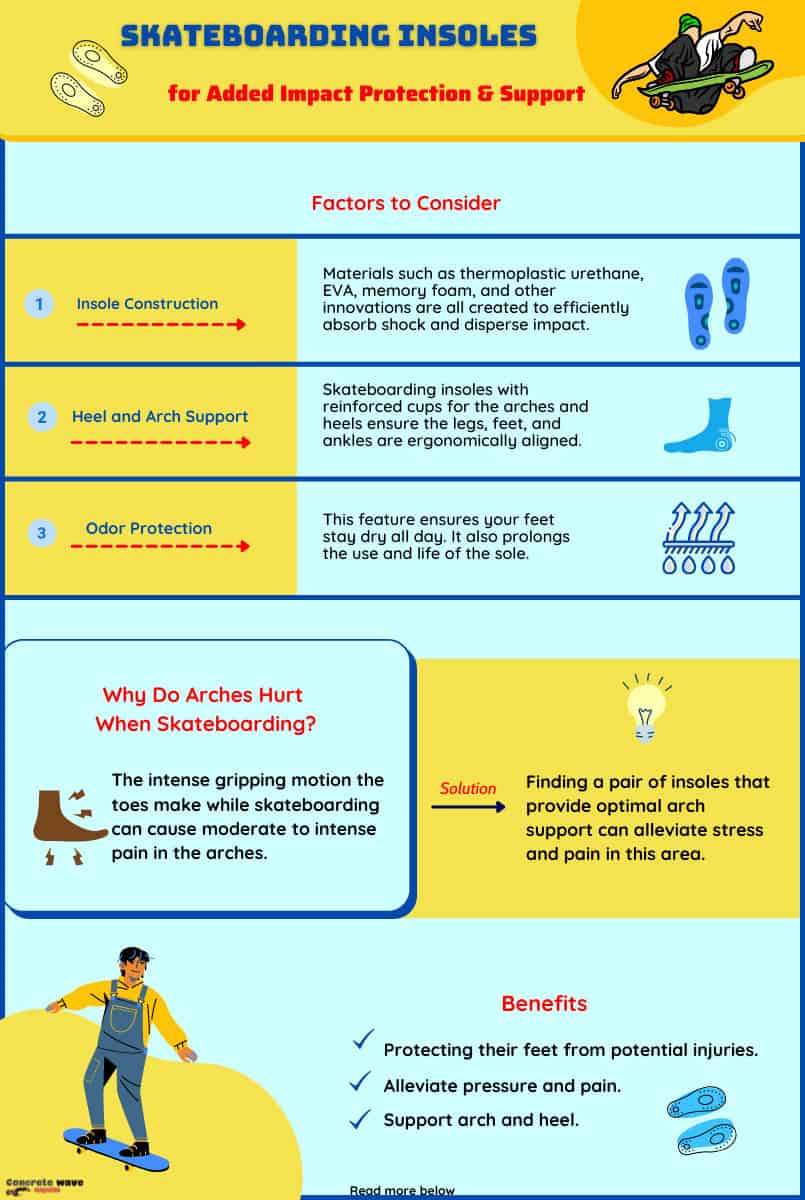 Top 1
Walk Hero Foot Insoles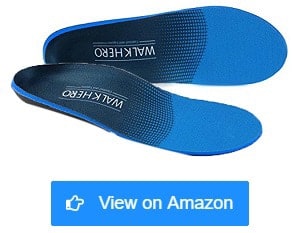 – Priced reasonably
– Full-length footbed
– Comes in 3 different colors
Top 2
Dr. Scholl's Insoles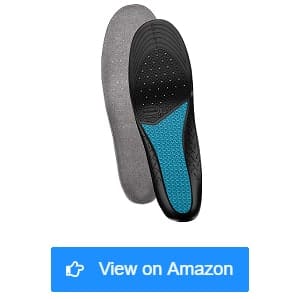 – Provides arch support
– The Multi-layer wave design
– Comes with cooling vents
Top 3
EASYFEET Insoles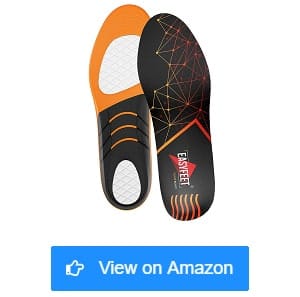 – Provides arch support
– Comes with gel forefoot and heel pads
– Offers both pain relief and support
Top 10 Skateboarding Insole Reviews
1. Walk Hero Foot Insoles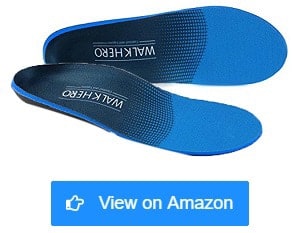 Flat feet and skateboarding are not a good match, so I'm glad I stumbled upon these skateboard insoles for flat feet. Specially designed and engineered to help ease pain associated with pronation and plantar fasciitis, among others, these insoles offer optimal underfoot support for users who need it most.
I love how these skateboarding insoles are lightweight and durable at the same time. The EVA foam base they are made with makes this possible and gives me targeted and controlled cushioning. Another plus for me is the semi-rigid orthotic support these insoles provide as I cruise and balance on my skateboard.
Landing on my heels with stock insoles on can be painful. The deep heel cups incorporated into these special insoles spell the difference for me – they stabilize my heels while effectively resisting force and impact. It just doesn't get any better than this!
These insoles also come in 3 different colors and are true to size. The full-length footbed also offers complete support from the toes to the heels. Having big, irregularly sized feet, I've had fitment problems all my life until I tried these!
My only gripe is that I had to trim the edges to make these inserts fit into my skate shoes precisely. Otherwise, I still highly recommend them. They're priced reasonably and could easily give expensive brands a run for their money.
Pros
Eases pain associated with pronation and plantar fasciitis
Full-length footbed offers optimal underfoot support
EVA foam base provides targeted and controlled cushioning
Deep heels cups stabilize the heels while resisting force and impact
Comes in 3 different colors that are true to size
Priced reasonably
Cons
Needs trimming for a precise fit
These skateboarding insoles are highly rated for a reason. Combined with a pair of great skate shoes, I can safely and comfortably shred the gnar!
2. Dr. Scholl's Work Massaging Insoles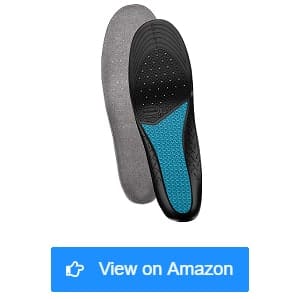 Dr. Scholl's has always been at the forefront of orthopedic foot care. Apart from arch-support that's typically found in most skateboarding shoe insoles, these come with massaging gel pads to reduce stress-related pain on muscles and joints. The multi-layer wave design also adds an extra layer of cushioning and energy rebound while I'm on the move.
Skateboarding means being on my feet for long hours. I love the protective support these insoles offer the moment I step on them. I rely on these insoles for unparalleled shock absorption, and they did not disappoint; carrying out tricks and carving has never been this comfortable.
Muscle fatigue, soreness, and achy feet often stop me from performing at my best. I immediately felt relieved and ready to take on another day at the skate park with these insoles on. So far, I've been able to stay more physically active longer without stopping due to pain or discomfort.
What's even more impressive is that these insoles are equipped with cooling vents that eliminate moisture, thereby keeping my feet dry and cool the entire day. Now I don't have to worry about riding in hot and humid conditions. My old kicks got a new lease on life because of these!
While the majority vouch for the performance and quality of these insoles, some users noted that these squeaks while they walk. This minor issue, however, does not affect how these skateboarding insoles perform overall. I still think these are great all-rounders that offer both protection and support.
Pros
Provides arch support
Equipped with massaging gel pads to reduce pain on muscles and joints
The Multi-layer wave design adds cushioning and energy rebound
Offers unparalleled shock absorption
Relieves muscle fatigue, soreness, and achy feet
Comes with cooling vents that eliminate moisture for dry and cool feet
Cons
Some users noted that these squeaks while they walk
I give these skate shoes with arch support a big thumbs up for performing exceptionally well. These are game-changing and warrant a closer look.
3. EASYFEET Athletic Shoe Insoles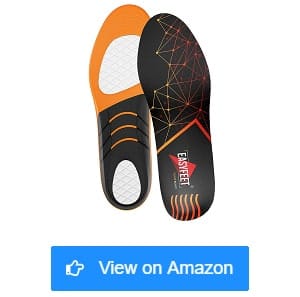 While finding the right pair of skate shoes is of utmost importance to me, I make sure to pair them with top-notch insoles that help keep my feet secure and comfortable as I bomb my way through the skate park.
These athletic insoles from EasyFeet were specially crafted to meet the demands of high-intensity sports like skateboarding. Designed to provide arch support for motion control and high-shock absorption, it's a clear choice for riders looking for protective gear.
Nothing comes close to the comfort of the gel forefoot and heel pads incorporated into these insoles. They make for a plushier, secure, and more comfortable riding experience. An added perk is the velvety, breathable layer that wicks moisture effectively, so my feet stay dry and cool throughout.
I suffer from lower back and joint pain, so I was stoked that these insoles afforded me both relief and support. Furthermore, it reduces the risk of other injuries commonly associated with high-impact sports. These insoles also provide high-energy returns and efficiently dissipate impact.
Because of how thick and tall these insoles are, they tend to pop out when I insert them into my Fizik shoes. However, they work great as vans insoles replacement. Also, breaking them in a couple of times does help with the transition.
Pros
Made to meet the demands of high-intensity sports
Provides arch support for high-shock support and motion control
Comes with gel forefoot and heel pads for a plushier, secure, and comfortable feel
A velvety, breathable layer wicks moisture to keep feet dry and cool
Offers both pain relief and support
Reduces injuries related to high-impact sports and gives high-energy returns
Cons
Too thick and tall for some shoe brands
These skateboard shoe insoles are an all-around winner for me. I certainly recommend bagging a pair or two.
4. Superfeet Carbon Fiber Insoles
Action-packed rides need no less than insoles that are designed to take a hard beating. These carbon fiber insoles are built durably to offer reliable support for a long time. The carbon fiber caps installed in these respond to compression, making it possible to regain their original shape as I move.
Another feature that stood out for me is its elevated heel design that reduces contact between my feet and the midsole for a more comfortable fit. I also love how my heels sit securely on the cups to prevent blisters and hot spots. These insoles do take comfort to greater heights!
What sets these impact insoles apart from the rest is its innovative Flybridge that loads and dissipates energy effectively for fast starts, fluid stops, and precise turns. I find this feature most beneficial when I carve in, so I know it works. It's game-changing, to say the least!
Thick cushions tend to drag me down, so I appreciate the thin and lighter Aerolyte foam these insoles are made with. Nevertheless, these are still as protective and supportive as thickly cushioned inserts without the unnecessary bulk. Without a doubt, these are perfect for riders looking for an alternative.
While these also work great as skating insoles, some users noted that it's a must to break them in to feel the difference. Otherwise, these are fantastic all-around rounders packed with a slew of benefits! I don't see myself considering other insoles anytime soon.
Pros
Durable carbon fiber insoles for long-term and reliable support
Carbon fiber caps respond to compression to help regain their original shape
Elevated heel design works to reduce the impact between feet and the midsole
Flybridge dissipates energy for fast starts, fluid stops, and precise turns.
Thin and lightweight Aerolyte foam provides protection and support
Cons
These insoles need to be broken in for users to feel the difference
With performance, comfort, and durability in check, these could easily be one of the best skate insoles available out there.
5. Superfeet Hockey Comfort Insoles
I swear by my Superfeet Carbon Pro Hockey insoles, but on days when I feel bruised and pained, I replace them with these comfort insoles. Thanks to their Aerospring Glide comfort foam, my arches are positioned correctly to prevent overpronation, and I get the immediate relief I need to keep going.
It's impressive how these insoles are specially contoured to stabilize my feet so I can move more fluidly across the ice while minimizing friction. This gives me added protection against nasty blisters and hot spots. I can confidently say that no other insole can withstand the demands of ice hockey the same way!
These comfort insoles are equipped with flexible cradles that secure, protect and offer utmost support to my heels as I glide without ever being too rigid. This also means they're less constricting and accommodates a full range of movement. Designed for both action and endurance, I know I can count on these insoles as the game gets rough!
The only gripe I have about these insoles is the steep price, but it's not hard to justify the cost. Overall, users can expect to get the best value for their money because they last up to 12 months or around 500 miles of use. It's a solid choice for sporting enthusiasts who need no less than the best.
Pros
Comfort foam position arches correctly to prevent overpronation
Contoured to stabilize feet and minimize friction
Flexible cradles offer support to heels without being rigid
Designed for action and endurance
Lasts up to 12 months or around 500 miles of use
Outfitted with materials for optimum comfort and support, I highly recommend investing in these awesome insoles!
6. Sure-Grip Skate Contour Insole
When stock insoles aren't cutting it, I turn to these skate insoles for added impact protection and support. Compared to regular inserts that tend to strain my feet, these are cushioned and well-padded for long-lasting comfort. What's more, these insoles stay in place without wrinkling or bunching.
I love how these inline skate insoles conform to my feet effortlessly. I feel like I'm getting more out of each stride I take as they stabilize and align my feet. These come close to the customized insoles I commissioned my local skate shop to make.
I'm all about minimizing pressure on my feet because I spend a lot of time skateboarding and rollerblading. While these insoles are not designed to alleviate pain, my heels feel immensely relieved when I have these on. I know I can count on these to keep me comfortable while I'm actively on the go.
The only minor setback I see is that these insoles need to be replaced more often when used heavily and frequently. But given that they're priced affordably, I don't consider this a deterrent. These are highly versatile and functional as figure skate insoles too!
Pros
Gives added impact protection and support
Cushioned and well-padded for long-lasting comfort
Stays in place without wrinkling or bunching
Conforms effortlessly and works to stabilize and align feet
Minimizes pressure and provides immense relief
Affordable insoles for shoes
Cons
These insoles need to be replaced more often when used heavily and frequently
Finding the perfect balance between comfort and protection at a price that's tough to beat doesn't come every day. I'm glad I chanced upon these insoles that make a great alternative to Vans ultracush insoles.
7. Old Bones Therapy Shock Absorbing Foot Insoles
Being an older skateboarder, I've had bouts with chronic joint and heel pain from wearing bad skate shoes and the injuries I sustained over the years. These skateboarding shoe insoles are right up my alley because they are built to resist impact, provide unparalleled heel and arch support, and alleviate pain.
I appreciate how each pair is meticulously trimmed to help achieve the perfect fit and comes in shoe sizes ranging from small to extra large. Users are bound to find the size that will suit them best using their detailed measurement guide. This means I never have to struggle with cutting my insoles to size ever again!
Constructed with thermoplastic urethane and memory foam, these high-performing insoles offer comfort unlike any other while looking after my stability. I'm glad I decided to replace my stock insoles with these instead of buying a new pair of skate shoes. Buying these insoles instantly gave me a bang for my buck!
I consider this one of the best insoles for skateboarding because of how well they secure my feet and heels as I skate through rough terrain. An added benefit of these insoles that I swear by is their therapeutic properties. Having been diagnosed with plantar fasciitis, these insoles do help alleviate my pain every time I wear them.
These are not the most affordable skating insoles I have, but I will repurchase this product given its outstanding features and benefits. I think these insoles are worth the investment. These are a far cry from other insoles I've tried that fell short of my expectations.
Pros
Impact-resistant skateboarding insoles
Provides unparalleled arch and heel support
Therapeutic and alleviates pain
Pre-trimmed and comes in shoe sizes that range from small to extra large
Made with thermoplastic urethane and memory foam for comfort and stability
Overall, these skate shoe insoles are packed with awesome features that are a cut above the rest. I know I can rely on these to look after my safety and comfort as well.
8. Shred Soles Skateboarding Insoles
I've always been passionate about skateboarding, so I'm constantly on the lookout for gear that will enhance my riding experience and protect me from the perils of the sport. These skateboarding insoles from Shred Soles are ultra-plush and provide prolonged support and comfort just when I need it most.
I love how the footbeds of these insoles are constructed with microcellular urethane and how it immediately disperses force upon impact. This makes for a safe, stable, and comfortable riding experience unlike any other. I can instantly tell the difference by touching the surface alone.
What's more, PrimoTech Skeleton, an advancement in insole technology, offers unrivaled protection for the arches against bad landings. The deep well cups incorporated into its innovative design also improve users' stability for better balance and control. With my arches aligned and in place, the possibility of sustaining sprains and fractures is reduced.
Being on the move for long periods takes a strain on my feet. These skate insoles instantly gained plus points for having high-density gel pads positioned strategically on their heels. I feel that it doesn't get any better than this!
While I think it's an awesome product, these insoles are a bit too bulky for some of the skate shoes I own. However, this does not in any way affect how the product performs overall. Because of its top-notch construction and user-centric features, I understand what the hype is about!
Pros
Ultra-plush and provides prolonged support and comfort
Microcellular Urethane disperses force upon impact
PrimoTech Skeleton protects arches from bad landings
Deep well cups improve stability for better balance and control
High-density gel pads on the heels for added comfort
Cons
A bit bulky when paired with some skate shoes
These skateboard insoles changed the game for me. I look forward to pulling off more painless shove-its and ollies with these in tow.
9. Remind Insoles Destin
Whether I need them to add comfort or alleviate pain, I know I can count on my Remind insoles to save the day. With over 35 years of experience under their belt, users can expect no less than biomechanically engineered orthotic insoles to help achieve the right anatomical alignment.
These are ultra-lightweight and easily outperform other insoles in the market because of their state-of-the-art, impact-absorbing smart foam.
Being only semi-rigid, I get a full range of motion as the self-forming therapeutic foam flexes to support my forefoot and heels. These insoles are high-performing and offer unadulterated impact resistance. But unlike other insoles that claim the same, these are specially built and designed to withstand the demands of action sports.
I swear by the durability of these insoles after subjecting them to numerous, hard-hitting skate sessions. Aside from them being extremely durable and hard-wearing, these are also classified as high-energy return insoles. Now I don't have to deal with flat spots and unexpected break-downs while I'm on the move.
While my socks keep my feet dry, these insoles have organic antimicrobial properties that effectively control odor and prevent bacteria build-up. For a comfortably dry experience, they wick moisture off like a dream too. It's hard to stop raving about how awesome these skateboarding insoles are!
Some users reported not receiving the design they ordered, but their customer support team would be more than happy to help when this happens. All in all, these are superb skateboarding insoles that beginners and skilled riders alike will love. I felt the immediate difference!
Pros
Biomechanically engineered orthotic insoles for proper anatomical alignment
Ultra-lightweight, state-of-the-art, impact-absorbing smart foam.
The self-forming therapeutic foam allows a full range of motion
Extremely durable and hard-wearing
High energy return insoles
Antimicrobial and moisture-wicking layer
Cons
Some users reported receiving the wrong design
Where else can you find skateboarding insoles that don't compromise specific qualities at the expense of another? I'm glad I invested in these!
10. Footprint Insoles Skateboarding Insoles
While the stock insoles from my skate shoes feel comfortable, I needed a pair designed for my mid-arched feet. I'm happy to have stumbled upon these insoles that not only conform to my arch shape but provides impact protection as well. With 15 cool designs to choose from, I enjoy mixing and matching the pairs I own with my skate shoes.
Right off the bat, these insoles are meticulously stitched for durability. This ensures that the top layer that covers the foam underneath stays intact as I move. I've had these for a couple of months so I know I got a bang for my buck.
I've had my fair share of insoles that are too thick or thin, so I'm glad I found a great middle-ground in these at 5mm. These skateboarding insoles provide ample protection against force and impact without eliminating how my deck feels when I step on it. It means better control and an enhanced riding experience.
These insoles claim to prevent injuries related to overpronation or having flat feet, which is a plus for me. Skateboarding, however fun and exhilarating, can lead to heel pain and even plantar fasciitis. Having protective insoles on top of other safety equipment does help.
Users with an existing foot or heel injuries or pain may not benefit from these insoles because they don't alleviate pain. Nonetheless, they are comfortable enough for everyday use. It's a solid choice for anyone who wants variety and quality at a price that's hard to beat.
Pros
Conforms to different arch shapes while providing impact protection
Comes in 15 cool designs
Meticulously stitched for durability
Moderately thick at 5mm
Prevents injuries related to overpronation
Offers comfort, variety, and quality for a good price
Cons
These insoles are not therapeutic and don't alleviate pain
Given their unmistakable quality and design selection, I know I'm getting good value for my money. I can't wait to get my next pair!
What to Look for When Buying Skateboarding Insoles
Skateboarding insoles are known to absorb the impact that would otherwise render feet battered, bruised, and even seriously injured. Sporting the right pair of insoles also makes a difference in reducing foot pain associated with high-level jumps and technical tricks.
Before sealing the deal, one must determine why insoles are necessary and what level of support is needed. Riders who have flat feet or suffer from plantar fasciitis will need reliable arch support.
If shin splits bother you and standing and cruising on a skateboard for long hours best describes your riding style, this warrants added cushioning for optimal comfort. Choosing insoles that are perfectly suitable for the feet and the level of protection and comfort ideal for one's feet significantly decreases the risk of injury and discomfort.
Dig into these important features when considering what to buy:
Insole Construction
Game-changing technology and special materials designed to offer top-notch protection spell the difference between stock insoles and customized insoles. Materials such as Thermoplastic urethane, EVA, memory foam, and other innovations are all created to efficiently absorb shock and disperse impact. These advancements provide users with enhanced protection against impact-related pain and injuries.
Heel and Arch Support
Skateboarding insoles with reinforced cups for the arches and heels ensure the legs, feet, and ankles are ergonomically aligned. This structure also ensures that your tissues and bones don't flex and extend outside your body's normal range and alignment. Riders who typically suffer from joint or soft tissue pain or those who stand and skate over long periods will find this feature beneficial.
Odor Protection and Moisture-Wicking Material
Skateboard shoe insoles with moisture-wicking properties and odor protection ensure your feet stay comfortably dry all day. These protective features also prolong the use and lifespan of the insole itself. Materials that promote breathability are also great at controlling excessive perspiration and preventing the growth of nasty bacteria.
Why Do My Arches Hurt When Skateboarding
The intense gripping motion the toes make while skateboarding can cause moderate to intense pain on the arches. Finding a pair of insoles that provides optimal arch support can alleviate stress and pain in this area.
Are Insoles Good for Skateboarding
Definitely! Insoles play a vital role in protecting one's feet from potential injuries and can even alleviate pressure and pain. Insoles also provide comfort in the form of cushioning as well as arch and heel support.
Conclusion
While it seems easier to stick with stock insoles or regular inserts, safety, comfort, and protection come second to none. Looking at reviews online and forums on reddit are both beneficial when looking for the best skateboarding insoles.
Skateboarding insoles that are durable, hard-wearing, and boast innovative and protective features prove to be a solid choice for riders looking to enhance their performance.
If you found this guide insightful, don't forget to share it with other skateboard junkies you know, and feel free to share your thoughts below!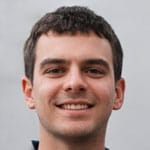 Hi, I am Charles Harris. I opened this site to write as much as I can about my biggest passion – skateboarding!
I started as a clumsy yet passionate rookie 10 years ago to now a still passionate yet much better skateboarder! But I have to tell you, the whole journey has always been fun and rewarding, indeed not without hardship.