Using the right skateboard for our style and age is necessary. Not only does it make our ride great, but it also helps keep us safe from mishaps.
Today, I will share with you the best skateboard for beginners kids. That way, you'll know the essential features of little skateboards and be able to pick the best one. Here are a few things to consider.
The kid's age – One of the reasons skateboards vary in size is because of the wide rider age bracket. Some options are suitable for 7 year old, while others work best for 8 year old or for 10 year old skaters.
And coupled with these numbers are also differences in height and shoe size. Let's specify the ones suited for children.
For younger kids aged 6-8 years, standing at 4'5 or less with shoe size 6, a deck width of 7″ and below will suit best.
For older kids ages 9-12, who have size 7-9 shoes and stand at 4'5-5'2, a 7.3-inch deck will work.
Finally, taller kids standing at 5'3 and up, who are at least 13 years old with a shoe size of 9, should have a wider board at 7.5″.
Deck material – Kids are generally playful with anything they do. Thus, we should give them the best deck build for durability and ride quality. Let me share a few of our options.
Maple – Maple skateboards are responsive, durable, and flexible.
Plastic – These are the penny boards we often see. Plastic decks are light, but be careful because some plastic skateboards may not be durable.
Bamboo – Bamboo decks are cheap, lightweight, and also flexible.
Fiberglass – Others combine this material with bamboo for its sturdiness.
Wheels – Like the deck, wheels also have diameters that suit beginners best. Generally, skate wheels at 53mm or below work well for beginners wanting to learn tricks.
Keep reading because we will know more about these factors in the buying guide section of this article.
For now, let's see a list of our best skateboards for kids.
Top 1
WhiteFang Skateboard
– Treaded wheels
– ABEC-9 wheel bearings
– Non-slip emery grip layer
Top 3
PHOEROS Skateboard
– Double-warped shape
– 8-inch body
– Uses heat transfer printing
Top 10 Skateboard for Beginners Kid Reviews
1. WhiteFang Skateboard
Skateboarding requires attention to detail, something the WhiteFang Skateboard does well.
Maybe not everyone will notice, but this skateboard has unique treads on its soft wheels. And these marks do not come without a purpose. Such lines make the rollers more durable. Not only that, but they also allow me to skate in parks, pools, and other smooth and rough spaces.
Besides the quality urethane rollers, the bearings of this brand are also a plus for me. WhiteFang uses ABEC-9 wheel cores on the beginner board, fast and precise enough to deliver decent skateboard rides.
Versus the previous option, this model only has seven layers of maple. But what I like about it is its form.
This skateboard features a dissymmetric concave shape, which makes learning and performing tricks more efficient. Paired with the non-slip emery grip tape, users will have their feet feeling more secure when riding.
Like many buyers of this quality model, I also find it convenient. This board came out ready for the city streets and skate parks. It did not require any assembly or adjustment, so I rode on it instantly.
On the downside, the paint on the bottom of the deck is slightly mediocre and easy to chip. Nevertheless, it's not a performance-related issue, so I'm good with it.
Pros
Treaded wheels that are durable and work on almost any surface
Has ABEC-9 wheel bearings for added speed and precision
A dissymmetric concave shape, allowing more efficient learning of tricks
Non-slip emery grip layer that secures the feet firmly
Did not need adjustment and ready-to-ride out of the box
Cons
Mediocre print at the bottom of the deck
This model is also one of the most versatile new age skateboards on our list. It's safe, easy to control, and delivers a quality ride.
2. Beleev Skateboard
If anti-slip properties are a significant consideration, I'll put my bet on the Beleev Skateboard.
This kids skateboard features a non-slip emery grip sheet on the stepping surface, keeping the user safe when riding. Not only that, but since such a layer is waterproof, users can feel certain that no liquid will penetrate the deck from the top surface.
The second anti-slip feature of this skateboard rests on its soft wheels. Beleev uses a set of 95a skate rollers, which have many benefits besides being grippy.
First, they're wear-resistant. Second, these quality wheels have high rebound properties. With these features, skaters can be confident about dodging street bumps and cracks without wearing the rollers out too soon.
Essentially, this beginner skateboard is lightweight. It's only 4.7lbs, which is perfect for younger kids and skaters. Such an aspect makes carrying and riding this option less tiresome for the user.
One more thing I like about this skateboard is its overall versatility. And such a benefit roots in several parts, such as the trucks and deck.
With the 10mm skate deck and 5-inch trucks, cruising, doing tricks, commuting, and freestyling are possible. Not only that, these parts also make the skateboard fit for all riders, whether beginners or experts.
Unfortunately, I wonder why some received the T-tool in the skateboard's ad but I did not. Some customers also did not get the same free tool.
Pros
Non-slip emery grip tape for improved rider safety
Waterproof gritty top that helps prevent water penetration on the deck
95a anti-slip quality wheels that are wear-resistant and have high rebound
7lbs lightweight skateboard, perfect for kid skaters
10mm thick deck with 5-inch trucks making the skateboard versatile
Cons
Did not arrive with the advertised T-tool
This Beleev model is not hard to like. With its shape, build, and safety features, I think this option is a staple for many young skaters.
3. PHOEROS Skateboard
Featuring a broad popsicle build, the PHOEROS Skateboard does not only fit kids but young people, too.
This beginner skateboard has an 8-inch body, spacious enough for the feet to move. Also, on its stepping surface is a high-friction, anti-slip grippy tape designed to keep the rider safe. I think these features define a perfectly stable and secure skateboard.
The second aspect I commend about this skateboard for kids is its ease of operation. Besides having a spacious and safe deck build, this Phoeros also has a double warped shape.
Such a deck form is most beneficial for beginner riders. It lets them turn sharply, slide, and perform basic tricks.
I think this kids skateboard is also versatile. It has a set of 95a high-resistance PU premium wheels originally made to suit almost any terrain type. And what makes them ideal for younger kids is their 53mm size. As mentioned in our short guide, this size fits skateboarding kids who want to learn tricks.
Looking at the board's aesthetics, I must say the brand also gives it importance. It uses a heat transfer printing method on the deck's bottom design, making the patterns uniquely waterproof. With that, any skater can appreciate looking at this skateboard's prints longer.
It's not an absolute downside of the board, but I think buyers should check all its parts because I got a loose truck. Nonetheless, tightening the hardware did the job.
Pros
An 8-inch body providing sufficient room for movements
An anti-slip grip sheet for added safety and stability
A double-warped shape designed to let skaters move and perform tricks easily
Comes with 53mm 95a high-resistance PU wheels, suited for almost any terrain
Uses heat transfer printing for the longevity of deck graphics
Cons
Trucks need additional adjustments
This model is among the quality skateboards that suit beginners best. It's spacious, gritty on top, and visually pleasing.
4. ANDRIMAX Complete Skateboard
Like the previous product, the ANDRIMAX Skateboard has seven layers of Canadian maple wood.
But if there's one thing that can make buyers more confident about this complete board, it's because it can load a maximum of 220lbs. While young skaters may not weigh this much, such an aspect is still relevant for adults wanting this beginner skateboard.
Beneath this 7-layered skateboard deck is a pair of high-quality aluminum skate trucks. Each truck comes thickened for durability. This unique feature gives the wheel holders added strength and stability.
Not only that, but each of these trucks also uses a high-rebound PU damping system to make the skater more comfortable.
Speed may not yet be necessary for a skateboard for beginners teenager, but I love how this brand installed ABEC-11 bearings on the skateboard wheels.
These components are famous for being the fastest skate bearings, and having them means users can expect a quick ride. In addition, these wheel cores also make skating more precise.
I think buyers of this Andrimax model can also appreciate its convenience. As one of the complete skateboards on the market, this one is ready to ride out of the box, freeing me from having to assemble it.
However, I find this beginner skateboard for kids slightly pricey. As a few users claimed, this option may not be best for budget-conscious buyers.
Pros
7-layered Canadian maple skateboard that loads as much as 220lbs
Thickened aluminum alloy skateboard trucks for improved durability
High-rebound PU damping system on the trucks for better comfort
Comes with ABEC-11 bearings on skateboard wheels for fast and precise rides
A complete skateboard that does not need assembly
Cons
Slightly expensive for a beginner board
Despite that, I am happy about how this great skateboard works. It's fast, sturdy, smooth, and convenient.
5. Scientoy Skateboard
Stability is what sends the Scientoy Skateboard into our list.
This skateboard has specific components that collectively work to steady its users. These parts consist of the 95a high-rebound soft wheels, ABEC-7 precision bearings, and 5-inch aluminum alloy trucks.
The wheels and their cores help absorb shocks on the road. Meanwhile, the trucks are both durable and light. So, the setup's only stable but also yields a smoother ride.
Besides being stable, this skateboard is also flexible. It has this classic double kicktail and mellow concave deck shape, allowing beginners to control it nicely. These deck features also make the skateboard work for several tricks like ollies, slides, flips, and grinds.
Maple is essential for the best beginner skateboards, and this brand goes the extra mile when using this material. Compared to the previous items, this model's deck has nine layers of Canadian maple.
And since this wood is famous for its flex and responsiveness, I get a slightly better feel during rides.
Free skate tools are an absolute plus. But having a complete repair kit in this item's package is exceptional. It consists of a regular T-tool, a multi-purpose wrench, two truck screws, and two more wheel screws. So, not only do I get to adjust some parts but also replace lost hardware.
The only issue I had with this board was its chipped grip sheet surface. The good thing was it didn't affect how the skateboard worked.
Pros
Smooth-working skateboard with 95a soft wheels and ABEC-7 bearings
5-inch aluminum skate trucks with balance and durability
Double kicktail mellow concave deck shape for better control and versatility
Comes with nine maple layers that add flex and pop
Has a complete repair kit with spare hardware
Cons
Arrived with chipped grip tape
I think beginner skateboarders will love this model because it's easy to control. Also, its parts make the user's life easier.
6. Magneto Kids Skateboard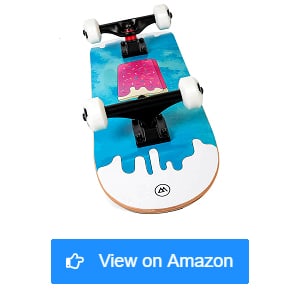 If there is a skateboard on our list dedicated to young users, it's the Magneto Kids Skateboard.
This Magneto comes in dimensions 27.5″ x 7.75″. While these numbers do not always suit adult skateboard users, they benefit kids.
Little skaters won't have a hard time moving the board, thanks to the low weight and sufficient length. There's no need to worry if the stepping surface is small because kids' feet aren't the size of adults' yet.
Despite being a compact board, this option never compromises on safety and quality. Magneto used seven layers of Canadian maple on the deck. Additionally, there is a layer of grit sheet on the top.
These features are necessary to secure the feet and retain the skateboard's overall durability.
Not only is the deck of this childrens skateboard durable, but its trucks too. Each skate truck of this Magneto Skateboard has a steel axle, able to hold the wheels and other parts firmly. And since these trucks use aluminum, we expect them to stand firm against wearing.
Magneto does not make cheap skateboards or the most expensive ones, but as many buyers said, this model is worth its price. It works well as a beginner skater's board. Plus, it has components designed to align with what pro skaters use.
I wish the bearings were better. I was expecting a set of ABEC-5 wheel cores, but the ones that arrived were not very high-quality.
Pros
5″ x 7.75″ skateboard size with low weight, ideally suited for kid riders
Seven layers of maple for durability
Has a top grip layer for added skater safety
Sturdy aluminum trucks with steel axles holding the wheels firmly
Worth its price as a beginner board
Cons
Bearings aren't high-quality
With the ease of dealing with extra length and width, no doubt kids love this budget skateboard. It's durable, which means it can withstand strong skating movements.
7. Hikole Skateboard
Perhaps, not everyone thought of complete boards suited for 5 year old skaters until they see the Hikole Skateboard.
This design fits the idea of a perfect kid skateboard, but it still has the build adult skaters want. It comes with a 7-layer Canadian maple deck that's durable and has enough pop. What's better is it can load a maximum weight of 220lbs, making it usable for bigger riders.
I think this model is one of the smoothest-performing complete boards. It features 85a soft wheels, softer than most rollers we checked, and shock absorbers in PU bushings. These urethane pieces on the wheels and trucks collectively absorb shocks on the road. They make skating parks, ramps, pools, and other surfaces easy.
When talking about tricks and stunts, one skateboard aspect that makes them possible is the deck's shape. With a double kick concave form fit into a 31″ x 8″ body, moves like ollies and 360s become achievable on this deck, even for beginners.
I rarely find this aspect in a kid or adult skateboard, but this model has safety certifications. While other brands mostly bank on grip tapes, this model has CPC, CE, EN71, and UKCA certifications to give users peace of mind.
However, I don't think this skateboard has the best bearings. The good thing was this hardware was easy to replace.
Pros
7-layered maple deck for kids and adults
Has a maximum weight capacity of 220lbs and enough pop
85a wheels with PU bushings for smooth rides and shock absorption
Double kick concave shape, good enough for beginners learning tricks
Has various certifications for ensured safety
Cons
The bearings could be better
There are a couple of unique things I love about this skateboard. It's smooth, durable, and safe enough to impress anyone.
8. Cal 7 Complete Standard Skateboard
If I am to pick a more versatile option, the Cal 7 Complete Standard Skateboard will be it.
Among all the complete skateboards here, this model has the stiffest PU wheels. These rollers have a hardness level of 99a, designed to take on all kinds of terrains. It can work on streets, skate parks, verts, and rails. Ideally, I can take it almost anywhere.
Of all skateboard styles, this is the best beginner skateboard for carving, thanks to the 90a PU bushings. These parts may not be as visible as other components, but they're significant to me. With these urethane pieces, turning and carving feel as smooth as I want them to.
This complete board does not have exceptional parts like other brands. But it comes with high-quality components, with the trucks being one of them.
Cal 7 uses aluminum skate trucks that are heavy-duty but are light in feel. What I love more about these is they also come with 3mm riser pads, which help prevent wheel bites against the deck.
And if convenience is a consideration, buyers would be glad to know it arrived ready to use with a pre-installed grip sheet. So, there's no need for an excited skater to install parts or tighten some hardware.
I had no issues with the skateboard's performance, but the shipping process could be better. The package arrived with a damaged box and a dent on one side.
Pros
99a hard PU wheels, designed for all kinds of terrain
90a PU bushings that make carving and turning smooth
Aluminum skate trucks that are durable but lightweight
3mm rider pads for added protection against wheel bites
Arrived ready to use with pre-installed grip tape for safety
Cons
Arrived with a dent and damaged box
Skaters wanting to try a variety of moves will love this model. Its wheels, trucks, and other parts allow for flexibility in usage.
9. JECOLOS Pro Complete Skateboard
Stability makes the JECOLOS Pro Complete Skateboard a must-have for many.
We know maple gives durability, and grip tape ensures safety. But not everyone might recognize that these two parts also stabilize the rider. With the gritty finish of the grip tape and the sturdy maple deck of the Jecolos, I can confidently skate on almost any surface.
Since I mentioned the grip tape, one more good thing about such a layer on this skateboard is it protects the deck against liquid penetration. Jecolos uses a waterproof material. So, water does not build up on the skateboard's stepping surface and pass through.
The sturdiness of this skateboard doesn't end on the deck alone. It also has high-quality thick aluminum trucks. And on these wheel holders are steel axles. Collectively, they support a maximum of 100kg. Plus, fast skating is possible with these parts. On top of these extremes, I'm happy the skateboard still operates safely.
And like many skaters, I love that this model comes with a T-tool. While such an item is widely available in many shops, I believe it's still an economic advantage to budget-conscious skaters. With this addition, adjusting the hardware or other parts of the skateboard is possible anytime.
I wish this model arrived with a better surface finish. I got mine with some scratches on the bottom where the print sits. Nonetheless, they're not a major concern.
Pros
Durable maple deck and grip tape for improved stability
Waterproof grip tapes protecting the deck from liquid penetration
High-quality thick aluminum trucks that support 100kg maximum weight
Steel axles for faster and safer skating
Comes with a T-tool for immediate repairs or adjustments
Cons
Arrived with scratches at the bottom
Minor scratches don't affect the deck's performance. Like most of the complete skateboards for kids we reviewed, this model has quality parts that ensure a smooth ride.
10. Retrospec Alameda Skateboard
For beginner skaters, the skateboard must be controllable in all possible ways, like the Retrospec Alameda Skateboard.
The first feature I like about this model is the dual kicktail moderate concave shape. It makes skating easy. And whether we're learning tricks or doing casual rides, this item can help the user do it better.
While bearings are essential to all quality boards, I find the ones coming with this option significant. Each wheel core of the Alameda comes with a rubber dust cover, preventing dirt and gunk from penetrating it.
For many skaters concerned about riding smoothness, such an aspect is relevant in keeping the skateboard's optimum performance.
Like most quality skateboard brands, this model also uses aluminum trucks, but what I like about this pair is they are slightly wider at 5.5″. Broader trucks are famous for adding stability, so kids can balance themselves better with this option.
These trucks also have urethane bushings, supporting the active movements of pro skaters. I think these high-rebound urethane pieces complement the stability the trucks give.
On the aesthetics side, this brand also does not disappoint. Retrospec has a wide array of easy skateboard designs for kids and adult skaters. So, being creative and customizing the deck is no less than viable with this model.
I am not that sure about the wheels, though. Like some buyers, I also found the ones coming with this board slightly smaller. A few times, I feel road cracks, but they're negligible.
Pros
Dual kicktail moderate concave shape for easy beginner control
Bearings come with a dust cover to prevent dirt build-up
Wider aluminum trucks at 5.5″ for better stability
High-rebound urethane bushings supporting active skating moves
Comes with a wide array of designs
Cons
Wheels are slightly sensitive to cracks
All in all, this skateboard makes rides seamless for beginners. It works smoothly, and it's easy to control.
What to Look for When Buying the Best Skateboards for Kids
Perhaps, age becomes one of the priorities when we talk about beginner skateboards for kids. Here's what we should consider when choosing a child's first skateboard.
The deck is the primary skating platform for the kid. Let's ensure its quality through the following.
As they say, the broader the stepping surface, the better. But that may not apply to kids, considering their feet aren't big enough to require a wider deck just yet.
With that in mind, here's a short list of deck widths aligned with the skater's age.
For a 6 year old beginner to 8 – smaller board with a 7″ deck
For skaters age 9 to 12 – 7.3″ skateboard decks
For teens age 13 and up – 7.5″ beginner boards or higher
The deck's composition affects our stability, the skateboard's pop, and overall durability. In simple terms, it affects the quality of our rides.
And for good reasons, the best material for a beginner skateboard for teenager or kids is maple wood. Such a component is durable, flexible, and has sufficient resistance against elements.
We don't mean to say it's damage-proof, but it wears more slowly than other cheap materials. Performance-wise, maple skateboards have a lot of pop if we're vigilant enough during selection.
While shopping, you may also come across a plastic deck. This material is often present on a cruiser skateboard and is lightweight enough for kids to carry. However, it's not very durable or suitable for tricks.
Often, skateboard types are distinguishable through their shapes. We have longboards, mini cruisers, and the classic popsicle shape with a double kicktail.
Let's set aside the first two examples. We'll focus more on the double kicktail shape, the one most suitable for kids.
Double kicktail skateboards allow the rider to execute tricks more conveniently. They yield better control, making them a must-have for beginners.
Besides the improved maneuverability, double kicktails are also versatile. They work for downhill skating, parks, cruising, and other flat surfaces.
The wheels execute the motions our bodies make. Here's what to check when choosing them.
Wheel sizes range from 50mm to 60mm. Some even have a higher diameter, but they are exceptional cases. Let's look into these numbers better.
Wheels sized from 50mm to 53mm are for beginner kids. These rollers work well on parks, bowls, and streets. However, they tend to be slow on kids skateboards.
Another range for beginners is those at 54mm to 59mm. The only difference from the former is that these wheels suit adult beginners more. And like the previous category, these rollers also work in similar locations.
If we move to a bigger size, we'll find 60mm wheels. These rollers are often on longboards. They work on rough surfaces and are the best choice for downhill skating because of their speed.
Most wheels from the products we discussed have a 95a hardness level. Below are the ranges of wheel firmness you'll see.
78a to 87a – Soft wheels for rough skating areas and longboarding
88a to 95a – Ideal for street skating
96a to 99a – Grippy and are the best all-around wheels for beginners
101a – Pro wheels that yield exceptional speed
The bearings dictate the precision and riding smoothness of the skateboard. Let's distinguish them through these ABEC ratings below.
ABEC 3 – Less expensive but are inferior in speed
ABEC 5 – Most cost-efficient bearings that have enough speed
ABEC 7 – Faster and smoother ride but are more costly
ABEC 9 and up – More suited for downhill skating because of its speed
Our turning, carving, and tricks depend on the trucks, more specifically on their tightness. But such an aspect is adjustable, so let's dig deeper into the part's composition.
The best skate trucks are made with aluminum. Trucks of this alloy material are durable and stable.
Take note that they also have parts not made of aluminum. These components are the axles, which are ideally of steel.
Skate trucks also have sizes, but all you need is to match them with the width of the deck for stability.
Safety is a priority, especially with kids. So, to ensure such a factor, the skateboard should have griptape. This layer should be coarse enough to keep the feet firm, especially when doing tricks or practicing on skating ramps.
Another safety feature we encountered in one of the products is the certifications. These are rare with regular skateboards, but CPC, CE, UKCA can make buyers more confident.
What Skateboard Should Kids Start With?
So, what skateboard is best for 11 year old beginner or kids at 12 or 13? Here's a list of specifications the best kids skateboards should have based on the products we discussed and the factors I shared in the buying guide.
Deck – One made with maple and sized at around 7″ to 8″ in width
Wheels – Smaller wheels at around 53mm to help the kid control the speed
Trucks – Aluminum skate trucks for durability and stability
What is the Best Size Skateboard for Kids?
For 6-year-old skaters to teen riders age 13, 7″ to 8″ skateboard decks will work best. But if we were to pick a toddler skateboard for beginners kid 4-year old, we would need to downsize the deck.
How Do Kids Start Skateboarding?
If you want to coach your kid about the sport, follow these simple steps.
Train your child with the skateboard on grass or carpet.
Make the kid jump on the deck with the feet landing on the truck bolts.
Teach children how to lean forward and backward and find their preferred stance.
Show them how to push a skateboard.
Ride with them while holding their hands.
Are Longboards Better for Beginners?
If ease of riding is a top consideration, longboards are better for beginners.
A longboard is anyone's best partner for added balance because of its lower center of gravity. And if we look at it, it has a longer wheelbase, which also adds stability.
How Long Do Skateboards Last?
Unfortunately, skateboards don't last as long as bicycles or scooters. They wear out faster because of impact, frequent use, and other external factors. But that should not be an issue as long as we're improving as skaters.
Skateboards last an average of 2-4 months. The time frame could be longer or shorter depending on how the user maintains the gear.
Conclusion
Skateboards are for all ages. And every professional skater was once a beginner. The keys to improving in the sport are simple: knowing what skateboard you need and constant learning.
If you want to start your children young, the best skateboard for beginners kid is now within your reach. What we should do is be mindful of the essentials like the parts and safety features of the skateboard. Then, we can help children begin their skating journey.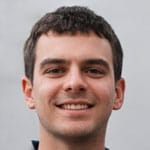 Hi, I am Charles Harris. I opened this site to write as much as I can about my biggest passion – skateboarding!
I started as a clumsy yet passionate rookie 10 years ago to now a still passionate yet much better skateboarder! But I have to tell you, the whole journey has always been fun and rewarding, indeed not without hardship.