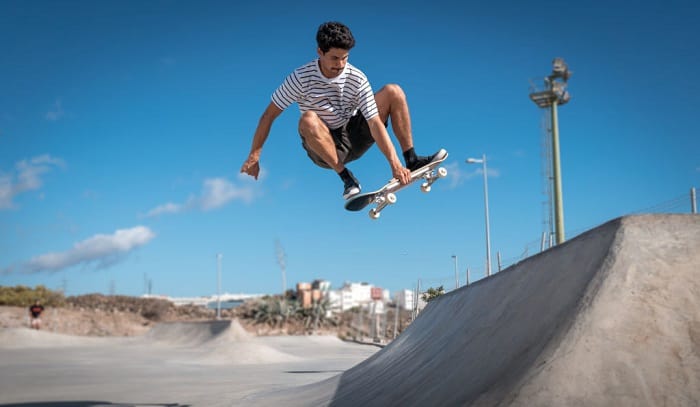 Thinking about our dream skateboards tends to be frustrating when we take into account our budget. We feel we can never acquire them with only $50 on hand. The good news is, there are now high-quality skateboards whose cost will not empty your wallets.
With that, let me introduce the best skateboard under 50. In this article, you will be able to save and maximize your money on the most affordable skateboard setup for yourself. Here are a few things you need to consider.
The deck is the only part that makes contact with your body, which is why you should examine its features. First, it has to be the right size for your age and level. It should has a width of around 7″ to 9″ and a length averaging 31″. Second, it should be sturdy, so we need to check its composition and weight capacity. To be more specific, your deck should have maple as the primary material and 220lbs as an average load capacity.
As a rule, when choosing trucks, always match their width with your deck. That way, you'll have more stability on the board, especially when performing advanced tricks.
Another difference you'll notice among trucks is their height. This feature comes in three levels: low, mid, and high. Each one fits a specific style, such as cruising, park-skating, and basic tricks execution.
Picking wheels is not only about creativity. It's more about identifying your riding style and your level of skateboarding. If you want to avoid cracks and tiny road debris, try to use a 60mm wheel set. But if you're a beginner, you can have rollers of around 54mm to 55mm.
The concept for choosing wheel hardness is simple. Hard wheels fit technical and street skating, while soft wheels are ideal for smooth rides or cruising.
We'll discuss more of these features and parts in the buying guide of this article. But for now, let me introduce you to various skateboard options that are worth my $50.
Top 1
METROLLER Skateboard
– PU bushings on the aluminum trucks
– Can hold a maximum load of 220lbs
– Has a 7-layer cold-pressed maple deck
Top 2
KPC Complete Skateboard
– 80S grip tape with enough traction for safety
– High-rebound wheels with ABEC-7 bearings
– Heavy-duty trucks with a flexible deck
Top 3
Cal 7 Standard Skateboard
– 52mm 99a hard wheels
– No squeaky sounds when riding
– Seven layers of durable maple
List of Top 8 Skateboards Under 50 Reviews
1. METROLLER Skateboard for Beginners
Coming with a classic deck build, the METROLLER Skateboard for Beginners isn't only a cheap skateboard but a user-friendly one, too. This skateboard features a double kicktail concave shape, giving the user an ergonomic feel of the board. What's good about this aspect is it helps the rider learn basic skateboarding and perform tricks efficiently.
The next aspect I find advantageous about this skateboard's deck is its seven layers of cold-pressed maple, optimizing the board's sturdiness. This feature gives the skateboard enough toughness for its value. And most of all, it can load a maximum of 220lbs, making it fit even for adult skateboarders.
What adds comfort to this skateboard is its wheels. It comes with a set of 95a high-rebound Polyurethane wheels with anti-shock and wear resistance properties. These features promote a perfect balance of riding smoothness and durability. So, not only do I get comfortable rides but more reliable ones too.
Another feature that makes this skateboard a comfortable one is its truck set. Besides having a solid aluminum build, these high-quality trucks improve the skateboard's shock-absorption capacity through their bushings. These PU components neutralize the impact from uneven roads, thus keeping me stable and protecting my ankle from too much stress.
On the downside, the grip tape doesn't stick to the deck very well. Nonetheless, parts like this are replaceable, and changing it didn't cost me a lot.
Pros
User-friendly deck shape that makes doing tricks & learning skateboarding easy
Has a 7-layer cold-pressed maple deck that offers optimum toughness
Can hold a maximum load of 220lbs
Comes with 95a high-rebound wheels that are comfortable and durable
PU bushings on the aluminum trucks for smoother ride and stability
Cons
The grip tape is not sticky
Metroller skateboards aren't only affordable, but they are of decent quality as well. This option in particular has quality board parts, and I love riding it and learning new tricks quickly.
2. KPC Complete Skateboard
The first aspect I love about the KPC Complete Skateboard is its wheel set. This skateboard features quality ABEC-7 precision bearings paired with high-rebound wheels I can also find with some known professional boards. These parts initiate enough speed and sharpness, making my skateboard feel more expensive than $50.
Other features that align this board more with high-tier brands are its trucks and deck. The KPC comes with a pair of heavy-duty aluminum trucks, which I like because they are sturdy for professional skating. Not only that, this skateboard also comes with a quality deck offering the right balance of flex and stiffness. With these two, I always get solid and steady rides.
To me, the grip tape of this skateboard is above average. It comes with an 80S grit level, which only a few cheap complete skateboards have. I like this part because it yields a strong grip against my feet. It provides enough traction without making moving on the board difficult. Plus, it has the right balance of safety and stability.
What completes my experience with this skateboard is its convenience and customizability. First, it arrived complete, assembled, and ready to use. Second, it has stickers to give the skateboard a unique identity. So, all I had to do when I received the board was adjust the tightness a bit and decorate it.
However, the bushings were a bit hard. They weren't for kids because they required extra lean to push the skateboard. Nevertheless, a set of these parts only cost a little.
Pros
High-rebound wheels with ABEC-7 bearings for sharp and speedy rides
Heavy-duty trucks with a flexible deck for solid professional-level skating
80S grip tape with enough traction for safety and balance
Arrived complete and with artistic customization tools
This complete skateboard under 50 has the right balance of everything. From its grip tape down to its aesthetics, I think its components complement each other well.
3. Cal 7 Complete Standard Skateboard
The Cal 7 Complete Standard Skateboard has one of the broadest skateboard decks falling under the below-$50 category. This skateboard comes with an 8-inch deck width, providing enough stepping surface when riding. With this feature, I can move my feet more confidently and maintain my balance most of the time.
Another deck aspect that adds stability to this skateboard is its composition. Cal 7 uses seven layers of durable maple wood pressed together to provide ample toughness. I like it because it doesn't feel like cheap skateboards that make squeaky sounds when riding.
I think this skateboard is a good one for intermediate to skilled riders. It comes with a set of 99a wheels, hard enough to fit more technical skating. Also, these rollers only measure 52mm, making the entire skateboard more responsive. With these two features, I can enjoy new tricks and skate parks more often.
This skateboard has other quality hardware as well. First, it comes with a pair of heavy-duty trucks. Second, it has high-grade bolts that keep the skateboard's parts intact. These two components, when combined, yield better control of the skateboard. Plus, they're sturdy enough to support more active skating.
I only had issues with the grip tape application. The skateboard arrived with some bumpy parts on the sheet. Nonetheless, the problem doesn't affect my ride in general.
Pros
Features an 8-inch deck width for more stepping space and better balance
Comes with seven layers of durable maple for added stability
No squeaky sounds when riding
52mm 99a hard wheels that fit highly technical skating and skate parks
Has quality skateboard trucks and bolts for better control and enough support
Despite that, this skateboard gave me value for my money. It works as intended, and I love how it fits higher-level skateboarders.
4. NPET Pro Skateboard
Featuring a quality stepping surface, the NPET Pro Skateboard is one of the most stable boards I have. This skateboard features non-slip high-density sandpaper on top of its 7-layer deck as a safety feature. This layer holds my sneakers firmly. Plus, it lets me move my feet without dragging them.
I think this skateboard is also a good one in terms of aesthetics. Besides having a quality grip tape on top, this skateboard deck has a high-grade design at the bottom. What's good about this feature is that NPET doesn't use stickers. Instead, it uses a heat transfer method when applying artistic images on the deck, making them look neat.
This skateboard has the perfect balance of load capacity and weight. With its durable deck, it can load someone as heavy as 220lbs. Plus, it only weighs 5lbs, which means it is mobile and doesn't require much effort to bring.
The speed this skateboard can yield is of a different class. This advantage was possible because of the bearings that arrived with it. This NPET has a set of ABEC-11 wheel cores that initiate high speed, and what sets these components apart from others is the level of precision they add to my rides.
Like other users on Reddit, I think this skateboard needs some extra components. The wheels tended to scratch against the deck when I leaned, until I added some risers.
Pros
Non-slip high-density sandpaper on top for safety and easy movement
Uses heat transfer printing method for neat-looking deck designs
Has a durable deck that loads a maximum of 220lbs
Portable and light skateboard weighing only 5lbs
Comes with ABEC-11 bearings for high speed and added precision
Cons
The skateboard needs risers
I never thought good skateboards like this one would cost below $50. I love its speed, and it doesn't feel shaky when riding.
5. Krown Rookie Complete Skateboard
The first thing that makes the Krown Rookie Complete Skateboard well-known is its deck. This skateboard comes with a 7-ply maple deck that's reliable, sturdy, and has a good balance of flex and stiffness. Like most pro skaters, I love this skateboard component because it gives me more confidence when riding.
On top of having a quality deck, this skateboard is also a versatile one. It has a perfectly concave shape that's easy to control regardless of the rider's level. Plus, it has a 31.5″ x 7.5″ size, making it ideal for most skateboarders. These, I think, are added reasons that make this brand famous and reliable.
Coming with this budget skateboard is a set of heavy-duty hardware as well. Krown used these high-tensile Phillips head screws that mount the deck down to the trucks. I like these components because they don't just link the board to its trucks. They also keep them firm enough to cope with my kind of ride.
And to ensure this skateboard works as expected, Krown uses professional assembly with its skateboards. I love how this brand guarantees quality rides for its users and gives them the convenience of not having to assemble anything. I was happy I got to ride the board immediately when I pulled it out of the box.
It's not a mechanical issue on the skateboard, but I would be happier had it arrived with the design I ordered. Good thing the print that came was something I find decent.
Pros
7-ply maple deck with ample flex and stiffness for confident riding
Concave skateboard shape and 31.5″ x 7.5″ size, fit for any rider
High-tensile Phillips screws for firm mounting of components and sturdiness
Arrived professionally assembled and ready to use out of the box
Cons
Wrong printed design arrived
Without a doubt, this is a good skateboard worth my money. It's versatile, and I love its overall build. I feel like I'm using some premium boards with this brand.
6. RD Street Series Skateboard
Made with a dense body, the RD Street Series Skateboard is one of my thickest boards. It features a 30.75″ x 7.6″ deck composed of nine layers of hard-rock maple, strong enough for any rider. Plus, on its ends are symmetric kicktails, letting me obtain total control of it. These features make this skateboard reliable in terms of performance and durability.
Not only does this skateboard come with a sturdy construction but a safe one as well. It has this layer of perfectly coarse grip tape on top, which is responsible for keeping me stable when riding. This layer is also a durable one because it doesn't wear quickly. So, no matter my riding style, I am confident this option will keep me from sliding off.
This skateboard brand also knows how to protect its components. With 4mm riser pads, the wheels and the bottom side of the deck get more space apart. That way, they're less prone to scratching each other. Plus, I get to keep my board and rollers in tip-top shape.
One more unique feature of this skateboard lies at the core of its wheels. Besides designing this option with 50mm rollers for technical skating, RD uses Bevo Silver-5 bearings inside the Polyurethane wheels. These race-rated parts do not only fit my skateboard well, but they also improve the board's speed and acceleration.
I don't think it's an absolute disadvantage, but unlike some of my boards, the trucks needed adjustments before riding. They were loose when I got the skateboard. Good thing I had a skate tool nearby.
Pros
9-layer maple deck with double kicktails for durability and better control
Durable and perfectly coarse grip tape on top for more safety
Comes with 4mm riser pads to prevent wheel bite
50mm rollers for technical skating
Uses Bevo Silver-5 bearings, adding speed and better acceleration to the board
Cons
The trucks were a bit loose
The deck of this budget skateboard doesn't look low-priced. I always get a sturdy and stable ride, and the rest of its parts were perfectly unique and of good quality.
7. JECOLOS Pro Complete Skateboard
The first aspect I like about the JECOLOS Pro Complete Skateboard is its build. This skateboard features a classic vintage shape, making it easy to learn tricks and perform stunts. It also makes the board easy to control by giving the rider a comfortable feel. These advantages, I think, make this skateboard ideal for people who want to start skating and for experienced riders as well.
Besides being versatile for any user level, this skateboard fits almost any skating location as well. Coming with anti-shock Polyurethane wheels, PU bushings, and ABEC-7 precision bearings, I can only expect nothing but smooth-skating from this board. It works well, whether on smooth or rough surfaces, making it a go-to board for me.
Making this skateboard more fit for riders of all ages is its weight capacity. Given that it has a solid 7-layer deck with a perfect shape, this skateboard can also load someone weighing a maximum of 220lbs. That way, it'll work for any user, thin or heavyset.
One more factor that supports the weight capacity of this skateboard is its truck set. Below its sturdy deck is a pair of high-quality aluminum trucks with steel axles. These parts do not only keep the skateboard intact but also speedy, stable, and safe.
However, I noticed the paint at the bottom side of the deck had a slightly poor quality and was chipping off early. I never did anything to cause it. Nonetheless, the issue doesn't affect the quality of my rides.
Pros
Classic vintage deck shape that's comfortable and easy to control
Anti-shock Urethane wheels, PU bushings, and precise bearings for a smooth ride
7-layer deck body that loads a maximum of 220lbs
Aluminum trucks with steel axles for added sturdiness, speed, and safety
Cons
The printed design chipped off early
Whether as a starter or not, I think this solid skateboard will perform at an optimum level. It has good parts, and I love it because it works smoothly.
8. Letskate Skateboard
One of the unique features of the Letskate Skateboard is its wheels. Unlike other skateboards, this one has high-rebound and wear-resistant textured rollers. And the benefit of this feature is to prevent the skateboard from accidentally slipping. Thus, I feel safe and comfortable because of the smooth-riding experience the wheels provide.
Another factor that makes my rides smooth is the bearings of this skateboard. It comes with 608 2RS wheel cores that help the wheels roll easily. These wheel cores also belong to the ABEC-9 bearing class, which means they're speedy as well. So, not only do I get smooth rides, but fast ones too.
This skateboard's uniqueness does not only manifest in its wheels but its trucks too. It features a pair of trucks with a baking finish, offering various benefits. First, it's wear-resistant. Second, it helps retain the trucks' pristine look. These features make the trucks durable and perfect for my kind of ride.
This Letskate also has the convenience I need. It arrived complete and ready to use, which means no adjustments were necessary when I pulled it out of the box. Also, it came with all the tools I needed to repair or perform maintenance with the board. These tools are handy, so I can bring any of them in case of an emergency.
What I didn't like about my experience with this board was its packaging. It arrived with a dirty, ripped box, which, fortunately, was not the case with the skateboard.
Pros
High-rebound textured wheels that make riding safe and comfortable
608 2RS ABEC-9 bearings for fast and easy rides
Baking-finished pair of trucks for added durability and nice look
Arrived ready to use and complete with all repair tools
Cons
Arrived in a dirty and ripped packaging
Despite that, I focus more on how the skateboard works, and I'm happy about this brand making cheap good quality skateboards. This choice is convenient, and it's a good spend for me.
What to Look for When Buying Skateboards Under 50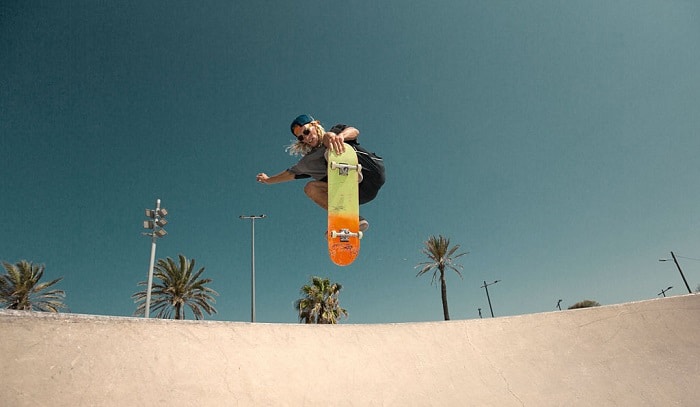 It's possible to make skateboards cheap but good. To make the most out of your money, kindly take note of the following considerations to find the right cheap skateboard.
Deck
You may find a skateboard under $60 from a top brand, but a better brand doesn't always mean a better deck. Be particular about the following.
Composition – Maple is a popular material used with skateboards. However, note that a skateboard's composition still varies in thickness. There are 9-layered skateboards, and there are also some with seven layers. As a general concept, most sturdy decks have more layers of maple wood.
Size – A skateboard's price is not directly proportional to its size. That means there are less costly skateboards with bigger deck sizes. There are also expensive skateboards with small decks, so if your age, build, and level requires a 31″ x 8″ deck, look for decks of this size within your budget range.
Wheels
One of the keys to better rides is a set of good-running wheels. Here are a few things we need to check.
On the other hand, softer wheels come with 78a to 87a hardness range. These are fit for cruiser skateboards and smooth rides. Lastly, anything in between these two ranges caters to beginners because of their balance of hardness and softness.
Size – Not only do we need to emphasize the deck's size but the wheels' too. To specify, let's start with small wheels. These rollers come in 50mm to 53mm diameter and are perfect for flip tricks, mini ramps, and street skating. However, these are a bit slow.
Next to these are the average wheels with sizes from 54mm to 59mm. These rollers work well with beginners and streets. And to wrap up, large wheels with at least a 60mm wheel size are the best ones for rough surfaces. Plus, these are also the fastest options you can have.
Trucks
I have not encountered many salient differences among the trucks of my skateboards under $50. But what I love about most of them is their durability, which is one factor everyone has to check.
To guarantee you're buying a good pair of trucks, ensure it's made with solid aluminum or with a combination of aluminum and magnesium. Also, try to consider using riser pads to help prevent wheel bite. Not only will durable trucks give you comfortable rides but reliable ones as well.
Grip tape
Safety is still a consideration despite tightening your pockets. And while grip tape does not cost a lot compared to some of your skateboard's parts, you might as well ensure you have a good layer of it. The best kind of grip tape to use is one with an 80S coarseness level. This type has enough grit and is sufficient to give your feet a strong grip on the board.
Tools
You might wonder how a set of tools fits in your budget. But to make it clear, $50 skateboard kits may now come with pieces of equipment to help your repair and maintenance activities. They can be in the form of a T-tool, simple keychain wrenches, Allen wrenches, and more. Whichever of these you get, you'll save money.
There may be more skateboard features you want to know, but these may not be as necessary as those mentioned above. One thing for sure is these aspects are the most important, and they can all fit within your budget.
Is 50 a Good Price for a Skateboard
If skateboards under $40 can work as intended, a 50 dollar skateboard might work even better. However, that's not always the concept with skateboards. But yes, $50, on average, will be a good price for a decent board. As long as you know the perfect skateboard setup for yourself, you're more likely to give value to your money.
Where Can I Buy a Good Skateboard Under 50
The first place you want to visit for your skateboard is your local skate shop. Here, chances of finding a great skateboard suited to your environment are high. Plus, one advantage of visiting a physical store is getting valuable inputs from the store's personnel.
Besides a physical shop, you may also want to consider buying your skateboard online, like on Amazon. Generally, getting items online may cost you less when there are various promotions. However, make sure you find a reliable skateboard seller and be keen in selecting.
Will Buying a Complete Skateboard Cost Less Than Buying Its Parts Separately
More often, buying complete skateboards under $50 is a more budget-friendly decision than paying for its parts separately. The only downside there is you don't get to customize your board unless you start dismantling it.
Nonetheless, if you want convenience and you're not yet ready to assemble your skateboard, getting a complete one isn't wrong at all.
Conclusion
Getting a skateboard isn't about spending as much money as possible. What makes a skateboarder wise is knowing how to build the perfect setup given budget limitations. There's always a way to enjoy skateboarding without damaging your pockets.
Now, with the best skateboard under 50, not only will you get to save, but you also get to be more creative and technical with skateboards. Keep everything I have shared in mind to guide you in this thrift move.
Make the most of your money. Don't forget to leave your thoughts in the comments section.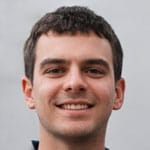 Hi, I am Charles Harris. I opened this site to write as much as I can about my biggest passion – skateboarding!
I started as a clumsy yet passionate rookie 10 years ago to now a still passionate yet much better skateboarder! But I have to tell you, the whole journey has always been fun and rewarding, indeed not without hardship.