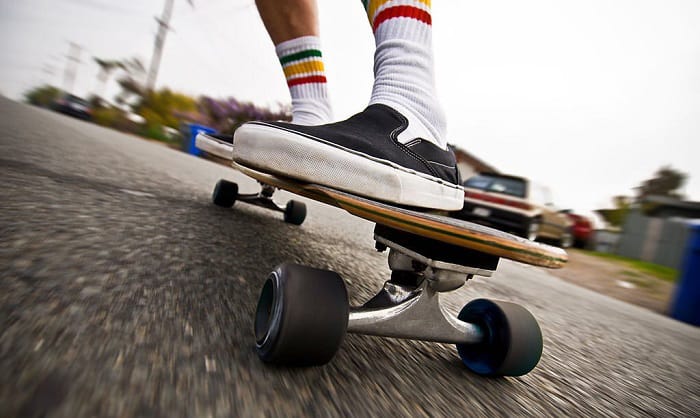 Like picking skateboards, convenience is also a consideration when choosing skateboard shoes. This aspect may be evident in several factors like the mouth opening, sole layers, and shoelaces. And since not all skateboarders have the time and energy to tie their shoes, it's about time we check on other viable options.
If you're one of the people having issues with shoelaces, maybe it's time for you to use the best slip on skate shoes. Let me discuss skate shoe characteristics that are most relevant to a slip-on skating shoe.
Sole type – Looking at skate shoes, we can classify the structure of their lower areas into two types: the vulcanized and cup soles.
Vulcanized shoes use heat for better grip and flexibility, making it easy for users to break them in. However, because these shoes may not offer the right heel support for the rider, using cupsole sneakers can be a good alternative. Cupsoles are less flexible, but they are more durable and have better impact absorption.
Upper material – Slip-on sneakers may use leather, synthetic exteriors, or textile. Leather comes as full-grain or suede, and of the three types, it offers the best durability. Synthetics, on the other hand, look and feel like authentic leathers. But note that they are man-made.
One more upper shoe composition we can consider is textile or canvas. Shoes made with this material are lightweight and breathable but are the least durable.
Tread pattern – One of the factors that improve board feel is the tread pattern. When you flip the shoe, you'll see various lines and shapes on the rubber surface, and these are not merely for appearance.
To ensure you make the best of this aspect, look for the Waffle and Herringbone treads. These patterns do not only yield the best feel of the board, but they also help you balance by providing sufficient grip.
You'll learn more things about skateboarding slip-ons in the buying guide section of this article. Some may be unique to slip-ons, while others are common to all skate shoes. Meanwhile, let me show you the top-rated slip-on shoe options.
Top 1
Lugz Men's Clipper Sneaker
– Allow convenient wearing
– Light, breathable canvas
– Durable vulcanized shoes
Top 2
Vans Classic Skate
– Comfortable
– Ideal for wide feet, but not too large
– Keeps feet warm during winter
Top 3
UJoowalk Sneaker
– Canvas-constructed
– Fine-looking stitches
– High-quality rubber soles
Top 7 Slip-on Skate Shoes Reviews
1. Lugz Men's Clipper Sneaker
Practically, the Lugz Men's Clipper Sneaker is one of the pairs I frequently use because of its simple design. It doesn't have a lot of details like some skateboarding sneakers, but it works well when I skate down parks and streets. Not only that, but I also get to wear it on any occasion because it's versatile and easy to match with clothes.
The next feature that makes these sneakers staple footwear is their composition. These shoes flaunt a breathable canvas and padded collars, improving riding comfort for the user. Other skateboarders can also attest to this because the canvas is generally light, and the paddings feel like a bonus to the ankles.
Without the benefit of shoelaces, skateboarding shoes are behind in being adjustable. But the good thing about these sneakers is they have these side gore panels that stretch firmly and allow easy wearing and taking off without discomfort. With these, I no longer need to worry about wearing loose footwear.
Despite looking plain or basic for some, these shoes are durable. At first, I was less confident taking this pair, but my mind was made up when I saw its vulcanized structure. I know for a fact that vulcanized shoes offer excellent durability. Plus, they give me an almost perfect feel of the skateboard.
However, the insole did not seem to be secured as well as other parts. After some months, I had to glue it.
Pros
Simple slip-on that works well and is versatile for any occasion
Light, breathable canvas exteriors and padded collars for superior comfort
Side gore panels that allow convenient wearing and taking off
Durable vulcanized shoes that give a good feel of the board
Cons
The insoles needed better gluing
Convenience is top-notch for these slip on skate shoes for men. All I have to do is slide my feet in and out while keeping the side gores firm.
2. Vans Unisex Old Skool Classic Skate
I have been looking at many users wearing the Vans Unisex Old Skool Classic Skate Shoes, and these sneakers suit all of them no matter the gender. Far from chunky skate shoes' profile, I never find these too large. Plus, I love this model's white checkered print because it makes the shoe look more classic, like my white Nike SB slip ons.
On top of being a gender-friendly skating sneaker, these shoes are also ideal for people with wide feet. Such is possible because of the brand's known relaxing form. They're not the kind of sneakers specially made for broad-footed riders, but according to Reddit feedback, the design suits the condition well.
These sneakers hold on to the skateboard well with their patented waffle soles. Before, I failed to appreciate this aspect, but it stood out when I wore the shoes and stepped on the skateboard. They feel grippy, and most of all, they help riders balance even when doing turns and tricks.
I think these sneakers have the comfort everyone looks for from a skateboarding shoe. As a known brand, Vans uses quality materials. Also, the sneakers arrived true to their size. Besides, these shoes ensure that the rider doesn't feel cold when skating in winter.
These shoes can be a bit pricey for some. But physically, I have no issues with them. So, I think this pair was worth its price.
Pros
Simply-designed checkered slip-on that fits any gender
Ideal for skateboarders with wide feet, but not too large
Waffle soles that hold well on the skateboard during turns and tricks
Comfortable and arrived true to their size
Keeps feet warm during winter
Despite that, saving for a pair of Vans sneakers will be a great move. They perform well, and they have this level of reliability regardless of the activity.
3. UJoowalk Women's Canvas Slip-on Fashion Sneaker
Another pair on the list suited for lady skaters is the UJoowalk Women's Canvas Slip-on Fashion Sneaker.
These sneakers come with a canvas upper, known for various benefits. First, it makes the shoes feel light. Second, it makes the footwear breathable, thus always keeping the user relaxed.
Ideally, skateboarding shoes need to be flexible, and this aspect is most dependent on the soles of the sneakers. The UJoowalk features high-quality rubber soles that are fit for agile movements in skating. What I love about these is that they are thick enough. So, wearing the shoes feels like having a rigid stepping platform that's also perfectly flexible.
Not everyone recognizes this aspect, but the stitches on these sneakers exhibit such a fine finish. For a plain-looking shoe, this component is one of the most relevant to me because this is one more factor that makes this shoe look neat. It's got smooth lines, and all the stitches never compromise the overall look of the shoes.
Apparently, like other quality slip-on sneakers, this pair also comes with elastic bands over the middle of the foot. These pieces of garter aim to keep the shoe snugly fit. And for active users, like skateboarders, this component will secure the shoe even when they're doing jumps and other stunts.
For better comfort on the footbed, I would advise sliding
a pair of quality insoles
on these shoes. I tried this trick, and it's been painless since then.
Pros
Canvas-constructed upper that makes the shoe light, comfortable, and breathable
High-quality rubber soles that are thick but are flexible enough for skateboarding
Fine-looking stitches that keep the shoes looking neat
Comes with a pair of elastic bands that help the shoes keep a snug fit
Cons
Needs quality insoles for better comfort
These sneakers are not the fanciest, but they fit almost any activity. Their overall look is simply stylish, and their comfort makes them worth their price.
4. Vans Women's Slip On Trainers
If there are skateboards made for female users, there are also sneakers tailored to them, like the Vans Women's Slip-On Trainers. These skate shoes come with the classic checkered slip-on design, made to keep the rider's life convenient. From women's experience with this pair, it seems it fits perfectly and is light enough to support their movements.
I love how these sneakers make their users comfortable. The shoe may look plain, but its look doesn't compromise its comfort. The user's foot sits well and without signs of pain. True enough, these shoes are perfect for everyday wear, whether one's skating or not.
Buying online is a risky move for me, as I have ended up receiving damaged items or deformed packaging. The best thing about this brand is neither issue occurred. I received these sneakers neat and packed in an undamaged box. And after a month of usage, I'm pretty confident these sneakers will last long.
These shoes arrived true to their size. Some users often advise buying a size higher or lower, but not with this slip-on. I felt great when I received the pair in the exact size I ordered. With that, I no longer have to worry about reaching out to the seller or waiting a couple of weeks to have my sneakers replaced.
It's not a huge downside for this slip-on, but I think its traction on wet surfaces could be better.
Pros
Classic checkered slip-on that's perfectly fit and light
Comfortable sneakers that can be ideal as everyday footwear
Arrived undamaged and with a solid box
Should last a long time
True-to-size shoes needing no size adjustments
Overall, these slip-on skating shoes can be a go-to pair for women because of their comfort and fit. Having a trusted online seller for these sneakers is also a good plus.
5. Emerica Men's Wino G6 Slip-On Skate Shoe
The first feature I love about the Emerica Men's Wino G6 Slip-On Skate Shoe is its triangle tread outsole. This rubber pattern provides sufficient grip on the board. With it, I get to balance well and control the skateboard better. Plus, I can perform quite a few tricks more confidently.
After checking the sides, I think these sneakers have a unique structure. Each shoe comes with not only one but double layers of foxing tape. These layers aim to secure the joint of the upper and sole of the shoes, making them durable and impact-resistant. So, I feel protected even if my foot bumps against rigid surfaces.
Essentially, these shoes also prioritize comfort. Inside of them is a Drop-in G6 insole designed for various benefits. These soles reduce impact when landing from jumps or tricks. Also, they help alleviate pain and make the rider comfortable with their soft finish. Having these feels like using premium paddings on the footbed.
Besides being comfortable for the foot's bottom, these Emerica slip-on skate shoes are also friendly on the heel side. Each slip-on features a heel anchor system responsible for supporting the back of the foot. This aspect provides a sturdy platform for the heel, thus protecting the bones and joints inside against injuries.
On the downside, these shoes feel slightly tight behind the toe box. Nonetheless, this design helps keep the sneakers in place because of the absence of shoelaces.
Pros
Treaded rubber outsole for better grip and skateboard control, ideal for tricks
Double-layer foxing tape for improved durability and impact resistance
Drop-in G6 insoles for added comfort on the footbed
Heel anchor system protecting the heels against injuries
Cons
A little bit tight behind the toe box
This brand is one of the sturdiest slip-on skate shoes mens use. Given the structure and quality of their parts, I think these are reliable enough for all-day skateboarding.
6. Quiksilver Men's Harbor Wharf Slip-on Casual Shoe
Convenience doesn't get any better than with Quiksilver Men's Harbor Wharf Slip-on Casual Shoe. One of the aspects that prove this is its collapsible heel. It may sound new to some, but this feature allows easy slip-on entry without the user exerting too much effort kneeling or leaning.
The next aspect I love about these shoes is their outer soles. Quiksilver applies an injected tooling method that makes the sneakers flexible for any skating motion. So, whether I cruise or practice tricks, I feel confident because these soles match all my movements.
I think the insoles of these sneakers are unique. Never before have I seen their cork-skinned stepping surface. And what got me more amazed was the memory foam that provides all the comfort from the inside. I like how these components look, and I am happy about them making my feet comfortable.
Price-wise, these shoes are likely to benefit budget-conscious buyers. In most reviews I saw online, they all affirm that this pair is worth its tag. True enough, these sneakers work as intended, and their components yield a wide array of advantages.
For now, I am enjoying these shoes, and I haven't seen any drawbacks from them yet. In fact, I would not hesitate to purchase them again.
Pros
A collapsible heel that allows effortless slip-on entry to the shoes
Outer soles that use injected tooling for superior flexibility to any movement
Cork-skinned memory foam insole that provides quality comfort
Works as intended and has a reasonable price
Cons
No drawbacks at the moment
These skateboard sneakers have the right balance of flexibility, comfort, and convenience. And with how they work, I feel like I got a discount.
7. DC Men's Villain Casual Slip-on Skate Shoe
I never knew how leather works on a slip-on until I found DC Men's Villain Casual Slip-on Skate Shoe. These skating sneakers feature a leather-constructed upper with moc-toe stitching, designed for overall durability. Surprisingly, these shoes do the job well, and what I love more about them is that they look classic.
Anyone who comes across these shoes will notice the comfort they have. At the bottom part is a Unilite outsole that aims to support skaters when landing from stunts. Also, each shoe comes with ventilation holes that allow better air movement inside. These two features, combined, always give riders physical ease.
I love how this pair enhances mobility on the skateboard. The DC design comes with a low-top shaft, leaving the ankles free to move. Plus, I think this cut also makes the shoes feel lighter. So, they are not only comfortable on the bottom but the ankles as well.
With the brand's classic slip-on silhouette, these sneakers can be a go-to pair for many. DC Villain has this mouth opening that's perfectly wide enough to insert and pull the feet out. Not only that, they are also fit for school and work besides skating. With these features, wearing these sneakers on various occasions is often a good idea.
However, I don't think these mens slip on skate shoes would be the perfect pair for wide-footed people. The front part was slightly narrow, although this shoe still fit me well.
Pros
Uniquely classic leather shoes with moc-toe stitching for superior durability
Comes with a Unilite outsole and ventilation holes for better comfort
A low-top shaft that frees the ankles and makes the sneakers feel lighter
DC Villain silhouette with a decent mouth opening for easy wearing
Wearable at school and work
Cons
Not the best pair for people with wide feet
Buyers will get what they paid for with these DC slip-on skate shoes. They're functional, and they are also comfortable in various aspects.
What to Look for When Buying Slip-on Skate Shoes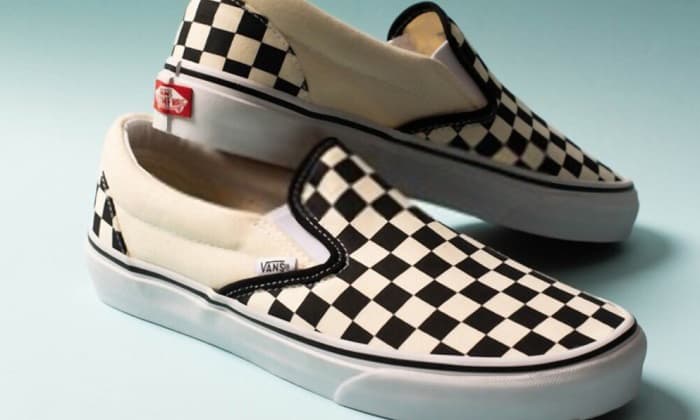 Skateboard slip on shoes may look like one of the plainest footwear in the market. However, just because these sneakers are simple doesn't mean we should pay less attention to details when buying. Consider the following factors.
Upper composition
The shoe's color can be on our checklist when choosing shoes in general, but it's not a top consideration for skateboarding sneakers. More importantly, consider the following upper materials.
Most slip-on sneakers have been adapted to use canvas. This textile is lightweight and comfortable, and several users prefer it because of its breathability. While it may not be the most durable among shoe exteriors, picking quality canvas shoe brands like Nike Vans slip ons can guarantee you long-lasting performance.
If you want to have durability with your shoes, a leather-constructed slip-on pair will be an ideal choice. Leather for slip-on skate shoes is a bit less popular than canvas sneakers.
However, having a leathered shoe will keep you skating without worrying about it wearing out quickly. Leather shoes are also easy to clean, so you get to spend less time maintaining them.
Soles
Slip-on shoes need not be fancy, but our minimum requirement should still include comfort. Here's how we can achieve it with the following components.
A classic example of this part is a Drop-in G6 insole by Emerica. Insoles are your last line of defense against impact from the ground. So, having quality footbed inserts can give you a less painful land from tricks and stunts. Also, decent inner soles will make you comfortable when cruising.
One of the most significant differences among slip-on shoes is their outsoles. True enough, the grip level, flexibility, and reliability vary from one brand to another.
And to ensure you get a quality pair of outsoles, try looking for shoes with gum soles. This type of rubber offers sufficient grip on the skateboard, thus allowing the user to control it better. Ideally, gum soles are also flexible, which means they'll be perfect for agile activities like skateboarding.
Vulcanized VS Cup sole
Whether you choose vulcanized shoes or cupsole sneakers, it won't matter a lot with skateboarding because these two types have their respective benefits and downsides.
Let's start with vulcanized shoes. Sneakers of this structure have the upper hand in terms of flexibility. Several users also agree that it's easy and quick to break into these shoes. However, they're not the most durable rubber structure available.
If you want a sturdier type of shoes, you might as well try using cupsole sneakers. This footwear offers better impact absorption and has enhanced heel support most of the time. But unlike vulcanized shoes, cupsoles take a longer time to break in.
Overall, choosing vulcanized shoes will guarantee an optimum board feel, while picking cupsole sneakers will give the rider sufficient foot support.
Elastic gore
Slip-on sneakers still have to be fit and firm on your feet despite the absence of shoelaces. And to make this possible, your shoes need to have quality elastic gores. These pieces of garter usually hide under the tongue of the shoe. Some manufacturers also put broader cuts of this fabric aligned with the heel up to the ankles.
These parts aren't only for design; they intend to make wearing and putting shoes off easy for the user.
Tread patterns
The patterns on the bottom side of the outsole aren't random. They are vital in optimizing the control and balance of the rider on the skateboard. Most slip-on sneakers use the famous Herringbone and Waffle sole treads for superior grip and board feel.
Undoubtedly, many users prefer Vans because almost all of their sneakers use Waffle treads, perfect enough for skateboarding.
Are Slip on Good for Skating
Slip-on sneakers are the second-best shoes to use for skateboarding, if not the best. While they may have the least ankle protection for the user, slip-on shoes let the rider skate with sufficient mobility.
Besides that, slip-on shoes are also lightweight. Commonly made with canvas, this skating footwear eases the rider's burden of wearing a pair of heavy shoes.
With high-quality and durable parts, slip-on sneakers will remain a necessity in the skateboarding world.
What Brand of Slip on Shoes Do Skaters Wear
Vans is a top-favorite by skaters for slip-on footwear. With their famous Waffle tread outsoles, these sneakers ensure optimum board feel and grip, allowing the user to control the skateboard better. Not only that, since Vans commonly use canvas on their exteriors, these shoes always feel light and comfortable to some extent.
Where I Can Buy Slip on Skate Shoes
Slip-on sneakers are almost everywhere. With skateboarders' high demand, especially for skate shoes for older adults, this footwear occupies a decent portion of most shoe stores today. Therefore, you won't have a hard time searching for this footwear when you visit local sneaker shops or skateboard apparel stores.
On the other hand, you may also consider buying from an online retailer. However, you have to be extra careful as some sellers do not guarantee the item's authenticity, sizing, and durability. Plus, these shoes may arrive damaged due to shipment processes.
Conclusion
A skateboarder's boundary of preference does not only end with picking the perfect skateboard. It also reaches the extent of choosing among skating apparel, like skating shoes.
Now that you understand what the best slip on skate shoes can bring, deciding what kind of footwear to use will be a seamless task. Remember the tips I have shared with you to pick the right slip-on pair.
Enjoy simplicity and comfort with slip-on sneakers. Don't forget to share your thoughts in the comments section.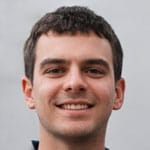 Hi, I am Charles Harris. I opened this site to write as much as I can about my biggest passion – skateboarding!
I started as a clumsy yet passionate rookie 10 years ago to now a still passionate yet much better skateboarder! But I have to tell you, the whole journey has always been fun and rewarding, indeed not without hardship.