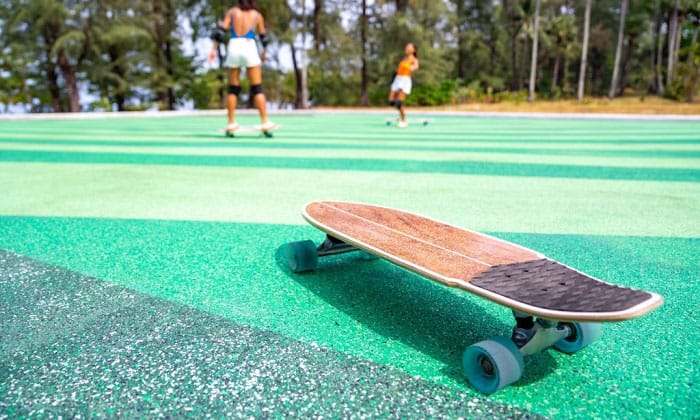 Summer or not, beach waves are everywhere. As long as the winds are strong enough to make tides, it's going to be a good day for a surfer. However, wave surfing needs ample practice, and not everyone has the convenience to hit the beach.
With that, let me share the best surf skateboard with you. Surfer boards are known as practice equipment for those who want to ride the beach waves and a go-to skateboard for those who do wild carves on the road. Make a checklist of the following.
Trucks: Other than their material composition, the trucks of your skateboard have to be responsive. And with that, it's best to use trucks with a high turning radius. This aspect will help you pump the board well and make sharp turns.
Another feature you should check on this part is the adjustability of the springs. If you get to adjust the tightness of the trucks to your desired level, you're most likely picking a good board.
Wheels: Wheel sizes and softness levels offer an advantage to the rider. Thin and hard wheels are faster and allow the rider to make slides conveniently. On the other hand, wide and soft wheels are grippy and more stable. They can also go over cracks and small debris smoothly.
Deck shape: The shape of your skateboard should depend on your surfing style. If you surf on a longboard, try to use a large deck where nose rides and cross-steps are comfortable. If you are into sharp turning, pick a fish-shaped board with a broad tail. It will help you maneuver and cut using your back foot.
There are a few more things we need to consider when checking surf style skateboards. So, try not to miss the buying guide after all these products I'm showing you. By the end of this article, you'll be able to decide which surfer board to pick.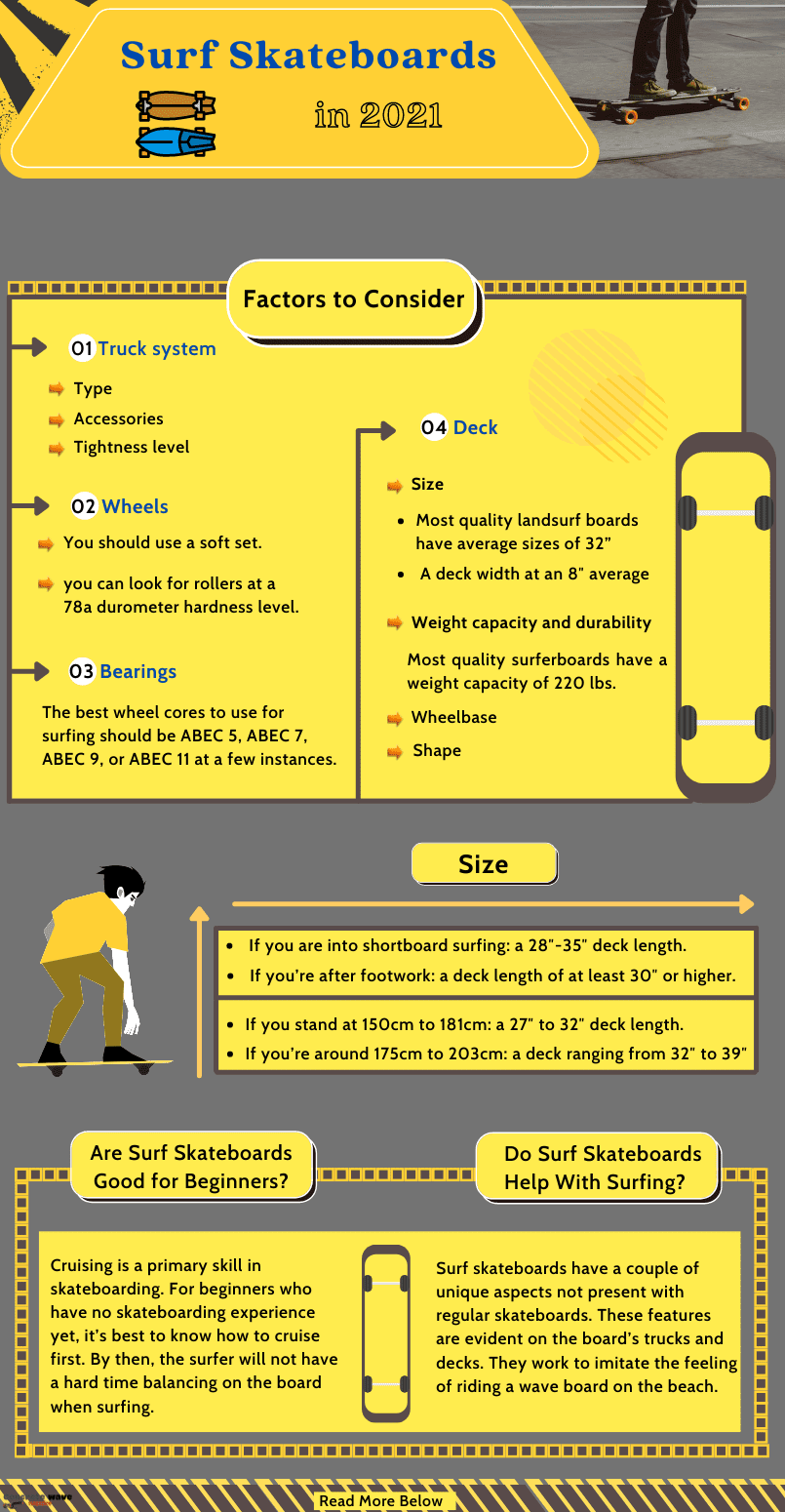 Top 1
Flow Surf Skate
– 33″ x 9.5″ deck with grip tape
– Adjustable to fit all riders
– Uses internal spring on the trucks
Top 2
Roller Derby Surf Skateboard
– 65mm x 44m 78a wheels
– Comes with a tool for quick adjustments
– ABEC 7 bearings on the wheels
Top 3
Boilgon Carver Skateboard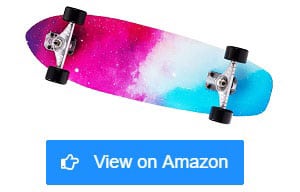 – Maximum weight of 220lbs
– Lightweight
– Wide 17″ wheelbase for stability
List of Top 10 Surf Skateboard Reviews
1. Flow Surf Skate
Designed to imitate the feeling of riding a surfboard, the Flow Surf Skate uses an internal spring on the trucks. This component makes active and flowy curving as well as smooth pumping. With this, the board feels more maneuverable, and I get to make sharp and precise turns.
Another feature the trucks of this skateboard have is their flexibility. The tension on each truck spring is adjustable depending on the rider's age and skill. I think this aspect helped me gauge the perfect tightness to fit my riding style. That way, I get to manage my movements on the board well.
I love the comfort and stability this skateboard has. It comes as a 33″ skateboard that looks like a surfboard. And with its 9.5″ width, this deck makes enough room for my feet to move. Plus, on the stepping surface is a sheet of grip tape that holds my feet well. So, whether doing sharp or minor curves, I always feel safe.
Like a few quality skateboard brands, Flow Surf incorporates surfing and skating in one board. It works on concrete surfaces, but the motions feel like I'm on the waves. I think this option is a piece of ideal equipment for people practicing surfing the beach.
On the downside, I think the wheels were a bit low quality. They feel like plastic and not rubber, which is excellent for skateboards. I installed a new wheelset, and the skateboard felt better.
Pros
Uses internal spring on the trucks for snappy curving and smooth pumping
The tension on the trucks' springs are adjustable to fit all riders
33″ x 9.5″ deck with grip tape that feels comfortable and stable
Works as an ideal skateboard to practice surfing
Cons
Wheels were a bit of low quality
Despite that, I love how the trucks respond to my movements. After changing a few parts, this skateboard even worked beyond my expectations.
2. Roller Derby Slide Street Surf Skateboard
The Roller Derby Slide Street Surf Skateboard is one of the top brands I prefer, with deck durability as a consideration. This skateboard features a Canadian maple deck, a material present in most quality skateboards. This material is sturdy enough not to make creaking sounds, especially when turning.
Not only does this brand have a quality deck but wheels as well. It comes with 65mm x 44mm rollers, the perfect size for my deck. Plus, these wheels have a 78a hardness level, packed with a high rebound ability. These aspects, when combined, help me achieve a smooth ride.
Other than quality wheels, the bearings of this skateboard are an advantage to me. Each roller has an ABEC 7 wheel core. These components help the wheels roll with precision. Also, the bearings of this class offer me enough speed. With these, I do not only get precise rides but speedy ones as well.
One more feature I love about this brand is its inclusion of a few accessories for modification and design. It comes with a truck adjustment tool, helpful for changing up my ride. Also in the package are some stickers that helped me customize my skateboard.
However, there were a few air bubbles on the grip tape of this skateboard. Good thing they were not big enough to disturb my ride. Plus, I got to replace the tape after a few uses.
Pros
Uses a Canadian maple deck for superior durability
65mm x 44m 78a wheels with a high-rebound capacity for smooth rides
ABEC 7 bearings on the wheels for precise and speedy rides
Comes with a tool for quick adjustments
Has a sticker pack for customizing and designing the board
Cons
A few air bubbles on the grip tape
All the components of this skateboard seem to perform well. It's convenient, like my Smoothstar surfskate, and most of all, it lets me carve and turn sharply.
3. Boilgon Carver Skateboard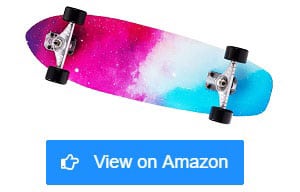 Featuring a 29-inch long body, the Boilgon Carver Skateboard is one of the steadiest boards I have. The deck may not be as long as other brands, but its 17-inch wheelbase is wide enough to keep me stable. I think this aspect made it easy for me to retain my balance even during the carving motion.
The next feature I like about this skateboard lies with its trucks. This Boilgon comes with a pair of responsive carver-style trucks. These components allow for a 110° rotation, almost half a circle's radius. With that, I get to achieve sharp turns and better pumping.
Not only can this skateboard make sharp curves. I think it can also be perfect as a surf trainer skateboard for riders of all ages. It can work for 6-year-old kids to adults weighing a maximum of 220lbs. And with these, I consider this brand a flexible and user-friendly one.
Another advantage this carver surf skate gives me is convenience. It arrived assembled, with the parts mounted firmly. Plus, it only weighs 6lbs, which, I think, is another factor that makes this brand fit for young riders. So, it's a complete skateboard with firmly installed parts and a light body.
Upon unboxing, I found some dents on the deck of this skateboard. However, their size was minimal, and they did not affect my usage. It's still a good board.
Pros
Wide 17″ wheelbase for stability and balance when in motion
Responsive trucks with a high 110° turning radius for sharp turning and pumping
Perfect surf training skateboard for kids and adults
Loads a maximum weight of 220lbs
Arrived firmly assembled and is lightweight
I think this is the top-rated surf skateboard for beginners I have. I got to adapt to its features quickly, and my rides always feel stable. Plus, it's not too pricey.
4. Roller Derby Slide Street Surf Skateboard
One of the best things I love about the Roller Derby Slide Street Surf Skateboard is its patented spring trucks system. This skateboard comes with a pair of trucks with quality springs. These parts make the board more responsive and adaptive to my movements.
The second aspect I like about this skateboard for surfing is its deck design. Unlike some brands that cover the stepping surface with a black grip tape, this board has different grip tape colors depending on the design I pick. So, not only does this skateboard feel stable but pleasing to the eyes as well.
I think this skateboard does well in terms of speed and precision. It comes with a set of ABEC 7 bearings that make my wheels roll with enough speed. Also, these components add precision to the rolling direction of the wheels.
Roller Derby is not a cheap surf skateboard, but it's worth its price. Not only does it come with quality materials, but it works with carving and pumping well. It's easy to use, and I feel comfortable riding it because of its deck and wheels. So, I think I made a valued investment out of this skateboard.
However, there was a chip on the front part of the deck when I received it. I am not sure what caused the issue, but I'm happy the skateboard still worked.
Pros
Patented spring trucks system making the skateboard responsive
Safe, unique, and aesthetically pleasing deck design
Uses ABEC 7 bearings for precise and speedy rides
Worth its price
For carving and pumping
Cons
Chip present on the front of the deck
Roller Derby has a perfect combination of style, speed, and value. Overall, this skateboard has made my surfing experience easy since I started using it.
5. Flow Surf Skate Wedge
In terms of truck springs, the Flow Surf Skate Wedge is one item I always find reliable. This skateboard comes with trucks whose springs can last a lifetime. These components also make pumping and carving smooth and sharp. And with that, I'm confident these skateboard parts can perform longer.
With some skateboards not working well on urban landscapes, having this surfer board feels like a luxury. Whether riding it on the street or sidewalk, this skateboard imitates the feeling of riding a surfboard on the waves. Through this, I get to move smoothly and more like a beach surfer.
One more aspect I like about this skateboard is its comfortable deck. Coming with a swallow-shaped kicktail, it provides enough balance and leverage. Also, it has a 10″ stepping surface, wide enough for my feet to move and for me to be steady.
Last but not least, I love the 7 layers of maple used for the deck, as it's flexible while delivering great strength. The attractive look is another plus; the blue color of the wheels goes well with the graphics at the bottom.
On the downside, this board is a little expensive. Buyers with a limited budget will hesitate to spend money on an item like this.
Pros
Quality truck springs that make carving and pumping sharp and smooth
Works well on any urban landscape
Comfortable deck with a swallow-shaped kicktail and 10″ width
7 layers of strong and flexible maple with attractive design
This surfer skateboard is one of
the few carver skateboards
that makes concrete ground feel like beach waves. I'm glad about its performance as well as the comfort of riding it.
6. Fystarrky Surf Skateboard
As a heavy rider, I like the Fystarrky Surf Skateboard because of its thick deck. This skateboard uses a 10mm deck, firm enough to load someone who weighs 220lbs. Plus, it has a 7-ply Canadian maple wood composition, adding durability to the skateboard. With these, I get to carve and surf confidently and steadily.
One more factor that makes this skateboard stable is its wheelbase. This Fystarrky features an 18-inch wheelbase that lets me ride the board with enough balance. Paired with its 8″ deck width, I get enough space to move my feet. So, there's an ideal combination of stability and mobility on the skateboard.
This skateboard has an exceptional wheelset as well. It comes with non-slip 60mm 78a high-rebound and shock-absorbing rollers that dodge cracks and bumps on the street. Coupled with ABEC 7 precision bearings, I get adequate surfing speed using this skateboard.
I also prefer this skateboard because of its convenience. It arrived assembled and ready to use when I pulled it out from the box. The tightness of the trucks was perfect for sharp curves and turns.
I don't think there's something I can criticize about this skateboard. It works well; the parts are of good quality, and it makes my surfing experience smooth.
Pros
10mm thick deck that loads a maximum weight of 220lbs
7-ply Canadian maple wood that makes the skateboard more durable
18″ wheelbase providing better balance to the rider
8'' width is enough for my feet
60mm 78a non-slip wheels with ABEC 7 bearings for shock-free and speedy rides
Arrived ready to use out of the box
Overall, I like the durability of this skateboard. It's also comfortable to use, and its parts work well together.
7. Z-Flex Bamboo Surfskate
What makes the Z-Flex Bamboo Surfskate one of my top picks is its front truck. This skateboard uses a Waterborne Surf Adapter with advanced technology to make street skating feel like riding the beach. With this, I can pump the board to gain speed and do controlled carves.
The second feature I like about this skateboard is its deck. This Z-Flex features Canadian maple wood hardened to withstand enough weight and continuous motion on the board. Also, on top of it is high-quality grip tape, holding my feet well when riding. These two make a good combination of stability and safety.
Besides using quality trucks and decks, this skateboard is also a versatile one. I get to use it when commuting to the city, strolling around the town, and even going for ramps. In all these instances, this brand is functional and efficient.
One unique feature of this surfer board brand is its wheels. Z-Flex creates their wheels, accustomed to their class of skateboards. Z-flex calls these rollers Z abrasion-resistant because they come with a distinctive urethane formula that protects the wheels from wearing quickly.
For me, there's nothing negative about this skateboard. Its components are well-thought out, and riding it is a unique experience.
Pros
Uses Waterborne Surf Adapter that provides quality carving and pumping
Hardened Canadian maple deck that's stable and can hold enough weight
Grip tape for safety
A versatile skateboard that works for ramps, streets, and city riding
Comes with Z-Flex's Z abrasion-resistant wheels
Riding this skateboard is exceptional. It has unique, quality parts, and all these support my riding styles well. I'd love to have the trucks of this skateboard on my future surfer boards.
8. Magneto Hana Pintail Longboard
The Magneto Hana Pintail Longboard has one of the best designs for a surfing board. This longboard comes with a stained bamboo stepping surface on top of 8 layers of Canadian maple. Plus, over it is a transparent sand grit finish that preserves the natural look of the board. With these, the skateboard is classic and safe at the same time.
The shape and size of this board's deck are also a plus for me. With a pintail and W-concave board shape, this skateboard locks my feet comfortably when cruising. Not only that, its 9.5″ deck provides a decent platform for all riders regardless of size. These aspects ensure that I feel stable throughout my rides.
I think this skateboard is a versatile one. It works for almost all outdoor skating areas. I get to use it in parks, camps, bicycle trails, or for simple commutes. I never had a hard time riding this longboard in any of these setups.
I also love how Magneto preserves its parts. It has wheel wells that provide enough space between the rollers and the bottom side of the deck. That way, whenever I lean on any side, the wheels and deck are far enough from making contact and damaging each other.
The bearings that come with this board need to be broken in. Anyway, it wasn't a huge issue for me.
Pros
Classic stained bamboo skateboard design with transparent sand grit finish
8 layers of maple
Comes with a pintail and W-concave shape for comfort
5-inch deck width providing ample stepping surface
Works well in most setups
Has wheel wells that prevent wheel bites
Cons
Bearings need to be broken in
I never knew how good a longboard works for surf style skateboarding until I tried this brand. It's comfortable, and its shape makes it easier for me to control it.
9. Penny Australia Blackout High-Line Surfskate
In terms of short and small skateboards, I place my bet on the Penny Australia Blackout High-Line Surfskate. This surfer skateboard comes with a 29″ body that makes it fit inside my bag. Also, it only weighs 3.44kg, so it's not too heavy to bring. With these, I get to take and ride it anywhere I want.
Carves and turns using this skateboard are exceptional. With its Waterborne Adapter, the trucks get an insane turning radius. And what's better is that I never lose control of the skateboard no matter how much I tilt or bend the deck. Through this adapter, I can achieve sharp turns while maintaining control of the board.
Not to undermine some skateboard brands, but this board has a superior stepping surface. It comes with double-spray grip tape. This feature holds me well, whether I'm using sneakers or riding the board barefooted. This aspect is rare among skateboard brands, so I think it's a unique advantage.
And since this skateboard brand comes with plastic as its primary material, it's more resistant to weather. Compared to other wooden skateboards, this Penny Australia is a better option for wet seasons. It doesn't soften over time, and it has enough flex as well.
It's not much of a disadvantage, but this brand isn't for speedy rides. I have to push it consistently to obtain some momentum.
Pros
Lightweight and portable penny skateboard
Comes with a Waterborne Adapter for insane turning radius and control
Double spray grip surface that works for bare feet and riders with sneakers
Uses a plastic deck that's weather-resistant and flexible
Cons
Not ideal for speedy rides
I think this skateboard is an ideal entry-level surfer. It has a minimalist size and design, and its trucks are of superior quality. Also, it works no matter the weather condition.
10. TailorShape Surf Skateboard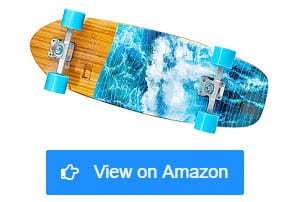 Coming with a flexible truck system, the TailorShape Surf Skateboard is one I can trust in terms of overall board performance. This skateboard uses advanced technology to come up with high-end trucks that accommodate surfing well. Through these components, I get better stability, a high turning radius, and fast pumping.
I like the deck composition of this brand. It comes with five layers of Canadian maple wood, known for its durability. Plus, it has two more layers of bamboo veneers that make the skateboard sturdy and add some flex to it. These two are not only durable, but they also keep me stable when riding as well.
I think this skateboard is also a go-to unit for speed purposes. It comes with high-rebound 78a 70mm x 51mm wheels that help create more momentum and rolling distance. Also, inside these rollers are ABEC 11 bearings that help provide speed and riding smoothness too.
I think I made a sensible decision when I bought this skateboard kit. It comes with a T-tool with the package, which would cost more when purchased separately. With that, I am happy about spending efficiently and experiencing quality rides from this skateboard as well.
To me, this skateboard for surfers does not have any disadvantages. Its parts are responsive, durable, and are of superior quality.
Pros
Uses advanced truck technology for stability, high radius, and pumping speed
Comes with five layers of Canadian maple and two bamboo veneers
High-rebound 78a wheels with ABEC 11 bearings for speed and smoothness
Has a T-tool inside the package
Cons
No disadvantages experienced
Overall, this skateboard has the perfect combination of style, durability, and speed. Adding the T-tool to it, this brand is a complete package for me.
What to Know Before Buying Surf Skateboards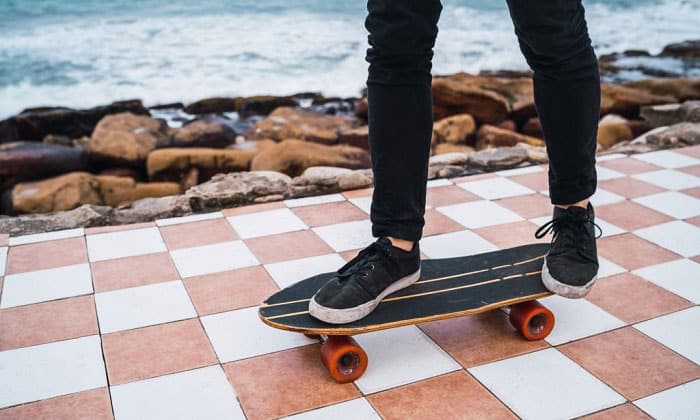 One of the main differences between a surfskate vs skateboard is how surfers make turns and imitate the feeling of riding a board over the waves. Here are the things we need to know before buying a surfboard skateboard.
Truck system
A surfer board's set of trucks come in different types. These are spring-based and bushings-based trucks. Spring-based trucks are as effective as the bushings-based ones, but the former's a more responsive type.
Surf skateboard trucks may also come with attachments that allow the rider to turn on the skateboard sharply. Most high-end skateboards for surfing use Waterborne adapters on the trucks, making the skateboard like surfing boards at the beach. These additions provide a turning radius as high as 360°.
Take note that trucks also have tightness levels that fit beginner to pro skateboarders. Be sure to adjust these components to make your ride more stable.
Deck
What makes surfskates perfect for everyone is that they come in sizes suitable to any rider level, age, and height. For example, if you stand 175cm to 193cm, you can have a deck length of around 32″-35″. If you're at 150cm to 181cm, you can use a 27-inch deck to a 32-inch one. Most quality landsurf boards have average sizes of 32".
For the width, try to look for a deck with enough stepping surface to carry your feet. Adult skateboarders often choose a deck width at an 8″ average. That way, they'll feel secure and comfortable on the board.
Weight capacity and durability
Whether the deck can hold enough weight may depend on its composition. Most quality surfer boards have a weight capacity of 220lbs, one of the highest among skateboards. And a famous material for their deck is Canadian maple wood.
Pair it with bamboo veneers, and you'll have a sturdy deck. There are also Salt surf skateboards that use walnut veneers instead of bamboo. These materials add flexibility to the deck.
The wheelbase of your skateboard may also affect your stability and the tightness of your turns. Short wheelbases are fit for tight turns but are less stable. On the other hand, a longer wheelbase offers more stability but wider turning angles.
Choose a deck shape fit for your surfing style. If you're comfortable surfing on a longboard, look for large-sized surf skateboard decks. If you're after sharp turns, squat fish-shaped decks will be the best choice for you.
Wheels
As a rule for surfing wheels, it's always best to use a soft set. While harder wheels may be faster and better for slides, surfing requires stability, which smooth wheels fit best. With that, you can look for rollers at a 78a durometer hardness level.
Bearings
What makes surfing more thrilling is adding some speed to your board. And one of the factors to achieve it is by using a good set of bearings. The best wheel cores to use for surfing should be ABEC 5, ABEC 7, ABEC 9, or ABEC 11 at a few instances. These have satisfying precision and adequate speed.
Take note that the speed and sharpness of your turns are not the only vital aspects of skateboard surfing. Always check what setup makes you most comfortable.
Are Surf Skateboards Good for Beginners
Yes, there are good surf skateboards for beginners. However, there are things we need to consider before making a beginner use a surf skateboard. These factors include the rider's age, size, level, and desired riding style, to name a few.
Cruising is a primary skill in skateboarding. For beginners who have no skateboarding experience yet, it's best to know how to cruise first. By then, the rider will not have a hard time balancing on the board when surfing.
Do Surf Skateboards Help With Surfing
Absolutely! One of the reasons why beach-goers use a surfing skateboard is to practice wave surfing on land. Like the Smoothstar Surfskate USA boards, surf skateboards have a couple of unique aspects not present with regular skateboards.
These features are evident on the board's trucks and decks. They work to imitate the feeling of riding a wave board on the beach.
How Do I Choose My Surfskate Size
The first thing you need to assess when picking the perfect surfskate size is your riding style. If you are into shortboard surfing, then you're making sharp turns and cutbacks with a 28″-35″ deck length. If you're after footwork, noseriding, and bigger turns, go for a deck length of at least 30″ or higher.
Another aspect you need to check is your height. If you stand at 150cm to 181cm, look for a 27″ to 32″ deck length. If you're around 175cm to 203cm, then a deck ranging from 32″ to 39″ will be the best size for you.
Can You Ollie on a Surfskate
You can do an ollie on a surfboard shaped skateboard. But before you do it, always remember that its trucks are flowier compared to other standard skateboards. So, you have to ensure you catch your balance every time you land on your board.
Conclusion
Surfing on a skateboard is a different level of skateboarding. It does not only allow you to add some style to your rides. It also lets beach-goers practice and feel what it's like to ride the waves.
With the best surf skateboard, your goal of surfing the beach is now possible. Always remember the things I have shared with you, and you'll surely pick the right skateboard for surf training.
Feel the waves on land using surf skateboards, and don't forget to leave your thoughts in the comments section.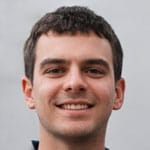 Hi, I am Charles Harris. I opened this site to write as much as I can about my biggest passion – skateboarding!
I started as a clumsy yet passionate rookie 10 years ago to now a still passionate yet much better skateboarder! But I have to tell you, the whole journey has always been fun and rewarding, indeed not without hardship.