Our skateboard shoes are an added factor to our comfort when riding. Failing to have a quality pair suited for the sport means we are already compromising performance and safety.
Today, canvas and suede are the top materials for skating footwear. But canvas vs suede skate shoes, how do they differ? For whom do these shoe exteriors suit best?
In this article, we'll tackle all these concerns. Besides that, we'll also guide you in picking the best pairs of skateboarding sneakers for your next ride.
| | | |
| --- | --- | --- |
| Area of comparison | | |
| Source | Animal hide | Cotton fiber |
| Maintenance | Needs suede cleaning agents | Washing will do |
| Weight | Slightly dense | Lightweight and breathable |
| Usage Constraints | Not for rainy weather | Easier to clean of rain dirt and mud |
| Price | Somewhat pricey | Slightly cheaper |
| Durability | Lasts many years | Lasts when not used for tricks |
| Skating style | Almost any type | Cruising and carving |
Suede VS Canvas: Definition
Before we get down to differentiating suede and canvas sneakers, let's first explore a few features of both shoe types.
1. Canvas shoes
Canvas is one material for skateboard sneakers that's better for the environment and wildlife. The reason is shoe manufacturers making footwear with it need not commit animal cruelty at all.
These sneakers fall under the textile category. So, they are essentially cheaper.
If we should give you a heads up on one aspect, it's the durability. Canvas isn't as tough as its leather counterparts. But what's good about canvas is manufacturers came up with various methods of knitting and textile work to make their shoes reasonably sturdier.
Do you prefer comfortable shoes like espadrilles? The most comforting feature of canvas skate shoes is the material's weight. Not only that, but canvas textile also allows more airflow. So, not only are these shoes economical, but they are also light and relaxed.
2. Suede shoes
Perhaps, many perceive suede shoes as footwear you use in corporate events. But that isn't always the case, especially for famous brands that also produce skating sneakers.
The first thing I like about suede shoes skating pairs is their exceptional durability. Yes, the suede on the shoe sits most often at the top. But for someone grinding that spot against the grip tape and other surfaces, such a feature brings a salient advantage.
Suede above your foot arches and toes also speaks of a different feel in flexibility. At first, suede might look too solid or inflexible. But, in reality, it's stretchable enough for a skater to achieve the perfect fit. All the user has to do is use the new pair frequently to break it in eventually.
Suede Vs Canvas Shoes: Head-to-head Comparison
Each material for skate shoes is preferable in its own right. But to help you identify what better suits you, here is our point-by-point comparison of both sneaker types.
Canvas and suede are in no way identical in looks.
Canvas comes from textile or cotton fiber woven or knitted to meet designed durability. On the other hand, suede originates from an animal hide's underside. Scientific facts? Canvas is cellulose-based, while suede is protein-based.
Both materials undergo varied processes before making the final cut for shoes or other apparel.
We can use canvas for clothing in a few instances. Why? Because canvas is a textile that you can wash. So, it's not that challenging to maintain.
But what about suede? Suede shoes are tougher to clean. You cannot simply place it in a tub of water. Often, shoe enthusiasts invest in suede cleaners to maintain these sneakers.
Others use rubbing alcohol or vinegar to keep them tidy. But in all these instances, wearers only damp the sneaker's surface – no dipping done.
As mentioned, the shoes' weight influences our decision about buying a pair. Because no matter how appealing the sneaker is, if it strains your foot even with a short ride, you'll more likely end up tired.
So, which of the two materials has the upper hand in this aspect? It's the canvas shoe material. Canvas also takes less time to modify using textile tools and has more uses than suede.
Should you insist on using a pair of suede sneakers in the rain? No.
While it's not impossible, doing so will leave you dredging the dirt off these shoes all day. We are not saying that canvas resists dirt and mud from rain, but it's easier to clean than suede.
Some skaters want to invest in premium-grade shoes, while others feel satisfied with cheaper yet reasonably durable shoes.
Between suede and canvas, which one costs less? The answer is canvas. And one factor that influences this difference is the materials' durability. So, it would be objective to discount suede if you have a limited budget.
Perhaps, you can already gauge how sturdy each shoe type is by feeling them. Otherwise, look up the materials of a product before buying.
If not weight, skaters and most shoe buyers consider the sneaker's durability. And we know we can't spend little on a pair and expect it to last years of strenuous usage.
But without the cost as a constraint, can a premium canvas sneaker outlast a quality suede shoe? No.
Canvas sneakers could be a good pair if you don't perform tricks often or you skate without having to grind your shoes against the deck.
Beyond that level, you might not be happy after using them. But that doesn't mean canvas sneakers are useless for skateboarding. Try comparing canvas VS denim shoes, and you might appreciate canvas more.
Manufacturers have all the means to transform canvas into a thick, unbreakable textile for shoe applications. However, such a method will compromise another comfort aspect, which is weight.
From the sources of suede alone, we can already see how it had the edge in sturdiness. And true enough, suede withstands technical and more agile skateboarding.
Pros and Cons of Suede and Canvas Skate Shoes
Without comparing suede against canvas or vice versa, what are the inherent drawbacks of each material? Let's get into the following.
Suede
Durable
Suede works for almost any skateboard routine
Stretchable and easy to break in
Inferior breathability
Challenging to clean and maintain
Canvas
Light and breathable
Costs less than suede
Great for cruising
Canvas and Suede Skate Shoes: Prices
When choosing skateboard shoes, we always want to ensure our money is spent wisely. So, let's see a few brands with famed skate shoes and their prices.
Canvas skateboard shoe options
Nike SB Blazer Court Skate Shoes – $51.95
Etnies Screw Vulc Mid Skate Shoes – $52.95
Chuck Taylor All Star Pro Mid Skate Shoes Canvas Converse – $69.95
Vans Skate Old Skool Shoes Black / White / Gum – $74.95
Emerica Provost G6 Skate Shoes – $79.95
Suede skateboarding shoes
Nike SB Zoom Blazer Low Pro GT Skate Shoes – $79.95
Converse Louie Lopez Pro Mid Skate Shoes – $79.95
Emerica Dickinson G6 Skate Shoes – $79.95
Adidas Tyshawn Pro Skate Shoes – $84.95
New Balance Numeric 808 Skate Shoes – $109.95
Frequently Asked Questions
Are suede shoes better for skateboarding?
Inarguably, it's appropriate to call suede shoes good for skating.
While sneakers made from suede garnered the impression that they only suit formal events, we thank famous brands for breaking it. Suede canvas Old Skool Vans, Nike SB, and New Balance are only a few names that incorporate durability and style in skateboarding gear with the help of suede.
And until today, it's obvious how suede continues to dominate skate parks because of its durability and other advantages.
Is canvas easier to clean than suede?
You can wash your canvas sneakers after coming home from a long or wet skate ride. But as mentioned, this cleaning style cannot apply to suede sneakers.
Only moderate dampening with appropriate liquid solutions is acceptable in keeping suede in fine condition. Otherwise, we'll cause the shoes to deteriorate or lose their neat form.
What lasts longer, suede or canvas?
Suede lasts longer than canvas.
If we understand suede's origin more, we might understand this conclusion better. Suede comes from animal hide or leather. So, if we compare canvas VS leather shoes, the latter still wins in this aspect.
Leather does not undergo the process of tying or knitting fibers. The suede is often solid when installed on a skate shoe.
On the other hand, canvas may split sooner than expected. And since many brands cannot compromise weight when making skateboard sneakers, the canvas on this footwear may not be in its optimum shape, which is an added drawback.
Conclusion
Shoes satisfy us in many ways, whether they're gifts or self-rewards. And in skateboarding, wearing a pair that suits our preference, has optimum durability, and weighs light is everyone's dream.
The good news is such a dream is possible. All we need is the knowledge to evaluate different types of skating shoes. And now that you know the comparison of canvas VS suede skate shoes, you are finally a step closer to deciding which of the two is better.
Both types are appropriate for skateboarding, but not at all levels. Choose well!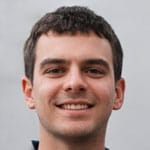 Hi, I am Charles Harris. I opened this site to write as much as I can about my biggest passion – skateboarding!
I started as a clumsy yet passionate rookie 10 years ago to now a still passionate yet much better skateboarder! But I have to tell you, the whole journey has always been fun and rewarding, indeed not without hardship.