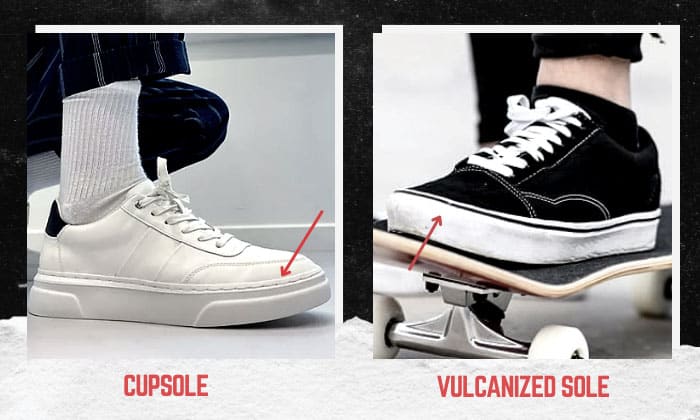 Variety in apparel makes our daily walks more thrilling. We get to mix and match clothes with footwear or accessories. This way, we feel more confident and comfortable about ourselves.
The same idea also applies to skateboarding. We want to ensure we gear up with the appropriate clothing, footwear, and protective equipment to be safe. And talking about footwear, do you already know what shoes to wear?
If not, we can start the selection process by comparing cupsole vs vulcanized skate shoes. Here, we'll see what makes one better and be able to decide the best style for ourselves.
| | | |
| --- | --- | --- |
| Area of comparison | | |
| Board feel | Less board feel | Optimum board feel |
| Protection | More dampening | More vibrations felt |
| Break-in period | Takes time to break in | Minimal to little time breaking in |
| Price | Pricier | Less expensive |
| Durability | More durable | Wears out faster |
| Weight | Slightly heavy | Lightweight |
Vulcanized Vs Cupsole Skateboard Shoes: Defined
Let's first understand what these shoes are for and how they work when riding a skateboard.
1. Cupsoles
This type of skate shoe features a cup-like outer sole wrapping around the edges of the footwear.
Manufacturers mold this part to be a solid piece and glue it to the midsole and upper of the shoes. And if you take durability seriously, perhaps, this pair would make you feel more confident while practicing tricks.
Why? Because besides gluing the middle sole to the seams of the canvas or suede, cupsole sneaker producers often sew the mouth of the cup rubber against the upper.
Thus, you will see stitches running around the outsole of this shoe type.
What else besides durability? Skateboarding isn't always smooth because of debris and road obstacles. The good thing about cupsole skate shoes is they have thick outsoles that neutralize vibrations caused by these rough surfaces. Not only that, but this feature also makes these sneakers more stable.
2. Vulcanized shoes definition
If cupsoles get you all the durability and dampening you need, vulcanized skate shoes will make you feel shoeless. But how?
Vulcanized mean shoes are on the soft side. These pairs feature a thin and soft outsole, which, in reality, isn't a drawback at all.
If you're curious about vulcanized meaning, it means a shoe's sole comes from layers of rubber that undergo a heating process which, in effect, reduces its stiffness.
The result? Better board feel! Vulcanized rubber shoes are perfect options for people who love to do fundamental tricks or play with rails and other simple obstacles.
Also, if you want to use a light and manageable pair of footwear, vulcanized sneakers are the way to go. Because of their rubber or outsole build, the shoes' overall weight is reduced significantly.
Ultimately, these shoes need no break-in period. You can wear and enjoy them immediately without dealing with uncomfortably compressed feet.
Differences Between Cupsole Sneakers and Vulcanized Skate Shoes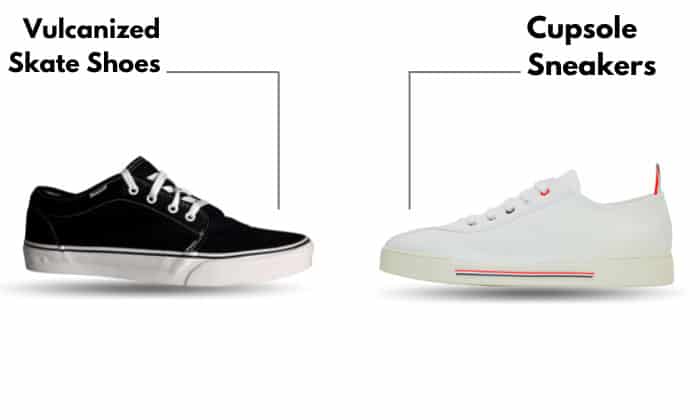 We are now on a much more intriguing part, comparing both shoes using some basic criteria.
1. Board feel
As mentioned, vulcanized skate shoes have the advantage in this aspect. Yes. Manufacturers do not resort to heating when making these soles for nothing.
On the other hand, cupsole sneakers are on the stiffer side. Instead of making you feel the skateboard more, they neutralize external vibrations. And that leads us to the next aspect.
2. Protection
Sometimes, an inch more of board feel could bother us when riding, especially if we lose balance.
The good thing about cupsole sneakers is they have thick outsoles that dampen vibrations coming from the skateboard on the ground. Thus, shaky motions feel less frequent and become more manageable.
3. Break-in period
Breaking in on a pair of shoes is necessary before you engage in a competitive skating activity. Failure to do so on time could give you difficulties performing your tricks and other skills.
So, which shoe has the faster break-in period? It's vulcanized skate sneakers. Some users on Reddit claimed they did not wait long before these shoes fit them. Still, regarding their build, vulcanized sneakers are soft enough, so breaking them in won't be an issue.
4. Shoe price
Since quality and performance matter in skateboarding, finding these aspects on a sneaker pair within your budget is a definite plus. There are expensive skateboarding shoes on the market, and that's where cupsole sneakers belong.
The good thing about vulcanized sneakers is they cost significantly lower, except for some premium vulcanized shoes Off-white or luxury brands offer. But again, just because these shoes are cheaper doesn't mean you should not consider the cupsole type's benefits.
5. Weight
Cupsole sneakers often come in thick, which leads to the reality that they could also be heavier. And we know that dense shoes don't help us sometimes. They could strain our legs faster or prevent us from perfecting tricks.
What about vulcanized shoes? Besides being flexible and responsive, these sneakers are also lighter than their counterparts.
6. Durability
Of course, we can't neglect this aspect because it gives us value for our money. But between cupsole and vulcanized skate shoes, which lasts longer?
One of the factors we should note about a vulcanized sole is its susceptibility to wearing out. Yes, this pair wears out faster than cupsoles. If you skate often, consider cupsoles instead.
Also read: The difference between skate shoes and sneakers.
Pros and Cons of Vulcanized and Cupsole Sneakers
Let's use this table to identify where each of these shoe types stands out.
Cupsole
Vulcanized
Advantages

Adds stability to the rider by improving dampening
More durable than vulcanized shoes
Comes with arch support

Minimal break-in period
Better board feel

Disadvantages

Slightly heavy because of the thick sole
Cupsoles take longer to break in because of lower flexibility

Wears out faster than cupsole sneakers
Less dampening

Best for
Riding over debris and road obstacles
Fundamental tricks
Frequently Asked Questions
Are vulcanized shoes better?
Each of the types we discussed has bright spots in several aspects. So, to say that vulcanized shoes are better could discredit the benefits of cupsole sneakers.
Yes, vulcanized shoes are better, but only to some extent. Often, we see advantages of Adidas vulcanised pairs and other names in how manufacturers make them. They contain rubber layers that went through a heating process, making them flexible and responsive.
Are cupsole shoes good for skating?
Cupsole skateboard shoes indeed take a while to break in. But during this process, you will appreciate how this pair provides added protection, support, and cushion to your feet.
One of a cupsole sneaker's most salient differences from vulcanized skate shoes is how it neutralizes vibrations on rough skating grounds. Also, these shoes have better durability, so many skaters prefer them because they last longer.
How to know if my shoes are vulcanized or cupsole?
If you have noticed, cupsole skateboarding shoes have stitches on the seams of the rubber cup surrounding the footwear. Such a feature isn't present on a pair of vulcanized skate shoes. On the other hand, a vulcanized shoe has foxing tape on the toe box.
Besides the appearance of both shoes, you can also tell which is which by feeling them. Vulcanized skating shoes have flexible soles, while cupsoles are stiffer.
Conclusion
Nothing feels better than a skate ride that's safe, comfortable, and reasonably challenging. The good news is there are plenty of ways to achieve it. And one of these methods is by wearing appropriate skate shoes.
So, now that we know the differences between cupsole vs vulcanized skate shoes, we can finally narrow our choices down better. Remember, each shoe has an upside. So, always consider all aspects to decide what's best for you.
Do you want a soft heel or a durable sole? It's your call.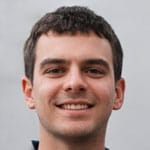 Hi, I am Charles Harris. I opened this site to write as much as I can about my biggest passion – skateboarding!
I started as a clumsy yet passionate rookie 10 years ago to now a still passionate yet much better skateboarder! But I have to tell you, the whole journey has always been fun and rewarding, indeed not without hardship.