Remember your friend who once told you there'd be flying cars soon? Perhaps, the revolution has already started. Car makers began producing electricity-powered vehicles, and the same technology was applied to products like scooters and skateboards.
Electric scooter VS electric skateboard. Are these pieces of equipment fit for electronic setups? Which yields better performance? And what can give you the best value for your money?
This article will present the benefits and not-so-good things about e-skates and e-scooters. Below is a summary of their salient differences.
Parameter of Comparison
Electric Scooter
Electric Skateboard
Safety
Reasonably safer because of handlebars
Requires large parts and stable setup to establish safety
Portability
Weighs up to 50 kg
More convenient to bring; weighing 7 kg to 15 kg only
Learning curve
Handlebars facilitate faster learning
Needs adequate body movements to drive
Riding Experience
Aces long routes
Perfect for short commutes
Range
Runs at 25 kph to 35 kph only
Faster at 29 kph to 45 kph
Riding Location
Only works best on smooth trails
E Scooter vs E Skateboard: Defined
1. Electric scooters
Many will think of e-scooters as a regular two-wheeled aluminum deck or electric skateboard with handlebars backed by a battery. The good thing is they are more than that.
E-scooter manufacturers have already ventured into innovating advanced scooters today. And most of these rideable vehicles come with bolder wheels and exceptional speed.
Also, e-scooters now have lights and a better braking system. Ultimately, they are the vehicles many want to ride more for convenience.
2. Electric skateboards
The skateboarding community has come far enough to catch up with today's advanced electronic vehicles.
E-skateboards are balanced. If you want to skate without pushing hard, it's okay to use your batteries. But if you run out of power, you may ride them like a regular board. In other words, they'll remain functional.
Unlike regular boards, e-skates now have remote controllers that make pushing and braking seamless. Also, these devices add more convenience by showing you their battery status, speed, and other relevant information.
Electric Skateboard vs. Scooter Comparison
By how they look, we can already differentiate e-skates and scooters. But let's learn more about their distinctions.
1. Safety
Let's hit safety first, which is crucial as we ride battery-powered devices that are undeniably fast.
Whether riding an e-scooter or skateboard, there are always restrictions and limits. Going beyond these boundaries exposes the riders to risk.
Even if you ride on spacious decks, large wheels, and stable stepping surfaces, you're more prone to accidents while skateboarding. The brakes of these boards are dependent on your remote working, and in cases where the battery's dead, stopping is doable only by controlling your feet and body.
Given the handle and mechanical brakes, e-scooters have the upper hand here.
2. Portability
Are you traveling alone? Which electric scooter VS skateboard should you bring?
The first fact to consider is that e-skateboards are not that light. On average, they range from 7 kg to 15 kg because of their electronic components. But despite these numbers, the size of e-skateboards still makes them more portable than scooters.
E-scooters are significantly heavier, weighing a maximum of 50kg. And unless they are foldable, their frames will make them bulky for any backpacker.
E-skateboards take the cake here, even if we disregard sizing concerns.
Whether electric longboard VS scooter, both serve convenience. Should you take ample time learning them? Yes! But how long?
Imagine riding on a plank of wood, sailing around 30 kph with and without holding on to something to balance.
Of course, life would be more convenient riding with a handle. And that is what makes e-scooters advantageous in this aspect.
With handlebars, scooters are easier to learn at the end of the day.
Contrarily, a balanced body is crucial when riding skateboards. Plus, the challenge of speed makes it slightly demanding of your time practicing.
Which of the two makes riding more pleasant? Where do we use electric boards and scooters?
Perhaps, we can associate their sizes with the distances they can travel. So, skateboards are for short commutes, while e-scooters can take the long route.
However, some factors can still influence this setup. These include battery life, city restrictions, storage, and overall comfort.
We just spoke about distance. Now, how far can an e-skateboard or scooter reach? And how fast do they get to point B?
Essentially, these battery-powered equipment yield significantly higher speed levels than their mechanical counterparts.
Let's get into the figures. E-scooters run at a minimum of 25 kph to 30 kph. Add high-end parts and superior setups, and these boards can reach a maximum speed of 100 kph.
E-skateboards do not disappoint in this aspect. On average, e-skates run as fast as 29 kph to 45 kph. Exceptional models can even join some cars moving at 65 kph.
As to how far, a single charge of an e-skateboard can help you complete a 10 km to 50 km trail, which is long enough for most commutes. Meanwhile, e-scooters, superior in batteries, can reach 25 km to 150 km on a single charge.
E-scooters and e-skateboards might look buffed and reinforced, but that does not mean they work on rugged trails.
Even with cars, bumpy roads are an added challenge, more so with skateboards and scooters. So, what are we trying to prove? These riding locations are not friendly to either e-skates or e-scooters.
Hence, we had better ride these board vehicles on smooth trails.
3. Pros and Cons
Let's see some of the best features and drawbacks of an electric scooter and skateboard.
1. Electric skateboards
Remote controllers for better and customized driving
Cheaper than e-scooters
Can take on paved surfaces
Have a lower battery capacity
Not for rough skating trails
2. Electric scooters
Improved battery capacity
Better speed than skateboards
Perfect for long distances
Not for rough terrains, but handle them slightly better than skateboards
Less maneuverable than e-skateboards
Slightly inconvenient to bring on travels
4. Cost of E-skateboards and E-scooters
You might now be anticipating this pair of equipment to be costly. Nonetheless, both are worth it. Check the following prices.
E-skateboards
Teamgee H3 DIY Electric Skateboard – $259.99
Blitzart 38″ Dual Motor Electric Longboard – $399.00
EXWAY Wave Hub Electric Skateboard – $699.00
Furthermore, if you are finding the most proper e-skateboard for yourself, please take a look at this review article! and click here to learn more about the top-rated motor for electric skateboards.
E-scooters
Envy Scooters Prodigy S9 Complete Scooter – $219.99
Ninebot KickScooter E22 – $399.99
Segway Ninebot Electric Kick Scooter F35 – $729.99
As you can see, there's little difference in the price tags of e-skateboards and scooters, though scooters may sometimes be cheaper. Even if we factor in repairs, both can cost similarly high due to their components.
Electric Skateboard or Electric Scooter?
by u/humbledaur in electricvehicles
Frequently Asked Questions
What is better, an electric scooter or a skateboard?
E-skateboards and e-scooters both make commuting more convenient. But which is the better overall choice?
It all depends on our priorities. If you want a better learning curve, scooter is the way to go.
However, ease of learning isn't the only thing to consider. If you are traveling on a busy route, you might as well use an e-scooter to secure your braking. It's not the best idea to have an electric skateboard for commuting. Should there be downsides to e-scooters, that's when they're under restriction in a specific location.
Why are electric skateboards faster than scooters?
Reddit people theorize that e-skateboards have fewer regulations than e-scooters. Although the latter can take on higher speeds, the local government often limits this equipment type to only 25 mph.
Conclusion
There's no harm in working with batteries, circuits, and speed. As long as you know what you are doing, you're fine. With skateboards and scooters combining well with electricity, the best thing we can do is know their properties and tendencies.
And now that we have this electric scooter VS electric skateboard comparison, we can finally be more confident using them. If there's one thing to remember, that's their limitation and ours.
Skate better, and ride faster, but never forget to be safe.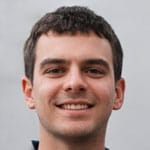 Hi, I am Charles Harris. I opened this site to write as much as I can about my biggest passion – skateboarding!
I started as a clumsy yet passionate rookie 10 years ago to now a still passionate yet much better skateboarder! But I have to tell you, the whole journey has always been fun and rewarding, indeed not without hardship.