Woodworking today has already advanced beyond its basic beginnings. After studies and trials of wood as a primary material, lumber workers have designed finger joints to utilize every piece of wood, no matter its length.
But what is a finger joint board? A finger joint plywood is a long piece of wood with two identical components possessing comb-like complementing vertical ends. Keep reading as we learn more about its creation, purpose, and other benefits it brings.
Finger Joint Board: Definition, Purposes, and Everything Else
A finger jointed lumber takes inspiration from two hands with interlocked fingers.
Manufacturers use two pieces of complementary wood for it. With a finger joint router bit, woodworkers run the end of each piece against the opposing sides of the bit to give it a comb-like tip.
Then, they will apply glue on the finger surfaces of each wood piece and lock them. Most workers who practice this method intend to extend the wood's length and use it for its appropriate purpose. This way, spare pieces of lumber from other projects do not simply go to waste.
Now that we know how manufacturers create finger joint boards, what are these creations used for?
Often, we'll find these lumber pieces as trim and casings, the ones we install in several corners of the house. They are not integral to composite building constructions. In other words, they don't need to support a structure's weight.
Finger jointing is also present in pieces of small woodwork. Examples include moldings, quarter rounds, and door stops.
Generally, finger joint boards are for interior details. They don't work in areas that expose them to the elements.
Name of Finger Joints
We can also be creative with finger joint boards. Here are a few types you can try.
Square finger joint
Stepped finger joint
Slanted cut finger joint
How to Use a Finger Joint Lumber?
As mentioned, the most common applications of finger jointed wood include casings, moldings, and wooden interior details. So, how do we install these pieces? Let's take wall molding as an example.
Measure the total length of the molding needed.
Mark your designated molding location using a pencil.
Cut each molding based on your designated installation space.
Measure and trim the ends of the molding at an angle that complements the corners or tip of the adjacent wood piece.
Fix the molding against the wall using nails.
Advantages and Disadvantages of a Finger Joint Board
Generally, wood has its limitations in specific areas of structuring objects. And the same applies to finger joints. Here are some positive aspects and drawbacks you may consider before using them.
Pros
Cheap
Saves more wood for reuse
Straighter wood connections
Cons
Wood expansion leads to weakened joints.
A finger joint is challenging to smoothen out against a wall.
Frequently Asked Questions
Are finger-jointed boards strong?
Yes! Generally, finger joints wood does not impact the overall durability of its designed application. It's sturdy for a vertical load.
Furthermore, if we test a finger joint against mortise and tenon, the former prevails in durability, especially if the primed finger joint board has adhesive on.
Is finger-jointed lumber cheaper?
The best thing about a finger joint pine is its economic value. It's not too cheap, but it costs less vs solid wood. And the performance? It's as if you're using a continuous piece of wood.
Conclusion
Wood plays a vital role in many structures inside and outside our homes. It could be in the form of designs, support, or primary material.
So, what is a finger joint board? It's a unique way of connecting pieces of wood to increase their length and prevent unused portions from going to waste. Remember, using lumber made through this method might have limitations.
Nonetheless, finger joints do more good than bad. It's how we use them that matters.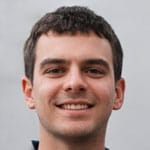 Hi, I am Charles Harris. I opened this site to write as much as I can about my biggest passion – skateboarding!
I started as a clumsy yet passionate rookie 10 years ago to now a still passionate yet much better skateboarder! But I have to tell you, the whole journey has always been fun and rewarding, indeed not without hardship.