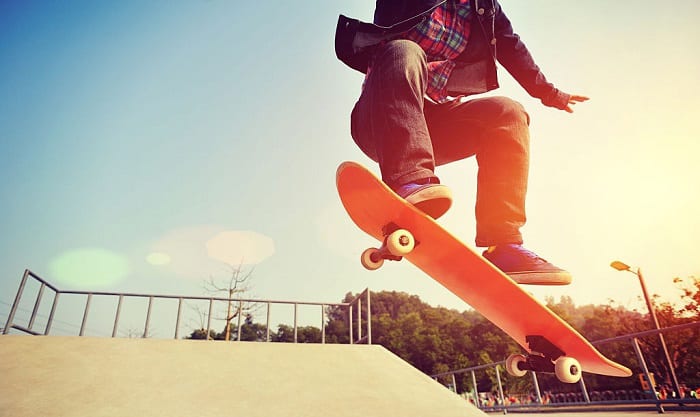 Popping a skateboard or an ollie, as it is most commonly known, is a kind of maneuver that involves lifting a skateboard into the air.
Learning how to pop a skateboard fluidly is a fundamental trick that every skateboarding junkie needs to conquer as a right-of-passage and stepping stone to executing more advanced maneuvers.
Here are some points to consider when pulling off this stunt:
Proper foot positioning
Jumping
Striking the tail of the deck
Raising the nose of the deck
Maintaining balance and elevation
Defy gravity and set yourself up for success by following this step-by-step guide:
What You Need
Before hitting the ground, keep in mind that your safety comes second to none so equip yourself with the following:
1. Safety Gear
Before attempting to hop on your board for a spin, make sure you are protected from head to toe with a reliable set of protective equipment. Pop your helmet on securely and protect your knees, elbows, and wrists with safety gear to match.
2. Skate Shoes
Created with skateboarders in mind, skate shoes are made with durable, shock-absorbing soles that grip your board better than your regular sneakers can. They're also reinforced in areas where your shoes will likely break down.
3. Your skateboard
Being the most important piece of equipment, you will need, make sure your skateboard is in top shape. A heavy-duty deck plus a great set of trucks and wheels is a must for learning how to pop an ollie.
6 Easy and Simple Steps to Pop a Skateboard
Learning how to pop an ollie entails practice, perseverance, and determination.
Step 1. Position your feet properly
Positioning your feet properly is the first step you need to take before attempting to pop your skateboard. Start by resting your back foot in the middle of the tail, your front foot should be positioned in the middle of your deck. This position gives you the leverage and momentum you need to raise your skateboard.
Step 2. Apply the right force and pressure to the back of your board
With your feet positioned optimally, quickly apply weight to the tail of your board. Do this as fast as you can to gain the momentum you need to get you off the ground. Try to maintain your balance as you take off.
Step 3. Wait for your board to strike the ground before jumping
As soon as the back of your board strikes the ground, start jumping. As you jump, the force of your back foot on the tail should cause the front of the board to elevate upwards at a diagonal angle. While this is happening, let your front foot slide up across your board swiftly so it will rest against the nose.
Step 4. Prepare for landing
Once you are completely airborne and parallel to the ground, your back foot should be resting on your truck bolts at the back of the board, while your front foot should be on the truck bolts at the front. Making sure your weight is distributed properly helps sustain your balance as you land, preventing untoward incidents.
Step 5. Bend your knees as your board strikes the ground
Once your board strikes the ground, allow gravity to take over. Bend your knees and slowly squat on your board. This also prevents the possibility of your board being thrown off as you land. Squatting also reduces the impact on your legs when your board finally hits the ground.
Step 6. Practice is key
Learning to pop a skateboard is no easy feat. Mastering the art of popping your board or pulling off an ollie takes time and tons of practice! Make popping an ollie a part of your skateboarding routine and keep trying until you get it right. Wipeouts and bad landings are all a part of the game so remember to keep yourself protected at all times.
Check out this video for more tips and tricks to help you get more pop on a skateboard!
Pro Tips:
Keep your shoulders straight and aligned with the nose and tail of your deck. This easy yet important trick makes for better control and slick landings!
Build your confidence slowly but surely. Although you want swift and fluid moves right off the bat, popping an excellent ollie takes time, practice, and perseverance. Once you have your foot placements and maneuvers down pat, you'll be popping your board like a pro in no time!
As soon as you feel more confident, leverage your momentum and raise your board even higher by pressing your deck's tail harder and more aggressively. Raising your arms as you make your way up helps elevate your board even higher too.
Conclusion
While learning how to pop a skateboard seems intimidating and risky at its onset, nothing compares to the thrill and excitement it brings. Just imagine how awesome it would be to be able to bypass obstacles like handrails and ledges like a boss!
We hope this step-by-step guide inspires and motivates you to master the art of popping an ollie. Don't forget to share this with your co-shredders who could use some help too. Let us know what you think by sounding off your comments and suggesting below, we'd be more than happy to hear from you!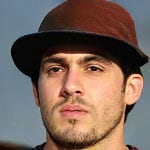 I am Michael, and I have been enjoying this fun sport for seven years. And nothing is better than having a community to share our passion for those thrilling tricks. I am ready to tell you all I know about skateboarding, showing you how to choose a good board and trick to start and how the practice goes. Stay tuned!