Some people say longboarding is only for the thin. And if you're someone who loves food, you've probably heard this more than a couple of times now. The truth is, longboards come in different specifications that fit any rider, including you.
Let me share with you the best longboard for heavier riders. But before you head to the store and grab your longboard, take note of these factors first.
Longboard deck: In terms of materials, it's best to use a deck made with bamboo and maple wood because these two offer optimum flexibility and safety. Also, if you want better control, the flat and upward-curved deck would be ideal shapes.
One more deck quality you need to check is its concavity. As a rule, the deeper the concave, the greater the rigidity of the board.
Trucks: There are two characteristics you need to check with longboard trucks, their material and mounting style. Nylon or plastic bases crack easily. That means aluminum trucks would be a good option for you, added with steel axles and kingpins.
For the mounting style, you can have a top-mounted longboard truck if you're into downhill trails. Meanwhile, drop-through trucks would be perfect for freestyle riding.
Wheels: You don't need big wheels if you're a taller rider. Small to medium wheels are sufficient for heavier riders. It's their body weight that helps improve grip and stability in every ride. Thus, 70mm to 75mm wheels will be a perfect size range.
And for a heavier rider, wheel hardness with 78a to 80a ratings is ideal. Wheels in this hardness range roll over cracks and rough roads easily.
In this article, we'll go over the right longboard for big guys. Also, after all the products, you'll learn more details on the things you need to consider before buying your longboard.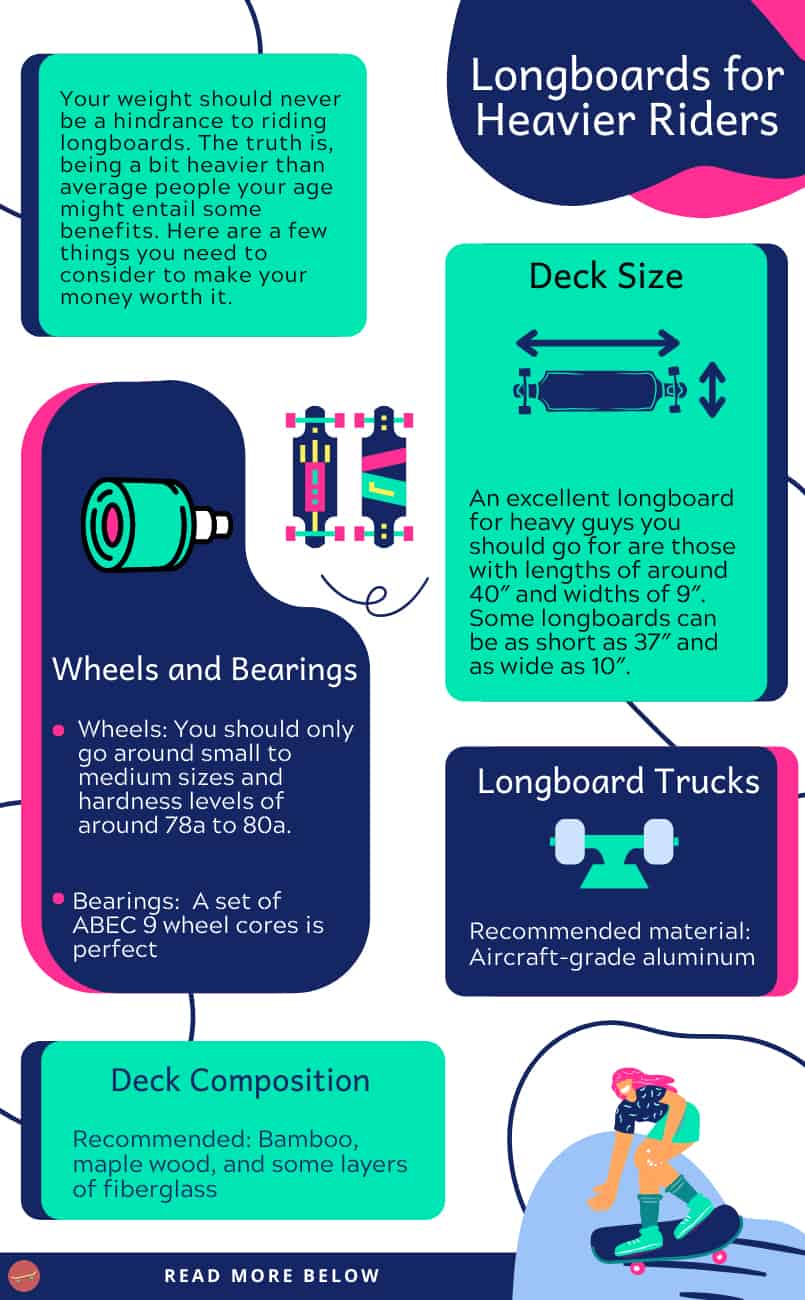 Top 1
Volador Longboard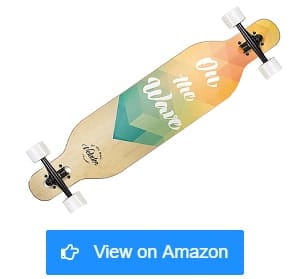 – Non-toxic and durable materials
– Perfectly balanced 78a durometer wheels
– Premium aluminum trucks
Top 2
White Wave Longboard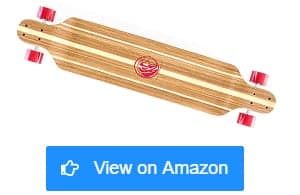 – 70mm wheel size ideal for heavier riders
– Canadian maple and bamboo
– High-quality and corrosion-resistant trucks
Top 3
Magneto Longboard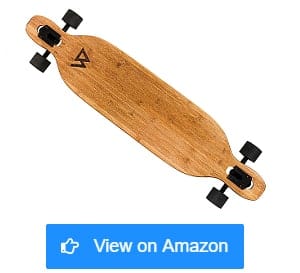 – 42″ x 9″ dimensions for sharp turns
– Works well for all types and ages of users
– Sturdy gravity-cast aluminum trucks
Top 12 Longboard for Heavier Riders Reviews
1. Volador 42inch Freeride Longboard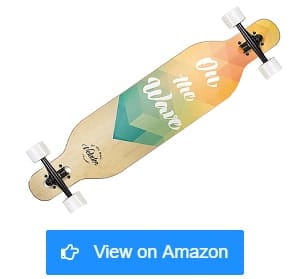 One of the features I love about the Volador 42-inch Freeride Longboard is its deck style. Not only does it have an avant-garde design, but it's also a drop-through arched camber concave deck that offers superior flex. Plus, it has enough shock absorption capacity that gives me a stable ride every time.
Volador's deck is also an environment-friendly one. It uses an 8-ply hard maple wood plus a layer of epoxy glue, which is non-toxic. These two make the longboard durable and fit for heavy guys.
I like the trucks of this longboard because of their premium aluminum body. Aside from being corrosion-resistant, this pair of trucks have reverse kingpins adjustable to either 45° or 50° angles. These aspects make the longboard more maneuverable.
One more thing I admire about this longboard is its wheels and bearings. These two give me a smooth ride every time. Volador's wheels come with a 78a hardness level, which has perfectly balanced speed and bounce. Also, these rollers come with ABEC 9 bearings that make my ride more precise and seamless.
I only have some quality issues with this product. The rubber should have aligned with the baseplate, which did not happen with the board I received. I could fix it, but some people might not be able to. Nonetheless, it's still an ideal longboard, especially for beginner riders.
Pros
Drop-through camber concave shape with superior flex and shock absorption
Made with non-toxic and durable materials
Premium aluminum trucks and adjustable reverse kingpins for maneuverability
Perfectly balanced 78a durometer wheels with ABEC 9 precision bearings
Cons
Misaligned rubber and baseplate
This longboard brand is user-friendly. With its quality components, I think this is one longboard 400lbs people will love. Most importantly, it suits my weight, and it's always a comfortable ride for me.
2. White Wave Bamboo Longboard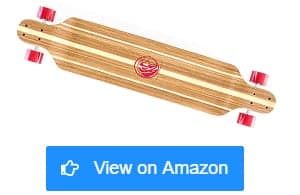 The White Wave Bamboo Longboard is one of my boards that has unique designs incorporated with durability. This 9 ply longboard comes with multiple layers of Canadian maple wood and bamboo, with the latter known for its tensile strength and flexibility. With these, I always feel confident knowing how sturdy these deck materials are.
I find this longboard for bigger riders unique because of its heat-transferred graphics and transparent grip sheet. Unlike most longboards for heavy riders made with silicon carbide sheets, this brand lets me appreciate the natural wood design of my longboard.
This longboard features a set of high-rebound 70mm urethane wheels that can load heavier riders like me. Also, at the core of these rollers are ABEC 9 Hellion bearings with built-in spacers. These parts help the rider generate more speed. I think these aspects give me the right balance of bounce and swiftness throughout my rides.
Another feature I love about this longboard is its high-quality trucks. Made with aluminum, I can be sure my trucks have natural corrosion resistance. These components are light but are strong enough for tall and heavy riders.
The only thing that bothered me a bit about this longboard lies with its wheels and hardware installation. I was doing a bearing test when one of the wheels wobbled and I needed to tighten one of the hardware pieces. Nonetheless, this only happened once.
Pros
Canadian maple and bamboo for durability and flexibility
Unique heat-transferred design and transparent grip sheet for a natural look
70mm wheel size ideal for heavier riders
ABEC 9 Hellion bearings with built-in spacers for better speed
High-quality and corrosion-resistant aluminum trucks
Cons
Wobbling wheel and a loose hardware
I have not seen the White Wave Bamboo longboard weight limit in the ads, but I believe it's one of the most trusted longboards for 300 lbs riders today. Good deck, premium durability.
3. Magneto Longboard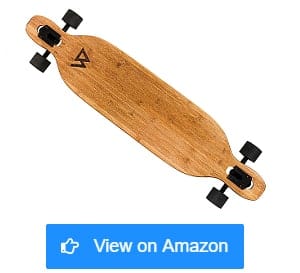 The Magneto Longboard is one of the most versatile boards I have. It has a drop-through deck design that sets the center of gravity lower. With this, cruising and carving feel comfortable and stable.
The Magneto Bamboo longboard comes with three plies of bamboo for flexibility plus a layer of fiberglass to make the longboard more durable. And since this board has bamboo as its primary material, any skateboarder, light or heavy, will always feel confident riding it.
This longboard also features an ideal shape for turning. With dimensions of 42″ x 9″, taking sharp turns feels easy and fun. An added factor to this board's quality is its shallow concave deck shape, making the board more comfortable right beneath our feet.
The trucks of this longboard brand are of high quality as well. Made with gravity-cast aluminum, I can see these trucks are sturdy, and the 7-inch hanger looks perfect for the deck size. Plus, the high rebound bushings are of an ideal hardness, making my rides even better.
One more thing I like about this longboard is that it performs well no matter the user and age. Kids, teens, adults, and heavier riders like me enjoy this board.
On the downside, I find the bearing not very responsive. Magneto's bearings don't roll that fast compared to other brands. That means I'll have to exert extra effort when pushing. Nonetheless, the rest works fine.
Pros
Drop-through deck for a lower center of gravity and stable cruising and carving
Bamboo and fiberglass deck for durability & flexibility
42″ x 9″ dimensions for sharp turns, ideal hardness on the bushings
Shallow concave board shape for better comfort
Sturdy gravity-cast aluminum trucks with suitable hanger
Works well for all types and ages of users
Cons
Bearings do not roll that fast
Strolling through the street feels perfect with this longboard. It's a solid board, and its shape makes me comfortable.
4. Atom Drop Deck Longboard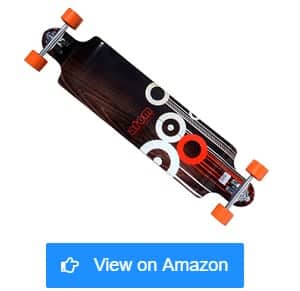 The Atom Drop Deck Longboard is known for its efficient turning capability. It comes with a pair of reverse kingpin trucks, making this longboard for taller riders better for sharp turns and carving. Plus, the truck axles measure 245mm. These aspects can reduce wheel bite tendencies because of the trucks' height and distance of the wheels from the deck edge.
For heavy riders and beginners, I believe this board's wheels are perfect. This wheelset comes with a 70mm size and lips as wide as 51mm. These wheel dimensions offer better grip, thus making every ride less shaky. Plus, these rollers also consist of super high rebound urethane for better shock absorption.
One more thing I love about this longboard for heavy riders is its laminated deck. This aspect keeps the wood deck free from fading and minor scratches. Also, laminated decks are durable and appear to be smooth because of their laminate finish. With these, I get to enjoy my board longer.
Not only does this Atom longboard have a quality deck, but good grip tapes as well. Atom comes with an 80S grip tape that makes it perfect for slow rides and cruising, too. Also, this class of grip sheet is not too coarse, so it would not be that hard to move your feet on the stepping surface.
However, I hear weird noises from the bearings. They were like clicking sounds when I carved. I tried putting in some additional lubrication instead of buying a new set, and the issue never happened again.
Pros
Reverse kingpin trucks and 245mm axles for better turning capacity
70mm x 51mm wheels that offer better grip, high rebound, and less shaky rides
Laminated deck for additional durability
Quality 80S grip tapes that make the board ideal for cruising
Cons
Clicking noise on the bearings
I believe this is one of the biggest longboards for heavy riders I have seen. On top of that, it has quality components that make it fit for bigger and taller riders like me.
5. MINORITY Downhill Maple Longboard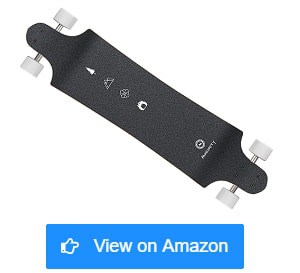 I never thought a full-maple longboard would be this good until I tried the MINORITY Downhill Maple Longboard. This longboard comes with an 8-ply cold-pressed maple deck and a 37-inch wheelbase. All these factors make this brand a perfect one for downhill trails.
Not only is this longboard ideal for downhill rides, but it also gives me enough speed. It has a lower-gravity construction and a set of ABEC 9 precision bearings that help me ride fast and smooth. And for someone heavier than average skateboarders, I never had a hard time pushing this longboard.
I love the maneuverability of this longboard. Apart from its trucks made with genuine aluminum, there are also 7-inch reverse kingpins adjustable to 45° or 50° angles. That way, I get to decide which among the two setups will fit my kind of ride.
For beginners, I believe this can be an ideal practice longboard as well. When I first used this deck, it was easy to ride, and my friend experienced the same on his first time riding a longboard. I think a factor to this benefit is the deck's drop-through design and stable 70mmx51mm wheels.
However, I had to use some soap shavings as other users did with their trucks. The reason here is these parts of the longboard were a bit squeaky. Anyway, that happened only once.
Pros
8-ply full-maple deck fit for downhill rides
Lower-gravity construction and ABEC 9 bearings for smoothness and speed
Aluminum trucks & 37-inch wheelbase
7-inch reverse kingpins adjustable for better maneuverability
Perfect longboard for beginners
Cons
Trucks were a bit squeaky
I don't feel that heavy when I ride this longboard. Not only is this user-friendly, but it's also fast and smooth. I think this is one of the top-rated longboards for experienced riders who love downhill trails.
6. Atom Drop-through Longboard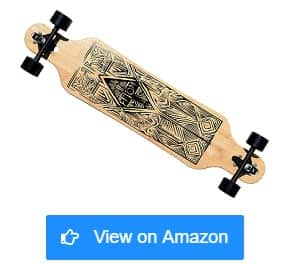 The first thing I noticed and eventually loved about the Atom Drop-through Longboard is its coarse grip tapes. I use this longboard for challenging rides like those requiring sharp turns and balance on uneven roads. With its 46-grit grip tapes, I feel like there's foot support down there keeping me safe at all times.
For a set of bearings that has ample lubricant, I think this brand is a terrific choice. Other brands are a bit difficult to push because of squeaky bearings. The good thing about this longboard is it has ABEC 9 bearings with lubrication centered for high-speed rides. Thus, I always get smooth and speedy rides.
I weigh 165lbs, and I have been using this board for a while now. It works better than some of my old heavy rider longboards, and the strong deck proves it. It's got a wide stance, and going over bumps and tiny road debris is a breeze. I even found users who said that this board carries a 275-pound load. So, I think I landed on the right longboard.
I rarely make remarks on the aesthetic side of longboards, and this is an exception. Other than its hybrid laminated bamboo and maple deck, I love Atom's heat-transfer photo graphics at the bottom. It looks classic, clean, and it keeps the natural wood finish of the board.
It's not much of a problem because this is easy to solve, but I had to loosen the wheels. Otherwise, they wouldn't spin as well as I liked.
Pros
46-grit grip tapes for safe, challenging rides
High-speed lubricated ABEC 9 bearings
Handles rough roads and debris well
High weight capacity, ideal for heavy riders
Heat-transfer photo-graphic with a classic and clean laminated look
Cons
Wheels had to be loosened
Overall, I am happy about this longboard's performance. I think it's the grip tapes I loved first. They're perfectly coarse and can hold heavy people well.
7. Junli 41-inch Freeride Longboard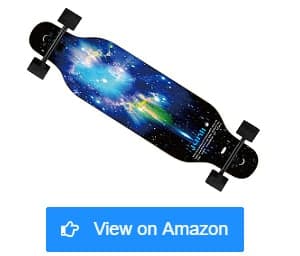 Coming with a solid construction, the Junli 41-inch Freeride Longboard is one of the most favorite longboards for heavy riders. It works well with freestyle riding, high speed, and downhill modes. And I think these are significant aspects that make this board an ideal fit for all skateboarders and various riding styles.
This longboard brand has quality features. It has ultra-elastic polyurethane support pads that reduce shocks and vibrations on the deck, especially when going through rough roads. These pads also increase the distance between the deck and wheels, thus reducing the risks of wheel bites.
Another unique feature of this longboard is its ABEC 11 bearings and 80a durometer wheels, which only a few longboard brands have. The bushings have a tough finish, and the wheel cores are for high-speed riding. These two ensure optimum acceleration and smoothness when riding.
A T-tool is readily available in a skateboard store, but I think having one in the skateboard package is an advantage. Junli did not only provide a quality skateboard in the box. The box also arrived with a T-tool in it. That means I was able to make adjustments on the trucks as soon as I received the product.
On the downside, the grip tapes started to peel off too soon. I pulled the board out of the box, used it more than a couple of times, and the black stepping surface began to wear.
Pros
Works best with any rider and riding style
Ultra-elastic polyurethane support pads for shock and wheel bite risk reduction
80a durometer wheels and ABEC 11 bearings for smooth and fast rides
High-quality bushings and wheel cores
Comes with a T-tool for immediate adjustments
Cons
Grip tapes peeling off too soon
Not only is this longboard complete, but it's also one of my high loaded boards. It's versatile and a perfect buddy when I can't decide which longboard to use.
8. FISH SKATEBOARDS 41-Inch Downhill Longboard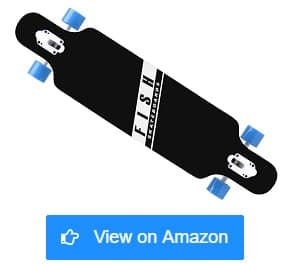 The first thing I like about the FISH SKATEBOARDS 41-Inch Downhill Longboard is its stepping surface. This product comes with a non-slip emery layer on top of the 8-layer Canadian maple deck that provides a powerful grip on the rider's feet. With this, I get to ride safely and more confidently because it holds me well on the board.
I think this is a universal longboard as well. Not only does it carry a maximum load of 330lbs, but it also works well with kids and adults. Plus, I can even remember learning some tricks and basic stunts using this longboard, and things progressed well.
This longboard option comes with a T-tool in its package. But what made me more satisfied is it's ready for use the moment I received it. It arrived fully assembled, and I never thought I would not need to make some adjustments. All I had to do was pull it out of the box and ride it on the road.
Another factor that sets this longboard brand apart from most brands is its components under the deck. It comes with high-quality 7″ aluminum trucks that are super sturdy. Also, the 82a durometer wheels and ABEC 9 bearings ensure I'll feel stable. That means I always get smooth rides with this longboard.
However, I think this longboard's deck is a bit thicker than some of my boards. Hence, it's not as flexible as other longboard brands. Nevertheless, I think it's my stability that matters more.
Pros
Non-slip emery stepping surface for better grip and safety
Maximum load of 330lbs and ideal for kids and adults
Ready to use upon arrival; T-tool included
High-quality longboard trucks, bearings, and wheels for smooth rides
Cons
The deck isn't very flexible
Despite having a slightly stiff deck, this option remains a go-to longboard for me. It has quality components, and I love riding it because I feel stable at all times.
9. APOLLO Longboard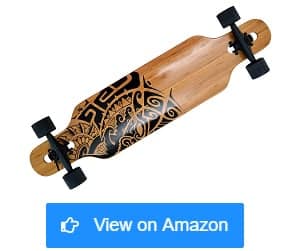 A bamboo deck is a definite plus for me when I select longboards. And with the APOLLO Longboard, it's the deck I admire the most. It comes with a 3-layer bamboo core that supports the board's flex and top and bottom layers of fiberglass for strength at high speeds. Thus, this longboard ensures not only flexibility but better riding speed as well.
This longboard is not only for professionals looking to upgrade their skills but is also for beginners trying to cruise for the first time. Apollo features a drop-through design that sets the board's center of gravity lower. With this, the longboard becomes ideal for cruising, freestyle, and even long trips.
Another durability factor on this longboard is evident with its trucks and wheels. This brand has an aircraft-grade pair of aluminum trucks, keeping the wheels and the board mount firm no matter the street I take. Plus, it comes with a set of 70mm x 51mm rollers sturdy enough for carving and sliding.
For someone sensitive about longboarding, wheel bearings are of high significance. That is why I like Apollo's ABEC 9 chrome steel bearings. They help me enjoy faster, reliable, and more precise rides.
I should have received a T-tool as advertised. It turns out the same happened with other buyers. But the board's performance is consistently good, so I don't think it's much of a burden on my end.
Pros
3-layer bamboo core and fiberglass coats for flex and strength
A drop-through design fit for cruising, freestyle, and long trips
Aircraft-grade sturdy aluminum trucks
70mm x 51mm wheels ideal for carving and sliding
ABEC 9 precision bearings for reliable and faster rides
This longboard is easy to use and fits almost any setup. It works well, and I'm glad I get to ride it smoothly despite my weight.
10. Teamgee H5 37″ Electric Skateboard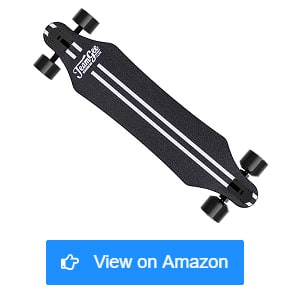 Continuous kicking can be tiring, which is why I included the Teamgee H5 37″ Electric Skateboard in the list. This 37″ longboard requires less effort to ride because it takes most power from its batteries. That means all I have to do is grab the wireless remote and control the board's direction, speed, braking, and a few more functions.
This longboard features a 220lb capacity, enough to load fat guys like me. With its 10-ply Canadian maple deck mixed with a layer of fiberglass, I'm confident this brand can take on a taller rider within the longboard weight limit. Not only does it carry such a huge load, but it also has a medium flex for a smooth ride.
I love this electric longboard for heavy riders because it comes with a pair of powerful 380W motors. These engines ensure consistently high performances plus a maximum speed of 22mph. With these features, I can reach a range of 9-11 miles and go for uphill trails at 90% efficiency.
What I like more about this longboard are its battery design and regenerative braking. I think this brand has got the thinnest battery among all my electric skateboards. So, it does not add much weight to the board when riding. Plus, I get to generate some power back when I go downhill. That way, I get to ride my longboard a bit longer.
I understand that grip tapes will need replacement eventually, but I did not expect to do it after a month of usage. I wish they lasted a bit longer. Nonetheless, installing a more durable grip sheet solved the issue.
Pros
Battery-powered longboard with remote for easy function control
Canadian maple and fiberglass with medium flex and a 220lbs weight capacity
380W motors with a 22mph speed, 9-11 miles range, and 90% uphill efficiency
Thin battery pack and regenerative braking feature
Cons
Grip tapes wear too quickly
I like the overall slim look of this longboard. It's powerful, speedy, and I think this could also be a perfect longboard for 250 lbs heavy riders.
11. Landyachtz Evo 40 Spectrum Longboard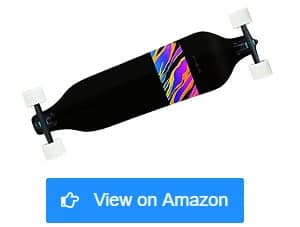 As a heavy rider, the first problem I encountered with my longboard is obtaining balance. Soon, I realized I needed a wider longboard like the Landyachtz Evo 40 Spectrum Longboard. This board features a deck width of 9.8″ plus a length of 39.35″, leaving enough room for my feet to move. Unlike my old board, this brand never makes my ride unstable.
Not only does this longboard for heavy riders come with a large deck but also a 180mm pair of solid trucks. These trucks look wide enough — they fit my size, and they're maneuverable. Also, this truck size matches the width of my longboard, so I believe they make a good balance.
I find this brand a perfect option when I was considering my budget. Not that it's the most affordable one in the market, but it's worth every penny I spent. Never did I get a stiff ride using Landyachtz. Plus, its grip sheet and spaceball bearings were of high quality.
And for someone who does not feel confident yet about assembling his first skateboard kit, this could be a great option. It arrived fully assembled and with the brand's factory parts. All I had to do was throw it on the ground and begin riding it.
However, before checking out from the store, ensure the wheels' hardness first. I received a wheelset with a 75a hardness, which was a bit softer than I expected. Nonetheless, I love the size and comfort of this longboard.
Pros
Has a 9.8″ deck width and 39.35″ length for balance
Comes with 180mm longboard trucks that match the deck size
High-quality bearings and grip tapes at a reasonable longboard price
Ready to use upon delivery, not stiff
Cons
Arrived with 75a soft wheels
Overall, I like the parts of this longboard for heavy riders. To me, it has a perfect size, and its components are of good quality. The board is easy to ride and is more convenient than my old boards.
12. Sector 9 Aperture Sidewinder Longboard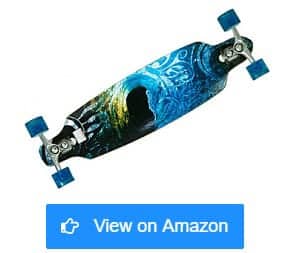 Featuring a drop-through style, the Sector 9 Aperture Sidewinder Longboard offers higher stability. This longboard design makes the center of gravity lower, thus making me feel at ease when riding. What's more, this deck makes sliding easier to start and control.
For the wheels, I prefer this brand because of its 80a hardness level. It's not the hardest wheelset I got. But it has a perfect balance of speed, control, and grip. Also, I like the almost transparent color of the rollers because they look nice.
Sharp turns using this longboard for taller and bigger riders is one aspect I barely experience with other brands. The Sector 9 longboard for fat people features a pair of Gullwing Sidewinder trucks with double kingpins that put response directly underneath my feet. With these, I get to turn up to a 90° angle.
This longboard for bigger riders works perfectly for cruising and downhill rides. It's not the fastest board I have, but it gets through sidewalks and traffic without hassle. And even when going downhill, this longboard performs well with some drifting capacity, which I think is a definite plus.
Pros
Drop-through deck style that offers better stability and easier sliding
80a durometer almost-transparent wheels that promotes speed, control, and grip
Gullwing Sidewinder trucks with double kingpins for sharp turns
Suitable longboard for downhill riding & cruising
Cons
Arrives with loose trucks
The Sector 9 longboard for heavy riders performs well. It may not be the fastest board I have, but it has quality wheels, trucks, and more features other brands don't have.
What to Look for When Buying Longboards for Heavier Riders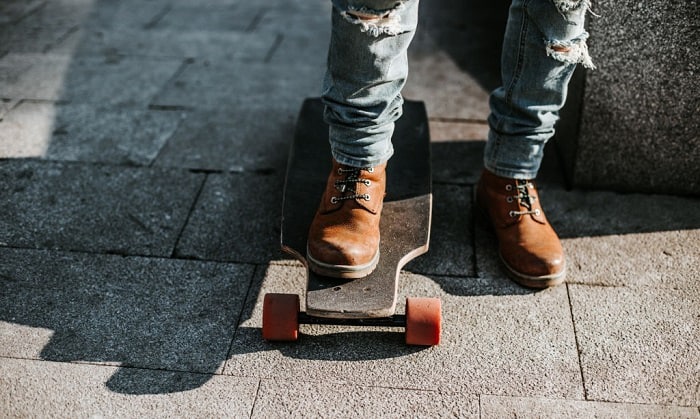 Your weight should never be a hindrance to riding longboards. The truth is, being a bit heavier than average people your age might entail some benefits. Here are a few things you need to consider to make your money worth it.
Take note that not all longboard sizes make good skateboards for heavy riders. Thus, before buying one, it's best to identify salient differences between the available boards.
Moving forward, the first thing you need to check regarding the longboard's dimensions is its deck width. The board's width will help you obtain balance and keep your rides stable as well.
However, the largest one you see in the stores is not necessarily the best one for you. So, consider matching your weight to the appropriate width range of the deck. You can either ask the store personnel or seek feedback from other buyers.
The right longboards for heavy riders feature quality trucks. Longboard trucks can be as durable as aircraft-grade aluminum. Other brands have steel or any metal, which are also ideal materials but may not be enough to support your body weight.
The trucks' axle width can also be a consideration when picking a longboard. This part of the truck indicates the distance between your wheels. Ideally, the taller the trucks, the lesser the chances of wheel biting.
Grip tapes play a vital role in terms of your safety and comfort on the board. These sheets come in different fineness levels. If you don't feel confident about bending on your longboard yet, you can have coarse grip tapes. But if you are a professional who already mastered leaning on your longboard, you can choose grip tapes at an 80 grit.
These longboard parts are replaceable, but it's better to keep them on a bit longer so you won't have to buy them too soon.
Complete longboards are a breath of relief. Unfortunately, not all packages are in perfect selling conditions upon being pulled out of the box. This matter is acceptable if you're not buying from a physical store.
Whether buying your longboard from a store in your town or online, this won't matter. But it's best to buy one that comes with a T-tool in the package. That way, making immediate adjustments is possible, which means you're ready to ride your longboard quickly.
What makes a complete and perfect longboarding experience is a set of quality wheels. Some claim that hard and big wheels are superior for any board and ride, but it's not true, especially with longboards for heavy riders. When choosing longboard wheels, you should only go around small to medium sizes and hardness levels of around 78a to 80a.
It's the body's weight that adds a little bit of pressure on the ground. So, there's no need to go for wheels that are massive in size.
One more aspect that adds to your board's speed is the bearings. For longboards, a set of ABEC 9 wheel cores is perfect. It ensures not only a speedy but also a smooth and precise ride every time.
Deck shape and composition
The most famous decks used with longboards for heavier riders are bamboo, maple wood, and some layers of fiberglass. These deck materials are not only durable but are flexible as well. And for a heavy longboarder, these aspects are beneficial for stability.
And while there are three known deck shapes, we'll be good with the relatively flat and upward-curved decks. These shapes offer better maneuverability, giving the user an easy time riding.
Is There a Weight Limit on a Longboard
Whether you're a 330, 300, or 250-pound rider, there will always be a perfect longboard that has a weight capacity as heavy as you are. Also, people who are agile enough to do longboarding do not exceed 400lbs. That means anyone who wants to try longboarding will always have options.
What Sizes Should Heavy Riders Choose for Their Longboards
An excellent longboard for heavy guys you should go for are those with lengths of around 40″ and widths of 9″. Some longboards can be as short as 37″ and as wide as 10″. But these aspects should still be based on your weight and build.
How Can Big Guys Play Carving on Longboards
Don't isolate yourself from other longboarders who weigh lighter than you. The tricks they do, like carving, are also applicable for big guys.
All you need is to lean your body on any side you want to go. But be sure you don't bend to the extent that you lose balance on the board.
Conclusion
Longboarding is for everyone. There's no problem with being an adult who weighs like a kid or the other way around. What needs attention are the board specifications that will fit you perfectly.
Have the best longboard for heavier riders and experience quality trips ahead. Don't forget the tips I have shared with you, and you will surely land on the best one.
Build some confidence and ride like a pro. Drop your inquiries in the comments sections, and we'll be glad to answer them.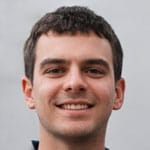 Hi, I am Charles Harris. I opened this site to write as much as I can about my biggest passion – skateboarding!
I started as a clumsy yet passionate rookie 10 years ago to now a still passionate yet much better skateboarder! But I have to tell you, the whole journey has always been fun and rewarding, indeed not without hardship.