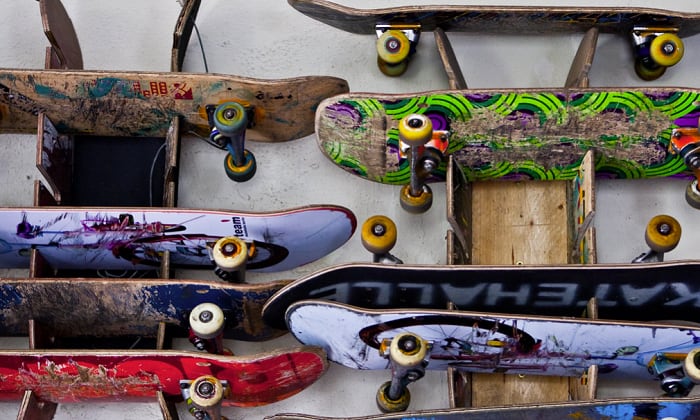 Imagine coming home from a long skate ride with your friends. You feel drained, right? So, you leave your skateboard outside until it rains. Now you have a damp board. But don't worry – it's only an imagination that the skateboards are not in the correct storage place.
Perhaps, you're now thinking about the most practical way to safe-keep your skateboards. If so, let's learn about the best skateboard rack. Take note of these essential considerations.
Style: If skateboards have various decks, trucks, and wheel silhouettes, their racks also vary in style. There are skate racks mounted against the wall if there is not enough space on the floor. Others prefer furniture-type skateboard racks to keep their wall clutter-free.
Additionally, there are skateboard racks made for one deck only. But if you have plenty of boards, multiple board fixtures are the best options.
Material quality: The display racks of skateboards should also be durable, this narrows down the material options to wood and metal as the best variables to use as skateboard racks
On the next rank are durable ABS plastics, which are also favored due to their affordable price. However, how much weight these skateboard racks can tolerate will depend on their quality and construction.
Price: No one wants to invest in a rack that only sits on a corner but lasts shorter than an everyday skateboard. So, if we base the price of the item's price considering the previous factors, we can already find a good one for $30.
But if you can afford to splurge a bit, you'll get to own exceptional longboard skateboard racks at $200.
Finding a good skateboard rack is always possible with sufficient knowledge of your needs. So, keep reading up to the detailed buying guide at the end of this article. Ready to find a new home for your boards? Let's check the following products.
Top 1
StoreYourBoard Skateboard Rack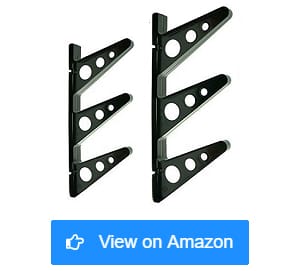 – Easy installation
– Lightweight ABS plastic
– Worths its price
Top 2
Parking Block Skateboard Storage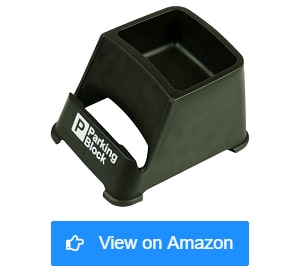 – Extra storage
– Fits almost everywhere
– A portable stand
Top 3
YYST Skateboard Wall Mount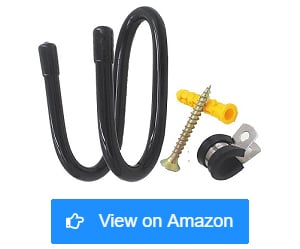 – Easy to install
– Adjustable
– Holds boards as heavy as 5kg
Top 7 Skateboard Rack Reviews
1. StoreYourBoard Skateboard Rack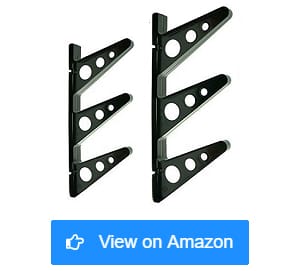 First on our list is the StoreYourBoard Skateboard Rack. This skate rack can house three full-length skateboards with its three-level wall mount.
What I like about the design of this item is it only comes in two vertical braces with three platforms. That means I can adjust both racking pieces' distance or width to house boards of almost any length, whether for kids or adults.
Besides the board's dimensions, this rack is ideal for all skateboard styles. I have a street skateboard and a longboard, and placing both on this rack leaves no issue.
Looking at other reviews, I can say the platforms even have sufficient space for skateboards with large wheels, such as penny boards.
At first, I wasn't sure about this rack for its material composition. The entire thing was only lightweight ABS plastic, which I thought was for helmets and gears alone.
But my perception changed when I witnessed its durability and capacity to store three boards, given it's a wall-mount rack.
For a lightweight ABS rack, I think this item is worth its price. Essentially, it's not as expensive as solid wooden racks, but it does the job as a wall rack.
Additionally, I think this product is worth the investment because it has all the necessary hardware to ease the installation process.
The one thing I do not like about this skateboard is its platform size. As a fellow buyer has pointed out, this rack may not be deep enough for boards bigger than 10 inches.
Pros
Adjustable rack width to house boards of different lengths
Houses any skateboard type with sufficient space between platforms
Made with lightweight ABS plastic that's durable enough
Worths its price
Complete with mounting hardware for convenient and easy installation
Cons
Not deep enough for 10-inch-wide boards
Despite that, I am happy this rack suffices my skateboard's needs. It's lightweight, easy to install, and can house almost any board regardless of length.
2. Parking Block Skateboard Storage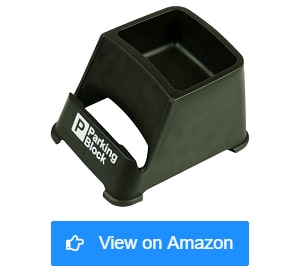 If there is an ideal single board safe keeper, it's the Parking Block Skateboard Storage.
Versus the previous item, this product has a more flexible skateboard storage style. If wall mounts house the board horizontally, we have both vertical and horizontal versions for this small floor rack. So, people with enough floor space can maximize this storage.
Not only does this floor parking block keep and hold the skateboard. Behind it is a small pit for small objects. I love this feature as it makes storing wheels and adjustment tools much easier.
With that, I can adjust and prepare my skateboard every time I go out for a ride. Plus, I think this design makes my room look neater.
I love this skatebord holder for its portability. It's not like the racks mounted against walls. So long as there is enough flat space in the garage or bedroom, there'd be no issues.
What's better is since this parking block is portable, owners can keep dirty wheels from staining the walls.
It may not be that noticeable, but this skateboard rack comes with molded-in rubber strips on its body. These rubber pieces ensure that the skateboard stays in place. So, it's not only portable or functional storage but also a safe one.
On the downside, this storage rack might not fare well with bigger or more concave skateboards. For instance, longboards might need to be leaning against the wall otherwise they might fall off.
Pros
A portable stand that houses skateboards vertically or horizontally
Extra storage at the back for tools and parts
Portable skate rack that fits almost everywhere
Helps keep the wheels from staining the wall
Rubber in-moldings to secure the skateboard in place
Cons
Has issues with some decks' concavity
Overall, I find this bedroom skateboard rack unique yet helpful. It may not house multiple boards. But for someone who owns only a few, I think this portable stand is the best option.
3. YYST Skateboard Wall Mount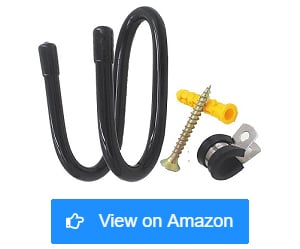 Some racks are adjustable in locations or width. And there is YYST Skateboard Wall Mount that takes adjustments differently.
This skateboard wall holder comes like a wall-mount screw with hangers that work as the rack mechanism of the whole structure. But what makes this product adjustable is its hangers being hand-bendable.
Such a feature allows the single skateboard hanger to be flexible and suited to trucks of different sizes. So, no need to worry about skateboard slots being too tight.
It may look flimsy or light, but this skateboard rack can carry boards as heavy as 5kg. And with both skateboards and longboards usually weighing 5 kg at most, this skateboard rack is as functional as other rack types.
By far, this holder is the easiest to install on our list. It would only require the user to drill a hole for the expansion plugs and screws, and it's ready to load a skateboard. Not even a single skater will feel lost because this skateboard wall rack also includes instructions for clarity.
Besides taking the least time for installation, this skateboard rack is also one of the cheapest. Given it's a single-board rack, I think it's still of economic value, especially for most skateboarders on a budget.
If there's one thing I did not like about this item, it's that I wish that it was suitable for skateboards without wheels and trucks also.
Pros
Adjustable skateboard holders in hand-bendable wall-mount hangers
Suited for a wide range of skateboards
Holds boards as heavy as 5kg
Easy to install, requiring drilling one hardware only
One of the cheapest skateboard holders
Cons
Can't hold skateboard without trucks and wheels
Given the perfect location, I think this product would be the best buy for its price and functionality. It holds skateboards firmly and is a breeze to install.
4. AHOWPD Skateboard Rack Floor Stand
The AHOWPD Skateboard Rack Floor Stand will fit the purpose for a passionate skater planning to set up a mini skateboard gallery at home
This skateboard floor rack comes with five deck slots for almost any kind of skateboard. It houses longboards, penny boards, standard skateboards, or cruisers. So, it's up to the user to arrange multiple boards ideally.
As mentioned, the durability of the storage is an important factor in the selection process. The good side of this portable skating stand is it comes in solid pine wood, which is an ideal material for housing five boards.
What's more, pine is classified as a softwood with excellent durability. In addition to its impressive finish qualities, this floor rack's surface comes painted and polished to protect skateboards from damage.
While this skateboard rack requires assembly, the process is fun and straightforward. Inside the package is a set of hardware to connect the parts and instructions to keep the skater guided throughout.
What many love about this rack is it doesn't require drilling holes against the wall. So, anyone will find installing this storing rack fast and hassle-free.
Another thing that makes me like this skateboard floor stand is its top shelf to safely keep my tools and spare skate parts. Besides storing my small skateboard devices, I also get to keep my place neat from these objects.
This rack's wooden body is what I love the most. It serves its purpose like a piece of heavy-duty furniture and keeps the boards dent-free.
Pros
Houses a maximum of five skateboards of any type
Durable and portable stand made with pine wood
Softwood material attributes that keep the skateboards scratch-free
Comes with necessary hardware and instructions for installation
Hassle-free installation process by not requiring wall-drilling
Top shelf for extra storage of skate tools and parts
Cons
Possible misalignment on some holes
However, don't forget to check the pre-drilled holes' location before mounting the screws. Some users had their shelves chipping off during installation because of misaligned hardware slots.
5. Hikeen Skateboard Wall Mount Hanger for Skateboard Deck
At first, it may look like a guitar hanger, but the Hikeen Skateboard Wall Mount Hanger for Skateboard Deck does it differently.
For skaters planning to rest and display their used skateboards, this product is an ideal way to do it. It comes as wall mounts with two hooks or screws to let the user hang skateboards through the truck bolt holes.
To me, this rack is unique in that it makes the skateboard decks look like they're floating against the wall.
Besides its simple design, this skateboard wall rack can withstand heavy weight thanks to its material composition. The brand uses reinforced thermoplastic as the backing of the hanger. Also, it has stainless steel bolts and screws to keep the decks firmly hung.
One more thing I love about the screws of this hanger is that they're designed to accommodate standard truck bolt holes. There's no need to drill the deck for more bolt space to hang. So, if the user wants to re-use the skateboard deck, there'd be no problem.
Compared to furniture-type racks, this skateboard wall-mount doesn't need much installation space. The truth is, it suits anywhere in the house, like the living room, garage, or bedroom.
Additionally, it only takes roughly 5 minutes to install, so there's no need to spend too much time on assembly.
However, I wish the package had drywall anchors. Mine did not have any, so I had to check my toolbox to strengthen the hanger structure.
Pros
Unique floating display hanger for skateboard decks
Handles sufficient load with durable thermoplastic and stainless hardware
Thin screws to get into the truck bolt holes smoothly
Requires little installation space and fits anywhere in the house
Only takes 5 minutes to install
Cons
Might not come with drywall anchors
All in all, it's the unique floating effect after I hang up skateboard deck that makes me love this product. It's not tricky to set up, and the two hooks are surprisingly durable.
6. 212 Main Wooden Angle Skateboard Display Rack
Another pinewood on our list is the 212 Main Wooden Angle Skateboard Display Rack.
Unlike the other pine rack we reviewed, this display skateboard rack is a wall mount. It features a pine frame and hardwood birch dowels, which are angled against the sides to hang the skateboards. It houses four boards, so I think it's an efficient skateboard storage choice.
Other than skateboards, this display wood skateboard rack is also ideal for storing other skateboarding gear. As one user affirmed, the skateboard rack also suits helmets and pad bags. And with this aspect, anyone could maximize the item's functionality.
To think that this skateboard organizer can house four decks and skateboarding gears, I'd agree with the assessment that this item can tolerate hefty weight. We know how much a skateboard weighs, and to see this rack firmly holding up is no less than an advantage.
One drawback of many skateboard wall racks is the wheels spotting against the walls. But the good thing about this item is it leaves enough space between those urethane rollers and the wall to keep our house stain-free.
Finally, it may not be a direct advantage of the rack's functionality, but its wood stain makes it look more aesthetic. Skaters who love natural-looking fixtures would surely swoon over this product.
One drawback of this product is its price tag, which may stem from its solid structure and composition.
Pros
Pinewood rack with birch dowels that houses four skateboards
Accommodates other skating gear like helmets and pad bags
Holds enough weight and stays firmly
Doesn't make the wheel spot against the wall
Natural wood stain makes the rack more aesthetic
Cons
Slightly pricey compared to other racks
In a nutshell, I'd say that while this skateboard wall rack doesn't come at a low price, its overall functionality speaks for it. It's firm, spacious, and keeps the wall neat.
7. WANLIAN Skateboard Wall Mount
The first thing I noticed about the WANLIAN Skateboard Wall Mount is its transparent body, which makes it seem somewhat flimsy. However, it's actually made of high-quality acrylic – a material with excellent durability. Hence, I can't help but love how this sturdy rack can make the skateboards look floating from afar.
This skateboard wall rack pack comes in two pieces of acrylic-based wall skateboard mounts. Having two separate holders means owners can decide their distance. Subsequently, these can accommodate most longboards and skateboards around.
Besides the length, the holders also have 0.98″ skateboard slots. So they can fit multiple skateboards of different thickness levels.
I also love how thoughtful the manufacturer is by covering this transparent skateboard display piece with an easy-to-peel protective film. This gives me peace of mind that my skateboard rack does not scratch easily.
Installation-wise, setting up this clear acrylic skateboard rack feels almost seamless. Each transparent rack comes with pre-drilled holes, so all I had to do was slide the bracket in and screw it against the wall.
Being a pair of transparent holders, this product suits almost any surface. It matches the walls in the office, living room, or any corner in the house for aeshthetic's sake.
Like other users, I also had a few issues with the mounting hardware, specifically with the drywall anchors. They arrived a complete set, but they weren't as sturdy as expected.
Pros
Durable transparent acrylic body for a floating skateboard effect
Two-piece acrylic racks enough to accommodate most boards
98″ skateboard slots fitting any deck thickness
Side protective films to keep the acrylic surface from scratches
Pre-drilled holes for easier installation
Suits almost any setup at home and office
Cons
Drywall anchors are somewhat flimsy
Regardless, I think this is one of the most aesthetic skateboards carrier I have. They work as expected, and I love how they suit any skateboard or longboard, no matter their location.
What to Look for When Buying Skateboard Racks
Whether expensive or cheap skateboards, both need appropriate storage. More than their aesthetics, skateboard racks should be worth their price tags. Here's what to ensure when buying.
Durability
The first question a skateboard owner should ask is, "how long can this rack hold up?". Many factors affect the rack's durability. It could be on the material composition, mounting tools, or where the holder sits. Let's get into some significant factors.
Material composition – As mentioned, wood and metal are top material options for skateboard racks. Following these are high-quality ABS plastics and acrylics. The good news is, no matter your choice, all alternatives have affordable variants.
Mounting tools – This aspect might not be at the forefront of many people's mind, but the mounting tools of these racks can also be troublesome. Like in one product we reviewed, some of the hardware was flimsy, which might compromise the rack.
Capacity – Skateboards, especially the bigger ones, weigh significantly, which weaker racks can not withstand. So, when picking skate racks, check the item's weight capacity to know if it can accommodate your skateboards.
Style
Standee or wall-mount? Both designs have their respective pros, cons, and essential features. Let's get into each of them.
Standee – These are the racks that look closely like pieces of furniture. There are standing skateboard holders that house more than one skateboard. And there are also parking blocks that can only accommodate one board. Both types vary in material, so take their durability into account.
If there is one drawback to a skateboard stand, it's that it'll require plenty of floor space.
Wall-mount – Racks for wall also vary in materials and the number of skateboards they can house. Some wall-mount skateboard racks come in wood, others in plastic, and some are of sturdy metal.
However, one issue with a skateboard wall rack is the hassle of drilling holes in the wall. So, it's best to take time to decide the holder's location before you get down to the installation process.
Assembly
Some skateboarders are crafty when it comes to storage, shelving, and furniture. But for those who don't dabble in skateboard rack plans, such could be an issue, which leads to spending more on ready-made skateboard racks.
Nonetheless, there's no harm in trying to learn the assembly as skateboard rack packages today now come with complete instructions, guides, and hardware to help the user in the assembly process.
Price
With skateboard racks varying in the number of slots, materials, and styles, their prices can acceptably vary. Like some of the products we reviewed, there are skateboard holders that cost less than $20, which is an ideal price range for schools kids. And at select stores, these racks can set you back $200.
Functional design and specifications
Besides housing skateboards, manufacturers now improve their products by adding features to help skaters better organize their things.
A classic example of such features is the extra shelf or storage space at the back of a parking block. These additions leave more room for accessories like spare skateboard parts and tools.
Like many affirm, picking skateboard racks could also depend on subjective factors. Such selection factors include the rack's aesthetics, overall structure, or installation purpose.
What is the Top-rated Skateboard Rack
If I were to pick from one of the products we have reviewed, it would have to be the AHOWPD Skateboard Rack Floor Stand.
I chose this display rack because of its durability and 5-skateboard capacity. And for someone who's not a big fan of holes in the wall, I think this board holder is an ideal alternative. Besides that, it has an added functionality on its top shelf.
Nonetheless, whatever is best would still depend on the owner's preferences, needs, and budget.
Building vs Buying a Skateboard Rack
Is building a skateboard rack to save a few bucks worth it? Or is a pre-made holder a better choice as it will save you some time? Let's see which one is a better option for you:
Some of the advantages of a DIY skateboard rack are as follows:
More room for customization
Better quality control
Usually more economical
On the other hand, here's what buying a new skateboard rack can bring you.
Less time to construct
Affordable options are available
Perfect for the less-crafty skaters
What Are Skateboard Rack Alternatives
Are you thinking of making a DIY skateboard rack? Here are a few skateboard rack alternatives you can try with the materials you have at home.
Hanging skateboard using a simple belt
Capita legs on cabinets
Wall-mount skateboard rack with metal holding brackets
Guitar racks
Compact wall-mounted platform
Other skaters play with solid wood in creating skateboarding shelves or wall-mount hangers with cut skateboard slots. All these choices need some reference or creativity to transpire. So, always try to make the best out of your resources.
Are Skateboard Racks Worth It
Using quality skateboard racks is likely to yield more good than bad. Here's why.
Skate racks help organize personal room better.
Wall-mounts allow the skater to display his decks neatly and aesthetically.
Organized racks prevent you from accidentally trip over skateboards
Skateboards properly stored are less likely to get damaged.
Conclusion
Maintaining a skateboard does not always mean changing its parts, greasing the metals, or adjusting the bolts. Sometimes, it's only about giving them the perfect storage site and preventing external factors from damaging them.
Now that we learned about the best skateboard rack, the chances of keeping skateboards in good shape are more feasible. Let's only be mindful of the style we want, the rack's quality, durability, and functionality.
By then, we ensure we're getting the best of our money. It's time to give our skateboards a well-deserved home!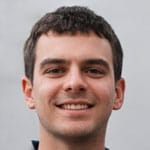 Hi, I am Charles Harris. I opened this site to write as much as I can about my biggest passion – skateboarding!
I started as a clumsy yet passionate rookie 10 years ago to now a still passionate yet much better skateboarder! But I have to tell you, the whole journey has always been fun and rewarding, indeed not without hardship.