Safety is a significant area in a skateboarder and cyclist's life. Failure to ensure such an aspect could put us at risk of injuries. Thus, we should always account for safety before and during rides.
One of the steps to lower accident risk is using protective gear like helmets. But are all helmets the same? No. Perhaps, the closest to a skateboard headgear would be one for cycling.
So, let's start comparing a skateboarding helmet vs bike helmet to identify the best head protector for skateboards and bicycles.
Head Coverage
Primary Certifications
Ventilation
Skateboarding helmet
> Top and back of the head
ASTM
> Minimal ventilation
Biking helmet
> Road Helmet: Top part of the head

> Mountain: Top and back

> BMX and downhill: Full-face

CPSC
> Road Helmet: Most number of vent holes

> Mountain: Moderate ventilation

> BMX: Limited vent holes
Bike Helmet vs Skateboard Helmet: Defined
We can already define what skate and cycling helmets are by their nature. But let's learn more about these items through the following.
1. Skateboarding helmets
Skate helmets are protective equipment that neutralizes the impact on the head in case of gruesome falls on the skateboard.
Physically, they come in a sturdy, bucket-like exterior shell with inner paddings for comfort and straps for a firm fastening. Let's dig deeper into these parts.
Exterior – The most popular material used on a skateboard helmet exterior is ABS plastic. Such material has sufficient resistance against scratches and first-hand impact. Other options you can find are Kevlar and fiberglass composite carbon fiber.
Interiors – Helmets for longboarding interiors could come in two forms: EPS foam and comfort liners. The EPS layer compresses once the headgear encounters impact. Additionally, the comfort liners give the helmet a snug fit for the user.
Mounting accessories – Helmets are not hats. So, they should have straps and buckles to secure them on the skater's head.
Other features of skateboard helmets
Safety certifications may not affect the skater's performance directly, but it gives users confidence when buying. Here are the labels to check.
CSPC
Snell N-94
ASTM F1447
ASTM F1492
Skateboard helmets, like skateboards, also vary in sizes to suit different skater ages and body builds. But how do we know we got the right size for an adult or kids skateboard helmet? Consider checking the sizing guides of the helmet brands you want.
Plus, the front part of the helmet should sit above your eyebrows.
Ventilation is a relevant feature of skateboarding helmets because it's a primary catalyst for keeping the skater's head cool, especially when skating in humid places.
The number of vent holes in a skateboard varies. But as a tip, more vent holes are fit for hot places and sweaty riders, while fewer vents are for cold spots.
2. Bike helmets
Bike helmets function the same as their skateboard counterparts, only that they are solely appropriate for cycling activities. They protect and secure the head from critical injuries should the cyclist meet accidents on his bike.
Here are the main parts of a bicycle helmet.
Exterior – Expensive biking helmets use polycarbonate. But if you want a more budget-friendly choice, you may opt for headgear made with plastics like PET.
Interiors – The most popular foaming material for bicycle helmets is Expanded Polystyrene. But if we check a bit more, we can also find a few helmets made with Expanded PolyPropylene or Polyurethane.
Mounting straps – Like skateboard helmets, the ones for biking also have straps to keep them in place.
Other features
Cycling headwear does not come in a single design only. Here are the biking helmets we can check out.
Recreational – Perfect for casual rides with reasonable protection.
Mountain Bike – Mountain helmets come in three styles: full-face, trail, and traditional. The full-face type has the most coverage, while the traditional design has the least.
Road Bike – Road bike helmet designs are superior in airflow, a vital aspect in keeping the rider comfortable.
Of course, helmets should have the perfect size to achieve the best fit. Consider this guide on head circumference.
Extra Small – 51cm
Small – 51cm to 55cm
Medium – 55cm to 59cm
Large – 59cm to 63cm
Extra Large – 63cm or above
Note that some helmets also have a one-size-fits-all variant, which is a highly adjustable design.
Now, how should a bike helmet fit? The interiors should press perfectly firm against your head when you let your yawn with the straps buckled. If there is discomfort, try adjusting the straps.
Bicycle helmets also have certifications to prove they're safe. Here are a few of them.
CPSC
CE EN 1078
ASTM F1952
Snell B-95
Differences Between a Skate Helmet Vs Bike Helmet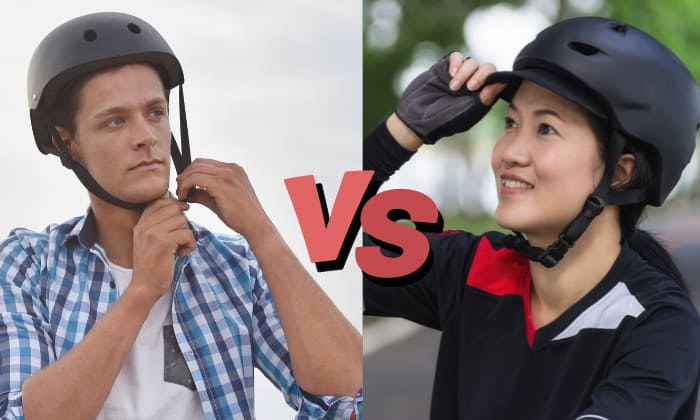 Now that we know the essential features of skateboarding and biking helmets, it's time to get these aspects head to head.
Depending on the type, not all biking helmets cover the back of the rider's head. However, if you wear a BMX helmet on the road, you will have full-face and back protection. The same applies to mountain biking headgear.
We have not mentioned a variety of skate helmets, but if we compare hundreds of skateboard headgear, all have protection for the whole back of the head. Why? It's because skateboarders are more likely to fall backward.
Sometimes, we want to look stylish when riding skateboards or bicycles. Except for people who bike in serious competitions or events, the following types of riders prefer skate helmets more even though they don't skate.
Commuters
Mountain bike users
Casual cyclists
But why is this so? Helmets for skateboarding can be flexible as they work for snowboarding and in-line skating. After all, style remains next to safety and other significant aspects when choosing bike and skate helmets.
How many bumps and collisions can a bike and skate helmet withstand?
Skateboard helmet brands designed their headgear to counter many head hits. Can a bike helmet do the same? No. Bicycle helmets only last for a single collision because their interior foams crumple once an accident happens.
We mentioned that part of a skate helmet's design is ventilation holes. Do bike helmets have the same component?
If there is one aspect that bike helmets have the upper hand in, it's ventilation. Road and mountain biking helmets have more vent holes than their skate counterparts.
But between a skate and BMX helmet, both have limited vent holes.
A skateboard helmet with visor is not too common in the market. Most helmets that offer this feature are bike helmets, particularly mountain bike headgear.
What about road bikers and other cyclists? Sunglasses are their best remedy against the sun.
Advantages and Disadvantages of Skateboard and Bike Helmets
We understand how a bike vs skate helmet edges each other out in various aspects. Now, let's see a few inherent positives and downsides of skate and bike helmets.
Skateboard helmets
Sustains multiple low-impact skateboard mishaps
Reduced risk of head injuries like skull fractures
Better back cushioning and wider protection than most bike helmets
Softer interior foam
Not for high-impact accidents
Not as many vents as bike helmets
Bike helmets
More vent holes, especially in mountain and road bike helmets
More aerodynamic design
Comfortable paddings
Bike helmets can contain one-time impact only.
Some styles do not focus on protecting the rear head part.
Frequently Asked Questions
Why ventilation is important when choosing a helmet?
Besides safety, comfort is a vital consideration when selecting helmets. And this aspect is partly dependent on ventilation.
Ventilation is significant because weather and physical factors could increase the heat on our heads and make us sweaty or uncomfortable. So, the vent holes would play a vital role in keeping the air flowing and heat dissipating off the helmets.
Can you use a skateboard helmet for riding a bike?
Skate helmet for cyclin? It's never a mistake to enjoy both skateboarding and cycling. In such a case, most riders use a dual certified helmet with ASTM and CPSC stamps of approval.
But why can't we use either an ASTM or CPSC skate helmet only for both sports? Certified headgear guarantees the utmost protection for your activity. Thus, if a helmet holds certifications for biking and skateboarding, you can use the same helmet for both activities.
More specifically, if you plan to use a bike helmet for skateboarding, ensure it has an ASTM certification.
How long do helmets last?
The CPSC encourages bicycle riders to change helmets every five to ten years. On the other hand, skateboard users should change their headgear every five years.
But whether it's a multi sport helmet or an ice skating helmet, immediate replacement might be necessary under these conditions.
Outer shell cracks
Loose straps and strap locks
Worn-out helmet interiors
Incorrect fit no matter the adjustment
Conclusion
A skateboarder's and cyclist's goal is to execute skills at an increasing intensity, no matter the style or location. But part of such goals is being able to practice safely, which is why protective equipment is as vital as doing each step carefully.
Now that you know about a skateboarding helmet vs bike helmet, choosing one would be a tad easier. With the differences between both gear types discussed, there's no way we won't land on the most appropriate helmet.
Remember, skate helmets can sustain multiple impacts, while biking helmets have more ventilation and an aerodynamic design. Let's make skateboarding and biking safer.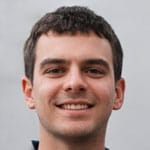 Hi, I am Charles Harris. I opened this site to write as much as I can about my biggest passion – skateboarding!
I started as a clumsy yet passionate rookie 10 years ago to now a still passionate yet much better skateboarder! But I have to tell you, the whole journey has always been fun and rewarding, indeed not without hardship.