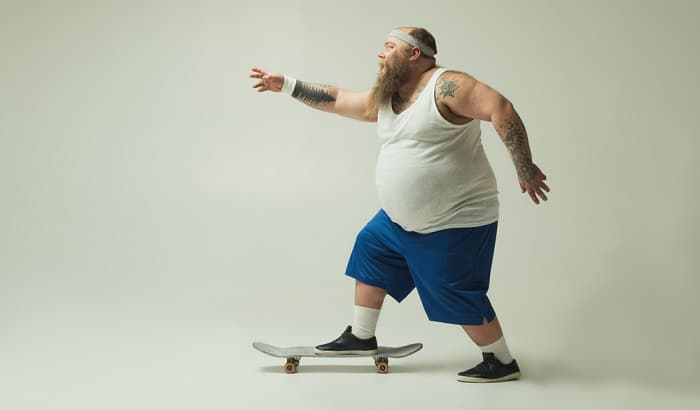 Sometimes, it's easy to succumb to anything people say about you, like your build, height, or weight. The same is true with skateboarding. When someone tells you you're not fit for the sport, you'll most likely throw your skateboarding dreams into the trash. But skateboarding requires practice and not a weight limit.
So, let me help you find the best skateboard for big guys, and let's make your skateboarding goals happen. But first, here are the things you need to consider before buying.
One factor that adds stability to the skateboard is the rider's weight. That means you can choose not to rely solely on the wheels for this aspect. And on this occasion, it's best to have small to medium wheels. This classification covers a size range of 50mm to 59mm. Big soft wheels at around 60mm may also suffice, but the two other groups are perfect for skate parks, performing tricks, riding the streets, and all user levels.
There are different deck aspects we need to check to know if an option's the best one for you. The first is its composition. You can have a stiff full-maple wood or a flexible deck like bamboo and fiberglass complex, both famous deck materials because of their durability.
Next is the width. A deck width of around 7.5″ will be enough for overweight riders who stand at 5'3. So, if you're taller or at a higher weight and height proportion, you might as well pick broader or extra wide skateboard decks.
One more factor that carries your weight is the trucks. And to be sure you're investing in the correct component, your trucks should be of aluminum body. This material is durable, corrosion-resistant, and is easy to maintain.
While there are more factors we need to tackle in the buying guide of this article, let us first go over the quality skateboard choices I have for you. By then, you'll be able to decide which one best fits you.
Top 1
WhiteFang Skateboard
– 7 layers of maple wood
– Weight limit of up to 330lbs
– Sturdy Magnesium alloy trucks
Top 2
CCS Skateboard Complete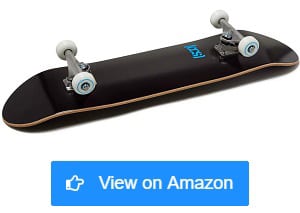 – 7-inch deck with a classic shape
– 7-layer full Canadian maple wood deck
– Premium skateboard trucks
Top 3
Beleev Skateboard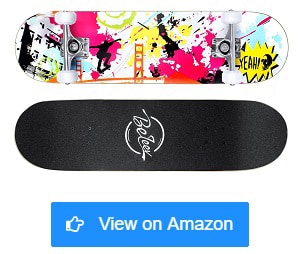 – Perfect for a 220lb capacity
– High-rebound and non-slippery wheels
– Ideal 31″ x 8″ size and 4.7lbs weight
Top 7 Skateboards for Big Guys
1. WhiteFang Skateboard
Stepping on the WhiteFang Skateboard's surface is like locking my feet on it. This skateboard comes with emery sandpaper on top with the right amount of coarseness. Also, the sheet looks neatly installed, which is a plus for me. This aspect does not only keep me stable but safe while riding as well.
On top of its 7-layer Canadian maple wood deck, this 31.75″ x 7.8″ skateboard also offers a high weight capacity. I only weigh less than 300lbs, but this board can even load someone as heavy as 330lbs. That means this brand has parts groomed to carry heavyweight riders without compromising the board.
I think this skateboard can be a perfect board for beginners as well. It features a double kick dissymmetric concave shape that any rider can control. Plus, this deck shape allows the user to perform tricks more conveniently. That way, mastering tricks or any other skill using this skateboard might not take that much time.
At the bottom of this skateboard's deck is a pair of sturdy trucks. I find these components unique because they're of Magnesium alloy material. This material is not that far from aluminum, but I like it because it makes everything run smoothly and reliably.
However, there was a poor finish on the board I received. It did not affect my performance, but I think the board would have looked better had this flaw not existed.
Pros
Neatly installed emery sandpaper for safety and stability on the board
7 layers of maple wood
Has a skateboard weight limit of up to 330lbs
Double kick dissymmetric concave deck shape for controllability and doing tricks
Sturdy Magnesium alloy trucks that make riding smooth and reliable
This WhiteFang is one of the most comfortable skateboards I have. It's easy to control. Plus, it has quality parts, making it a heavy duty skateboard.
2. CCS Skateboard Complete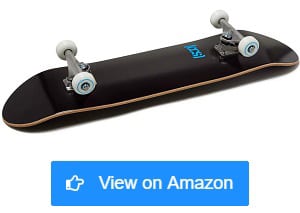 Coming with a 7-inch deck width and a classic shape, the CCS Skateboard Complete is one of my all-around skateboards. This option may not be as big as my other boards, but it's more maneuverable because of its size. It even works as a cruiser skateboard for big guys, a beginner skateboard, and for performing tricks.
Aside from its deck measurements and form, it's the material composition I love more about this board. This CCS model comes with a 7-layer full Canadian maple wood that has the right balance of stiffness and flexibility. And for big and tall riders like me, I think this skateboard has enough strength to keep me sailing smoothly.
The trucks of this skateboard are of premium quality. CCS provides a pair of professional-grade components, which are sturdy and can hold enough weight. Plus, the 1-inch quality Philips hardware helps secure things. That means I can be confident riding this board no matter how heavy I am.
What I find convenient about this skateboard is that it comes fully assembled. It was ready for use the moment I pulled it out of the box. What's more, it comes with a T-tool in the package. That way, I can make adjustments anytime I want, and I need not spend on a new accessory.
This skateboard is a good one, but I think the bearings were a bit off for me. I bought a new set of these parts hoping for a better ride, and things have improved since then. The other parts are working well, too.
Pros
7-inch deck with a classic shape that's maneuverable
Fit for beginners and other types of rides
7-layer full Canadian maple wood deck for stiffness and smooth-sailing rides
Premium skateboard trucks with Philips screws that hold everything firmly
Comes fully assembled and with a T-tool in the package
Cons
Bearings were a bit off for big skateboarders
Overall, I never had a hard time riding this board. This skateboard setup feels smooth, and I don't even have to mind my weight because this board makes skateboarding easy.
3. Beleev Skateboard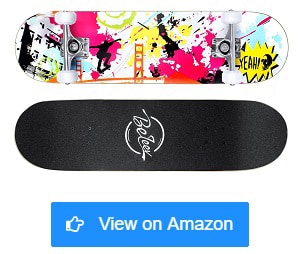 The first thing I noticed when I rode the Beleev Skateboard was its high-rebound rollers. This skateboard comes with a set of 55mm 95a wheels, which are non-slippery. That way, the wheels recover quickly, making them perfect for those streets' cracks and bumps.
This Beleev option comes with a pair of 5-inch aluminum trucks that are heavy-duty. These skateboard components are also so reliable that even beginners won't have a hard time. Plus, I think these parts help support the skateboard's weight limit of 220lbs.
I'm glad that even as a heavy rider, riding this skateboard does not seem to be a problem at all. I think it has a perfect size at 31″ x8″. And most of all, it only weighs 4.7lbs, which means it won't be hard for me to transport this skateboard anywhere I want.
Lastly, I think this skateboard has grip tapes not all brands have. It comes not with a regular layer of this sheet but a waterproof one for additional protection. This non-slip emery grip tape keeps me safe and stable during rides. Also, it helps keep the moisture away from the wooden layers of the skateboard.
On the downside, I am not sure if the advertisement was misleading. I think I should have received a T-tool in the package, but not a single repair tool arrived. Nonetheless, I still have my old ones.
Pros
High-rebound and non-slippery wheels, perfect for road cracks and bumps
Heavy-duty aluminum trucks that are reliable and perfect for a 220lb capacity
Ideal 31″ x 8″ size and 4.7lbs weight for easy transport and handling
Comes with waterproof grip tape for rider safety and deck protection
Cons
Did not come with a T-tool
I like this skateboard because it's convenient to bring and use. It does not require too much adjustment, and it's a reliable skateboard for me. It's got quality parts, and I think it's going to last long.
4. POSITIV Complete Skateboard
The first thing I love about the POSITIV Complete Skateboard is its deck. This skateboard brand uses a proprietary AirLam technology, wherein it glues several plies of wood using a waterproof adhesive. With this, I can feel how sturdy the skateboard is and how tight each layer of wood was mounted.
One more aspect I love about this skateboard's deck is its outer finish. It comes with an additional layer of sealant that guards the deck against moisture. Plus, at the bottom part is an SST slide treatment applied to increase the distance of my slides. Thus, not only do I get a solid skateboard deck but also one that improves doing tricks.
This heavy rider skateboard has got quality and smooth wheels as well. It comes with a set of 54mm rollers, wide enough to give me a comfortable ride. Also, these components have treaded surfaces that make them fit for rocky streets and skating terrains. With these, I get to enjoy almost any riding environment.
I saw several users love this big guys skateboard because of its deck shape as well. This brand features a K12 concave shape that's deep and of better stiffness. This feature helps maintain the board's pop and response during my rides.
On the downside, I did not receive the brand's original pair of trucks. I think these components would have given me better performances had they been Positiv's. Nonetheless, the board works as intended.
Pros
Uses a proprietary AirLam technology that keeps the board sturdy
Comes with a sealant on the surface to guard against moisture
Has an SST slide treatment for increased slides
Wide treaded wheels for a comfortable ride
Comes with a K12 concave deck shape that maintains board pop and response
Cons
Did not arrive with the original Positiv pair of trucks
Despite that, I still get to do anything I want with this skateboard. I am happy about going to any skating areas and doing some tricks.
5. Idea Pro Complete Skateboard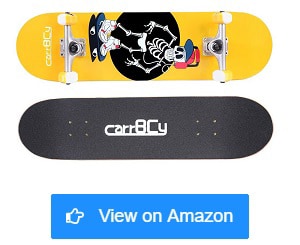 Featuring a double kick concave design, the Idea Skateboard makes stunts easy for a beginner. From ollies, slides, to a few other basic tricks, this skateboard will make things simple. Also, this skateboard deck shape increases the board's playability. So, it's not only fit for beginners but also professionals doing more complicated skills.
I think this skateboard has the perfect balance of safety and durability. Not only does it have a well-shaped deck but also a pure Canadian maple one. Plus, on top of the deck is a waterproof non-slip diamond emery paper that holds my feet well when riding. These two features make me feel stable and confident all the time.
The components under this skateboard's deck are also of good quality. This board comes with a pair of aluminum alloy trucks. These components do not only give out a good performance but also a longer lifespan.
I also chose this skateboard in terms of speed. It comes with a set of ABEC 7 bearings forged using chrome steel & paired with 53mm 102a wheels. These rollers help me get enough speed, and I think it's their cores that make the entire ride smooth.
I only had a slight issue with this skateboard. When I pulled it out of the box, I saw a chipped portion of the black coating on the deck's surface. Nonetheless, all other parts are durable.
Pros
Double kick concave design for basic tricks and professional skateboarding
Comes with a full Canadian maple wood deck for stable rides
Has waterproof, non-slip diamond emery paper on top for safety
Aluminum alloy trucks for longevity and better performance
ABEC 7 bearings and 53mm 102a wheels for improved speed and smoothness
Cons
A chipped portion on the deck's surface
Overall, I love using this skateboard. Its shape makes it easy for me to do tricks and some advanced skills. Also, it has quality components not all skateboards for heavy riders have.
6. Seething 42-inch Complete Skateboard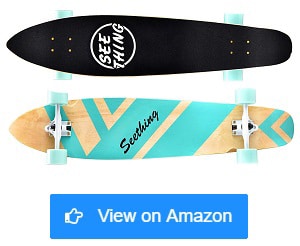 If there is a skateboard to match my size, it's the Seething 42-inch Complete Skateboard. This skateboard leaves me enough space to move my feet with its 42-inch long body. Plus, it has a slim shape that makes it lighter to use despite being a long one. So, it's not only a unique skateboard but also a user-friendly one.
Like most skateboards for fat guys, this brand also has enough weight capacity. Most big riders, like me, prefer this skateboard because it can load someone as heavy as 330lbs without showing signs of slowing down. And despite accommodating a heavy rider, this skateboard retains its durability and toughness throughout.
One more thing I love about this large skateboard is its wheelset. This skateboard features 95a PU-casted rollers, perfect for different kinds of rides. They can work on skate ramps, pools,parks, and grounds of any smoothness. I'm glad that in any of these setups, the wheels of this skateboard remain smooth.
In terms of convenience, this skateboard for big feet is also one of my choices. I love this brand because it was ready to use when I pulled it out of the box. And for someone always excited about opening a new skateboard, this aspect speaks less of a hassle on my end.
On the downside, some customers said one of the bolts was missing when they received the skateboard. I did not experience this problem, but I think it would be better to see all the hardware complete.
Pros
A 42-inch slim skateboard that's unique, light, and user-friendly
Comes with a weight limit of 330lbs
95a PU-casted wheels that work with almost any skateboard setting
Arrived complete and did not require assembly
Cons
One of the bolts were missing during delivery
I like the overall slim look of this skateboard. It's sturdy, and I feel like a lighter skateboarder when I'm using this skateboard.
7. Landyachtz Dinghy Complete Skateboard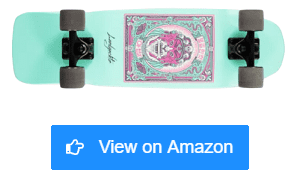 The Landyachtz Dinghy Complete Skateboard may not be the longest skateboard I have, but I love it because of its size. This skateboard comes with a length of only 28″, keeping everything light and simple. It's easy to bring, and it fits almost anywhere. Plus, it works well for me despite being a big guy.
I rarely leave remarks on a skateboard's design, and this is one of the few boards that merit one. This skateboard has got aesthetics. With a clean mint green finish, this skateboard looks fresh and light. Also, at the bottom of its deck is a hoodoo tiger print that gives the skateboard a classic look.
I also love the wheels of this skateboard. They look wide, well-made, and are stable throughout my rides. These rollers also have surfaces that make the skateboard fit for street skating or some rough terrain. With these, I get to enjoy riding without having to worry about why wheels wear out too soon.
Lastly, the trucks of this skateboard are of high quality. Not only do they come with a clean black finish, but they're also durable. And for the last few months of using this skateboard, I have never had issues with the trucks, other than a few minor adjustments.
However, I found a small dent on the side of the deck when I received the skateboard. It's not a big one, but the skateboard would have looked better without it.
Pros
A 28-inch skateboard that's light, easy to bring, and fit for big guys
Mint green finish coupled with a hoodoo tiger print
Quality wheels that are stable and fit for street skating and rough terrain
Durable trucks with a black finish
Cons
Slight dent on the side of the deck
This skateboard looks like a penny board. But this brand is only one of the few that can carry someone as heavy as me with ease.
What to Know Before Buying Skateboards for Big Guys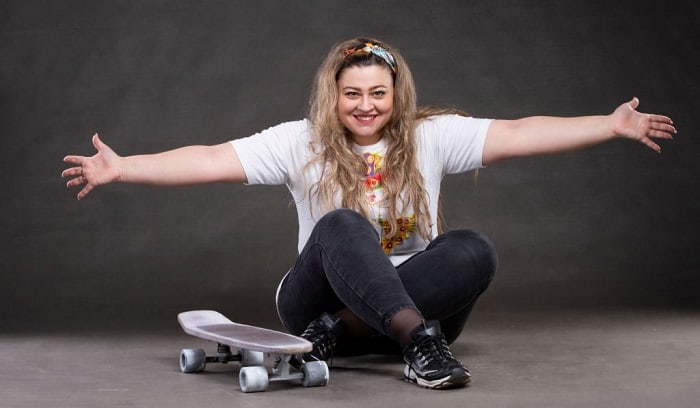 The best way to make value for your investment is by knowing each detail of the item you want to purchase. It could make the heavy rider skateboard expensive, but it will be worth it. And before getting a skateboard, you need to understand what you need, your considerations, and the outcome you want. Here are a few things you have to know first.
As most skateboarders say, the wider the width of the skateboard deck, the better. Spacious skateboards offer enough room for your feet' movements. Plus, such skateboards help you retain your balance without exerting too much effort. So, I would suggest getting a skateboard at a 7.5″ deck size or higher.
For the deck material, Canadian maple wood remains one of the best deck materials to consider. This type of wood has characteristics ideal for a standard skateboard. It's a sturdy deck component, reliable, and has the right balance of stiffness and flexibility.
Your wheels direct several aspects of your rides, like your speed, bounce, and grip. Thus, it is necessary to select the best set of wheels to fit your consideration. For the sizes, you can use a wheelset in the range of 50mm to 59mm. These wheels are not too big, but they're easy to control and are perfect for the sizes of skateboards for heavy guys.
We are not that particular with the wheels' hardness, but I would pick those at a durometer level of 80a and higher. Wheels in this level can be bouncy and do not need much grip because the heavy rider's weight will help add pressure to the ground.
Bearings are a factor for all your rides, especially when you're particular about your speed and smoothness. A high quality skateboard usually comes with ABEC 7 stainless steel bearings as a standard. But other brands go for ABEC 9 and even ABEC 11 in a few instances.
This class of bearings promotes speed and a smooth ride. So, if you have quality bearings, you can expect to have quality rides as well.
Aluminum remains to be the best kind of alloy to use with skateboard trucks. And with this, you'll only have to select the perfect size for your deck. As a rule, it's best to use a pair of trucks whose axle width is the same as the deck's width. That way, your skateboard rides will feel balanced and stable.
If you wear protective gear, you also need some protection from the skateboard's end. Be sure that when you select a skateboard, you also check for its grip tapes. These sheets become worn out over time. So, look for the ones with upgraded features, like waterproofing. That way, you're maintaining both your safety and the skateboard.
Repair tools are essential when skateboarding. You may not need to perform maintenance with your boards too soon, but you will need it some other day.
Thus, as a form of preparation, it's best to have a T-tool by your side. This instrument will not only help you perform repairs at home but even when you're outside encountering some issues with your board.
Can an Overweight Person Skateboard
Skateboarding has no favorites. Whether you are a kid, an adult, a teen, or an overweight rider, skateboarding is never far from possible. You might be overweight if you look at your body's statistics or the skateboard weight chart, but skateboarding is not about you being overweight.
What matters more is selecting the kind of skateboard that can load your weight and avoid skateboard breakage. There is a skateboard for 300 pounds, and there is also a skateboard for 400 lbs or anywhere in between. You won't have to worry if you're too big to ride a skateboard.
What Size Skateboard Should a Big Guy Get
There is nothing wrong with selecting the wheel and deck style you want. But if you are a fat guy on skateboard for the first time, you have to consider some significant factors first, like the skateboard size.
First, you need to have a skateboard deck width of at least 7.5″. The wider the width of the deck, the better it is for big guys for their feet to have enough room. Second, the length of the skateboard may not matter as much as the width, but it's still best to have one that's easy to control. Skateboard lengths come in a range of 28″ to 42″, so you'll have plenty of options to see which one suits you best.
Can You Lose Weight From Skateboarding
If you want to do skateboarding as a form of weight-loss strategy, you're most probably on the right track. This sport requires mechanical movements from all over your body, which means you need to be agile when riding your skateboard. However, as skateboarding is only a cardio activity, you may still need to do other workouts if you are serious about achieving a specific build.
Conclusion
The dream to become a great skateboarder does not only rest on the fit, lean, or normal riders. Skateboarding is about using the right pieces of equipment and learning their fundamentals.
Get the best skateboard for big guys and ride all you want. Be sure to keep the tips I have shared with you, and you'll land on the best one.
Enjoy all the fun skateboarding can give you. Leave your inquiries in the comments section, and we'll be glad to respond to them.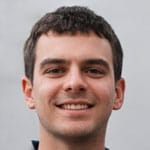 Hi, I am Charles Harris. I opened this site to write as much as I can about my biggest passion – skateboarding!
I started as a clumsy yet passionate rookie 10 years ago to now a still passionate yet much better skateboarder! But I have to tell you, the whole journey has always been fun and rewarding, indeed not without hardship.