Our love for skateboards doesn't only stay within the boundaries of actual skate parks or the streets. But are there other ways or places to enjoy skateboard tricks? Yes! Video games.
Two of these popular games are Skater XL and Skate 3. Both are must-try. But Skater XL VS Skate 3, how is one different from the other? Which of these two can give us exceptional satisfaction while learning skateboarding?
Keep reading because here, we will compare these apps and identify all the good things about them.
Skater XL and Skate 3: Getting to Know the Games
1. Skater XL
Tom Asta? Brandon Westgate? Evan Smith? You can fulfill your dream to be like these people when you play Skater XL.
This skateboard video game trains all players to execute tricks using a combination of controls. You don't press a single button and wait for your character to do a kickflip. That means from the skating position down to the landing, it's the player who initiates the movements.
Skater XL Skate 3 map, which is better?
One of the things many like about this game is how it incorporates realistic Californian skating spots. With these, the graphics look more thrilling and adaptable. Meanwhile, Skate 3 has the backdrop of a fictional city.
2. Skate 3
Skate 3 plays from a prospective point of view. You get to work with other Skate 3 skater players by building a team and increasing your popularity as a brand. Also, you pass challenges and win competitions as a group.
For players who want to play and upskill individually, the game has a training feature that allows users to master specific skills in the game. It's like a school that lets you learn fundamentals to complicated moves.
If the previous game gives you real-life skating spots, this video game takes you to an unfamiliar Skate 3 realistic park. But what's good about these virtual skateboarding places is that they have all the obstacles you can dream of.
Skater XL vs. Skate 3: Differences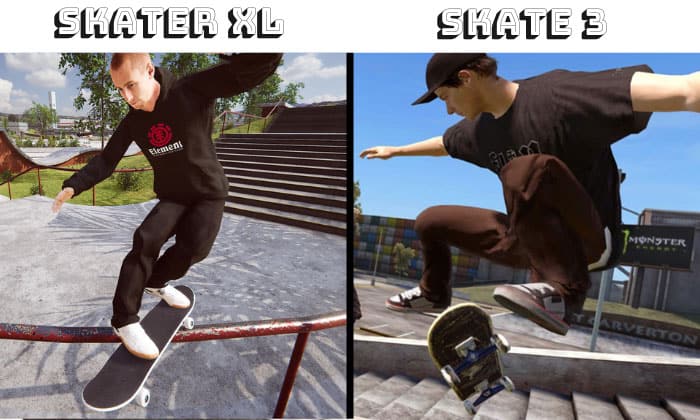 After a glimpse of the unique features of Skater XL and Skate 3, it's time to differentiate them.
1. Pushing
When you push the board in the EA Skate game, the character may look like one and a half push is being made.
It's a removable feature in the game, but it's not the most pleasing one you will see.
Comparing Skater XL to Skate 3 in pushing, XL has a more realistic execution. It doesn't leave your character making unnecessary moves on the skateboard.
2. One foot ollies
The ollie north and south in Skate 3 look the same. But I think this trick puts this game slightly ahead of Skater XL. While these ollies lack creativity in execution, their animation tops the XL.
3. Free flip
Skater XL has the upper hand in this aspect. Why?
Upon the start of a Skate 3 game, players get the chance to pick a skating style. But as the game progresses, you will notice how your character performs the same flip every time, not much controls mod. This is not something you want all the time.
Catching and landings could vary based on existing skateboard tricks. And this is where Skater XL completes its advantage.
Yes, different skateboard tricks are possible before landing from a jump in Skate 3. However, what makes Skater XL more thrilling is it allows the player to perform these catches and landings flexibly in height, flicking angle, and style.
Your character might end up falling off the board in XL, but that's the game's beauty, mastering all the skills encrypted there. Overall, what's better about Skater XL is it will let you incorporate one trick with another, and you have to mix all the related moves well.
Both games will allow you to do forward flips. Not sure about these moves on Skate 4, though.
4. Slides and grinds
Perhaps, sliding in Skate 3 looks slightly less realistic. Because whether it is a nose, tail, or any other slide, it's always a fixed 90° move on the rail.
Transitioning from a slide to another trick in Skate 3 also isn't smooth. You will have to pop the board from the obstacle and perform the skill like it's a separate trick.
Moving to grinds, Skater 3 still brings the same energy; a skateboard truck's middle is fixed against the ledge. On Skater XL, you get the perfect grind control and pinch on your wheel.
5. Winding up
Ride straight, crouch down, turn a bit, and spin; these are steps to an ideal wind-up on a skateboard in Skater KL. Can you do these routines in Skate 3? No.
That said, XL's design limits the skater's spin, making it hard to do a 360.
What's Good and Bad About Each Game
Skater XL
Creativity-centered controls
Smooth and realistic skating graphics
Provisions for review
Adaptable difficulty levels
Necessary yet weird skateboard falls
Slightly bland skating places
Limited character customization
Skate 3
Allows online playing with other gamers
Various competition options like the Hall of Meat and Co-Op
Skate 3 has no multiplayer options
Less culture-centric than the earlier EA Skate versions
Some controls lead to unrealistic movements that defy physics
Frequently Asked Questions
Is Skater XL worth it?
Skater XL is a more realistic console game than EA Skate. But is it worth playing?
It's a mixed review between players who prefer realism and those who want to perform tricks on a game conveniently. People who live in pure thrill love this game because it makes them work from scratch, from foot formation to landing.
On the other hand, one drawback other players find about Skater XL is its lack of objectives and interaction among fellow players. It's not as motivating as other skateboard games.
Does Skater XL have Skate 3 controls?
Is Skater XL controls like Skate 3? Not necessarily. I read a Reddit discussion of Skater XL VS Session and Session VS Skate 3. Let's have a short take on each of these games.
Session has a more challenging approach to the game. On the contrary, Skater XL is slightly less rough. And from what we know about Skate 3 earlier, it's safe to conclude that Skater XL is the closest to it in intensity, but not controls.
Is Skater XL better than Skate 3?
How much money is Skate 3? Is Skater XL the best skate game yet?
Some say that Skater XL's realistic approach is a drawback in itself. But such a claim could be subjective if we don't consider players who enjoy doing the tricks the challenging way.
For this article, we can say that Skater XL has edged the EA game in many aspects. So, yes. Skater XL has the overall upper hand over Skate 3.
As for pricing, Skater LX is more expensive than Skate 3 (around $40 vs $20), which somewhat makes sense as it's newer.
Conclusion
If there's another way to enjoy skateboard tricks without risking yourself in accidents, it's through video games. However, careful selection is a must, especially regarding games that vary in several aspects.
To decide between Skater XL VS Skate 3, let's learn and research about them. This way, we can align our interests with a realistic-centered or objective-focused game.
After all, both apps yield unique benefits. It's up to us which among them will serve us best.
Read more: Caster board vs skateboard: what should I choose?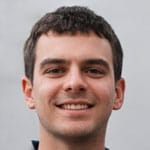 Hi, I am Charles Harris. I opened this site to write as much as I can about my biggest passion – skateboarding!
I started as a clumsy yet passionate rookie 10 years ago to now a still passionate yet much better skateboarder! But I have to tell you, the whole journey has always been fun and rewarding, indeed not without hardship.