It is not wrong to prioritize a skateboard's durability. Not only does it give the skateboard a long life, but it also makes our purchase worth it.
We know that skateboards may come complete or in parts. And if we choose the latter setup, one of the things we should secure is a durable deck. So, what are the strongest skateboard decks?
In this article, we will see what makes up a sturdy skating platform and discover some of the most famous brands. So, keep reading as we take you to the world's strongest skateboard decks today.
The Most Durable Skateboard Decks to Date
Perhaps, learning about this aspect of skateboarding could be thrilling because we might see a few decks we have not come across before. Let's get on to the following products.
1. Powell Peralta Flight Deck
Imagine what combined layers of epoxy, fiberglass, and maple wood do. That's how durable a Powell Peralta Flight Deck is.
One of the best things I like about this skateboard part is how it retains its flexibility. On top of its strong build, this board stays responsive and poppy. And with a flexible structure, the skateboard becomes more resistant to sudden embrittling or cracking.
2. Santa Cruz VX
This skateboard deck features a patented Quad X Technology characterized by a pair of carbon layers and five layers of maple wood. How strong is it? Strong enough to withstand 80-feet landings without breaking.
Most people who use this deck are into technical skating and want to avail of a cheaper yet premium skateboard.
3. Lithe Slate 3
Have you not heard of this deck yet?
For a skateboarder with all the resources to invest in premium gear, it's probably one of the most budget-worthy and longest lasting skate decks of all time. Let's see why.
One of the things many skaters will notice about this deck is its nose and tail. The manufacturers of Lithe skateboard infused high-quality polymer in these areas. It helps prevent razor tails and chipped noses, always yielding the users a quality experience.
Moving to the stepping surface, you will see a carbon fiber layer that makes the skateboard last eight times longer than regular boards. Additionally, everyone will appreciate how this unbreakable skateboard deck looks with its unique method of graphics printing.
4. Emillion Fibertech Deck
Emillion Fibertech rests at a lower price range but still maintains quality above most skate decks in the market today.
Like many boards, this 50-dollar skate deck also uses fiberglass in its body. This aspect makes it responsive and efficient and break in better in the long run.
5. Capsule Skateboards
Next in the lineup is Capsule decks, with their new unique shape and lighter bodies.
Capsule, like other high-end boards, is also poppy. But what I like the most about this deck is its rounded sidewalls. With this feature, the skater's shins are safe.
Heavy people who worry about weight can never go wrong with this skateboard deck. With its quality materials and construction, I'm sure it's sturdy enough to withstand high loads, whether during slides, jumps, or casual skates.
6. Lib Tech Skateboard Deck
Perhaps, it sounds weird for some skaters to find out this brand specializes in snowboards. But is Lib Tech also reliable for skateboarding? Absolutely!
Lib Tech decks come with a composite of birch sidewalls, fiberglass, and maple layers complete with epoxy. Do the materials amaze you? What's more surprising about this board is it only costs $70. It's never an inadequate figure for a deck as durable as this one.
7. Almost Uber-light
They say an indestructible skateboard deck is often heavy. While it may be correct to some extent, there is a perfect way to break the stereotype.
Almost Uber-light is the best example of a light skateboard deck that's durable and able to withstand impact and rigorous skating. It uses carbon fiber foam, which is responsible for keeping it low-weight.
This skateboard deck is also poppy, resilient, and has metal-like sturdiness.
What to Expect From High-end Skateboards
Brands have two methods for creating strong skateboard decks; innovate a new technology or apply what other brands do. Here are a few things we can call green flags when it comes to a quality skateboard deck.
1. P2
Skateboard decks with P2 technology have a 6-layer maple core and a Kevlar fiber topper. Such features keep the skateboard's nose and tail from chipping.
Brands that use this technology include Flip, Plan B, Santa Cruz, and Creature. While the manufacturer's claim is yet to be proven, decks with P2 tend to last much longer than conventional boards.
2. Black Ice
Are you planning for endless sliding over surfaces? Look for Plan B skateboard decks. These boards let you glide better over ramps, rails, and other skating areas. They are also great for riders who like speed and long-lasting graphics.
3. Impact Support
Conceivably, how the deck handles impact and skating intensity is what we consider the most when choosing. And such an aspect manifests in a couple of areas on the deck.
Impact Support technology rests on the composite layers of carbon fiber and Canadian maple wood stuck together by epoxy resin. Besides neutralizing forces from landings and jumps, these carbon fiber skateboard decks also improve pop.
Skateboard deck brands applying this technology include Zero, Cliché, Almost, and Enjoi.
4. Resin-7 Epoxid
Resin-7 is not common wood glue because it is better. It's the perfect catalyst for making the skateboard sturdy but light. While such an adhesive type cannot guarantee an unbreakable board, it's still a better option for adding service life to the deck.
The same brands with Impact Support technology use this adhesive, with the addition of manufacturers like Blind and Darkstar.
Frequently Asked Questions
What is the best skateboard deck material?
Famous skateboard brands might have incorporated other materials into their designs, but maple wood still stands as the best deck material today.
Maple, being a natural material, has the perfect flexibility and responsiveness. And these are only a few characteristics skateboarders want to obtain. Maple wood is also easy to shape, so it's a preferred component by most, if not all, skateboard companies.
How to prevent your skateboard from breaking
Skateboards will wear out in the future, but not always because of regular usage. Here are a few things you can do to avoid breaking your skateboard.
Avoid using the skateboard's tail and nose to stop.
Keep the skateboard away from wet places.
Don't land the deck on sharp objects.
Always land on the truck bolts when jumping.
Conclusion
Spending money on a sturdy deck gives us a sense of confidence. It's a level of trust that no matter the intensity of our skating, the deck will never fail us.
So, what are the strongest skateboard decks? Lithe Slate and Santa Cruz are only a few. And it's no less than possible that many more brands will challenge these names by producing better-quality skateboards.
Eventually, we will have the best problem: choosing the best deck among the best. Be mindful of the technologies we have shared. By then, you will have an added guide on the selection process.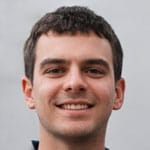 Hi, I am Charles Harris. I opened this site to write as much as I can about my biggest passion – skateboarding!
I started as a clumsy yet passionate rookie 10 years ago to now a still passionate yet much better skateboarder! But I have to tell you, the whole journey has always been fun and rewarding, indeed not without hardship.