The first important step for you to take up any board sport is to find out your suitable shoes size. There are a variety of skateboard choices in the current market so you can be confused about the different deck styles.
Therefore, it is better to take a look at professional skaters' preferences. Apart from their favorite brands along with comfortable materials, you might question "What size skateboard do pros ride?" or wonder if the rumor about an 8'5" pro deck skate is true.
Thus, this article will explain why pro skaters have usually opted for 8'5" size in their competitions and then, you can feel confident to select your own choice.
The Choice of Deck Sizes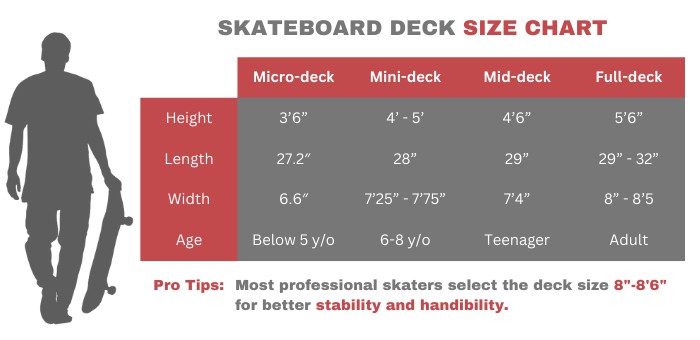 You probably know there is a wide range of deck collections, including the shapes, weights and color covers. However, as a beginner, you should first learn about different deck types based on the standard skateboard size chart as it is considered the very first important step.
Thus, I will introduce the four most popular skateboard deck sizes. Note that the deck types will be mainly classified with the width depending on their performance styles, along with their length from the tip to the nose/tail.
1. Micro-deck
If you want to purchase a skateboard for a kid who is about 3'6" tall, micro decks will be a good choice. These decks are designed for young skaters below 5 years old as they are approximately 27.2″ long and 6.6″ wide, normally equivalent to shoe size 3.
2. Mini-decks
When it comes to mini decks, riders should be between 6 and 8 years old with a height range of 4' and 5'. Their forms vary from 7'25" to 7'75" wide with a fixed length of 28".
If you are a teenager, I suggest that you should choose a mid-size deck for the most comfortable experience. Such skateboards are made for teen riders as their width is around 7'4" and their length is about 29". For a regular ride, make sure that the skater is at least 4'6" tall.
These deck types are suitable for an adult or a teenager who is taller than 5'6". Depending on skating preferences; you can select the size between 8" and 8'5" for different technical performances. These skateboards are about 8" in width and from 29" to 32" in length.
The Size Skateboard Pros Ride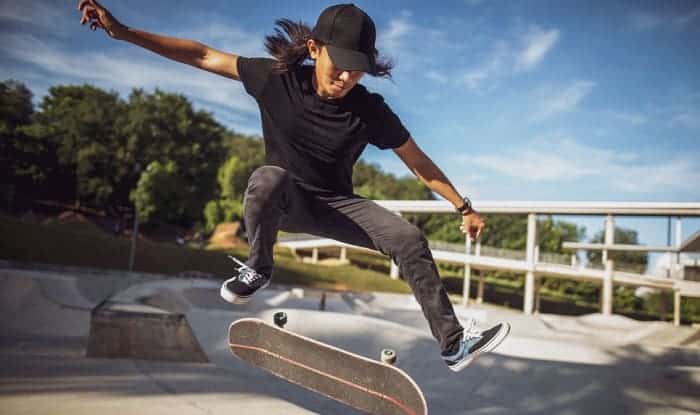 1. Deck size
As mentioned in the first part, every beginner is often curious about the pro deck skate. In fact, they have various options that are recommended from famous brands in almost all competitions. However, you are still able to learn from their preferred selections.
There are numerous well-known riders, especially street ones, selecting their pro model skateboards based on stability and handibility. Such decks are normally 8"-8'6" wide, but many skaters sometimes select a shorter board than normal if the racetracks are narrow.
Big men would rather use larger boards for easier control under their feet. On the other hand, several professionals opt for a large skateboard deck size to get more stability during rides.
For example, Jon Dickson and Erik Ellington usually choose the deck size 8'5" for better stability, while Felipe Gustavo prefers the 7'75" to have better control on the street.
2. Deck diversification
It is obvious that professional skaters have a wide range of preferred boards with different sizes and styles. Along with various sponsored options, they often have their individual choices in every single tournament.
On the one hand, the pro deck diversification is not noticeable as a pro skater already knows his/her own strength and weakness aligning with the pro size skateboards, which are generally at the width of 8"-8'6".
On the other hand, many manufacturers offer an option to customize a pro-model skateboard for pro riders who have requested to try an abnormal board size. As this approach is only aimed at professionals, a beginner has a narrow selection at all brand stores.
Therefore, knowing that professional skateboard deck sizes are often 8'5" becomes necessary for every skating amateur. For example, the unique skateboard's size at Chocolate Skateboards is 8'5" and you are not allowed to make a request of size change.
An 8'5" Skateboard Deck is the Pro-Choice
There is no doubt that almost all professionals have opted for the 8'5" deck in their important rides. Even though this size is supposed to have a weaker controllability compared to other small boards such as 8" or even 7'75".
In contrast, it is considered to be more suitable for pro skaters with tricks, especially on the challenging stage. Overall, an 8'5" skateboard is still a truly irreplaceable option for pro skaters.
Conclusion
Therefore, it is better for you to follow this article to answer "what size skateboard do pros ride" and know that the rumor about the size of skateboards for pros is right. Well now, you can also follow professionals to purchase your own 8 '5" board based on your favorite style.
However, have a try first to decide what skateboard size you like the best as well as what you feel most comfortable with during skating rides.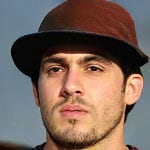 I am Michael, and I have been enjoying this fun sport for seven years. And nothing is better than having a community to share our passion for those thrilling tricks. I am ready to tell you all I know about skateboarding, showing you how to choose a good board and trick to start and how the practice goes. Stay tuned!