If you live to shred but have no idea where to skateboard and flex your hard-earned skateboarding skills, we've got you covered!
Being cooped up on a busy street is a deal-breaker. But don't fret, hitting the nearest skate park or bombing through empty parking lots are just two of the most popular ways skateboarders get their riding fix.
Take the guesswork out of where to skate and shred the gnar with the best places to skateboard revealed here!
Where to Go
Skateboard Park
There's no better venue to show off your moves and ride with no apprehensions like a skate park. It's a purpose-built, controlled environment where you don't have to worry about oncoming cars, pedestrians, potholes, and other obstructions that may hinder you from learning how to skate or performing optimally as a seasoned rider.
Skate parks are city-approved and equipped with bank ramps, vert ramps, stair sets, and quarter pipes that are all ideal for an unadulterated skateboarding experience. Pulling off breathtaking tricks is made even more exciting with handrails, funboxes, pools, snake runs, and pyramids in the mix.
It's undoubtedly one of the best places to skateboard and meet other skateboarding enthusiasts.
Public Park
If you don't have a local skate park, heading to the public park is the next best option for you. Parks with wide, paved trails and smooth, open surfaces are ideal for cruising and doing stunts.
Before you go, verify with the park administrator or your local police if you're allowed to skate and follow all rules promptly. Stay on your right while skating and be considerate of cyclists, runners, and other people around.
Open Parking Lots
If you're looking for a large, flat space to learn how to skate or kill time, head to an open parking lot. Usually constructed with smooth asphalt, it allows you to cruise your way around without having to worry about potholes and other obstructions that may jolt you off your board.
While this makes a great alternative, remember to ask permission and skate after hours to make sure there are no cars or pedestrians around. Keep an eye out for barriers and follow all traffic rules.
Bike Lanes
If you commute with your skateboard, take advantage of bike lanes. Bike lanes are generally well-maintained and are some of the safest routes to take when traversing busy cities and streets. These lanes are isolated from traffic so you don't have to worry about running into cars or pedestrians.
Because there are local regulations that advise against skateboarding in bike lanes, it would be a good idea to check with authorities first. Otherwise, skate on your right and be mindful of cyclists behind and in front of you. Try to maintain your speed throughout your ride to prevent inconveniencing others.
Your Garage or Backyard
Still, stuck in a rut about where to practice skateboarding? If you have a garage or backyard that's finished with concrete with a considerable amount of free space, this makes an awesome alternative to heading out.
As a beginner, skating right where you live will help you muster enough confidence before taking on greater challenges at the skatepark.
If you're stoked about this idea, you may even consider designing and building your very own backyard 24-hour skatepark! Depending on the amount of space you have, you can start by building basic obstacles and then go as far as constructing your own ramps and rails! Check out this guide to learn more:
How to Find a Place to Skateboard
Now that you have an idea about where to go, take the big leap by finding out how to get there! Discover your next skating spot with the help of these tips:
Join Skateboarding Groups Online and Check Out Forums
Make skateboarding even more fun and fulfilling by looking up skateboarding groups and communities online. Getting info on the best skating places near me and skateboard parks in NYC is just one of the many perks of keeping tabs on fellow skateboarding enthusiasts.
I even receive updates about skateboard competitions near me!
Download Skateboarding Spot Apps
You'll be stoked to know that there are apps that allow skateboarders to bookmark their favorite skating spots and share them with co-shredders.
Although this is a welcome development, be wary of these recommendations and make it a point to double-check with your local authorities to find out if these are good places to practice skateboarding.
Explore your community
Drive around or hitch a ride and discover what you're missing out on! If there isn't a skate park in your vicinity, be on the lookout for sizable concreted spaces, rails, benches, and ramps that are not privately owned.
Get the lowdown on how to find the hottest skate spots here:
Conclusion
Even with most cities implementing rules that oppose skateboarding, finding skating spots that strike a good balance between safety and accessibility is still highly possible. Now that we've rounded out where to skateboard, keep these in mind:
Practice due diligence and do research
Steer clear of streets with vehicles and pedestrians to prevent accidents
Before attempting to skate, wear protective gear and abide by traffic rules
Feel free to sound off your thoughts below and tell us if you found this guide helpful.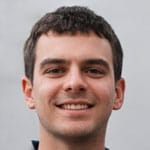 Hi, I am Charles Harris. I opened this site to write as much as I can about my biggest passion – skateboarding!
I started as a clumsy yet passionate rookie 10 years ago to now a still passionate yet much better skateboarder! But I have to tell you, the whole journey has always been fun and rewarding, indeed not without hardship.