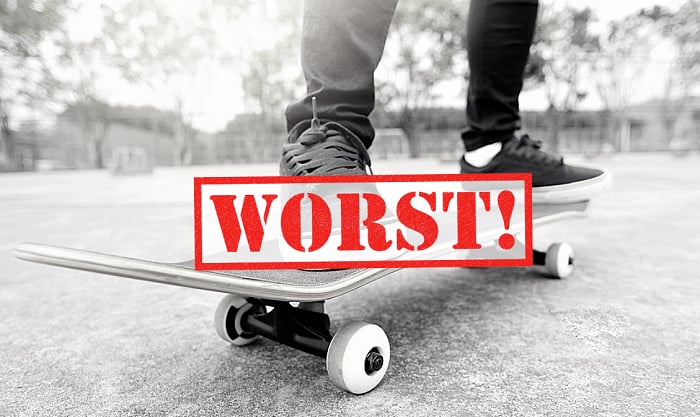 When buying something valuable, we ought to check the item's features and compare it with other competing brands. That is being skeptical and maximizing what we spend. For example, when choosing skateboards, we want one that can give us quality rides every time.
While there are undeniably thousands of good picks from the store, there are also some that we need to avoid. With that in mind, it's necessary to know the worst skateboard brands.
In this article, we'll present the names of a few skateboards which might be cheap but are relatively disappointing compared to others.
Skateboard Brands to Avoid
1. Walmart Skateboards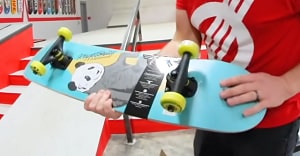 We have nothing against Walmart as a one-stop shop for all our needs. But to take a skateboard from this store rather than an official skate store would not be a wise choice.
These skateboards do more harm than good, especially to kids. If you check the deck, its form looks uncomfortable. The trucks come in an inferior material type, and the wheels are wobbly, an unwanted character in a skateboard.
2. Kryptonics Skateboard
A Kryptonics skateboard doesn't feel as sturdy as the popular maple skateboards around. The deck doesn't have much flex, which is an absolute downside for a skater into aggressive skating.
Moreover, this skateboard doesn't work well when cruising. While the skating style only calls for simple glides, many riders still find it challenging to move this skateboard.
A few Reddit reviews also claim the trucks broke in less than a week. They were flimsy, and I'm not sure about their construction, but some say they came in cheap plastic.
3. Osprey Skateboard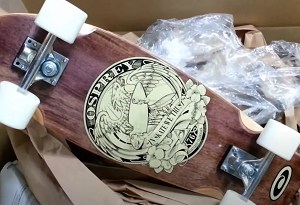 Unlike other sub-par brands, Osprey is more honest. If you check the brand's ads, it deliberately informs its customers how Osprey skateboards are not fit for heavy use.
True enough, the deck cannot sustain tricks and stunts, and the rollers are not sharp and precise. And with the brand's disclaimer, what would make us choose its skateboard?
4. Zoo York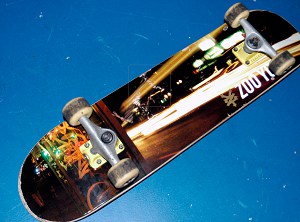 I never knew skateboards could snap out that easily until I found a review about Zoo York. A few users claim it broke down quickly. What's worse is those riders were not overweight.
Hence, I think the issue is not the user's weight but the skateboard deck's construction.
5. Mongoose Skateboard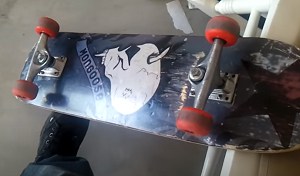 Are maple skateboards good? Yes. But the deck material is not the only consideration we have. What makes Mongoose a brand to avoid is it's usually thicker than the typical 7-ply board.
While it has nine plies of maple, it yields less pop than a skateboard for tricks should have. Also, it would break too soon when pushed hard for technical skating.
6. Airwalk Skateboards
Like the previous brand, Airwalk also comes with nine plies of maple wood despite listing seven on the ads.
But what made me avoid it was the bearings that fell off minutes after kicking the board. We know how wheel cores contribute to a skateboard's precision and overall performance. And for this brand to compromise this aspect, I don't think it's ever worth risking.
7. Maple Skateboards
If you are into tricks and technical skating, avoid using Maple Skateboards.
One of the minimum requirements of a skateboard for tricks is a concave shape. Unfortunately, doing technical skills with this brand is challenging, even for professionals.
Also, I think the paint on the trucks does not help improve the skateboard's performance. I'm better off with neat, unpainted trucks.
8. World Industries Skateboards
With the innovations in skating gear, being a stagnant brand like World Industries can be a mistake.
These skateboards have been in the limelight for a few decades. But after a shift in ownership, the new skateboard models showcased low-quality decks.
For the brand, it's a cost-saving measure, but the strategy didn't win the market.
Performance-wise, World Industries is not a sought-after brand. It has less-than responsive bushings, which no skateboarder will like.
9. ReDo Skateboards
No one wants to receive substandard skateboards like the ones from ReDo. Looking at some Amazon reviews, many users got warped decks in the package. Some also had their trucks poorly installed.
Besides spending your money for no good, what's also disappointing is you won't even get to use a Redo board for long, if it even works. And as a skateboarder, you will have to think of a quality board and allot a budget again to buy it.
10. Decathlon Oxelo Skateboard
Any skateboard buying guide will not put the price as a top consideration because purchasing the cheapest board in the store exposes you to risks rather than improving your ride.
Unfortunately, an Oxelo skateboard is one of the few that are way too affordable but don't work as expected. It doesn't come with sturdy materials and won't let you enjoy skating as you should.
11. Hinono Skateboard
The few reviews on this brand don't seem to be that negative. However, Hinono doesn't really have any online presence, so customers who have problems with their boards likely won't have much luck contacting the brand.
Which Brand of Skateboard Is the Best?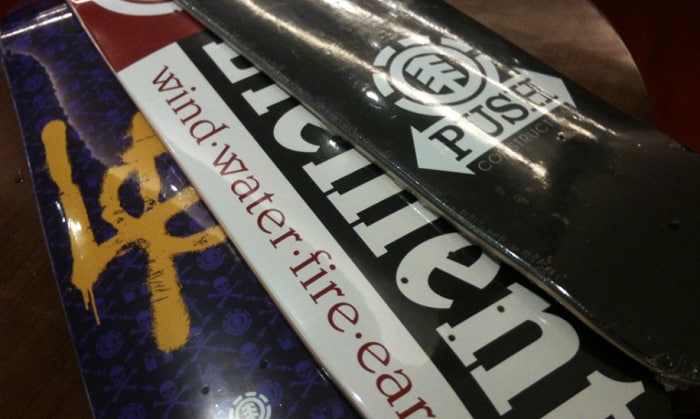 There might be a significant percentage of awful brands over hundreds of skateboard labels. But that does not mean competition among the good brands isn't close.
If you have problems selecting a good manufacturer, let me name a few brands you may want to consider and the area they specialize in.
Best for beginners – Element Skateboards
Most versatile for cruising and streets – Zero Skateboards
Perfect for street and vert – Plan B Skateboards
Conclusion
Choosing skateboards isn't only about hearing what the professionals say. We should consider other customers' experiences and whether a design fits our needs. That way, we can ensure that our decision-making process is objective throughout.
Now that we know the worst skateboard brands, we can avoid them when visiting skate stores. Also, we can be more confident about our choices and ensure that our money doesn't go to waste.
Visit your nearest skate shop now with better knowledge of skateboard brands!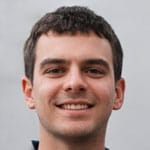 Hi, I am Charles Harris. I opened this site to write as much as I can about my biggest passion – skateboarding!
I started as a clumsy yet passionate rookie 10 years ago to now a still passionate yet much better skateboarder! But I have to tell you, the whole journey has always been fun and rewarding, indeed not without hardship.