As adults, we know how fun and challenging skateboarding can be. Not only does it entail learning various skills, but also a handful of risks. And if teens and older riders are susceptible to skating accidents, the risk that the same will happen is higher with kids.
With that, let's learn about the best skateboard helmet for kids. But before anything else, let's go over various aspects that will guide us when assessing this piece of equipment.
Coverage: We need to ensure whether the helmet is enough to cover the sensitive parts of the kid's head. Choosing the right size may not be enough because a helmet's coverage depends on the brand and styling.
The first thing to do is check the front rim of the helmet. It should align with the rider's eyebrows. Next, ensure that the back rims do not touch the upper parts of the kid's neck.
Straps: Looking at the helmet, you should see two straps mounted on the side, at the top of each ear. From there, the straps should form a V shape with the corner situated right under the ear. Then, as the straps meet under the ears, they meet next under the rider's chin.
Certification: Like skateboards, childrens skateboard helmets, a piece of safety equipment, vary in reliability. And since we're talking about safety, the first thing that'll assure us of good quality is the brand's certification.
Some skateboards come with credentials from CSPC, ASTM, or both. Seeing these names are suggestive of an ideal skateboard helmet for your kid.
It's exciting to see children hitting the parks with their skateboards. So, be sure to stay on as we discuss cool skateboard helmets kids would love. Also, we'll provide more discussion on how to choose the perfect helmet in the buying guide section.
Top 1
OutdoorMaster Skateboard Helmet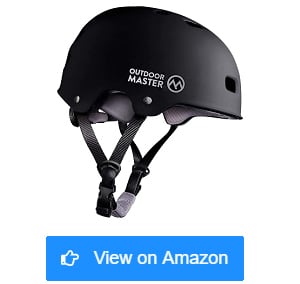 – Well-ventilated design
– 7″ EPS core
– 2 removable cushion linings
Top 2
JBM Skateboard Helmet
– Three linings
– PVC, PC, and EPS materials
– Aerodynamic design
Top 3
TurboSke Skateboard Helmet
– Durable ABS exterior
– Has 11 vent holes
– Side-release buckle
Top 10 Skateboard Helmet for Kids Reviews
1. OutdoorMaster Skateboard Helmet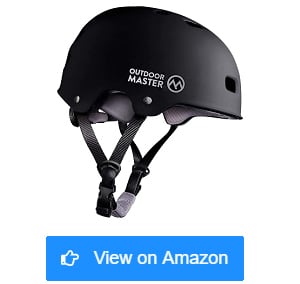 Featuring a well-ventilated design, the OutdoorMaster Skateboard Helmet keeps the kid's head cool throughout his ride.
This child skate helmet comes with 12 air vents at the top and the front and back. These allow better air movement, making the helmet more comfortable to use.
The next aspect I love about this product is its lining. OutdoorMaster comes with a 0.24″ lining for added softness inside. And what's better is it has an extra 0.16″ cushion to give the rider a more relaxed fit. These components are removable, which means I'll have an easy time cleaning the helmet.
At the core of this protective helmet is an EPS material. This component goes as thick as 0.7″, allowing enough head protection against accidents. Not only that, but this material also helps reduce the impact on the head caused by bumping or any unwanted falls on the skateboard. I think this is the main factor that makes this helmet reliable.
Besides being a trusted model, this helmet fits for sports other than skateboarding. It works for cycling, MTB, scooters, and other extreme outdoor activities. And with that, I got to save from buying separate pieces of protective equipment for each outdoor sport I have.
The only thing I didn't like about this product was its packaging. I was expecting to receive a box with the helmet, but the item arrived inside a plastic. Good thing there was no damage on the helmet.
Pros
Comes in a well-ventilated design for a more comfortable use
Has two removable cushion linings for added softness and easy cleaning
7″ EPS core for enough head protection and impact reduction
Works in any extreme outdoor sport: cycling, MTB, scooters, etc
Cons
Item not boxed upon delivery
Overall, I love the comfort this product brings. It has quality components, and I'm happy I saved some money because it's versatile and a good helmet.
2. JBM Skateboard Helmet
Coming with a smartly designed body, the JBM Skateboard Helmet isn't just for skating but also a wide array of outdoor activities.
With PVC and PC as external composition, this helmet has enough durability to counter some level of impact. Paired with EPS foam inside, it'll try to absorb outside force before it reaches the child's head.
Not only is this skating helmet for kids flexible in terms of usage, but also genders. It comes with flexible straps, enabling the user to adjust the tightness of the helmet and keep it firm on the child's head. That way, any rider, regardless of gender, can alter the helmet and make it fit snugly.
Aside from its unique build, this skateboard also features an aerodynamic design, ensuring that the helmet remains breathable throughout. It comes with multiple vents plotted well to foster steady air passage. This feature causes lesser sweating to the rider. Plus, it also helps regulate body temperature during vigorous movements.
If there are brands that come with dual removable linings, there are also some with three, like this brand. These inner components add comfort to the rider while maintaining a dry atmosphere inside. What's good about these parts is they're removable. That means I can remove them when I need to clean them.
However, I had to purchase a new side-release buckle because the one that came with the helmet was a bit flimsy. The rest of the helmet's parts were of good quality.
Pros
Smartly designed body fit for any outdoor activity
PVC, PC, and EPS materials for superior impact absorption
Has straps that make the helmet adjustable to any gender
Features an aerodynamic design that keeps the helmet dry and breathable
Three linings that add comfort and are removable for easy cleaning
Cons
Arrived with a flimsy buckle
I like this multi-sport helmet because it fits almost any head shape of any gender. It's comfortable, light, and is also easy to maintain.
3. TurboSke Skateboard Helmet
The first thing I like about the TurboSke Skateboard Helmet is its adjustability. This skateboard helmet features an adjustable brace that lets the user tighten or loosen it. Furthermore, the brace is removable, making it easy to maintain and replaceable.
Skating for hours using this helmet never seemed draining or too hot. TurboSke comes with 11 air vents that allow cool air to penetrate from one side, thus sending heat through the top holes.
I like the placement of these vents because they promote faster air movement on the helmet. With that, kids skating hours in the summer heat still feel comfortable.
This kids skateboard helmet is also a good one in terms of durability. It comes with a hard outer shell with high impact resistance.
Also, adding to its level of protection is an EPS foam inside that neutralizes any external force going against the helmet. I think these features make this product perfect not only for skating but other extreme sports, too.
One more durable component of this helmet lies on its straps. Besides having a sturdy surface, this helmet has side-release buckles and an adjustable clasp on its straps.
And what I like about these components is they come with POM plastic as their sole material, which offers enough durability. This aspect makes me confident about the fit of the helmet.
This skateboard helmet is a bit heavy, especially for smaller riders. Nevertheless, adjusting its tightness reduced the issue.
Pros
Comes with a removable and easy-to-maintain adjustable brace
Has 11 vent holes smartly placed for relaxed and more comfortable rides
Durable ABS exterior that fits any other extreme outdoor sport
Side-release buckle and adjustment clasp made with POM for added durability
Cons
The product is a bit heavy for young riders
This helmet looks and feels genius-made. The holes got good placement, and the entire body is durable enough for any sport.
4. 80Six Dual-Certified Skate Helmet
Featuring a 3-layer full head coverage, the 80Six Dual-Certified Skate Helmet has one of the best levels of protection for any skateboarder.
Like any child skating helmet, this one comes with a durable ABS exterior shell and an impact-resistant EPS foam. But what sets this brand apart is it has an extra layer of soft fit pads, making it more comfortable to use.
Besides having a relaxed fit, this kids skate helmet also comes with a classic shape that fits almost any user. Not only that, but it also has several holes to allow enough air to pass through. These features make it an ergonomic helmet and a cool one as well.
What makes this dual certified helmet perfect for kids is its compliance with established safety standards. First, this helmet meets the CPSC guidelines for safety. And second, it comes with recognitions from ASTM. These two bodies certify that this helmet is safe enough for riders as young as five years old.
I also love the straps and the lock of this skateboard helmet. It comes with an adjustable strap that wraps the chin well. Plus, it has a quick-release buckle that allows easy wearing and taking off.
And one more thing I find unique about this adjustable chin strap is it has this small ring that locks the folded parts of the straps from any adjustment.
However, I encountered sizing issues with this helmet. I ordered an M-L one, but the item arrived with an S-M size range. Good thing my kid's head is somewhere in the mid-size.
Pros
3-layer helmet with extra soft pads inside for added comfort
Comes in a classic shape ventilated well to keep the head cool
Complies with CPSC and ASTM safety standards for kids as young as five
Comes with a durable and adjustable chin strap with an easy-to-lock buckle
Has a small ring to keep the adjustable strap in place
This brand does best with comfort to the rider. It's a good skateboard helmet that's tailored fit for anyone using it.
5. Triple Eight Kids Skateboard Helmet
One of the features that made me buy the Triple Eight Kids Skateboard Helmet is its chin padding. This cushion lies on the straps aligned with the rider's chin, making the helmet's fit more comfortable. Not all brands have such a feature. Plus, it also adds some head protection to the rider.
Interior-wise, this skateboard helmet also doesn't disappoint. It comes with extra thick layers of EPS lining. These additions help in neutralizing any impact on the helmet. Notably, they're removable, which means they're easy to maintain too.
This kids skateboard helmet is also industry-approved. It comes with two helmet certifications from credible bodies, proving it's ideal for riders as young as 5. These recognitions come from CPSC for bicycle helmets and ASTM for skateboard safety. With these, this skateboard not only becomes comfortable but is also reliable.
This kid skateboard helmet is also a good buy for me. In terms of price, it may not be the cheapest among my helmets, but its tag looks a bit too good for its build. I believe any other rider will be able to afford it. It has a reasonable price and its features are worth it.
It's not much of a hassle for me, but I find this helmet a bit tricky to adjust at first. I have to reach below the helmet while the kid wears it.
Pros
Comes with chin padding for comfort and added protection
Has ESP thick linings for more impact-resistance
Approved by CPSC and ASTM for the safety of kids as young as 5
Comes at a reasonable price
Cons
Adjustment is a little tricky at first
I like this Triple Eight helmet because it's of great price. Second, it's a reliable one, and the chin padding is something I rarely find.
6. ZLEIOUY Kids Bike Helmet
The third complete protective skating set on my list is the ZLEIOUY Kids Bike Helmet. It comes with a pair of wrist protectors, knee protectors, and elbow pads. I like these additions because they're as durable as the helmet. Made with ABS plastic, this helmet can handle pressure quite well.
Another aspect I love about this skateboard helmet is its adjustability. This feature lies in various components of the helmet. The first is on the inner brace that tightens and loosens with an adjustable fit dial system.
And second will be on the straps, where I get to adjust from below the chin of the rider. These two make fitting the helmet more convenient and suited for the rider.
One more feature I love about the adjustable straps of this skateboard helmet is the tiny black loop lock on them. This piece is essential for holding loose straps in place, thus keeping the level of tightness on the straps the same throughout. It's only a small component, but it does a lot in keeping the helmet steady on the rider's head.
On top of these, I love the air holes of this helmet. This headpiece features a tri-dimensional duct. And this allows air to pass in the front, on the top, and from the back of the helmet. These holes are necessary to keep the kid's head dry and comfortable most of the time.
For now, I don't think there's anything wrong with this bike helmet for skateboarding. It fits my kid's head firmly, and I think this is the safest helmet I have at the moment.
Pros
Complete helmet set with protective gears made with durable ABS plastic
Convenient adjustments through the straps and inner brace
Straps come with a small loop to lock and keep loose bands in place
Tri-dimensional air duct that allows efficient air movement for dry heads
These safety pieces should all be in a kid's bag. Having these brings a lot of convenience and ample protection during rides.
7. Apusale Kid Bike Helmet
Uncommon with several helmet brands, the Apusale Kid Bike Helmet comes with a helmet brim that offers some benefits.
This feature transforms the helmet into a hat-shaped headpiece, keeping the rider's vision shaded against the sun. I like this brim because it's removable, making it a styling option for anyone.
One of the issues I have with some toddler skate helmets is the durability of their locks, which does not apply to this item. Apusale comes with a buckle that does well in locking and unbuckling the straps. This component is very sturdy, thus shielding kids well from sudden impact.
The next feature that relieves the rider against the sun's heat is its inner lining and vents. This helmet comes with 11 vent holes that allow hot air to dissipate from the user's head.
Also, it has a set of breathable foam I can detach after a day of using it. By then, I get to wash it and dry it until another day of rides.
Another common problem about skateboarding helmets for kids is they're heavy for some. But the good thing about this brand is it only weighs 0.7lbs, reasonable enough for small children using it. What's better is the body doesn't look flimsy, and my kid doesn't seem to feel any weight on his head.
On the downside, my first order arrived with a long scratch on the surface. It doesn't affect the kid's ride, but good thing I got it replaced.
Pros
Comes with a stylish removable helmet brim for shade against the sun
Sturdy buckle that locks and unlocks smoothly
Comes with 11 vents that promote heat dissipation
Detachable breathable foams for added comfort and easy cleaning
Weighs only 0.7lbs, light enough for kids
Cons
Arrived with a long scratch on the shell
I love looking at my kid using this helmet because it's very light. Also, it has a unique and quality design, making it a perfect skateboard helmet for hot weather.
8. XJD Kids Bike Helmet
They say the XJD Kids Bike Helmet is exclusive for bicycles, but it fits other outdoor activities, like skateboarding.
This helmet features an ideal shape made for 3-8 year-olds who enjoy sports outside. I like this helmet because it's easy to adjust. Plus, its clean black finish makes it look neat.
Another aspect that makes this helmet ideal for kids is its interiors. It has a breathable foam that keeps the inside soft. And paired with unique vents, any user will love wearing it because it doesn't heat no matter the level of movements. So, not only is this helmet versatile, but it's also a relaxing one.
I think this helmet brand is an economically friendly choice. It doesn't only come as a helmet, but one with a set of protective gears. These pieces of equipment include a pair of knee pads, wrist guards, and elbow protectors that keep the user safe always. I love this brand because I got to save time buying the helmet additions separately.
And since this brand comes with the necessary protective equipment, it came with a carrying bag. I get to bring any safety gear without hassle. Plus, I get to organize them all in one location when not using them.
The only issue I found on this helmet was the glue mounting the foam to the shell. It ripped off early, but I got to install the foam again with a sturdier adhesive.
Pros
A classic black adjustable helmet that fits kids 3-8 years old
Relaxing headpiece made with breathable foam inside and unique vent holes
Comes in complete set with knee, elbow, and wrist protectors
Has a carrying bag for easy transport and organizing
Cons
The glue mounting the foam ripped early
Overall, this youth skateboard helmet and pads set is an affordable helmet choice for me. It's not the cheapest, but with its valuable gear additions, I think I spent well on it.
9. OUWOER Kids Helmet
The first thing I like about the OUWOER Kids Helmet is its lock. This helmet features a quick-release buckle on the left side of the jaw that's easy to unlock.
What's good about it is despite being easy to unbuckle, it also locks in firmly. That means the helmet stays on as kids skate and jump around without worrying about a loose buckle.
The next feature I appreciate about this dual-certified bike helmet is its fit dial system. With the knob found near the back rim of the helmet, my kids can learn to rotate it to achieve the ideal tightness. And with that, I'm happy I get to modify the helmet's fit from the upper head down to the chin.
On top of having a classic black finish, this toddler skating helmet also offers enough durability. It comes with an ABS plastic shell outside that resists impact and reduces possible head injuries to the child. This material is perfectly stiff, thus making me confident my kid's riding with maximum safety.
An added safety factor of this protective helmet is its certifications. It's not on the physical aspect, but this helmet comes with dual recognition from CPSC and ASTM, certifying that this model passed the standards for safety. That means it's not only a highly functional helmet but is also a reliable one.
On the downside, this helmet came without padding under the chin. I kept looking for it, but there was none. Good thing there was a skate shop a few kilometers away.
Pros
Quick-release buckle that locks firmly and unbuckles easily
Comes with an adjustable brace that allows for easy tightness adjustment
Uses ABS plastic shell for better durability and impact resistance
Certified by CPSC and ASTM for safety
Cons
No padding for the chin attached on the straps
Despite that, I love how this skateboard helmet adjusts to various sizes. It's durable, reliable, and has the level of convenience every kid needs.
10. JIFAR Skateboard Helmet
If there'll be a complete protective skating package for kids, it'll be the JIFAR Skateboard Helmet. This product does not only come as a helmet, but it comes as a set with elbow pads, knee pads, and wrist pads.
Like any skateboarding helmet, this model also has a dual lining inside. But what makes these layers a cut above other brands is these interchangeable pads fit any head size and shape. That way, any user will feel comfortable using the helmet with these interiors. Not only that, but these cushions are also removable for easy cleaning.
Besides having a pair of quality linings, this skateboard helmet also has a two-way adjustment feature. First, it has a skin-friendly adjustable chin strap that wraps around the jaw snugly.
And second, it has an adjustable dial at the back, allowing the user to adjust the helmet from the inside. These two make adjustments easy and more fit from any side of the head.
I think the foam inside this helmet is perfectly thick not only for kids but older riders as well. This helmet comes with a 0.7″ thick EPS foam that wraps the head before the PVC and PC external shell. This layer offers superior impact protection.
Plus, it's light, thus keeping the rider free from carrying some weight on the head.
It's not an absolute disadvantage of the helmet, but I received the wrong color. Good thing my kid loved it anyway, and it was free from damage.
Pros
Complete skating equipment with kids helmet and pads
Comes with easy-to-clean linings that fit any head shape and size
Skin-friendly adjustable chin strap for a snug fit
Two-way adjustment feature on the straps and adjustable dial at the back
Thick but lightweight 0.7″ EPS foam for superior impact protection
I like this brand because it's convenient. Its inside components are close to perfection, and I love how it adjusts to any head size.
What to Look for When Buying Skateboard Helmet for Kids
The level of caution you have when selecting skateboards should be the same when picking toddler skateboard helmets. Here are a few aspects of great skateboard helmets to check before buying one.
Safety features
Various helmet components manifest safety for the rider. Take note of the following:
Exteriors: The first thing we see with youth skateboard helmets is their outer cover. Check if the helmet uses ABS plastic as its shell. This material offers enough durability and defends the rider's head against impact.
Interiors: The helmet's safety not only depends on its outer shell. This aspect also lies on an interior component, embodied by an EPS foam. This material isn't like usually soft foams but is lightweight, stiff, and has impact-resistance properties.
Overall, these components aim to neutralize exterior force against the rider's head in case of accidents.
Comfort
Sometimes, it's not enough that the helmet is heavy-duty or safe. No one wants a disturbing ride because of uncomfortable and cheap helmets and gears.
So, to ensure the helmet fits with utmost comfort, look for one with at least two soft linings inside. Note that these layers should be breathable to release heat inside the helmet. These layers will keep the rider's head relaxed during his ride.
Also, another aspect to check from these parts is their maintenance. The best linings to pick are those that are detachable. That way, you can remove them and wash them to dish out dirt and make them fresh again.
Fit
Since this gear makes direct contact with the rider's body, it should be of the appropriate size. Otherwise, you'll end up having a small or bulky helmet. Here are parts that will help you in this aspect.
Straps: The first adjustment feature we'll notice from the helmet is its straps. These bands aim to hold the helmet in place, thus preventing it from sliding elsewhere. To know you're pulling off a helmet with quality straps, they should be thick but soft.
That way, they won't scratch the rider's skin. Also, ensure that the accessories of these straps, like the clasp and buckles, are durable. These parts support your configuration and locking of the helmet's straps.
Adjustable brace: Some buyers might wonder what this adjustable fit dial system at the back of the helmet does. If the straps help you fit the helmet under your chin, this adjustable brace locks the helmet on the top. It comes with a rotating knob that lets you decide the level of tightness that suits your comfort.
Coverage: One more aspect you need to check from the skating helmet is its covered area. While choosing a wide helmet may be a good idea, it's not always an efficient one.
So, to know you're picking the ideal helmet for your kid, it should cover the space from above the eyebrows of the kid. Then, it should reach just right above his neck.
Skateboard Helmet Certification
One factor that makes the safest skateboard helmets is their recognition from credible organizations. Helmet buyers must look for remarks that evidence the product's reliability in terms of safety.
With that, check if the helmet comes with dual certifications from CPSC and ASTM. Seeing these icons on the item gives the buyer added confidence that the helmet is safe enough and fits the intended sport.
How Do I Measure My Child's Head for a Helmet
The unit of measure we'll use to ascertain the appropriate helmet size for the kid is the head circumference. Here are the steps to measuring the child's head when choosing a helmet.
Grab a soft tape measure
Place the starting end 1″ above the kid's eyebrows.
Run the tape measure around the head, just a few centimeters above the ears.
Ensure that the tape sits around 2″ above the kid's neck or right at the part of the head that yields the widest head circumference.
Can Kids Wear a Bike Helmet for Skateboarding
There are helmets exclusively designed for bike riding, especially for extreme racing. But youth skate helmets today come in a more flexible design, making them fit other outdoor activities like biking, scooter, wave boarding, and more.
So, to ensure that the bicycle helmets will fit as skateboarding helmets, you have to check whether the helmet comes with characteristics essential for safe skating. Always remember to wear helmets suited for the activity.
How Do You Know What Certifications a Helmet Has
It's not as salient as the straps or the buckles, but helmet certifications are iconic. That means they're easy to distinguish. These certifications come in marks as big as the brand's logos. You can find them at the back of the helmet or inside it.
And to give you an idea of credible bodies certifying the helmet's reliability, try to be familiar with ASTM and CPSC. These bodies are famous for assuring the product's safety and suitability for specific age groups.
Conclusion
The truth is most professional skateboarders start at a young age. And with that, we all have the reasons to allow kids to try this extreme sport. We only have to maintain utmost safety and precaution besides these skills.
Now, with the best skateboard helmet for kids, let's give the children the protection and confidence they need. Just remember the things I have shared with you to guide you in selecting the best helmet for your kid.
Should you want to share your thoughts, never hesitate to leave them in the comments section.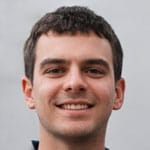 Hi, I am Charles Harris. I opened this site to write as much as I can about my biggest passion – skateboarding!
I started as a clumsy yet passionate rookie 10 years ago to now a still passionate yet much better skateboarder! But I have to tell you, the whole journey has always been fun and rewarding, indeed not without hardship.