Skateboarding is fun. It gets even more thrilling when we have the best electric skateboard deck and motors on hand. As trends change, skateboards not only present as tools for new adventures, but they can be our best buddies on our way to work.
One of the things employees ask for is a hassle-free commute to work with no traffic. With the best electric skateboard for commuting, increase your chances of making it to your office desk on time and without stressing over a busy road.
And because skateboards serve more user-specific functions, it is necessary to pick the one accustomed to serving your commuting needs. If you are a beginner, do not worry because I'll help you choose what suits you best from the list below.
Top 1
Hiboy S11 Electric Skateboard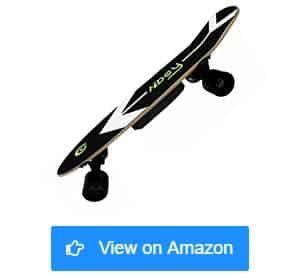 – Weighing only 7.94lbs
– 4 brake and riding modes
– Go fast and far
Top 2
SKATEBOLT Electric Skateboard
– Strong battery
– Maple skateboard body
– Wide deck and wheels
Top 3
DEVO Electric Skateboard
– Grippy PU wheels
– Waterproof elastic surface
– Fast signal transmission
Best Electric Skateboard for Commuting Reviews
1. Hiboy S11 Electric Skateboard with Wireless Remote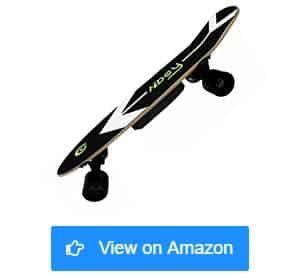 One of the best things I love about the Hiboy S11 Electric Skateboard with Wireless Remote is its solid but light design. This skateboard only weighs 7.94lbs, making it easy to bring. Despite its weight, this product remains steady when I accelerate or when I make a turn.
This product has unique ride and brake styles exclusive to Hiboy's best electric skateboards only. It comes with four brake and riding modes that make your ride more customizable. These modes also provide a careful taper during braking or acceleration.
I bought this model and gave it to my kid. He started using it, and he seems to enjoy it. Then I tried to use it to know how my commute would feel, and I loved it. It's not always the case with top-caliber e-skateboards, but this one is easy to handle, fun, and suitable for commuters of all ages.
With this skateboard, I get to travel fast and far at once. The single hub motor lets me ride at 12.4mph and go for a 6.2-mile range in a single battery cycle. This engine also provides smooth power to my skateboard.
However, I'm one of some commuters on Reddit who find it hard to take this product uphill. I weigh just around 140lbs, but I don't think the board wants to go for inclined roads.
Pros
Solid and steady skateboard weighing only 7.94lbs
Customizable rides with four brake and riding modes
Fun and perfect for all ages
Go fast and far with smooth motor power
Cons
Not an ideal skateboard for uphill trails
This brand may not be the all-around skateboard I want, but it serves its purpose well. I love seeing my kid commuting around the village or coming home from school with this board. I find this product simple and effective also.
2. SKATEBOLT Tornado II Electric Skateboard
Not only cars got taillights. The SKATEBOLT Tornado II Electric Skateboard comes with two warning lights at the rear to keep you noticeable by cars from behind, especially at night. I find this feature helpful because it keeps me safe when I go on busy roads in the evening.
I think this brand has one of the best commuter skateboard remote controllers. It's not like the conventional device that only has an acceleration toggle and buttons. This one has an LCD screen display that gives me accurate data about my speed, batteries, and brake mode. That way, I get to know my trip's statistics and be able to adjust when needed.
This product has got a strong battery. It comes with an upgraded 7500mAh battery that can keep me trailing at around 22 miles in medium mode. This battery power is also enough to support this brand's dual hub motors. With this, I get to reach a speed of 26mph and climb 25% inclined hills.
Other than its powerful performance, one more thing I like about this skateboard is its body. It has eight layers of northeast maple that can carry a load of up to 280 lbs. I also find the deck and the wheels wide enough to make my rides more stable.
I wish the remote had a wrist strap or at least a hole I can put a band on. Holding the controller in sloped areas is a bit risky since I might lose control of my skateboard once the remote slips off my hand.
Pros
Comes with warning taillights for a safer commute at night
Remote controller with an LCD screen for exact ride figures
Strong battery and powerful dual hub motors
Maple skateboard body with a high load limit
Wide deck and wheels for stable rides
Cons
Remote control doesn't come with a wrist strap
This skateboard brand is one of the high-end skateboards I ever had. It has unique features, and it's a powerful skateboard for commuting.
3. DEVO Electric Skateboard
Featuring an elastic and sturdy finish, the DEVO Electric Skateboard is one of the best electric skateboard for commuting. This product has a high-density, non-slip, and waterproof surface that keeps me safe during travel. Also, its PU street wheels make a good grip and offer a smooth commute every time.
I find this e-board commuter-friendly. Not only does it have a powerful performance, but it also doesn't require any skill level. I'm one of the customers buying this model for young kids, and they all seem to enjoy it. Plus, it's portable and remains at a safe speed of a maximum of 20 km/h.
I love the design of this skateboard's remote. Aside from its fast 2.4G signal transmission, it has several features that make my commute more convenient. This remote comes with LED indicators showing data about my signal, skateboard battery level, and my remote's battery status. Its wrist strap also makes this device handy.
Devo uses a new batch of lithium batteries, which lasts around 5-10 miles per charge. You can charge its 29.4v 2000mAh battery in as fast as 2 hours and up to 500 charging cycles. I also find this battery efficient because of its three-speed modes that fit whether you are a beginner, intermediate, or an advanced skater.
On the downside, my remote controller stopped and still did not work after charging. I wish it were as sturdy as the skateboard. Nevertheless, it's a good one as it had been working at an optimum level.
Pros
Comes with a high-density, non-slip, and waterproof elastic surface for safe commuting
Grippy PU wheels make rides smooth every time
User-friendly portable skateboard with a safe, top speed of 20 km/h
Fast signal transmission
LED indicators and wrist strap on the remote for a more convenient trail
Fast-charging, long-lasting, and efficient batteries
Cons
Remote control stopped working after a while
All in all, this skateboard for commuting is a good one for beginners. It makes every commute steady and safe as well. Plus, the controller is convenient to use.
4. Tooluck Electric Skateboard
Durability is one of the factors that I love about the Tooluck Electric Skateboard. This product features seven layers of maple hardwood and high-grip Polyurethane wheels. These components make my board flexible, long-lasting, and fit for my daily short trips.
I like the brushless hub motors of this skateboard. Not only are they powerful enough to run at a maximum of 12mph, but they are also quiet-running engines. Unlike some of my hub and belt motors that make a lot of noise, this product brand remains silent throughout every ride.
This longboard's remote comes with an ergonomic design. It's handy, has LED indicators, and easy-to-identify toggle buttons. Plus, it works even if your skateboard is 14m away from you. That means this brand has robust signals and can connect consistently.
I find the price of this product reasonable. It's not the cheapest one I had, but I think this is a perfect one for a beginner. You need no instructions and additional work for this brand because the design is straightforward. Ride it like some of the best electric skateboards, and expect a great one.
However, I find the remote a bit flimsy. It has secure connections, but for me, the enclosure feels like it's about to break after a few falls. Nonetheless, I never had lost connections between the remote and my skateboard.
Pros
7-layer maple wood and high-grip PU wheels for flexibility, durability, and longevity
Powerful but silent compared to some belt motors
Ergonomic and handy remote control design
Strong signal transmission even from a 14m distance
Comes at a reasonable price
Easy to use; needs no instruction
Cons
Remote control case is a bit flimsy
This skateboard's deck is solid as a rock. For someone who weighs 200lbs, I would consider this brand a tough one. It's got seamless connections, and I think this skateboard for commuting is worth my money.
5. Caroma 36″ Electric Skateboard
I always love long rides, especially when I do it with less hassle. The Caroma 36″ Electric Skateboard comes with a 4000mAh battery whose load is large enough to run a range of about 15 km. This power is around twice the capacity of some skateboards.
The slide bracket of this e-board is sturdy and durable. Not only does it mount firmly on the deck, but it also has a collision-resistant design. That way, my e-boards feel less shaky and unstable, making my commute comfortable.
Other than its 8-ply maple board, this product comes with a non-slip sandpaper sheet on top. This layer not only gives my skateboard a clean surface finish but also keeps me safe from sliding. I get to move to inclined spaces and keep my balance using this board.
One more thing I like about this e-skateboard is its PU wheels. These 8.3cm high-grip rollers help improve the shock absorption capacity of the skateboard, giving me a smooth commuting experience. It's also ready to use upon shipment. All you need is to pull the board out of the box and pair it with the remote.
On the downside, the bearing bent after a few hours of trying it for the first time. I think it's undiscovered damage before its shipment. The rest of the components were good.
Pros
Comes with a 4000mAh battery that supports long rides
Durable and collision-resistant slide bracket for a more stable ride
Made of 8-ply maple wood
Has an anti-slip sandpaper sheet for a safe commute
High-grip PU wheels with ample shock absorption capacity
Ready-to-use skateboard
Cons
Bent bearings after a few hours of usage
I enjoy long trails using this skateboard for commuting. It's comfortable to use and has sturdy parts. Plus, it's a safe skateboard for commuting.
6. Nesaila Electric Skateboard
The first thing I love about the Nesaila Electric Skateboard is its remote control. It comes with a wrist strap effective in keeping the controller safe, and it sends high-frequency signals fastly even from a 14m distance. Furthermore, the LED indicators show accurate battery levels on my skateboard.
This e-skateboard also features two flashlights on the wheels to keep the rider visible during evening commutes. This aspect is beneficial too because it helps me gain a better vision of the road at night. That way, I don't only feel safe, but I get to be more comfortable riding in the dark.
I don't think this skateboard would be hard to use for a beginner. Not only does it have a safe, waterproof surface, but it also comes with an instruction manual. I had a guided usage of this product from the pairing of the remote to the board's operations.
One aspect I find unique about this brand is its automatic shutdown feature. Once you leave this skateboard without operation for five minutes, it will power off. That way, you would be able to conserve energy for your longboard. Plus, it would still work as a regular skateboard even without electricity.
I would not advise using this board on an uphill surface. The motors have enough power to get you cruising, but not on inclined roads.
Pros
Handy remote control that sends signals even from a 14m distance
Has LED indicators showing battery status
Flashlights for rider visibility and a clear road vision
Designed with a waterproof surface
Comes with an instruction manual for easy use
Automatic power-off feature for energy conservation; works without electricity
Despite that, I love this skateboard because it's safe for any user. It has stable signals, and the battery consumption is efficient. I would want to have another board of this brand.
7. JKING Electric Longboard
Coming with a stylish design, the JKING Electric Longboard is one of the best electric skateboards I have aesthetically. This product has an LED lamp, like most skateboards roaming around at night have. What makes it different from some is that the lights are at the stepping surface showing science fiction images.
I find this skateboard's battery powerful enough to send me to as far as 7.6 miles with a maximum speed of 18.6mph. This battery is also UL 2272-certified, making it safe from its components down to environmental aspects.
Other than the battery of this skateboard, its engine is also powerful. This brand has a 450W rating in each motor, which is higher than most skateboard motors around. Plus, since this product is brushless, it's more reliable and encounters fewer issues than a belt drive.
This electric skateboard for travel is portable and lightweight, too. It only weighs 11lbs but has a weight capacity of 200lbs. I never had a hard time taking this with me because it has a thin 0.51″ body, making it look sleek. Plus, the deck of this board is of waterproof PP material, which is flexible and offers a smooth ride.
I got my charger almost fried one time. I think there was an issue with the current load. It took me quite some time to find its replacement.
Pros
Features a stylish LED light on the stepping surface
Safe and powerful battery
Powerful engine, more reliable than belt motors
Lightweight, thin, and portable
Supports up to 200lbs
Waterproof PP material for flexibility and a smoother ride
Cons
Charger almost got burned
I love the unique design of this skateboard's deck. It's like the old Verreal RS I owned. It has a powerful battery and motor, and it's easy to carry.
8. Caroma 36″ Electric Skateboard
The Caroma 36″ Electric Skateboard is solid as a rock. This e-skateboard has an 8-layer maple deck that has great flexibility, stability, and durability. What's more, it carries a load of as much as 300lbs. I think this is a perfect board for people of all ages.
Apart from its heavy-duty deck, this skateboard also has 3.27″ Polyurethane wheels with a high grip. These street wheels do not only contain a shock absorption capacity, but they also make your riding experience smoother.
I find this longboard easy to use and work with. Its remote comes with an ergonomic design, giving me convenient access to my e-board. Also, I needed no installation process upon receiving this product because it arrived assembled. All I had to do was to pair it with the remote and begin riding.
I used to be skeptical before paying for this skateboard. But when I first used my order, it worked as advertised. It handles my weight with ease, and I can even move it without charge like a regular skateboard.
This electric skateboard for adults comes with a manual, but I find it hard to understand. Plus, the charger went hot after a few moments of charging. Other than that, other parts work well.
Pros
8-layer flexible maple wood for durability and stability
Ideal for all rider ages with its commendable weight capacity
High-grip Polyurethane wheels for better shock absorption and smoother rides
Easy to use and manage and no installation required
Works as advertised and even without electricity
Cons
Instructions are hard to understand
Charger tends to heat up
I love the build of this skateboard as well as its controller. It does work as intended, and I always get a smooth commute using this brand.
9. Boosted 2nd Gen Dual+ Standard Range Electric Skateboard
Obtain perfect control of your commute using the Boosted 2nd Gen Standard Range Electric Skateboard. This board comes with a Bluetooth-powered remote control. From acceleration to brakes, I get to commute safely and at a high performance.
This product is fit for rough terrain rides in the city. It has a vehicle-grade structure to keep you gliding on the road. Plus, it can go on inclined trails sloped at 25%. So, I think this is a perfect buddy for rugged and frequent use.
Whether you are up for more errands after work or rushing home to relax, this brand's got you either way. It does work with an Extended Battery that can let you run 12 miles, or you can settle with a Standard Battery for a 6-mile range.
I like this skateboard because I can take it anywhere with me. I won't have to endlessly search for parking spaces because all I have is a board. Also, I think this could be the best electric skateboard for air travel. Compared to bringing my car or motorbike with me, this board makes my short trips more convenient.
This board has powerful but controllable electric motors. On top of reaching a 22mph speed, you can still manage to get smooth brakes. And it's also safer to ride because it has extra traction grip tape to hold your feet firmly during rides.
The downside of this product is that the wheels creak when I try to move the skateboard. This makes me conscious about stepping on the board like it's about to break.
Pros
Perfect control of the skateboard using a remote
Ideal for rugged use and can take 25% inclined roads
Works with Standard and Extended batteries
Convenient to carry
Manageable electric motors with powerful performance
Extra traction grip tape for a firm step on the board
Cons
Makes some creaking noises at times
I love the secure connection I have with my skateboard, as well as its grip on my feet. All in all, this is a convenient commute board for me.
10. WeSkate 35″ Electric Longboard
The WeSkate 35″ Electric Longboard has powerful motors. This product comes with 350W brushless hub motors that can load a maximum of 220lbs and reach ten miles. I'm also happy that I get to kick this one like the conventional skateboard, even when I run out of electricity.
I like the controls of this skateboard's remote because they are precise. It has three-speed settings depending on the type of user, plus the speed controller makes a good transition from acceleration to brakes. So, it's a safe skateboard for everyone.
I find e-boards like this fit for frequent and rugged use. Its 8-layer maple deck is durable, flexible, and ensures a comfortable ride. The PU wheels are also firm enough to give a good grip. Even a 220-pound person could get a wholesome commuting experience with this board.
What I like more about this product is it's easy to carry. It comes with a hole on the side of the deck to fit your fingers on it. That way, I get to bring it anywhere, like a case with a handle. Plus, it only weighs 4.8kg, which is almost half of some skateboards.
I had struggles making this e-board work uphill. I think this board is not designed for inclined trails. Despite that, it's ideal for some short commutes and quick errands.
Pros
Powerful motor with a maximum load of 220lbs and 10-mile range
Works even without electricity
Precise controls for a safe ride
Ideal for rugged and daily use
Flexible, comfortable deck with firm, grippy wheels
Easy to carry and lightweight
Cons
Struggles to go on uphill trails
I love running errands using this skateboard for commuting. I need not bring a car to drop by a store or get into someone's place nearby. I think this is one of the best electric skateboards for small rides.
11. SKATEBOLT Breeze II Electric Skateboard
One thing I find unique about the SKATEBOLT Breeze II Electric Skateboard is its deck. Most skateboards have maple wood as their base, but this one's got a combination of bamboo and glass fiber like an ExWay Flex. This type of deck is more expensive but has fantastic flexibility and strength. I like it because it's also comfortable to use.
This skateboard has four brake modes that let you choose from soft to strong. It also has built-in red taillights that work once you use the brake. This aspect is beneficial and safe for commuters taking the road at night.
Unlike some skateboards that will work only once manually started, this brand can start by sliding. That way, you need not locate your switch buttons every time you want to turn on your skateboard.
I love strong motors like those from this brand. Not only are they of a 450W rating, but like a WowGo 3x, they are also powerful enough to send me to a 30% inclined hill. This brand also has a regenerative braking feature, allowing you to charge your board while going downhill.
For a more precise trail, this skateboard has four riding modes. Each option corresponds to the speed level you want. You can go as far as 15 miles in a single charge and enjoy a maximum speed of 28mph.
I found some safety issues with this skateboard, though. Some of the screws began to loosen after weeks of using it. It took a lot of work to tighten them.
Pros
Glass fiber and bamboo deck for flexibility, strength, and comfort
Comes with four brake modes
Has red tail lights for evening commute safety
Can start by sliding
Powerful motors with a regenerative braking feature
Four riding modes for a more precise transport speed
Cons
Some screws loosening, which imposes safety hazard
Despite that, I like the combination of sturdy decks and powerful motors of this brand. I feel like I ride an ExWay Flex with this item.
12. WeSkate 35″ Electric Skateboard Longboard
I love the surface of the WeSkate 35″ Electric Skateboard Longboard. This skateboard comes with wear-resistant and non-slip sandpaper that lets me ride freely through the streets. Its deck has eight layers of maple wood, strong enough to take on people weighing 100kg at most.
I feel safe when riding this longboard because it comes with 52mm wheels with high shock absorption capacity. Also, it has ABEC-9 high-hardness bearings that give me a safe and more stable riding experience.
I find this e-skate flexible in terms of its usage. I can use it even without an electrical load like a regular skateboard. It works for short-distance commutes and various cruising rides. I think many people would also enjoy this multi-purpose skateboard because it's fit for all ages.
This electric skateboard has three ride modes. You can choose among high, medium, and low ride modes, whichever suits your trip. These riding options are all accessible in the handy and sensitive remote control that comes with this board, plus some buttons and indicators.
It's not present in most reviews, but I think the charging time of this skateboard is a bit long for a low 12mph speed. Nonetheless, it works as expected.
Pros
Non-slip and wear-resistant sandpaper surface
Made with eight layers of maple wood that can carry people weighing 100kg
Quality 52mm wheels with a high shock absorption capacity
ABEC-9 bearings for a more stable riding experience
Flexible and multi-purpose skateboard
Three ride modes to choose from a sensitive controller
Cons
Charging time is a bit long for skateboards running a maximum of 12mph
All in all, I think this is a standard skateboard fit for all commuters. It has quality components, and I love its simple stepping surface design.
What to Look for When Buying Electric Skateboards for Commuting
Buying the best electric skateboard is like putting all your money into your first car. And while many people tend to be ecstatic about getting an electric longboard, here is a list of factors to consider before investing.
The world of your powered skateboards is their motors. These devices come in different specifications and drive systems. A belt drive motor offers benefits that a hub motor cannot. Hub motors also come with many advantages not present with belt motors. Either way, you have the option to select the engine that offers the most perks for you.
Not all control devices for skateboards have the same level of sensitivity. There are some which could be unresponsive or too sensitive, especially with the brakes. Some remote controllers are also less durable when it comes to their enclosures. Remember to have an accessible controller you can calibrate comfortably and one that will not easily break after falling off your hand.
Nobody wants to be stuck in the middle of the trail, especially at some place where it's impossible to charge your skateboard.
The wattage, voltage, and amperage play a significant role in the overall performance of your batteries. Some battery brands also indicate the maximum charging cycles allowed by your battery for you to know when you will need to replace it. Hence, it's better to list these figures and match them with your desired range to find the kind of ride you want.
Bigger skateboards like a Verreal RS are long-lasting, faster, and are more comfortable than regular-sized skateboards. Their width also creates a more spacious stepping surface, making the commuter feel safe and stable. However, some users prefer boards with a small width so they can turn and do tricks easily.
If you are buying an electric skateboard to stroll on the streets, you won't need a racing-grade board. Most skateboards for urban rides, like a Flow Deck electric skateboard, have an average speed of 20mph, fast enough to get you running errands.
The money you pay for the item never guarantees its performance, longevity, and comfort. That said, if you want a premium deck, then you can spend a bit more money. Staying within your budget can also get you to the best electric skateboard for commuting.
Are Electric Skateboards Good for Commuting
Planning to turn any skateboard into an electric skateboard is a good idea these days. In a world where cars flock to the streets, nobody wants to spend time in unmoving traffic.
Bikes and electric skateboards have become the best alternatives to these road issues. They're governed with less strict rules, and neither of them causes heavy traffic. So, if you want to get rid of the idle time you spend on busy roads, let the best electric skateboards help you achieve a seamless commute.
These vehicles are also a fun option for commuting. So, if you're someone who enjoys a thrilling ride to work, an electric skateboard could be of help. Just be sure your skateboard's components are weatherproof, so they're fit for dry and rainy seasons.
Is Commuting on an Electric Skateboard Dangerous
The only time riding an electric skateboard can be dangerous is when you ride it without adequate knowledge.
Before skateboard commuting to your office, you need to understand all your skateboard's components. You have to know how each part in the list functions and when to repair or replace them. Traveling with your skateboard is not dangerous as long as you take precautions like using safety gear and regularly checking your skateboard.
Do Electric Skateboards Have Brakes
Brakes are an integral component of every motor-powered vehicle. They are not optional. These do not only give you a stop at beautiful sceneries but also act as a safety key when traveling. Thus, do not only check the existence of your electric skateboard's brakes. It is necessary to know whether they work and how strong they are.
How Do You Travel With an Electric Skateboard
Suppose you're spending summer in your Aunt's house, and you want to bring your electric skateboard with you. Take note that port and terminal regulations may vary and could make you leave your skateboard somewhere else.
If you are traveling through land transportation means, essentially, there are no problems. But if you are traveling on an airplane, the airline may have some issues with your skateboard's battery. The safest batteries you can bring in a plane are those with 160Wh or lower ratings.
However, this aspect is still subject to the airline's approval. It's better to educate yourself with the ports' rules and policies to be sure you'll make it to your destination with your skateboard.
Once you have secured permission to bring your longboard with you, the next thing you have to prepare is your skateboard's enclosure. You cannot take your board on air without a safety bag, although in some cases, a bag is not mandatory if the board fits under the seat.
Lastly, if you feel unsure about bringing your skateboard, don't insist on doing it. You will still have more chances to take your longboard on your adventures.
Is It Bad to Overcharge Your Electric Skateboard
Anything too much is bad. Overcharging your electric skateboard is as bad as putting too much salt on your food. The charging time for batteries varies based on their model. Most batteries take 2-5 hours to complete a charging cycle.
Other than the batteries, also check the capacity of your chargers. Some have fast-charge features, while others charge at a normal speed. Fast-charging is common with commuters who use their skateboards daily and can't wait too long to reload their boards.
How to Maintain an Electric Skateboard
Everyone who marvels at a skateboard will always want one, but not everyone wants to keep it clean and in good shape. Maintaining your skateboard is like keeping your gadgets working at an optimum level. Below are some tips that will help you in sustaining your skateboard's health and working condition.
Whether you are using your skateboard daily or leaving it in one corner, it will attract dirt. Once dust and other particles build up in your motor's interiors, your skateboard's performance can be at risk. So, apply regular cleaning not just on your board's surface but on its parts as well.
One of the best ways to keep a skateboard performing well is through regular checking of its connections. You can start with the remote controller and see if it can still link well with your board. Next is your wirings and electronics — determine whether they are in good shape and are working as intended.
Your deck, truck, and wheels should be in good condition to keep you running even without electricity. If you hear unusual sounds on your skateboard, or your ride feels shaky and unstable, then something in your skateboard probably needs replacement or repair.
You can also buy a skateboard bag if you want an additional level of safety for your skateboard. This duffel can help you when traveling with your skateboard as well.
Conclusion
Every rider's dream is a complete package longboard. We always want to go for the best combination of parts that will yield the riding experience we desire.
It is necessary to know every component of an e-skate. We have to understand how each one works and what happens once it incurs damage.
Choosing the best electric skateboard for commuting can be overwhelming. Hence, consider the tips I have shared with you, so you'll be guided throughout your skateboard journey.
Should you have inquiries, drop them in the comments section; we're glad to respond to them. Safe ride ahead!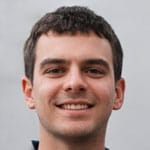 Hi, I am Charles Harris. I opened this site to write as much as I can about my biggest passion – skateboarding!
I started as a clumsy yet passionate rookie 10 years ago to now a still passionate yet much better skateboarder! But I have to tell you, the whole journey has always been fun and rewarding, indeed not without hardship.