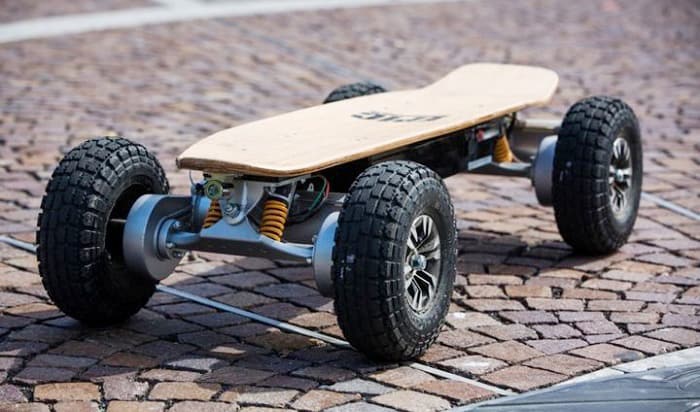 Skateboards come in various builds to suit specific riding styles and environments. Such a concept applies to regular and electric skateboards. However, some of us may think skating is reserved for smooth ground. And that should not always be the case.
Skateboards, particularly the electric variants, can take on rough roads. But like a car, these skateboards need a specific structure to work in these challenging places. So, let's identify the best off road electric skateboard through the following factors.
If there is a perfect place for a double kingpin truck, it's on an electric off road skateboard. This truck yields much better speed and maneuverability compared to regular skate trucks.
Other than performance-related benefits, these trucks also decrease the risks of the skateboard getting wheel bites. Their broad adjustability also helps the user obtain the perfect mix of tightness and stability.
What makes e-skate wheels unique is they're inflatable. These rollers are otherwise known as pneumatic tires, designed to conquer rough surfaces with the help of varied treads. Electric skateboard big wheels come in sizes of around 6″ to 8″, making them significantly different from typical skate wheels.
Tread styles also vary, depending on the slickness you want. But if there's a challenge dealing with these rollers, it's keeping an eye on their air pressure to ensure quality rides.
Of course, we don't want to end up pushing or dragging the skateboard because we're short of power on the motors. So, the battery should also be a factor when choosing electric skateboards.
For simplicity, all we need to look for is the Watt/hours capacity of the battery pack, which indicates the range it can cover.
Note that bigger batteries are not always superior because you still should match this aspect with the skateboard's weight, wheels, ESC, and terrain.
More factors await you in the buying guide section of this article. Be sure to read that part because e-skateboards differ from regular ones on the parks and streets. For now, let's get to know off-road e-boards through the following products.
Top 1
ECOMOBL Electric Skateboard
– 12S3P lithium-ion battery
– 150mm airless wheels
– Drop-down deck shape with 15″ trucks
Top 2
MEEPO Off-Road Electric Skateboard
– Can travel 44 miles with 3500W batteries
– T700 carbon fiber deck
– 165kv BLDC motors and 6″ wheels
Top 3
iENYRID Electric Skateboard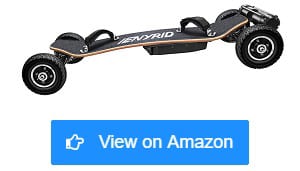 – Maximum weight capacity of 440lbs
– Foot straps with grip tape for added safety
– Maple deck with bamboo layers
Top 6 Off-Road Electric Skateboard Reviews
1. ECOMOBL All Terrain Electric Skateboard
I never knew about riding e-skates at night until I tried the ECOMOBL All Terrain Electric Skateboard.
Surrounding this skateboard's body are tail lights, body lights, and a headlight. With these, it'll be safe to skate at night. Not only that, but these features also make this AT electric skateboard look cool and aesthetic.
When skating on less stable grounds, having a deck shaped like this model is a gem. The ECOMOBL has a drop-down form that lowers the center of gravity. And paired with 15″ trucks, I get the perfect balance between stability and control of the skateboard. These parts complement each other well and work as expected.
I think another unique aspect of this skateboard is its all terrain wheels. It comes with 150mm rollers designed to take on varied surfaces. Besides sandy trails, they roll on asphalt, city, or dirt roads. And since these are airless wheels, there's no need to maintain air pressure now and then.
Power-wise, this model has a decent battery pack. Beneath the deck of this skateboard is a 12S3P lithium-ion battery that can reach 15 to 22 miles in one charge only. It may not be the best battery, but for supporting this skateboard's speed, range, and lighting needs, I think it's sufficient enough.
On the downside, I needed to replace the bushing on the front truck for wearing out too soon. Luckily, the issue hasn't occurred again.
Pros
Taillights, headlight, and body light to illuminate night rides
Drop-down deck shape with 15″ trucks for improved stability and control
150mm airless wheels that work on almost any rough surfaces (asphalt, dirt, etc)
12S3P lithium-ion battery that helps the skateboard reach 15 to 22 miles
Cons
Bushings needing early replacement
As many skateboarders say, this model is worth every penny. Despite the minor setback, I am still happy about its performance. The lights made it much more exceptional.
2. MEEPO Hurricane Off-Road Electric Skateboard
Featuring exceptional speed and range, the MEEPO Hurricane Off-Road Electric Skateboard is one of the fastest e-skateboards on the market today.
This skateboard comes with a gigantic speed level of up to 35 mph, making it a sought-after brand for many skaters. Meepo tested it on actual terrain, and the board had no problem moving to a spot 44 miles away.
On top of being a speedy board, this option also allows easy maneuvering. It comes with four brake and speed levels, allowing the user to control the motion of the skateboard. Besides safety, these 4-level gauges help the skateboard obtain the perfect speed that matches the trail's conditions.
I love this brand because it makes durable skateboards like this model. The Hurricane is very tough because of its T700 carbon fiber deck, which provides superior tensile strength.
Besides that, this material is also sturdy enough to secure the batteries against damage. So, it's not only a durable deck but also a protective one.
And on the topic of power, I'm confident I'll maximize this board's 3500W batteries.
Paired with 165kv BLDC motors and 6″ wheels, I always get a strong send-off on the skateboard with efficient uphill capacity. No doubt, many skaters consider this model a hot pick.
I found no drawbacks to this model; that's how excellent it is.
Pros
One of the fastest e-skateboards with a 35mph maximum speed
Can travel 44 miles with 3500W batteries
Four-level brake and speed levels for better motion and speed control
T700 carbon fiber deck for superior durability and battery pack safety
165kv BLDC motors and 6″ wheels that yield a strong send-off and uphill capacity
Cons
No drawbacks at the moment
Meepo Hurricane is like a 4WD electric skateboard in terms of speed. It has decent parts, of which most are beyond the minimum quality. Also, it has an almost unmatched performance compared to some brands.
3. iENYRID Electric Skateboard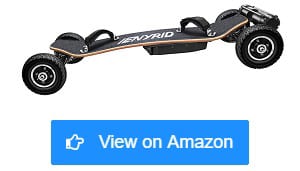 Maple not only goes with regular skateboards but also e-skates, like the iENYRID Electric Skateboard.
Compared to other items, this electric off road longboard is more on the natural than the synthetic side. On its deck are eight layers of maple wood with two more layers of bamboo. These materials make the skateboard flexible and shock and scratch-resistant.
Another benefit of this deck's sturdy build is its high weight capacity. iENYRID carries skaters that weigh a maximum of 440lbs. While the numbers are slightly unimaginable to me, the brand assures optimum durability overall.
This skateboard is not only sturdy, but it's also safe. Like the majority of skateboards, this model comes with grip tape. But what sets it apart is it has a pair of safety foot straps. These accessories are necessary and beneficial because they help the rider balance in unstable off-road conditions.
Ultimately, it's the wheels of this skateboard that make it a perfect fit for rough terrain. This item features four 8″ pneumatic wheels, making rides better off-road. Honestly, I had no problem riding past potholes and grass patches.
It's not an absolute disadvantage on the general performance, but I find the motors of this skateboard slightly noisy. Nonetheless, they work as expected.
Pros
Maple deck with bamboo layers for added flexibility and shockproofing
Maximum weight capacity of 440lbs
Foot straps with grip tape for added safety and improved balance
8″ pneumatic wheels for better stability on grass patches and potholes
Cons
The motors are slightly noisy
This electric skateboard has the perfect balance of stability, safety, and durability. It's a classic board for off-road areas because of its performance and overall capacity.
4. Teamgee H20T Electric Skateboard
Known to have exceptional components, the Teamgee H20T Electric Skateboard is one of the best adult e-skateboard choices.
This skateboard comes with a 39″ deck designed to stabilize riders off-road. It has this W-shaped space for better footing. In fact, I've ridden on steep and bumpy surfaces without falling off the deck. So, it's not only an adult-size skateboard but also a safe and stable one.
Compared to the previous items, this skateboard's wheels are narrow in diameter but sufficiently broad on the surface. Each 103mm roller has V-shaped treads, preventing skidding while enhancing friction.
Also, on their cores are aluminum structures that provide extended durability. What makes them better is they remain light and not burdensome.
Of course, I cannot miss these wheels' stabilizing factor. On their sides are 24 hollow holes designed to absorb shock, especially on bumpy trails. At first, I thought they were only there for looks, but the difference sunk in when I tried another wheel set.
I think this skateboard is as powerful as it looks. It comes with a pair of 1200W hub motors, providing a maximum range of 18 miles and a speed of 26mph.
But if there's one motor aspect that struck me the most, it's the uphill climbing capacity. This Teamgee board can climb off-road trails that inclined 30°.
However, I don't think this skateboard is best to carry around. As some buyers said on Reddit, it feels heavy to hold versus other e-skates and regular skateboards.
Pros
39″ deck with W-shaped space better stability
103mm wheels with V-shaped treads for enhanced friction
Light aluminum wheel interiors for added durability
24 hollow holes on the wheels' sides that improve shock absorption
A pair of 1200W hub motors that yield a maximum uphill of 30°
A range of 18 miles and a speed of 26 mph
No doubt, big riders and adults like this skateboard. It's not only superior in build, but it also has a design perfect for stable skating.
5. JKING Electric Skateboard
With safety as a top consideration, I'll put my bet on the JKING Electric Skateboard.
I rarely adore a brand for its citations. But with this skateboard, I feel more confident using it because of the UL 2272 certification. It certifies the item as safe in electronics and is, therefore, a skateboard suited for anyone.
The second safety feature I like about this skateboard is its stepping surface. This skateboard's deck may not have a lower center or a unique form in the middle, but its uppermost layer delivers all the wonders.
On top of it is a high-density emery grip tape that holds the rider's feet well. What I like more about this part is it's waterproof, so it does not wear out too fast.
Lastly, this skateboard is also a perfect buddy when riding at night. It comes with LED lights on the sides of the deck, enough to light up the path in dark conditions. I think this part is also smartly designed because the lights change in speed and direction with the skateboard.
This skateboard's motors are probably not the most powerful, but their mechanism feels conducive to safety. This JKING comes with a pair of 450W brushless hub motors, yielding better performance and fewer issues.
What's good about this option is the rider can still use it as a regular board when out of power. So, there's no way the user will stay stranded somewhere.
However, this motorized off road skateboard is slightly mediocre in acceleration with only three speed levels.
Pros
UL 2272 certification for safety on electronics and mobility devices
High-density emery waterproof grip tape for added rider safety and stability
LED lights on the sides of the deck for riding at night safely
Lights change speed and direction, like the board
450W brushless hub motors allowing operation without battery
This skateboard not only ensures decent off-road rides. It also protects the rider in many ways, and I think it's the brand's most significant advantage.
6. Blitzart Hurricane Electric Longboard
The last item on our list is the Blitzart Hurricane Electric Longboard, an ideal board to carry around.
One of its most notable features is its handle. It comes as a lengthy hole on the side of the deck, enough to fit the rider's hand. This aspect makes it convenient for the user to bring the skateboard anywhere.
Supporting this skateboard's hand-carry feature is its weight. Better than many skateboards on the market, this model only weighs 13.6lbs, light enough for most riders to hold with one hand. And despite weighing little, I like this model because it can hold riders as heavy as 250lbs.
Essentially, this e-skateboard has the spirit of an improved regular street electric skateboard. It comes with a wooden deck made from maple, like most boards on the market.
But what made it noteworthy in durability is the two layers of bamboo at the top and bottom. This material combination gives the skateboard a balance between sturdiness and flexibility.
If some skateboards are for advanced riders, I think this model suits beginners best, just as one buyer claimed. The Blitzart comes with two speed levels that make acceleration easy to master.
And if there's a bonus about this item, it's receiving it ready to use after unboxing. The absence of the need for assembly is extremely convenient.
On the downside, this skateboard's remote control feels slightly flimsy. One user claimed the accessory wore out faster than other skateboard parts.
Pros
Carry handle hole on the deck for easy transport when not in use
Light skateboard, only weighing 13.6lbs
Has a decent weight capacity of up to 250lbs
Deck made with maple wood and bamboo for superior durability and flex
Perfect skateboard for beginners with two speed levels
Ready to use upon arrival
Cons
Remote control is slightly less durable
I love the natural feel of this skateboard through its deck. It's convenient to bring, and I think it's a perfect practice board for many.
What to Look for When Buying Off Road Electric Skateboard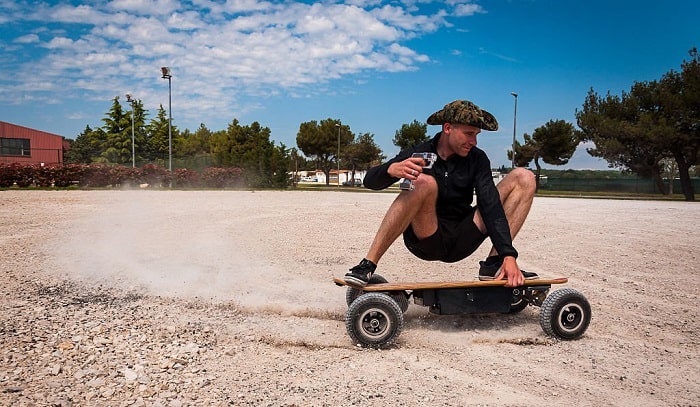 Getting a cheap off road electric skateboard requires more attention to detail because we are not dealing with a regular skateboard but one powered by batteries. Consider the following factors.
Before we understand how quality skateboard rides are possible, let's try to achieve the perfect e-skate build first through the following.
In this part, we'll focus on two aspects: composition and shape. E-skateboard decks have unique shape variants that all offer significant benefits. These are W-concave, concave, and flat.
Concave e-skateboards have edges angled higher from the center. This aspect lets the rider carve smoothly and with stability.
On the other hand, W-concave decks best adapt to the shape of the rider's feet. In effect, the user gets to grip the skateboard better.
Last on the list is the flat e-skate. It comes as a deck without angled edges or lowered centers.
For the deck composition, we can have two based on the products we reviewed: carbon fiber and maple.
In general, skateboards made with carbon fiber are superior in durability. They are also safe by extending protection to other skateboard parts like the batteries.
Another design on our list is the maple e-skateboard. Skateboards of this composition do not solely use maple on their deck. Most brands produce these natural-looking boards with added bamboo layers on the top and bottom.
This composite of materials provides the skateboard with optimum flexibility. And most of all, these components are perfect for off-road rides because they can absorb shocks.
Here, we'll introduce two types: suspension and double kingpin trucks. Let's get into each of them.
As mentioned, e-skateboards use double kingpin trucks most of the time. These trucks make your turns sharp. And with their broad adjustability, there's no way you can't balance perfect carving and stability.
Another benefit of using this truck type is you get sufficient skateboard height. So, it could be a way of protecting the deck against wheel bites.
On the other hand, suspension trucks are like maple decks in purpose. They aim to neutralize shocks caused by bumpy off-road paths. But unlike the previous type, these trucks don't have the luxury of a big turning radius.
They can manage short corners, but never those conquered by double kingpin trucks.
Wheels for electric skateboards usually have some specific features. Let's know more about them.
The first known type is the pneumatic tires. These rollers work well with the right air pressure inside, depending on your style and the trail's condition. Pneumatic tires also come in multiple sizes, with 6″ to 8″ being the most common.
Not only that, but this tire type also has patterns or treads outside. And these do not come without a purpose. You can choose a tread pattern for on-road skating, off-road, and some terrain that's neither smooth nor rough.
The second type is the rubber wheels. Their most salient feature is being airless, which is their significant advantage over the previous example.
Using these wheels means there's no need to check the tire pressure every time. Also, with them, you won't have to worry about sharp objects ruining your wheels.
And since we're dealing with non-manual skateboards, we should emphasize how important a well-functioning battery is.
The simplest way to know a battery's capacity is by checking its Watt/hour ratings. Some batteries use mAh to measure the battery's power, but both units follow the same rule; the higher the number, the more power the battery has.
Note that regardless of the battery's rated capacity, we should still balance it with all the skateboard parts consuming power. That way, we can keep the motors, ESC, and the entire board functioning efficiently.
In this aspect, we'll try to understand the limits of an electric skateboard and how to balance them to ensure quality rides.
Whether on city roads or in the countryside, there'll always be mini hills. And for this purpose, the e-skates need sufficient hill-climbing power. On average, electric boards have a hill-climb capacity of 15% to 20%, while some famous brands can reach 30%.
Every one of us wishes to reach more than a couple of destinations in a single charge. However, that's not the case for battery-powered devices like skateboards.
Despite that, there is still a way to achieve a decent range. And that is by searching for an e-skate with a good mileage. On average, electric skateboards travel 18 to 22 miles on a single charge. Others reach 30 to 40 miles, but these are what we call electric skateboard long range.
Of course, speed sets the gap between e-skateboards and regular boards. We can value how fast these battery-powered skateboards are, but we need to consider one thing when riding off-road.
While decent speed gets you ahead of other skaters, it would matter less for rough trails because acceleration counts more. Better get over these surfaces rather than beat some time and speed record.
So, what is a decent e-skate speed? You can choose one that operates at around 26mph to 35mph. Other skaters even go for an 18mph speed for cruising purposes.
Friendly reminder: also consider your safety when choosing the skateboard's speed.
Not to say that e-skateboards are always expensive, but finding decent brands under $500 is now challenging. With the current market demands and innovations anywhere, most electric skateboards have prices of around $700 to $2,000.
Whatever brand and model you pick, ensure it has the best configurations for you. We can't prioritize the cheapest and disregard performance. E-skateboards are much pricier than the regular ones, so be extra careful in the selection process.
Off-Road Vs All-terrain Electric Skateboards: What's the Difference
Does an off-road e-skate differ from an all terrain electric skateboard? Generally, no. But in a strict sense, yes. Let's see how.
Off-road skateboards best work on rough surfaces. But if you want a more versatile take on e-skateboards, you can use an all terrain electric longboard. All-terrain e-boards work on both off-road and concrete roads like city streets.
I would not advise using off-road skateboards on paved roads because they wouldn't yield quality results.
Why Use Off-Road Electric Skateboards
Off-road electric skateboards give you the freedom to ride the sand, grass, and dirt like a pro. Will typical e-boards work in these places? They might, but you won't have a good ride.
Besides being the most suited e-skate type for rough terrains, off-road skateboards are also naturally durable.
What Terrain Can I Ride My Off-Road E-Skateboard on
The great news about e-skateboards today is that they can now dodge all terrain types. These terrains include sand, gravel, grass, forests, and dirt. While off-road e-skateboards can also work on paved trails, we still won't advise doing so.
Instead, you can opt for an e-skate that works both on paved and off-road trails.
Is There Any Maintenance Required
The care you have for e-skateboards should, at least, be the same as caring for regular skateboards. It's best to be even more diligent with maintenance, given that you'll be dealing with electronics and other sensitive parts.
The first on our maintenance checklist should be cleaning. That way, we can prevent dirt buildup, which leads to faster wearing.
Second, we need to perform regular check-ups on pneumatic wheels. As mentioned, these rollers work with the appropriate air pressure. And after hours of riding, we can't expect the same amount of air to remain inside them.
Specifically, we should keep the air pressure in the wheels at 35-50 PSI. But if the package directs other figures, follow it.
Conclusion
Adventure isn't only possible with cars and mountain bikes. Sometimes, we only need to venture into other transportation modes to discover that skateboards can also be a perfect outdoor buddy.
As mentioned, there are several factors to consider to ensure that we'll skate through nature trails and grass paths with ease. And with the best off road electric skateboard, your rides will be easier and more accurate.
Be mindful of the details discussed, and make the best of your money. If you have more inquiries, kindly leave them in the comments section.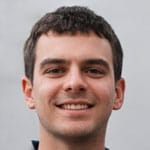 Hi, I am Charles Harris. I opened this site to write as much as I can about my biggest passion – skateboarding!
I started as a clumsy yet passionate rookie 10 years ago to now a still passionate yet much better skateboarder! But I have to tell you, the whole journey has always been fun and rewarding, indeed not without hardship.