Like any sport, whether indoor or outdoor, skateboarding also requires the right pieces of equipment. And with different kinds of rides available to all levels of skateboarders, we must know how to pick a skateboard based on each type of ride.
If there are skateboarders who like to do tricks, there are also others who love to cruise. And if you're one of the latter, let me show you the best cruiser skateboard options. But first, here are a few things we need to consider.
Deck construction: Even if you're not jumping on your board too often, you still need to ensure you're using a sturdy deck. Cruiser decks, like most skateboards, come with maple wood as the primary material. Some also use bamboo, fiberglass, grade-A plastic, or a combination of these materials. But as a rule of thumb, the better the deck quality, the more you will have to pay. So, you can also check which of these fits your budget.
Wheels: In general, soft wheels are perfect for cruising. To be more specific, look for rollers with a hardness range of 78a to 87a. Pair them with soft bushings as well, as these parts have enough grip to get through rough surfaces and small debris.
Another wheel aspect you need to check is its diameter. For cruising, it's best to have a wheel diameter of 65mm, proportionate to most cruiser sizes of around 34″.
Trucks: Skateboard trucks become a concern if the rider does not know the perfect tightness for his specific type of ride. For cruising, your trucks have to be loose to help you glide through narrow roads.
Also, consider looking for trucks made with quality alloy, like aluminum. This material is durable enough to handle weight and motions on the board.
Selecting a new skateboard may not be an easy task. So, let me share with you the most trusted cruiser board brands to help you choose better. Don't forget to check out the buying guide to know more details about picking the perfect cruising skateboard.
Top 1
Retrospec Quip Skateboard
– PU rollers with ABEC 7 bearings
– Lightweight and easy to bring
– Comes at a reasonable price
Top 2
Magneto Mini Longboard
– Comes with a T-tool for quick adjustments
– High-quality and durable trucks and wheels
– Transparent sand grit tape on top
Top 3
Beleev Cruiser for Beginners
– 7-ply 8″ Canadian maple deck
– Waterproof non-slip emery grip tape
– Loads 220 pounds at maximum
12 Top-rated Cruiser Skateboard Reviews
1. Retrospec Quip Skateboard
I only own a few quality skateboards, and the Retrospec Quip Skateboard is one of them. This cruiser board features a sleek plastic deck that offers enough flex and is durable enough to handle some weight. This board feels stable, and at the same time, I need not worry about it breaking too soon.
Apart from its sleek body, this skateboard also has minimal weight. For someone who commutes a lot like me, this skateboard's 3.75-lb weight is such an advantage. Not only do I get to ride it smoothly, but it also doesn't give me a hard time bringing it anywhere.
I also love the rollers of this skateboard. On top of their polyurethane body, Retrospec wheels come with quality bearings as well. I'm not particular about being speedy on my rides, but this skateboard's ABEC 7 bearings make it easy to maintain my momentum. These components also free me from exerting too much effort kicking the board.
I think this brand is one of my best buys for skateboards in terms of the price. Even other users on Reddit shared the same thoughts. It's not a huge bargain, but it's far from being pricey. Also, its performance is way beyond the amount I paid.
However, I had to spend quite some time taking off the plastic from the bearings of this skateboard. Nevertheless, it did not damage this component, nor did it affect the board's performance.
Pros
A sleek and durable plastic body that has enough flex and stability
Lightweight and easy to bring, weighing 3.75 lb
PU rollers with ABEC 7 bearings that help maintain momentum
Comes at a reasonable price
Cons
Hard to remove plastic from the bearings
I am happy about investing in cheap cruiser skateboards like this brand. This option has a good shape, quality board materials, and is an affordable board as well.
2. Magneto Mini Longboard
Made with a 27.5 x 7.5 body, the Magneto Mini Cruiser Longboard is one of the most portable cruiser skateboards I have. I find these dimensions a perfect proportion because I get to ride the board with ease. Also, the stepping surface is just adequate for my feet.
I think the wheels and trucks of this cruising longboard are must-haves. Magneto's trucks come from gravity-cast aluminum with a dense and durable construction. Plus, its wheels and bushings are of high-quality PU. These components make this skateboard more responsive and sturdy as well.
One more thing I like about the Magneto cruiser is that it preserves the deck's natural color. Unlike some brands that use solid-colored grip tape, this skateboard uses a sand grit finish on top. It does not have any color, thus keeping the deck's original shade. With this, I get a perfect combination of style and safety during my rides.
Like most skateboarders, seeing a free T-tool in the package feels more of a luxury for me. This tool comes with an Allen key, sockets, and a wrench head that make adjustments easy for me. And so, I get to tighten my trucks or do other things on my skateboard without having to drop by the store to buy this tool first.
On the downside, its deck design does not prevent much wheel bite compared to other boards. Anyway, I found a solution in tightening the trucks a bit, so the deck's sides do not swipe the wheels.
Pros
5 x 7.5 size that's portable and has a comfortable stepping surface
High-quality and durable trucks and wheels
Transparent sand grit tape on top for safety and a natural but stylish look
Comes with a T-tool for quick adjustments
Cons
Does not prevent much wheel bite
This is the top-rated mini cruiser skateboard I have. It's user-friendly, and its parts are way beyond other brands.
3. Beleev Cruiser for Beginners
Aside from the Arbor cruiser board, the Beleev Cruiser for Beginners helped me master cruising smoothly. Not only does this skateboard come with wheel wells but riser pads as well. With these, there'll be enough clearance between the rollers and the bottom of the deck. And so, I get to prevent wheel bites.
Beleev is also an ideal choice for me because of its high weight limit. With its 7-ply Canadian maple deck, this skateboard carries a maximum load of 220lbs. Plus, this 8″ deck is wide enough to help me step on it comfortably. These two make a perfect combination for my stability on the board.
This cruiser skateboard for beginners has a good shock absorption capacity as well. It comes with 5″ aluminum trucks that provide support for the wheels. And on these trucks are high-rebound bushings with enough bounce and the ability to minimize shocks on the skateboard.
Beleev's cruiser boards for beginners have a quality stepping surface. This option comes with a waterproof emery non-slip grip tape that keeps moisture away from the wood. Also, this sheet has high friction, giving enough grip and safety when I'm on the board.
The only issue I had with this skateboard was the printed design at the back of the board. It chipped too quickly. But other than that, the skateboard works well.
Pros
Wheel wells and riser pads that help prevent wheel bites
7-ply 8″ Canadian maple deck that's comfortable and stable
Loads 220 pounds at maximum
5″ aluminum trucks with high-rebound bushings offering shock absorption
Waterproof non-slip emery grip tape for grip on the board
Cons
Printed design at the back chipped quickly
Overall, this skateboard is a lucky pick for me. It performs well, and it gives a comfortable ride every time. With its high-quality components, I think this board is one of my long-lasting cruiser skateboards for beginners.
4. Landyachtz Dinghy 28″ Complete Skateboard
Like other respected cruiser skateboard brands, the Landyachtz Dinghy 28″ Complete Skateboard is also one of the cruising boards I love because of its components. One of them is its maple deck. This board comes with a 7-ply maple deck that's durable. And with that, I get to stay on the board balanced.
Another aspect I like about this brand's deck is its wheel flares. The sides of a cruiser are more likely to swipe the wheels during turning or carving. So, with these cuts on the deck, there will be enough clearance for the wheels. Consequently, wheel bites are less likely to happen.
To me, the size and weight of this skateboard have a significant advantage as well. With its 28″ body, this cruiser gets through small areas. Also, I get to carry it around the village or campus with ease because it only weighs 5.5lbs. These features make this board lightweight and portable.
I may not perform tricks often, but the nose and tail of this skateboard are a big help for me. The Landyachtz cruiser comes with enough pop on its tail, perfect for flip tricks. Plus, its nose is spacious enough for shuvits. With these, I get to control the board better and get over some road obstacles with ease.
The only issue I saw in this product was with the grip tape. I got a small portion of the grip tape scratched even before I used the skateboard. Nonetheless, I think it was not a major problem.
Pros
7-ply durable maple deck that offer steadiness and balance
Wheel flares on the deck that help prevent wheel bite
Fits through small areas and is lightweight
Has enough pop on the tail and space on the nose
Overall, I like how this skateboard performs. It's easy to bring, and the wheel flares help preserve the deck and wheels.
5. Globe Big Blazer Cruiser
One of the features I find unique about the Globe Big Blazer Cruiser is how its deck looks. This brand uses pearlescent inlays and fine edge details on their top cruiser skateboards, including this one. These features make the skateboard look neat and classy for me.
I also love the cruiser wheels of this brand. They come with a high-rebound urethane body that allows for excellent grip. Plus, these 92A rollers are smooth-running, abrasion-resistant, and fast. Not only that, these wheels are also compatible with other deck shapes, making them versatile.
I think another factor that adds to the speed of this skateboard's wheels is their bearings. Globe cruiser boards come with ABEC 7 bearings that spin longer and faster. And with these wheel cores, I get to push less frequently while keeping more running momentum on the board.
Globe cruiser skateboards use quality standard trucks as well. These components are adequate for the deck's 32″ x 9″ size and are durable enough. They also feel steady, and they helped me learn to cruise faster.
For a cruiser that uses quality and durable materials, I think this skateboard is worth spending money on.
I think it's a delivery issue, but I would have been happier had the deck arrived with no scratches. Nonetheless, those did not affect the board's performance.
Pros
Pearlescent inlays and fine edges that make the board look classy and neat
92A smooth-running, abrasion-resistant, and versatile rollers with high rebound
ABEC 7 bearings that offer better rolling speed and momentum
Standard durable trucks that are steady
Worthy of its price
Cons
Some scratches on the bottom side of the deck
This budget cruiser skateboard is a fast and smooth one for me. I get to ride almost any kind of road with ease, and I love looking at its classic finish every time.
6. Flybar Skate Cruiser Board
In terms of deck construction, the Flybar Skate Cruiser Board is one of the cruiser models that balances durability with its weight. It comes with durable 7-ply maple wood that keeps me steady and confident on the board. Also, this skateboard is lightweight, making it easy for me to take it anywhere.
I think one of the factors that make this board better is its trucks. They come with an aluminum body and a powder-coated finish that makes them durable and corrosion-resistant. Also, on these trucks are 6mm riser pads that keep the bottom surface of the deck at an ample distance away from the wheels.
The wheel set of this skateboard brand is also of good quality. These 60mm rollers are of a 78a durometer hardness that offers enough control and smoothness throughout my ride. They also have ABEC 9 chrome bearings that add to the speed of the skateboard.
Another aspect I like about this skateboard is its deck shape. Besides being a durable maple deck, this skateboard deck comes in a concave shape with a kicktail and wheel wells. These features allow for better cruising and carving around my village.
On the downside, I found a few tiny air bubbles on the grip tape of this skateboard. Good thing they were not big enough to disturb my rides.
Pros
7-ply maple deck that offers durability and is lightweight
Powder-coated and corrosion-resistant aluminum trucks
6mm riser pads that leave enough space between the wheels and deck
78a wheels with ABEC 9 bearings for a smooth and fast ride
Concave deck shape with a kicktail for better carving and cruising
Cons
Air bubbles on the grip tape
Overall, I love the combination of materials on this skateboard. They make for a good style, and the board performs better than I expected.
7. Beleev Complete Cruiser Skateboard
One of the unique features of the Beleev Complete Cruiser Skateboard is its stepping surface. This deck portion utilizes a fishtail texture on top that makes the board non-slip and safe even for kids starting to skateboard. It feels steady, and it even looks pleasing to me.
Another aspect that makes this skateboard ideal for kids is its 30° kicktail design. This angle allows for some sharp brakes, pivots, slides, and turns. It also makes the skateboard more maneuverable. Plus, the 6'' deck width looks perfect for kids and young riders.
I think this cruiser board is a strong one as well. Coming with a polypropylene body, this board can load anyone at a maximum load of 220lbs. It also has thick aluminum trucks that share the weight on the board. With these aspects, I get enough balance and steadiness on my rides.
The last thing I love about this brand is its inclusion of a T-tool in the package. My nephew doesn't adjust his skateboard often, but him having this tool makes me at ease. He can tighten or loosen things up or even remove some parts that need replacement anytime.
I think this board requires a bit of fine-tuning before use. I adjusted its trucks so it could turn well.
Pros
Fishtail texture on the deck for safety and style
30° kicktail for better maneuverability and trick execution
6″ deck fit for kids and teens
Polypropylene deck body and thick trucks that load a maximum of 220lbs
Comes with a T-tool in the package
Any beginner or kid would love this skateboard because of its user-friendly structure. It's one of the easiest and safest complete cruiser skateboards I've seen.
8. Gonex Mini Cruiser Skateboard
The first feature I love about the Gonex Mini Cruiser Skateboard is its wheels. These 60mm rollers, other than their lively finish, are of high quality as well. They come with polyurethane casting that makes them wear-resistant. Also, they don't slip easily, making my rides safer.
One more safety feature of this mini cruiser board is present beneath its deck. At first, I thought it was only a design. But when I used the skateboard, its four columns allowed for durability and a high weight capacity. With these, someone as heavy as 198lbs can enjoy this skateboard.
This skateboard's set of trucks make gliding and turning smooth for me. They come with aluminum bodies with hot-rolled steel axles, allowing me to control the board better. Plus, these components have bouncy bushings that make quick rebounds.
In terms of portability, I think this cruising skateboard is a top choice. With its 22″ x 6″ body, I get to fit it almost anywhere, like my bag. Also, it only weighs 3.6lbs, so light that even a kid can handle it. So, taking this skateboard to cruise anywhere has never been an issue for me.
Like some users, I also found some scratches on the painted design on the board. I think it's something to do with the shipping of this item. Anyway, I can still use the skateboard well.
Pros
60mm PU-casted rollers that are wear-resistant and stable
Four supporting columns that allow for a high weight capacity
Aluminum trucks with hot-rolled steel axles for better maneuverability
Bouncy bushings that make quick rebounds
Portable and lightweight skateboard
Cons
Some damage on the painted design
I think it's the columns that made this brand a perfect choice for me. The rest of its components are also of excellent quality, and I think this is one of my top-performing mini cruisers.
9. Kryptonics Super Fat Cruiser
The Kryptonics Super Fat Cruiser may not be as long as some of my skateboards, but it has an exceptional width, vital for my feet positioning. This cruiser features a deck as spacious as 9.75″, almost the same size as my shoes. With this, I get enough room to move my feet and be more flexible with my stance on the board.
The second feature I love about this skateboard is its deck construction. It has eight durable layers of laminated wood. Also, it has perfectly coarse grip tape on top that makes the skateboarder stable. These two make a perfect combination of safety and durability.
This skateboard has superior component protection as well. At the bottom side of the deck are 12mm riser pads. These features leave enough space between the board and the wheels to prevent scratching, especially when carving.
Other than being durable, safe, and self-protecting, this skateboard is also a versatile one. It works for pros, beginners, kids, and adults. And with that, I get a comfortable ride every time I use it. As long as the rider weighs 220lbs or less, this skateboard can perform well.
The only downside about this skateboard is its bearings. These ABEC 5 wheel cores were a bit slow. I changed these bearings to a better variety, and the board worked better.
Pros
Spacious 9.75″ deck that allows for better movement on the board
Comes with eight layers of laminated wood for durability
Coarse grip tape for safety
Has 12mm riser pads for wheel and deck protection
Perfect for riders of all ages and levels
220lbs weight limit
I feel safe and confident riding this skateboard because of its structure. It also works well no matter the skills a rider has.
10. SereneLife Complete Standard Mini Cruiser
The SereneLife Complete Standard Mini Cruiser is one of my best choices when incorporating cruising and doing tricks. This skateboard comes with a double warped design fit for slides, street skating, pivots, and sharp turns. Also, it works for all skateboarder age groups and skill levels.
This skateboard for cruising and tricks has a high-quality wheel set as well. It features soft 85a PU wheels with ABEC 7 bearings that make for a very smooth ride. The wheels also come with a 60mm diameter that yields a better rolling distance. With these, I get to have a faster and smoother ride.
One factor that adds to the durability of this skateboard is its extra layer of bamboo. It may not have as many maple layers as other brands, but its bamboo component makes the difference. The skateboard feels sturdy, and it makes me feel confident stepping on it no matter the length of my ride.
I think convenience is also one of this brand's advantages. Unlike other skateboards that need installation upon receipt, this cruiser is ready to ride upon unboxing. I'm happy I got to test it and use it immediately without needing prior adjustments.
There was one issue with the printed design of this skateboard. The logo was not at the center, which was a bit noticeable. Good thing the logo was at the bottom side of the deck. The rest of the skateboard was fine in terms of appearance.
Pros
Comes with a double warped design fit for some tricks other than cruising
For all age groups and skills levels
85a soft wheels and ABEC 7 bearings for smooth rides
60mm wheel diameter for a better rolling distance
Added bamboo layer for more durability
Arrived ready to use
Cons
The printed logo was not centered
Overall, it's one of the most comfortable complete cruiser boards I have. I love how the wheels respond to the ground regardless of my riding style.
11. Sanview Bamboo Skateboard Cruiser
The Sanview Bamboo Skateboard Cruiser is one of the boards I consider unique because of its deck construction. Like most skateboards, it has six layers of maple wood. But what I like about it is the additional layer of bamboo. This material makes the skateboard more durable and flexible as well.
Not only does this skateboard have a sturdy construction, it also has a spacious body. Sanview's deck is as wide as 9″ and as lengthy as 34″. These measurements are big enough to fit adult riders like me. Also, with these sizes, I get to move freely and comfortably on the board.
This skateboard cruiser has got wheels and bearings as well. It comes with 70mmx51mm polyurethane wheels that are elastic and of high rebound capacity. Plus, at the cores of these rollers are ABEC 9 bearings that make the rolling more precise. With these two combined, I get adequate speed and smoothness on my ride.
One more thing I love about this brand is how it protects its components. Like some good cruiser skateboards, Sanview also uses an anti-bite technology that prevents the contact of the wheels and the bottom side of the deck. Through this feature, the lifespan of the skateboard lengthens.
On the downside, there were a few air bubbles on the grip tape of this skateboard. The printed graphics would have looked perfect had these grip tape issues not existed.
Pros
Has one bamboo layer and 6 maple layers for added durability and flexibility
Spacious stepping surface
PU wheels and ABEC 9 bearings for speed, smoothness, and precision
Uses anti-bite technology for the skateboard's longevity
In terms of performance, I love this skateboard because it runs smoothly. Plus, it has a sturdy structure, and it's a fun board no matter how long I ride.
12. Playshion Cruiser Skateboard
Coming with a slim and light body, the Playshion Cruiser Skateboard is one of the most portable skate cruisers I have. This skateboard only weighs 3kgs, not too much of a burden for young riders. Also, it comes with a 28″ length, able to fit almost anywhere. Because of these features, I use this skateboard often.
One unique aspect of this skateboard lies with its grip tape. Compared to some brands that have either transparent or solid black sheets, Playshion made these coarse surfaces with aesthetic designs. So, not only do I get safety while riding, but I also love the stylish finish of the skateboard.
I find this skateboard easy to control as well. It has double kick tails and a concave deck construction that makes different board actions easy for me. Using these features, I get to change the skateboard's direction, brake on the board, and do a few stunts.
What I am happiest about with this skateboard is its inclusion of a T-tool. Through this accessory, I get to adjust my skateboard conveniently. Plus, I also got to save money from buying a separate one.
I was expecting to have the bearings installed on the wheels of this skateboard. However, none arrived when I opened the package. I think it's an issue with the manufacturer.
Pros
Slim and lightweight skateboard with a 28″ length and 3kg weight
Unique grip tape with printed design
Concave deck shape with a double kicktail for better maneuverability
Includes a T-tool in the package
Cons
The bearings did not come with the wheels
Despite that, I love taking this skateboard anywhere with me. It's convenient, easy to ride, and performs as expected.
What to Know Before Buying Cruiser Skateboards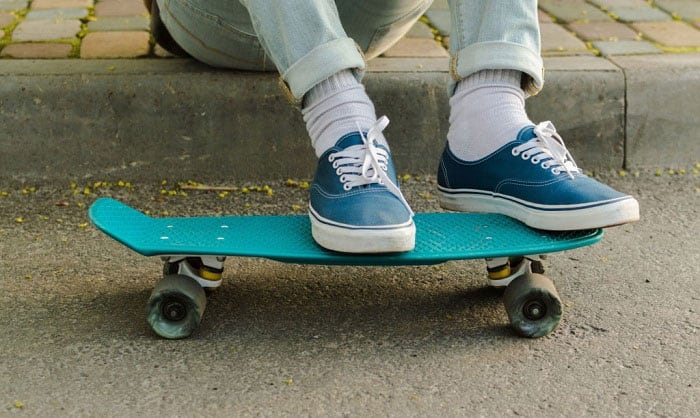 A cruiser is one you can use for commuting, roaming around town, or as a beach cruiser skateboard. Here are a few things you need to consider before getting one.
Skateboard deck attributes
A good cruiser deck needs to have enough flex. This characteristic is present in materials like maple wood. On average, a cruiser board has around 6-9 layers of Canadian maple wood, enough to carry the user during long rides.
You also have to consider the deck's durability. Maple wood, by nature, is durable. But when added with a layer of bamboo or fiberglass, it gets more resistance to breaking.
One more deck characteristic you have to check is its width. You will be standing on the skateboard for a long time. That means you need to be comfortable on it by having enough stepping surface. To cruise comfortably, you can look for deck widths of around 6″ to 9″.
For cruiser skateboard decks, you should also not miss checking out their shape. Two board designs work for cruising: the pintail and the top mount kicktail. The pintail has two pointed ends with the wheels' spaces broader than the deck. On the other hand, the kicktail design has a sharp or rounded nose, and is wider at the back with a shorter wheelbase.
Trucks
Your movements on the board have a direct impact on the trucks. And while these components are adjustable, you still need a pair of quality trucks. Common among high-caliber skateboards are aluminum alloy trucks. And to add more durability to these, some brands apply a powder-coating finish on them.
Wheel features
As a rule, your cruiser board wheels have to be soft and wide enough to achieve a perfect cruising experience. For the wheel hardness, look for those within a durometer scale of 78a to 87a. These rollers have the ideal softness and grip to keep you riding smoothly.
In terms of size, it's best to have cruiser skateboard wheels of at least 65mm in diameter, proportionate to a 34-inch deck. This wheel size can also work with other cruiser sizes as low as 28″.
Grip tape
Safety remains a priority in any physical activity you do, which is why your skateboard needs a layer of quality grip tape. A likely characteristic you can see from a grip tape is a coarseness of 80S. Also, you need to ensure that it does not have tears or air bubbles. That way, no grip tape issues bother you when riding.
Grip tape also comes with design variations. You can have a transparent sheet should you want to preserve the natural color of your deck. If you want an aesthetic layer, there are also grip tape options with printed designs on them. Lastly, the solid black sheet is one of the most commonly used because of its clean finish.
Repair tool
Besides an assembled skateboard out of the package, it's an advantage to receive a T-tool with it. This device is a skateboarder's go-to solution for adjustments, repairs, and maintenance on any part of the board.
So, when selecting skateboard brands, you might as well consider picking those that come with a T-tool. That way, you get to save money and worry less about issues on your skateboard.
Cheap cruiser boards are less likely to yield good results. Regardless of the skateboard you want, always consider these characteristics to ensure you'll pull off quality cruising rides.
Are Cruiser Boards Easier to Ride
Cruising aims to give the skateboarder smooth rides, which means good cruiser boards need not be complex. The only goal of a cruiser board is to make the user comfortable when riding. Its structure makes it ideal for some distance and allows better maneuverability. Compared with standard skateboards and longboards, cruisers, in all these aspects, are easier to ride.
How Do I Choose the Right Size Cruiser Skateboard
Regardless of your age, your shoe size can be a determining factor in selecting the perfect board size for you. So, if you're a guy and using a pair of shoes with a US 10 size, look for deck widths of around 8.5″ or higher. Note that the length of cruiser boards may not matter as much as their width.
What Is the Most Trusted Cruiser Skateboard Brand
Various factors need consideration when selecting the right cruiser boards. Like an Arbor cruiser skateboard, you always want to have a combination of performance and durability.
For my overall pick, I'd choose Globe as the most trusted cruiser brand. Globe's skateboards for cruising have an ideal balance of design, performance, durability, and price. All these aspects make their skateboards not only trusted but preferred by users like me.
How to Ride Cruiser Skateboard
Cruising does not require too many techniques to execute. Here are a few steps to cruise on a skateboard.
Secure proper foot positioning and balance on the board
Push your board with your front foot pushing the deck and the back foot kicking backward
Obtain stability on your board in motion
Lean with your shoulders towards the direction you want
If you're interested, we've rounded up some more skateboards that might work for you, click here to learn more of the top-rated carver skateboards and the most popular pop skateboards.
Conclusion
Skateboarding is a craft, and every skill you master requires the right pieces of equipment. In cruising, you can't commute or roam around without the most appropriate board on hand.
With the tips I have shared with you, you're now a step closer to choosing the best cruiser skateboard for yourself.
Prepare for more relaxing and windy afternoon rides with the best cruisers. Don't forget to leave your thoughts in the comments section. Ride safely!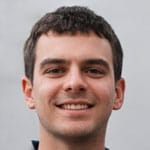 Hi, I am Charles Harris. I opened this site to write as much as I can about my biggest passion – skateboarding!
I started as a clumsy yet passionate rookie 10 years ago to now a still passionate yet much better skateboarder! But I have to tell you, the whole journey has always been fun and rewarding, indeed not without hardship.