Are you ready to dive into the world of skating? Before getting started, you need the right board, one that fits your foot size.
The journey might be tricky, especially if you don't have a skateboard store nearby, and you'll probably have to scout online or in other areas. In this article, we will help you know what skateboard size is the best for a size 12 shoe and more!
Size 12 Shoe What Size Skateboard to Use
For starters, you have to know that your shoe size is entirely relevant to your board choice. Whenever you do turns, ollies, and other tricks, properly fitted shoes not only ensure comfort but also maintain a good connection with your board. Skate shoes are quite popular these days because, well, they are made specifically for the sport.
The skateboard size for size 12 shoe that we recommend is 8.38. However, this one is quite hard to spot these days, so the best alternative is an 8.25 deck, which is more favored by manufacturers. But if you are physically bigger and are not very much sure of the first two sizes, an 8.5 wouldn't hurt.
Shoe Size Guide
But what if your shoe size is not 12? Worry not; we prepared a table for you to follow. The table contains basic recommendations for all ages.
Deck
Width
Length
Age
Height
Shoe Size
Micro
6.5" – 6.75"
27.2" – 27.6"
5 years old or younger
Under 3'5"
Size 3 or smaller
Mini
7.0"
28"
6 to 8 years old
3'5" – 4'4"
Size 4-6
Mid-size
7.3"
29"
9 to 12 years old
4'5" – 5'2"
Size 7-8
7.5"
29"
Over 13 years old
5'3" and taller
Size 9 and up
Standard
7.5" – 8.0"
31''-31.38''
Over 13 years old, including adults
Up to 5'6''
Size 9 and up
Large
8.0" – 8.25"
31.38''-32''
5'6'' and taller
Extra Large
8.25" and larger
32'' or longer
Other Than Your Shoe Size
However, shoe size isn't the only factor that we have to consider. Naturally, you should also consider your build and body type. If you are a kid, it is obvious that you should take a mid size skateboard.
Experience is also important, as thinner decks are best for starting youngsters. Usually, a 7.5 skateboard or 8" will do because this type is easier to maneuver.
Also, you may find skateboard sizes in cm and in inches. So, always be mindful of the system of measurements.
It is vital for you to choose what's right for you, but more importantly, a board with which you are comfortable and confident the most. Taller individuals usually prefer full-length boards because these can carry them well.
Finally, don't forget the deck's shape! It has a major influence, especially on the way the board feels when you hold or ride it. For example, the twin-tip design is good for riding switch, and decks with pronounced concaves are recommended for tricks.
Pro Skaters' Choice
Just like us starters and other riders, professional skateboarders use different skateboard sizes. It is entirely up to their preference, the skating area, and the board's specific use. That said, they generally pick 8.5-inch boards.
Conclusion
Whichever product you will pick, we hope this article was of help in finding what skateboard size is the best for a size 12 shoe. If you are still unsure, you can always go back here and reread the article.
Always remember that your comfort and safety should always come first, especially if you are a beginner and just working your way into sport.
Most importantly, you aren't really required to stick to one size. You are free to explore other board dimensions, finishes, and even make as many modifications as you want!
Do you have size 12 skate shoes? Feel free to share your board setup with us. Thank you for reading!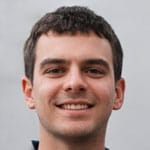 Hi, I am Charles Harris. I opened this site to write as much as I can about my biggest passion – skateboarding!
I started as a clumsy yet passionate rookie 10 years ago to now a still passionate yet much better skateboarder! But I have to tell you, the whole journey has always been fun and rewarding, indeed not without hardship.