Traffic jams are inevitable. Whether you're bringing your car or riding public transportation to your college campus, once the road's crowded, you risk being late to class. And while several people can agree on this, not everyone has the best solution to it.
Never let these road issues ruin the peaceful mood inside you. Use the best skateboard for college, and make it to your school before class starts. But before that, here're a few things you need to remember.
Like a skateboard for commuting, college cruiser boards also have an average length of 28"-31″. This size makes it easy for any rider at any level to control the board. For the width, 8″ is not a standard size but is the most commonly used dimension for cruiser boards. This stepping space provides enough room for the rider to move comfortably and confidently.
Besides securing the perfect measurements of your deck, one more aspect we also need to ensure is its load capacity. And with most college students weighing almost the same as adults, it's best to search for brands that can withstand enough weight.
As a rule, look for skateboards that can load a minimum of 220lbs. If you want to be more sure, you can also find other brands that can carry heavier riders weighing 250lbs or higher.
At any point, you might ride your skateboard around campus. And with that, your wheels have to rise to the occasion. As a guide, look for wheel sizes ranging from 52mm to 58mm. Rollers of this size are perfect for the streets and offer just the right amount of speed.
Heading to your college campuses using a skateboard is exciting, provided you have the right gear. So, be sure to get into the buying guide at the end of this article to know more about the board set-up perfect for you. But for now, let me introduce you to these skateboards for college students.
Top 2
Cal 7 22″ Skateboard
– 60mm wheels with ABEC 7 bearings
– 22-inch deck length
– Controllable
Top 3
Sangde Complete Skateboard
– Aluminum trucks
– ABEC 11 bearings
– High-strength nails
Top 10 Skateboard for College Reviews
1. Scientoy Beginner Skateboard
The Scientoy Beginner Skateboard is one of the stablest skateboards I have. It comes with a combination of 95a high-rebound wheels, ABEC 7 precision bearings, and a pair of 5″ aluminum trucks, which all reduce shocks and keep my rides smooth.
Another feature I love about this college skateboard is its shape. The Scientoy comes with a double kick mellow concave design, which gives the rider better board control. Not only that, but this skateboard shape also allows for some basic tricks like ollies, slides, and pivots.
Besides performing tricks or challenging rides, this skateboard shape also makes the board fit for riders of any level. It gives my feet a snug fit when I step on it, and I don't have to exert much effort to move the wheels. So, beginners who decide to use this college skateboard will never find it hard to learn skating.
This college board has quality aesthetics as well. Besides having a blue space design at the bottom of the deck, this brand also applies a heat transfer printing method. This way of printing increases the lifespan of the patterns, and it keeps them waterproof.
However, like other users on Reddit, I did not expect the grip tape to peel off soon. So, what I did was replace it with a more durable sheet. The rest of the skateboard's parts are sturdy.
Pros
Comes with a perfect combination of wheels, trucks, and bearings for stability
Double kick mellow concave deck shape for better control and trick execution
Skateboard shape's suitable for any rider level, including beginners
Uses a thermal printing method to keep the space design waterproof and durable
Cons
Grip tape came off too soon
Overall, this college skateboard is a good starter. It has user-friendly components, giving everyone an easy riding experience.
2. Cal 7 22″ Complete Mini Cruiser Skateboard
In a wide array of wooden cruiser boards, the Cal 7 22″ Complete Mini Cruiser Plastic Skateboard stood out.
This college skateboard features a plastic body that provides superior durability and support. It fits kids, adults, and novice or experienced riders. And with this skating board, I feel less worried about breaking my cruiser too soon.
Portability is also one of this board's advantages. With a 22-inch body length, this board fits in my bag. Plus, since it only weighs 1.76kg, it's never hard to carry. In fact, I have no problem packing this mode of transportation inside my bag every time.
One more advantage of this skateboard's size is its controllability in tight spaces. With its small classic cruiser board shape, I get to perform tight turns confidently. Also, using its grippy waffle-top stepping surface, I feel stable leaning on the board and doing sharp turns. So, not only is it an agile skateboard, but it's also a safe one for me.
On top of these, I think it's the wheels of this skateboard for college that make my rides better. The Cal 7 comes with 60mm wheels paired with ABEC 7 bearings. At first, I found these rollers a bit big, but they gave me speedy rides with the perfect balance of grip.
It would have been a perfect experience had the seller sent the color I ordered. Nonetheless, it's more of a shipping issue, and it's in no way affecting the board's performance.
Pros
Fits kids, adults, and riders of all levels
22-inch deck length and 1.76kg weight that fits inside bags and is portable
Controllable and safe for tight turns with a waffle-top stepping surface
Has 60mm wheels with ABEC 7 bearings for grip and speed
Overall, I love taking this campus cruiser skateboard anywhere. It's not bulky; it's light, and it comes in fun colors. Also, its performance does not disappoint me.
3. Sangde Complete Skateboard
It doesn't always rain, but with the Sangde Complete Skateboard, I am confident to ride in wet weather because of its almost waterproof body.
This board comes with moisture-resistant grip tape and uses thermal transfer printing at the bottom of the deck. These two attributes work well to prevent water from penetrating the board's body.
The bearings of this college skateboard are perfect. Of my skateboards, this is one of the few brands that come with ABEC 11 wheel cores. Wheel bearings at this rating are speedy, smooth, and are fit for any road. And with these, I get to ride parks, streets, and even the countryside smoothly.
This skateboard has a quality truck system as well. It comes with a pair of aluminum trucks that are durable and stable. Plus, at the center of each hardware is high-rebound damping. This PU component allows for flexible maneuver of the board and better shock absorption. I think these trucks are also a factor in the smoothness of my rides.
As an added support to this college skateboard's trucks, Sangde used high-strength nails that pierce the deck and hold on to the aluminum hardware firmly. Through these, I never experienced my truck's shaking or bolts coming loose on the deck.
However, this skateboard looked dirty the moment I received it. There was a mud spot on the stepping surface before I got to use it. Nevertheless, the entire skateboard was damage-free.
Pros
Moisture-resistant grip tape and thermal printed design for water protection
Comes with ABEC 11 bearings that yield smooth and fast rides on any surface
Aluminum trucks with high-rebound damping for control & shock absorption
High-strength nails to keep the deck and trucks intact
Cons
Arrived with a mud spot on top
I love the combination of speed and smoothness this college skateboard brings. All its components make the skateboard roll well, and I like how the deck is less vulnerable to water.
4. Magneto Mini Cruiser Longboard
Featuring a 27.5″ body, the Magneto Mini Cruiser Longboard is one of my steadiest hybrid skateboards.
This board may be a bit shorter than some of my commuting skateboards, but it comes with an 18.5″ wheelbase. This aspect helps me obtain a better stance on the board, keeping me steady at all times.
I like this college skateboard because it comes with wheel wells. This feature may be negligible for a few people, but to me, it speaks of safety for my skateboard. It provides enough space between the wheel edges and the part of the deck right on top of them. With these, I am safer against scratches and wheel bite.
This campus cruiser longboard exudes superior durability. It comes with a pair of 5-inch aluminum gravity-cast trucks and a 6-ply Canadian maple deck, yielding a reliable ride every time. What's better is that it doesn't have any plastic components, which gives me a more premium feel on the board.
Performance-wise, this longboard for college suits my riding style. It has a double kicktail body, adding versatility to the board. Plus, these asymmetric front and back kicktails make turning around corners easy. With these, I get to enjoy cruising and a few basic tricks too.
I don't think it's much of an issue, but I'd be happier had the wheels come even. They roll well when I go slow but wobble at higher speeds.
Pros
5 wheelbase for better stance and steadiness on the skateboard
Comes with wheel wells that protect the deck and wheels from wheel bite
Durable skateboard with 5-inch aluminum trucks and 6-ply Canadian maple deck
A sturdy board with no plastic parts
Has a double kicktail design fit for performing turns, cruising, and tricks
Cons
The wheels that arrived tend to wobble at high speed
I think this college skateboard for cruising and tricks is one of the most compact boards I have. But despite it being a smaller board, I'm happy with how it performs.
5. ToyerBee Skateboard
Most skateboarders love the ToyerBee Skateboard's deck durability. This skateboard features a 9-layer deck made with Canadian maple wood, offering superior toughness when riding. Not only that, but this deck also comes with a 220lbs weight capacity, carrying almost anyone around.
Besides its load capacity, this ToyerBee is also a safe skateboard. It comes with a layer of grip tape on top, providing enough friction between my sneakers and the board. Plus, this grippy sheet is also waterproof, keeping the deck more resistant to moisture and damage from it.
I also like this skateboard's speed and riding smoothness. It features a set of 55m 95a high-rebound wheels that are shock and abrasion-resistant. Also, inside these rollers are ABEC 7 bearings that provide ample speed to the skateboard. With these, I get to ride on almost any surface.
I think this board brand gives me convenience as well. It comes with a repair kit in the package, which not all brands have. This kit features a multi-functional wrench, a pair of screws for the rollers, and another pair for the trucks. So, through these, I can make adjustments to the vital components on the board anytime I want.
I needed to tighten the trucks slightly since I got a few wheel bites during my first rides with this college skateboard. I think riser pads can also help on this occasion.
Pros
9-layer durable Canadian maple wood deck with 220lbs load capacity
Waterproof grip tape for safety and moisture resistance
55mm 95a high-rebound wheels with shock and abrasion resistance
High-speed bearings
Comes with an adjustment tool and replacement hardware
Cons
The board needs riser pads or truck adjustments to prevent wheel bite
ToyerBee makes quality commuting skateboards. And with this product, I have enjoyable rides every time. Plus, I got some extra cost savings because of the repair kit included in the package.
6. POSITIV Team Complete Skateboards
Made with a spacious body, the Positiv Team Complete Skateboard is one of my most comfortable skateboards.
This board comes with dimensions of 31″ x 7.5″, which provide enough space for my movements. With these, not only do I feel stable on the board but a bit more confident as well.
This college board consists of super hard 54mm wheels. These rollers come with a 99a hardness level, letting me ride the streets and parks easily. Not only that, these wheels also have a treaded finish, providing more grip during my ride. So, I get to enjoy commuting long distances and doing tricks with these rollers.
Another factor that helps my stability on this skateboard for college is its trucks. The Positiv comes with a pair of 7.625″ trucks, the widest ones I have. These components do not only hold my wheels well, but they also allow easy adjustments. As a result, I have no problem getting the trucks to suit me.
In terms of design, I also find this board a good one. First, it has a techy print at the back of the deck. Second, there is the brand's logo printed on the board. I love how these images make my deck look nice.
On the downside, I received a board with a scrape on the deck. Good thing it wasn't deep at all, and the board remained in good shape when riding.
Pros
Spacious deck with 31″ x 7.5″ dimensions for better movements on top
54mm 99a super hard wheels that work well with streets and parks
Treaded wheels grip the ground well for tricks and long rides
Comes with a pair of 7.625″ trucks for better balance and keeping wheels in place
Has nice-looking designs
Cons
Arrived with a scrape on the deck
This college skateboard features one of the hardest wheelsets I have. It's flexible enough for streets and skate parks, and its build helps me retain my balance.
7. Arcade Pro Skateboard
Searching for beginner skateboards that'll make me ride like an expert led me to the Arcade Pro Skateboard. This pre-assembled skateboard features a flexible body perfect for riders learning some tricks.
It also comes with precision trucks that make sharp turns and carves seamless. With these, college skateboarding wasn't tough at all.
The next factor that makes this fully assembled skateboard fit for trick execution is its wheels. The Arcade comes with a set of 95a grippy wheels that are hard enough for doing a few ollies and flips. These 54mm rollers also add some speed every time I need them. And with these, I get to ride smoothly and arrive at school on time.
This board has quality finishes on the top and bottom of the deck. On top is a hard layer of 80-grit tape that provides a powerful grip between my feet and the board. And on the other side are various graphics I love. Moreover, the brand also offers different stickers to make the skateboard more customizable.
Besides having a pleasing look, this board also doesn't disappoint in durability. It comes with seven layers of maple wood that's flexible enough for tricks. It also comes with a weight capacity of 220lbs, making the board perfect for riders of any age.
I was not very happy with the board's condition when I received it. It arrived with some black dirt on the deck, making me believe someone used it before the product was sent to me.
Pros
Beginner flexible skateboard with precision trucks for smooth turning
Pre-assembled for convenience
54mm 95a grippy wheels for smoothness and speed, suitable for tricks
80-grit grip tape for safety and stability on the board
Comes with pleasing graphics paired with stickers for better customization
Has a 7-layer maple deck for durability and a 220lbs weight capacity
Cons
Arrived with some dirt on the deck
Overall, this board has the perfect build for beginners. It comes with flexible components, and the whole structure is sturdy.
8. WiiSHAM Skateboard Pro 31 inches
Coming with an 8″ deck, the WiiSHAM Skateboard Pro fits riders of all sizes. On top of its 31″ length, this skateboard's width provides enough space for my feet, helping me move freely. With these, I feel confident riding and safe at the same time.
Speed-wise, this college skateboard is one of my favorites. It comes with a set of ABEC 9 bearings, which yield long distances every time I push on the board. They're not stiff, and I think these components also add more precision to my skateboard's direction.
Other than the bearings, I also love the trucks of this skateboard. It has a pair of 5-inch aluminum trucks with steel truck bolts holding the entire component firmly. Also, each of these trucks comes with a PU support pad that absorbs shocks during rides. Thanks to this, I feel stable on the board.
One more safety feature of this college skateboard is its stepping surface. On top of a sturdy 7-layer deck, this college board has a 7051 high-density waterproof grip tape. This layer provides enough friction between my feet and the deck to keep my balance. And since this sheet is waterproof, my board is also safe from moisture penetration.
On the downside, I received a board with the wrong design. There's nothing too bad about its performance, but I would be happier to have acquired the correct style.
Pros
Spacious 31 x 8-inch deck for safe and confident rides
Comes with ABEC 9 bearings for speed and precision
5-inch aluminum trucks with steel truck bolts for security
PU support pads for shock absorption
7051 high-density waterproof grip tape for rider and deck safety
Cons
The board arrived with the wrong design
I like how this skateboard performs. Not only does it fit my riding style, but it also makes me feel confident. It's also fast, and its components work well together.
9. Hicient Electric Skateboard
Motor-powered boards provide a high level of convenience for me. With the Hicient Electric Skateboard, riding to school requires less effort as it can use electric energy to work. This board comes with a 350W hub motor that can give me a maximum speed of 12mph. With this, I won't have to worry about coming in class late.
Durable decks are not only for regular skateboards but also for electric ones. The Hicient electric board features a 7-layer maple deck that provides ample flexibility and stability. This deck composition helps me get through rough surfaces and prevent deformation of the board after serious collisions.
Another unique aspect of this college skateboard's deck is its portability. This skateboard comes with a hole near the middle of the deck, which is big enough to fit my hands. With this, I get to hold my skateboard well and bring it to school conveniently.
An added factor to this college skateboard's convenience is its remote control. Hicient has this ergonomically designed controller device that's sensitive and reliable enough. Using this, I get access to the skateboard's various functions without much effort. I can increase my speed, brake on the board, reverse, and do many more operations with the touch of my fingers.
On the downside, this skateboard's battery life is shorter than that of other boards. It only lasts around one to two hours of operation. Then, I'll have to kick-push again. Nonetheless, it works as intended.
Pros
Durable 7-layer maple deck with the right balance of flexibility and stability
Comes with a handle hole on the body for easy mobility
Has an ergonomic remote for accessing various skating board functions
Cons
Battery life is a bit short
Overall, I love how this college skateboard works as a go-to board when I feel like I'm running late. I love how it looks, and the remote is quick to calibrate.
10. Landyachtz Dinghy Complete Skateboard
Coming with a balanced design, the Landyachtz Dinghy Complete Skateboard has a good size fit for college skateboarders. This skating board comes with a 28-inch length, making it more controllable. Not only that, this skateboard build also makes it easy to bring everywhere.
The wheels of this college board are excellent. This Landyachtz comes with a set of rollers that give me the feel of a longboard. And since only a few skateboards can handle bumpy city terrains, having these wheels with me is such an advantage. I can glide well, and the rollers are grippy too.
One more aspect that makes this college board perfect for sliding is its trucks. This product features a pair of trucks that help me commute well and let me get into those sharp and deep carves. They also come in a clean black finish, making them look more classic.
Besides having a perfect size and an easy-to-control body, this fully assembled skateboard is versatile as well. It's a unisex board, so both men and women can use it. Plus, it only weighs 2.72kg, so it's never hard to bring or ride it anywhere.
On the downside, I have seen a few air bubbles on this board's grip tape. Good thing they weren't big enough to disrupt my foot placement.
Pros
28-inch deck length making the board easy to control and bring
Comes with a set of grippy longboard wheels that dodge bumpy city terrains
Classic black trucks that allow sharp and deep carves
Comes fully assembled
Lightweight college skateboard weighing 2.72kg and is fit for men and wome
Cons
Arrived with some air bubbles on the grip tape
I never knew what short skateboards could do until I used this one. The wheels and the trucks are the main reasons I can ride the board with style. And the size makes everything light and smooth.
What to Look for When Buying Skateboard for College
Buying a skateboard for college campuses can be difficult if you don't know what to look for. Here are a few things we need to consider to ensure your board is made for college life.
Electric or regular skateboard
Regular and electric skateboards both provide convenience to their riders. However, an electric skateboard for college has a significantly higher speed than a normal skateboard. On the other hand, a regular board requires no charging time, which means you can use it any time you want. Having either of these two skateboards will give you almost seamless travel and traffic avoidance.
Wheels
The next component you need to check on your skateboard is your wheels, which should have the following characteristics:
Hardness – Your wheels' hardness level plays a vital role in the skateboard's performance and riding comfort. On a durometer A scale, try to look for wheels with a hardness level of around 95a to 99a. These rollers have enough rebound capacity, helping you get through almost any surface.
Size – The size of your wheels also matters in terms of your speed and stability. Look for wheel sizes of around 52mm to 58mm, or 60mm in a few instances. These rollers are wide enough to keep me balanced on my board and travel an ample distance.
Trucks
The first consideration of durability lies with the skateboard's trucks. So, when choosing your college skateboard, look for trucks made with aluminum alloy. Trucks made using this material are sturdy, have enough impact resistance, and support enough weight.
Deck
There are various features we need to look for in a skateboard's deck. The first is its durability. Besides providing enough stepping surface, your deck should be strong enough to support you and your riding style. Most skateboards come with maple wood as their primary deck material. This wood offers enough flex and is known for its strength.
The second aspect is its weight capacity. One of the reasons why skateboards wear too soon is because the user neglects their weight capacity. So, whether you're a teen or someone as heavy as an adult, the safest board to use will be the ones that can load 220lbs at an average.
Grip tape
With safety being a top priority with any extreme sport, it's necessary to equip your board with a safety feature, like a layer of grip tape. This sheet features a coarse finish, enough to put traction against your shoes.
For the level of coarseness, look for those sheets with an 80-grit level. This aspect creates the perfect balance between grip and freedom to move on the board.
Price
Like other skateboards, a skateboard for college will not require you to acquire the cheapest or most expensive brands. A board for around $100 can be a good grab, as long as its parts complement each other and work well.
Can You Skateboard to Class in College
Yes! You can be creative when commuting to school and use a skateboard. Traveling doesn't always require a medium of public transportation or a carpool. As long as you know how to store the board during class, then you're free to take a skating board to college.
Should I Bring a Skateboard to College
If you hate traffic jams or bus stops everywhere, you might as well bring a skateboard to your campus. It doesn't require fuel to work, nor does it need a parking lot. All you need to do is learn skateboarding, find the right longboard or skateboard for yourself, and you're good to go.
What Type of Board Is Best for College
Considering the simplicity of the rides and the level of maintenance required, a cruiser board is the top-rated skateboard for college campus you can use. This college skateboard works well with short distances and is light enough for quite a few errands around your school. Cruiser skateboards for college are also smooth to ride and are easy to control.
On the other hand, a longboard is also a good alternative to cruisers. It comes with a longer deck and is perfect for long distances. The most common boards of this type are drop-through longboards, which provide more stability and better control at high speeds.
How Do You Bring a Skateboard to School
The primary purpose of having a skateboard to college is a convenient ride. Notwithstanding wet weather, you can always bring your board to school.
All you have to do is ride the skateboard to your college campus and place it in your bag or any safe location.
Conclusion
Skateboarding isn't only for fun and recreation. It also serves other purposes, like commuting or running some errands. As long as you know the ideal mix of components, finding the right skateboard for your student life is easy.
With the best skateboard for college, not only will you get to ride to campus with convenience, but you get to stay physically active as well.
Swing to school with style and without experiencing traffic. Don't forget to leave your questions in the comments section.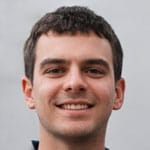 Hi, I am Charles Harris. I opened this site to write as much as I can about my biggest passion – skateboarding!
I started as a clumsy yet passionate rookie 10 years ago to now a still passionate yet much better skateboarder! But I have to tell you, the whole journey has always been fun and rewarding, indeed not without hardship.