As skateboarders, we age together with our skills. Although not at the same pace, all our directions point up. That means our once fit-for-beginner skating equipment may no longer be as functional or helpful as before.
Luckily, there are brands like Fish. Are Fish skateboards good? We hold onto the brand's vision of treating everyone by providing skateboard options for all skaters and those who want to be one.
Some might find these boards unfit for tricks, but Fish has more bright spots to show.
Notable Features of Fish Skateboards
So, what are these aspects we should know about Fish skateboards? Let's have this Fish skateboard review below.
1. Performance and Design
Most skaters will say Fish is an identical version of a penny board. But this brand now has more skateboard and longboard options to try. Here's how well they perform.
Smooth and fast
Do you like your skateboard like a well-oiled machine that moves fast? Fish can provide skaters with that.
This brand features smooth wheels and soft bushings that can make the board roll with sufficient speed, especially the longboards.
Trick-friendly
This performance review should reduce the impression that Fish has no skateboards suited for tricks. Why? Fish skateboards now have models shaped with a perfect concave and a pair of kicks.
These features enable skaters to perform stunts and tricks more efficiently. What's better is Fish also has a vintage pattern, which improves the skateboard's control and braking. And although not everyone is into these technical skating routines, Fish is ready for them anyway.
Reliable
Fish skateboards work reliably. They have a sturdy build and finish, from the top to the bottom parts, that keeps the skateboard firm.
What we would commend more about the reliability of these boards is their grippy stepping surface that enhances the skater's balance and traction.
That's why it a safe board for beginners to start skipping, they will feel secure to practice on a non-slip deck.
Beautiful design
Trick skateboards also stand out among other choices with their eye-catching and durable painting, suitable for all ages.
2. Components and Specifications
As mentioned, Fish now has various skateboard types to try. Let's dig into their components.
Deck
Fish skateboards have various deck compositions depending on the board style.
Regular skateboards with a double kicktail have a 7-ply deck. Longboards are a ply thicker than the previous board, while cruisers use bamboo as the eighth ply.
But regardless of the decks' composition, all these Fish skateboard types have safe stepping surfaces good for beginners in the emery non-slip and sand-grit finish on these boards.
Trucks
Like the decks, there could be a few twitches with Fish's trucks. The regular boards and longboards use a pair of high-quality aluminum wheel holders packed with steel axles. These improve the trucks's load capacity and tensile strength.
On the other hand, the cruiser types use an aluminum carver-style truck for better control. Nevertheless, trucks of these boards are durable. So, they should be safe for all skaters.
Wheels
Perhaps the only identical feature among Fish's wheels is their polyurethane body. PU has a good rebound and is the most trusted material for skateboarding wheels.
But with the variations among Fish's board types, the wheels will also vary in hardness levels and sizes to fit each style best.
Bearings
Whether it's a regular skateboard, longboard, or cruiser, Fish skateboards have ABEC 9 bearings. Almost all buyers of these boards adore these wheel cores for their riding smoothness and inherent speed. And being the top-ranked bearings on the scale, we can expect them to perform the best.
3. Price
Here's how much different Fish skateboard models and types cost.
Double Kick Concave Cruiser for Adults – $33.99
Double Kick Concave Cruiser for Youth – $35.99
Fish Longboard Gold – $52.99
Cruiser skateboards for Beginners – $55.99
Fish Longboard Purple – $62.99
4. Pros and Cons
Let's list the things you may and may not love about Fish skateboards.
Pros
Maple and bamboo decks with sufficient pop and flexibility
Non-slip grip tapes for added safety
Aluminum trucks that are durable and can handle adequate load
PU wheels perfect for each skateboard type
ABEC 9 bearings that yield the smoothest and fastest rides
Are Fish Skateboards Reliable?
Absolutely! Fish doesn't only produce and manufacture skateboards without being reasonably careful about their materials and construction.
The brand's various woods and thicknesses on the decks, aluminum trucks, polyurethane wheels, and ABEC 9 bearings across almost all its models prove that Fish guarantees long-lasting and reliable performance. And for a reasonable price, this brand and its models are must-check items in every skate store.
Conclusion
When choosing skateboards, we often want to find the best option for every component until our setup is complete. This way, we ensure quality and long-lasting performances from our choice. By doing so, we're likely to encounter brands like Fish.
So, are Fish skateboards good? Indeed! Fish has shown exceptional features every skater would wish for, from a regular skateboard, longboard, or cruiser.
Although a few drawbacks could arise, Fish remains a must-check.
Read more: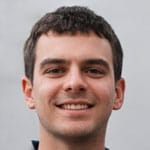 Hi, I am Charles Harris. I opened this site to write as much as I can about my biggest passion – skateboarding!
I started as a clumsy yet passionate rookie 10 years ago to now a still passionate yet much better skateboarder! But I have to tell you, the whole journey has always been fun and rewarding, indeed not without hardship.