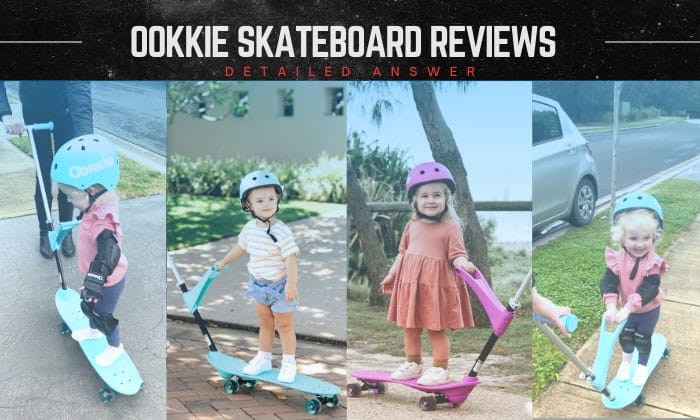 Every skater started as a beginner. And not all beginners began their skating journey as kids. Some of these people commenced as adults, teens, and toddlers.
But with skateboards designed primarily for grown-up skaters, toddler skater parents might have trouble finding the right board for their kid. The good news is there is Ookkie.
Is Ookkie a good board? How well does it perform for beginner skaters? Let's all confirm through these Ookkie skateboard reviews.
Overview of Ookkie Skateboard
Ookkie is almost as old as the once-toddler skaters now on their intermediate level. It started in 2016, intending to provide toddlers with an appropriate kids skateboard to engage and learn with the skateboarding community.
Daniel De Gaye started it all. He has decided to design a toddler skateboard with handle to induce the sport's fundamental skills to a young mind. And that's how Ookkie, one of today's famous learning skateboards, came into the scene.
Features of Ookkie skateboard
Ookkie is a different skateboard type compared to the conventional skateboards we knew from the 90s. Here's what makes this training skateboard for toddlers.
1. Deck construction, materials
Oookkie's deck build is unique from our sturdy wooden skateboards and longboards. This brand's deck comes from high-quality plastic and carbon fiber. And like other top-selling skateboards, this material combination also makes the kids' decks durable and safe.
2. Trucks, wheels, and bearings
Let's try to dissect the parts under an Ookkie deck.
Trucks – Ookkie surely doesn't use substandard materials on its trucks. Like famous skateboards in the market, this brand employs aluminum as the wheel holders. As we know, aluminum skate trucks are durable, light, and versatile. Most of all, they are affordable yet reliable options.
Wheels – Like the trucks, Ookkie's wheels come from a standard or common material in polyurethane. PU is an ideal material for smooth skateboard rides, an essential factor for a toddler's skating experience.
Bearings – Just when others probably think of Ookkie being a toy skateboard, it's not. This brand sees the significance of each skateboard part, inducing ABEC 7 bearings to its wheels. Following an ABEC Rating chart, ABEC 7 is fast and smooth.
3. Handle
The part that makes this brand unique from a typical beginner skateboard for kids is its handle. On one end of the skateboard is an aluminum rod that extends diagonally from the board up. But this part has two divisions.
The bottom part is where the child's handle sits. It's a plastic handle perpendicular to the aluminum rod and extends just right for the rider to reach. And the upper part is where the parent's T-shaped handle rests.
The two rods combined are long enough to reach the parent's or guardian's hand when the skateboard's in motion.
Performance Reviews
After knowing about Ookkie's reliable and functional structure, what do parents say about this skating board with handle?
It helps improve balance and self-confidence.
While Ookkie is an assisted skateboard type, many families affirm how it helped develop the child's sense of balance. Eventually, it improved their confidence and firmness riding the board.
Durable and easy to setup
We agree that speed, power, and tricks aren't integral to a toddler's skating journey. And yet, Ookkie's skateboards are durable enough to give the kids a wholesome and safe learning experience. Add that they're easy to set up. So, parents need not exert too much time or effort assembling.
Ookkie's design helps kids and toddlers stay on the board firmly with the handle. But what's better on top of the safety handles and quality construction of Ookkie skateboards is that the brand offers a complete set of safety gear.
Parents and families can buy helmets, elbow protectors, and knee pads from Ookkie. There's no need to rush to other stores.
Pros and cons
Here's what parents and other buyers love and dislike about Ookkie skateboards.
Ookkie skateboard pros
A perfect tool for 4 year olds and toddlers to learn skateboarding
More color options are available
Parents can control the board's speed
Safe skateboard because of the handle
Ookkie skateboard cons
The parent handle lacks adjustment for taller or shorter heights
The screws tend to rust a bit fast
Price
Ookkie skateboards revolve only around one model, and they only vary based on their colors. On average, an Ookkie skateboard costs $139.99. It may or may not be costly to many skaters and parents. But it serves what it needs to deliver.
Are Ookkie Skateboards Good?
Overall, these Ookkie children's skateboards are good on the grounds that they make toddlers learn skateboarding more efficiently. The boards come in quality materials and are guaranteed safe.
What's better is the brand designed its boards to be more convenient to the assisting parent or guardian in the form of handles.
Ookkie Skateboard Buying Guide and Considerations
As mentioned, there aren't many Ookkie skateboard models going around. The technical aspects of a skateboard rest more on the ones for adults. Nevertheless, here are the areas we should ensure when buying an Ookkie board.
1. The skateboard
While Ookkie doesn't use wood on its skateboards for 3 year old skaters, it uses quality plastic. And it's enough to hold the child's weight already. So, we should only ensure the deck doesn't have signs of cracks and wear and tear.
Similarly, we should also ascertain that the trucks come from aluminum and the wheels from PU. These rollers should have ABEC 7 bearings as well.
2. The parent handle
The parent handle rooting from the deck should come T-shaped with horizontal bars covered in rubber. Make sure it doesn't detach too quickly from the bottom part where the child's handle sits.
3. The child handle
Unless we're buying a board for 6 year olds online, the kid's handle should be firm and reliable enough to keep the child from falling out of balance when riding the skateboard.
Conclusion
Indeed, skateboarding is an inclusive activity. It caters to all kinds, ages, and levels of skaters. And with the ongoing developments in the sport, we can say the future is bright, and more people will engage with it eventually.
These Ookkie skateboard reviews only prove how brands and platforms have adapted to the skaters' needs. With the help of Ookkie skateboards, kids and toddlers can finally enjoy the sport safely, leaving parents and families more confident.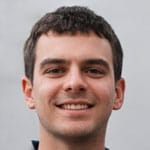 Hi, I am Charles Harris. I opened this site to write as much as I can about my biggest passion – skateboarding!
I started as a clumsy yet passionate rookie 10 years ago to now a still passionate yet much better skateboarder! But I have to tell you, the whole journey has always been fun and rewarding, indeed not without hardship.