E-skateboards appear costly, particularly if you have once owned a regular board. But they're expensive for a reason. These wheeled devices have made the skater's lives more convenient when commuting around the urban roads.
However, not all brands and models work as efficiently as any board in the store. Let's take Genesis Tomahawk, for example. Is this e-skate model worth the money?
Let's unleash the answers through this Tomahawk electric skateboard review.
Overview of Tomahawk Electric Skateboard
Tomahawk is an e-skateboard that balances costs and performance. It offers great power, durability, battery life, and design, at a reasonable price point. We might find a better board brand or model. But as many experts share, this e-skateboard does its job well.
The board comes from Genesis, a brand adored by many skaters. Joining Tomahawk under the company's product lines are Hellfire and Stinger, equally competitive products.
Despite their stint in sport getting cut short, Tomahawk and other Genesis models remain a standard for several e-skates today in performance and design.
Tomahawk Electric Skateboard Features
So, what makes a Tomahawk e-skateboard? And what do its parts suggest about its performance? Let's list them down.
1. Motor Power and Speed
Speed and power are the most prominent aspects we check from a battery-supported skateboard. And these mainly depend on the motors.
Tomahawk uses a pair of 800W brushless motors to work. These engines have a fair wattage but do not disappoint performance-wise.
More specifically, a good-running Tomahawk e-skateboard with these motors can run at a maximum speed of 20mph. Besides that, it also yields an incline rate of 20° when going uphill.
2. Battery Life and Charging Time
The skateboard's length of operation depends on the battery. And, of course, we can't afford to cut a ride short only because of blunt battery life. Can Tomahawk suffice for it?
Tomahawk has 36V, 4.3Ah-4.4Ah 18650 lithium-ion batteries. These power sources can make the board work for a maximum distance of 20 miles. So, draining these batteries would take a good hour to maintain the ride at top speed.
What's better about these power boxes is getting a battery replacement after the stock stops working.
Tomahawk's charging time is reasonably fair. Given the board's speed and power, a 2.5-hour recharging session isn't too long.
3. Control and Handling Features
As mentioned, e-skateboards are convenient, and this aspect manifests in their handling and control.
Tomahawk comes with a wireless Genesis electric skateboard remote. This device allows the following functions.
Access to three different ride modes
Acceleration and braking
Turning and other movements of the board
Not only is the skateboard's battery rechargeable, but also the remote. The Genesis Tomahawk remote controller only takes half an hour to recharge. And a complete battery charge of this device can serve you for seven long days already.
4. Safety Features and Braking System
Braking is always necessary for e-skateboards, which already rests on this model's remote controller. Here are more safety features we can get from a Tomahawk board.
A UL certification and IPX4 waterproof rating ensure the board's electronic components are free from misfortunes when in contact with water.
LED battery indicators to estimate how far the board can still travel and if you need to recharge
Grip tapes to keep the skater's feet secure on the board.
Although these features add protection in several aspects, we shouldn't miss wearing safety gear to lessen the impact of injuries should they happen.
5. Ergonomics and Design
Tomahawk skateboards often catch everyone's eyes on the road with their design. It has three wheel colors, with two being bold in green and orange. Other skaters can also go subtle with black.
Another aesthetic feature is also evident on the grip tapes. These safety sheets have a gray hue with the brand's logo printed, giving the board a more distinct look.
On the more structural side, Tomahawk establishes durability with its 8-ply Canadian maple deck. This build holds a maximum weight of 264 lbs. And down below, the battery comes in an Aluminum housing, offering any possible protection for the electronics.
6. Performance and User Experience
How does it feel to ride a Genesis electric skateboard? Let's now see what users say about Tomahawk's performance.
While it may not be the fastest among today's e-skateboards, Tomahawk's 20mph speed, backed by its 1600W motors, puts it at the higher end of the rankings. What's more? It has a 20° hill-climbing capacity, something many e-skates cannot achieve.
Regardless of the brand, e-skateboards yield convenience by bringing the operating controls into the skater's hands. Hence, skaters will have a more controlled and less stressful handling when gliding on the road.
For a board like Tomahawk, there is added comfort because of its deck's size and overall weight. Numerically, it has a width and length of 8.5″ x 42″, broad enough for the rider. Plus, it only weighs a reasonable 17 lbs.
Besides these, Genesis was smart enough to design the board and its wheels to be shock-absorbent. And this helps best when skating on rough trails.
7. Pros and Cons
Let's highlight the best features of a Tomahawk board as well as the areas not everyone may not like.
Pros
Various wheel color options
Comfortable
Speedy and powerful
20° hill-climbing ability
Responsive remote control
Light and spacious
Cons
Not for check-in airport baggage
It cuts rides once the battery is out
Not the best size for all skater levels and ages
8. Cost
The skating public considers Tomahawk as one of the best e-skate options in price point. It can be the cheapest at $350 but can cost a maximum of $550. The figures might change, but this board is worth $499 on the brand's official selling platform.
So, is the Tomahawk electric skateboard worth it?
Around these prices, skaters can get the e-skateboard fully set up. It will also come with a charger, remote control, instruction manual, battery charger, and a kit.
Tomahawk Electric Skateboard Buying Guide
As mentioned, Tomahawk is a stand-alone model rooted in Genesis. Nonetheless, here's what we should expect when buying one of these.
1. A Sturdy Build
A Tomahawk e-skateboard can't break too easily. It comes with eight layers of Canadian maple wood for the deck and an Aluminum casing for the battery and other electronic components beneath.
The wheels are in polyurethane, the best and sturdiest material for skateboard wheels.
2. Safe e-Skateboard
We should ensure that the Tomahawk we plan to buy has grip tape and LED battery indicators. These will help us stabilize standing on the board and know if we need to recharge.
Also, the Tomahawk board should not electronically react to water exposure because of its UL certification and IPX4 waterproof ratings.
Lastly, the Tomahawk e-skateboard should have a cruise control feature for improved safety.
Frequently Asked Questions
Comparison with other electric skateboards
How does a Tomahawk edge other skateboards? Let's see some significant comparisons below.
Genesis Tomahawk VS Boosted Dual
These boards have prominent differences in design, as Boosted Dual is a skateboard. Performance-wise, Boosted Dual seems slightly slower at 18.6mph. They need the same charging time, but Dual has a higher wattage.
Genesis Tomahawk VS Atom Electric Atom Longboard
Tomahawk and Atom have the same speed, charging time, and length. There isn't much difference except that Atom has broader dimensions and higher motor wattages than a Tomahawk electric longboard.
Genesis Tomahawk VS Airwheel M3
The most salient difference between Tomahawk and M3 is the latter being heavier, with 31.8 lbs. Nonetheless, it loads more than the Genesis board. Others, like the wattage and speed, are identical.
How long does it take to charge the Tomahawk electric skateboard?
Two batteries need recharging in a complete unit of Tomahawk electric skateboard. The board's batteries need 2.5 hours to charge, while the remote control's power source only needs half an hour.
Is the Tomahawk electric skateboard suitable for beginners?
Like other electric skateboards, Tomahawk fits beginners reasonably. It doesn't require the skater to push the board or brake on it with the foot. These functions rest on a handy remote controller.
Nonetheless, no matter our skating level, we should still ensure safety while enjoying the speeds of e-skates.
Conclusion
Technology has brought in thousands of changes already. It made lives more advanced and convenient. And with skateboards affected by these transitions, we are optimistic that more developments will happen in the coming years.
This Tomahawk electric skateboard review is only an eye-opener on what innovation has done to skateboarding. There should be faster boards soon with longer battery lives.
For now, take note of these essential e-skateboard features to guide you in your selection process.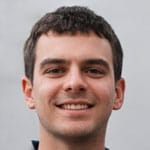 Hi, I am Charles Harris. I opened this site to write as much as I can about my biggest passion – skateboarding!
I started as a clumsy yet passionate rookie 10 years ago to now a still passionate yet much better skateboarder! But I have to tell you, the whole journey has always been fun and rewarding, indeed not without hardship.