Along with the shifts of time are changes in preferences and trends. And outdoor activities like skateboarding aren't an exception. These changes have started the birth of many skating companies competing to be the world's top brands.
One of these brands in the limelight today is Enjoi. Are Enjoi skateboards good? This brand has a rich story with a skating legend and has become a prominent name since its conception. Keep reading as we learn more about its skateboards and other unique aspects.
About Enjoi Skateboards
Enjoi is part of the Dwindle Distribution empire, the group that produced famous skateboard brands like Almost, Blind, and Darkstar. And who would not be curious about these skateboards when their proponents were the legendary Rodney Mullen and Marc Johnson?
Despite starting in 2000, Enjoi has rocketed from producing complete skateboards to selling clothing, streetwear, and other skateboard merchandise. Its iconic panda image has reached far enough to be one of the top brands in the market today.
Notable Features of Enjoi Skateboards
1. Performance and Design
Most Enjoi skateboard designs are for street skaters. That means they often have the silhouette of popsicle decks and hard wheels. Now, let's see this Enjoi skateboards review of performance.
Enjoi is an ideal introductory skateboard for beginners and advanced skaters after some twitching. Its complete skateboard yields sufficient pop and board feel, all thanks to its concave level and flexibility.
Subsequently, Enjoi skateboards enable tricks and more technical skating with their setup. However, although it's reasonable, Enjoi skate decks will soon grow tension cracks from consistent pressure from jumps and landings.
Nonetheless, their lifespan at this skating level remains impressive at 4-8 months.
2. Components and Specifications
Here's what makes an Enjoi skateboard.
Several Enjoi skateboards, like Logo Crap and White Enjoi Panda decks, use the all-known maple wood. As we know, this wood material has perfect elasticity and pop. Plus, it's easy to mold without compromising durability.
Enjoi skateboards feature a mild concave, giving skaters optimum comfort and assisting them when performing flips and other street skating skills.
Construction-wise, Enjoi doesn't disappoint. This good skateboard brand applies a Resin 7 technology on its decks, where the maple veneers get glued with resin in a single press. Such a method makes the skateboards more durable and poppy.
Enjoi trucks can be from Core or Tensor.
Core skate trucks are entry-level wheel holders that are light and fit for grinds. These parts are reasonably cheap but have premium bushings and pivot cups for smooth, consistent turns.
Designed by Rodney Mullen, Tensor Trucks also want to deliver the same performance as Core; the best turns, quality, and grinds. Skaters can choose among tall truck configurations, lighter trucks, reinforced hangers, and more.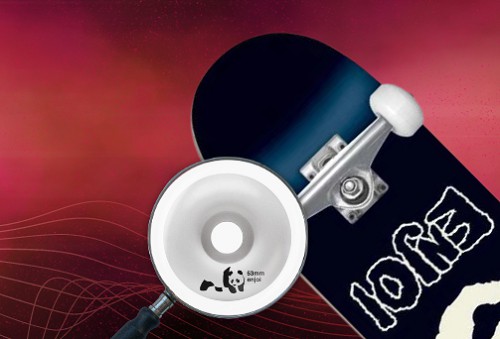 Enjoi Skateboards also use different skate wheel brands in Enjoi and TGM.
TGM wheels come from polyurethane material. But as many skaters say, these rollers aren't the best in the market. Nonetheless, they're good enough for beginners and average skating.
Enjoi Skateboards use Amphetamine ABEC 5 bearings. These pre-lubricated wheel cores are durable and can handle reasonably speedy rides. But what many skaters love about these bearings is they come shielded. Hence, they're more resistant to dirt and easy to maintain.
Prices
How much does an Enjoi skateboard cost? Let's see the following costs.
Enjoi skateboards complete
Enjoi Skateboard Complete Deck Whitey Panda 7.75″ Complete – $84.99
Enjoi Complete Skateboard Microchip Black – $89.99
Enjoi Skateboard Complete Candy Coated Pink – $94.99
Enjoi the Captain Youth FP Skateboard – $99.99
Enjoi Skateboard Complete Half and Half Green – $104.99
Enjoi skateboard decks
Spectrum Black – $59.95
Rainbow Fart 8.25 Mint – $54.95
Raemers Invert R7 – $64.95
Barletta Thirdeye 9.7 – $74.95
Judkins Classic Panda Super Sap R7 – $74.95
Pros and Cons
How well do skaters like Enjoi skateboards? Let's summarize the areas you may and may not love about these boards.
Exceptionally sturdy decks
Resin 7 single press construction
Customizable in parts
Reasonable prices and free grip tapes
Works for beginners and professional skaters
Some skaters do not like Enjoi's taunting graphics
The brand's origin doesn't seem too good for a few skaters
Are Enjoi Skateboards Any Good?
Dwindle Distribution has an undeniably prominent presence in the market. And such a force also affects one of its brands in Enjoi.
But more than being under the same umbrella as Almost or other famous brands, Enjoi is a reliable skateboard with immense durability, pop, and comfort.
The level of innovation applied to the construction, usage of good quality skateboard trucks, diversity in the wheels, and the speed of the bearings contribute to the skateboard's overall performance.
Comparison With Other Brands
So, what areas give Enjoi the edge over other brands? Let's take the following aspects.
Deck quality and construction
Not all brands are meticulous in the deck construction process. Hence, unlike Kryptonics or other skateboards from Walmart, Enjoi applies the Resin 7 technology to ensure its decks are durable.
On top of that, Enjoi skateboards don't lose their pop after a few rides. Many skaters affirm they still feel that responsiveness for about more than two months, reasonably longer than other brands.
Many cheap skateboards are on the market, but only a few, like Enjoi, remain affordable yet fit for any skater level.
An example of a brand you may want to avoid is Decathlon Oxelo. It may be cheap but doesn't provide a reasonably good skating experience.
We mentioned how a few skaters disliked the taunting graphics of some Enjoi skateboard models. But we can't neglect how the other products remain visually pleasing. Skaters who don't like plain-printed decks might find Enjoi skateboard's playful and fun themes better.
Top Enjoi Skateboards in the Market
Here are the best-selling Enjoi skateboards in the market today.
Whitey Panda
Cat & Dog Youth First Push Blue Mini
Misfit Panda First Push Black
Panda Stripes
Box Panda First Push Orange
Conclusion
Skateboard brands build loyal customers through the quality and performance of their products. And what keeps them in circulation is how they cope with the changes and demands of the skateboarding community.
So, are Enjoi skateboards good? Yes! The features we have discussed tell us how the brand pays attention to its construction, durability, performance, and overall quality.
And with their suitability to any skater level and how these skateboards cost, it's no shame they're indeed one of the best brands today.
---
Other options: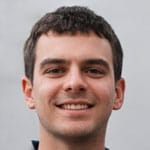 Hi, I am Charles Harris. I opened this site to write as much as I can about my biggest passion – skateboarding!
I started as a clumsy yet passionate rookie 10 years ago to now a still passionate yet much better skateboarder! But I have to tell you, the whole journey has always been fun and rewarding, indeed not without hardship.