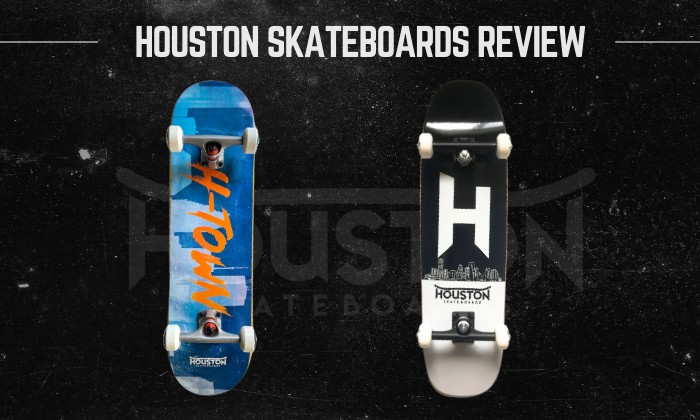 Besides California, Texas is another state significantly influenced by skateboarding, specifically Houston. It's where historic skating events, like Shut Up And Skate, took place.
Thus, it's no question that Houston has become a home to some of the top skateboards today. One of its famous homegrown brands is Houston. Are Houston skateboards good?
Yes! Houston Skateboards embodies the legacy of its origin state. This brand offers high-quality skateboards and other merchandise to complete a skater's dream realm.
Notable Features of Houston Skateboards
Like many brands, Houston also offers many ways for skaters to identify its boards, whether they're for beginners, adults, or simply anyone. Let's take each one below.
1. Performance and Design
Houston skateboard reviews may no longer be as many as those from other brands. Hence, our assessment of this aspect will tell more of what we can expect from the brand.
Balanced: We often talk of a skateboard being stable because of its size. But Houston has a different take on balance, employing a medium concave on its boards.
As we know, skateboards with medium concave have the perfect hue between aggressiveness and subtleness. That means the board works for flip and similar tricks without compromising pocket room to lock the feet.
Sturdy: Perhaps a skater's usual minimum requirement for a skateboard to be worth it is a durable deck. And Houston does it by using maple on its decks.
Maple wood is no less than the best material for skateboards. Hence, we can expect these boards to be responsive while maintaining longevity.
Creative: Design-wise, Houston is one creative brand. Some of its boards depict the city's skyscrapers, while others have the brand's logo or other texts. This variation gives skaters more options to pick which suits their personality and styling.
2. Components and Specification
It's time we dig deeper into the parts that yield the above performance aspects.
Deck: Houston's decks are maple and have a medium concave. However, it doesn't mean the boards are unmanageably heavy. In fact, Houston' boards are quite maneuverable on the road or rink.
However, if some brands send their boards with grip tapes, skaters have to buy them separately from a Houston skateboard seller.
Trucks: Like Houston's grip tapes, the trucks may or may not come with the decks. But if they do, they're often in a GrindKing Disruptor
Disruptor is one of the best pairs for skaters who often grind. Such is because these trucks have a low kingpin clearance that enables smooth grinds without the primary bolt hanging up.
What's better about these trucks is they're supportive. They have these curved edges that prevent the skateboard deck from breaking.
Wheels and Bearings: Houston often uses 54mm 101a SK808 wheels. But with these skate rollers being more adjustable, skaters can pick their preferred wheel size and hardness level.
Meanwhile, its bearings come from Huh. These have ABEC 7 ratings, which means they're fast and precise, though potentially costly.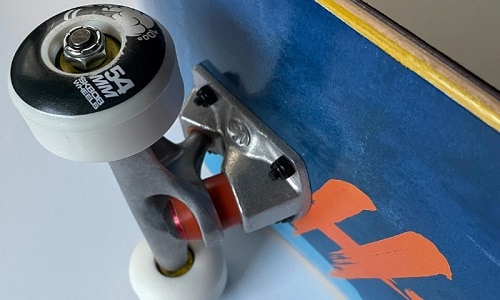 3. Price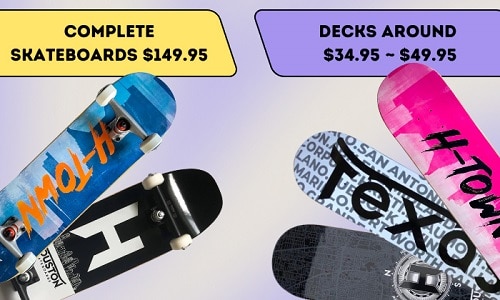 There aren't a lot of Houston skateboards today. But on average, the complete skateboards cost $149.95, while the decks go around $34.95 to $49.95.
4. Pros and Cons
So, what should we like and not love about Houston skateboards?
Pros
Durable skateboard construction
Balanced deck shapes
Light and maneuverable
Low kingpin trucks for better grind tricks
ABEC 7 bearings with optimum speed and precision
Cons
The prices seem a bit more expensive than other brands.
Is a Houston Skateboard Worth It?
Following a Houston skateboard's features and most probable performance, it's safe to conclude it's worth it. It doesn't come with cheap materials, and its overall build is as promising as it looks.
There might be issues with parts like grip tapes, but the more integral components are beyond reasonable.
Conclusion
It's always incredible learning about skateboards, brands, and their stories. Not only do we improve our choices, but we can also appreciate where each brand has originated and how it has succeeded, like Houston.
So, are Houston skateboards good? Despite the towering presence of other skateboard brands, we can't deny Houston has presented good quality skateboards and other skateboarding merchandise.
Some boards or brands can go better and more advanced than Houston, but this brand's work is never too negligible.
---
Related: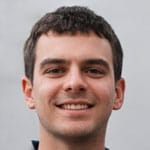 Hi, I am Charles Harris. I opened this site to write as much as I can about my biggest passion – skateboarding!
I started as a clumsy yet passionate rookie 10 years ago to now a still passionate yet much better skateboarder! But I have to tell you, the whole journey has always been fun and rewarding, indeed not without hardship.