Perhaps it's easier to translate innovation on electric instead of regular skateboards. The results are more visible and prominent. And indeed, e-skateboard companies have been in this game for years already.
One of the brands in this arena is Meepo. But are Meepo skateboards good? These skateboards are reasonably better than older e-skate versions. But how firm will they stand against new formidable brands these days?
Let's find out through this Meepo skateboard review.
Notable Features of Meepo Skateboard
Meepo, like other e-skate brands, has more details to consider. Let us help you with the following aspects.
1. Performance and Design
So, how well do Meepo skateboards perform? Here's what we can expect from most of Meepo's models.
Smooth braking: we always want smooth rides. But for e-skate users, we also need smooth stops to prevent getting tossed off the board.
Meepo boards have a smooth braking feature. One of its latest ESC products has made its remote devices more sensitive, making the controls more manageable for the skater.
Multiple riding modes: Besides the assistive nature of Meepo's braking system, another safety feature rests on its multiple riding modes. Meepo supports four riding preferences, of which one is most helpful for beginners.
With these functions, any skater's skill and level can adapt to the skateboard more efficiently.
Ergonomic handle holes: Though it doesn't apply to all models, Meepo's boards have handle holes, a design feature many skaters love. Although these added deck designs don't add to the skateboard's performance, they make carrying the board more convenient.
2. Components and Specifications
Let's go over the notable features of Meepo's board build.
Deck: Meepo uses the best skateboard deck materials today: maple and fiberglass for longboards. We know how these deck types stand firm against heavy usage while keeping their pop for a reasonably long period.
If we have to highlight another significant benefit of these decks, it's their weight capacity. No matter the model, all Meepo skateboards can handle a maximum load of 330 lbs, enough to carry almost any skater.
Trucks: Meepo electric skateboards use 5th Generation Shredder trucks. These longboard downhill-inspired wheel holders come with a 45° angle, adding more stability to the skateboard. Meepo's Shredder trucks also have this heightened bushing to improve the board's overall responsiveness.
Wheels: Adding to the skateboard's responsiveness are Meepo's polyurethane wheels. Of course, these rollers vary in size and hardness levels depending on the model. The stiffest wheels rest on the Meepo Mini5 ER with 100a hardness, while the largest is with the V5 ER at 105mm.
Motors: Of the four famous Meepo skateboard models, only the Voyager longboard uses belt drive motors. But these mini engines also have the highest wattages at 5600W combined. Hence, these longboards have a significantly elevated speed at 31 mph and a maximum range of 31 miles.
The other Meepo models that use hub motors have top speeds of 28 mph and maximum ranges of 11-20 miles.
Note that hub and belt motors have advantages and downsides in heat dissipation, protection from water splashes, and more. So, we should also assess these aspects before buying.
Related: Belt Drive Vs Hub Motor Electric Skateboard
Charging Time: Meepo ensured skaters wouldn't have to wait too long because it made charging these batteries efficient despite the skateboards' lengthy range capacities. For the record, Voyager has the fastest charging time with two hours, while the V5 ER takes the longest with three.
Riding Modes: We mentioned how the variation in riding modes improves Meepo's overall safety. Meepo features four levels; Lo at seven mph, MI at 15.5 mph, HI at 28mph, and PRO at 28mph. By choosing among these, skaters can mediate their rides to their best comfort.
Here's a more detailed breakdown of Meepo skateboard models' performance.
| | | | | |
| --- | --- | --- | --- | --- |
| | Voyager | Mini5 ER | V5 | V5 ER |
| Maximum speed (20%) | 31 mph | 28 mph | 29 mph | 29 mph |
| Maximum range (20%) | 31 miles | 18 miles | 11 miles | 20 miles |
| Hill-climb (20%) | 46% | 18% | 18% | 18% |
| Weight limit (20%) | 330 lbs | 330 lbs | 330 lbs | 330 lbs |
| Charging time (20%) | 4 hours | 2.8 hours | 2.8 hours | 3 hours |
| Overall score | 75 | 52.5 | 55 | 62.5 |
3. Price
Electric skateboard brands may not have as many models as regular boards. Here's how much some of Meepo's e-skates cost.
Meepo V5 – $407.00
Meepo Mini 5 – $429.00
Meepo Envy NLS 3 – $647.00
Meepo Voyager – $999.00
Meepo Vader Hurricane Carbon – $1,599.00
4. Pros and Cons
Here are the things you may and may not like about Meepo e-skateboards.
Automatic power on when put down and rolled
Water-resistant spray coating for added water protection
Durable deck materials that can load a maximum of 330 lbs
Various speed levels for improved safety
Smooth braking features
The convex shape doesn't help other skaters
Is a Meepo skateboard Worth It?
Absolutely! Whether under a budget or luxury to spend more, Meepo has a skateboard model for every buyer. What's good is this brand packs each board with safety features, making it ideal for any skater level.
Each board also has reliable components and convenient characteristics. So, skaters can expect long-lasting and smooth performances.
Conclusion
At least, for once, every skater dreams of going fast on his skateboard. Such is why e-skateboards, though pricey, remain gallant in the market. But since we're spending more money, we should be careful when gauging brands.
So, are Meepo skateboards good? These boards are worth every moment of checking. Meepo has beyond-decent physical and performance features several skaters want from an e-skate.
These boards might have downsides and cost more, but how long they work and last matters more.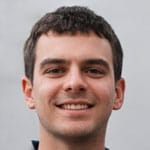 Hi, I am Charles Harris. I opened this site to write as much as I can about my biggest passion – skateboarding!
I started as a clumsy yet passionate rookie 10 years ago to now a still passionate yet much better skateboarder! But I have to tell you, the whole journey has always been fun and rewarding, indeed not without hardship.