There are some specific areas where skateboarding is prohibited. This is why you will need a backpack to carry your skateboard when not in use. Putting your board on your backpack is also helpful while you are traveling.
Your backpack can be your simple everyday bag or your specially designed backpack. The bag that you will choose will depend on your own preferences.
How to put a skateboard on a backpack? There are actually several ways to do this quickly and securely. You can use a holder-type backpack or put your board on a regular one using the bag's straps.
Technically, most skateboarders use a skateboard strap for backpacks to carry their boards with them. You can put your boards on your backpack with or without straps attached to them. Other skateboarders use specialized straps, and most of them make use of the bag's clips.
All these considerations will depend on the rider's preferences in carrying their boards with their backpacks. Whichever material is available, it is important that, as a skateboarder, you should know the right way to put your skateboard in your backpack to avoid any damage and injuries.
How to Carry a Skateboard on a Backpack With Clips
By following these simple steps, you can easily attach your skateboard to your backpack hassle-free. These simple steps will tell you how to attach skateboard to backpack.
Step 1: The first thing to do is to open the clips on your backpack. There should be two sets of clips available to secure your skateboards properly.
Step 2: The second step is to put your skateboard on top of the bag. Your skateboard deck should be facing inside, and your skateboard trucks and wheels should be facing outside.
This is the perfect position for your skateboard to prevent your back from getting a possible grip rash while carrying your board with you.
Step 3: The last thing to do is to put the clips back, and you are ready to go. Just make sure that the clips are properly secured and will not pull out as you walk or travel.
How to Carry a Longboard on a Backpack With Straps
Most skateboarders prefer hanging methods in holding their longboards on their backpack straps. This helps them secure their boards and is easier to remove from the bag.
You can put your boards on the back portion of your backpacks by using the bag's straps.
In securing your longboards in your backpack, here's the step-by-step guide that you should follow.
Step 1: The first step is to place your board on the back portion of your bag in a horizontal position. Make sure that the board's grip tape faces the padded part of your backpack and not your own back.
Step 2: And then, carefully put your backpack on without letting your board fall down to prevent damage and other possible accidents.
Step 3: The next thing to do is to adjust the length of the straps according to your preference. Having the correct length of straps will give less pressure as your board sits comfortably on your back.
That's it. You are good to go with your board in your backpack. Here's a short video that will show you how to put a skateboard on your backpack.
Advantages of Carrying Your Skateboard With a Backpack
As you put your boards in a backpack while traveling on places and areas prohibiting the use of skateboards, you are allowing yourself to move and travel comfortably.
It will also allow you to drive your bicycles or motorbikes more conveniently. And your hands are free to do other essential things or to hold other items.
Conclusion
Aside from putting or attaching your skateboards on your backpacks, you can also use special cases to carry your boards with you. There are also instances that your bag is big enough to put your board inside.
But the most convenient way of them all is to attach them to your backpacks. I hope this article gave you the basic guide on how to put a skateboard on a backpack and give you enough information on its importance.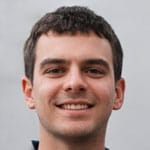 Hi, I am Charles Harris. I opened this site to write as much as I can about my biggest passion – skateboarding!
I started as a clumsy yet passionate rookie 10 years ago to now a still passionate yet much better skateboarder! But I have to tell you, the whole journey has always been fun and rewarding, indeed not without hardship.